God orchestrated Asmeen's transfer back to her home in Kurdistan. We praise God that she has arrived safely to the Pediatric Intensive Care Unit at Heevi Hospital in Duhok.
We are very thankful for all the people that have helped arrange for her transport, from the Shevet community and her friends in Kurdistan supporting her emotionally throughout the last eight months, to the medical staff at Sheba hospital and Alyn Rehabilitation hospital in Jerusalem, all of whom have physically cared for Asmeen, to our neighbor Moshe who helped arrange for the purchase of the ventilator, to Heevi Hospital for arranging for her arrival, the ambulance drivers and airport staff who helped transport Asmeen, the travel agent who helped arrange for all the flights, a kind Israeli doctor and medical transport specialist who assisted us with her extensive knowledge and network, and for everyone that has prayed for Asmeen. There have been so many different people working with various pieces needed to transport Asmeen home.
On the day of departure, it was so bittersweet for the staff at Sheba. One of the nurses said that she was happy for Asmeen, but sad for herself. They gifted Asmeen with a beautiful pink polka-dot dress (see photo above) and kind farewell words.
Now that Asmeen has arrived in Kurdistan, the plan is for her to stay in the PICU for around two weeks. Her family will need to prepare their home with the necessary supplies to care for her in a home setting. Asmeen's mother is very competent. She knows all of Asmeen's little intricacies and loves her dearly. Thankfully, she was trained with this specific ventilator that she has now for one and a half months at Alyn Rehabilitation Hospital, so she is comfortable with the machine. It also has 16 hours of battery life to deal with the frequent power outages in Kurdistan.
At around five in the evening, our Israeli ambulance driver arrived. We were all surprised when he started talking to Asmeen's mother in Kurdish. His parents were from Kurdistan and made their lives in Israel. He was so kind to Asmeen and to us. We were extremely thankful for his help and knowledge of Kurdish as for communication to arrange the ambulance, Nate spoke Hebrew with him and Colin spoke Kurdish with him.
The airport staff were very helpful in expediting security and helpful with Ameen's boarding.
During the three-hour Turkey transit we stayed at the airport clinic, charged batteries, rested, fed Asmeen through her feeding tube, and prepared for the next part of the journey.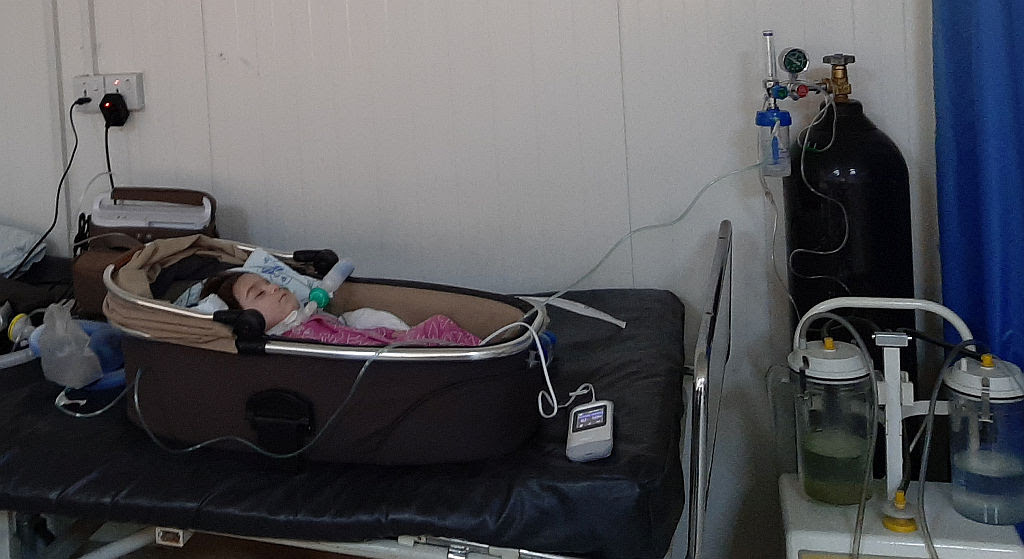 Heevi hospital prearranged an ambulance to meet us at the airport in Kurdistan, but when we arrived we found out that it had been cancelled due to a miscommunication.
After a bit of chaos, at four o'clock in the morning, with help of the physician director of the PICU department, we were able to arrange an ambulance that took us to a hospital clinic near the airport where we waited for two ambulances to transport her to Duhok.
 When we transferred to the ambulance, Asmeen's father was waiting in the ambulance and her family was reunited. It was such a sweet moment of reunion. I invited him into the ambulance to see Asmeen and he gave her a sweet kiss on her forehead.
Two hours later, we arrived at the hospital.
Asmeen was admitted and transferred over to her new bed in the PICU. The doctor invited us to share breakfast with Asmeen's mother. We are thankful for his kindness.
After leaving Asmeen in the able hands of the Kurdish PICU, we were invited to Asmeen's family home for a Kurdish meal. Her siblings were so excited that Asmeen and mom were finally home. Her family prepared new clothes for her, as she had outgrown all her clothes in Kurdistan. We were so blessed to rejoice together with her family.
While in Israel, Asmeen's mother always encouraged the other Kurdish mothers during the eight months of her daughter's hospitalization. She would say, "desti xwha," which means everything is in the "hands of God."