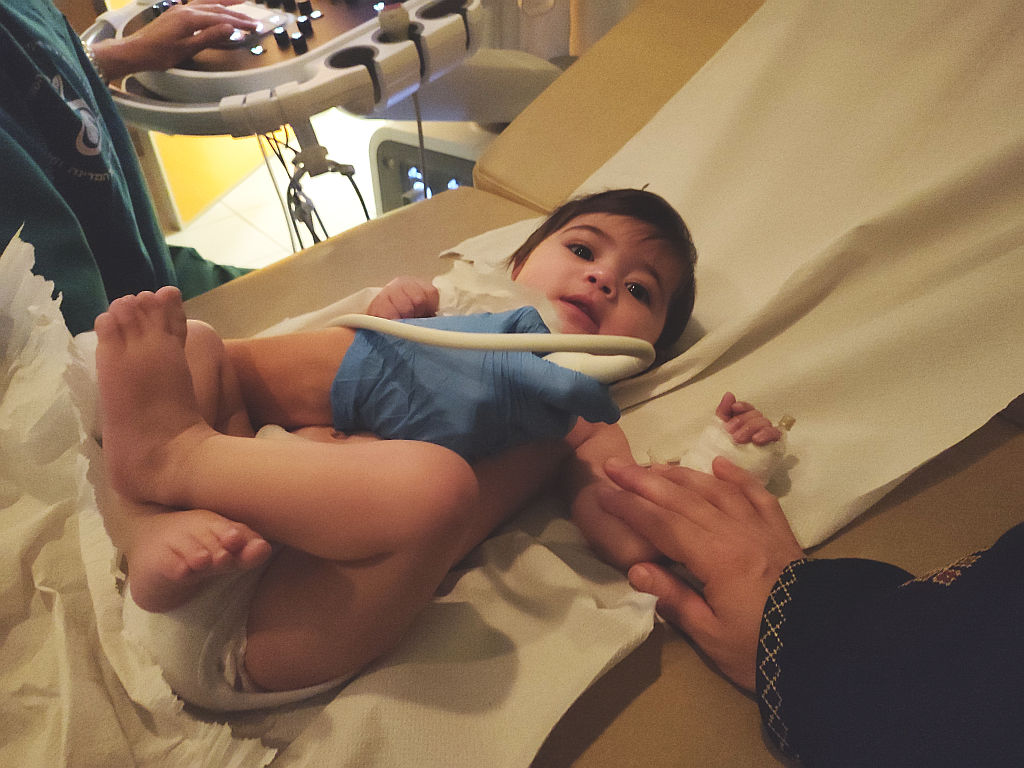 When coworker Hanna and I went to Sheba Hospital today, we heard the happy news that Balsam might be discharged to Gaza today. Together with Balsam and her mother, I went to the pre-discharge echo. Balsam was even smiling through the whole procedure. Balsam's mother was whispering how hopeful she was that the echo results would be good. And yes, there was only a little bit of fluid remaining so they would be released today! She was so so happy. We danced together out of the room and back to the Secondary ICU.
There I was, standing a while with Balsam on my arm, while her mother packed her stuff. All the nurses came by to hold Balsam a last time, make a picture with her and say goodbye. Balsam's mother made special relationships in the hospital also. One woman on cleaning staff especially loved Balsam and was smiling at her all the time as she said goodbye. The woman even had a picture of Balsam as a background picture on her phone. It was so cute to see all these people loving Balsam.
Balsam has been very long in the hospital after her heart surgery. The Sheba staff had a lot of time to get to know Balsam.
We volunteers also always enjoyed it to visit beautiful Balsam and her lovely mother. Although it was not always easy for them, because there where many ups and downs with fluid in Balsam's chest or fever after the surgery.
Still, Balsam's mother was always so friendly and asked each time how all the girls at Shevet are doing. With people waving goodbye, we left the hospital and were finally on our way to Gaza.
We enjoyed our ride with Arabic music.
All in all we are thankful for time in the hospital. So good to be in a hospital where the staff not only helps the children with treatment, but also truly loves them. With Balsam we could see this love. Thank you to all the staff who made their time so precious. And of course a big thank you to our Lord who made this all possible.
We pray for little Balsam and her mother as they are now reunited with their family. This month we will welcome them back for a follow-up appointment. God bless them!