Friends,
Our home in Ashdod is filling up quickly as we welcomed two new families from Kurdistan yesterday evening! Toddler Eliana's family is from the ancient Assyrian Christian community in Kurdistan: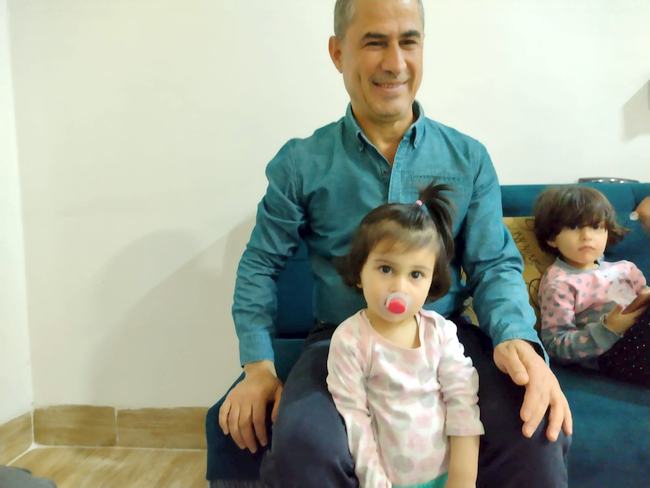 Eliana has a problem with one of the valves in her heart that was discovered when she was a baby, and she now needs surgery to repair it. She had her first echo at Sheba hospital this morning and the doctors are discussing the best surgical option for her: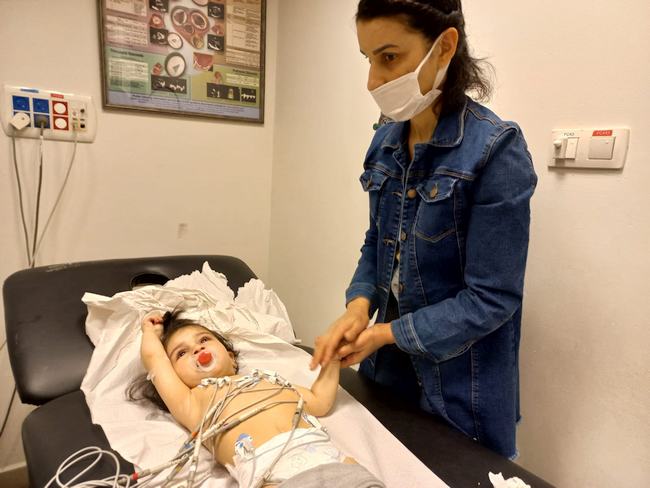 This is the second trip to Israel for 16-year-old
Khonav
, who had a central shunt operation at Sheba two years ago. She is returning now for further treatment, and we're excited to welcome her back to Shevet. Her first appointment at Sheba is scheduled for Sunday morning. Khonav traveled with her older brother this time and we're looking forward to time with them both in the coming weeks: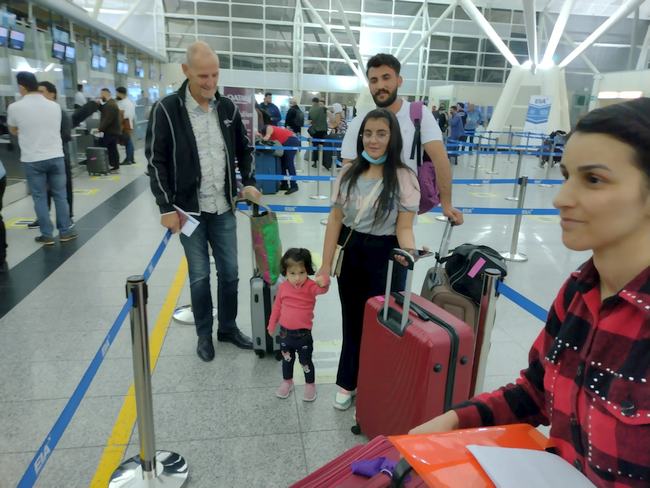 A third child, four-year-old Hussein from a Syrian refugee family, was delayed at the airport by immigration issues and unable to travel with the other families. Let's pray that he will be able to arrive next week: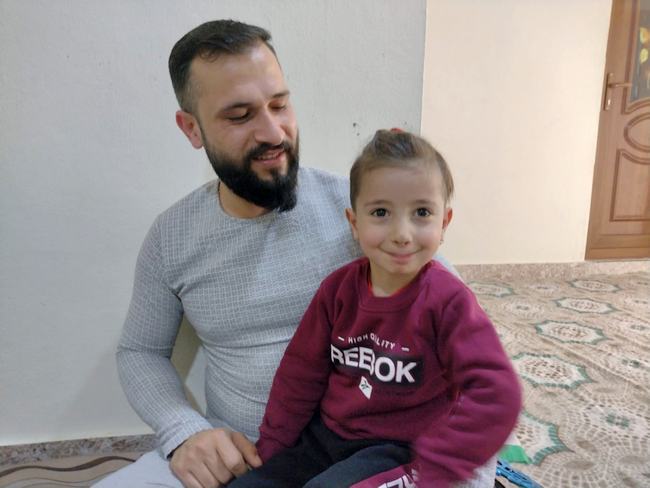 As I was picking Eliana and Khonav up from the airport yesterday evening, a new emergency baby from Gaza was arriving in the ICU at Sheba. One-week-old
Liya
 has a ventricular septal defect, a hole between the large chambers of her heart. Today, she had a CT scan and an MRI, among other tests, so the doctors can decide on a plan of treatment. Liya is here with her grandmother; please pray for both of them as she begins her treatment: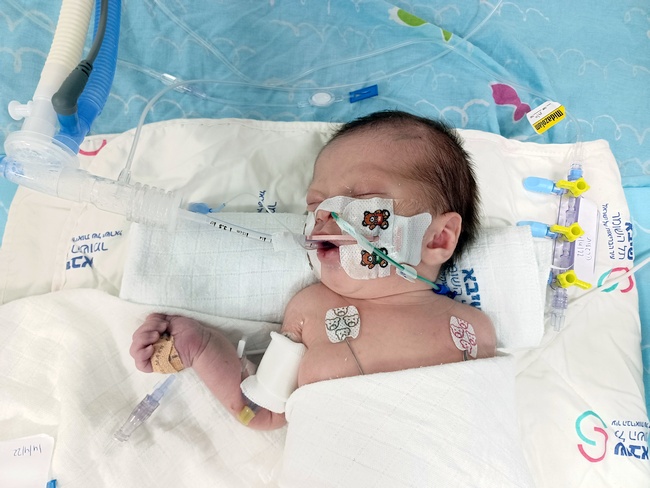 And we welcomed another new child from Gaza this week as well, eight-year-old
Bilal
, who has an electrical abnormality in his heart. Bilal and his grandmother stayed with us for a couple of days so he could have a 24-hour holter monitor of his heart's electrical patterns. During this time he had fun at our local beach with his new friend Samayan, from a Yazidi family in Kurdistan: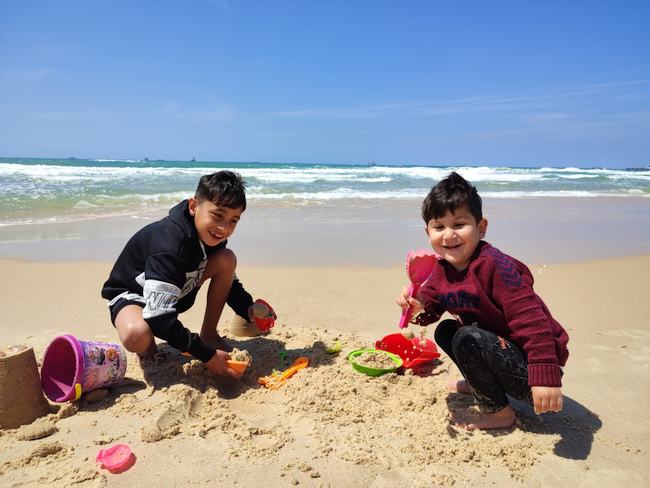 Bilal also had a stress test with his cardiologist this morning, and his tests show that while there is an electrical problem in his heart, he does not yet need a pacemaker. He returned to Gaza this afternoon and we'll see him again in six months for his next check-up.
Samayan will also be heading home to Kurdistan on Sunday morning, just two weeks after the surgery to repair his VSD. We're grateful for a successful surgery and a very smooth recovery for Samayan. He has filled our house with energy and laughter during his time here and has kept everyone entertained with his spunky personality: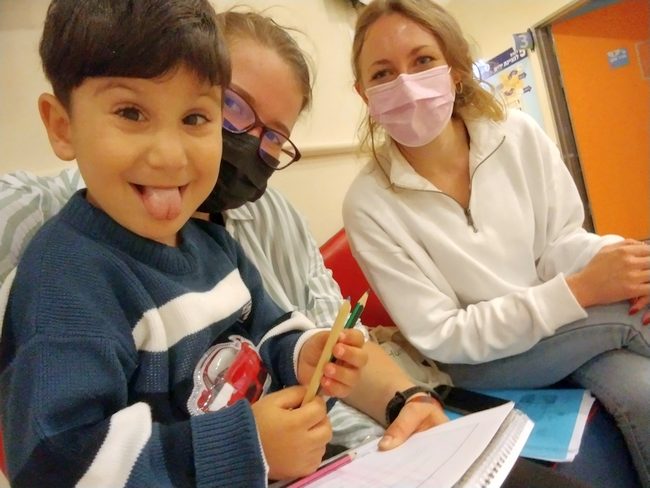 Joining Samayan and his mother for the journey home are three-month-old
Ayan
 and his mother. Ayan had his second post-op echo today and thanks be to God, his little heart is beating strong a month after the difficult and dangerous surgery to switch his great arteries. Ayan's mother has been a good friend to all of us during her time here and we've loved seeing Ayan grow and develop over the past several weeks: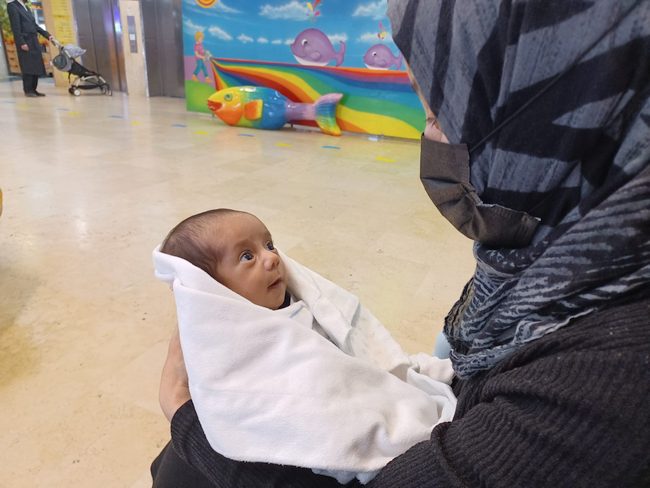 We're looking forward to celebrating Ayan, Samayan, and their mothers at a farewell party before sending them off with love and joy to return home to their families.
One-year-old Yad had an echo this week as well, but his cardiologist discovered that the arteries leading to his lungs are still very narrow and Yad likely needs another procedure before he can safely travel home. A CT scan will help the doctors decide what procedure is best for him, and this is scheduled for early next month. Yad's mother was a bit disappointed to hear that there will be such a long wait time. Please pray for patience and encouragement for her: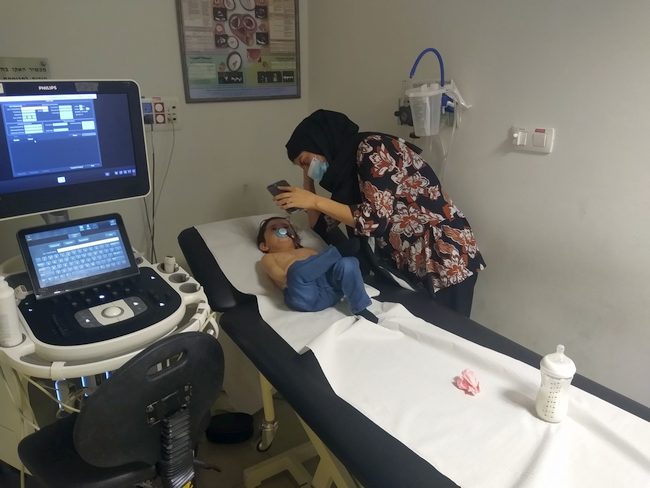 Our good
Mustafa
 from Gaza arrived on Monday to be admitted to Sheba hospital. Coworker Joanne shared photos of him striking poses in his hospital room the day before surgery: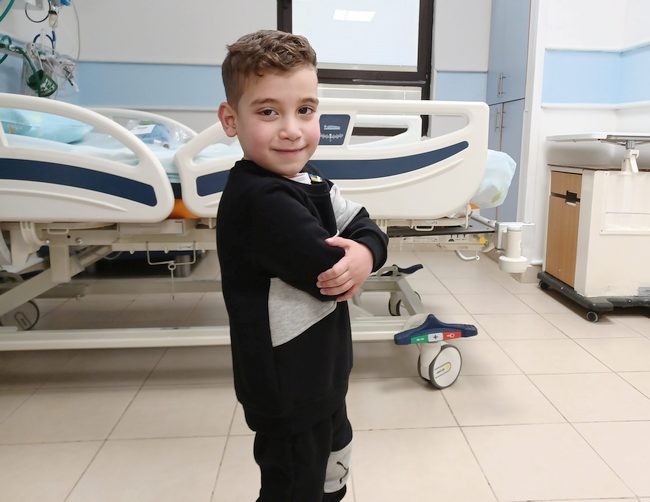 He has been waiting patiently quite some time for his big and much-needed surgery, which was delayed twice already. Thank God, he was finally able to have the operation on Tuesday and it went well and without complication. Mustafa is recovering well and the doctors are decreasing his medications. Coworker Joanne reported today that he is eating and drinking and back to being "completely himself, our
schlingel
" (German for "rascal"):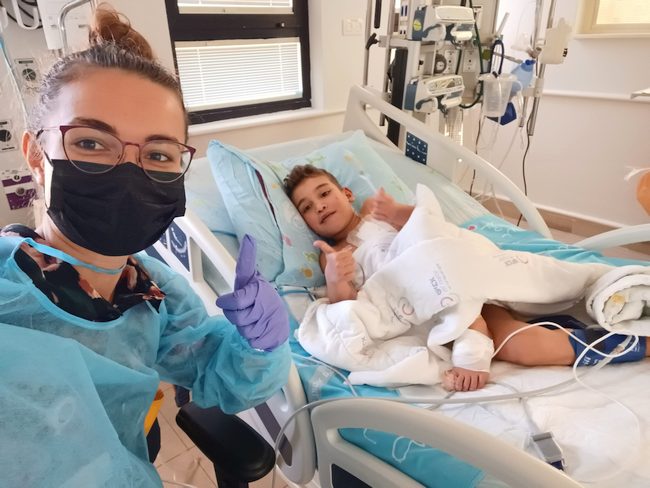 Three-month-old
Ahmad
 from Gaza had a successful surgery to repair his combination of heart defects on Sunday morning. He then had another surgery on Tuesday after doctors discovered a blocked blood vessel in his heart. Today, he had a catheterization to further improve the circulation of blood in his heart. He is stable now and his circulation has improved, but his situation is still complicated. Please pray for a full recovery for Ahmad: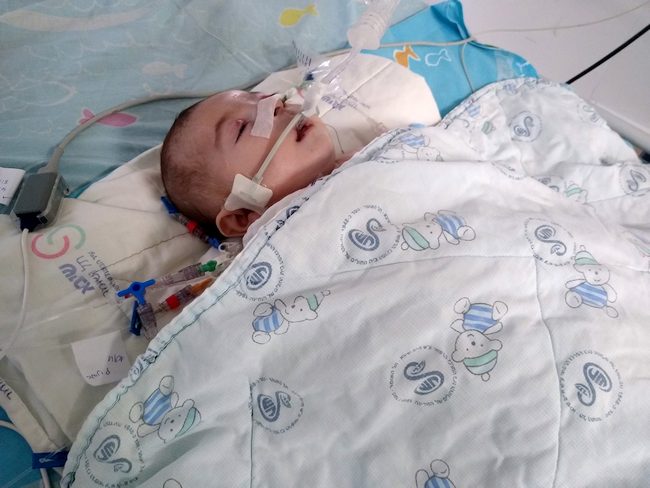 Sweet little
Balsam
 from Gaza also had surgery this week, the big operation to switch her great arteries. Praise God, the surgery was successful and Balsam is recovering well!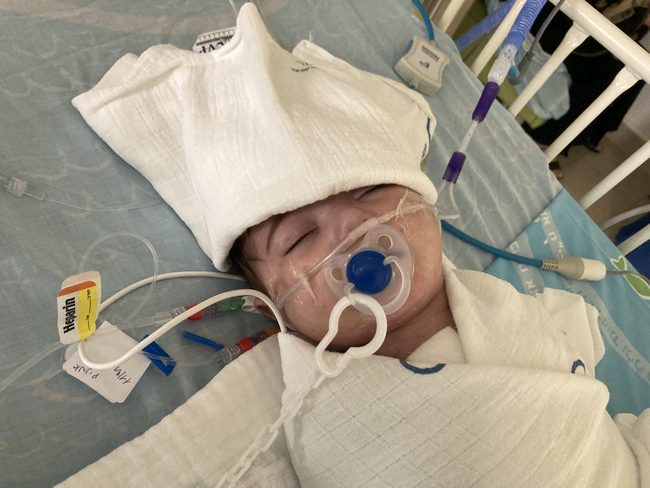 Her parents have been quite anxious about her, but when I visited yesterday, her mother was smiling and eager to tell me how well Balsam is doing now. The doctors have discovered that she has some narrowed blood vessels in her heart which are now being treated with medication but may require a catheterization if they do not improve. Pray that the medication will resolve this situation so that she and her mother can go home to her father, who is eagerly awaiting their arrival in Gaza.
Pray also for tiny Somaia from Gaza, who is still struggling and in a delicate condition. Yesterday morning, she went into the operating room for the fourth time so doctors could try to close her chest, which has been open since her second surgery. Somaia did not respond well and they had to reopen it immediately. Additionally, she now has an infection in her chest that is being treated with antibiotics. Her grandmother was very disappointed by the outcome of yesterday's surgery; please pray for comfort and strength for her as well as healing for Somaia: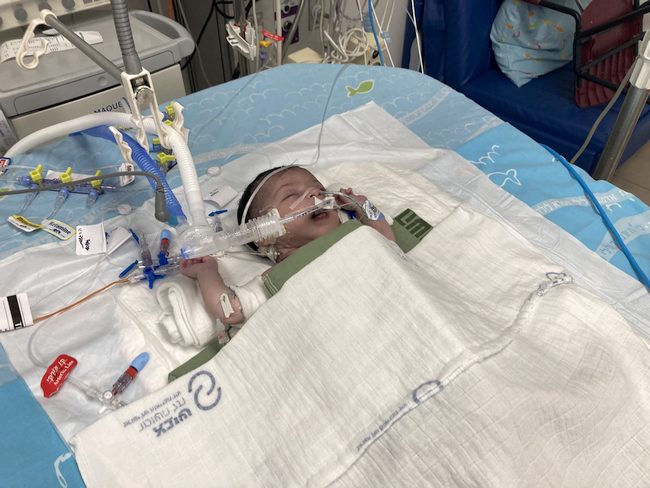 Meanwhile, handsome little
Kenan
 is making progress toward returning home to Gaza. His doctors have been waiting to discharge him from the hospital until he can eat by mouth, and his mom was excited to tell us this week that he has finally started drinking milk from a bottle again. This is a huge step for Kenan! He is still struggling to swallow and keep food down. Pray that he will continue to make progress so he and his mother can go home after a month-and-a-half-long hospital stay: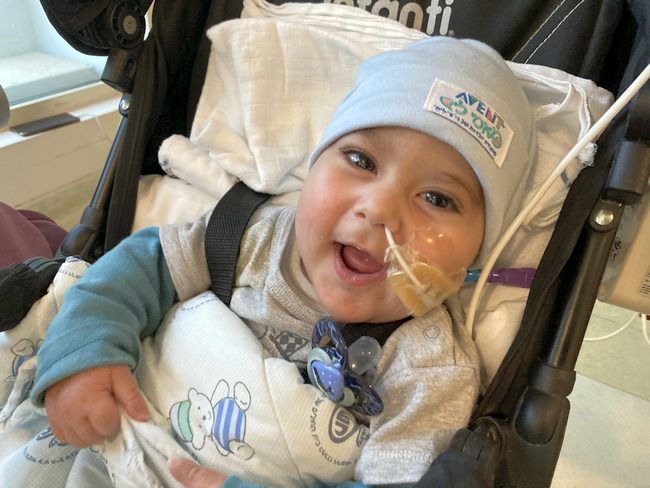 Baby
Malak
 is also growing closer to going home to Gaza. The doctors want to wait until she is bigger to do her surgery, and planned to discharge her at the beginning of this week. However, they decided it is best for her to gain a bit of weight before she goes home. She is now in secondary ICU at Sheba hospital with her grandmother, who is taking good care of her: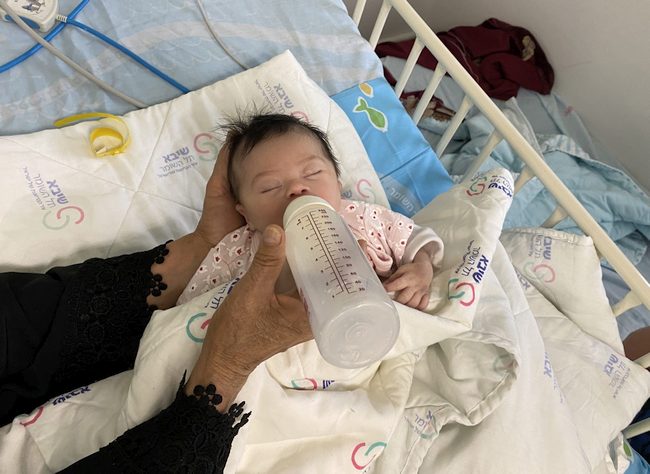 Last but not least, little
Anas
 from Gaza is slowly but surely improving. After struggling to breathe last week, he is doing much better now and breathing completely on his own without oxygen support. When I visited him and his grandmother yesterday, they were on a video call with Anas' mother so she could see her baby boy. Pray for a full recovery for Anas so he can go home to his mother soon: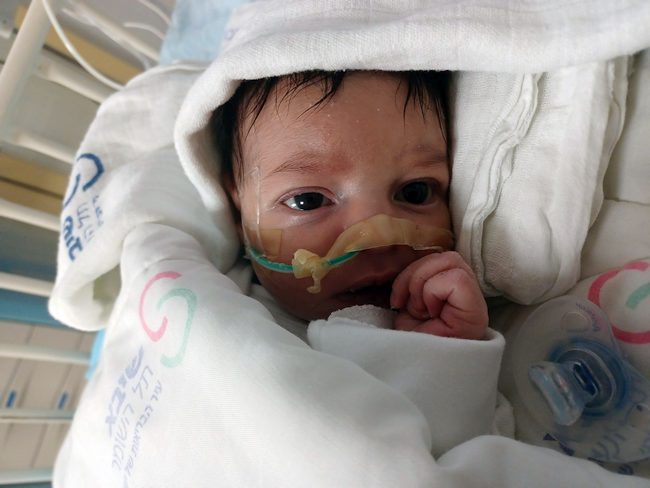 This weekend is a special one in our community. Friday evening we celebrate the Jewish holiday of Pesach (Passover) remembering the salvation of the Jewish people from slavery in Egypt. Tomorrow we also commemorate the sacrifice of our loving Messiah, who gave himself up to give us eternal salvation. It's a unique and beautiful experience to celebrate both these events at one time— to join in the ancient Jewish celebration of deliverance as well as the incredible fulfillment of centuries of foreshadowing and prophecy.
It's from this long-celebrated Passover meal that our practice of communion is born. I'll close with these lyrics from Rich Mullins, a beautiful communion blessing as our souls long for the life yet to come:
May peace rain down from Heaven
Like little pieces of the sky,
Little keepers of the promise
Falling on these souls the drought has dried.
In His blood and in His body,
In this bread and in this wine,
Peace to you,
Peace of Christ to you.
Bria for Shevet Achim