Friends,
Less than a week after he was rushed by ambulance from Gaza to Israel's largest hospital, newborn Adam went into surgery first thing Monday morning to switch his transposed great arteries. It was a big operation but praise God, it went without complication. Because Adam is so tiny and had some fluid in his chest after the surgery, the Sheba doctors left his chest open in case he needed further intervention: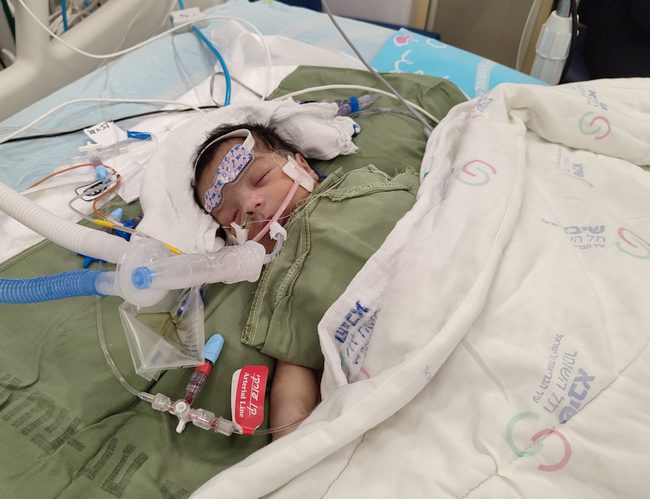 The day after the operation, Adam's blood pressure dropped very low and he needed blood transfusions to stabilize him. He is now stable and receiving medication to keep his blood pressure in a safe range. The doctors closed his chest this afternoon; please pray that he will remain stable in the coming days.
One-month-old Racheal from Kurdistan, who arrived in the pediatric ICU at Sheba just a couple hours before Adam last week, had a very quick catheterization on Tuesday morning. The doctors placed a stent to widen her pulmonary artery and allow improved blood flow through her heart: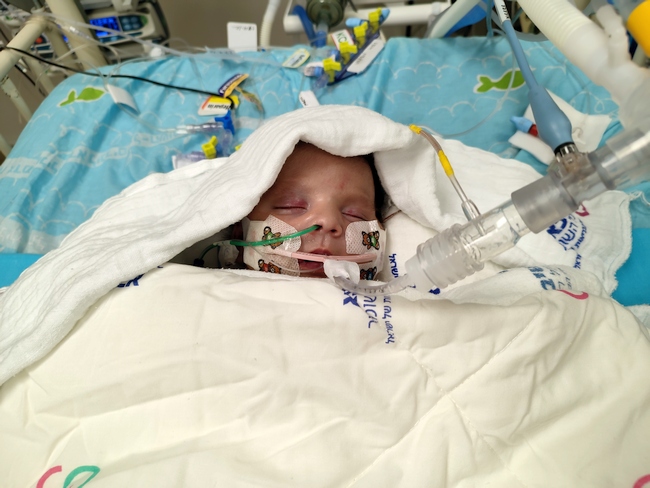 Racheal is doing better after the cath, but she is still struggling. The doctors removed her from the ventilator yesterday, but after several hours they had to reinsert the tube to stabilize her. Racheal's mum is quite anxious after this process. Pray that Racheal will remain stable and the doctors will know how best to proceed with treatment. Please pray especially for peace for Racheal's mother as she waits for the next steps.
As soon as Racheal's cath was finished on Tuesday, it was little Balsam from Gaza's turn. During her procedure, the doctors dilated an artery to allow for better blood flow. They had to reinsert a chest drain after the cath due to more fluid in her chest, but she is stable and recovering now: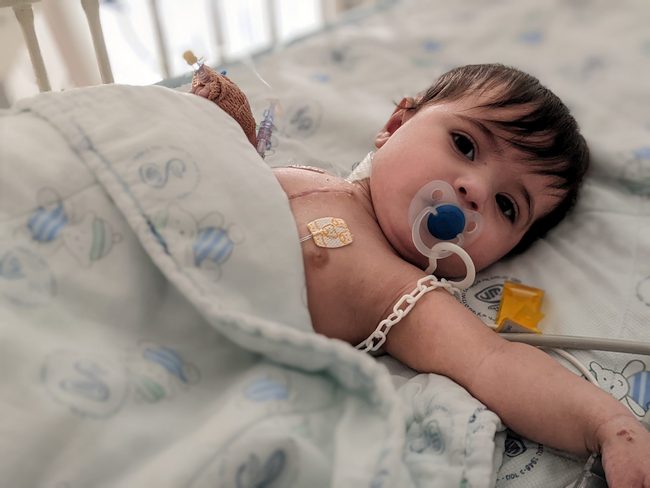 The doctors are considering performing Balsam's next surgery during this hospital stay due to the trouble she is having with fluid in the chest. Balsam's mother is making the best of an unexpectedly long stay in the hospital; she has made friends with everyone, she knows everything there is to know about what's going on with all the babies in the ICU, and she's always asking after all the girls at Shevet. Please pray for continued recovery for Balsam and strength for her mum.
Meanwhile, baby Somaia from Gaza is finally extubated! She is still receiving some oxygen support through the nose but this is a huge step for her. The doctors are now treating her for some problems with her liver, and Somaia is stable and getting stronger: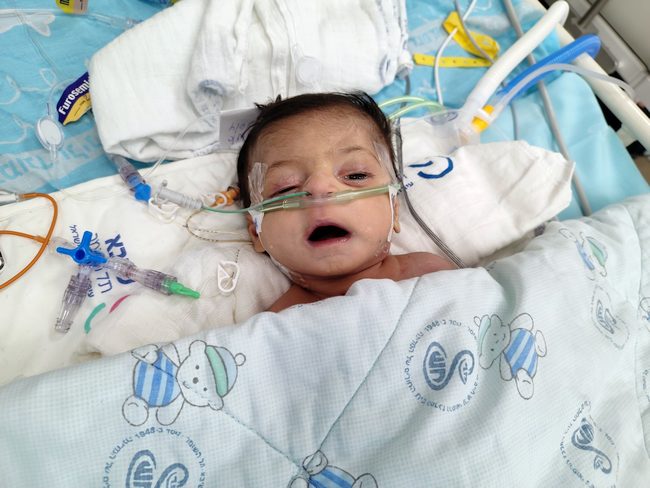 She's had quite a difficult journey since her arrival at Sheba nearly a month ago, and there were quite a few moments when things did not look promising for her. However, none of her challenges are too big for God. Praise him for Somaia's healing and progress!
Newborn Liya from Gaza is also off the ventilator this week and receiving oxygen support just through her nose. After running a fever early in the week, she started a course of antibiotics to treat a possible infection and is stable and improving in the secondary ICU. Like Somaia, Liya's situation is very difficult, but we are seeing the hand of God at work in her life: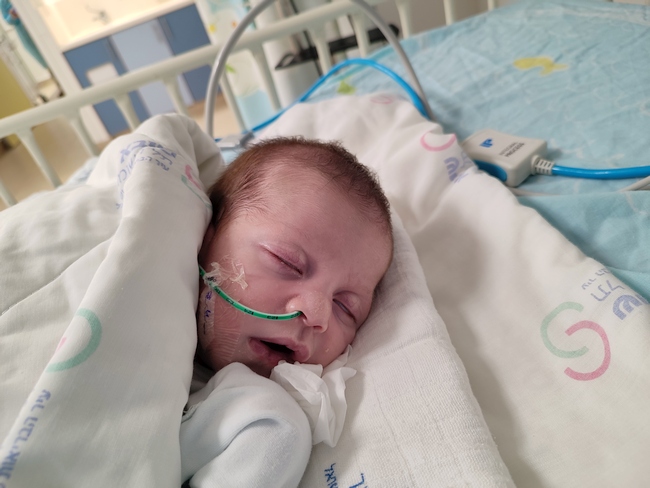 Ahmad from Gaza has also been moved to the secondary ICU. He was scheduled for a catheterization today to dilate an artery, but it was delayed due to a bacterial infection in his blood. The cath is now scheduled for next week. We pray that his infection will clear up so the procedure can take place: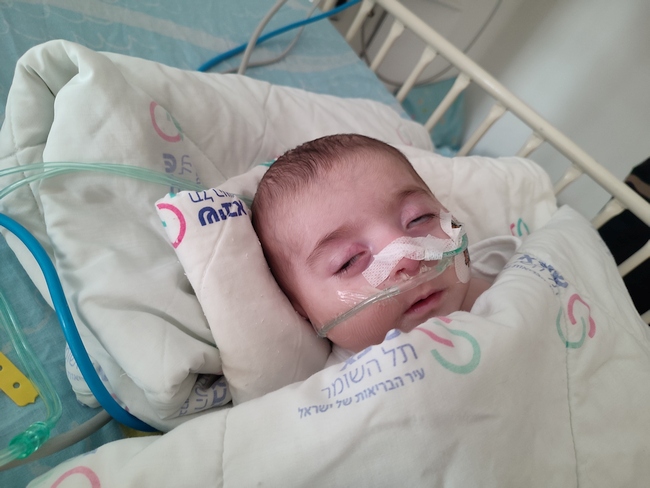 Baby Anas has been moved out of the ICU and into the regular pediatric ward at Sheba hospital, just over a month since his emergency heart surgery. After some concern about his liver function, his liver enzyme counts have improved and his heart is doing well. If he does well over the weekend, he could be discharged to Gaza on Sunday: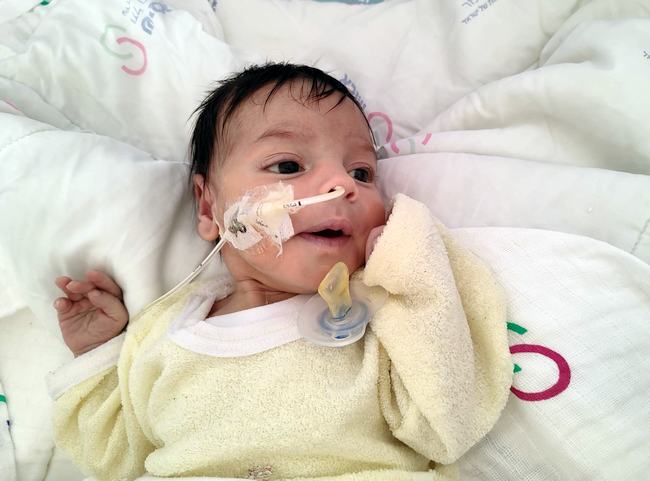 Chubby little Kenan from Gaza is also patiently waiting to go home. He has now been discharged by his cardiologist, but he has run a fever off and on throughout the last week and the doctors are unsure of the cause. As of today, he is doing a bit better and his doctors hope to discharge him next week: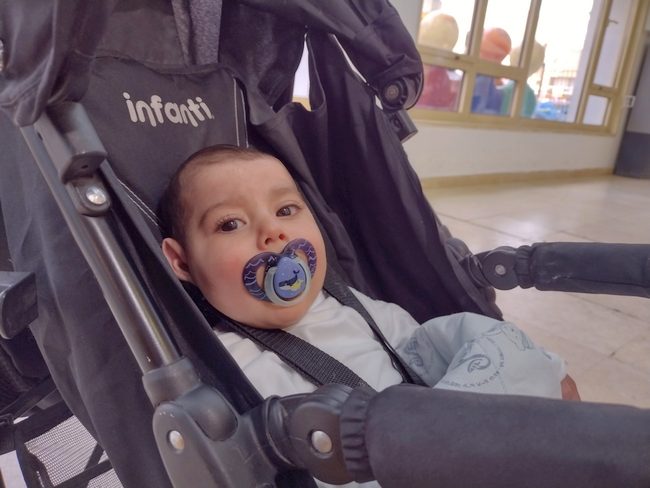 Baby Malak's doctors planned for her to go home to Gaza today, but at the last second her oxygen saturation dropped very low and she is now back on oxygen support. The doctors planned to wait until she is bigger for the surgery to repair her combination of heart defects but may reconsider due to her ongoing struggle to breathe well on her own. Please pray for wisdom for the doctors as they decide on the next steps for Malak: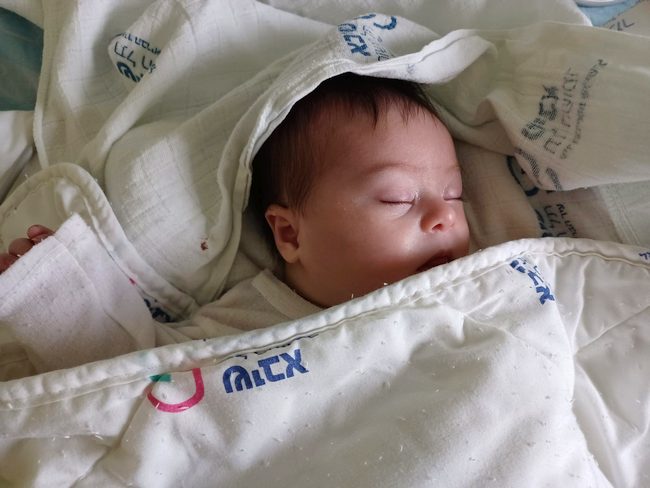 Meanwhile, handsome three-year-old Mustafa and his mother went home to Gaza on Monday, two weeks after his long-awaited Fontan surgery: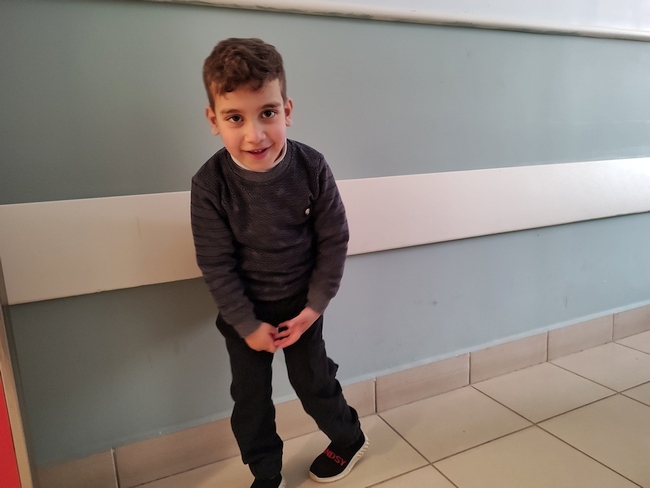 This is, God willing, the last of three surgeries needed to repair Mustafa's single-ventricle heart. Mustafa and his mother are good friends to all of us at Shevet and we're looking forward to seeing them in a month for his next check-up.
Two-year-old Wael also made the trip back to Gaza this week after finishing a week of antibiotic treatment at Hadassah hospital in Jerusalem: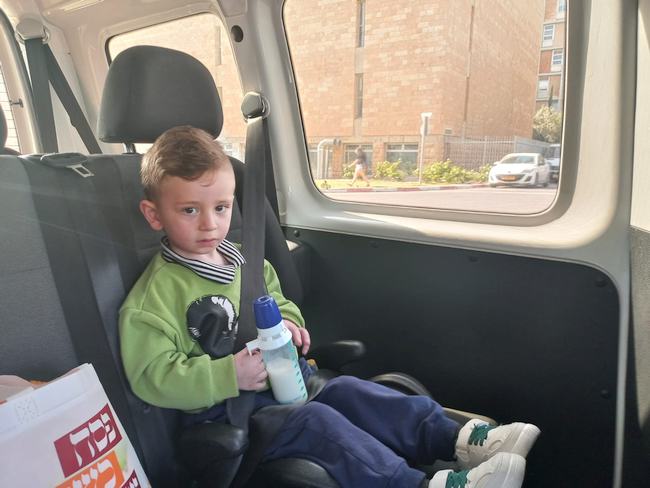 His lungs look much better after this course of medications and coworkers Doro and Hanna brought him and his mother back to the border crossing on Wednesday afternoon. Wael and his mum are now safe at home to finish the Ramadan holiday with their family.
Meanwhile, four-year-old Hussein had his first assessment at Sheba hospital this week. Hussein is from a Syrian refugee family in Kurdistan, and he had a shunt placement surgery in Syria as a baby. He is now big enough for the surgery to repair his combination of heart defects, but the doctors referred him for a CT scan to help them examine his heart more thoroughly before the operation. For now, Hussein is busy keeping the house in Ashdod full of laughter and mischief, and slowly working up the courage to befriend our dog Shevie: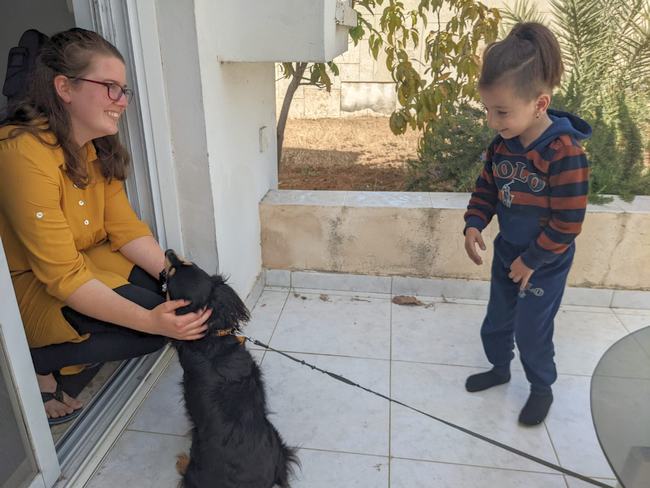 Also in Ashdod is one-year-old Yad from Kurdistan, who had a CT scan on Wednesday morning. His pulmonary arteries are still very narrow and the doctors are now examining the results of the CT to decide between a cath and a surgery to dilate them. In the meantime, Yad is working hard learning to walk so he can keep up with Hussein: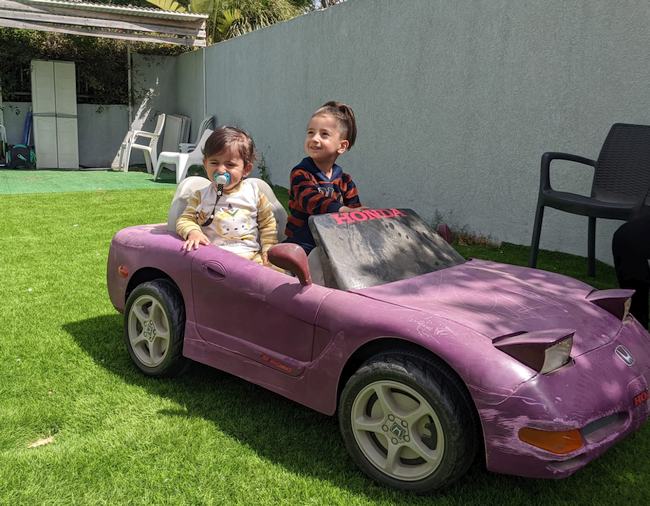 Eliana from Kurdistan is waiting patiently for a catheterization, which is tentatively scheduled for three weeks from now but could be moved up to as soon as this Tuesday if an opening becomes available for her: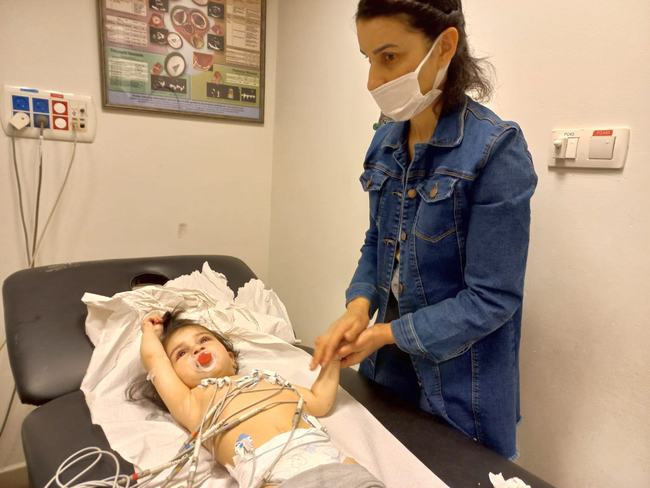 She is slowly warming up to volunteers and the other children, especially Khonav, and is full of spunk and independence. Beautiful Khonav is awaiting a CT scan next week that will allow the doctors to see her pulmonary arteries more clearly and decide on the best course of treatment for her. Khonav and her brother are a blessing to staff and families alike; they are so much fun to spend time with and are always helping the moms care for the little ones in the house. We celebrated Khonav's seventeenth birthday this week with a big pizza party with all the families and volunteers: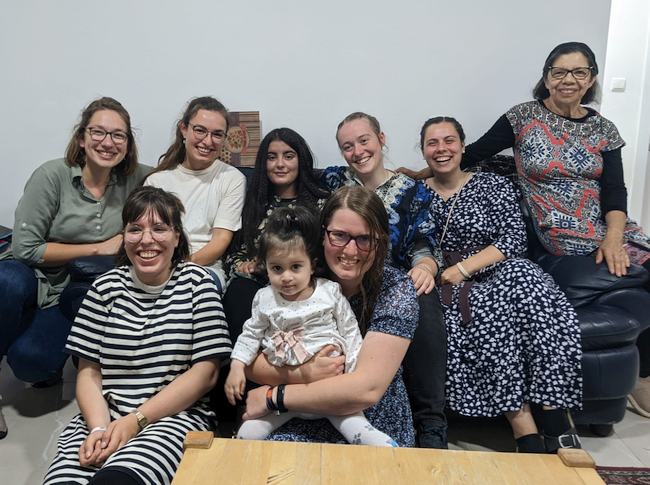 It was a week full of birthdays here at Shevet, as we celebrated coworker Lilly's birthday on Sunday and Khonav shared her birthday celebration with coworker Joanne. Lilly and Joanne are each a great blessing to our community. Lilly has an endless supply of energy and brings so much joy every time she walks into a room. As our Ashdod community coordinator, Joanne keeps our day-to-day work here running smoothly, and leads with grace and kindness. We were glad to celebrate both of them this week and to have them here with us in our community.
We are excited to welcome some new members to our community this week. Just this morning, Tatiana from Columbia arrived to serve with us. This is especially sweet for long-term coworker Margarita, Tatiana's mother, and we're looking forward to seeing how the Lord works through Tatiana's time here.
Late last week, Frank arrived from the United States to serve with us for the fourth time:
Some of you may remember praying for Frank early last year during his difficult battle with coronavirus. The doctors had all but given up hope, but nothing is impossible with God.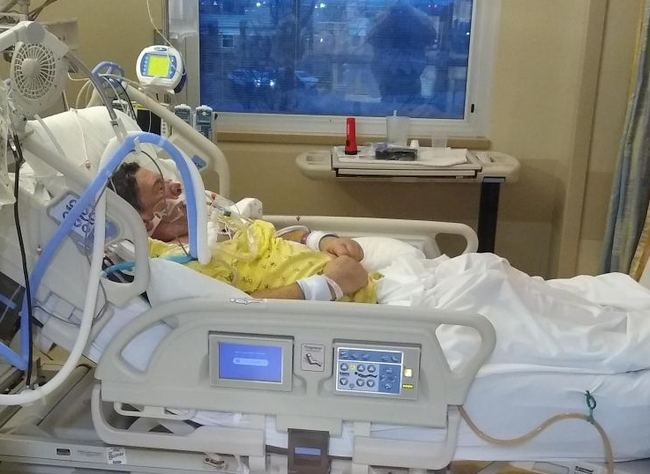 After long weeks on a ventilator and in respiratory rehabilitation, Frank made an astonishing recovery, and both he and his doctors give all the glory to God. The testimony Frank shared with us is one of God's great power to overcome even the most impossible circumstances.
Ben joined us for a week, and we've been blessed by his skills in multiple languages as well as his insights in our morning community meetings. Ben shared an emotional and moving testimony with us earlier this week, all coming down to the question, "If you lose everything, will you still trust God?"
As we listened to Frank and Ben's testimonies, I was reminded of the words of Shadrach, Meshach, and Abednego in the book of Daniel. When faced with a terrible choice—worship an idol of gold or be thrown into a blazing furnace—these three young men responded to the king in boldness and courage:
If we are thrown into the blazing furnace, the God we serve is able to deliver us from it, and he will deliver us from Your Majesty's hand. But even if he does not, we want you to know, Your Majesty, that we will not serve your gods or worship the image of gold you have set up.
Their message is clear: God has the power to save us even from death itself, and even if he does not, we still will not lose faith. This is the challenge and calling we face every day. God alone has the power to heal each and every one of these children, even from seemingly impossible situations, and even if he does not, he is still good and we will still trust him.
Thank you for joining us in prayer,
Bria for Shevet Achim