Dear coworkers,
It was ice cream night out tonight for our community and families, some of whom were especially excited because the month-long Ramadan fast ended at sunset!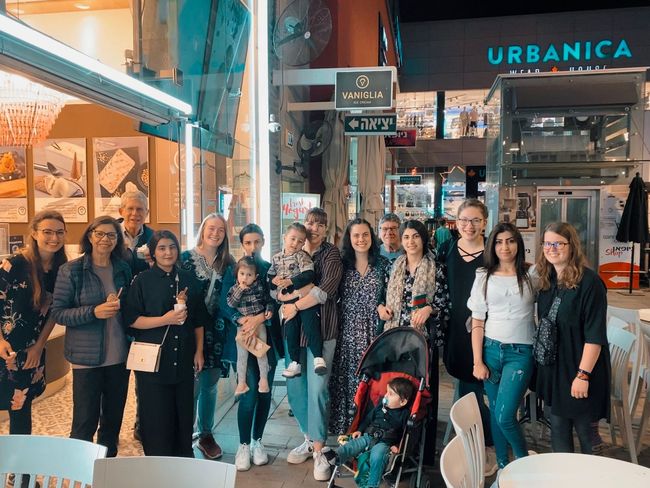 Has Ashdod ever seen such a group, including Assyrians, Syrians, and Iraqis, as well as volunteers from three continents? It's a picture of the kingdom of God. May their tribe increase.
And in fact the conversation around the table this afternoon at our home Revayah (Hebrew for overflowing abundance, as in psalms 23 and 66) turned to a dilemma we haven't seen since the advent of COVID-19: Where are we going to put all these visitors? We may even have to exercise the nuclear option and open up the new top floor of the family house: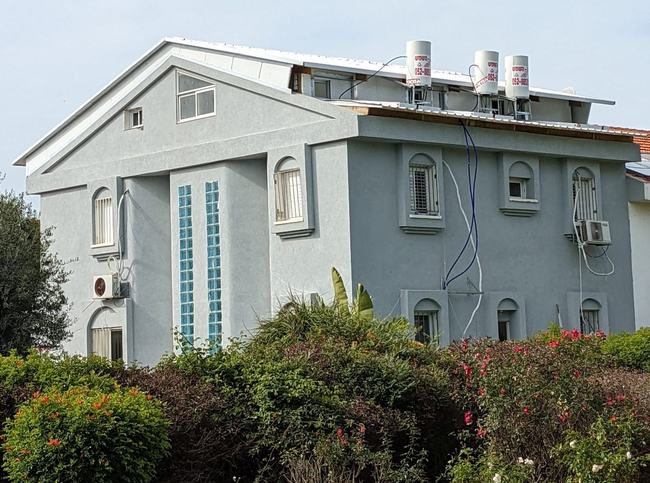 Strategically situated halfway between the Gaza Strip and Israel's largest hospital, the Sheba Medical Center,
Revayah 
is increasingly becoming an healing stopover for the children of Gaza, ten of whom are in Israel tonight.
Just look at these striking pictures of little ones from Gaza taken by our coworker Doro for tonight's blogs. There's Malak (Arabic for "Angel"), now off all oxygen support after her heart surgery: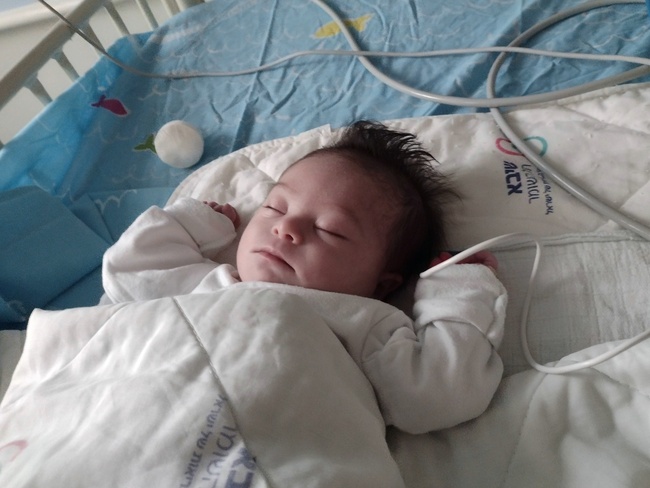 Ahmad is
awake and happy
 now three weeks after his emergency life-saving surgery: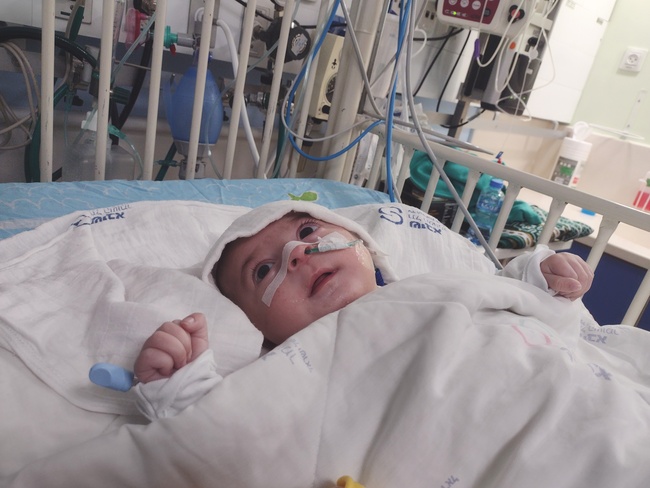 Three-week-old Liya is also breathing on her own but
back under close observation
 in the ICU: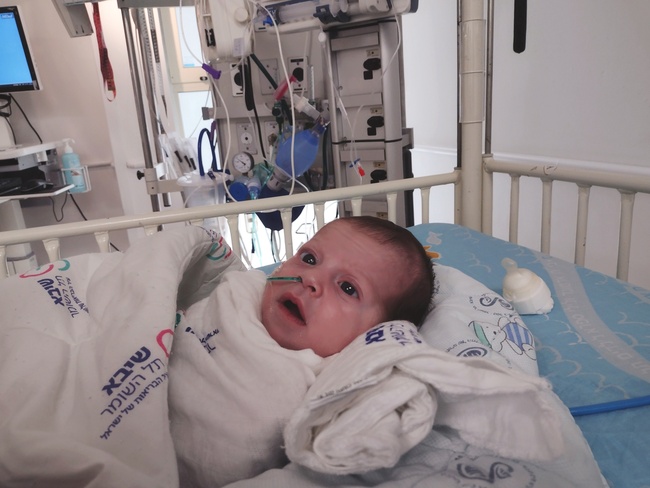 And beautiful Balsam is
stable and doing well
 following her second operation in Israel: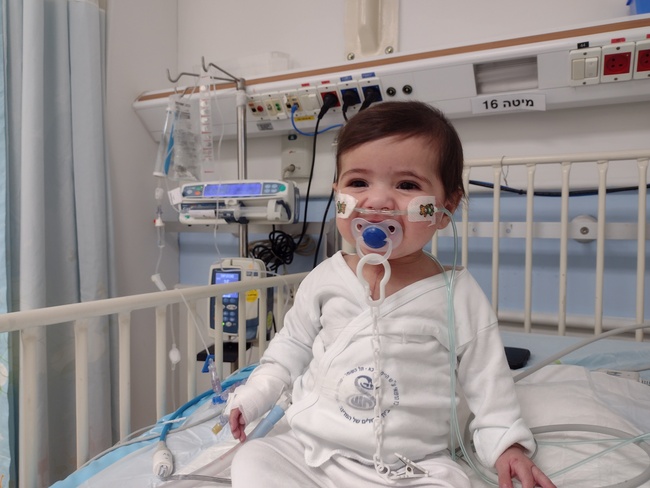 Two more children came out of Gaza for post-surgical echos today, before the Strip is closes down tomorrow night for all but emergency cases due to Israel's Memorial Day and Independence Day celebrations. Lilly captured this photo of Omar, six months after our coworkers
rushed him into the ER late at night
, who obviously is now feeling great: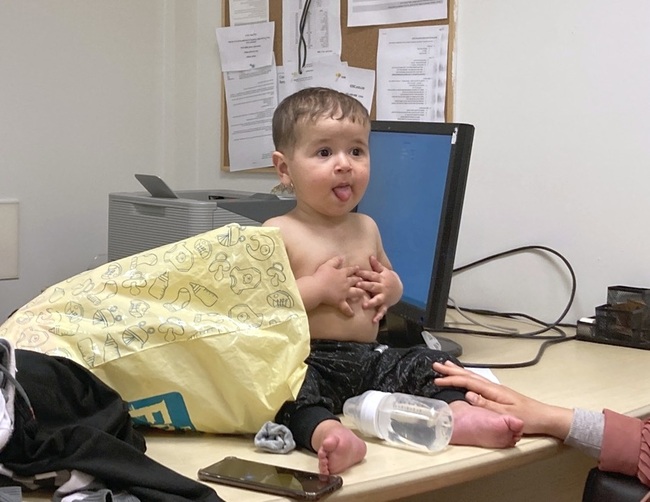 Friends, how blessed we are to partner with the people of Israel to bring healing to the precious children of Gaza, even as the leaders there
threaten Israel with a religious war
. This is the unique fragrance of Messiah: Love your enemies.
A courageous conference of Christian leaders in Lebanon sought this week to remove their nation from the Iranian-sponsored list of Israel's sworn enemies:
The conference, titled "On Reclaiming Neutrality in Lebanon," was held on Saturday in the central Lebanese town of Harissa under the auspices of Maronite Patriarch Bechara Al-Ra'i. The top cleric's representative, like other participants, urged the country to leave the Iran-dominated regional axis and assume a more neutral foreign policy stance, which they insisted was essential to Lebanese identity…
Although Lebanon has large Sunni Muslim and Christian communities, the country's politics have largely drifted under the influence of Shiite-majority Iran. Hezbollah, the Shiite Muslim terror group, dominates Lebanese politics; the group is avowedly committed to Israel's destruction.
"We are now a party to other peoples' wars, though we want to wage peace. We are now a home to preachers of hate, though we want to spread love," said Toni Nissi, a Christian speaker who opened the conference…
"Has the ban on human contact with our neighbors, whatever their faith and creed, enabled us to truly support the Palestinian people in their legitimate aspiration to statehood, or helped us contribute to a culture of peacemaking on any land?" asked Sirouj Apikian, a Lebanese attorney and activist.
Yousef Salameh, a former Lebanese government minister, noted that the recent peace deals between Israel and its Arab neighbors had woven the Jewish state into the region's security architecture. Salameh said that Israel is "effectively part of a broader alliance of Arab states."
And glory to God, there are a few fearless followers of Messiah even in the Russian Orthodox Church, which has largely embraced the brutal assault on the Ukrainian people:
Father Georgy Edelshtein is eager to debate those who disagree with his opposition to Russia's military campaign in Ukraine.
"I'd like to see one or two of my opponents sitting right here," the 89-year-old says, pointing to an empty armchair in his living room full of gilded icons.
The white-bearded priest in a black cassock is one of the few Russian Orthodox priests to have spoken out against Moscow's military operation in Ukraine.
In a quavering voice, but without hesitation, he explains: "I'm afraid I am a bad priest. I've never been against all wars but I've always been against any land-grabbing, aggressive war…"
On February 25, a day after the military operation began, Edelshtein signed a letter written by a priest friend, Father Ioann Burdin, that was posted on the website of Burdin's parish church in the village of Karabanovo in the Kostroma region.
"The blood of Ukrainian residents will remain on the hands not only of the rulers of Russia and soldiers carrying out this order. Their blood is on the hands of each of us who approve this war or simply remain silent," said the post, which was later deleted.
Metropolitan Ferapont of Kostroma, a highly placed monk, condemned the letter, saying that only two priests out of 160 in the region opposed the operation.
But their protests did not stop there.
On March 6, Burdin preached about the human cost of the ongoing fighting. The very same day he was summoned for questioning by investigators.
On March 10, he was ordered to pay a fine of 35,000 rubles ($489/450 euros) for "discrediting" the armed forces, punishable by up to three years in prison for a repeat offense. Four people testified against him in court.
"During the sermon, Father Burdin… told us that he was going to pray for Ukraine," a female parishioner said according to court documents seen by AFP. Burdin, 50, continues to condemn the military action.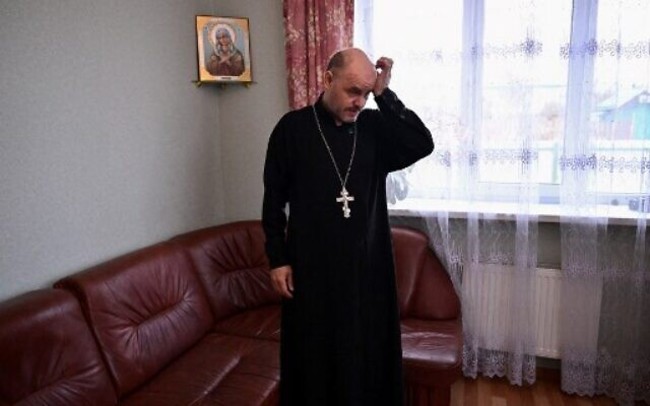 "For me, the commandment 'Thou shalt not kill' is unconditional," he told AFP at his house close to Kostroma. He says few priests oppose the conflict because many are susceptible to "propaganda," combined with the fear of sanctions and prosecution…
"If a person commits a personal sin, he himself rebels [against God], not the whole Church with him," Burdin says. His recent setbacks have hit him hard, nonetheless. In early April he withdrew from active service and is thinking about whether to stay in the Church.
The son of a priest, he was ordained in 2015 after a career in journalism.
"If I'm within the Church but censoring myself as I speak, if I'm silent about a sin being a sin, and about bloodshed being unacceptable, then I will just gradually, without noticing, stop being a pastor," Burdin says.
Friends, the spirit of the age demands of us all to stop speaking the truth, each in our own different circumstances. The word of God is truly an offense to our generation. May we ask ourselves what price we are willing to pay, and in what ways we are already choosing silence instead? In repentance let us pray together with the first messianic Jewish believers in Jerusalem:
And now, Lord, consider their threats, and enable Your servants to speak Your word with complete boldness, as You stretch out Your hand to heal and perform signs and wonders through the name of Your holy servant Jesus. 
Jonathan for Shevet Achim
"Behold how good and how pleasant it is for brothers to dwell together in unity" (Psalm 133).