Friends,
Please pray for little Racheal from Kurdistan, whose situation remains very difficult. A week after a failed attempt at weaning, she is still on the ventilator and receiving sedatives to keep her from resisting ventilation. This morning she began to wake up a little and her oxygen saturation dropped very low. In addition, she has been experiencing seizures and now has a blood infection. The doctors are treating her with high doses of medications and she is stable but delicate.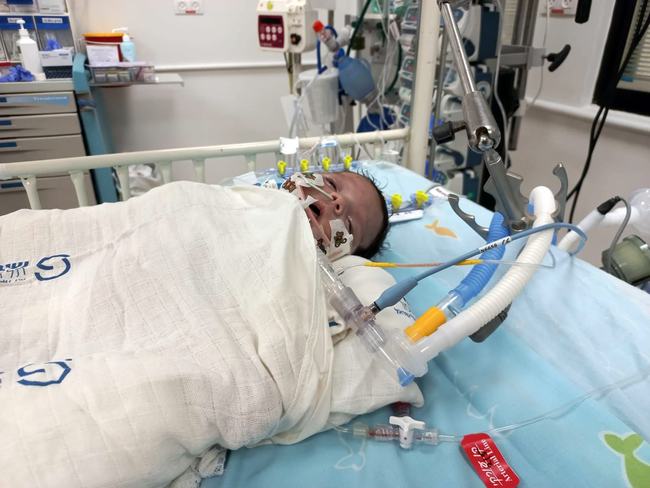 This time of high stress and separation from family is proving very difficult for Racheal's mother, who is experiencing health problems of her own. She is especially concerned about her younger son, who also has a serious heart defect and needs surgery. "It's so hard," she told me in Kurdish earlier this week. "I know I need to be here with Racheal, but my sons are still at home and they need me."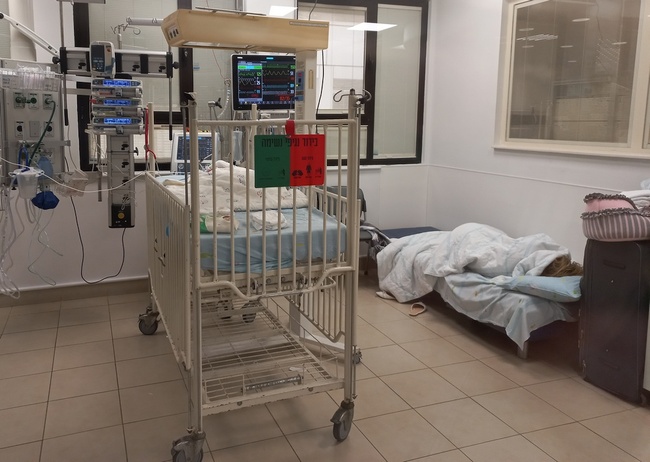 I sat with Racheal's mum for a while and we prayed for Racheal, as well as for her big brothers at home. I can't imagine the difficulty of her mother's situation—to be so very needed in more than one place, but unable to be in both—and there is beautiful comfort in knowing that even though we are so limited, God is not. He is able to perfectly care for each of these precious children and not one of them slips out of his hands.
Doctors in Israel are likewise battling without compromise for the lives of half a dozen little ones from the Gaza Strip. Newborn Adam from Gaza deteriorated after his chest was finally closed last Thursday after his heart surgery. His blood pressure dropped over the weekend and he developed a blood infection. When coworker Hanna visited him on Monday morning, she found him with his chest open again after he had to be resuscitated for ten minutes.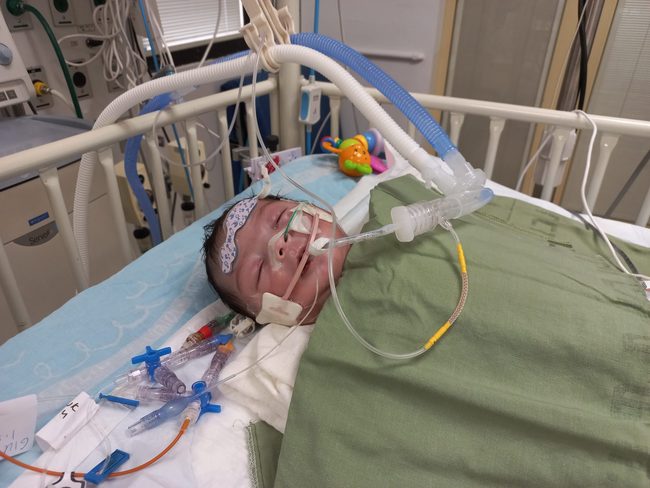 As Hanna wrote in his blog update, "this is not good news at all, but we have the hope in God that he can change this situation." Adam's doctors were able to stabilize him over the following two days and they hope to close his chest again next week. Please continue in prayer for Adam.
One-month-old Somaia from Gaza has spent almost her entire life in the pediatric ICU at Sheba hospital, and she too is still in serious need of prayer and healing. Her oxygen tube was removed last week, but she is now back on the ventilator after developing sepsis over the weekend. She is receiving antibiotics through a central line, and doctors are waiting for her condition to improve before they consider further treatment for her heart: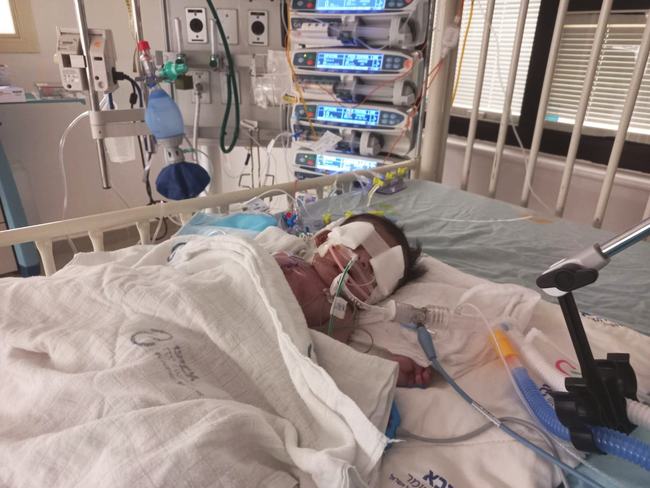 Baby Liya from Gaza is back in the primary ICU at Sheba after running a fever over the weekend. The doctors discovered that she has a bacterial infection and are treating her with antibiotics now. The doctors seemed very concerned about her on Sunday morning, but by Wednesday morning, Liya had recovered enough that the doctors are considering sending her home to Gaza on Sunday. Pray that she will remain stable and continue to improve over the weekend, and be well enough to return home next week: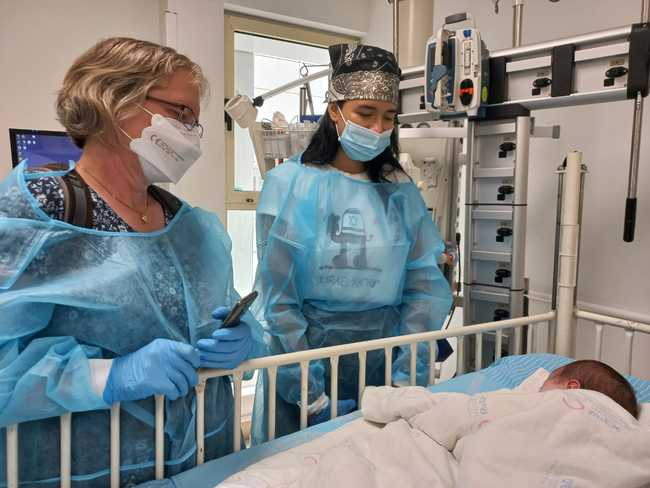 Our beautiful Balsam from Gaza is also back in the ICU, as the fluid buildup around her lungs is proving persistent. Until now, the doctors have been treating it with chest drain tubes, but they are now looking for a better solution because the situation is not improving as they had hoped. Balsam's mum is tired and anxious, but still in good spirits. She is always happy for visitors and insists on sending us home with our hands full of snacks to share with the other volunteers: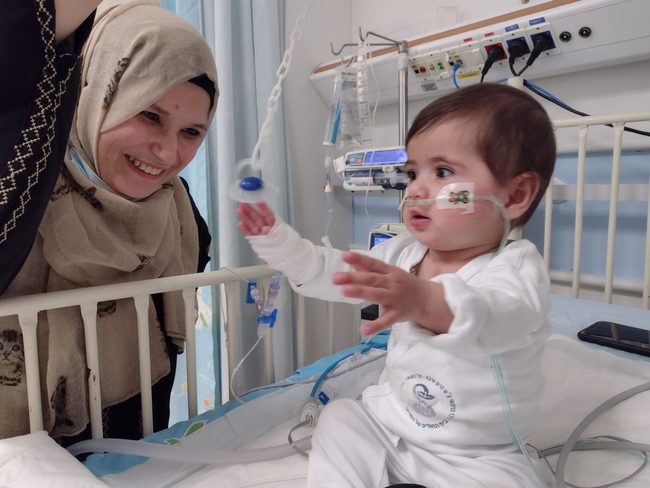 Happy Kenan from Gaza and his mother have now been at Sheba hospital for over two months. Kenan's heart condition has improved significantly, but he is still not eating well. He is now losing weight and if this continues over the next couple of days, the doctors will likely place a PEG tube so he can be fed directly to the stomach. This is a big step with long-term effects and Kenan's mother is hoping that he does not need it. Pray for a good solution for Kenan so he can get the nourishment he needs: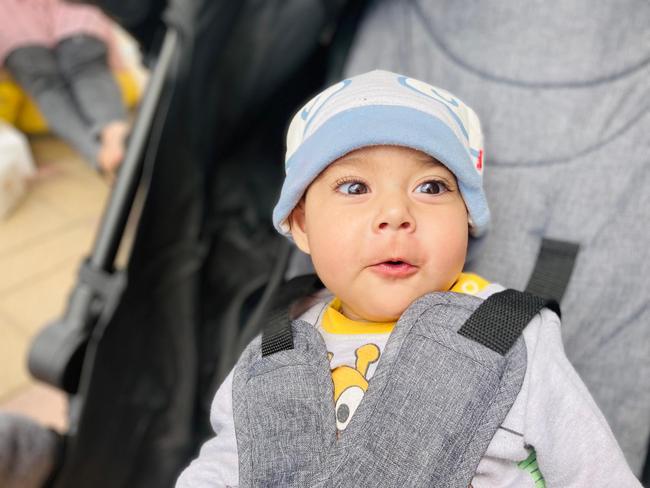 Four-month-old Ahmad from Gaza is also having trouble eating, and the doctors have discovered that it is due to a cleft palate, which makes it very difficult for Ahmed to drink out of a regular bottle. The staff at Sheba work with an organization in Israel that provides special bottles for children with this condition, and we hope to deliver a bottle for Ahmad at the beginning of next week. Ahmad had a catheterization on Tuesday to dilate some arteries and his heart is doing well now. The doctors plan to discharge him to Gaza when he can eat on his own without a nasal tube: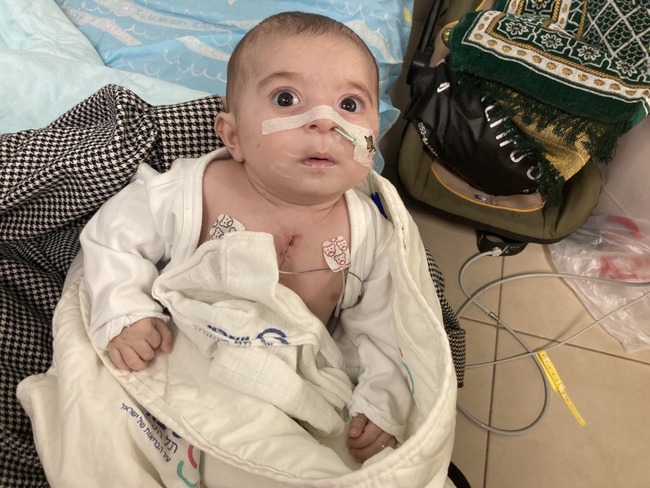 Baby Anas went home to Gaza this week after nearly seven weeks at Sheba hospital. He has come a long way since his arrival in March, just a few days after birth. Anas' heart defect is difficult to treat and will require two more surgeries over the next few years, but thank God the first operation went well and he is now safely at home with his family to grow and develop before the next stage of treatment: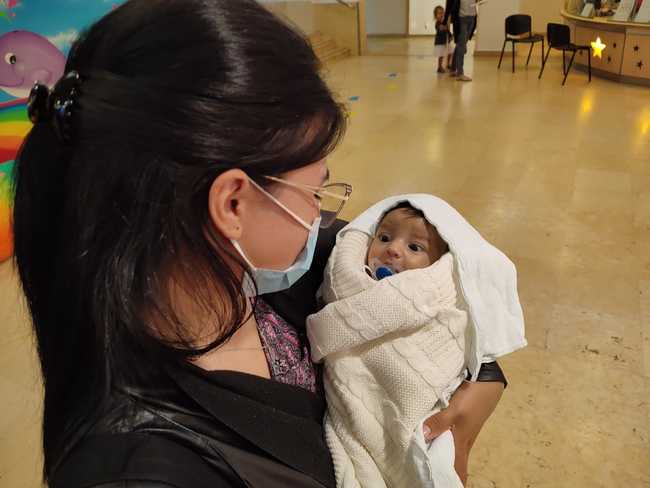 Anas was joined for the journey home by sweet little Down baby Malak, who was discharged from Sheba on Sunday afternoon. She had a catheterization during her hospital stay, but needs to wait until she is a few months older for the surgery to repair her combination of heart defects. Malak's grandmother dressed her up in her best outfit for the trip home, and coworkers Hanna, Tatiana, and Amelie brought the two of them back to Gaza in time to celebrate the end of Ramadan with their family: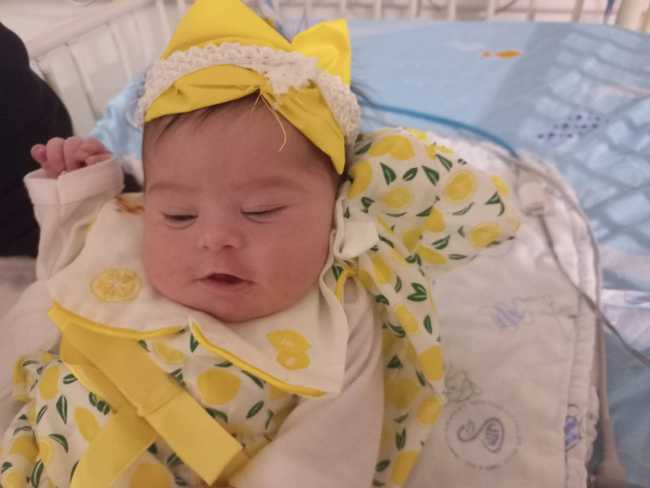 And care is progressing also for the Kurdish children here from northern Iraq. Beautiful Eliana from Kurdistan had an interventional catheterization on Tuesday morning to dilate her narrow aortic valve. She was released from the hospital the very next day and the other families in our community home were excited to welcome her and her mother back. Eliana is really coming out of her shell these days and she's often chatting away happily to her mum. The doctors will evaluate her heart condition in two weeks to decide whether more intervention is needed at this time: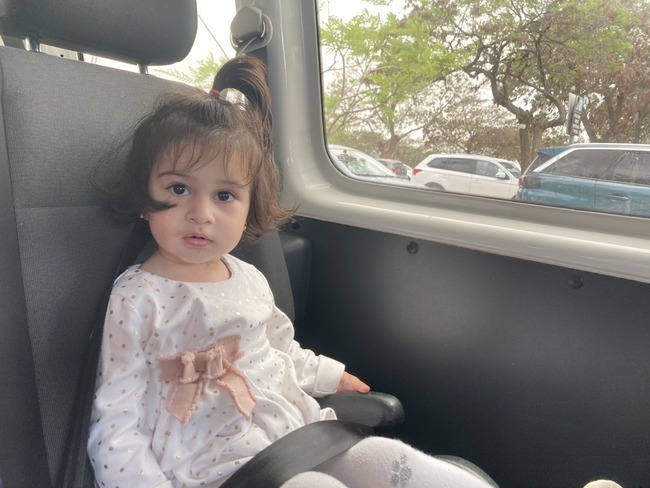 Seventeen-year-old Khonav had her CT scan on Monday afternoon. The scan showed that her pulmonary arteries are very narrow and do not allow much blood flow to the lungs. Her doctors are now considering the best treatment for her—likely a catheterization or surgery—and in the meantime, we're enjoying the company of Khonav and her brother: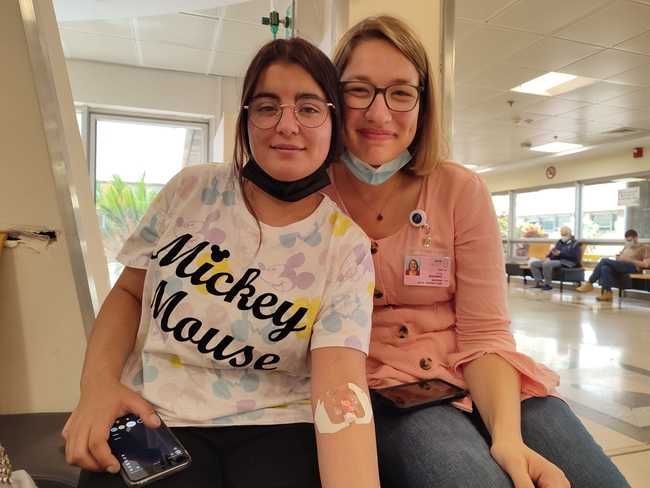 Handsome little Yad is also waiting for the doctors' decision as to the best treatment for his narrowed pulmonary arteries, and four-year-old Hussein is waiting for a CT scan to help the doctors understand his heart better before surgery. There's never a dull moment with these two. More often than not, they can be found in the middle of a group of moms and volunteers, stirring up mischief and bringing smiles and laughter to all: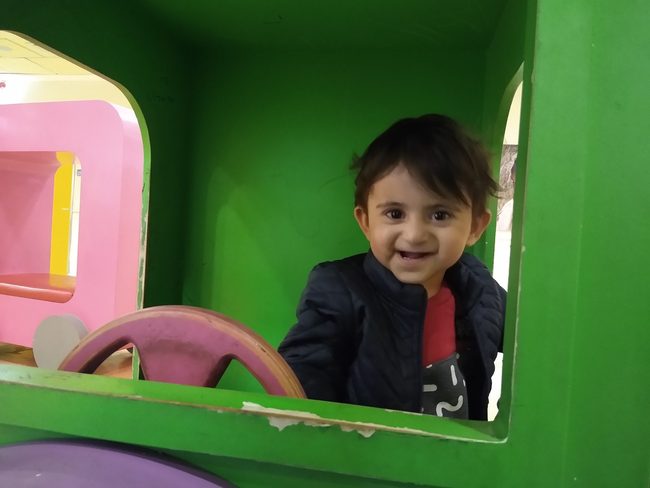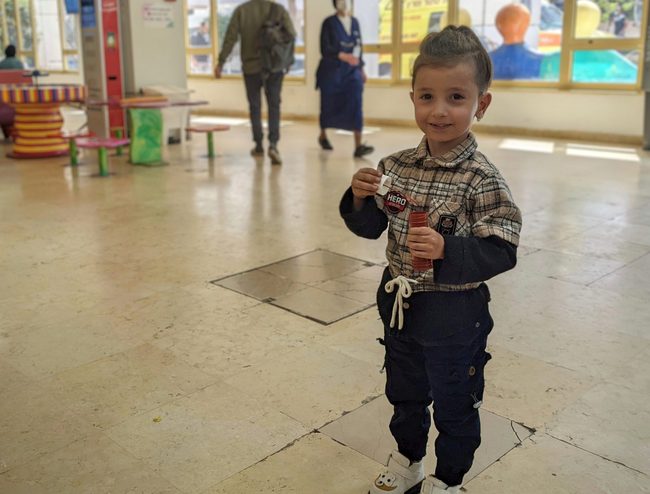 It's been a slower week than usual at the hospital because of Israel's national holidays, so we've enjoyed a few special outings with the families. On Sunday evening, we took a walk to a nearby ice cream shop, followed by a trip to the beach on Tuesday afternoon.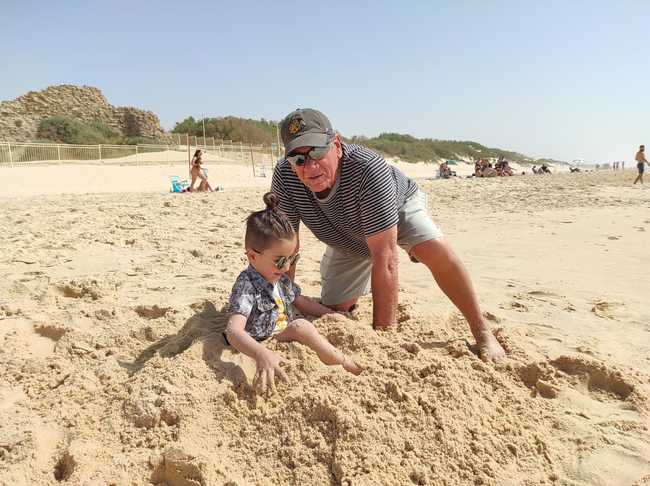 Last night, we all piled into three vans and drove to the beach to watch the fireworks show for Yom Ha'atzmaut, Israel's Independence Day. It's unusual to have the time and ability for so many outings in one week, and it's been a blessing to have this time to relax with the families while they wait for the next steps at the hospital: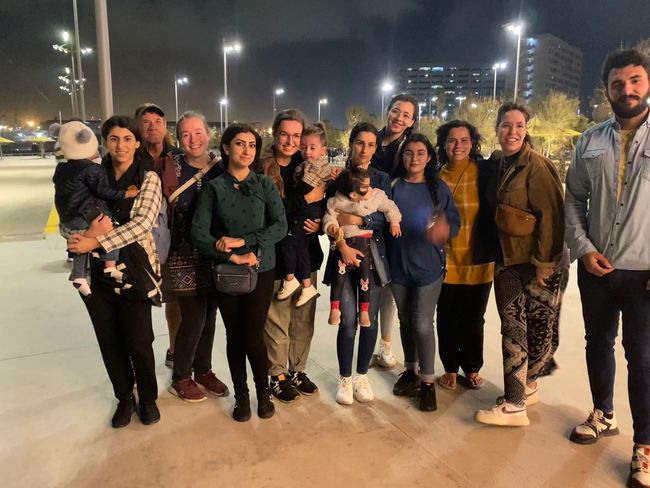 We've spent quite a bit of time as a community this week discussing the role of prayer in our lives and work. In both our morning community meetings and in conversations with one another, a common thread has emerged: we often do not give prayer the time and attention it deserves. We know that God alone holds the power to heal each and every one of these children, as well as to care for each of us, so speaking with him in prayer should take the lead in our busy priorities. These conversations have brought about a new focus and desire to devote ourselves to prayer, both individually and as a community, in keeping with our instruction from the apostle Paul:
Do not be anxious about anything, but in every situation, by prayer and petition, with thanksgiving, present our requests to God. And the peace of God, which transcends all understanding, will guard our hearts and your minds in Messiah Jesus.
Thank you for so faithfully joining us in prayer,
Bria for Shevet Achim