Friends,
A week ago doctors in the ICU at Sheba hospital worked late into the night to connect baby Racheal from Kurdistan to the ECMO machine for heart and lung support. Going on ECMO is a difficult process that carries a lot of risk, and after the procedure was done the doctor's report was gentle, but honest: "Tell her mom she's okay for right now. But this is the worst situation for her to be in."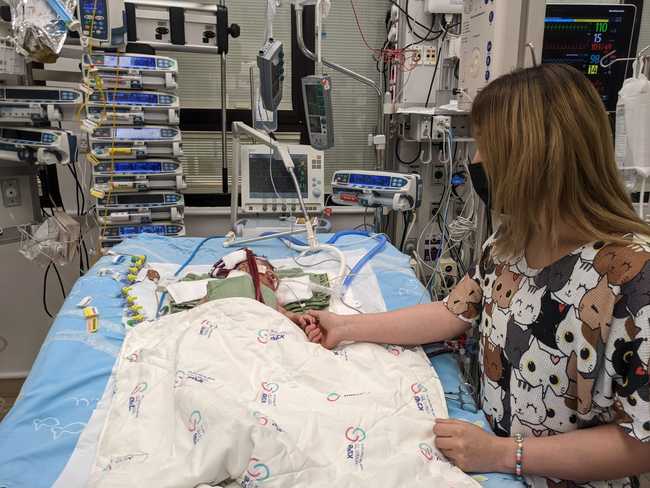 For four days the machine did the work of Racheal's heart and lungs and her condition stabilized. Early Tuesday morning, she was disconnected from the machine, and for some hours remained somewhat stable. However, by Wednesday afternoon, Racheal deteriorated once again and her doctors came to the difficult conclusion that there was nothing more they could do for her.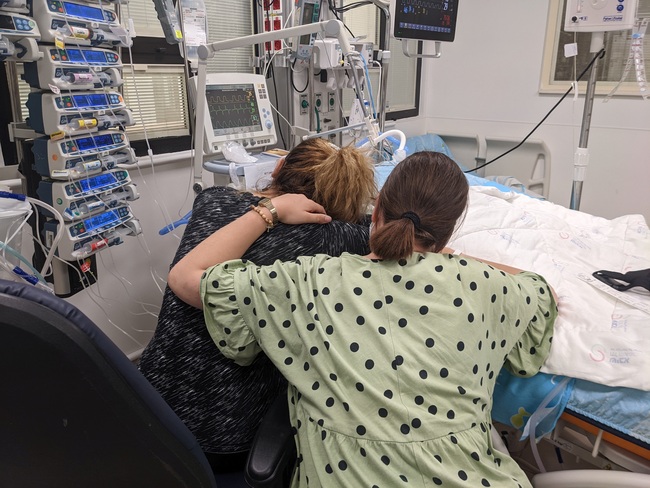 Lilly and I joined Racheal's mother in the ICU, where we waited and prayed all afternoon and into the evening. Racheal's mother held her close, kissed her face and hands over and over and told her how beautiful and how very loved she is. Finally the doctors determined that Racheal's heart was no longer working. One by one the machines were switched off, and just as the sun set and darkness fell outside the window, Racheal died.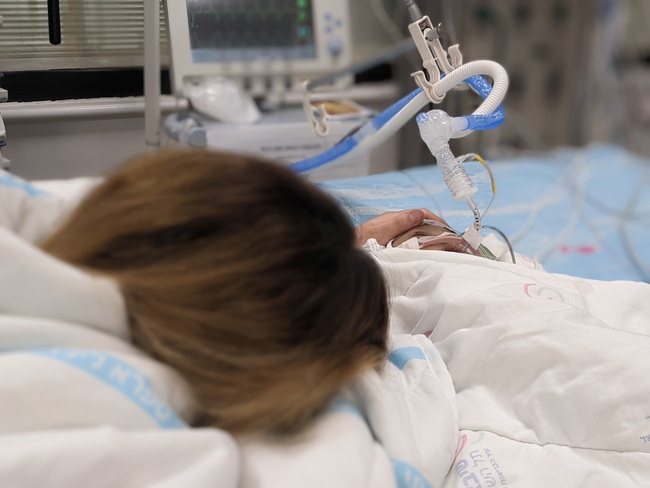 For the last several days Racheal's mum told her again and again, "I just want you to be okay."
Last night, as she held her baby's hands and stroked her beautiful dark hair for the last time, she told me, "Racheal is good now. No more machines. No more surgeries. No more pain. She's good now."
Yes, I agreed, she's safe now in the arms of God. Her brief time on this earth was marked by suffering but she will never again feel pain or fear.
Yet even this knowledge cannot take away the pain felt by those who loved her so well here on earth. Joy may come in the morning, but for Racheal's mother and father, this is the darkest night. And so we walk through it with them, grieving the darkness as we wait for the dawn.
As Lilly and I waited with Racheal's mother, coworker Junko was waiting and praying with the mother of one-month-old Brwa from Kurdistan: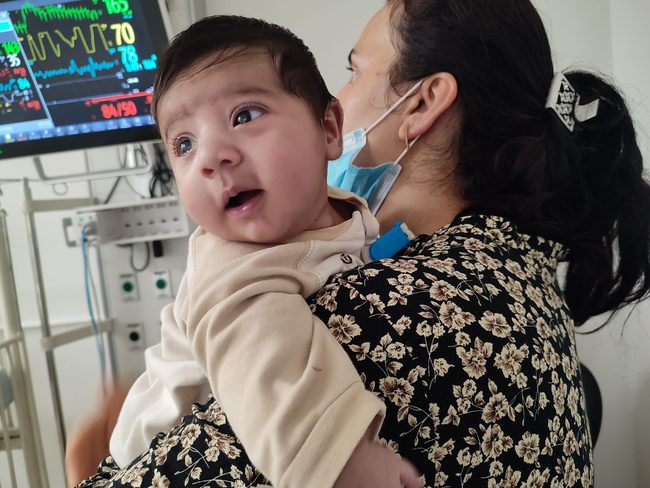 He went into surgery for over seven hours as the doctors worked to switch his great arteries and repair multiple holes in his heart. The surgery went well until the very end, when one side of his heart stopped working properly. Brwa is now receiving support from the ECMO to give his heart time to rest and heal.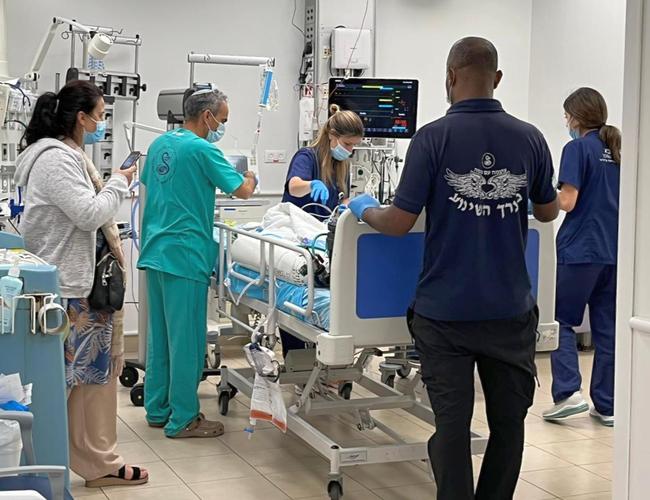 As Junko wrote last night, "Lord, bring a new morning and let his heart beat strong."
Two-year-old Amina from a Syrian refugee family arrived in Israel with her mother on Sunday morning. Amina has Tetralogy of Fallot, a combination of heart defects that causes severe cyanosis (blueness in the lips, hands, and feet.) She had her first evaluation at Sheba hospital on Monday morning, and was admitted to the ICU right away due to low oxygen saturation: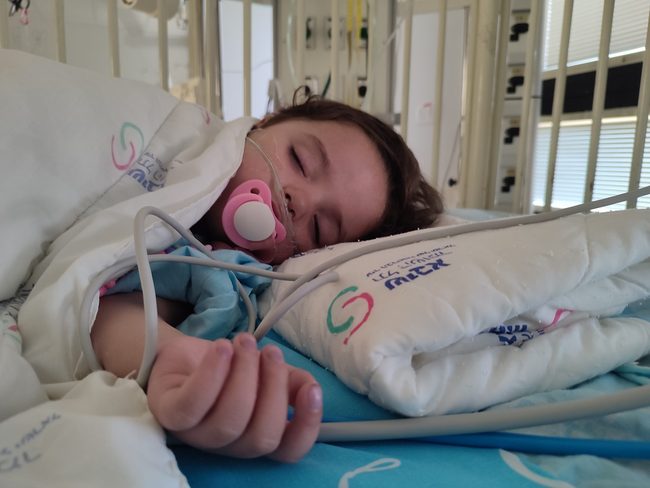 Today she had the surgery to repair her heart defects, and thank God the operation went well. Please pray for Amina's recovery and for the Sheba team caring for her: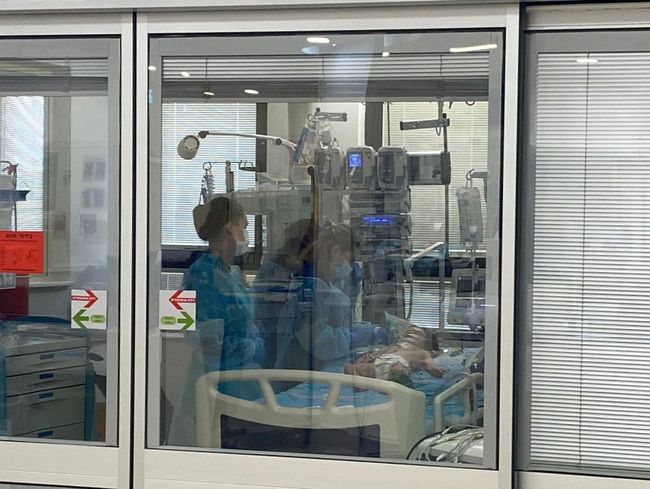 Tiny Somaia from Gaza is still in the ICU at Sheba and making slow progress now that she has a tracheostomy. She is still very weak, but the doctors are beginning to decrease her support from the ventilator and so far she is doing well: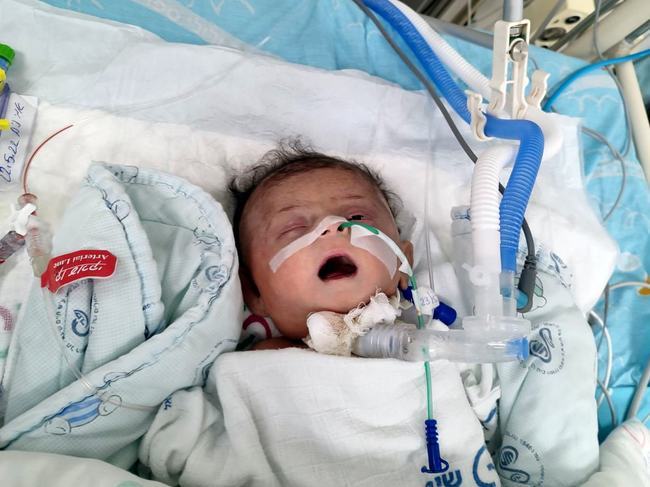 Somaia's grandmother is facing health challenges of her own and is hoping to return home to Gaza soon. Please pray that a family member will get a permit to travel soon so the grandmother can rest.
On Sunday our good friend Hussein from Syria had the big surgery to correct his combination of heart defects. The first thing his mother noticed when he came out of surgery was that his fingers and lips are no longer blue! "Bye-bye, blue!" she said with a big grin.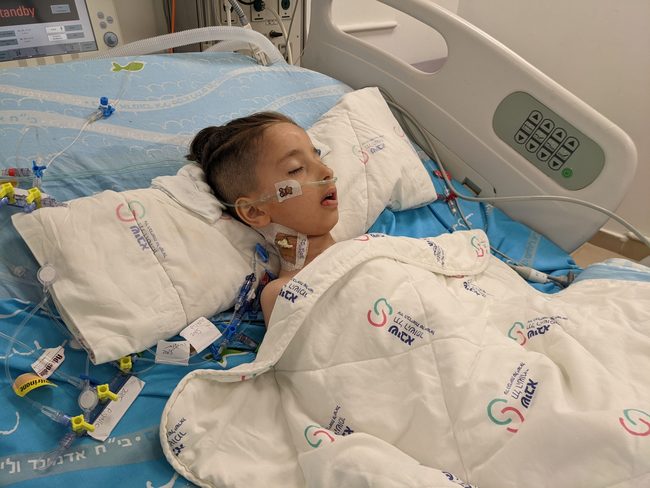 Hussein's surgery was successful with no complications and he's already taking walks around the hospital with his mom, oxygen tank in tow. He's not feeling very well and we miss his big grin, but the doctors say his recovery is going well and we're looking forward to him being his old self again just as soon as he feels a little better: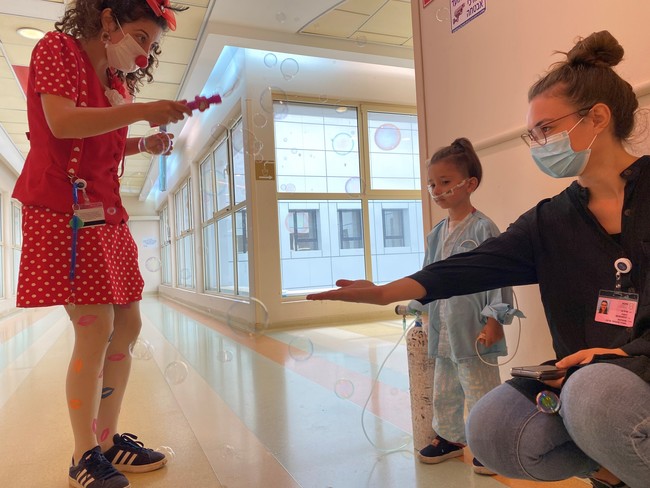 Seven-year-old Yassin was discharged from Sheba hospital back home to Gaza on Monday: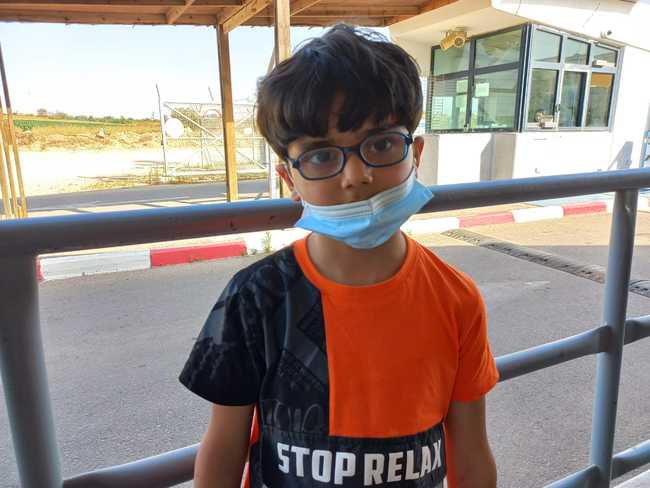 His cardiologist is waiting on the results of some genetic testing before determining his specific diagnosis, but for now the electrical problem in Yassin's heart can be managed with medications. He'll come back in three months for a follow-up echo, at which time the doctor will have his official diagnosis. Please pray for safety and blessing for Yassin during these next months.
Our beautiful little Balsam at last also went home to Gaza with her mother on Wednesday afternoon, after multiple echoes showed no fluid left around her lungs. During the last nearly two months at Sheba hospital, Balsam has become best friends with all of the nurses, doctors, secretaries, and cleaning staff in the ICU, as well as all of us volunteers: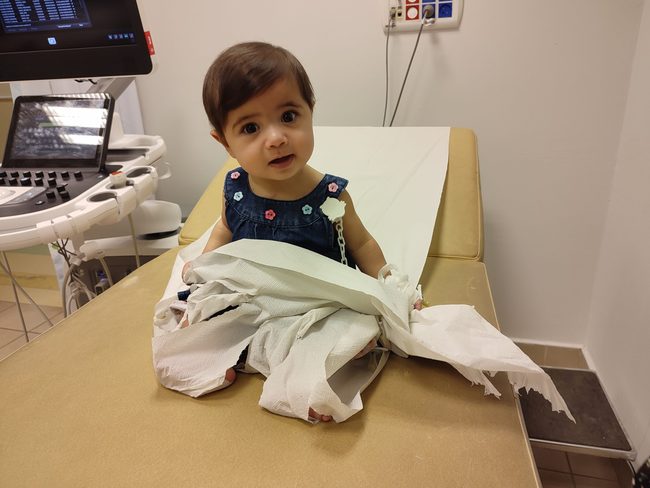 She is already very missed but we are so glad to send her home to her dad, who has been eagerly awaiting her return, and we're looking forward to seeing her later this month for her next echo.
Seventeen-year-old Khonav finally had her interventional catheterization on Tuesday afternoon. The procedure was long but successful, and she was discharged to our home in Ashdod the next day: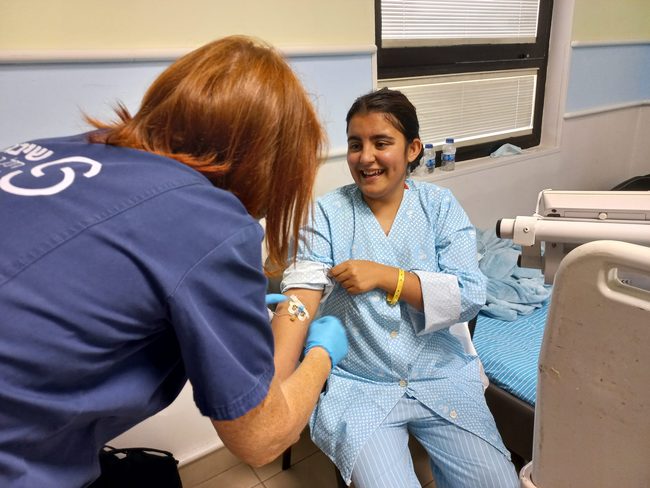 Khonav is very hopeful that she can return to Kurdistan without needing surgery. She will have an echo next Tuesday, after which her doctors will decide the next steps for her.
Yad and his mother are also hoping to go home to Kurdistan after his upcoming echo on Tuesday. Yad is doing very well after his interventional catheterization last week. He was discharged to our house in Ashdod on Friday morning and is back to his usual business of showing off his rapidly improving walking skills and demanding applause from his audience: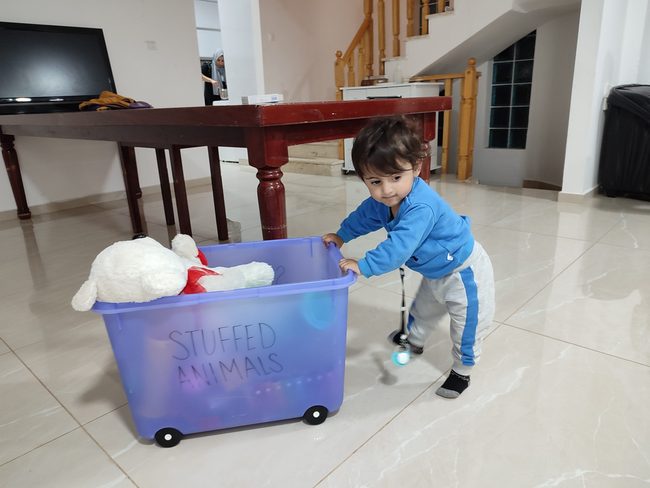 After spending their first ten days in Israel at Sheba hospital, sweet one-year-old Kurdish Lara and her mother are finally enjoying some rest in our home in Ashdod. Lara has made a wonderful recovery since her urgent surgery a week and a half ago. As I played peekaboo with her this morning, I almost couldn't believe that the smiling, rosy-cheeked little girl in front of me was the same baby we took to the emergency room ten days ago, blue and struggling to breathe: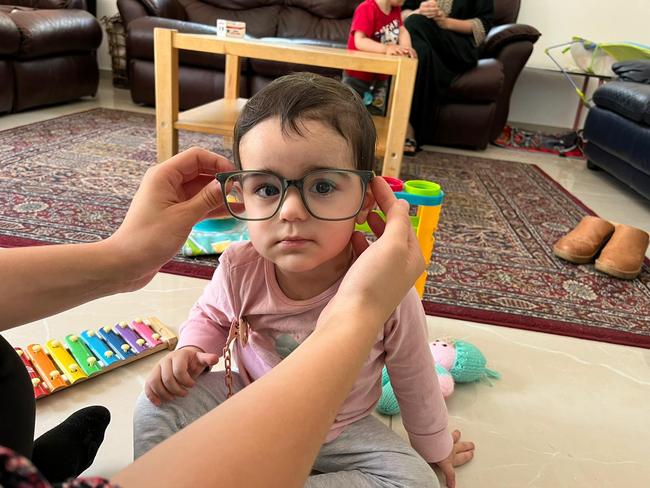 "I really think Lara is a miracle," her mother told us proudly this week. Lara will have an echo on Wednesday morning, and if everything looks good, she may even be released to Kurdistan. Thank God for protecting Lara and bringing her so far!
We welcomed back two beautiful little girls from Gaza for catheterizations this week. Two-year-old Salma had a successful interventional cath to dilate some narrowed arteries and was discharged to Gaza the very next day: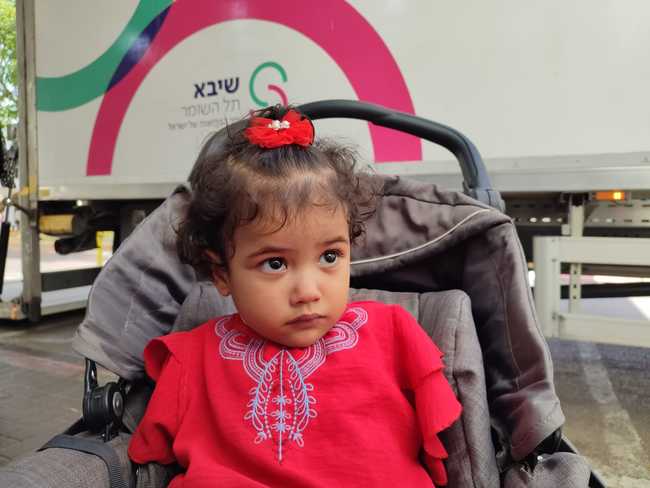 The doctors will wait and see how she recovers before deciding on the next steps; she may need another catheterization before her next surgery. Salma and her mom are old friends of ours by now and we're looking forward to seeing her in a month for her next echo.
And sweet redheaded two-year-old Taleen had a diagnostic catheterization today: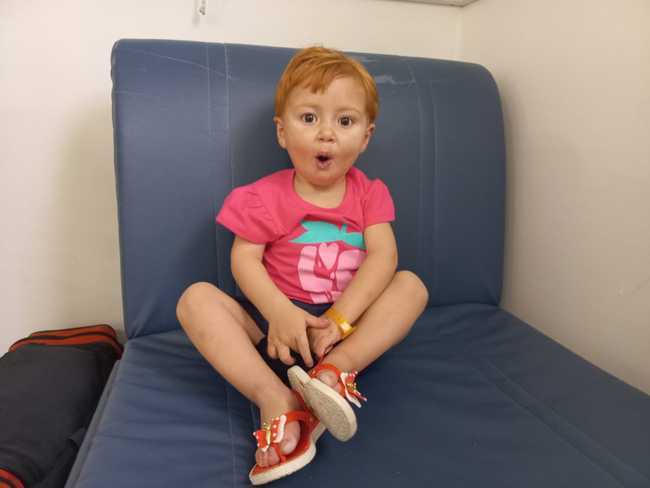 Her last cath three months ago showed that she wasn't ready for surgery yet because of high pulmonary pressure. After today's procedure, though, the doctors think she could be ready. For now, we will wait and see how she recovers while the doctors discuss her case.
This week has been a long journey of joyful peaks and devastating valleys. It is in days like these, even as we celebrate hopeful outcomes for so many children, that we feel the brokenness of this world most acutely. As one mother gets ready to bring her child home healthy and full of joy, another prepares to bury her baby and return home with empty arms.
"I'm glad you're with me," Racheal's mother told me and Amelie this evening as we sat on the front steps of our house, watching the sun sink below the horizon and the sky fade to dusk.
We held her hands and hugged her close as the evening fell around us. "We're glad you're with us."
There is a beautiful morning coming, the dawn of an endless day where Racheal's heart will beat strong for all eternity. But that day is not yet. Until then we are here, walking through the night together, waiting and praying for the dawn.
Thank you for joining us in prayer,
Bria for Shevet Achim