Friends,
Tuesday night one-week-old Tahsin from Gaza arrived by ICU ambulance at Sheba hospital. Tahsin was diagnosed with coarctation of the aorta (narrowing of the artery that carries blood to the body), and needed urgent surgery to correct this condition: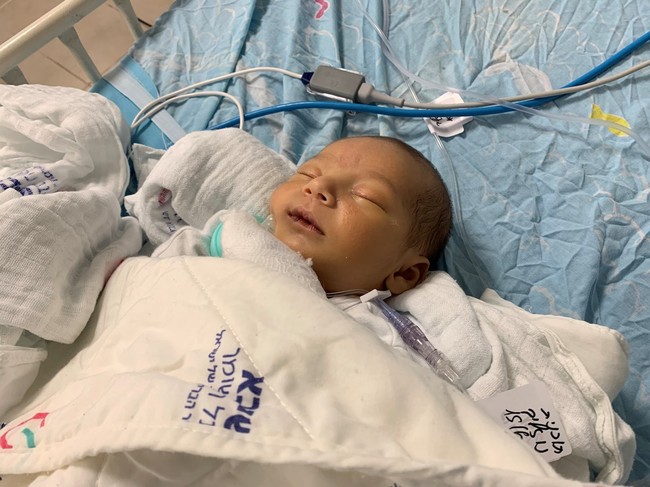 This afternoon he went into surgery and just a few short hours later he was back in the ICU, recovering so well that the doctors are already preparing to disconnect him from the ventilator: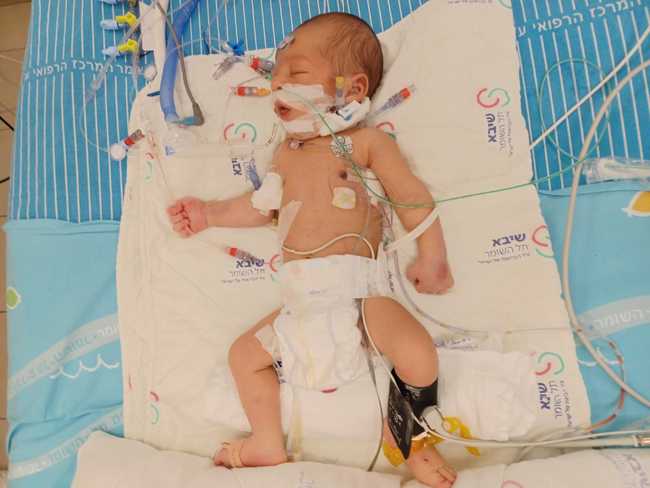 And just two days before Tahsin reached Israel, a newborn girl named
Sanad
 went home to Gaza after her own lifesaving emergency catheterization. She made an amazing recovery after the procedure and was able to go home without any medication support: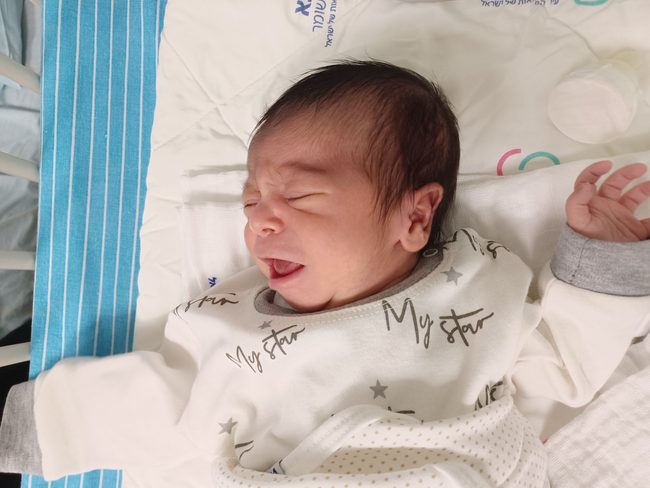 We'll see her again in a month when she returns for a follow-up echo. Thank God for Sanad's life and the doctors and nurses who worked so hard to save it!
I'm always struck by the stories of babies like Tahsin and Sanad. One day, they are precariously balanced between life and death, and the next they are resting safely in the care of an incredible medical team who are working tirelessly round the clock to care for their every need. It's a reflection of the tireless love of God for these precious little ones. What a gift it is to witness his provision for them.
Handsome two-year-old Sohaib from Kurdistan had his first evaluation at Sheba hospital on Sunday morning. He's a pretty relaxed little guy and delighted both his mother and the echo technicians by sleeping right through his echo. Two days later, he had a diagnostic catheterization to further investigate the complex anatomy of his heart.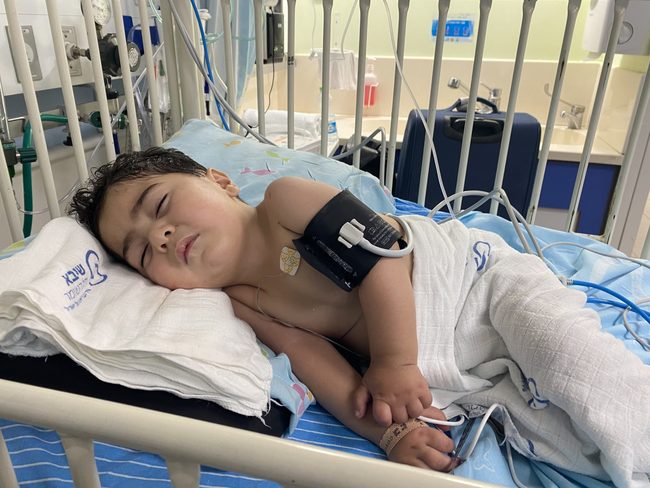 Sohaib has a large VSD—a hole between the ventricles of his heart—and seriously elevated blood pressure in his pulmonary arteries. Because of this doctors in Kurdistan were doubtful that surgery would still be possible for him. However, after his catheterization this week doctors at Sheba discussed his case and have decided to perform surgery, likely next week. Once again, we are greatly blessed by this medical team; even when hope seems lost, they are unwilling to give up on the life of a precious child: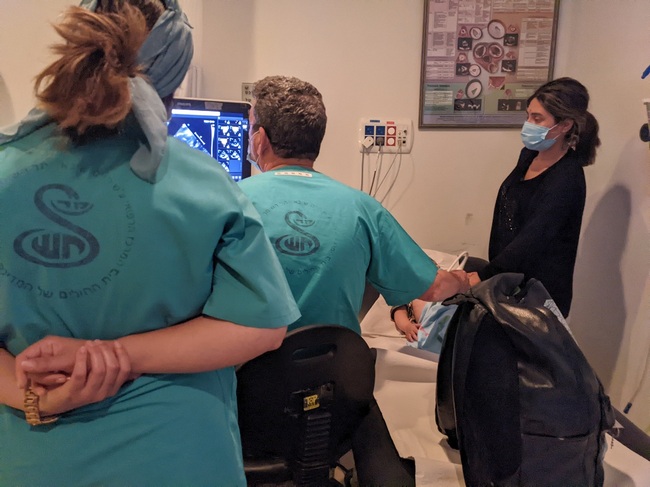 One-year-old
Yad
 from Kurdistan also had his first assessment at Sheba hospital this week. He is not a fan of the echo procedure and made the doctors work extra hard to get good images: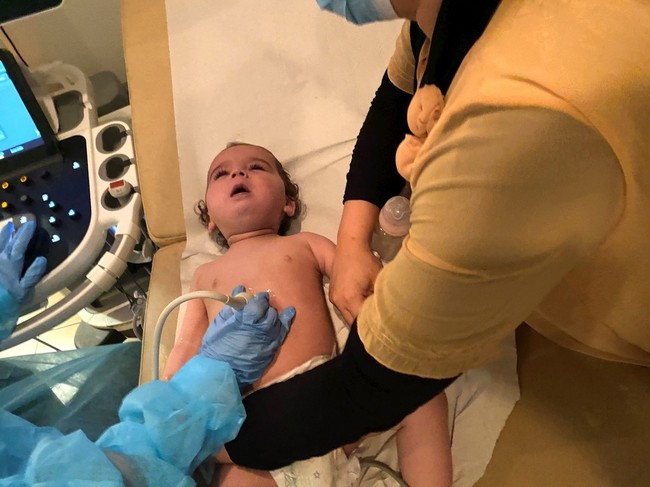 His doctors are now discussing his case and may recommend that Yad have a CT scan or catheterization before surgery. For now we are enjoying his company here in Ashdod. Please pray for a decision for his next steps: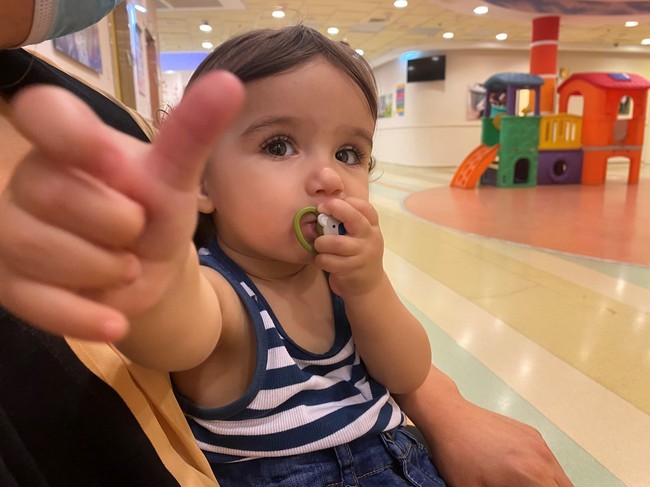 Two-year-old Syrian
Amina
 had two echos this week. The first was Sunday morning, just three days after being discharged from Sheba hospital. Her echo showed that she is recovering well after surgery, and the fluid built up around her heart is decreasing: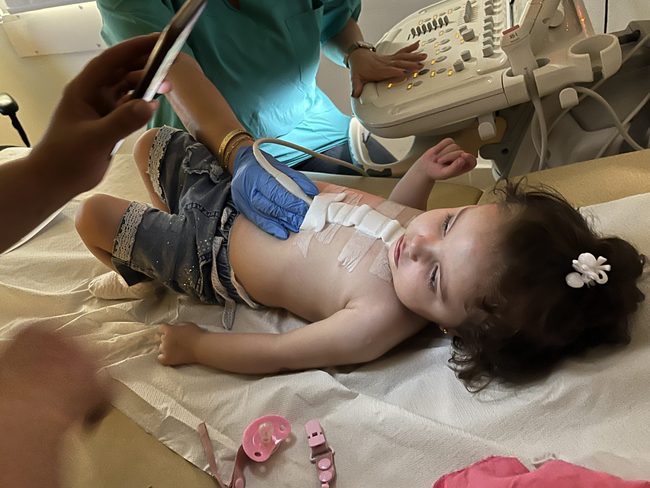 A second echo today also showed good results, and our team noted that Amina "was a very happy girl today!"
In the ICU baby Brwa from Kurdistan is making slow but sure progress. It's been a week and a half since he was removed from ECMO heart-lung support and thank God, he is stable and recovering well. The doctors and nurses have been working hard this week to drain the fluid built up in Brwa's stomach, and as one of his nurses said this week, he is getting better "in baby steps."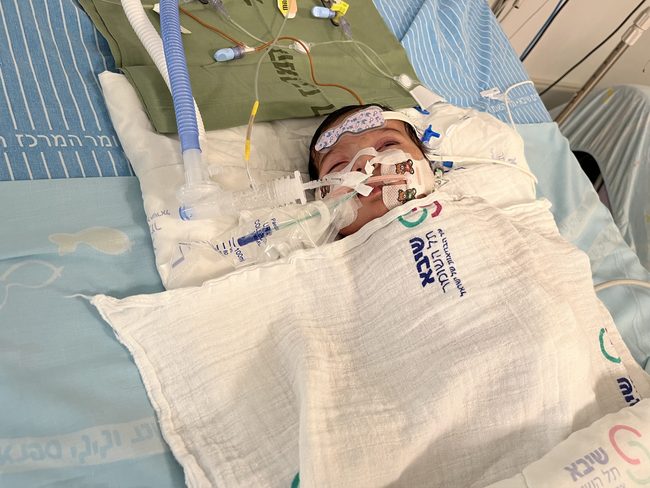 His sedation has been decreased and his mother is excited to see his eyes open. For now he is still on the ventilator, and the doctors are waiting to see how he responds to some changes in medication before they try to remove his breathing support. Please pray for continued recovery and strength for little Brwa.
Tiny Somaia from Gaza has now spent two and a half months in the ICU at Sheba and is still in need of lots of prayer. She needs to gain weight and get stronger before the doctors can move forward with weaning her from the ventilator, but after a difficult week she is very fragile: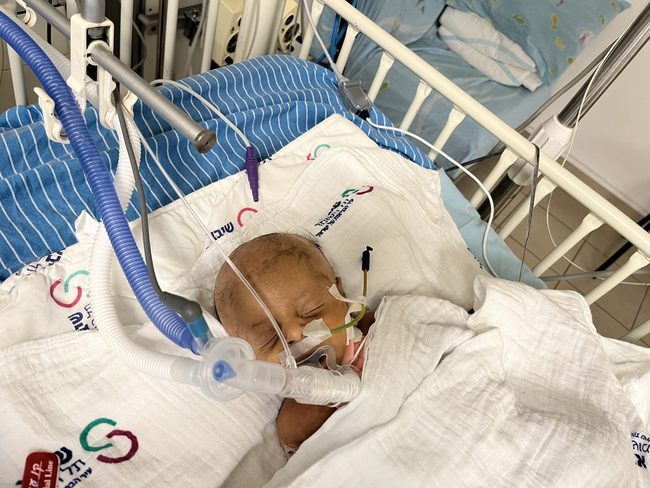 Coworkers Junko and Margarita visited her on Tuesday, and Junko shared an encouraging report:
Margarita prayed in Spanish and I in Japanese, while each of us gently touched Somaia's little feet. I'll never forget what happened. Somaia opened and moved her eyes around, sucked the pacifier in her mouth, and slightly moved her arms. I witnessed life.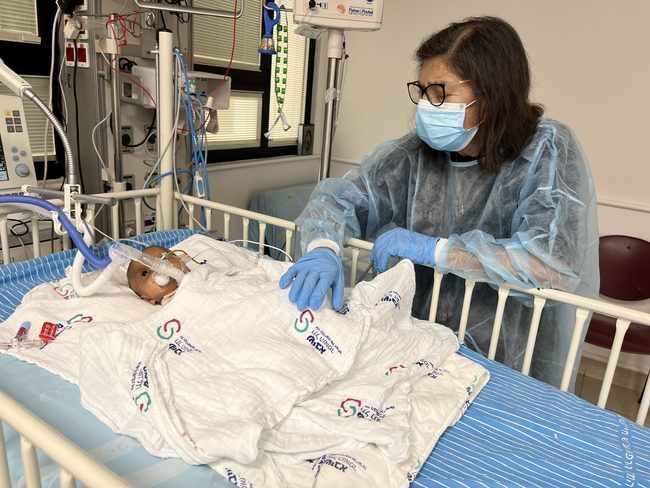 Lord, you knitted Somaia in her mother's womb, and you breathed your breath into her nostrils. I pray that you pour out the greatest mercy on Somaia and revive this little life back to strength.
We welcomed back several familiar faces from Gaza this week. Two-year-old 
Fayez
 and his mom, old friends of our community, made the trip to Israel for an echo and blood test on Monday: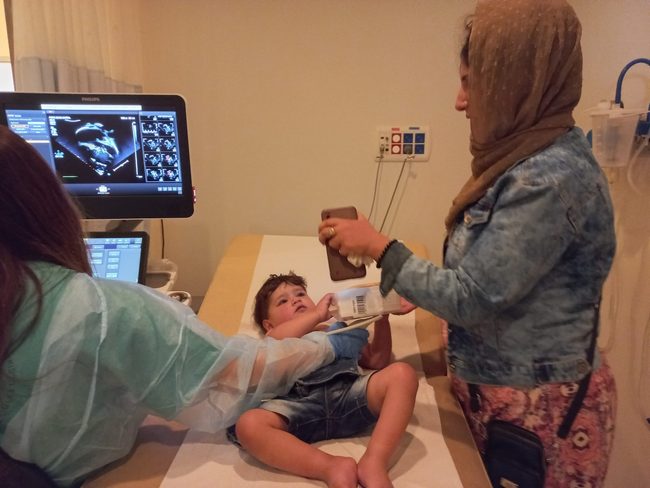 Fayez's blood test showed that the level of one of his medications in his blood was far too low, so he was hospitalized for a couple of days while his doctors adjusted his medications. He went home on Wednesday and needs to come back in a week for another check-up. Please pray for Fayez; his situation is difficult and overall he is not doing well.
Pray also for two-month-old Liya from Gaza, who came for an echo this week. She had surgery in April to repair a hole in her heart, but she has quite a few other problems with her heart and is not doing well now. Her cardiologist will discuss her situation with the other doctors, but it is possible that there is nothing more they can do for her at this time. Please pray for healing and protection for little Liya: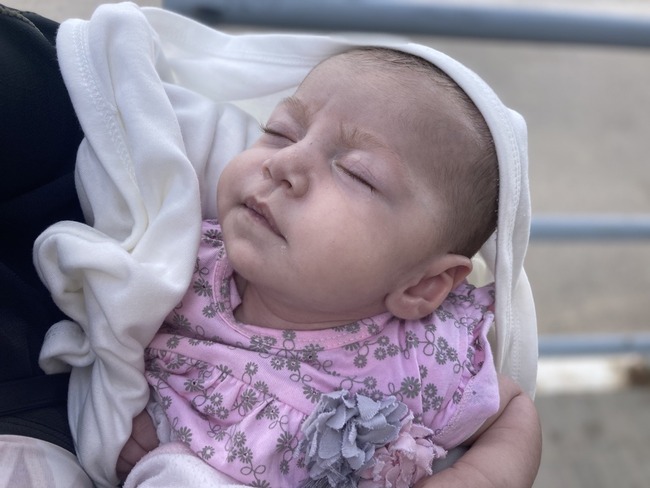 We're thanking God for good echo results this week for sweet little Rifan from Gaza. Perhaps you'll remember
Rifan's difficult ordeal
 several months ago; in December, she was unstable after a challenging surgery, and subsequently went back into surgery twice in the following two days. She very nearly went on the ECMO machine, and after two weeks had a fourth surgery to repair her diaphragm. Now six months later, Rifan's mother was excited and proud to present a beautiful, healthy baby when I met her at Sheba hospital on Sunday morning: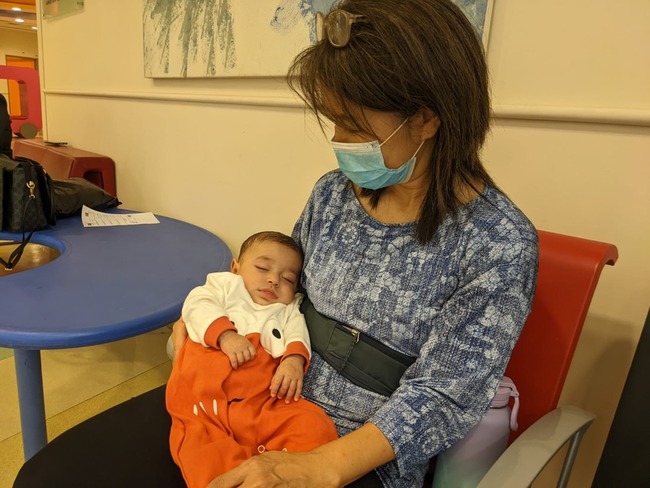 18-year-old Wasim also made the trip from Gaza to Sheba on Sunday morning. His appointment was quick and straightforward—good echo results and another appointment in six months—but as I read through some of his old reports and
blog updates
, I was surprised to learn that just two years ago, Wasim was between life and death after a 13-hour-long surgery. Like Rifan, he was close to needing ECMO support, but pulled through and recovered wonderfully. It's hard to believe that the friendly, smiling young man we met on Sunday is the same person in the photos from two years ago: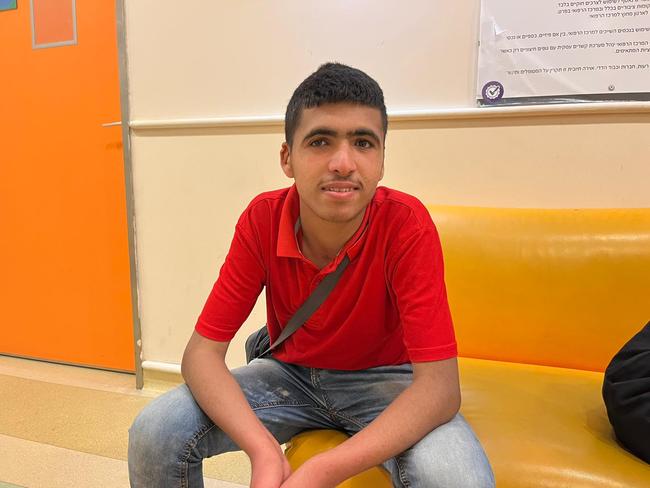 So many astonishing recoveries and beautiful stories of healing and rescue! It's incredible to see how God brings people together at just the right time to save the lives of these precious children. This week alone, we see his power over even the most difficult circumstances so clearly in the lives of Brwa, Sanad, Rifan, and Wasim. He alone has the power to save a child's life, and we are blessed to witness his love for these children every day. Let us always remember to trust each and every one of them to him.
This morning, we welcomed Coleman and Quinlan from America, who are joining our community for the next month. Coleman is a videographer and Quinlan a medical student, and we're looking forward to seeing how God uses them and their unique gifts and talents for his glory in the coming weeks.
Finally, this week was bittersweet for us as we said goodbye to four beloved German coworkers who have served with us for five months: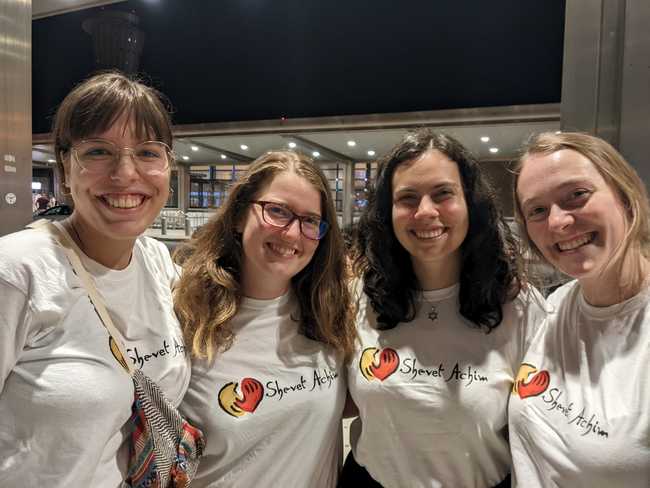 Hanna (second from right) has a genuine love for people, a kind heart, and a truly infectious laugh. She served as a member of our house nurse team and she is going home to study at university in Germany. Lilly (at left) has been our family care coordinator for the last few months and she has an incredible ability to almost instantly connect with the moms and kids regardless of language barriers. We've been blessed by her enthusiasm and energy and we're looking forward to seeing what lies ahead for her. Please pray for Hanna and Lilly as they discern their next steps.
Doro and Amelie are planning to return for another year with our community after some weeks at home. Doro (second from left) has the formidable task of keeping our office work in order and she does it with excellence. It's been great to see her grow in confidence and courage in her time here and we're excited to see how the Lord works in her life in the next year with us. Amelie (at right) is one of the kindest people you'll ever meet and always goes the extra mile to make each and every person feel loved and cared for. We're looking forward to welcoming both of them back after some rest and time with family.
Thank you for joining us in prayer,
Bria for Shevet Achim