Dear coworkers,
I was so pleased and relieved to see this picture of a little Kurdish man cross our community thread this afternoon: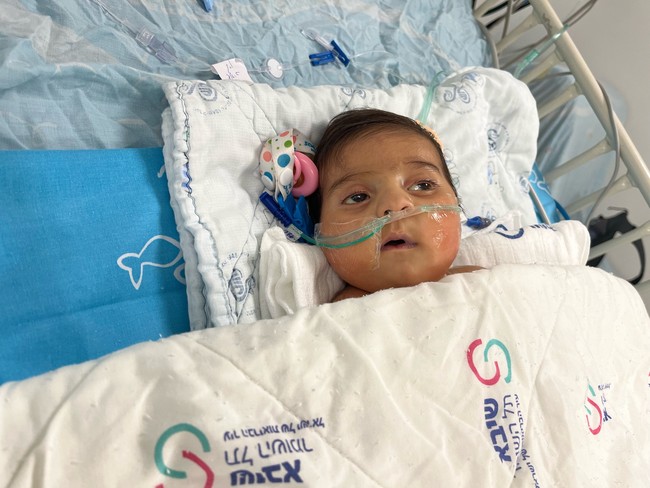 Brwa
 is yet another baby from northern Iraq born with transposition of the great arteries, and rushed to Israel within the first two months of life while it is still possible to switch the arteries and give him a normal life. (Thank God the interior ministry in Israel is now cooperating with us closely to get these newborns here in time).
After his switch surgery on June 1, doctors in Israel were forced to put Brwa immediately on ECMO heart-lung support. Through hard experience–most recently with baby Racheal–we've learned that only about half the babies who go on ECMO will survive. Hence the relief and joy in tonight's blog from our new Japanese-American coworker Junko:
My coworker Tatiana and I visited Brwa at Sheba hospital. He is off the ventilator now and doing really well, even though he still has a little bit of fluid in his system. The doctor said he is glad to see the strong recovery. All that showed on his mother's face, and I was happy to see her more relaxed, still vividly remembering the despair she had to go through after the complication on the long surgery day.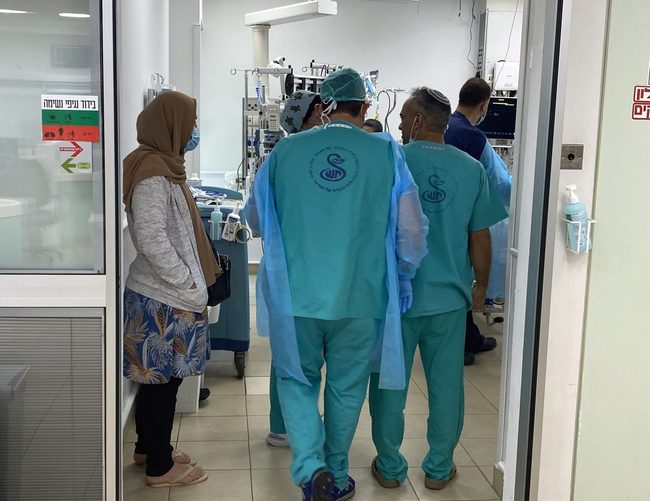 Blessed with a steady improvement after coming off ECMO, Brwa will be a powerful hope for all those children who would have to be placed on it in the future. ECMO was a scary word for us, but not any longer! Praise the Lord for this hope He gave us!
I felt similar joy and relief earlier this week, after Sheba doctors explored the heart of the Yazidi refugee child 
Sohaib
 through echo and catheterization: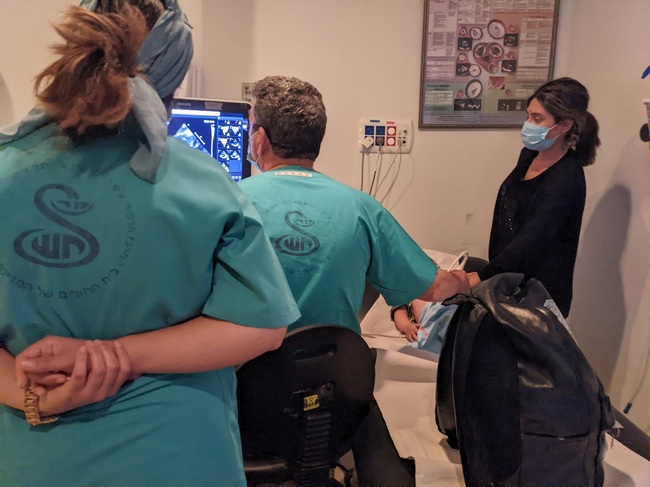 We first met Sohaib's family in their refugee camp in northern Iraq last September, and promised to try to help him get to Israel for lifesaving heart surgery. But over the next seven months I left him on the back burner–and then was shocked in April to get a cath report from his doctor in Iraq indicating it was now too late and he could no longer be helped.
Friends, if we've learned one thing from David over the years, it is to never give up when the God of Israel is on our side:
If the LORD had not been on our side—let Israel now declare—if the LORD had not been on our side when men attacked us, when their anger flared against us, then they would have swallowed us alive, then the floods would have engulfed us, then the torrent would have overwhelmed us, then the raging waters would have swept us away.
Blessed be the LORD, who has not given us as prey to their teeth. We have escaped like a bird from the snare of the fowler; the net is torn, and we have slipped away. Our help is in the name of the LORD, the Maker of heaven and earth.
Somehow the Sheba team agreed to accept Sohaib in Israel for a second look and a second chance. Our Father then provided a medical escort to get him here safely, and–praise God!–in Tuesday's cath doctors discovered he is still operable. Please pray with us for Sohaib as he goes into surgery this week: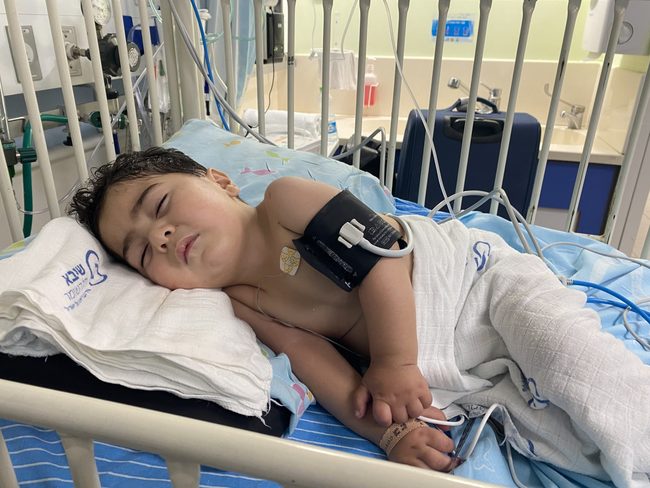 As non-Jewish followers of Messiah, we have been uniquely positioned and privileged over the last 25 years to serve as a small medical bridge between the Jewish people and the mostly-Muslim peoples of the Middle East. And in ways we couldn't have imagined at the start, it increasingly appears that the Sovereign One is working politically and culturally to bring about the long-promised reconciliation between the children of Abraham:
…the beauty and the promise of the two-year-old Abraham Accords lies in the implicit acknowledgment by Arab states (finally) that Jews are a Biblical people indigenous to the Land of Israel – hence reference to the Abrahamic common heritage of Muslims and Jews in the accords' foundational document.
This is a joyous revolution that overturns generations of Arab and Islamic ideological delegitimization of Israel. It is based on the desire of the Emiratis, Bahrainis, Moroccans, and others to do good first and foremost for themselves; to redefine the self-identity and global image of Arab Muslims in a way that blends tradition with enlightenment. Affiliating with Israel fits perfectly into this agenda, because they correctly see Israel a role model for such synthesis.
Putting aside religious hatred and extremist goals like destroying Israel allows these Arab countries to reassess and embrace Israel as a force for stability and an engine for prosperity in the Mideast. This is what opened the door to Gulf-Israel cooperation in business and defense policy.
This is what also could open the door to reconciliation between Palestinians and Israelis. All Palestinian leadership needs to do is put aside its genocidal goals and its addiction to violence and terrorism (and corruption and kleptocracy), and instead consider real compromise with Israel.
And what of reconciliation between us Christians and the Jewish people? A new book "Jacob's Younger Brother" by the German professor Karma Ben-Johanan examines how the love and humility shown by Pope John Paul II helped overcome otherwise-intractable theological differences:
As theological disputes threatened to sabotage Vatican II and undermine Catholic doctrines, John Paul II transformed discussions of the Catholic-Jewish relationship. The Pope endorsed conservative positions inside the Church but communicated with the outside world "with acts and gestures, personal meetings, diplomatic contacts, and the creation of shared memories," including highly publicized visits to Auschwitz and the Yad Vashem Holocaust Museum in Jerusalem.
By the end of his pontificate in 2005, Ben-Johanan notes, the once traumatic and still unresolved controversies interested only a handful of Catholic theologians. Efforts by Benedict XVI to provide more precise answers "came too late, after the sun of theology had already set."
But Ben-Johanan also demonstrates that the outstretched Christian hand is too often bitterly rejected by Orthodox Jews:
According to Ben-Johanan, contemporary Orthodox rabbis, Zionist and anti-Zionist, in Israel and the United States, perceive Christianity as idolatry, and reject "more tolerant" halachic traditions, despite their long history. She attributes the mainstreaming of more stringent positions less to a defensive response to secularization than to a conviction that Jews need no longer fear Christianity.
At a time in which many Christians and Jews renounced deicide charges, Zvi Yehuda Kook quoted Maimonides' statement that Jesus had been stoned and hanged in a rabbinic court – and endorsed his defense of the murder of idolatry. The real crime, Kook declared, was expressed "in its disgusting loathsomeness, in the raising of 'that personality' as if it were divine, as if it were essentially equal related obscurely, foggily affiliated with the original and real selfhood of the Creator and leader of the universe."
Continuing to see exile as a temporary phase, the Kooks and their disciples could now exult "that the lion cub of Judea has been resurrected and established its state, and the resurrection in its own right undermines the entire foundation of Christian faith." The Six-Day War, they proclaimed, vindicated biblical prophecy and the validity of the covenant between the people of Israel and God.
Friends, many of us Christians would agree that the Six-Day war may have vindicated biblical prophecy (as if it needed any vindication). But rather than take offense at the further claim that it "undermines the entire foundation of Christian faith," let us remember that the Christian tradition they are reacting to is one that proclaimed that God has abandoned and condemned and broken covenant with the Jewish people, and replaced them with the Church as the only people of God. I too would reject such a faith which so clearly contradicts the promises of God.
Let's end tonight with a bracing reminder to Gentile believers of those promises, from the Messianic writer Avner Boskey:
God chooses Israel out of love. The Scriptures repeat this again and again. My experience has shown me that one of the best ways to hide a secret is to put it in the Bible. And the sad fact is that many theologians and preachers often stumble past this incredible Scriptural truth, missing the heart of God in the choosing of Jacob…
Paul warns the remnant among the Gentiles that a danger exists for them – they may become arrogant, conceited, uninformed, and wise in their estimation toward the Jewish people (Romans 11:18, 20, 25) – and find themselves transformed into an Esau or into Joseph's brothers.
Paul's warning to the nations has become a sobering reality in Church History. The rise of Replacement Theology was based on jealousy of the Jewish people, arrogance toward them, hatred of the fact that God still loves them and will never repent of His calling and gifts to Israel, and evil and murderous intentions toward the sons and daughters of Jacob.
Poisonous flowers have blossomed on the accursed tree of Replacement Theology. And jealousy, anger, conceit, ignorance, murderous thoughts and murderous deeds toward the Jewish people has been the malevolent fruit.
Some of us are called, a' la Isaiah 62, to be watchmen on the walls for the Jewish people, their Land, and their calling.
"On your walls, Jerusalem, I have appointed watchmen. All day and all night they will never keep silent. You who profess YHVH, take no rest for yourselves – and give Him no rest until He establishes and makes Jerusalem an object of praise on the earth." 
This is a brief excerpt from a long letter rich with biblical references, the study of which will profit all of us who recognize the unbreakable bond which Messiah has wrought between us and our elder brother.
Jonathan for Shevet Achim
"Behold how good and how pleasant it is for brothers to dwell together in unity" (Psalm 133).