Friends,
On Tuesday afternoon we got a surprise phone call from Sheba hospital; a surgery had been canceled at the last second, which opened up a spot for the year-old Yazidi refugee Sohaib to come for his much-needed operation. He was admitted to Sheba on Tuesday afternoon: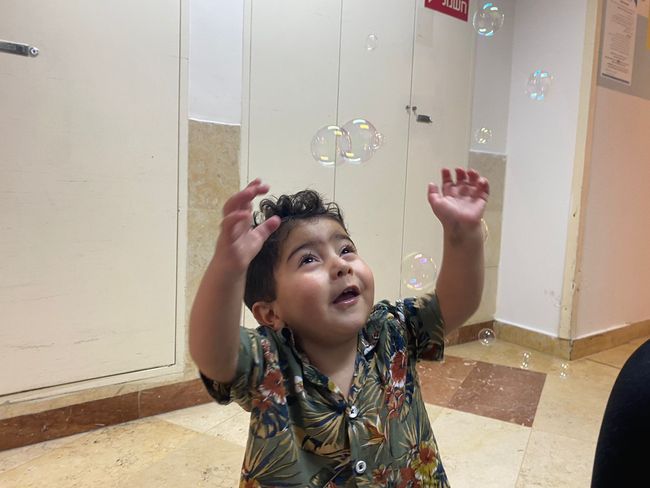 The multiple holes in Sohaib's heart were causing pulmonary hypertension so severe that the doctors in Kurdistan had feared there was nothing that could be done for him. What a beautiful gift and relief, then, when after four hours in the operating room on Wednesday the surgeon came out with the good news that the holes are repaired and Sohaib is doing well!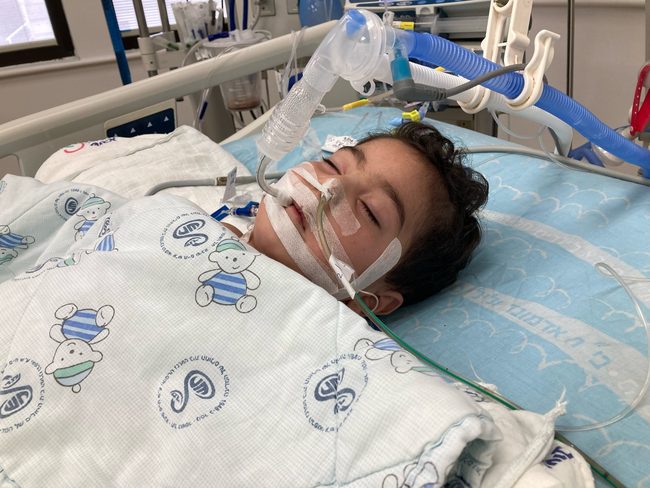 He continued to improve overnight and when Coleman and I visited Thursday morning, the doctors were already planning to extubate him soon. Praise God for Sohaib's successful surgery!
Baby Brwa from Kurdistan made a huge step this week in his long recovery from arterial switch surgery. When coworkers Tatiana and Junko visited him on Sunday, they found him extubated and breathing steadily without the ventilator! By the same time the next day even his nasal oxygen cannula was removed and, for the first time since his surgery three weeks ago, Brwa is breathing on room air: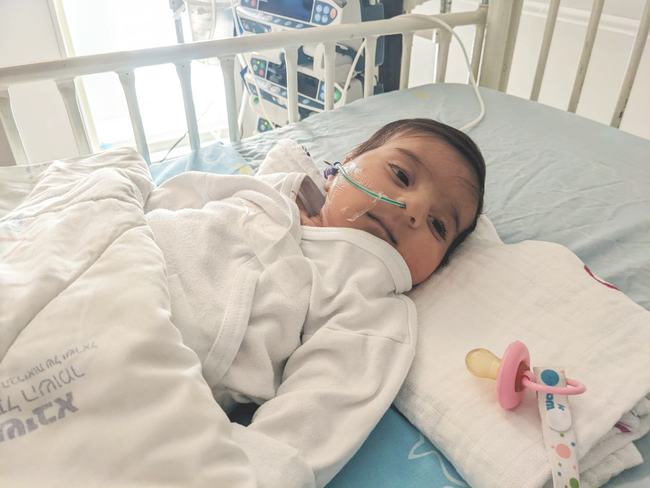 Brwa's steady and sure recovery is reflected in his mother's increasingly joyful face as each day passes. When Coleman, Quinlan, and I arrived on Monday afternoon, she was eager to usher us into Brwa's room to admire her beautiful little boy. I told her I couldn't believe how well he looks now after such a long and difficult ordeal. She responded with a big smile and "Alhamdulillah"—praise be to God.
Newborn Tahsin from Gaza was discharged home from Sheba hospital Thursday, just one week after lifesaving heart surgery to widen his narrowed aorta: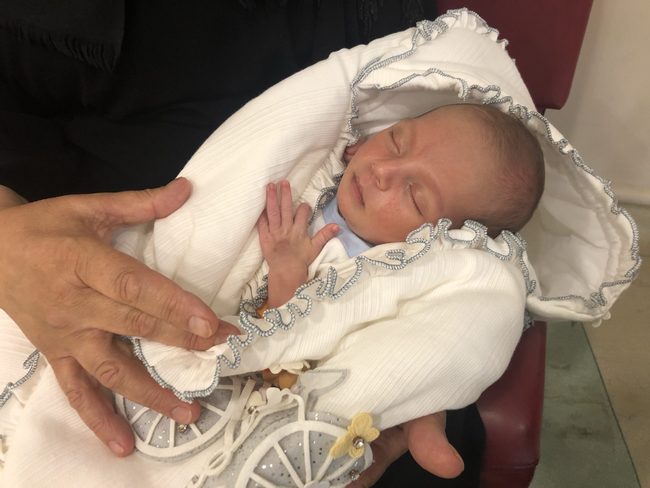 As Coleman wrote in his blog update:
His grandmother was brimming with gratitude as we made our way out of the hospital, thanking all of the nurses and other mothers in the ICU… Though he is still under a month old, Tahsin has already overcome great obstacles. We send him home with prayers that the Lord will continue to be near to him.
Meanwhile, four-year-old Syrian refugee 
Hussein
 had his first follow-up echo after surgery on Sunday morning. He made something of a triumphal entry into the cardiac floor at Sheba hospital, where all the hospital staff he befriended during his stay were thrilled to see him again: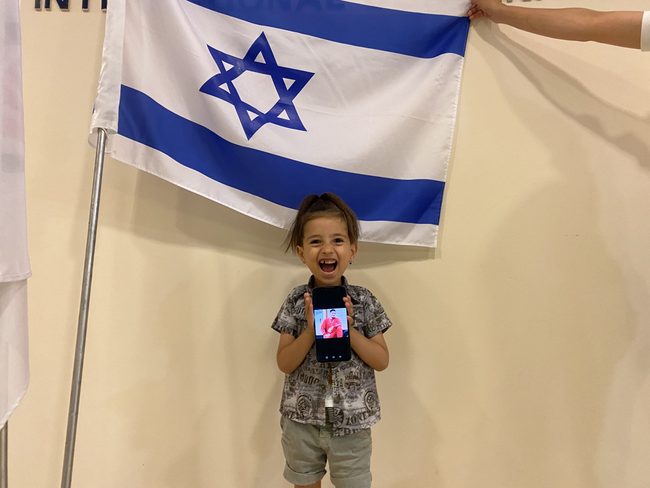 His echo showed that his heart is doing well after the surgery, though one of his valves is a little narrowed, and he needs to come back in another couple of weeks for another check-up. Until then, Hussein is content to continue his everyday business of visiting our dog Shevie, helping us with our work in the office, and practicing his English skills.
Another Syrian child, two-year-old Amina, had a post-surgical echo this week, and we're glad to see that the fluid in her chest is quickly decreasing: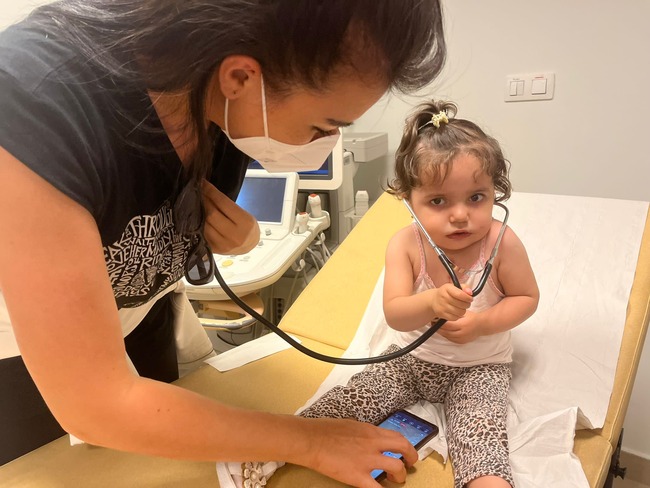 Her cardiologist made some adjustments to her medications and will see her again on Sunday for another check-up. Amina is taking her time in warming up to us and the other children, but we're finally getting to know her a bit better and are enjoying our time with her and her mother here in Ashdod.
Our beautiful little friend Lara had an echo Thursday, and thank God her heart is still doing very well a month after surgery. She has some slight narrowing near her pulmonary valve as a result of thickened muscle walls in her heart but her cardiologist thinks this can be resolved with medication. He'll see her again in a week to check how her new medicine is helping.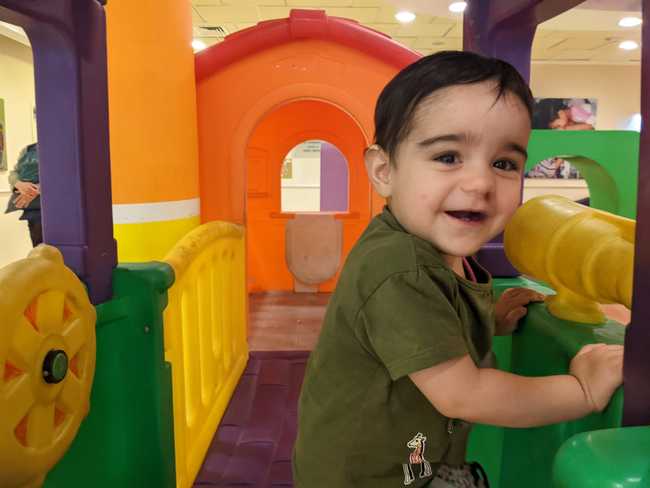 While this was disappointing news for her mother, who was hoping to go home to Kurdistan after this echo, we are grateful that for the most part, Lara is doing very well. She's a smart little girl with a big personality; the first thing her cardiologist said to us today was, "She has a lot of character, doesn't she?" We're excited to have another week with Lara and her mum here in Ashdod. Please pray for good echo results for her next week.
Two-year-old Fayez from Gaza is back in Israel once again for more blood tests to monitor the levels of one of his medications. His test results are still too low, so he is staying with us through the weekend while we give him a higher dose of the medication and try to raise the levels to a safe range: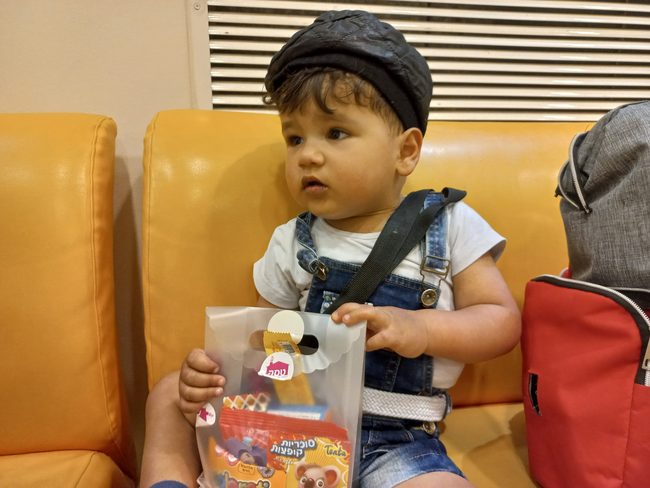 Once his test results are better, Fayez will have an appointment with his cardiologist to check on his heart. Please pray for Fayez and his mother as they navigate his difficult situation.
Sweet baby Balsam from Gaza is also back in Israel for a few days. Because the special milk formula she needs is not available in Gaza, she developed some fluid buildup in her chest again after going home last month. Her doctors decided to hospitalize her to resolve this situation while we work to get a good supply of the formula: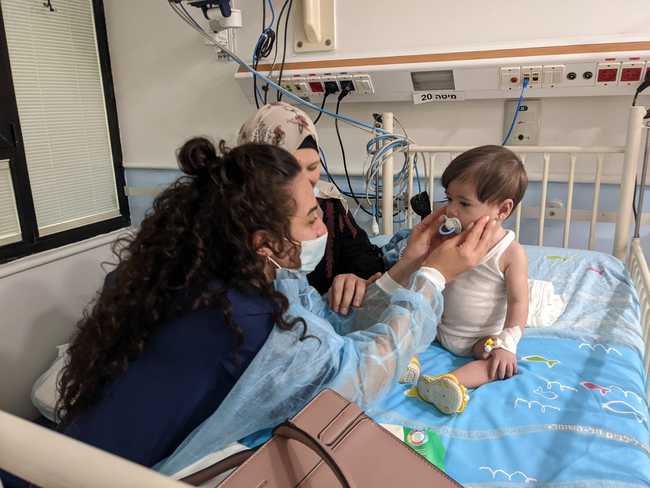 Pray for a good solution for Balsam so she can get the right formula and stay safe at home with her family.
Tiny Liya from Gaza arrived in Israel on Tuesday morning and had a CT scan at Sheba hospital early Wednesday morning. At her echo last week, her cardiologist was unsure whether there is anything they can do for her due to her difficult condition: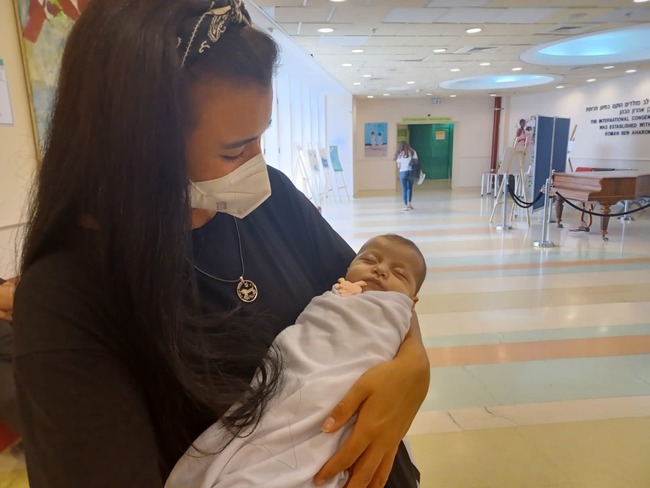 After discussing her case and looking at her scan today, Liya's doctors decided right away to put her in the ICU and prepare for surgery early next week. Please pray for Liya and her parents as they face another operation.
Finally, we said goodbye this week to our beloved mother-and-daughter coworkers Junko and Momo from California (pictured below center), who served alongside us for the last month: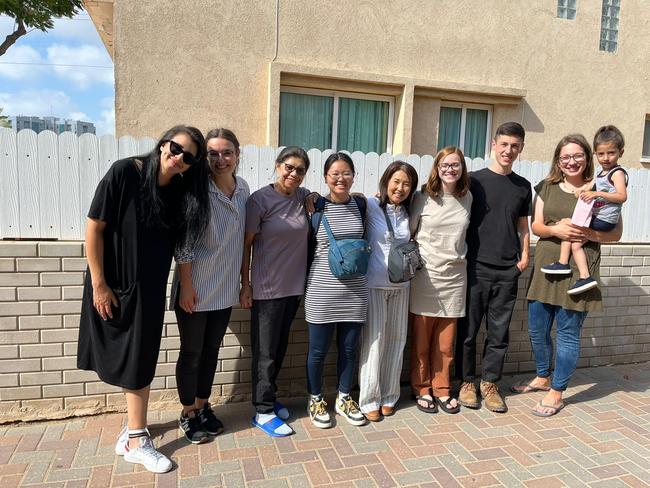 They brought fresh energy and enthusiasm to our community and we're especially grateful for their steadfast love and care for the children and mothers. Please pray for safe travels for them as they make their way home.
The Lord bless and keep you,
Bria for Shevet Achim