Deliver those who are drawn toward death, and hold back those stumbling to the slaughter.
If you say, "Surely we did not know this," does not he who weighs the hearts consider it?
Proverbs 24
Dear coworkers,
Two precious babies were delivered from death today by doctors at the Sheba Medical Center in Israel.
Yad from Kurdistan, northern Iraq turned one year old with us in our Ashdod home last week, and today underwent surgical repair of his Tetralogy of Fallot heart defects: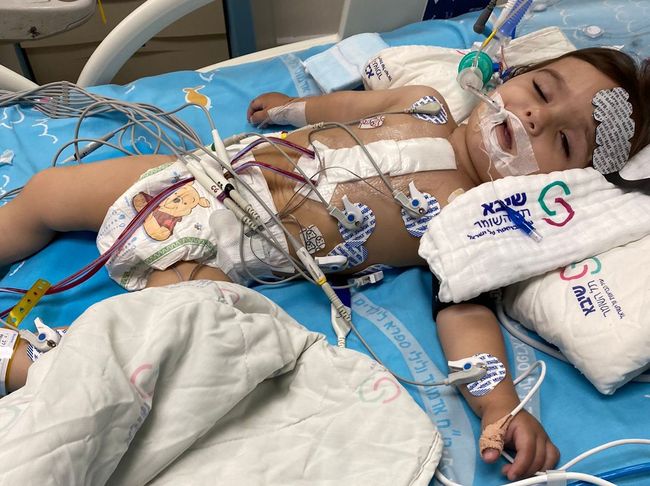 Our much-loved coworker Willem in Holland reminded us that Yad's name is part of the same prophetic passage that inspired the naming of the Yad Vashem holocaust memorial in Jerusalem:

 And just before Yad's surgery, the doctors put in place a life-saving pacemaker and pulmonary banding for five-day-old 
Ibrahim
 from the Gaza Strip: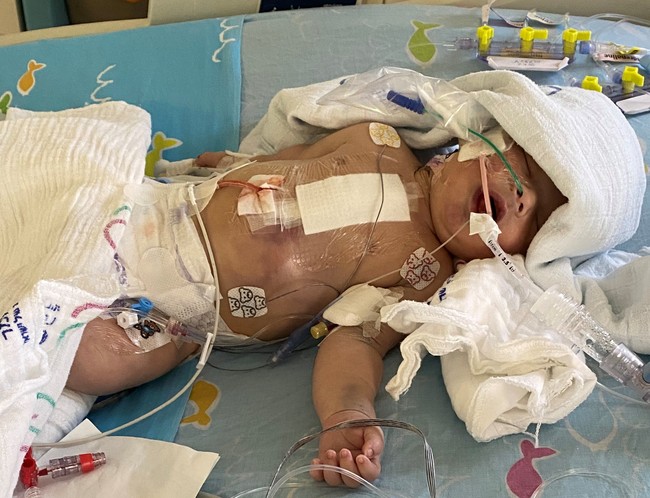 Getting Ibrahim to Sheba was quite a story. Michelle and I are with family in the US until the end of the week, and while our coworkers are beautifully caring for the many children God has placed in our hands in Israel, I'm still responsible for new transfers from Iraq and Gaza.
So when Sheba accepted Ibrahim for emergency transfer on Friday morning at 08:45 Israel time, it was 11:45 pm in Colorado. Israel's national ambulance service won't transfer such a tiny baby on a ventilator without a specialist doctor to accompany the ambulance, so I sat up in bed and started contacting the small circle of Israeli doctors who volunteer to help in these cases. None were available.
As the clock ticked down toward the start of the Shabbat, I then turned to every doctor and manager I knew at Sheba. Still no help could be found. In desperation I reached out to every alternative ambulance service we knew. Nothing moved.
It was now 03:00 in the morning. I could feel the frustration rising up in me, as it had last year when the interior ministry wasn't issuing visas for emergency transposition babies to enter Israel. Again I wanted to speak out and shame people: How can you stand by and do nothing while this baby is dying?
Thank God, he teaches us through our failures. Instead of attempting to manipulate people to do the right thing, I finally stopped to pray and turn it over to the one who makes all things possible. I sang a few praise choruses with a cracking voice in the middle of the night. And to my surprise, at 03:30 the Palestinian Red Crescent Society stepped forward to transfer Ibrahim. (The last time I talked to them a few months ago they didn't have the equipment to do it.)
Just before the start of the Sabbath Ibrahim was safely in Israel. Friends, with God there is always a way.
And please God, help us to stop stereotyping any people group as if they are uncaring and unlikely to help. Here's a good reminder this week for those of us who love Israel: "Arabs hid my father's family during the Hebron massacre."
It was a big breakthrough for me 25+ years ago when my family and I lived with the people of Gaza and came to see they are families like ours who love their kids just as we do. I thought of it again this week when I read the blog from our new coworker Coleman about bringing 17-year-old heart patient Mohammed from Gaza to Sheba:
This was my first time meeting Mohammed, and it was a pleasure to spend the day with him. The wait for Mohammed's appointment was long, but it allowed us time to bond. Both of us had a similar haircut and were wearing all black, so his mother took a photo of us together.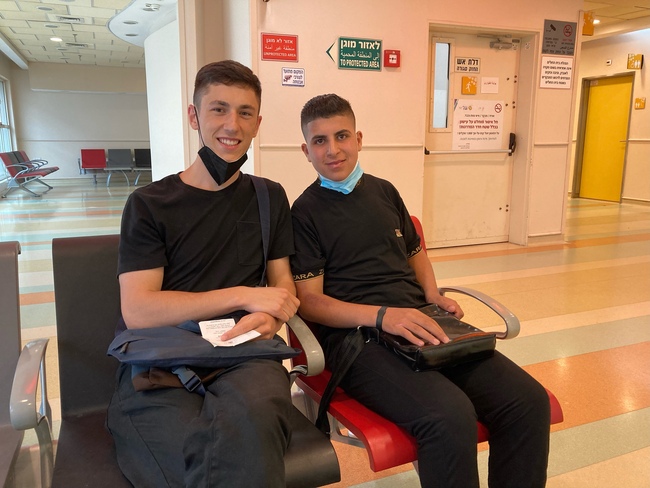 Both he and his mother were incredibly patient while we navigated the hospital and waited in the lobby. We are excited to be hosting them at the family house in Ashdod again while they wait for a CT.
It's the absolute bedrock of the gospel friends. We're all made of the same stuff, i.e. we're all equally broken sinners in need of God's grace. When we dare to judge others as being different from ourselves we are denying the word of God.
There was another unusual example of this spirit this week from soon-to-be-former prime minister of Israel Naftali Bennett. He's on his way out after one of his own party members betrayed him and the unity government which he led. Here's what he had to say about her in an exit interview:
"I don't have much to say."
"That's a painful picture. It's not her fault. It's my fault. They killed her. The people from the [Netanyahu] and Smotrich machine turned her into a liar, and a cheat, and a fantasist… and I was busy with Iran," he said.
Bennett said he has been much changed by his year in office.
"I won't demonize anybody," he said. "Today, I'm someone who wants to believe in the good in everyone, and to unify."
"Together, together, together. How? That's complicated," he said.
"I will want to return," he added. "I think I was a prime minister who tried to do good for his people and his country. I think I succeeded. The Holy One, blessed be he, and the people of Israel will decide."
Such gracious words. It's true, we cannot deny there are such things as real enemies in this world, both within our faith communities and without. But in his commentary this week on the Korah Torah portion, Joe Shulam of the Roeh Israel ("Shepherd of Israel") congregation in Jerusalem reminds us to give time for repentance, and let God be the one who vindicates us:
This is a very important point. We don't have to use the same tools to defend ourselves against our enemies that the enemy uses.
We have to have full confidence as servants of God and His people that He, the Creator of all our world, knows what to do and how to defend His servants. Our recurring mistake is that we feel that we have to respond, and usually our response is with the same weak and bad tools that our enemies use.
We must learn from Moses in this case to allow God to take care of our enemies in His most gracious and powerful way. We must just always remind ourselves that God knows best and God knows what is best for His children and His servants.
We don't need instant gratification and satisfaction for our pain and suffering in persecution. We need real, long-term, and final gratification and satisfaction to see our enemies put to shame by God in the most important hours of their lives!…
When God defends us and our place and mission in His Kingdom – His defense is usually final. In every case, before God acts against our enemies, He gives them a chance to wise up, repent, change, ask forgiveness, and turn back from their evil ways.
And I'll end this week with a video from another Roeh Israel congegation, this one in Denver, Colorado. Yesterday's Shabbat message was wonderful and I encourage you to listen to the whole hour. But in particular I'll cue this video up to Burt Yellin's commentary on this week's historic Roe v. Wade reversal, and the sobering reminder that there are still some evils and some enemies with whom no reconciliation can be possible: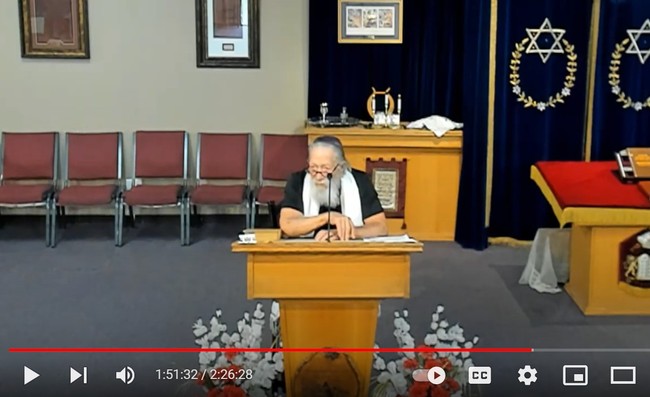 May the spirit of God give us love for all our neighbors, hope for the redemption of even great sinners like ourselves, and courage to stand against implacable evil when there is no other choice.
Jonathan for Shevet Achim
"Behold how good and how pleasant it is for brothers to dwell together in unity" (Psalm 133).