Friends,
It's been just over a month since sweet one-year-old Lara arrived from Kurdistan and was rushed to the emergency room at Sheba hospital with oxygen saturations in the 40s. She's made a beautiful and mostly smooth recovery, but after last week's news that she has some narrowing near one of her valves, her mother has spent an anxious week awaiting this week's echo.
This morning—which happens to be Lara's mom's birthday– we made the trip to Sheba hospital where, after an echo and ECG, we sat awaiting the doctor's decision. When he finally called us into his office, he asked Lara's mom, "So you want to go home?"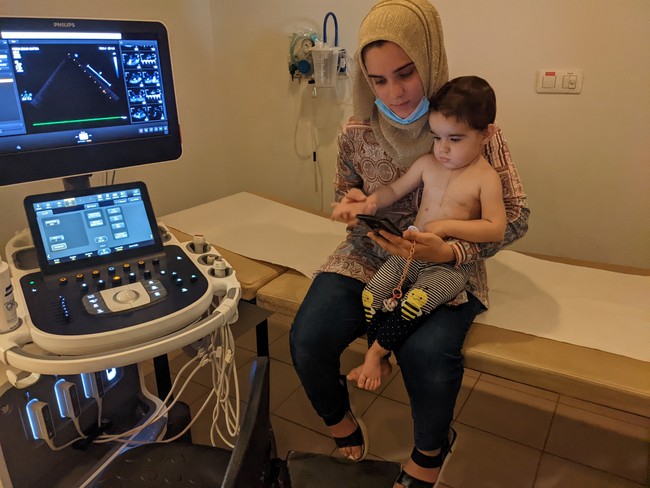 "Yes," she replied hopefully. "It's my birthday and that would be the best gift."
"You get your gift," he replied with a smile. "You can take her home. Happy birthday!"
The last five weeks with Lara and her mother have been such a beautiful gift. Lara has come a long way in a short time; the bright-eyed, rosy-cheeked toddler enjoying a celebratory ice cream cone at the hospital today bears little resemblance to the blue-tinged baby we drove to the emergency room a month ago.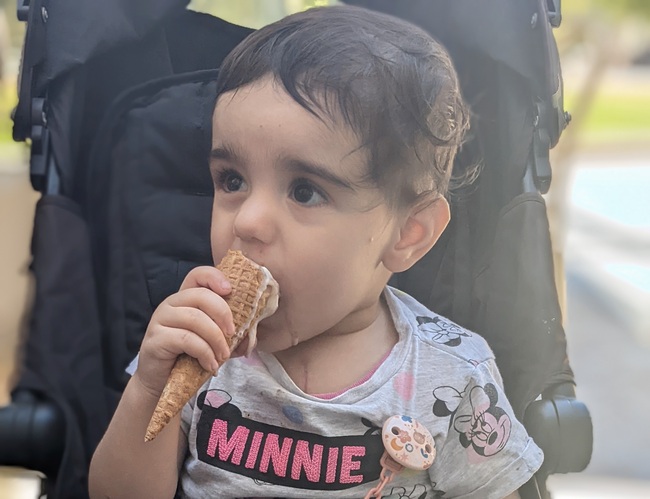 The day of Lara's surgery, her mother and I discovered that we share a favorite movie series—
The Lord of the Rings
. "It's all about an adventure," she explained, "and now I'm on an adventure myself."
This afternoon, as we sat in the sunshine together outside the hospital, she smiled and said, "We're at the end of our adventure now."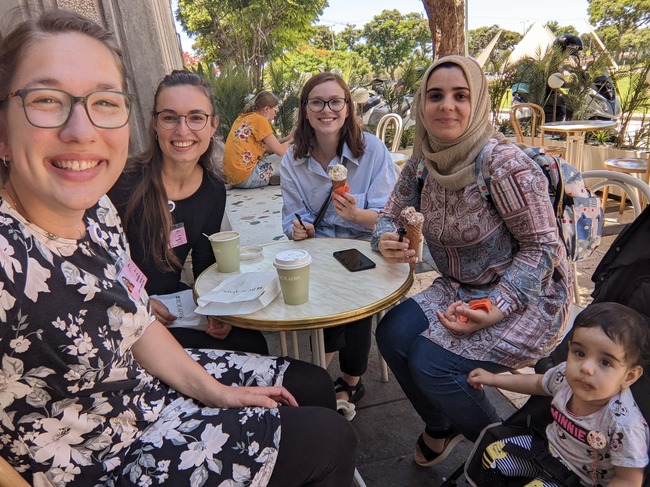 Lara's mother reminds me of a favorite line from the series: "Courage is found in unlikely places." Sometimes, courage is found in grand tales of epic adventures. And sometimes, it is found in a mother's love, determination, and sacrifice to give her daughter a chance to grow up. Lara and her mom have had quite an adventure, and through it all we can see the hand of God working all the details together for a beautiful outcome.
One-year-old Yad from Kurdistan had surgery on Sunday afternoon to repair his combination of heart defects. Praise God, the surgery went without complications and Yad is making a quick recovery. He gave the doctors a bit of a challenge in the days following his operation, as even with heavy sedation he was active and trying to remove his own tubes and IVs. He's now breathing and eating on his own, and Joanne today found him already moved from the ICU to the pediatric ward, where the doctors expect he will need to spend only a day or two. We're looking forward to having this sweet little guy back in our house in Ashdod: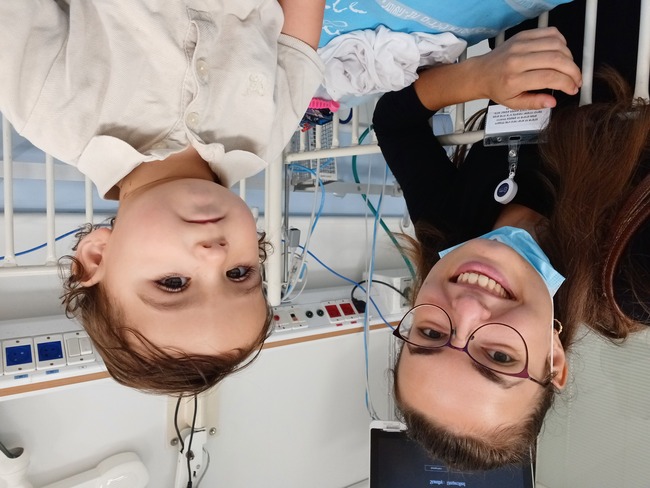 Meanwhile,
newborn Ibrahim
 from Gaza is receiving the highest quality care in the pediatric cardiac ICU at Sheba hospital after his emergency arrival as the Shabbat started Friday evening. Ibrahim had surgery on Sunday morning to place a pacemaker and a pulmonary artery band. This is the first of multiple surgeries needed to repair his single ventricle heart. Ibrahim's heart condition is complex and difficult to treat, and as of this morning he is still not stable: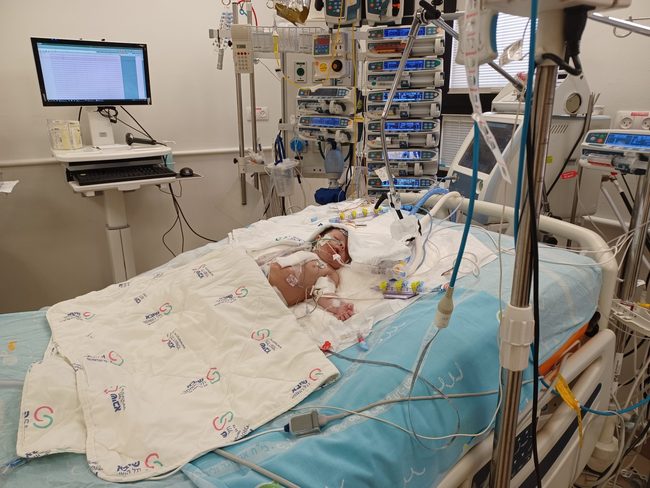 Because of the urgency of Ibrahim's situation and the difficulty of obtaining travel permission for his parents, his grandmother accompanied him for the trip to Israel. It has been a difficult week for her and she is anxious for his mother to come take her place by Ibrahim's side so she can go back home. Even so, she is caring attentively for her tiny grandson and praying fervently for his healing. It is no small sacrifice to make this difficult journey and care for this precious baby as if he were her own child, and I'm struck by her willingness to set aside her own cares and comforts for the sake of her grandson. Please pray for strength and comfort for Ibrahim's grandmother and travel permission for his mother to come be with him.
Pray also for baby Somaia from Gaza, who is still in the ICU at Sheba hospital five weeks after her tracheostomy procedure. As you can see in this video, she is opening her eyes and becoming aware of her surroundings:
Somaia needs to grow a bit more before the doctors consider the next steps for her. Like Ibrahim, Somaia is accompanied by her grandmother, who has cared for her faithfully for three months in the ICU. As the weeks stretch into months, Somaia's grandmother is exhausted and hoping to return home soon, but we are still waiting for travel permission for another relative to come take her place. Please pray we overcome the obstacles and delays in this process.
Two-month-old Brwa from Kurdistan has made another big step in his long recovery after surgery to switch his great arteries. After being disconnected from the ventilator last week, Brwa made so much progress this week that he has been moved out of the ICU and into the regular pediatric ward!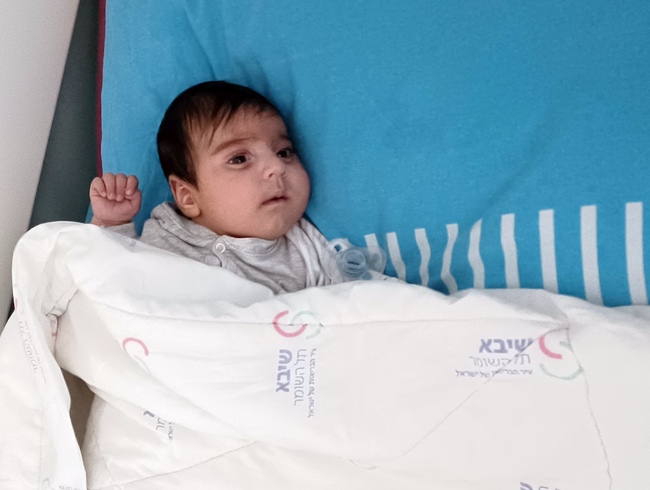 He is undergoing a series of tests to assess any possible long-term effects from his time on the ECMO machine. His eye test looks good and showed no damage. Next week, he will have a brain MRI and some tests for his ears, as well as an echo. We are all amazed by Brwa's steady progress and recovery. Thank God for his healing!
Please continue in prayer for baby Liya from Gaza, whose surgery was delayed this week due to a fever. She was discharged from Sheba hospital on Monday afternoon and went home to Gaza, where she was supposed to wait two weeks before coming back for her much-needed surgery.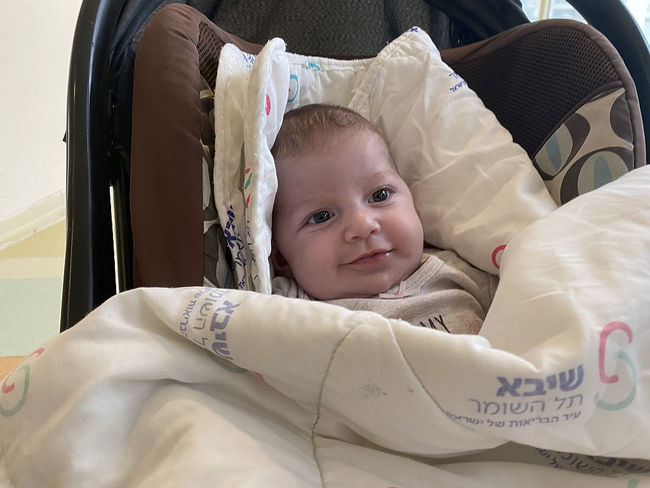 However, just two days later, Liya's fever worsened and she began struggling to breathe. She is now hospitalized and on mechanical ventilation in the ICU in Gaza where she is receiving antibiotics for a possible case of sepsis. Liya's situation is very complicated and this latest challenge is difficult for her and her parents. Pray for her and her family in the coming days, and for her safe return to Sheba as soon as possible.
Handsome little Sohaib from a Yazidi refugee family in Kurdistan was discharged from Sheba hospital on Monday after his surgery last week: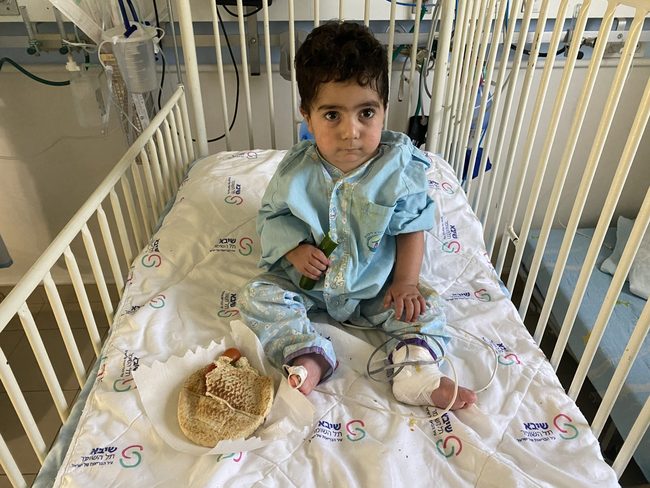 He is doing very well since the surgery and will have a follow-up echo next Monday to see how his heart is recovering. His mother is eager for news from this echo. Please pray for good results for Sohaib.
Two-year-old Syrian Amina's doctor had good news for us after her echo on Sunday. The fluid in Amina's chest is finally gone and her heart is doing well. One of the side effects of the steroid used to treat the fluid buildup was an effect on Amina's mood, so now that she doesn't have to take it anymore, she has cheered up quite a bit and we are finally getting to know her a little better: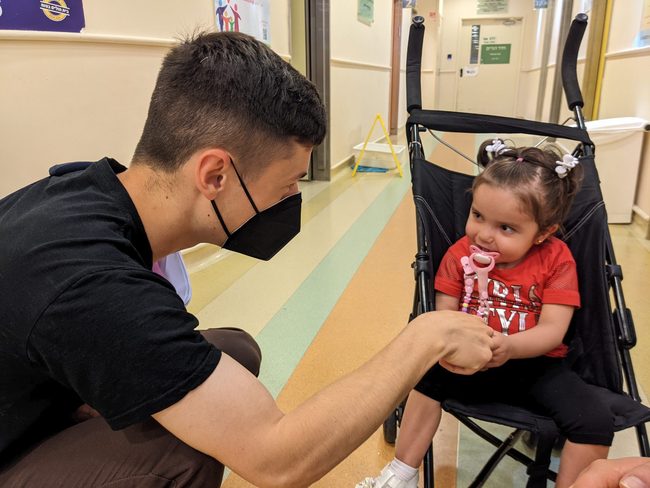 She will have another echo on Sunday and likely another two weeks after that, at which point her cardiologist hopes to send her home to Kurdistan.
Meanwhile in our Ashdod home, four-year-old Hussein and his mother are patiently awaiting his next post-surgical echo in a week and a half. They have faced quite a few long waits in their time here, and Hussein's mother has been incredibly patient and understanding through the whole process.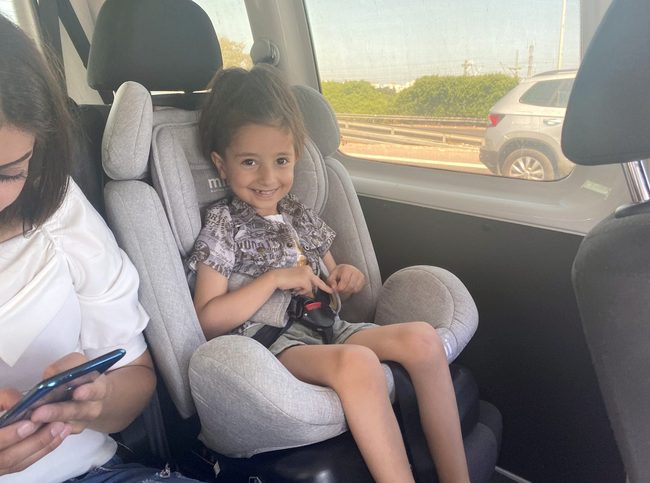 Hussein is not bothered at all by the waiting time and when he's not visiting with our dog Shevie in the staff house, he can usually be found stirring up chaos with his fellow mischief-maker Lara. He's looking forward to celebrating his fifth birthday with a party this weekend.
Time and time again we are struck by the patience and sacrifice of these mothers and grandmothers. Leaving behind their husbands, other children, jobs, and countless other concerns, they spend months far away from home, each for the sake of one precious child. It takes a tremendous amount of courage and love to do what each of these women does.
This morning in our staff meeting, we read Matthew 16, where Jesus warns his disciples against putting human concerns before the concerns of God. "Whoever wants to be my disciple must deny themselves and take up their cross and follow me. For whoever wants to save their life will lose it, but whoever loses their life for me will find it."
This is no small calling. It led us to a powerful and challenging question: what are we willing to sacrifice for the sake of the concerns of God? What earthly treasures and concerns will we lay aside in order to serve our Lord? Perhaps it is a question impossible to truly answer until we are called upon to act. When those moments come, it is our prayer for our community that we will act with the same love, selflessness, and courage as the mothers we are blessed to share life with.
Thank you for joining us in prayer,
Bria for Shevet Achim