Dear coworkers,
Michelle and I returned from the US just in time to witness a miracle this Shabbat:
Yes, that's a boy from Syria (Hussein) joyfully and freely celebrating his fifth birthday in a park in Israel! If only the local families out in the park knew what was going on right before their eyes–I mentioned it to one gathering as we walked by and they looked on dumbfounded. We have to start getting this message out to the people of Israel!
And it's so sweet to see how our Muslim, Yazidi and Christian neighbors from Iraq, Syria and Gaza feel so much at home in our new neighborhood in Ashdod, which is a 95% Jewish city. When we left Jaffa at the start of this year we reluctantly gave up the beautiful seafront. But in truth our visitors are making much more use of this beautiful green park than they ever did the beach. (Not to mention their strolls through the luxurious big shopping mall across the street).
In its own small way this pictures a profound spiritual mystery:
Therefore remember that at one time you Gentiles in the flesh, called "the uncircumcision" by what is called the circumcision, which is made in the flesh by hands—remember that you were at that time separated from Messiah, alienated from the commonwealth of Israel and strangers to the covenants of promise, having no hope and without God in the world. But now in Messiah Jesus you who once were far off have been brought near by the blood of Messiah. For he himself is our peace, who has made us both one and has broken down in his flesh the dividing wall of hostility…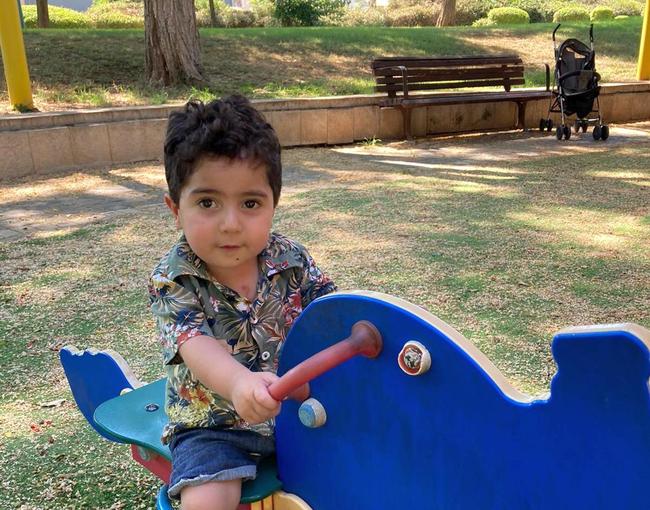 Well, as I often tell our coworkers, enjoy these good times for a few fleeting moments, the next crisis will be upon us soon enough. That happy boy pictured above is the Yazidi refugee Sohaib, who doctors had feared may be inoperable due to pulmonary hypertension. He's been recovering wonderfully though since his heart surgery, and like Hussein was full of energy yesterday in the park.
Tonight however his oxygen saturations suddenly dropped to as low as 30% of normal, and our alert crew summoned an ambulance to rush him back to the ICU at the Sheba Medical Center, where he's currently under observation: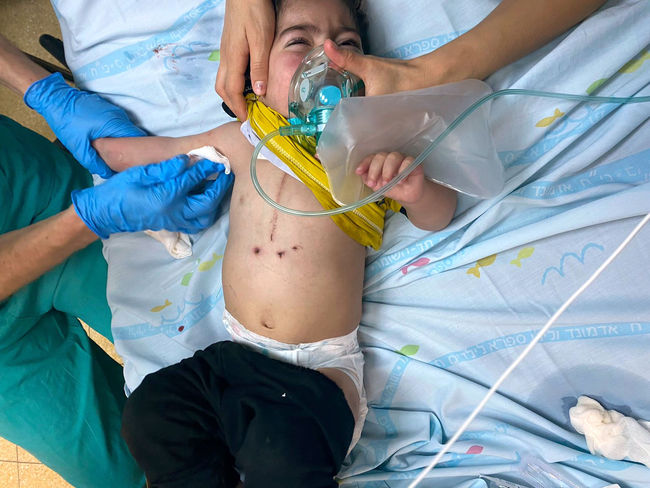 Friends, let's pray for Sohaib, trusting our Father to do what he does, not only beginning a good work but seeing it through to the end.
And we can trust him to do the same concerning the miraculous restoration of Israel which has been unfolding before our eyes over the past century. So many impossible things have already happened in the physical, and in our days there are unmistakable spiritual stirrings as well.
For the last year, Israel has had its first ever Hebrew-bible-believing prime minister, Naftali Bennett. A profile in Foreign Policy last summer "The Meaning of Israel's First Religious Prime Minister" makes clear what a stunning change that was for the country:
The central figures of Israel's founding were secular. Theodor Herzl, Zionism's visionary, was not only irreligious, but his vision of the Jewish state was barely informed by Jewish tradition. David Ben-Gurion, the architect of Israel's independence and its first prime minister (and longest serving, until Netanyahu), listed himself in a 1960 census as an atheist. In a recently revealed letter from the same year, he describes his reaction toward soldiers praying at his desert shack on Yom Kippur. "I did not envy them," he wrote; prayer "may feel pleasant—yet it is not reality, but self-deception."
All of Ben-Gurion's successors in the state's first three decades were secular and socialist. His immediate successors—Moshe Sharett, Levi Eshkol, Golda Meir, and Yitzhak Rabin—partook in religious rituals only at their own funerals. Even Vladimir Jabotinsky, the father of right-wing Zionism, was largely unschooled in religious tradition. Benjamin Netanyahu, Jabotinsky's ideological heir, works on the Sabbath and rarely enters a synagogue.
Bennett, too, was raised in a non-religious home, to Myrna and Jim Bennett—liberal Reform Jews from San Francisco. But in spring 1967, Egypt closed the Straits of Tiran in a bid to choke off Israel, and a coalition of Arab states appeared massing for an offensive that would end the country's lifespan at 19. According to Bennett, his parents were stunned that their Jewish-American friends seemed unperturbed, continuing their everyday routines as the Jewish state's existence hung in the balance. When Israel prevailed in six days—taking the West Bank, Golan Heights, and Sinai Peninsula to boot—they boarded the first civilian flight there. In Upper Galilee, they volunteered at that most secular and progressive of all Israeli institutions: the kibbutz…
The Bennetts subsequently settled in Haifa, where Jim worked at the Technion, Israel's venerable technological university and where Naftali, the youngest of three sons, was born in 1972. The difficulties of integration, however, proved too much and they returned to California the next summer.
In October of that year, however, another war broke out, with far different fortunes for Israelis. The Yom Kippur War caught them utterly unawares; the country suffered heavy losses and its existence again appeared in doubt. Jim flew to join his reserve unit in the Golan, and stayed with it for several months. Myrna and the boys followed him back to Israel, and the move was now permanent.
The family's religious awakening began slowly, not in Israel but Montreal and later New York, where Naftali's father was sent on behalf of the Technion and then the Jewish Agency. "We enrolled the children in Jewish schools," the elder Bennett, who died in 2015, told Haaretz in a long interview two years before. "We needed a kosher kitchen, because other children visited us at home. We started with simple things, like lighting candles on Sabbath eve. One thing led to another, until we also started to attend synagogue and so on…"
Israel remains a massively complex country whose fault lines don't always hug the curves most familiar to Western observers: left vs. right; faith vs. science; Jew vs. Arab; peace vs. war.
But it does represent a broader acceptance in Israel of religion's growing presence in the public square…
Much water has flown since then, to borrow a Hebrew expression. There were the grim years of the Second Intifada, the 2005 pullout from Gaza and the surge in rockets that followed, and the crashing failure of the Oslo Accords' two-state vision. There is no straight or direct line leading from these developments to a Bennett premiership, but there is the feeling, deep and wide across the country, that the future promised by Israel's historically secular, center-left leadership has proved a mirage.
"I don't support religious coercion, but I do believe that Judaism is our 'why': Judaism is the reason for our existence and the justification for our existence, and the meaning of our existence," he once told the liberal journalist Ari Shavit.
Well this week Bennett kept his word and humbly handed off power to his secular coalition partner Yair Lapid. Here's an excerpt translated from his farewell speech:
We proved this year that people with very different opinions are able to work together. And no one has to give up his positions, but certainly it is possible and also necessary to put aside for a little while ideological arguments and take care of economy, security and the future of the citizens of Israel. We proved there is a shared good, we proved that it is possible to keep agreements. I asl to remind us at this time that only together will we succeed. If we will be divided friends we simply won't be. And if we will be united no one can overcome us.
So let's be good to each other, let's listen, let's learn to know and to respect instead of hating. The Tanakh says to us, 'He has shown you O man what is good. And what does the LORD require of you but to act justly, to love mercy, and to walk humbly with your God?'
Above all, I thank the Holy One, blessed is he. Also when I walked through the valley of the shadow of death, I didn't see evil, because the LORD was with me…
My mouth is full of thanks.
And then at the ceremony to hand over the government, Bennett went on to pray the Aaronic blessing over his successor: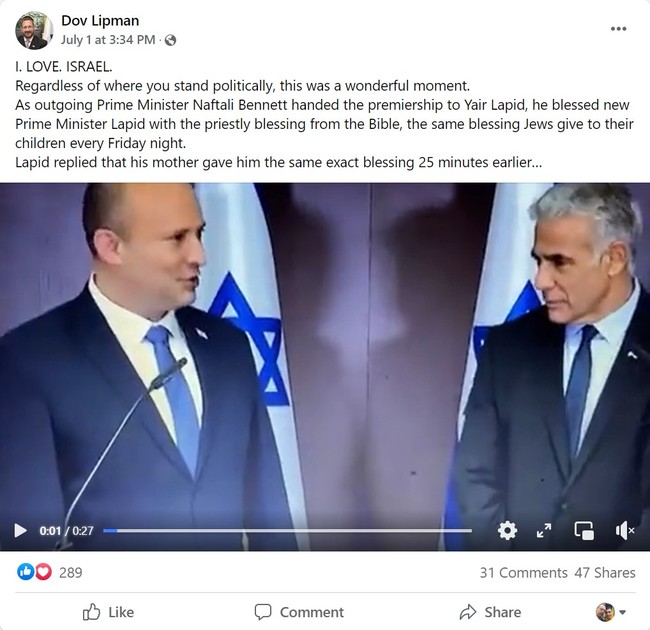 The LORD bless you and keep you;
the LORD make his face to shine upon you and be gracious to you;
the LORD lift up his countenance upon you and give you peace.
Jonathan for Shevet Achim
"Behold how good and how pleasant it is when brothers dwell together in unity" (Psalm 133).