Friends,
It was just after dinner on Sunday evening when coworker Quinlan texted me that one-year-old Sohaib's oxygen saturation, normally in the upper 90s, was 65%. "Are you sure?" I asked a minute later when I arrived. Sohaib was his usual content and relaxed self, rosy-cheeked and happily munching on a banana.
But sure enough, when we checked again his oxygen level was in the low 60s and dropping rapidly. Within minutes, it had plummeted to 30%. We immediately put him on oxygen support and called an ambulance, and Sohaib was rushed to the emergency room at Sheba hospital: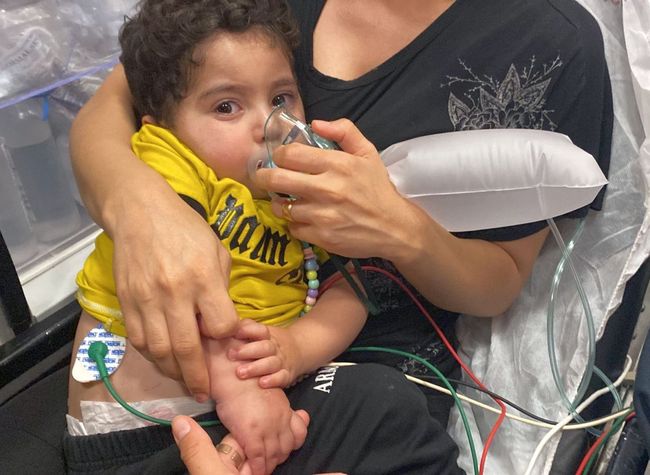 Sohaib was admitted to the pediatric ICU with an initial diagnosis of pulmonary hypertension (high pressure in the pulmonary arteries), and when he remained unstable even with oxygen support he was put on a ventilator Tuesday morning. When even this failed to stabilize him, his doctors performed another echo and discovered that the hole between the upper rooms of Sohaib's heart is still open even after his surgery three weeks ago. The doctors are now monitoring his condition and considering the next steps.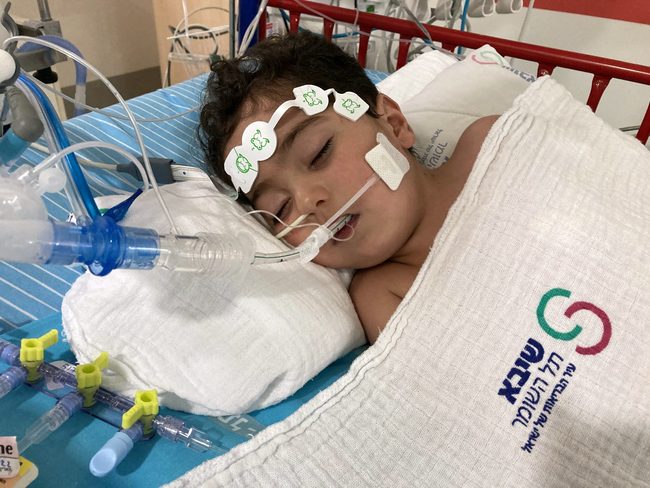 Once Sohaib was safely in the care of the paramedics and on his way to the hospital, I asked Quinlan what prompted her to check his oxygen. Nothing really, she replied, he was happy and seemed normal but his mom asked her to check it. I'll admit, I was a bit shaken by just how easily things could have gone wrong. But thank God, there is no chance or risk stronger than his hand. He knew exactly what Sohaib needed, and he provided it just in time. What's more, he has the power to provide just what Sohaib needs even now in the hospital. Please pray for God's protection and comfort for Sohaib and his mother in the coming days.
Newborn Ibrahim from Gaza is also in need of God's healing hand. On Sunday morning, one week after his pacemaker and pulmonary banding surgery, Joanne found him on dialysis as his kidneys are not working properly: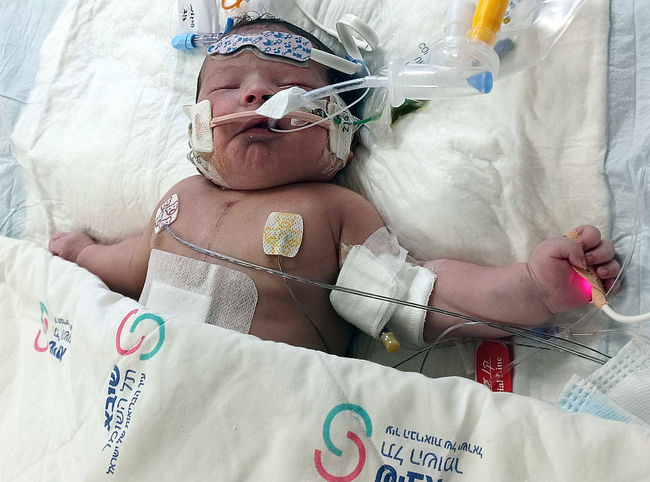 Ibrahim remained in critical condition until Tuesday, when doctors determined that his condition is so serious that he needed ECMO heart-lung support. Ibrahim's grandmother, already exhausted after a difficult week and a half in the ICU, was overwhelmed by this news and she returned to Gaza on Tuesday afternoon. We are still waiting and praying for permission for another relative to take her place at Ibrahim's side. The ECMO machine is a daunting prospect, as only about 50% of children who go on it survive. However, we have seen children successfully weaned from the ECMO—most recently sweet Brwa from Kurdistan—and we know that even this challenge is not too big for God. Please be in prayer for Ibrahim.
Three-month-old Liya went home to Gaza last week, but her condition quickly deteriorated there due to an infection and she was placed on a ventilator in the ICU. Thank God she was safely returned via ambulance to Israel in an unusual Shabbat morning transfer. As of Monday, her infection seemed to be gone, but Liya still has a long and challenging road ahead of her. Her doctors hope to extubate her before the weekend and if she remains stable, she will have her next surgery soon: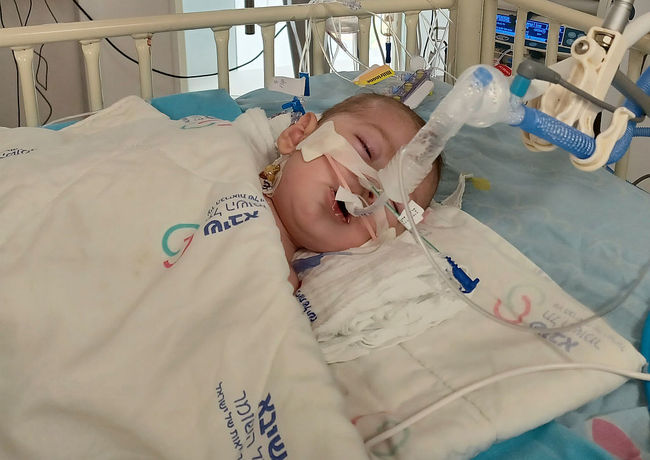 Three-year-old
Hassan
 from Gaza had his long-awaited Fontan surgery on Tuesday. This operation is a big one with a difficult recovery, made more complicated by the complex anatomy of Hassan's heart. He was unstable for a few hours after surgery but praise God, the doctors were able to stabilize him and even disconnect him from the ventilator the next day. He is slowly waking up and making good progress in his recovery: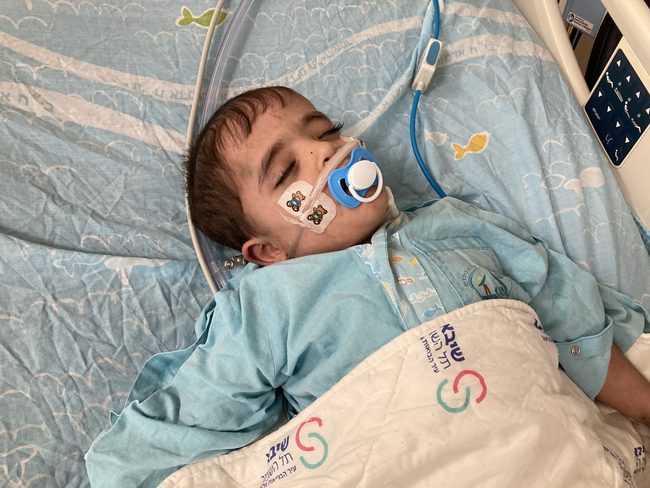 In a week full of difficult surgeries and challenging news, there is still much to celebrate. On Wednesday morning, two-year-old Amina from a Syrian family in Kurdistan had her sixth and final post-operative echo at Sheba hospital. After stopping all of her medications, the fluid in her chest is still gone and her heart is doing very well, so much to her mother's delight, Amina was cleared to return home to Kurdistan!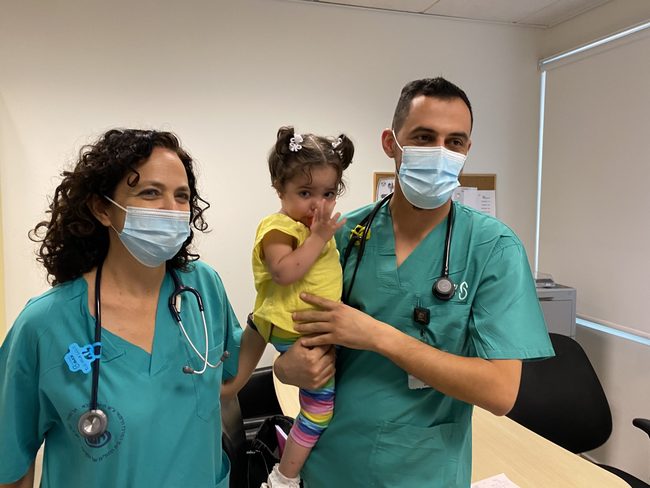 Amina and her mother stopped in Ashdod for a quick goodbye to the other families, and then were off to the airport. Joining them for the flight were beautiful Lara and her mother, excited to return home in time for Eid-al-Adha (a big Muslim holiday) this weekend. We've been so blessed by our time with these two precious girls and their mothers, and we pray for health and blessing for them as they return home:
Today was an exciting day for baby
Somaia
's grandmother, who finally went home to Gaza after three months in the ICU with her granddaughter. Somaia's mother at last received permission to come in her place, and it was a sweet and emotional moment when she and Somaia's grandmother were reunited at the hospital: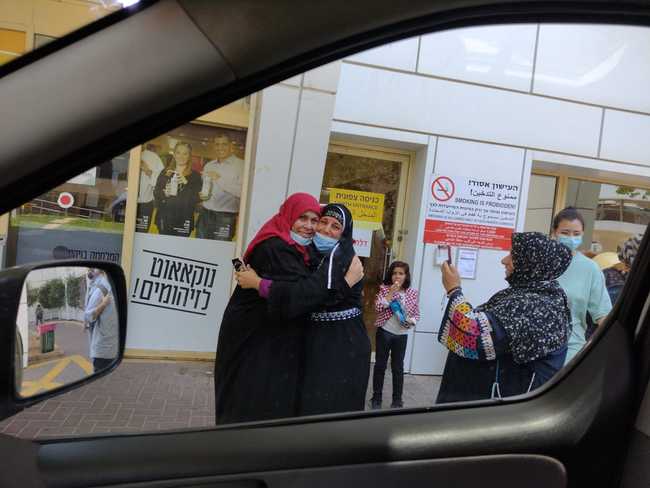 Somaia is making slow but steady progress, and had a good diagnostic catheterization on Tuesday. The doctors are examining the results of the cath to decide on the next steps for her. Pray for wisdom for them, and thank God that Somaia's mother can finally be with her baby girl after three months apart: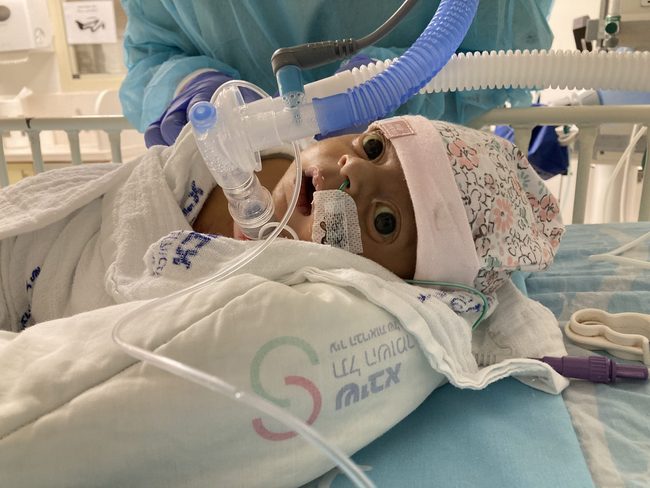 Sweet little Brwa from Kurdistan is also making steady progress at Sheba. Now that he's out of the ICU and eating well, the doctors are conducting a few more tests to check for any lasting consequences of Brwa's time on the ECMO machine. He had a brain MRI earlier this week, and a hearing test today with very good results: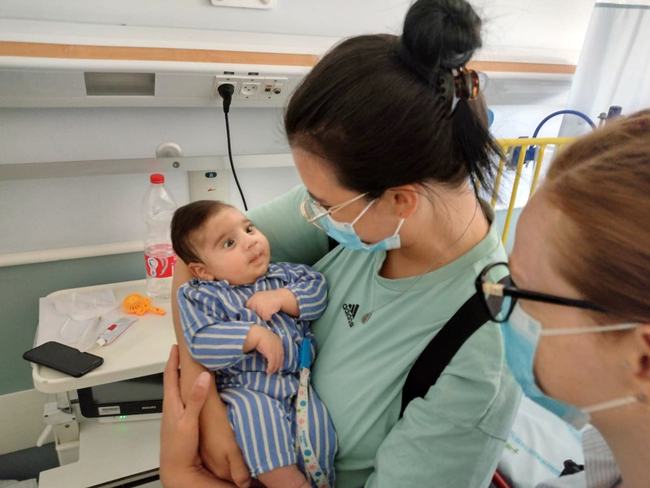 His MRI showed that there is some damage to his brain, but the doctors are not sure if this is a result of the ECMO machine or if he was born with it. The doctor in the ward that we spoke with seems to think the damage is relatively small, but Brwa needs follow-up with a neurologist for a more clear prognosis. Additionally, he has a small problem with his liver enzymes, and the doctors are running some more tests to decide what treatment he might need. Please pray for good test results for Brwa and patience for his mother, who is eager to come back to Ashdod after a long stay in the hospital.
Meanwhile, handsome one-year-old Yad from Kurdistan was discharged from Sheba on Sunday afternoon, one week after his surgery: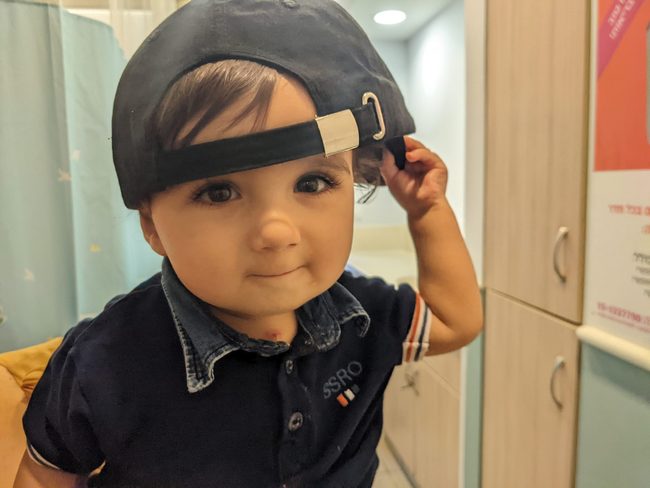 He was excited to come back to the house in Ashdod, where he loves playing in the garden and trying to snatch glasses off the face of anyone who gets within reach. Yad will have a follow-up echo on Tuesday; please pray for good results for him.
Our good friend Hussein, from a Syrian refugee family in Kurdistan, has overcome his fear and now loves our dog Shevie, and today was even making a new canine friend in the park by our home: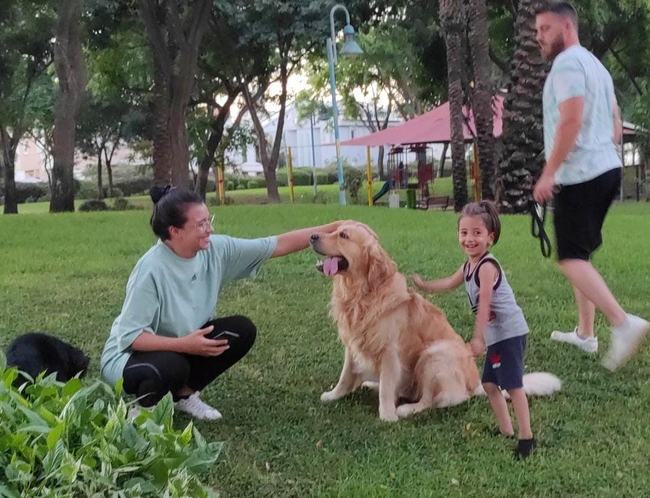 Hussein will have an echo on Sunday morning, and after a long stay away from home his mother is hoping for good results. Please join us in praying for good news in Hussein's appointment.
And it was a bittersweet week as we said goodbye to our beloved coworker Joanne (pictured below in white Shevet t-shirt), as she traveled home to the Netherlands after a year in our community. For most of that time, Joanne has served as our coordinator, and she has kept things running smoothly around here even on the busiest days. She has led with grace and courage and her leadership and unwavering trust in God has gotten us through some challenging times in our community.
I have had the joy of being not only Joanne's coworker, but her roommate for the last ten months, and I have witnessed firsthand the ways God has worked through her in her time here. In her faithful and dedicated work, she has set an example of leading in humility and servitude, taught us that it is better to be kind than right, and reminded us again and again that we have to choose completely and wholeheartedly for God.
It's remarkable that one person could have the kind of impact that Joanne has in just one short year. But this is the result of trusting fully in the Lord and giving oneself completely to him. Joanne's faithful service here at Shevet is a reminder of Paul's encouragement to the believers in 1 Corinthians 15: "Therefore, my dear brothers and sisters, stand firm. Let nothing move you. Always give yourselves fully to the work of the Lord, because you know that your labor in the Lord is not in vain."
Friends, please join us in praying for Joanne as she steps forward into the next chapter of serving the Lord with all her heart.
Thank you for joining us in prayer,
Bria for Shevet Achim