Where can I go from your Spirit? Where can I flee from your presence?
If I go up to the heavens, you are there; if I make my bed in the depths, you are there.
If I rise on the wings of the dawn, if I settle on the far side of the sea,
even there your hand will guide me, your right hand will hold me fast.
Friends,
On Tuesday morning one-year-old Yazidi refugee Sohaib from Kurdistan had a diagnostic catheterization, and doctors in Israel at last found the cause of his sudden drop in oxygen just over a week ago. The patch placed over a hole in his heart in his first surgery was causing narrowing in one of the valves, and in addition doctors suspected the patch had become infected. While Sohaib's mother was relieved to finally have an answer, the next step was daunting: a second surgery, this one difficult and potentially risky, to remove the patch and undo everything that was done in his first operation.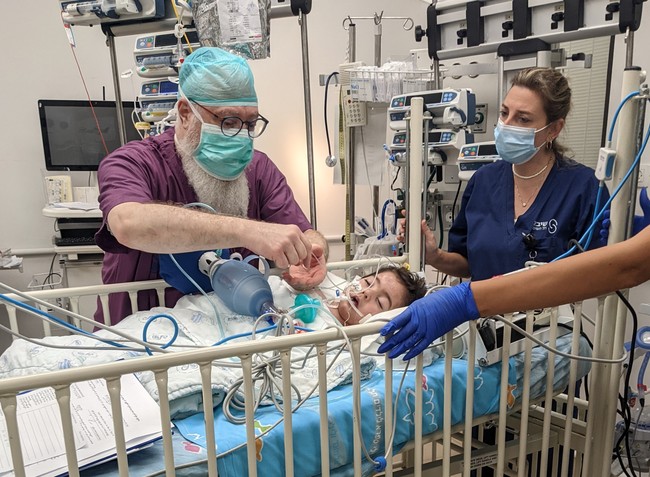 Sohaib went into surgery early Thursday morning. The surgeon explained the process to Sohaib's mother along with a gentle warning that he may come out of surgery on the ECMO heart-lung support machine. She took all of this with remarkable grace and strength. Together with the doctors we walked Sohaib to the OR entrance, where she kissed his little hands and waved goodbye before he was wheeled through the doors.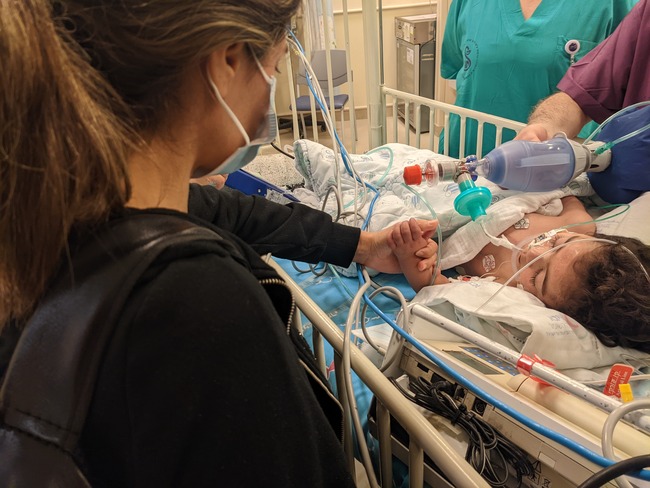 When we received word just four hours later that Sohaib was back in his room, we hurried into the ICU. Sure enough, there he was resting comfortably with no ECMO machine in sight! "He looks great," his cardiologist told us with a smile. "We were a little concerned, already talking about the ECMO, but the whole surgery went very well."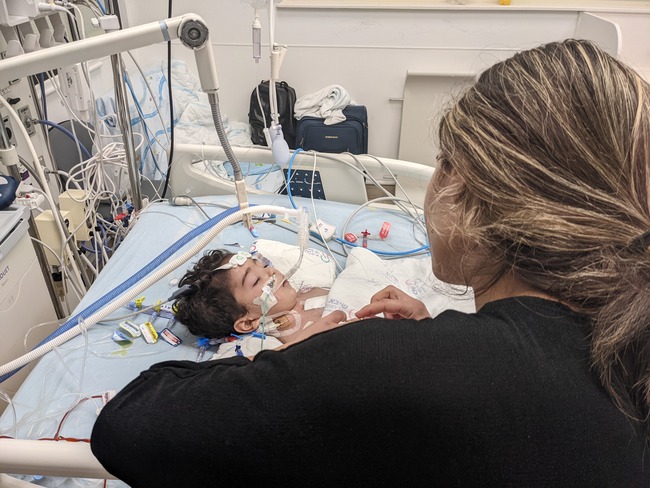 In addition to removing the VSD patch, the surgeons placed a band to limit blood flow to the pulmonary arteries and relieve some of the pressure on them. The doctors will wait and see how he recovers before they decide for sure on the next steps, but they expect that he will need to grow for another six months to a year before having another surgery to repair the VSD.The past weeks have been difficult and anxious ones for Sohaib's mother, and we've been amazed by her strength and grace under pressure.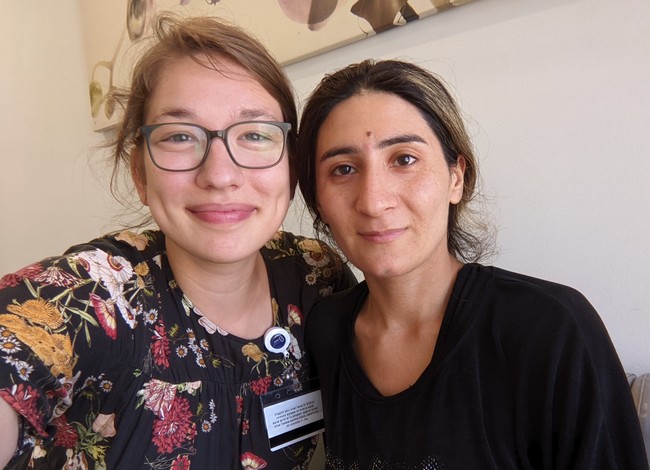 During his catheterization on Tuesday, we discovered the source of much of her comfort; while she sits and waits for hours on end at the hospital, she listens to Psalms in Kurdish. As she waited during his cath, she was listening to Psalm 139:
My frame was not hidden from you when I was made in the secret place.
When I was woven together in the depths of the earth, your eyes saw my unformed body.
All the days ordained for me were written in your book before one of them came to be.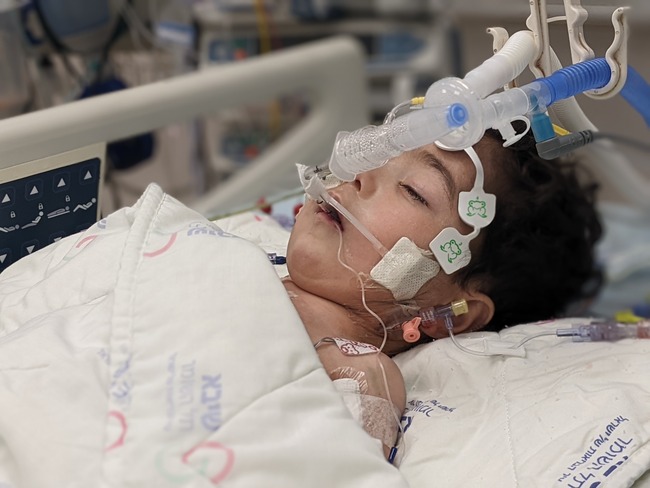 What a beautiful reminder of God's love and attentive care for each one of us. Even in the most dangerous and difficult moments for Sohaib, he is still in God's care.
This reminder also rings true for tiny Ibrahim from Gaza, who went to be with the Lord on Tuesday morning. The doctors at Sheba fought hard to save his life, but his condition continued to deteriorate even after days of ECMO support and there remained nothing more they could do.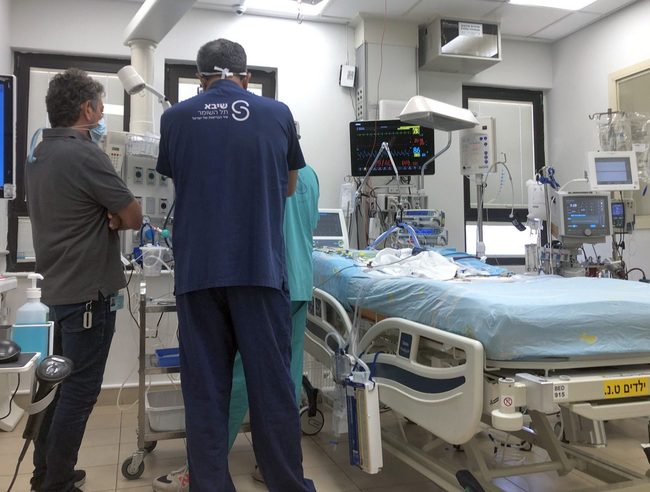 Ibrahim's grandmother collapsed in the ICU and returned to Gaza a week earlier, so he was without a family member beside him. Even so Ibrahim was not abandoned; our coworker Coleman was in the room praying, and in a beautiful reflection of Psalm 139—"your right hand will hold me fast"—he told us that one of the ICU nurses stood by Ibrahim's bed right until the end, holding his tiny hand until the moment the numbers on the machines dropped to zero.
While we are heartbroken for Ibrahim's family, we rest in the confidence that Ibrahim is safe in the care of the God who knit him together before birth, who made him fearfully and wonderfully, and who held him fast every day of his short life. As Coleman wrote on Tuesday, "We pray for and extend our love to his family and the Lord welcomes Ibrahim into true rest and comfort. Please join us in these prayers."
Please pray also for our newest arrivals from Gaza: week-old Hamza, born with transposed great arteries, is on his way to Sheba in an ICU ambulance as I write. And newborn Kinan arrived by ambulance at Sheba hospital on Wednesday afternoon: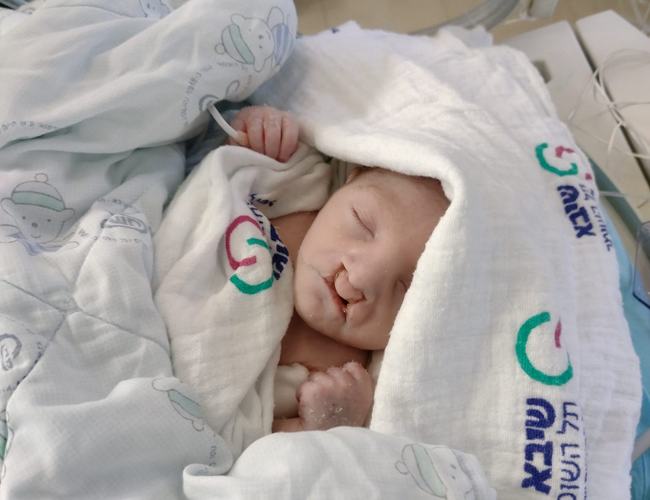 Kinan has a ventricular septal defect (a hole between the lower chambers of his heart), and while this problem is not necessarily difficult to treat in itself, his family was struggling to find help for him due to his other challenges: a cleft lip and palate, and brain deformation as well. Thank God, the amazing team at Sheba is willing to accept even complicated cases, and they are taking the best care of him in preparation for his possible surgery on Sunday.
Also in the ICU is three-year-old Hassan from Gaza, slowly recovering from his big Fontan surgery last week. He had a setback over the weekend when he experienced a drop in oxygen saturation and bleeding in his brain and had to go back on the ventilator. By Monday morning the bleeding had stopped and Hassan is once again breathing on his own. The doctors expect he still has a long road to recovery ahead of him, and possibly another catheterization in the future, but for now he is stable and making progress once more: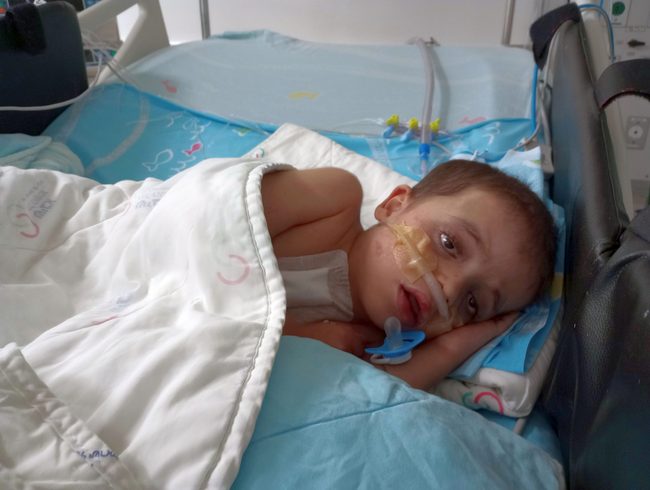 Little
Liya
 was finally well enough to have her second surgery on Sunday morning, after her emergency return from Gaza on a ventilator: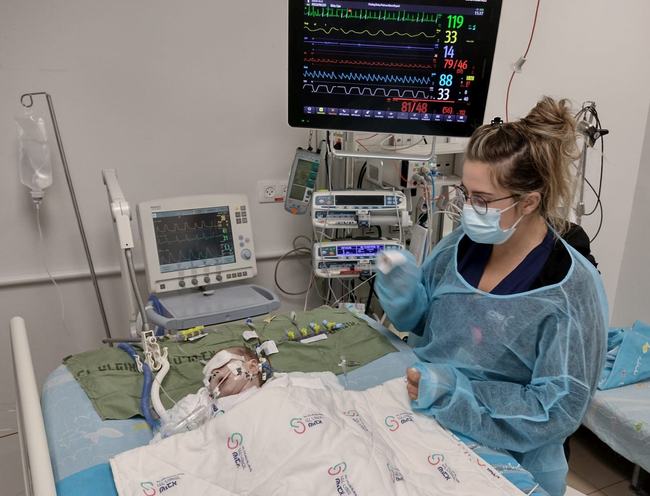 Her doctors are pleased and optimistic about the outcome of the operation and hope to wean Liya from the ventilator in the coming days. Her grandmother is a ray of sunshine in the ICU and takes good care of the other moms and grandmothers.
Liya's grandmother can usually be found with baby Somaia's mother, who has settled in to life at the hospital with a joyful spirit and is making the most of her time there: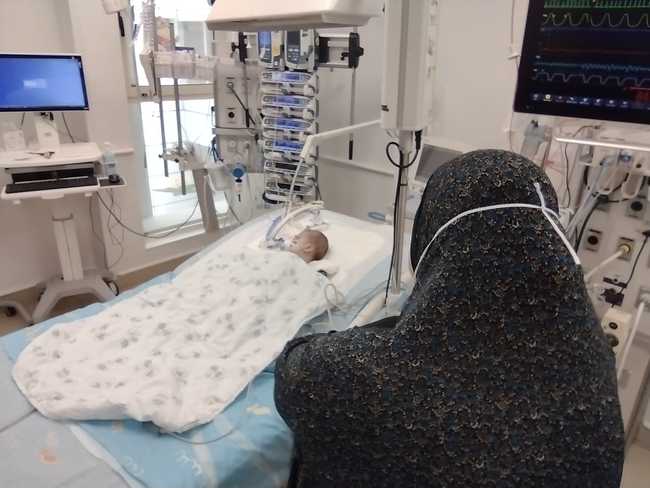 She's always eager to welcome visitors, as well as sit with the mothers of children in surgery to support them and pray for them. Somaia is still not ready to go into surgery and likely has a long road ahead of her, but her mother believes she is seeing improvement in her condition: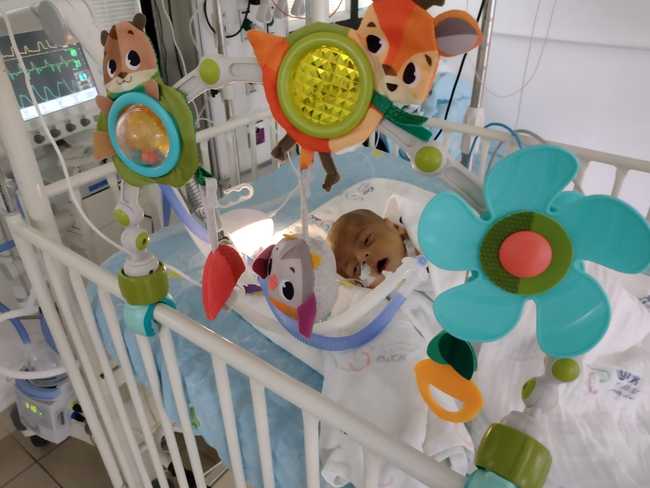 Sweet little
Brwa
 from Kurdistan is just a tiny step away from coming home to Ashdod, now 40 days since coming off ECMO. His heart is doing very well and most of his tests look great: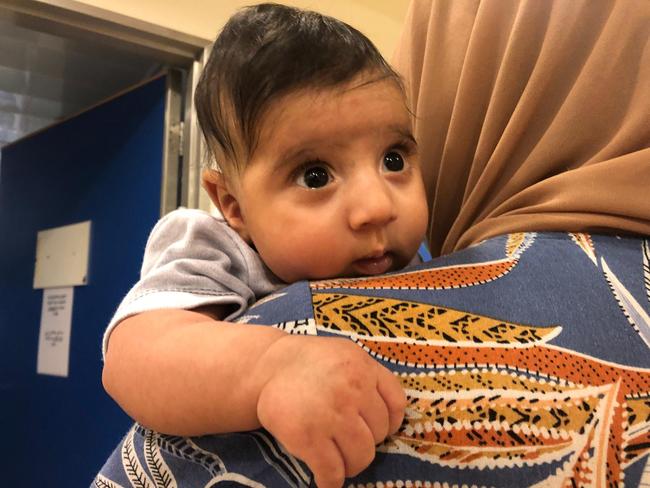 The only thing keeping him in the hospital is his liver enzyme levels, which are still a little too high. The doctors are not sure what Brwa's liver is responding to, but once they see that the numbers are decreasing, he can be discharged from Sheba. Please pray for good results for Brwa.
Meanwhile, in Ashdod, we are getting ready to say goodbye to two of our beloved friends. One-year-old Yad from Kurdistan had an echo on Tuesday morning with great results. His heart looks good a couple of weeks after surgery and his doctor is confident that Yad is well enough to go home to Kurdistan! Yad has had a wonderfully smooth surgery and recovery and we're so excited to send him home healthy: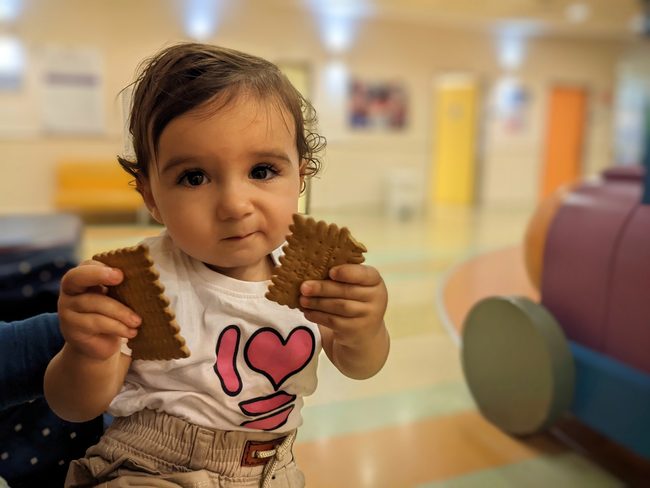 Five-year-old
Syrian refugee Hussein
 is also getting ready to go home after nearly three months in Israel. He will have what we hope is his last echo on Sunday morning, at which point his cardiologist expects to discharge him to Kurdistan: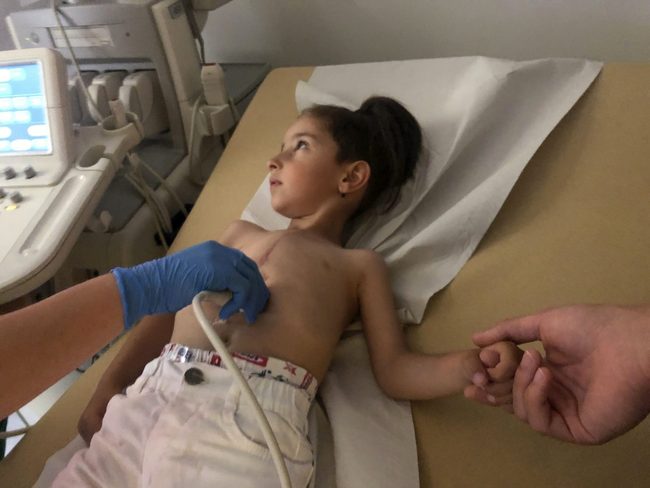 Hussein's mother was so excited by this news that she cooked up a beautiful spread of Kurdish food and we went ahead with the party to celebrate Yad and Hussein already last night. Hussein was absolutely delighted by the photo slideshow videos for both himself and Yad, and his one request was that we all sing "Hine Mah Tov" (Psalm 133 in Hebrew) together, followed by a rousing chorus of "Shabbat Shalom."
Yad and Hussein will be with us for another 12 days until there is a good flight available, and we're looking forward to having a little more time with these sweet little boys before they go home to their eagerly awaiting families.
We said goodbye to our good friends Coleman and Quinlan this week after a blessed month of serving together. It's always exciting to see how God uses each person's unique strengths and gifts here, and these two were no exception: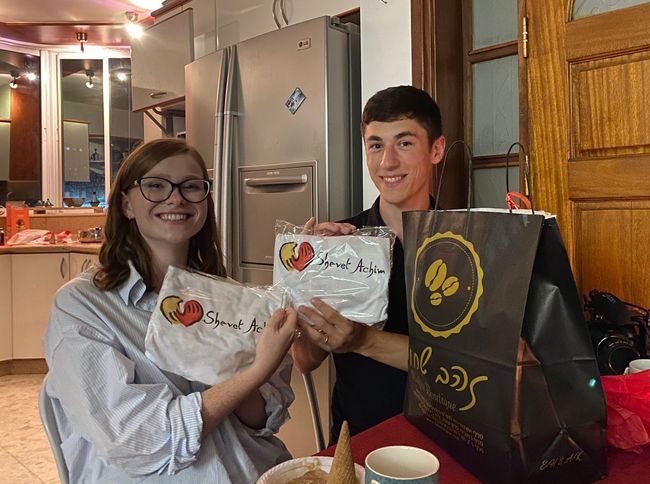 Coleman, a filmmaker, toted his camera along with him everywhere and documented much of what life at Shevet looks like. And as a medical student, Quinlan was a huge help with our nursing duties in the house, and offered a lot of support to kids and mothers both in and out of the hospital. We've loved getting to know this sweet couple in the last weeks and we're excited to see how the Lord works through them next.
We're looking forward to welcoming five new volunteers to our community in the next few weeks, as we reach the end of a stretch of time with very few volunteers. This has brought a unique set of challenges and hurdles, but also a special sense of closeness and a true reliance on God. Psalm 139 closes with a beautiful prayer that reminds us of our dependence on God to know, comfort, and guide us every step of the way:
Search me, O God, and know my heart; test me and know my anxious thoughts.
See if there is any offensive way in me, and lead me in the way everlasting.
Thank you for joining us in prayer,
Bria for Shevet Achim