Then I heard the voice of the Lord asking:
"Who will I send?
Who will go for us?"

I said:
"Here I am. Send me."
–Isaiah 6:8
Friends,
Tiny Kinan from Gaza is not yet one month old and has already undergone two surgeries, with more on the horizon. The first was Sunday morning, a five-hour operation in which the doctors repaired one hole in his heart and made another in order to allow for better blood flow. Because of the complex anatomy of Kinan's heart, this was only a partial repair surgery and he will need another in the future to complete the repair.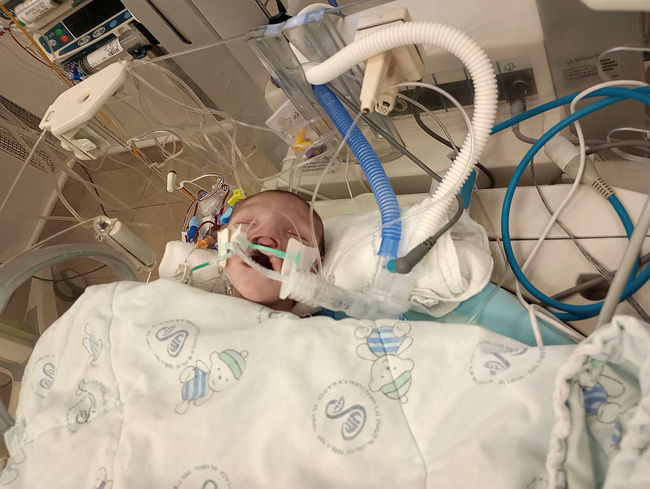 Then on Wednesday morning Kinan went into the operating room a second time, this time to repair his diaphragm which was only partially functioning after his first operation. Kinan is breathing on his own now without the ventilator. When Tatiana visited him today, she found his grandmother carefully giving him his nebulizer treatments: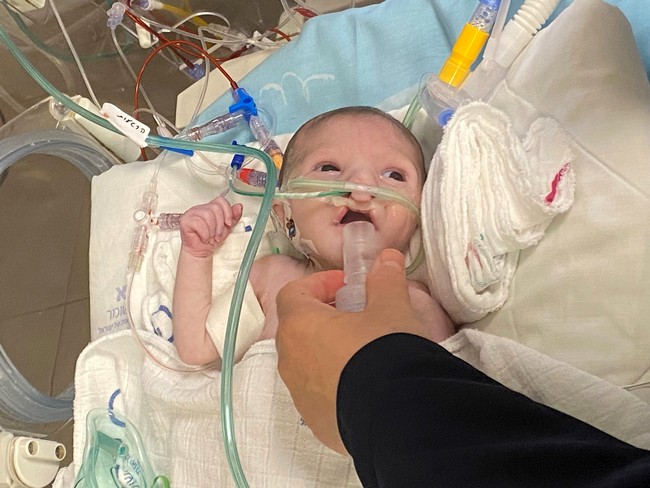 Kinan has a difficult and uncertain road ahead of him. His doctors are continuing to run a series of tests to understand the cause and extent of his health challenges. They don't yet know how severe his brain malformation is, and he may not even be able to hear. In addition to another heart surgery, he will need operations in the future to repair his cleft lip and palate. His doctor in the ICU was gentle but honest in her report to Kinan's grandmother after his surgery on Sunday: his prognosis is difficult, and the doctors are unsure whether he will live longer than a few months.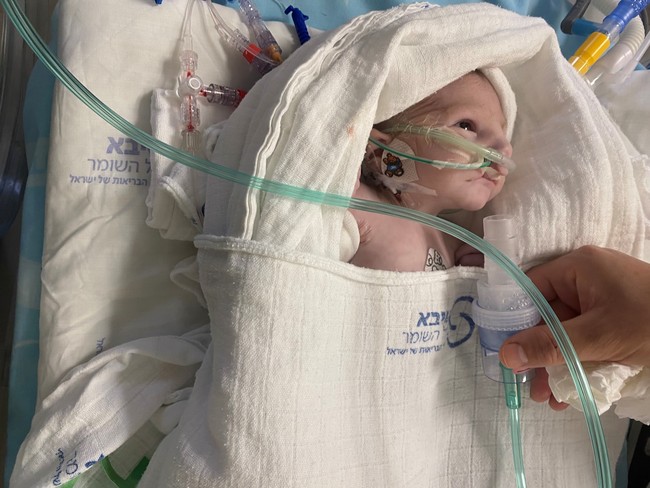 Nonetheless, Kinan's doctors are refusing to give up. Faced with a challenging path and no guarantee of success, they are tirelessly giving their all to meet this precious little boy's needs. What a beautiful example of faithful love and commitment! Please join us in praying not only for Kinan and his family, but for the doctors and nurses caring for him.
This is certainly not the first time we've seen this medical team make a difficult and long-term commitment to fight for a child's life. It's been nearly four months since they stepped up to care for baby Somaia from Gaza, who is still in the ICU with little improvement in her condition. Her tracheostomy procedure two months ago helped stabilize her, but brought with it a new set of challenges and the certain prospect of a long stay in the ICU: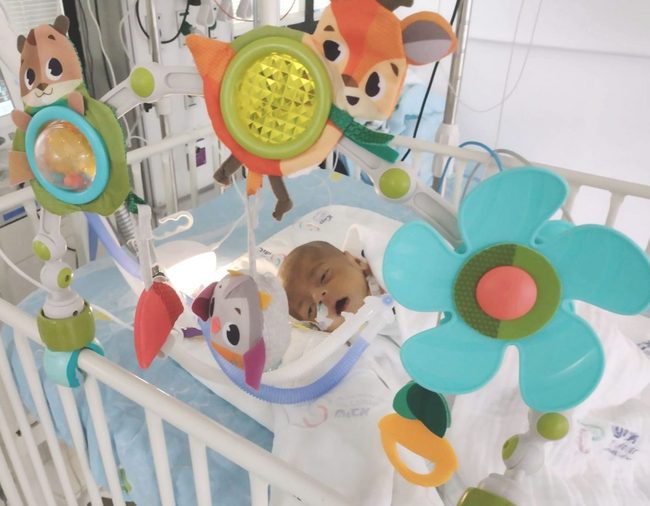 Her doctors and nurses are faithfully caring for Somaia's every need, even providing a little speaker to play soft classical music for her. Somaia's road may be a long one, but it is paved with love and devotion from all sides.
And just this morning three-month-old Liya from Gaza started down a similar path, when after two failed attempts at extubation she had a tracheostomy procedure. Her doctors hope this will help her become stable, but like Somaia, this means committing to a lengthy stay in the ICU and a long process of weaning her from mechanical ventilation. Please pray for Liya and her mother in the coming days and weeks: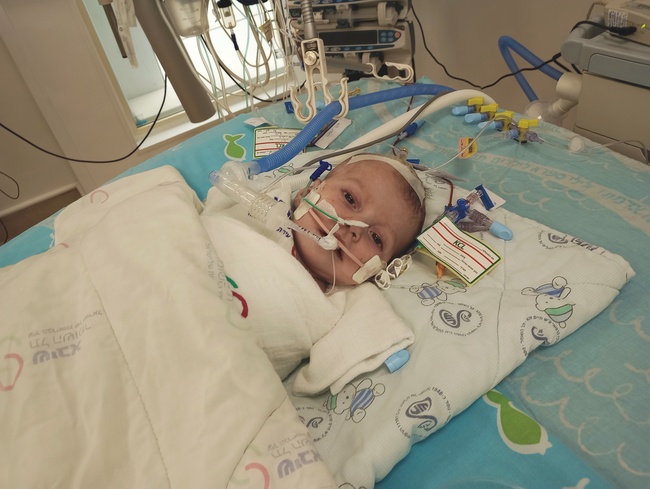 Meanwhile, the doctors are fighting a long and uphill battle for one-year-old
Sohaib from Kurdistan
, who had his third surgery today to tighten the band on his pulmonary artery. The doctors are hoping this will reduce some of the pressure in his pulmonary arteries and his lungs, and they are already planning to remove him from the ventilator soon: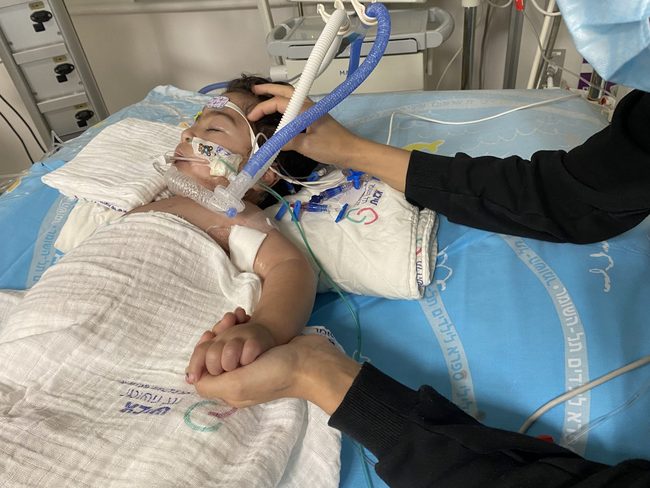 This will be a big step for Sohaib, who has been intubated and sedated almost since his arrival in the ICU two and a half weeks ago. Pray that he can be successfully removed from the ventilator, and for strength and courage for his sweet mother.
Newborn Hamza arrived at Sheba hospital by ICU ambulance from Gaza last Friday with transposed great arteries: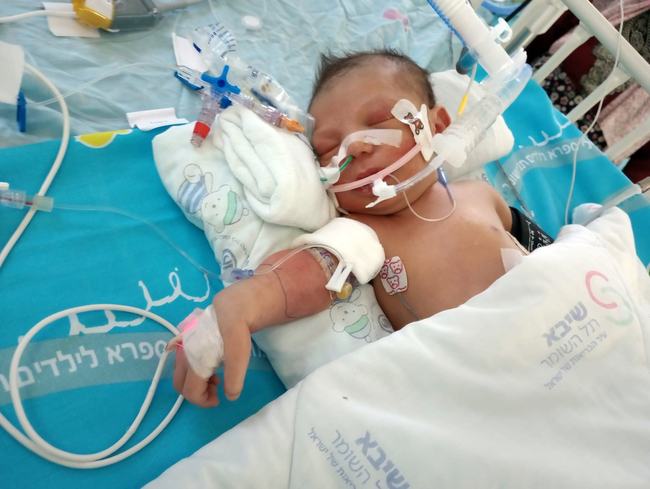 Yesterday he had the major surgery to switch his arteries back to the intended position. The operation was much longer than expected—nearly nine hours—but thank God, it was successful and Hamza came out of surgery stable. The doctors are monitoring his condition carefully over the next days. Please pray for a smooth recovery for little Hamza.
Beautiful one-year-old Mira from Hebron returned to Sheba hospital this week for a second surgery to replace a conduit in her heart. Like Hamza, Mira was in the operating room for over eight hours, and her surgery was complex but successful. She was extubated the very next day and is recovering well in the care of her father and the ICU staff: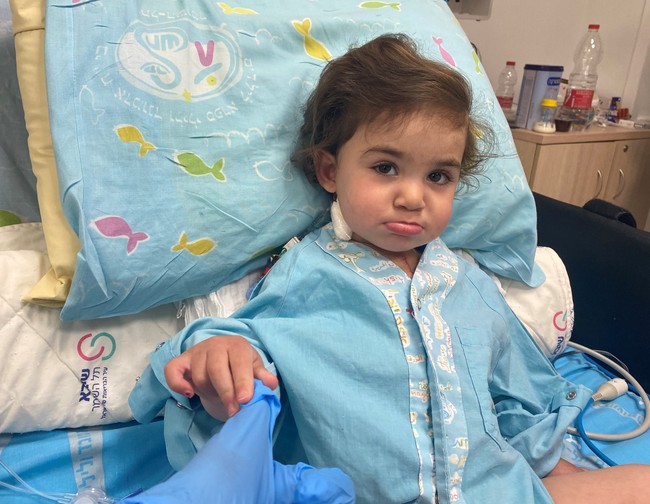 Three-year-old Hassan
 from Gaza had an interventional catheterization on Tuesday morning. He's no stranger to this process, as he's had numerous caths and surgeries since he was a baby. Doro found him awake and extubated in the ICU the next day, relaxing and enjoying a bag of chips: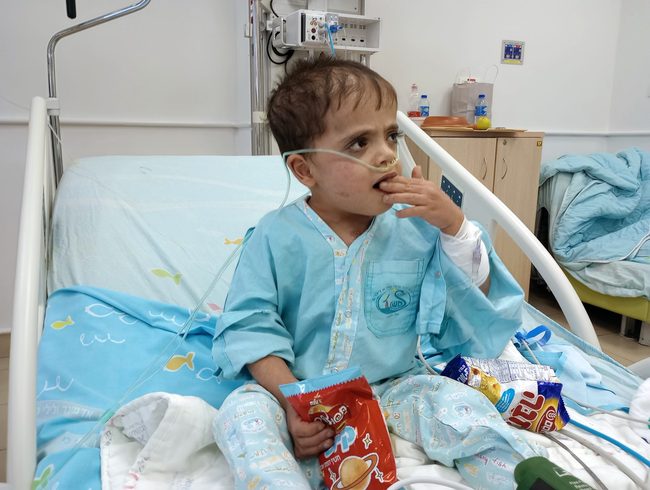 He's not feeling very well but he is stable and slowly but surely recovering from his difficult surgery two weeks ago. Already he looks much better than even a few days ago, and the doctors are giving him some more time to rest and recover while they discuss the next steps for him.
Today is an exciting day for three-month-old Brwa from Kurdistan, who returned to our home in Ashdod for a weekend of rest after nearly two months in the hospital: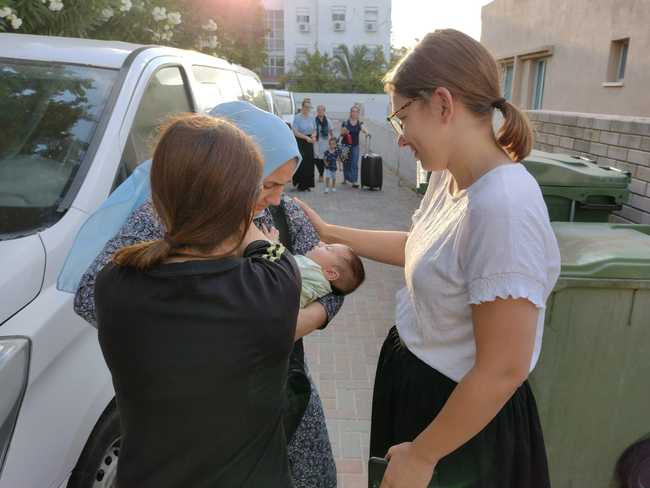 It's been fifty days since Brwa's big arterial switch surgery, and forty-five since he came off the ECMO with astonishingly few long-term effects from his time on the machine. Everything about Brwa's time in the hospital is amazing– his beautiful recovery from surgery and the ECMO, his doctors' meticulous and thorough care and compassion for him and his mother, his mother's incredible patience and strength, and the list goes on.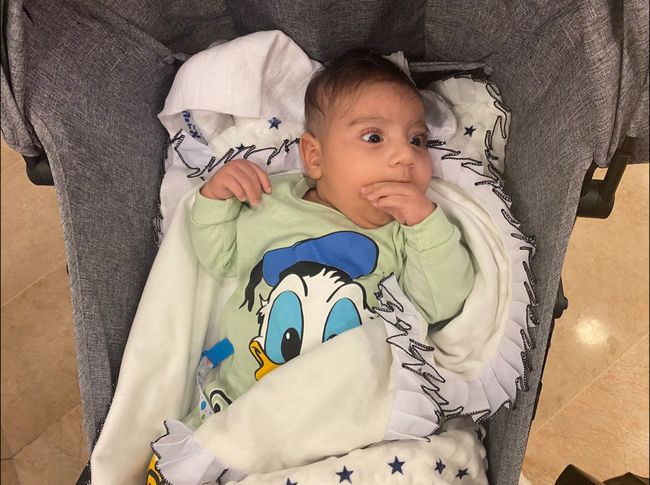 Brwa needs a biopsy next week to investigate some findings from a liver MRI yesterday, so he's not officially discharged from Sheba just yet, but the doctor in the pediatric ward wanted to give him and his mother a little vacation from the hospital. We're glad to have them with us for the weekend and we're praying for good results from the biopsy next week.
Meanwhile five-year-old Syrian Hussein was finally discharged to Kurdistan after his echo with Dr. Shai on Sunday morning!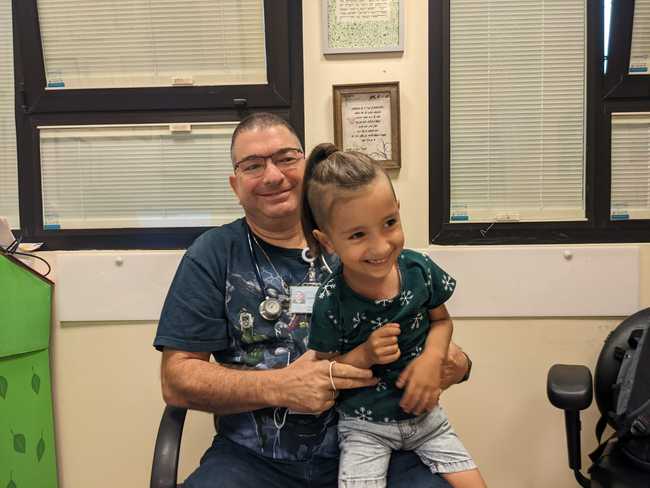 He and his mother will be with us for one more week while they wait for a flight to Kurdistan next Wednesday along with sweet one-year-old
Yad
: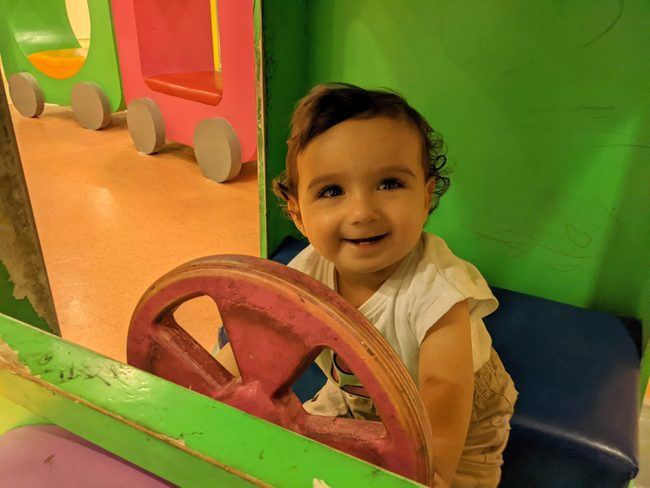 Hussein is, as always, making the very best of his time here. This afternoon he's helping me write today's update by providing background music (his favorite song, of course, "Hine Mah Tov"):
It's been a busy week here at Shevet, and time and time again I'm amazed by our friends at Sheba and their readiness to answer a family's call for help. It doesn't matter how difficult the child's prognosis is or how long they will need intensive, tireless care, these doctors and nurses step up and make the huge commitment to welcome and care for each and every one of them. How blessed we are to have such ready and willing partners.
How blessed also to have new friends from around the world joining us in our community here in Ashdod. And just in time too. A couple of days ago, I found myself—forgetting, as I often do, that each day has enough trouble of its own– looking ahead at our calendar for next week and wondering how on earth we would make it to all those appointments. But God always provides, this week in the form of three young women joining us from Germany and the United States, eager and ready to serve the Lord by loving these families: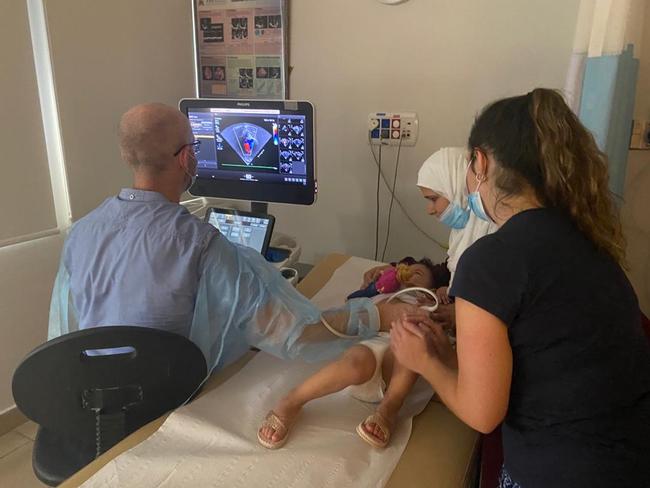 In Isaiah 6 we see a brief and beautiful scene in which the Lord, seated on his throne in heaven, asks, "Who will I send? Who will go for us?"
The prophet Isaiah, newly purified and forgiven of his sins, is ready and willing: "Here I am. Send me."
It's this same eager willingness to serve that brought Esther, Lucia, and Petra here, and we're excited to see how God uses them in their unique gifts and abilities to his glory.
There is a reminder in Isaiah's story for each of us as well. When the call to service comes, how do we answer? What if, like Isaiah's calling, the task is not an easy one? Too often we want to duck our heads and mumble a half dozen reasons why it's really best not to go after all. But let it be our prayer and our goal to do the opposite—to step up, eager and willing, and say, "Here I am. Send me."
The Lord bless and keep you,
Bria for Shevet Achim