Friends,
Wednesday was a long-awaited day for five-year-old Syrian refugee Hussein and his mother, as they boarded a flight that took them back home to Kurdistan.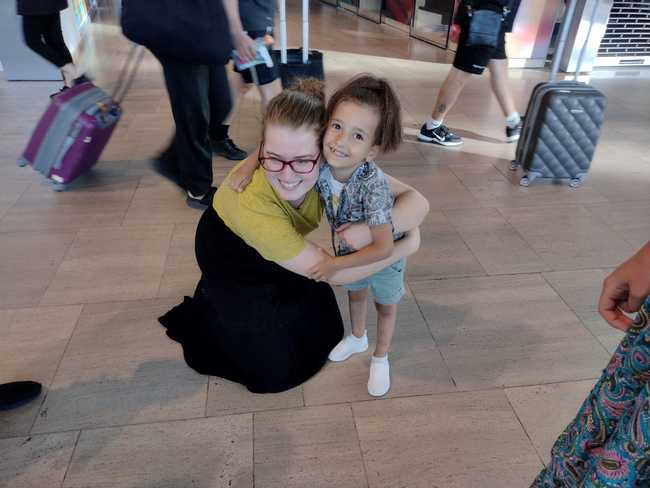 It's only been a day and Hussein's presence is already missed in our home. For the last week, he's trotted over to the staff house for dinner every evening, always insisting on singing "Hine Mah Tov" together after the meal. He was happy to sing a last round of his favorite song in the airport just before heading to the gate.
We've loved every moment of our time with Hussein and his mother. They are both full of joy and love for everyone around them. Hussein is a ray of sunshine and brightens up everyone's day, and his mother has been a sister to us through good and challenging times alike.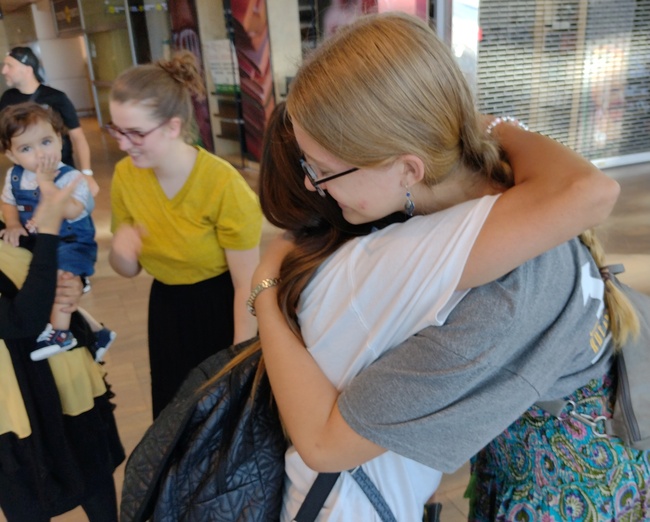 On arrival in their host country, Hussein and mother were initially denied entry and held at the airport due to their refugee status. We thank God that after nine hours of intercession before God and man they were finally allowed in this afternoon: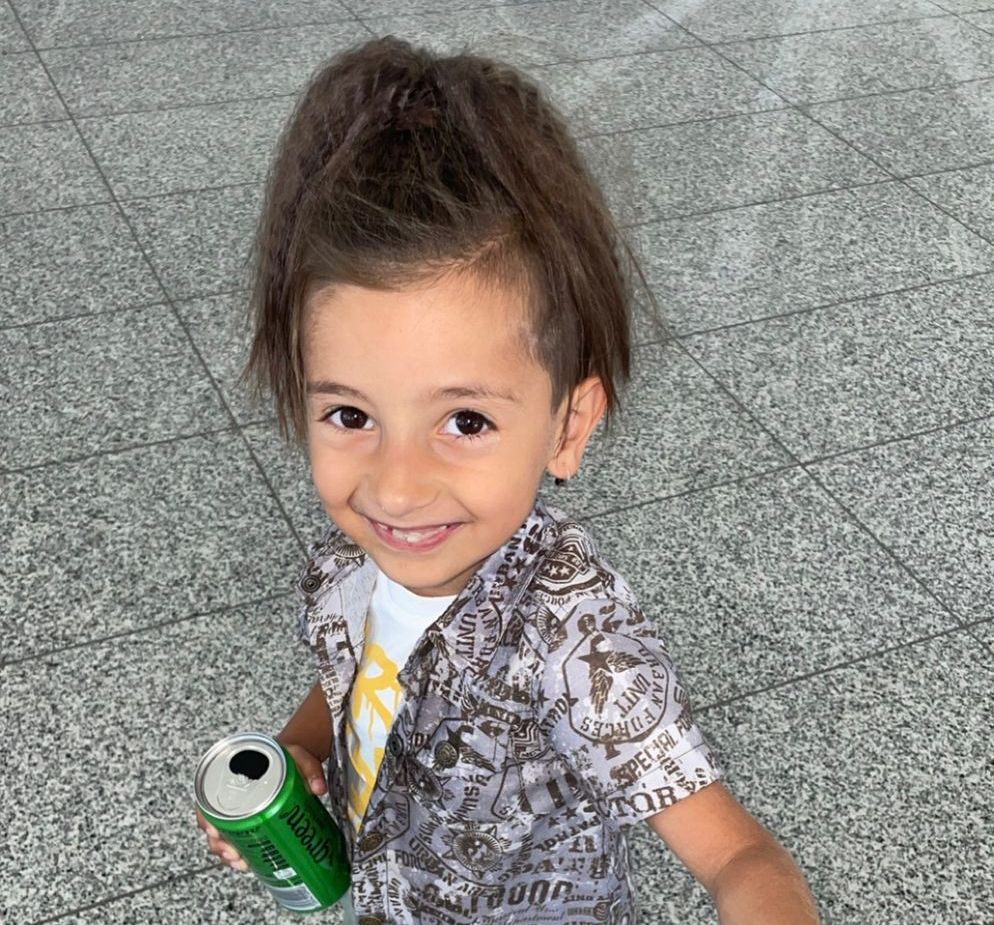 Joining Hussein for the flight was one-year-old
Yad
, who is a changed boy after just one and a half months here. Just a few weeks ago, he was afraid to leave his mother's arms, but Wednesday afternoon found him in the staff house playing with Shevie one last time before his flight.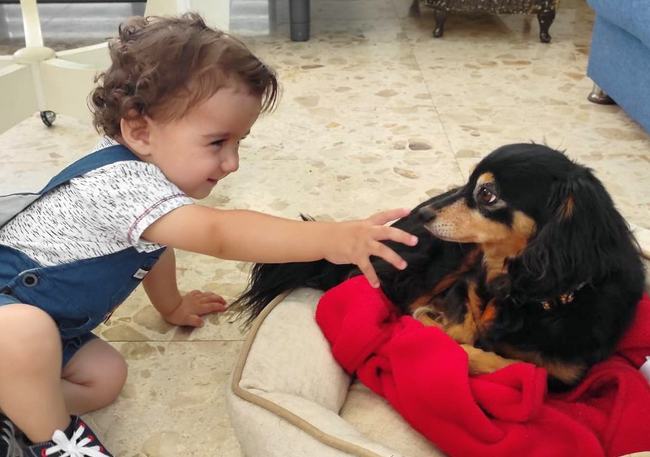 We've loved getting to know this sweet little guy and watching him come out of his shell.
We're so glad to send Hussein and Yad home with joy and healed hearts. Please pray for safety and blessing for both of them and their families as they settle back in to life at home.
And today was a big day for three-month-old Brwa from Kurdistan, who was finally discharged from Sheba hospital after a two-month stay. It hasn't been an easy two months for him, but his mother has been the very picture of courage and grace. Brwa had an echo today before leaving the hospital and his heart is doing so well that from a cardiac standpoint, he is already cleared to go home to Kurdistan!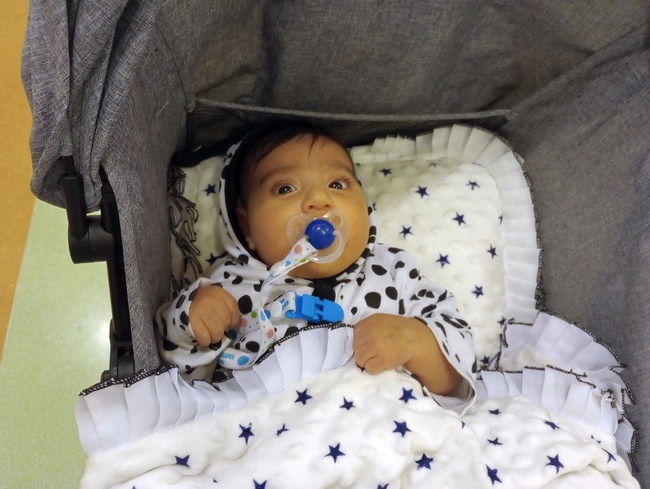 He had a liver biopsy yesterday, the last of a series of tests to assess any long-term effects of his time on the ECMO machine, and the doctors are awaiting the results before they officially discharge him to return home. Please pray for good biopsy results, and rest for Brwa and his mother in the meantime.
Handsome little Yazidi refugee Sohaib is at last extubated and breathing on his own in the ICU at Sheba hospital after his third surgery. He turned two on Saturday, and his mother was eager to tell me all about the day. "For his birthday, I prayed and prayed that he'd wake up," she told me excitedly in Kurdish, "and then he opened his eyes and moved his arms!"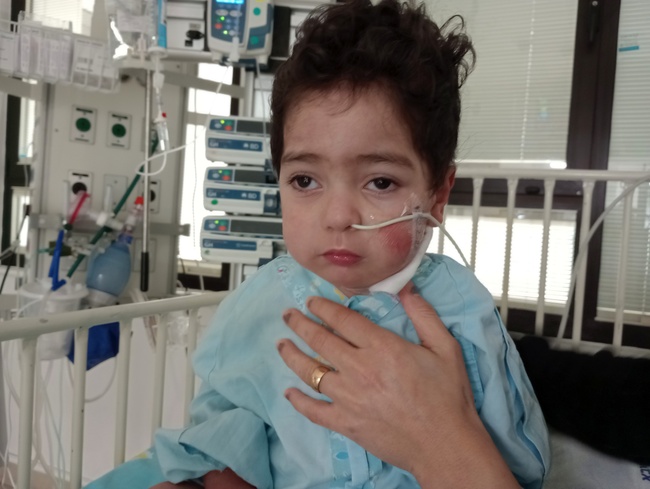 Sohaib today was sitting up but still needs to become more alert before the doctors decide on the next steps for him. Pray that he'll become fully responsive in the coming days.
Sweet two-year-old Taleen returned from Gaza this week for her second surgery. It was a difficult and complicated surgery, lasting eight and a half hours, but praise God it was successful and Taleen is now extubated and recovering in the ICU.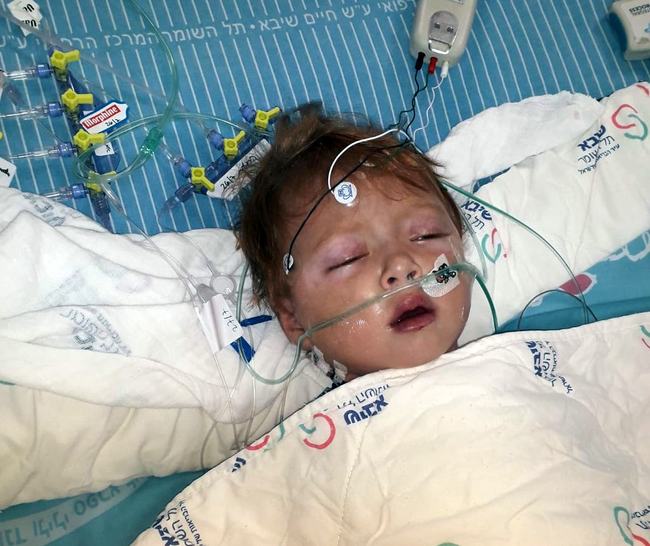 During the long wait, we were joined for some time by the mother and aunt of an Israeli child in the ICU. When they discovered that the beautiful little red-haired girl they'd seen in the ICU is from Gaza, they were determined despite language barriers to tell her father, "You and your daughter are welcome here."
We're grateful for the love and care Taleen and her father are receiving at Sheba; please pray for a full recovery for this sweet girl.
Beautiful Mira returned home to Hebron this afternoon, just nine days after her complex eight-hour surgery. She ran a fever for a couple of days earlier this week, but is doing better after some antibiotics.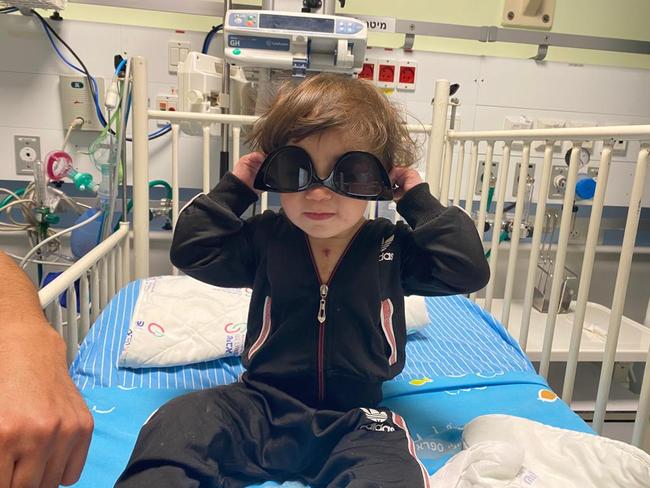 Mira has befriended all of the staff in the ICU as well as all the Shevet volunteers, and she especially loves trying on other people's glasses. We're looking forward to seeing her next month when she comes back for a follow-up echo.
Six-month-old Mohammed K. from Gaza had his first treatment at Sheba hospital this week. He has Tetralogy of Fallot, a combination of heart defects that can be corrected with surgery early in life.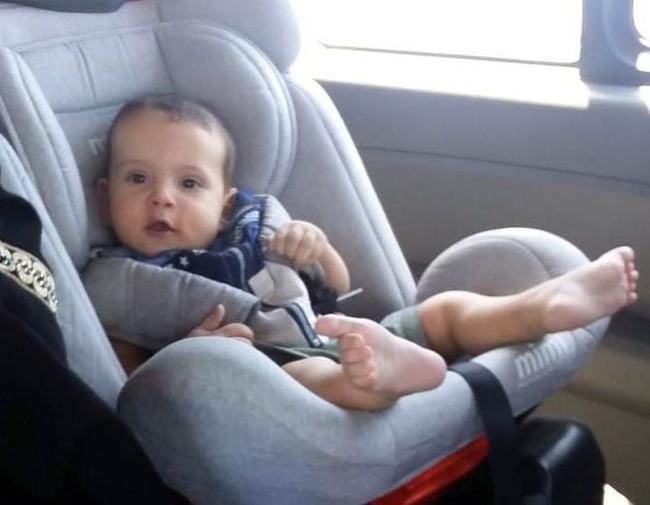 Mohammed had a diagnostic catheterization on Tuesday and returned home to Gaza on Wednesday after testing positive for coronavirus. He needs to come back to Sheba in three weeks for an echo and likely surgery. Please pray he will make a swift and full recovery in the next weeks at home.
Meanwhile, Liya and Somaia from Gaza are both slowly making progress with their tracheostomies. Both need to grow stronger in order to be weaned from the ventilator, and in the meantime, the doctors are focusing on their neurological development.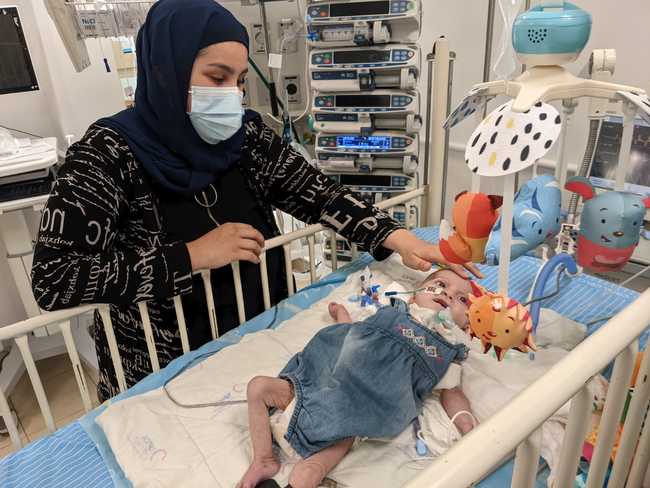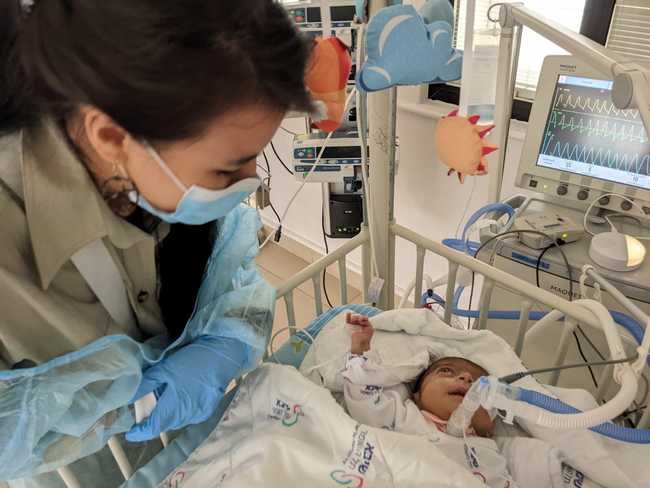 We brought both girls new musical mobiles this week and they're already tracking the movement with their eyes, which is a good sign. Please pray for growth and strength for Liya and Somaia.
Tiny Hamza from Gaza is recovering and receiving respiratory therapy a week after the big surgery to switch his transposed great arteries. The staff in the ICU is taking such good care of him. Earlier this week, we found him nestled in the arms of a nurse giving him his bottle: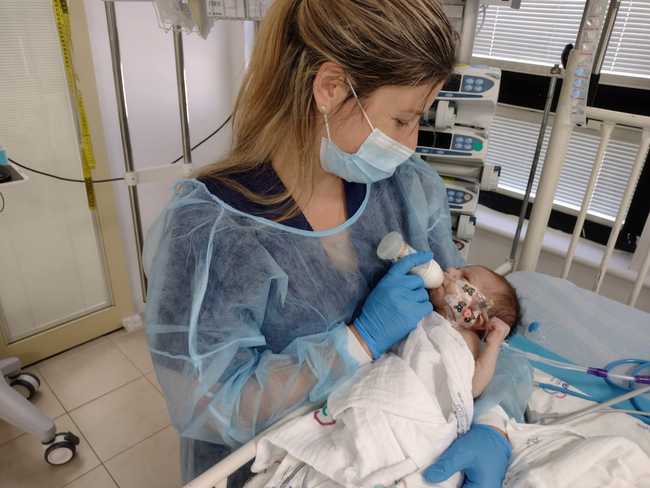 Hamza's mother is hoping to come take his grandmother's place at his bedside; please pray that she will receive permission to travel soon.
Six-month-old Maryam from Gaza is waiting patiently for surgery to correct her AV canal. She still needs to grow before she can go to surgery, as she's only now recovered her birth weight of 3 kg, so she's receiving milk through a nasal tube to help her gain weight: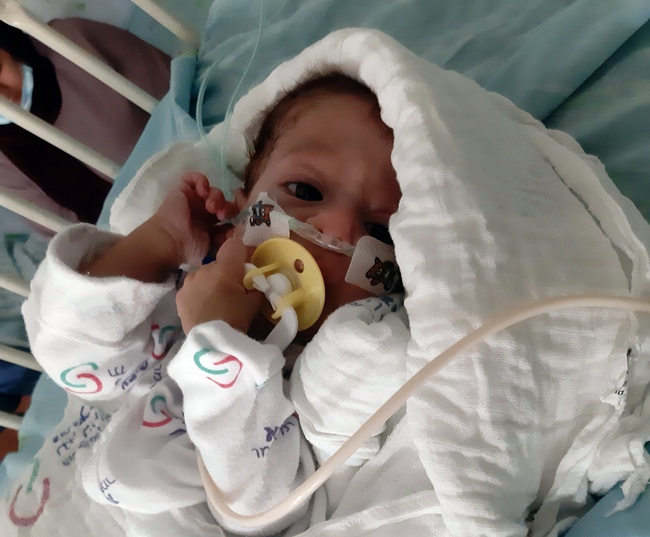 We welcomed back little
Malak
 from Gaza, who traveled with her mother on Tuesday for an echo at Sheba hospital. After reviewing her echo results, her doctor decided that it's best for her to have surgery at the beginning of next week. Malak and her young mother are spending the weekend in Jerusalem before her surgery on Sunday morning: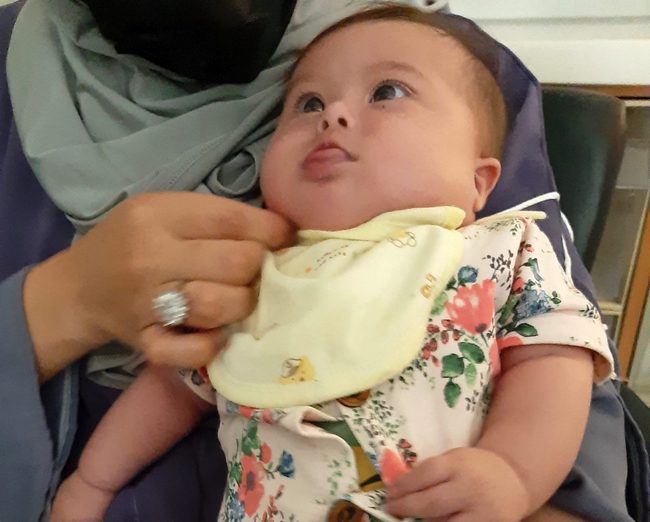 20-year-old
Haitham
 from Gaza is also spending the weekend with us while he awaits surgery. He is eager to help out however he can, and helped clean the entire family house on Wednesday. Haitham will have valve replacement surgery at Sheba on Tuesday. Please pray for a smooth and successful surgery: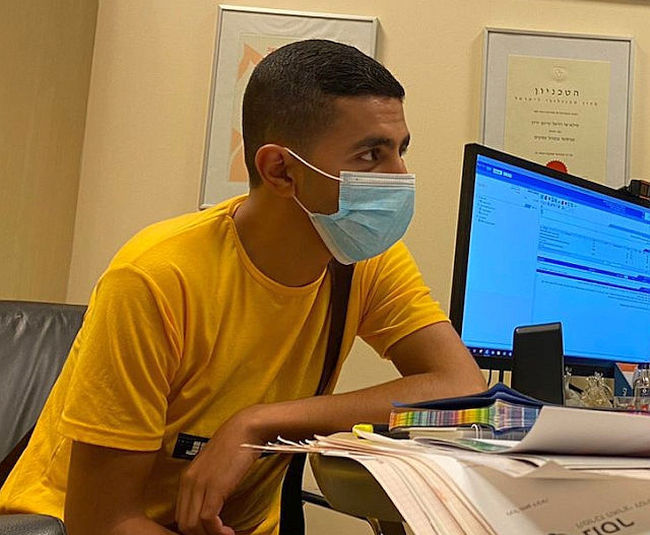 Looking forward to next week, we're getting ready to welcome three more children from Kurdistan to fill up our guesthouse here in Ashdod. Pray for safe travels for Lalo, Lewan, and Ahmed, who are planned to arrive on Tuesday morning and begin their evaluations at Sheba right away.
Last but not least, we are glad to welcome Laura from Germany, who is joining us for three weeks in Ashdod.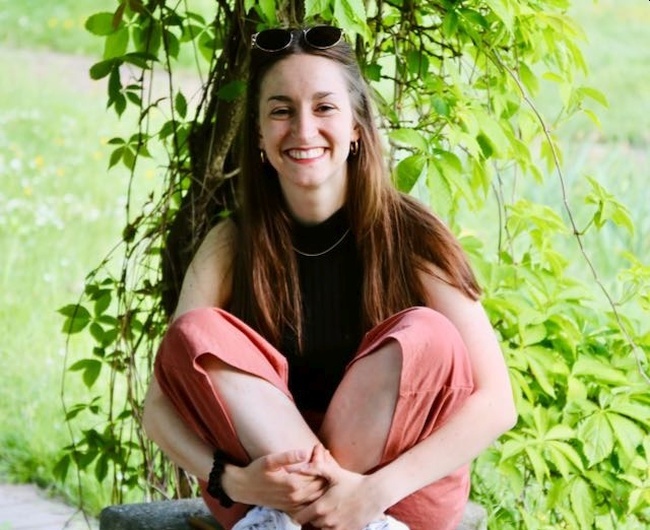 Laura is an intermediate ICU nurse and is eager to use her medical background to serve all around the world. We're excited to see how God will work through her time here with us.
Thank you for joining us in prayer,
Bria for Shevet Achim