Glory be to God, the Maker
Glory be to God, Creator
Take our time, use our treasure
Turn them into something greater.
Friends,
What beautiful gift it is to serve the God who is the Maker, the great Creator who can make something of nothing and bring light and hope out of even the most difficult circumstances.
This is our reassurance and our prayer this week for four-month-old Malak from Gaza, who was placed on the ECMO heart-lung support machine Sunday morning after a seven-hour surgery, only to be immediately rushed back into the operating room with uncontrollable bleeding from her chest. While coworker Doro waited and prayed with her mother in the waiting room, Malak's doctors worked to stabilize her, and three hours later she was semi-stable but in critical condition: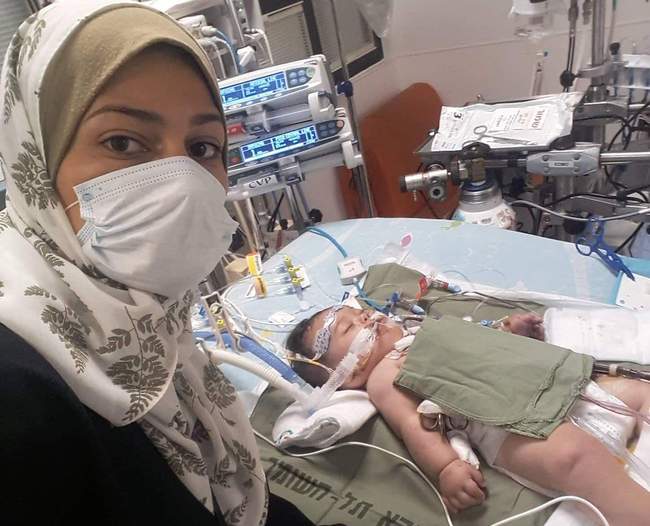 In the days following the surgery, Malak's doctors discovered severe narrowing in her pulmonary arteries, which may be the cause of her struggles. This morning she went into an interventional catheterization to widen four arteries and place stents in both branches of the pulmonary artery: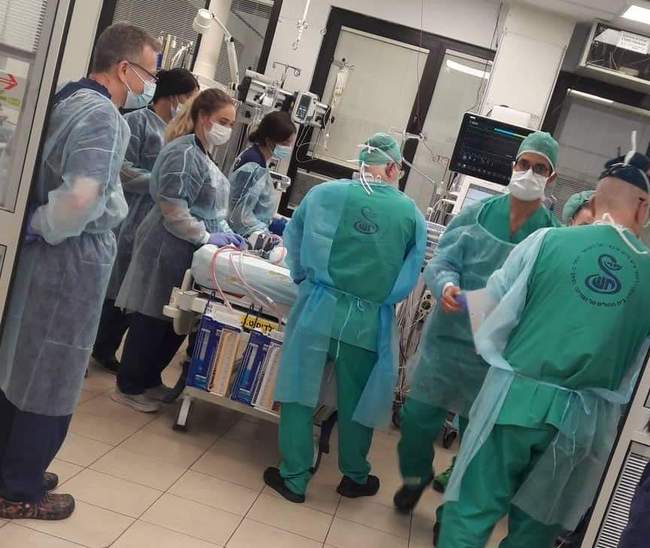 The procedure was successful and, as the doctor explained to Malak's mother afterwards, he expects that this will improve her condition enough to consider weaning her from ECMO support as soon as tomorrow. "Her mom was so happy that she was dancing in the hallway," coworker Petra texted our community thread. "I feel that way too!"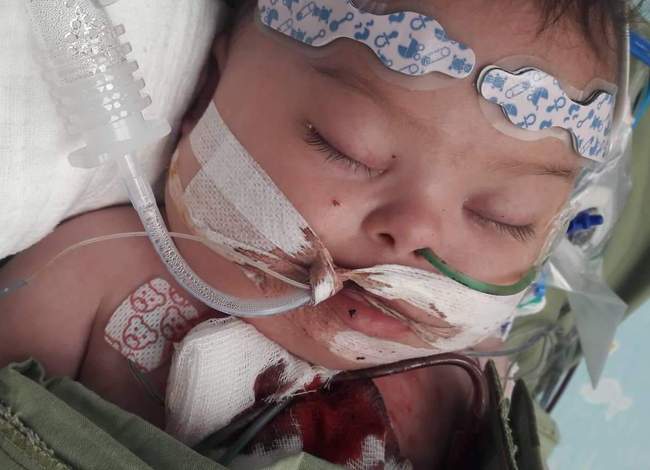 Even in the darkest moments, God is bringing light and joy to the hearts of the weary. As coworker Laura wrote in Malak's blog update a couple of days ago, "I want to invite you to stand with us in prayer for Malak in these days which are very critical for her… Let us hold on to God, who is in control of everything, including the life of Malak."
Let's also pray for the family of two-week-old Maria from Hebron, who is in the arms of her Maker just six days after arriving at Sheba hospital. She was transferred to Sheba from a hospital in the West Bank on Friday morning with signs of congenital heart disease and multiple organ failure. The medical team in the ICU worked round the clock to save her life, but her condition continued to deteriorate. Finally, they turned their attention to making her comfortable for her last hours on earth, and this afternoon, Maria went to be with her Creator. Please pray for comfort for her family as they grieve the loss of their precious baby girl: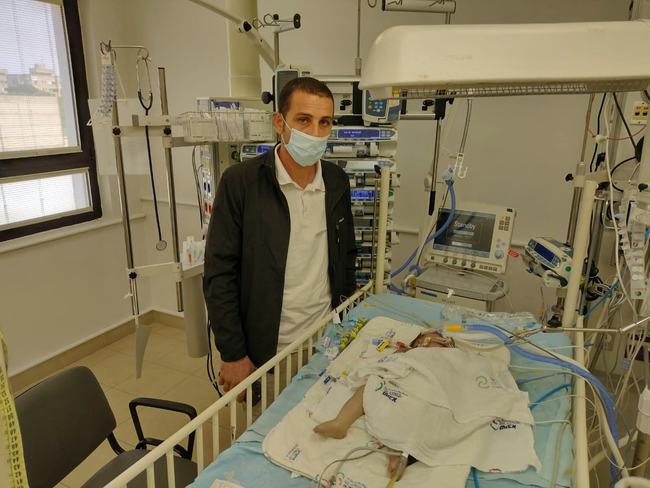 Meanwhile, we're praising God for his goodness to 20-year-old
Haitham
 from Gaza, who had a successful double valve replacement surgery on Tuesday morning. Haitham amazed everyone, including his doctors, when the very next morning, he was extubated, sitting up in a chair, and drinking juice: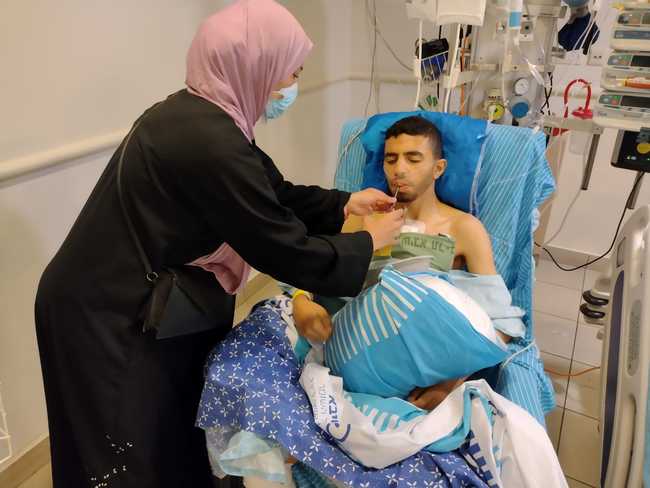 He is here without a family escort, but never alone, as the mothers from Gaza are determined to take good care of him as well as their own children. They're taking turns visiting him in the adult cardiac building and making sure he's well loved and cared for.
We're grateful also for the continued recovery of two-year-old Yazidi refugee Sohaib from Kurdistan, who has been moved to the secondary ICU at Sheba hospital! He and his mother can often be found taking walks through the hospital, and though Sohaib is still not quite himself yet, his mama can always make him laugh;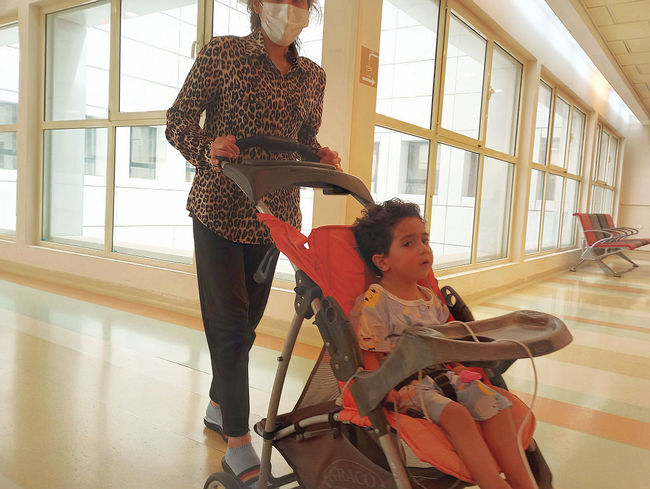 The doctors are taking things very slowly with him and wanting to be absolutely sure he is well before they consider discharging him again to Ashdod. "It's okay, no problem," his mother assures me every day. "If Sohaib is good, I'm good."
Redheaded two-year-old Taleen from Gaza is making a beautiful recovery after her eight-and-a-half hour surgery last week. Whenever we ask the doctors how she is, they respond the same way: "She's good, very cute."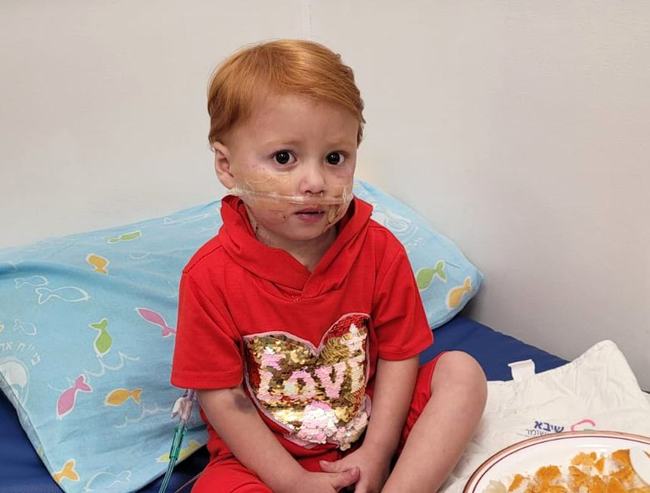 Three-year-old
Hassan
 was discharged from Sheba hospital this week after a month-long stay. As the Gaza border crossing is temporarily closed, he and his mother are spending a couple of days with us in Ashdod. Today the two of them got to visit Jerusalem for the first time for an afternoon of sightseeing and prayer: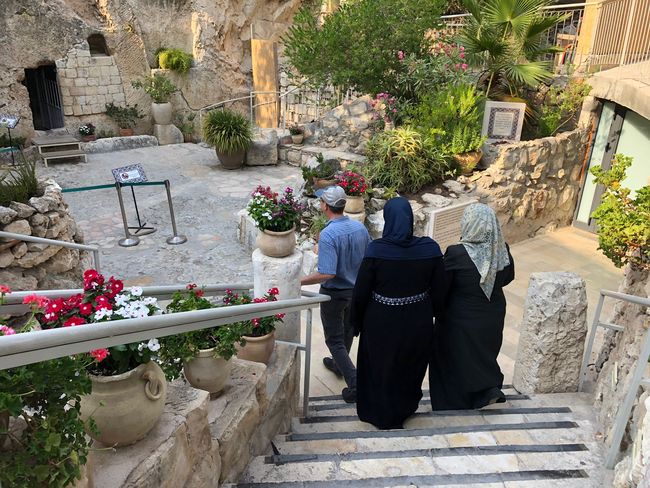 They were joined for the trip by the mothers of Somaia and Liya, who were excited to take a break from life at the hospital for a few hours.
Meanwhile in Ashdod our big family house is filling up once more after a quiet week. We welcomed three new families this week—Lalo, Ahmed, and Lewan– our first arrivals from Kurdistan in nearly two months: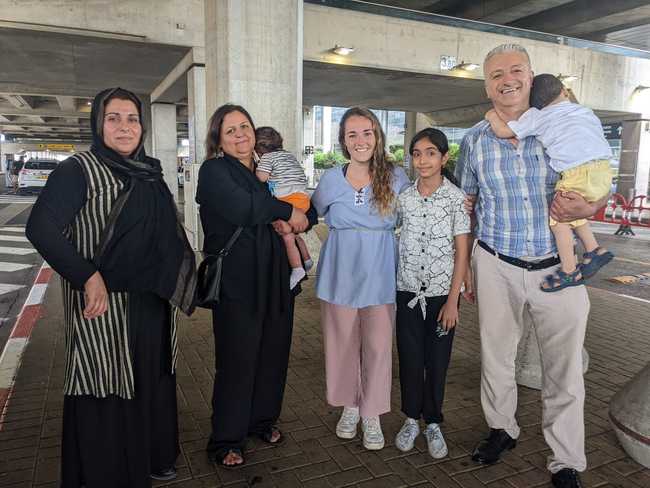 This is
Lalo
's second trip to Israel, as he had Tetralogy of Fallot repair surgery here last year. Now a year and a half after the operation, one of his pulmonary arteries is severely narrowed and he needs a catheterization to dilate it and possibly place a stent. He had his first appointment at Sheba hospital on Wednesday and his cardiologist hopes to get him scheduled for a cath as early as next week. Lalo has grown quite a bit since his last time here, and loves running and playing soccer in the garden: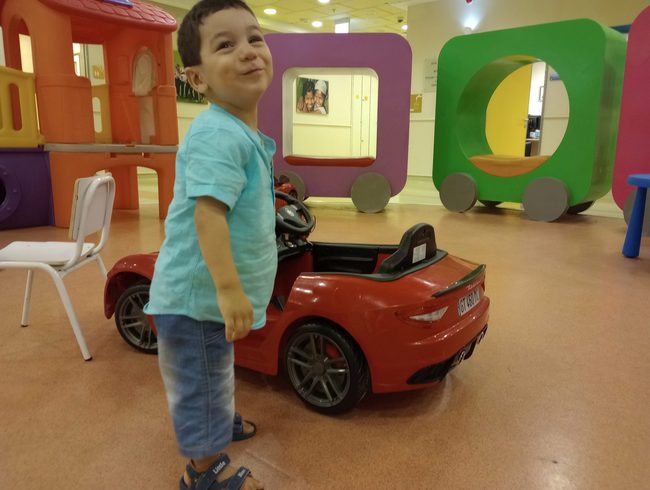 One-year-old
Ahmed
 also had his first evaluation at Sheba yesterday. Like many children with Down Syndrome, Ahmed has a complete AV canal, in addition to Tetralogy of Fallot. The cardiologists will discuss his case at their meeting on Sunday and decide on a plan of treatment for him: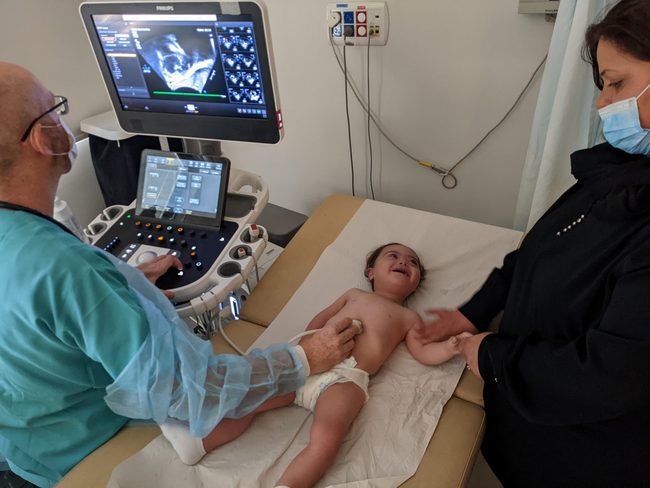 Ahmed is a sweet little guy with the most beautiful smile, and was delighted to show off his driving skills in the waiting room at the hospital: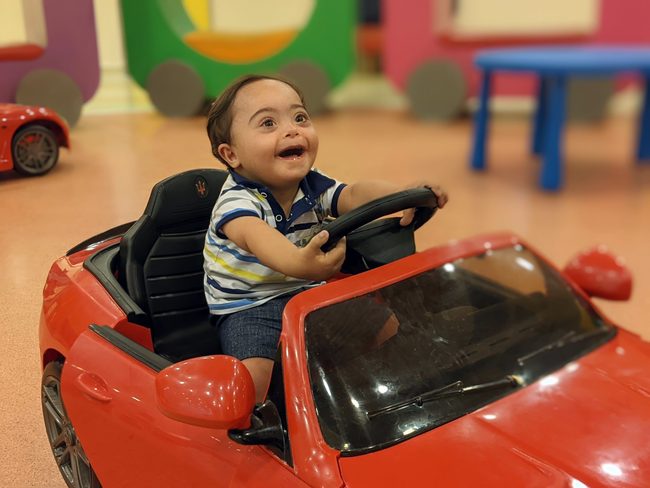 Beautiful eleven-year-old Lewan will have her first assessment at Sheba hospital on Sunday. She had surgery to repair a VSD several years ago and is now in need of further intervention. After just a couple brief interactions with Lewan, I can already see how sweet and smart she is. We're looking forward to getting to know her and her lovely mother more in the coming days: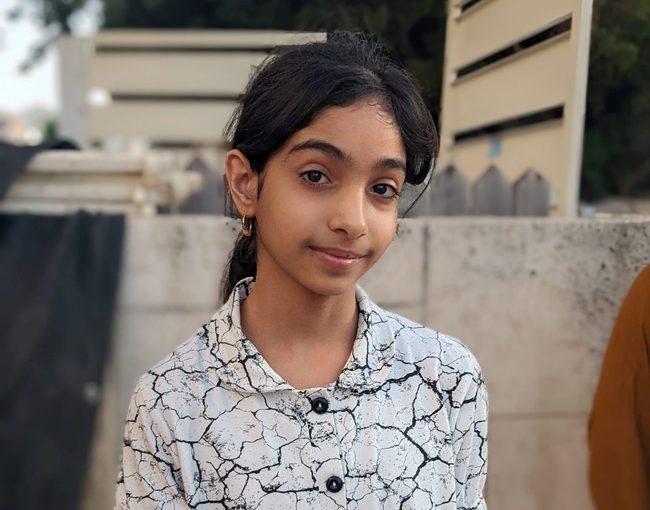 These three families are good company for little Kurdish
Brwa
 and his mother, who are patiently awaiting his gastronomy follow-up appointment in two weeks. Brwa is slowly getting to be as round and chubby as he was before his big surgery two months ago, and continues to be the world's most content baby, happy even to let us check his oxygen saturations every day: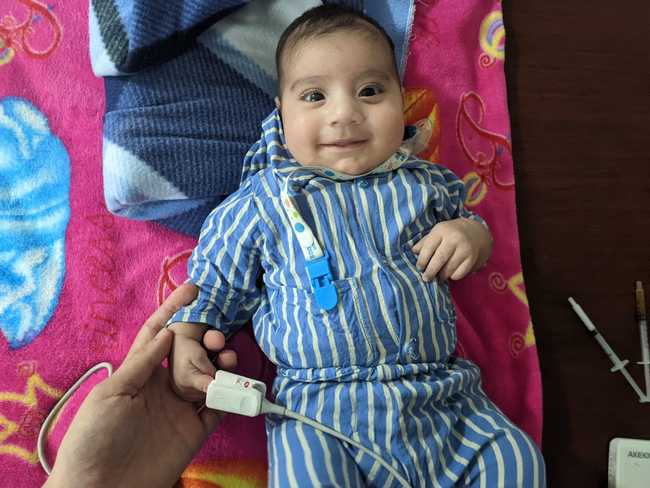 His mother is a bit anxious to find out the results of his liver biopsy last week; please pray for good results and peace for her in the meantime.Our little community is growing rapidly, as this week we welcomed two more volunteers. Johanna from Germany (below center), who was a member of Shevet's Jerusalem community back in 2019-2020, is now a medical student and returning to Shevet for a few weeks: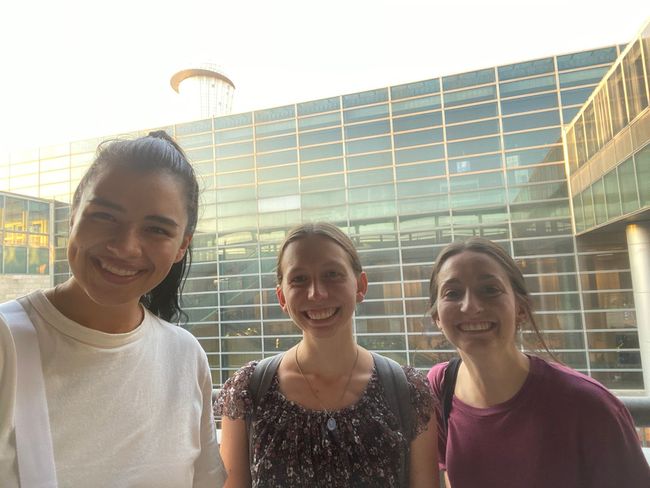 And Yukako from Japan is studying Biblical and Near East Studies in Jerusalem and is spending her summer break serving with us in Ashdod.
We read as a community this week the parable of the talents that the Messiah tells his followers in Matthew 25. A master gives his three servants each a measure of gold, each to his own ability. Two of the servants take what they have been given, put it to good use, and upon their master's return, present him with twice what they each have been given. The third hides his measure away, and has nothing more to present to his master. The third servant is condemned, but to the first two, the master says, "Well done, good and faithful servant. You have been faithful over a little; I will set you over much. Enter into the joy of your master."
What are our talents, the measures of blessing that have been given to us? The list is endless—our abilities, our money, a beautiful home with rooms to be filled, the precious time we have been given here on this earth, and so much more. How quick we are to see these things as our own, our rights and possessions. But as Messiah's parable reminds us, we are but stewards of these things that for this time have been entrusted to us, and we are to use every one of them for the glory of their Master.
We cannot make anything of these talents, these gifts, on our own. It is our Maker who bestows them upon us, and it is only through his grace and strength that we can offer anything back to him. I'd like to leave you with these lyrics from "God the Maker" by The Porter's Gate: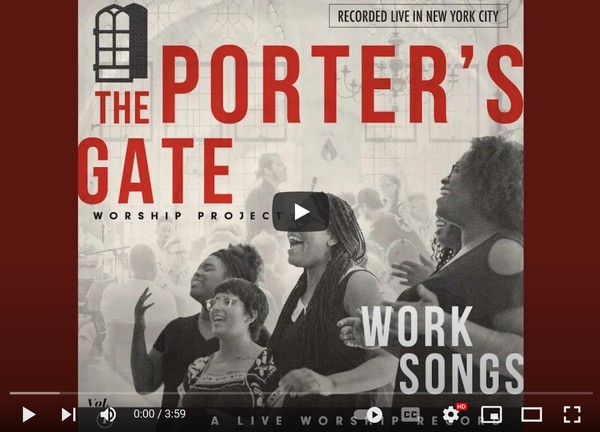 We bring our time, we bring our treasure,
we lay them down before Your throne.
You will make them something greater,
more than we could ever know.
Glory be to God, the Maker
Glory be to God, Creator
Take our time, use our treasure,
turn them into something greater
Glory be to God, the Maker.
May we never forget who the Maker and Master of our blessings is, and may we always offer everything we have unto his service and glory.
Thank you for joining us in prayer,
Bria for Shevet Achim