Friends,
Sweet baby Malak from Gaza is off the ECMO machine and breathing on her own! She improved so much after her big catheterization last week that she was weaned from ECMO heart-lung support on Monday and extubated only two days later: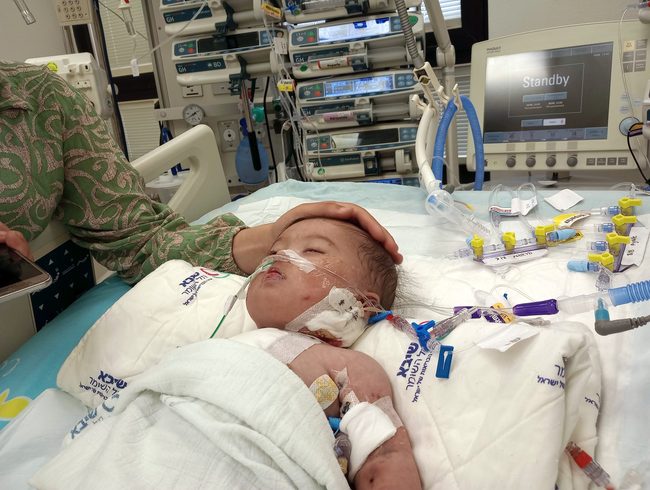 Malak's mother is exuding joy more and more each day as her baby girl improves. She was a bit anxious after Malak came off the ventilator on Wednesday, as her oxygen saturations dropped a bit, but even so she was excited to tell me and Doro how well Malak is. Just one day later, Malak's oxygen levels are looking better as she gets used to breathing on her own again.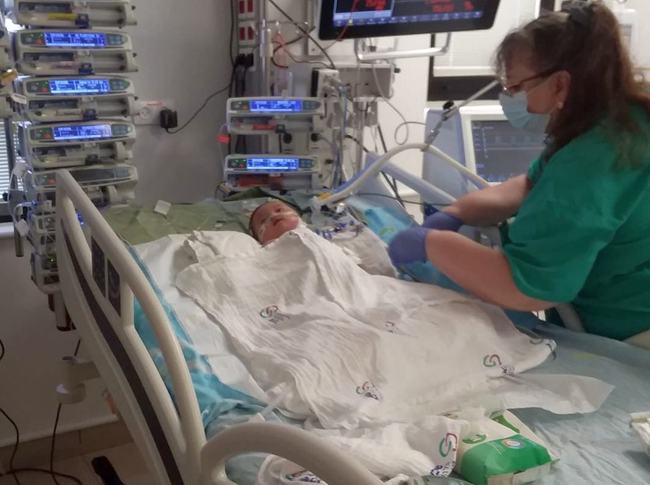 Coming off the ECMO machine is no small thing. Only 50% of children who need this support in the hospital are able to come off successfully. We're so thankful to see how well Malak has done in the three days since being weaned from the machine; please pray for continued strength and healing for her.
Tuesday was a big day for 20-year-old Haitham from Gaza, who was discharged from Sheba hospital just one week after his double valve replacement surgery: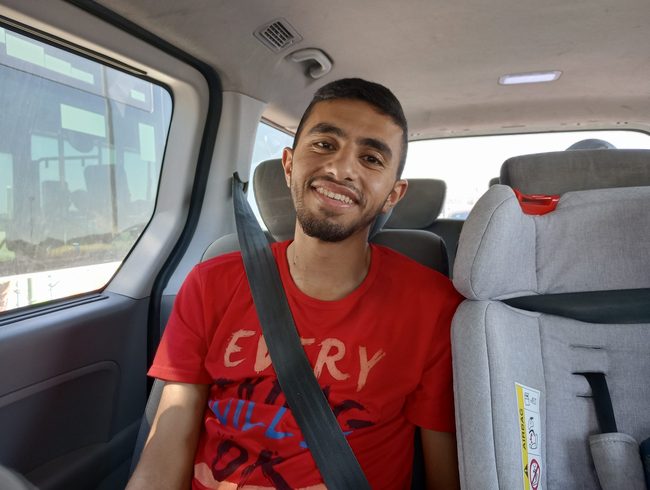 His doctors are very pleased with his recovery after such a big operation. He'll need to get his stitches removed on Monday and come back for a follow-up echo a week later, so he's staying another couple of weeks with us in Ashdod.
Four-year-old Hassan from Gaza spent the week at Sheba hospital after a trip to the emergency room last Friday. He was struggling to breathe due to fluid in his lungs, and he was admitted to the ICU for treatment and monitoring. By this afternoon, Hassan has improved enough to be discharged home to Gaza, where his dad has been eagerly awaiting the return of the apple of his eye: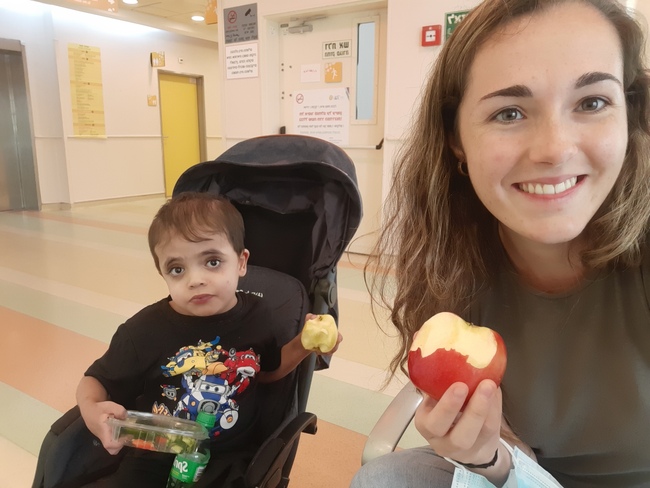 Please continue in prayer for six-month-old
Maryam
 from Gaza, who was moved back to the pediatric ICU at Sheba after her condition worsened earlier this week. She is now intubated, and had a diagnostic catheterization today to investigate the cause of her struggles. The doctors discovered that Maryam has pulmonary hypertension (elevated pressure in the arteries leading to the lungs) and oversupply of blood to the lungs: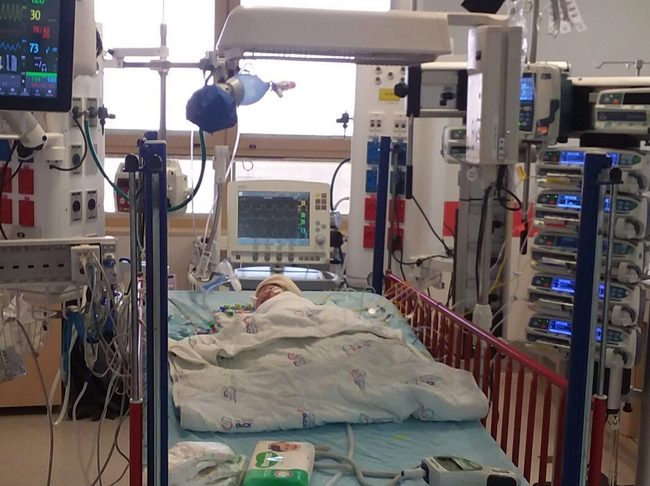 They will meet on Sunday to discuss the next steps for her. Maryam's grandmother arrived from Gaza yesterday so her mother could go home and rest after a difficult couple of weeks in the hospital. Pray for Maryam's doctors to determine a good course of treatment for her.
Beautiful two-year-old Taleen from Gaza has been recovering and making progress all week, and finally no longer needed oxygen support. However, a CT scan today showed that her pulmonary arteries are narrowed so severely that the doctors decided late in the day to take her into an interventional catheterization immediately: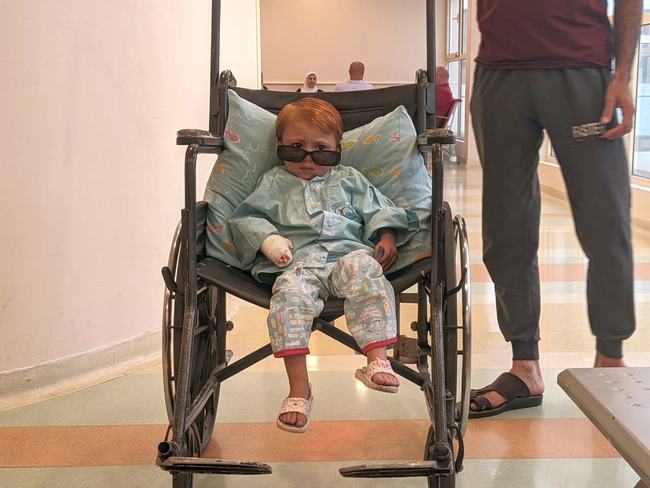 The procedure was successful, but the doctors need to wait and see how she recovers before they decide what to do next. They hope to send her home next week, though she may need to return for another cath or further intervention after a month or two.
Baby Liya from Gaza made a big step this week in her recovery; she is now on ventilator support only at night! During the day, she is breathing on her own with a little extra oxygen through her tracheostomy. She's slowly learning to drink milk from a bottle again rather than feeding through a nasal tube, and getting some physiotherapy to help with mobility. Liya's mother is so proud of her sweet girl and always eager to welcome visitors: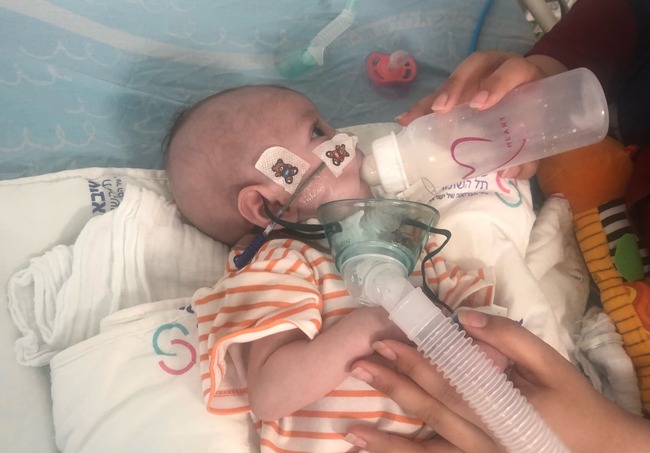 Next door in the ICU,
Somaia
 from Gaza is still struggling to breathe on her own. The doctors tried again today to decrease her support from the ventilator, but Somaia is not strong enough to breathe without it: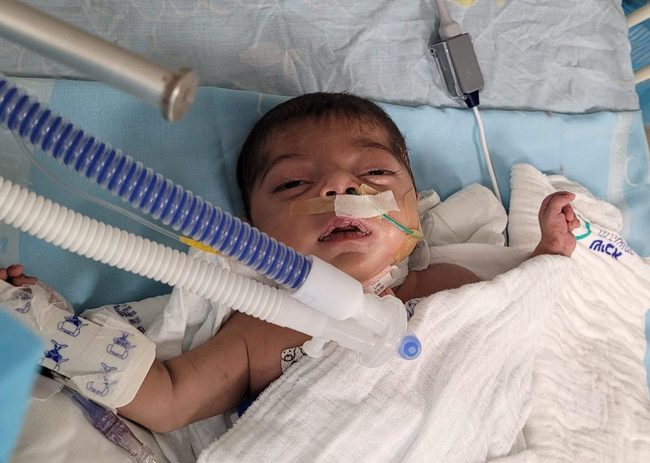 Her mother was a bit discouraged today but was glad to pray with Laura outside the ICU for Somaia's healing. Please continue in prayer for both Somaia and her mother.
Beautiful little Mira from Hebron returned to Sheba hospital Tuesday evening after she began to have inflammation and fluid in the area of the scar from her surgery three weeks ago. She was admitted to the hospital and is now receiving antibiotics: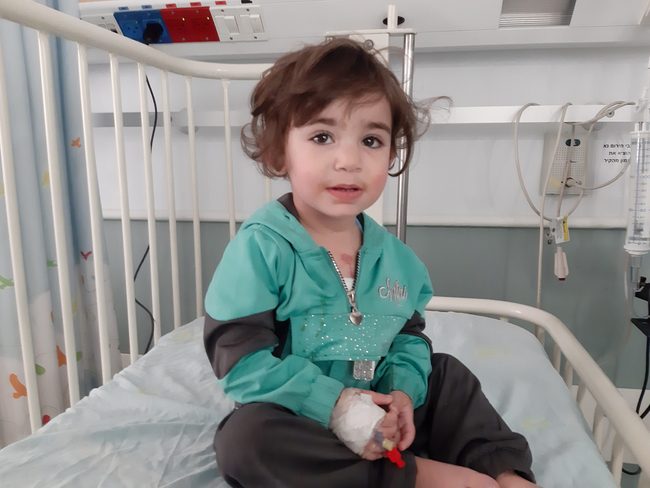 The doctors hope that antibiotics will be enough to resolve the issue, but if not, they may need to reopen the incision. We're praying for a quick and full recovery for Mira.
Tiny Hamza from Gaza is still in the secondary ICU at Sheba after his heart surgery three weeks ago, and getting closer to going home. He is still receiving some oxygen support through the nose, but his doctors hope he will not need it much longer.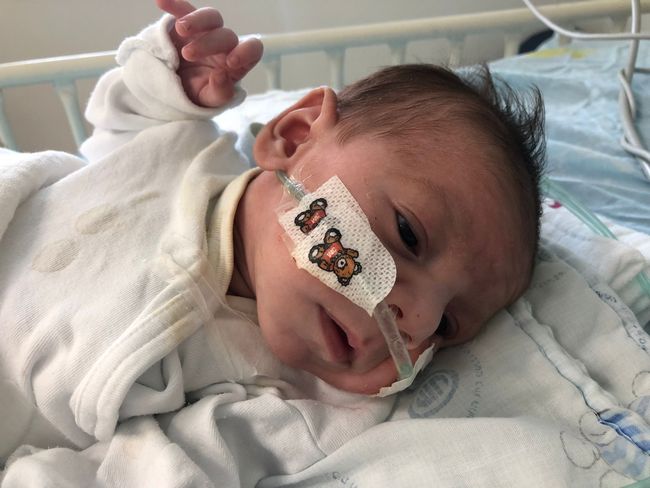 Doctors are asking for Hamza's mother to come take his grandmother's place so she can learn how to administer all of his medications, including one that must be given via injection. Please pray for travel permission to come for her soon.
Two-year-old Sohaib from Kurdistan is also nearing discharge from Sheba after three surgeries and time on ECMO. He is much more alert and responsive now than a couple of weeks ago, and he has begun walking a few steps at a time again: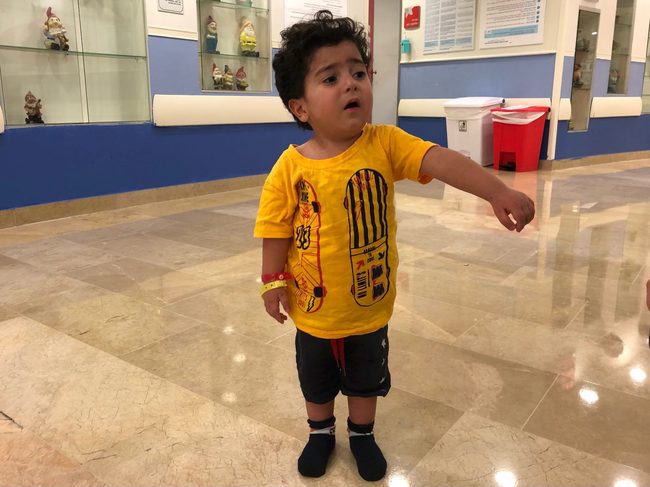 His doctors want to monitor him for a few more days just to be absolutely sure he is well enough to leave the hospital. If he continues to do well over the weekend, they hope to send him home to Ashdod at the beginning of next week.
We welcomed back some good friends of ours from Gaza this week: eight-month-old Musa and his mother. Musa had an echo with good results on Tuesday, and a consultation with the plastic surgeon this morning in preparation for the second surgery to repair his cleft palate, which is scheduled to take place in a couple of weeks. In between these appointments, Musa and his mom stayed with us in Ashdod, where Musa made friends with one-year-old Ahmed from Kurdistan and enjoyed a trip to the beach: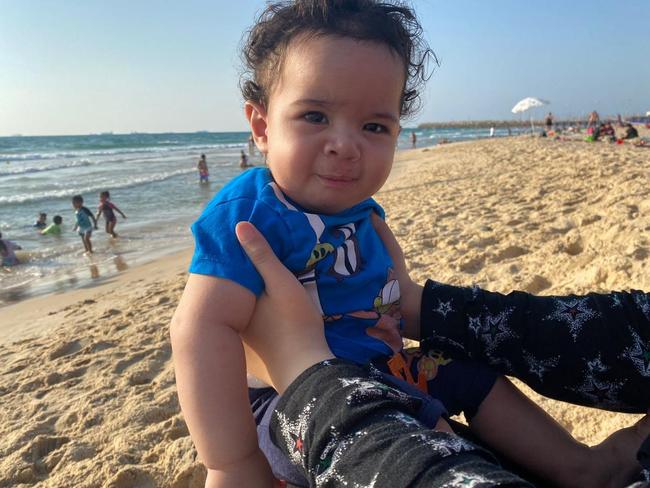 Ahmed
, 
Lalo
, and 
Lewan
 from Kurdistan are all patiently awaiting news from the doctors about their next steps. The cardiologists still have not come to any decisions about caths and surgeries for them, and we hope to hear some news on Sunday. Waiting with them is chunky little 
Brwa
 from Kurdistan, who celebrated his four-month birthday on Wednesday and will have what we hope is his final appointment at Sheba next week, a gastronomy follow-up after his liver biopsy: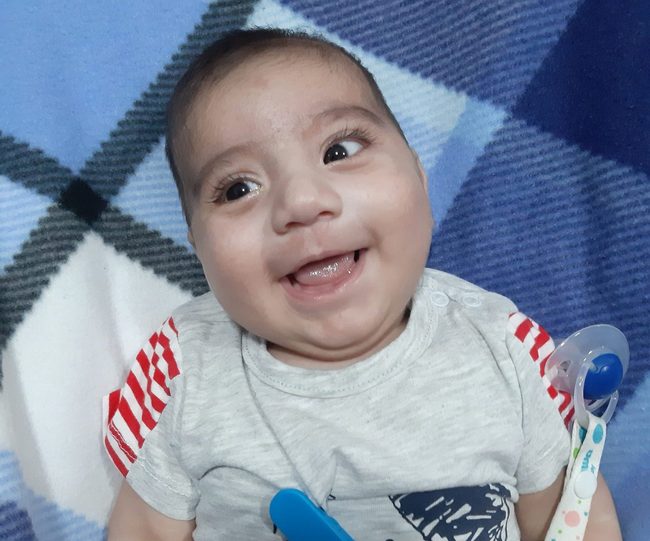 Despite the anxiety of waiting for news from the doctors, our families here in Ashdod are making the best of the long wait. After a weekend spent largely in the fortified room in the basement during rocket fire from Gaza, they've been especially enjoying the city and the outdoors. On Tuesday, along with coworkers Johanna and Yukako, they rode the bus to a mall in Ashdod for a shopping trip. And Wednesday evening, staff and families made a long-awaited trip to the beach. In this way, even unexpectedly long waits turn out to be a blessing, as we're deeply grateful for the time we're getting together with these sweet kids and parents: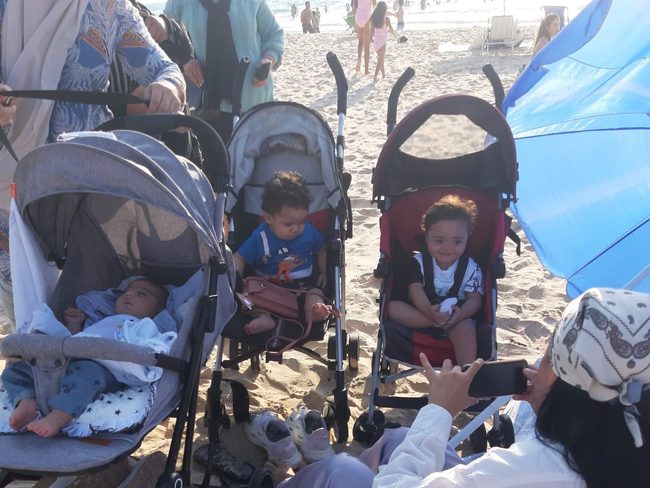 Last but not least, a big change for our community tonight as we welcomed five new volunteers, bringing our number from 10 to 15 all at once! Elise, Luisa, Jakob, Lena, and Simona traveled together from Germany and are joining us for 10 months: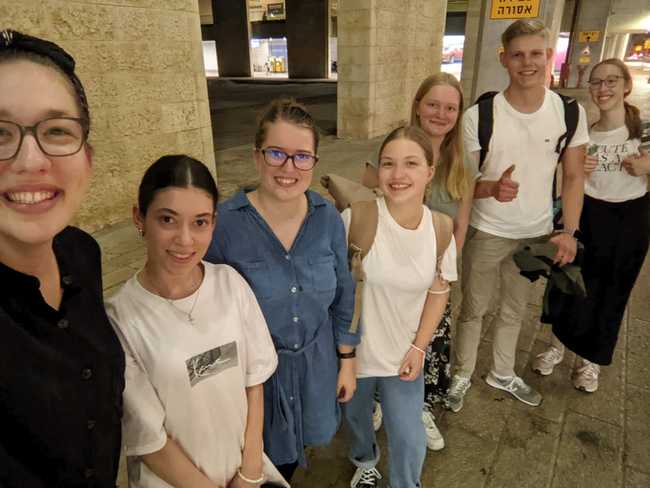 After what turned out to be a long and busy day for everyone, we all sat down for a late-night dinner together tonight. At 10:30 PM, even after a challenging and tiring day, we found ourselves sharing stories from the day, encouraging one another, and laughing until we cried.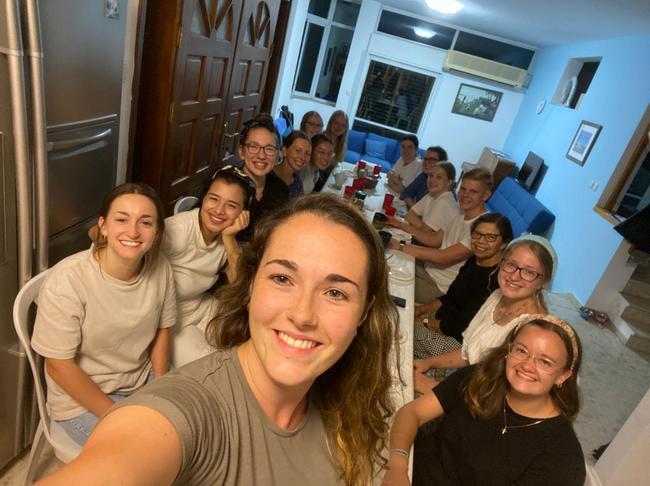 It's in the especially challenging days that we realize how blessed we are to have one another. Truly, how beautiful it is when brothers and sisters dwell together in unity.
Thank you for joining us in prayer,
Bria for Shevet Achim