Dear coworkers,
On Shabbat I shared a message with the Narkis Street congregation in Jerusalem, starting with the good news that our son Josh and his wife Madelyn just had their fourth child, Ezra Jonathan (our third grandson born in 2022!).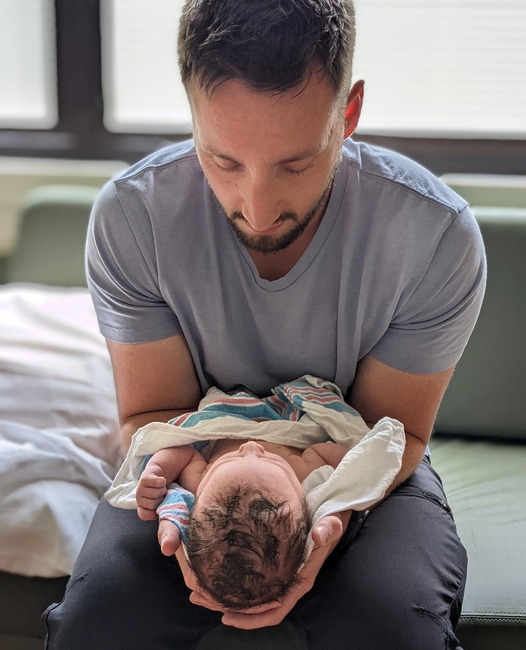 That joyful image led us throughout the message, as we considered the words of Moses: "..the LORD your God carried you, as a man carries his son, all the way that you went until you came to this place."
But by the end of the message many were in tears, as I also shared that on Friday afternoon 20-year-old Haitham from Gaza suddenly collapsed from internal bleeding at our home in Ashdod, ten days after his heart surgery.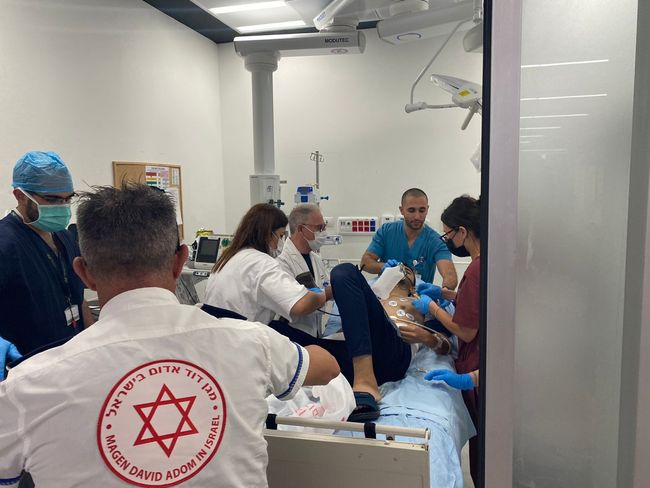 Doctors at the nearby hospital tried to revive him and took him to surgery but after three hours could not save him. I had to call Haitham's father and tell him that his beloved son had died. I must have been on speakerphone because I immediately heard screaming and crying from the family before the connection was cut.
Readers of this letter know how many joys but also sorrows we share with our neighbors. It is the cost of intercession. Our short-term coworker Coleman spent much time with Haitham earlier this summer, and wrote "This is devastating."
Please pray for Haitham's family, for the doctors who are hurt and angry with themselves, and for our community members, most of whom are the same age as Haitham. I told them this morning that, while there is much we don't understand, I know that they loved Haitham well in Messiah's name.
I was in neighboring Jordan for most of this week, where I was stunned to visit a house of prayer and healing which our Father is sovereignly raising up on one of the most beautiful pieces of land in the world: the home region of the prophet Elijah, right on the lip of the Jordan Valley, overlooking the northern gateway into Israel:
This has been a place of refuge ever since the first Jewish believers fled Jerusalem in 70 AD, as Jesus had instructed them to do when they saw the city surrounded. We're praying for discernment whether to start flowing children through this land again to reach Israel, since Iraq has now criminalized any direct contact with Israel.
Our visiting friend Brian from Houses for Healing in Texas was instrumental in connecting us with what's happening in Jordan, and also in supporting us through this difficult weekend. Our growing community had a sweet farewell time with him tonight in Ashdod, giving thanks with grateful hearts: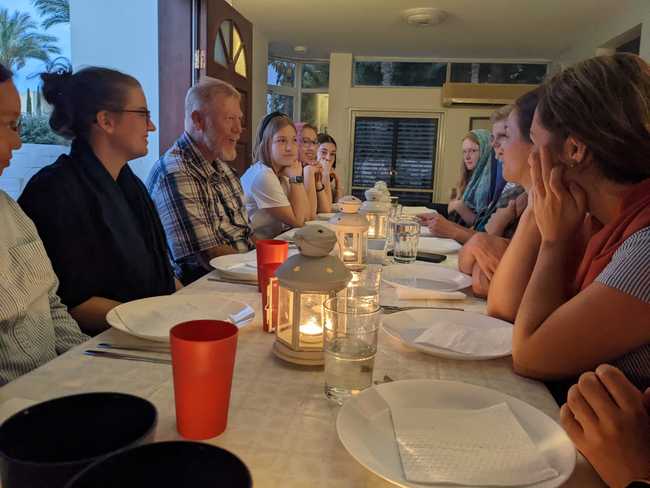 We also had opportunity in Jordan this week to visit the Syrian refugee baby Ahmed, who the Lord plucked from certain death back in 2014:

Ahmed is now a beautiful boy of eight years (pictured at left below), and his family is as loving and grateful as ever. His education has been neglected, but visiting with us was a 75-year-old who loves teaching kids. Watch how she spontaneously invested in Ahmed and his siblings, speaking these prophetic words over our neighbors: "He just needs attention."
Friends, how many times we hear this, particularly from our Gaza families: Thank you for your interest. Thank you for caring about us. When you live in a world where no one listens and no one cares, it's a really big deal when someone does. And it's something any of us can do.
Here's a revealing little glimpse of life in Gaza from a New York Times assessment of the latest rocket exchange last week:
Before the cease-fire was agreed to, Israeli analysts largely portrayed the episode as a victory and even a warning to Israel's other enemies in the region — particularly Hezbollah, the Islamist militia in Lebanon — of the fate that awaits them should they also enter into full-scale combat with Israel in the near future.
By contrast, with no change to life or prospects in Gaza and the West Bank, Palestinians had little to celebrate and many families were left grieving over the loss of life. Islamic Jihad was also embarrassed by videos that appeared to show its rockets malfunctioning and hitting civilian areas in Gaza.
The fighting also highlighted the growing acceptance of Israel by parts of the Arab world. Past Gaza wars have drawn heavy criticism from other Arab countries. This time, the response was more muted.
Two of the three Arab countries that formalized ties with Israel in 2020, Morocco and the United Arab Emirates, expressed concern about the violence but avoided criticism of Israel. Only the third country, Bahrain, directly condemned Israel's strikes.
In the short term, however, recent Israeli economic concessions to Gaza appear to have encouraged Hamas, at least for now, to adopt a less aggressive approach while it rebuilds following a longer war last year.
About two million people live in Gaza, nearly half of them unemployed, and only one in 10 of them with access to clean water, according to UNICEF.
Since the last war, Israel has offered work permits to 14,000 Gaza residents — a small number in relative terms, but a record number since Hamas seized power in 2007, and enough to provide a crucial financial lifeline to thousands of families in the enclave.
Wary of losing that concession, Hamas has for now begun to "act more rationally," Mr. Dalalsha said. "They have not really healed from last year's blow, and they are more concerned with continuing the relaxing and easing of restrictions on Gaza."
Ghassan Abu Ramadan, 65, a retired civil engineer who was hit during an Israeli strike on Friday, was recovering in the hospital on Sunday during the cease-fire negotiations.
"We have a complicated life here in Gaza, we don't know what will happen, what our future will be," Mr. Abu Ramadan said, lying on a bed in the intensive care unit of Shifa Hospital in Gaza City.
"How long will this continue?" Mr. Abu Ramadan added.
Every week we're bringing multiple childen from Gaza to Israel for heart treatment. But it's been years since we've entered the Strip ourselves. God willing we'll be going there now as soon as we can get the necessary permissions, to show attention to our hurting neighbors, most immediately to the family of Haitham.
And what of our Jewish neighbors? Here are a couple of indications this week of their growing awareness that they too have "born-again" friends. From a Shmuley Boteach column:
Because no Christians emphasize more fully than born-agains that the worshiper has a personal relationship with Jesus (whom Christians embrace as the deity, which Judaism emphatically rejects), no branch of Christianity is blossoming faster. This feeling of a personal relationship with the divine is what people seek.
How bizarre that even as Christianity is the daughter religion of Judaism, based almost entirely on Jewish ideas and following a rabbi who was murdered by the Romans for opposing Roman rule (see my book Kosher Jesus), we in the Jewish community, who could never accept the divinity of Jesus, need to be reminded about proximity to God from our Christian brothers and sisters.
I am a passionately Orthodox Jew and would not contemplate living any other way. And I reject completely Saint Paul's argument that Judaism gets lost in the minutiae of the law. To the contrary, the law, Halacha, is God's will, and we achieve closeness to God by following his commandments.
But I also recognize that we need to be reminded that the purpose of fulfilling the mitzvot is to grow closer to God. We in the Jewish community have to hear that the source of our self-worth is being children of God, and it's a message the Torah requires us to spread.
And then there's the Israeli-Canadian philanthropist Sylvan Adams, who's made it his life mission to promote Israel around the world. He told Joel Rosenberg's All Israel News outlet this week that evangelicals are probably better friends of Israel than many American Jews and even Israeli Jews (!), and also had some good words about Rabbi Jesus (despite what his followers have made of him):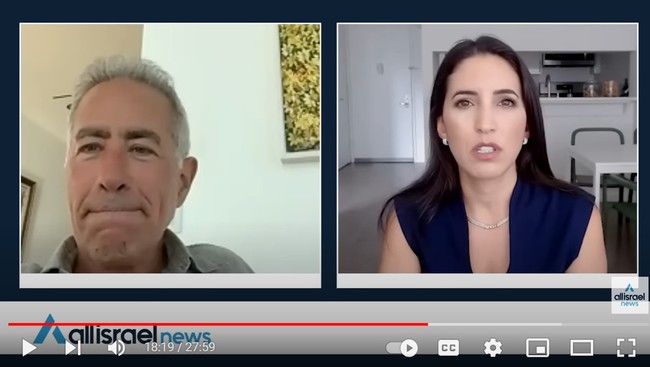 We can make common cause together. We are the people of the book. We are the older brother religion in the Judeo-Christian partnership…
Jesus was a Jew every single day of his life. Jesus' disciples went out and created the Christian faith, but Jesus himself was a Jew…
In fact, Jesus was a rabbi. So we are very close, the Jewish faith and the Christian faiths, we believe in the same teachings, the same ideas. As I said we are a brotherhood.
We should warmly grasp this outstretched hand friends. And one of the best gifts we can give in return is our gentle, insistent reminder that our Muslim neighbors are also (estranged) brothers of the Jewish people, and that Messiah has come to break down every barrier that divides us.
Jonathan for Shevet Achim
"Behold how good and how pleasant it is for brothers to dwell together in unity…for there the LORD commands the blessing, even life forevermore" (Psalm 133).