Friends,
It's been eight long weeks since we began receiving anxious phone calls from baby Liya's parents. Only recently discharged from Sheba hospital, Liya was in the ICU in Gaza with sepsis and heart failure. These last two months haven't been easy for her since she was transferred back to Sheba via ambulance—a major surgery, a tracheostomy, and the weeks of recovery and rehabilitation needed to wean her from the ventilator.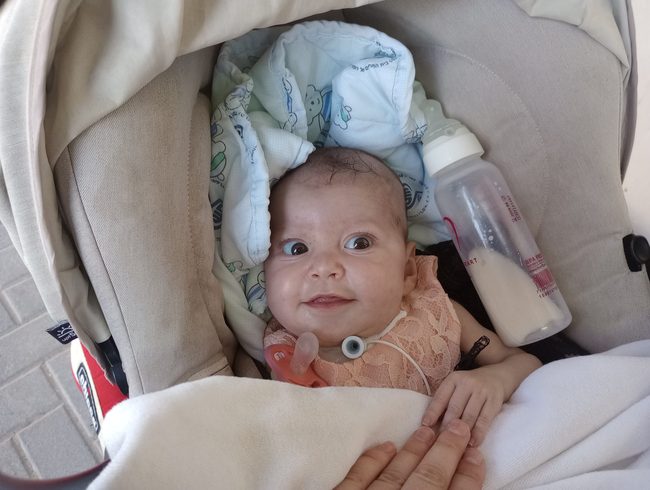 What a beautiful blessing that after a whirlwind 24 hours of preparing medications, special milk, and the medical devices needed to care for her tracheostomy, Liya was discharged from Sheba yesterday. She is now safely at home in Gaza with her overjoyed parents and siblings. God has been so good to this precious girl, reaching down to rescue her from the fire and bringing her through struggle and suffering to arrive safely home again. We'll see Liya again in a couple of weeks when she comes back for follow-up; please pray for her continued health and growth at home in Gaza.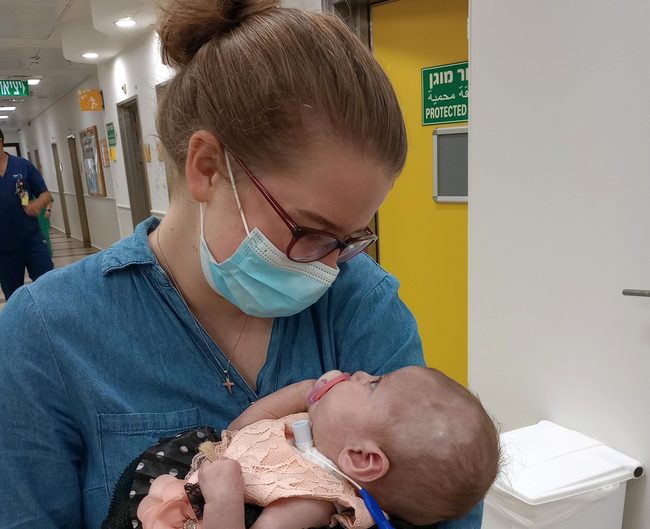 We know that just as God is mighty to save little Liya, so he is for one-month-old Laith from Hebron, who
arrived on Shabbat
 via ICU ambulance. Initially diagnosed with one of the most difficult to treat congenital heart defects, Laith underwent several tests and evaluations before going into surgery on Tuesday morning: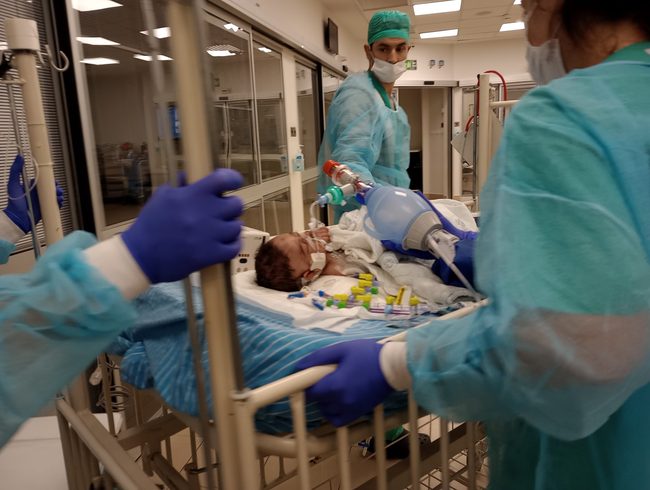 It was a difficult surgery after which doctors considered putting him on heart-lung support from the ECMO machine, but ultimately decided not to just yet. His chest is still open in case his condition deteriorates and he needs urgent ECMO support. For now he is in critical condition in the pediatric ICU at Sheba: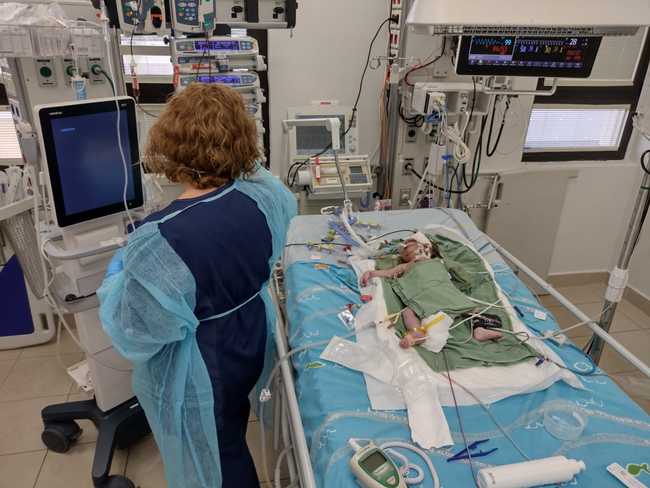 We were glad to hear that the doctors at Sheba have determined that Laith's initial diagnosis may not be correct, and that his prognosis may be slightly better than originally thought. Even so he has a long road ahead of him. The surgery he had this week is just the first of three difficult surgeries needed to allow a child with a single-ventricle heart to grow up. Please pray for little Laith and his caregivers in the coming days.
Pray also for tiny Maryam from Gaza, who has just emerged from a second high-risk surgery today to repair her mitral valve: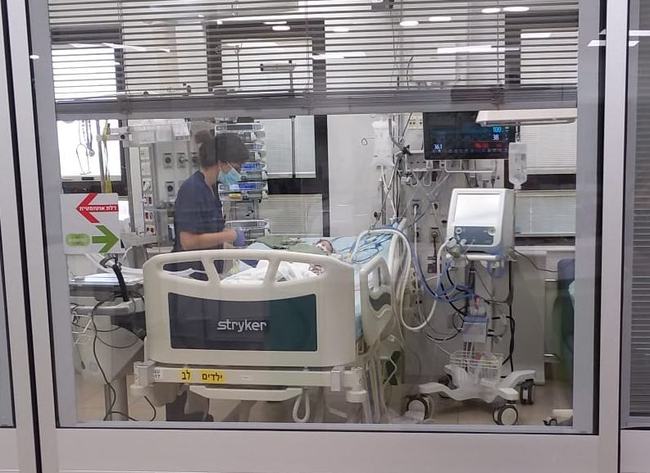 Maryam was extubated briefly on Sunday, but had to go back on the ventilator after just a few hours, as she could not breathe well enough on her own yet. Her surgery was a difficult one, especially considering how small and weak she is. Even so we trust her to her Creator, who alone holds the power to heal her little heart: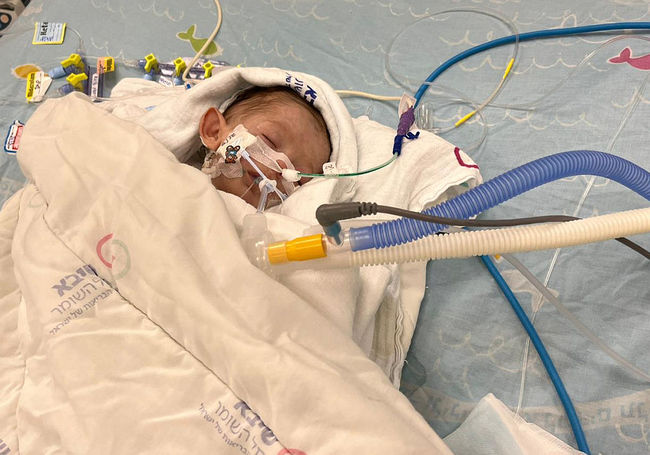 Little
Somaia from Gaza
 is still in need of a lot of prayer. She had a difficult day on Tuesday, seemingly in a lot of pain even with support from medications. Her doctors are optimistic that there is hope for her future, even though there is still a long road ahead of her. Every evening they are trying to wean her from the ventilator.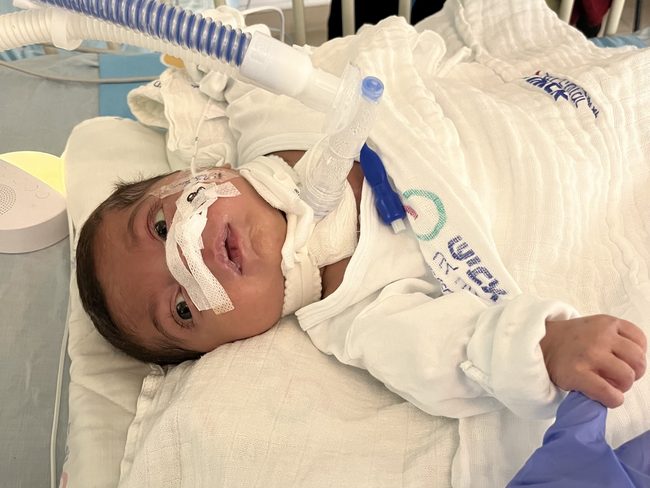 But after five months in the ICU at Sheba, hospital administration says she can't stay much longer if there is not improvement. Pray for wisdom for those making these decisions for Somaia, and that whatever is best for her will be done.
Baby Malak from Gaza is finally out of the primary ICU after coming off ECMO two weeks ago! She was moved to the secondary ICU earlier this week and is doing well, though still in need of some oxygen support through her nose.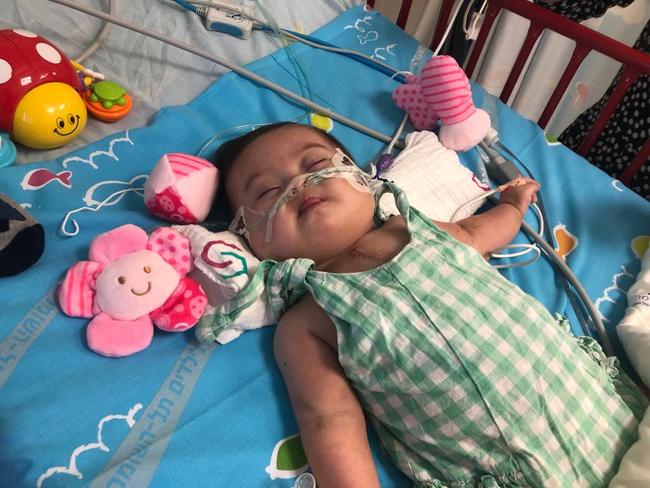 If her oxygen saturations do not improve, she may have a catheterization next week. Malak's mother is excited for visitors every day and always makes sure her sweet girl is dressed her best for company: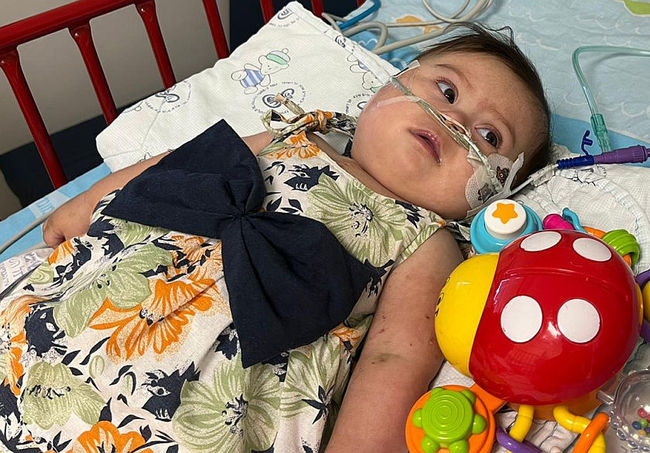 Also in the secondary ICU are two-year-old
Sanad from Hebron
 and his mother. Two years ago Sanad's first surgery was at Hadassah hospital in Jerusalem, but now that he is ready for his next surgery Sheba has agreed to accept him: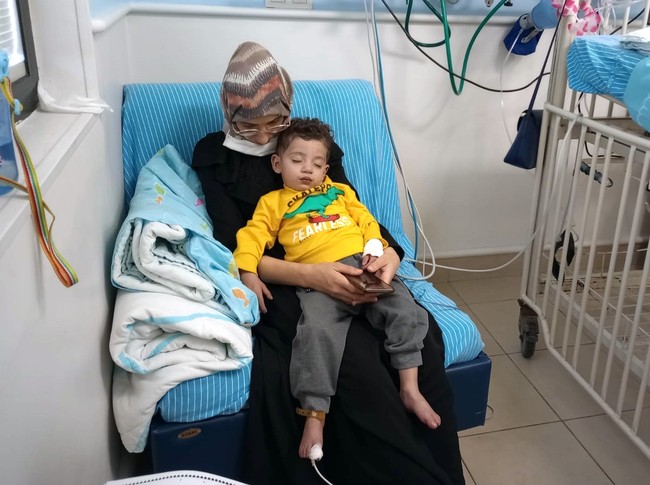 He arrived on Sunday for a first evaluation at Sheba, and was immediately hospitalized due to low oxygen saturations. Sanad had a CT scan and some other tests this week to help the doctors prepare for his surgery.
Our friend Ahmed from Kurdistan is making a beautiful recovery after his big surgery last week. He is no longer receiving oxygen support and the doctors plan to move him out of the ICU soon. Ahmed is, as always, full of joy, and he's always happy to greet us with his sweet smile: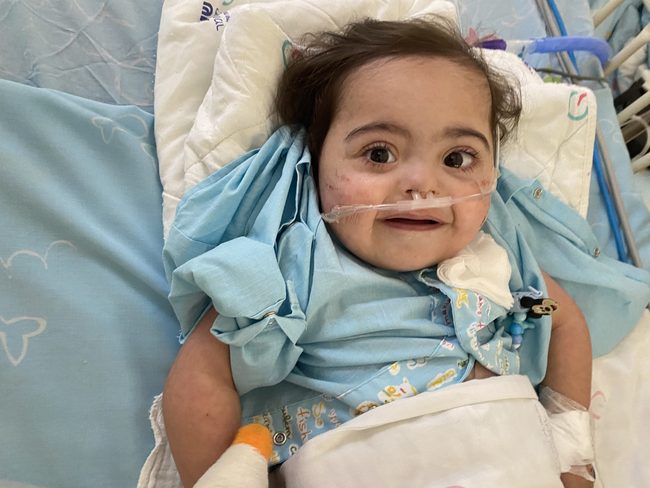 Two-year-old
redheaded Taleen
 from Gaza went home on Sunday after spending the weekend in Ashdod. Her blood tests are not quite as good as the doctors would like yet, but she will come back in a couple of weeks for more follow up: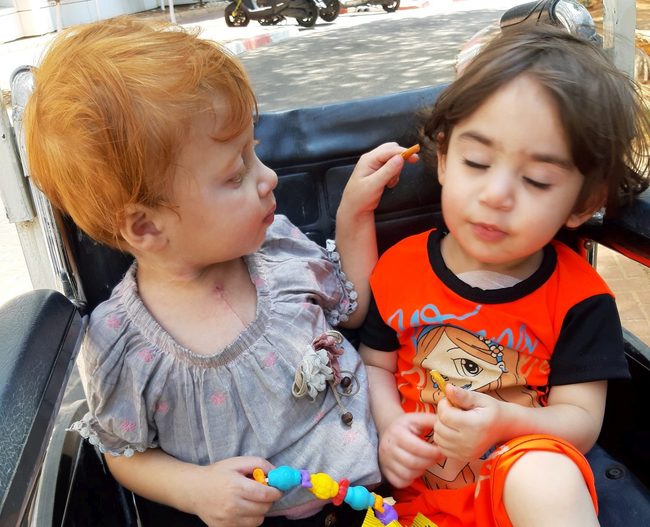 The next day, Taleen's good friend
Mira
 (above right) also went home to Hebron after the infection in her surgical scar was completely resolved. We're looking forward to seeing her next month when she comes for her next echo.
All three of our Kurdish kids in Ashdod made the trip to Sheba yesterday for echos. One-year-old Lalo, still not a big fan of the hospital, is doing well but his pulmonary arteries are still very narrow, even after his cath last week to place a stent: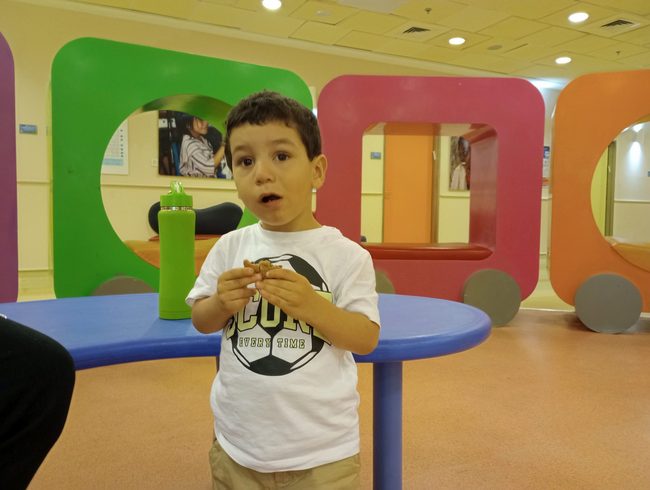 The doctor explained that if Lalo lived close by, he would just need a catheterization every six months or so to dilate the stents, but since he will be going home to Kurdistan, the doctors need to think carefully about the best next steps for him. Lalo started a new medication today to relieve some pressure on his arteries, and he will have another echo in two weeks to check his progress.
For two-year-old Sohaib, this was the first echo since he was discharged from Sheba last week. He is doing well, and he will have another echo next week, at which point his cardiologists will discuss further treatment for him.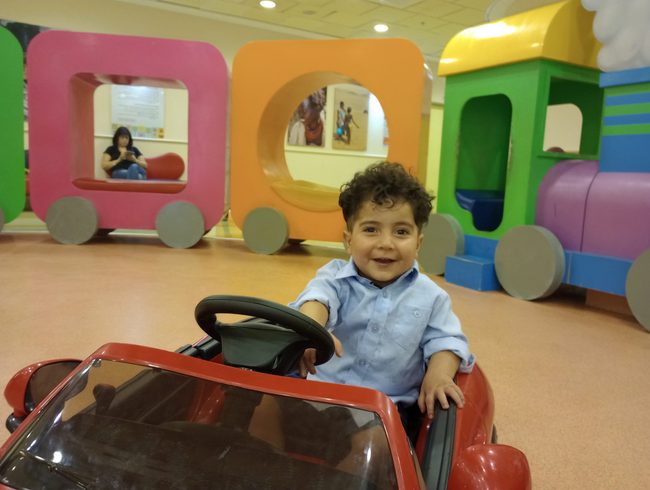 Sohaib still needs to have surgery to repair the large hole in his heart, but the doctors are not sure yet whether he should have the operation now or go back to his refugee camp to grow a little and return in six months for surgery. Please pray for wisdom for Sohaib's doctors as they consider his next steps.
Eleven-year-old Lewan is still patiently waiting for surgery. The doctors will examine the images from her CT scan last week and her echo today in preparation for the surgery day, which is still not yet determined.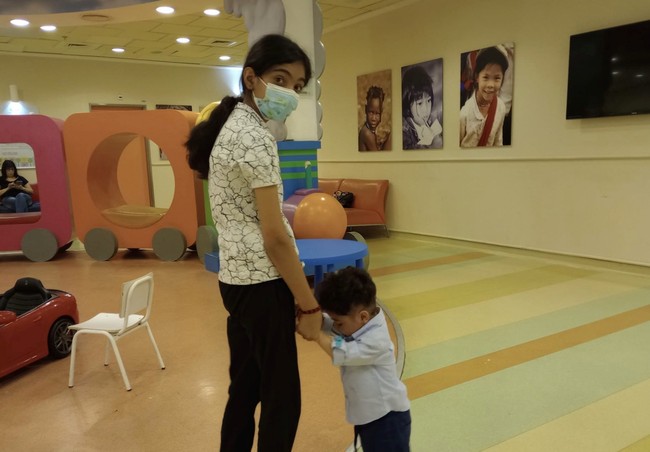 Lewan is eager to go home and start the school year with her friends in October; please pray for a decision from the doctors about her surgery date soon.
In the meantime Lalo, Sohaib, and Lewan are staying busy at home in Ashdod. This week they had an art day in the garden with Johanna and Lucia.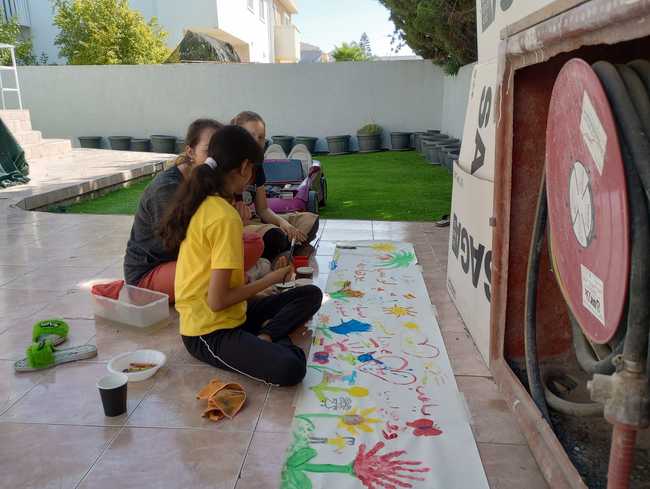 It seems that half the paint ended up on the paper and the other half on Sohaib, but everyone had a good time.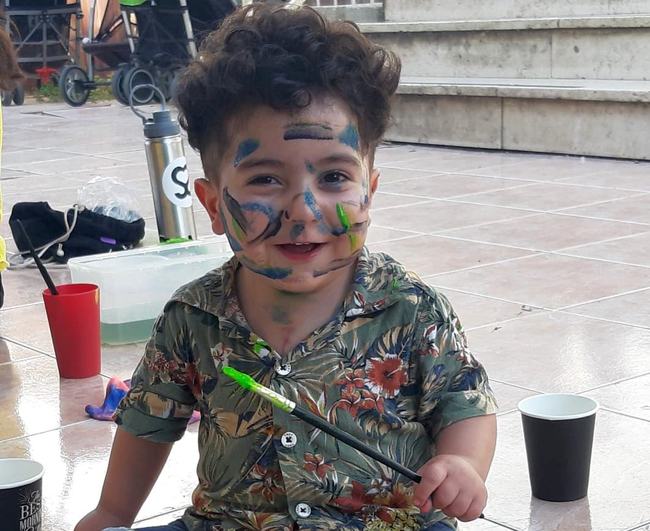 This is a bittersweet week for us, as we are saying goodbye to three of our beloved coworkers. Johanna from Germany (below left) has spent three weeks with us in her second stay at Shevet. She has cared for our kids and their parents with great love and compassion.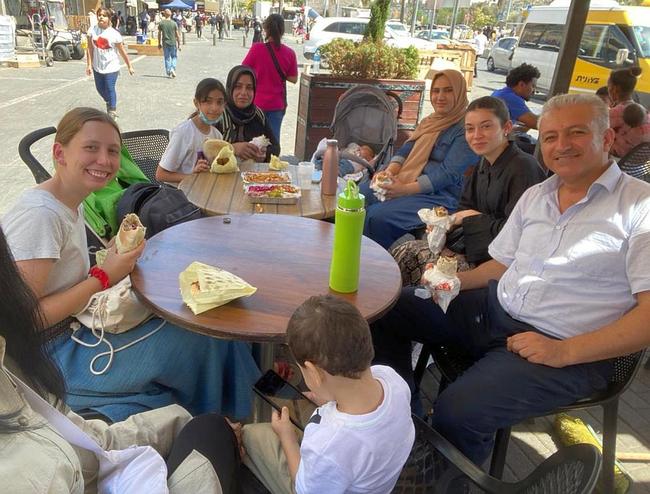 We have appreciated how she's always eager to go on outings with the families, whether a bus trip to the mall or a train trip to Jerusalem. Johanna is going home to continue her studies in medical school, and we know that her future patients will be greatly blessed by her love and care.
Lucia from Spain/Germany brought so much joy and laughter to our community and the families we serve. It is normal to find her at the hospital in the middle of a group of mothers from Gaza, all enjoying fellowship and a good laugh despite language barriers.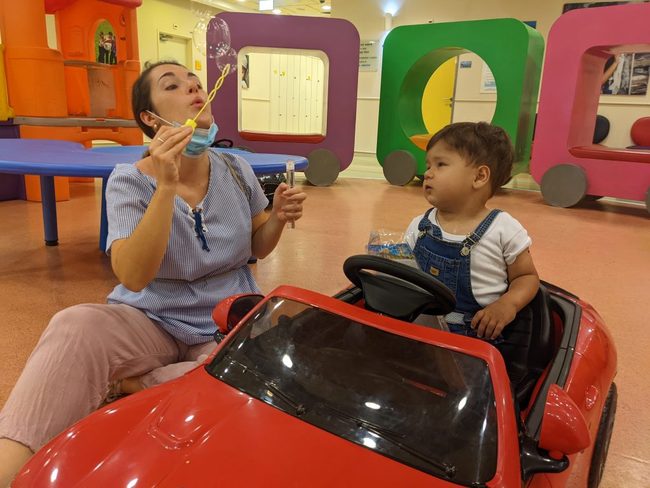 She is one of the most open and authentic people I have ever met and she instantly makes everyone around her feel comfortable and loved.
Margarita from Colombia has been here at Shevet longer than most of us, and her dedicated work is a beautiful example of faithful service unto God.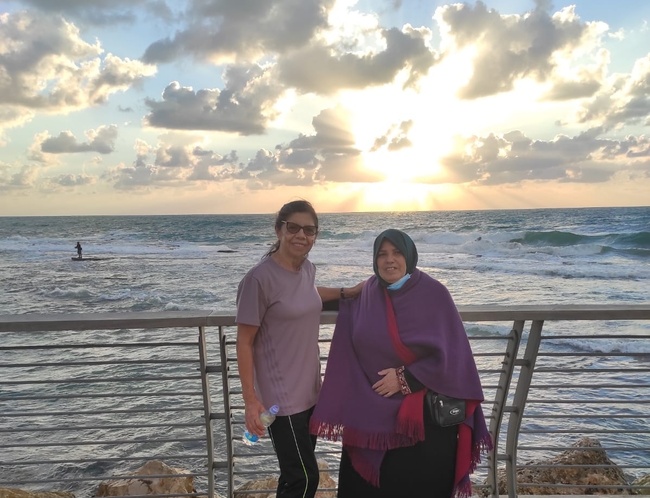 She has served in Jerusalem, Jaffa, and Ashdod, often keeping everything in the house running smoothly or praying over children at the hospital. We are deeply grateful for the years she has spent giving her time and love to these families and our community.
As a community this week we've been reading the first letter of Simon Peter, one of the Messiah's closest friends. Throughout the letter Peter reminds his readers to stand firm even in suffering, because of the hope that is set before us. I'll leave you with his words at the end of the letter:
"Humble yourselves, therefore, under the mighty hand of God, so that he may exalt you at the proper time, casting all your cares on him, because he cares about you."
May we always, in easy and difficult times alike, cast all our cares upon our Creator, entrusting ourselves fully to his perfect love.
Thank you for joining us in prayer,
Bria for Shevet Achim