Friends,
First thing Sunday morning, we got a long-awaited call from Sheba hospital: Bring Lewan today, we want to do her surgery tomorrow.
Lewan and her mom have been waiting patiently for this news for nearly a month, so when I arrived at their door with a big smile, they knew right away. "We're going today?" her mom asked eagerly, and immediately started packing a bag.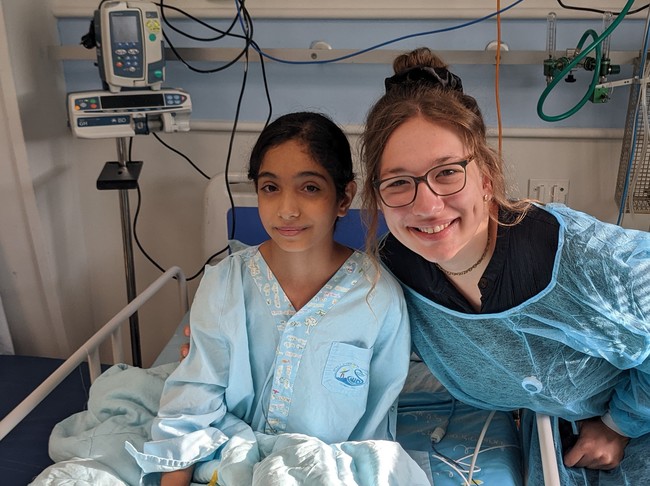 Lewan went into surgery early Monday morning. When the surgeon explained the planned operation—a complicated procedure to switch two valves and replace one—Lewan's mother reached for the consent forms with a shrug and a smile. "Xwa gowreya," she said confidently—God is great.
This was her refrain for the next five hours, as we waited outside the operating room and prayed for our beautiful girl. At last the head surgeon emerged from the OR with good news; the surgery was finished and successful, and less complicated than expected, as they were able to repair the defective valve rather than replacing it. Lewan's mother fell to her knees in grateful prayer. "Xwa gowreya."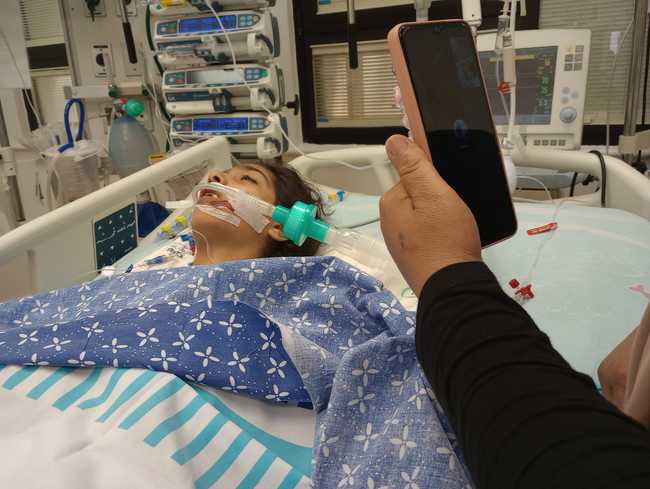 Lewan is still intubated due to some bleeding in her throat, but she is recovering well and the doctors hope to take her off the ventilator in the coming days. Truly, God is great.
We are trusting in him for tiny Laith from Hebron, who had to be resuscitated eight days ago and was immediately put on ECMO heart-lung support. His condition is critical and has not improved much throughout the week.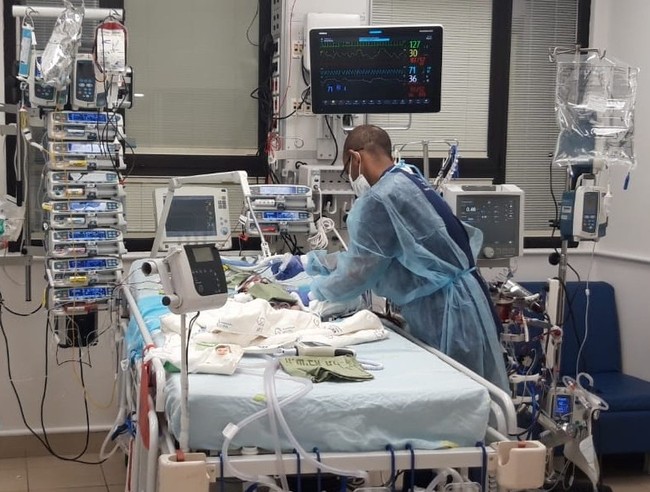 Yesterday the ICU team attempted to wean him from ECMO support but were not able to. They plan to make another attempt on Sunday, as the risk of damage from the ECMO machine increase with every day Laith is on it.
"Even though I walk through the valley of the shadow of death, I will fear no evil, for you are with me; your rod and your staff they comfort me," David says in Psalm 23. Laith is in a dark and difficult valley, but even so he is in the care of the Good Shepherd. Please pray for comfort and strength for his parents, and healing for Laith.
Two-year-old Sanad from Hebron had a catheterization on Tuesday. The doctors planned to perform some interventions, but decided against it during the procedure. Instead they examined his heart and the surrounding arteries, and they will use this information as they plan his surgery, which is tentatively scheduled for next week.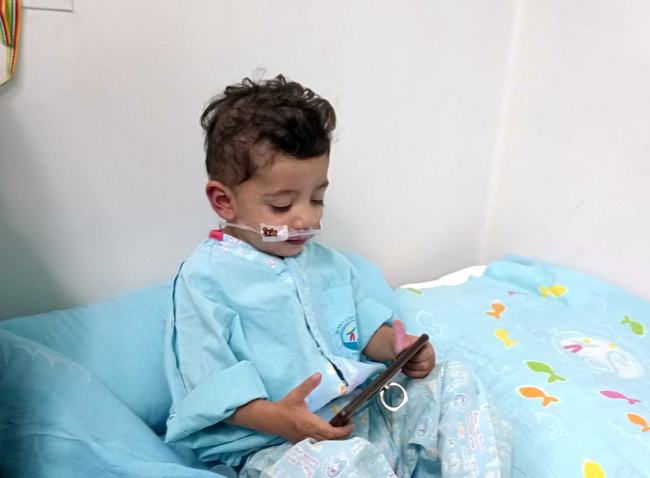 Sanad is still a little unsure about the hospital and afraid of medical staff, so he's happiest snuggling in his mother's arms or relaxing and watching YouTube videos in the safety of his bed.
Sweet Malak from Gaza had a catheterization on Thursday morning to dilate her pulmonary arteries. The doctors hope that this intervention will help improve her oxygen saturations, which have been low ever since her surgery. The procedure was successful, but Malak's mother was disappointed to learn afterwards that Malak will need more caths and surgeries in the future and has a long road ahead of her.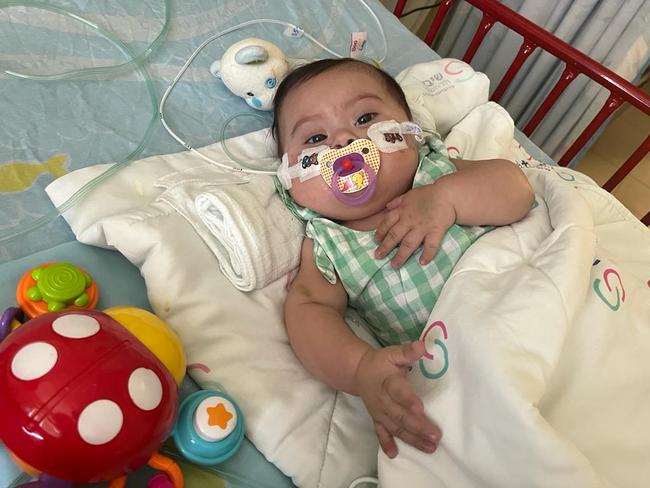 They have been at Sheba for a month now, and as her mom explained to Petra during the cath, it's difficult for her to have to choose between being with her son at home or with Malak in the hospital. Please continue in prayer for Malak and her mother.
As soon as Malak came out of her catheterization, it was five-year-old Fatoum from Gaza's turn. Fatoum had surgery at Sheba some years ago and is now ready for the next stage of surgical repair for her single-ventricle heart. She was admitted to Sheba after an echo on Wednesday, and had a diagnostic cath on Thursday to help the doctors plan her surgery.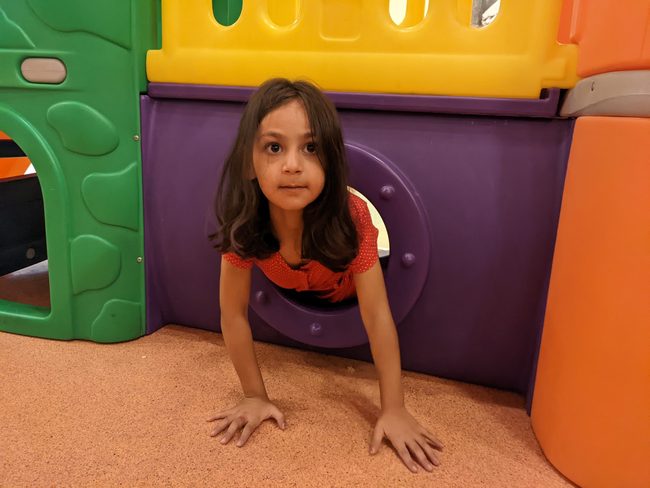 Fatoum came to spend the weekend with us in Ashdod before her surgery next week, but we had to rush her back to Sheba this afternoon after she developed a high fever.
Please continue in prayer for Somaia from Gaza, as there is pressure to transfer her to a hospital in Gaza soon. We are grateful that her doctors at Sheba are continuing to fight for her and are refusing to give up hope after five months on a ventilator: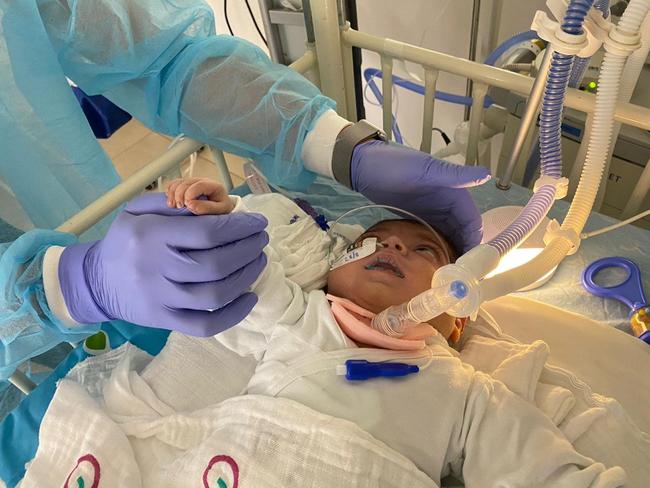 Even so we understand the hospital's desire to make her room in the ICU available to a number of babies awaiting urgent treatment. Join us in prayer for wisdom for those making the decisions for Somaia, and for safety and protection for her.
We welcomed back our handsome little friend Musa from Gaza this week, who had the second surgery for his cleft lip and palate on Wednesday morning: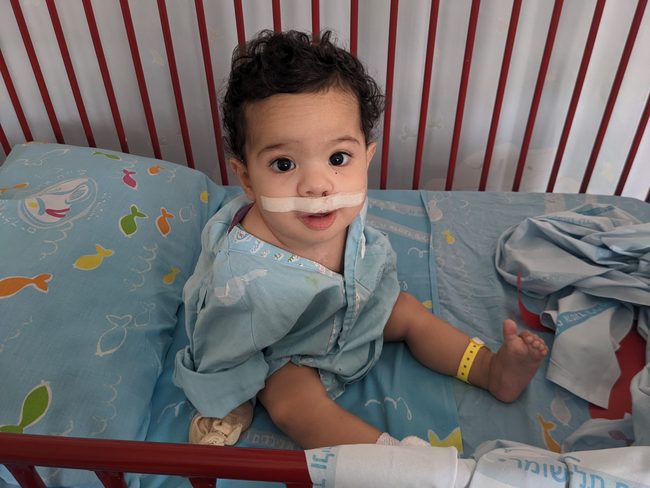 He was awake and feeling good just a few hours after surgery, and was discharged from Sheba the next day. Musa needs to get his stitches out in a little over a week, so he and his mom are spending some time with us in Ashdod.
Also spending the week with us in Ashdod is seven-month-old Mohammed K. from Gaza, who had an echo at Sheba on Sunday. After examining the results, the doctors decided they want to perform surgery this coming Sunday morning, so Mohammed and his mom are waiting here until he can be admitted to the hospital on Saturday evening: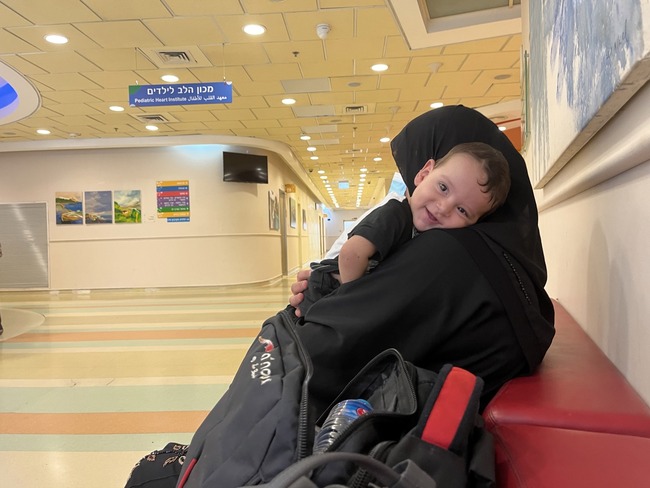 And we have a third little one from Gaza joining us over the weekend. Sweet one-year-old Jori from Gaza came for an echo on Wednesday, and was admitted to Sheba with signs of a virus. The doctors discovered that one of her vocal cords is paralyzed, and she needs follow-up with an ENT doctor for this and some trouble swallowing. She and her dad are spending the weekend in Ashdod before she returns to Sheba for this follow-up.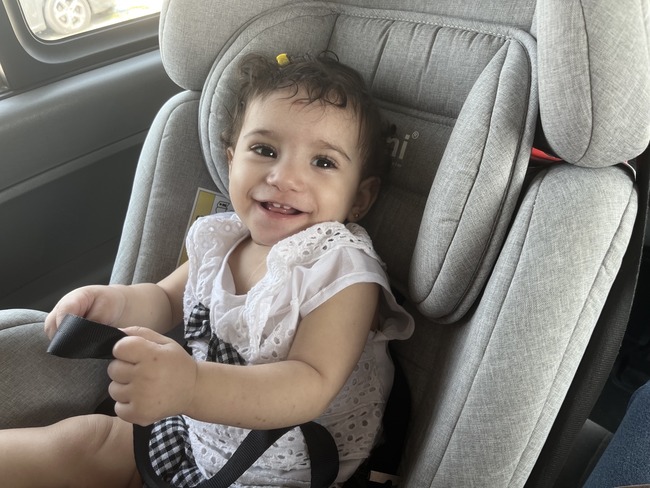 One of the beautiful things about working with the kids from Gaza is that we get to see them regularly as they grow up. Jori arrived via ambulance at Sheba as a newborn last fall, just after I arrived at Shevet, and it's sweet to see her so grown up now. Please pray for this situation with her vocal cords to be resolved soon so she and her dad can be reunited with her mom back in Gaza.
We love seeing these kids again and again as they grow up, but even so, we're grateful for those rare times when a child is so well that they don't need to come back to Sheba anymore. Such is the case for twelve-year-old Ahmed S. from Gaza, who had his final echo at Sheba hospital on Thursday morning: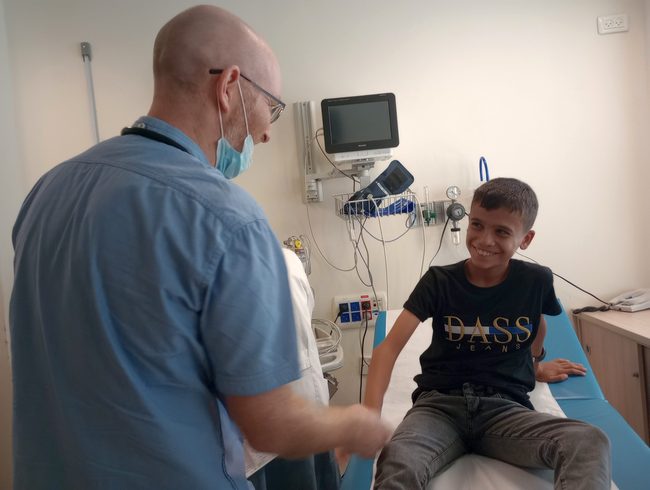 It's been a year and a half since Ahmed had an ablation catheterization to treat the electrical abnormality in his heart, and his cardiologist is very pleased with his echo and ECG results now. We'll miss this sweet young man and his mother, but we are so glad that he can go home and live a normal life now. God has been so good to Ahmed, and we are grateful.
We had a special celebration this week of God's goodness to another Ahmed, our little friend from Kurdistan who celebrated his second birthday on Wednesday. "And God willing many more birthdays!" his mother said with a joyful smile.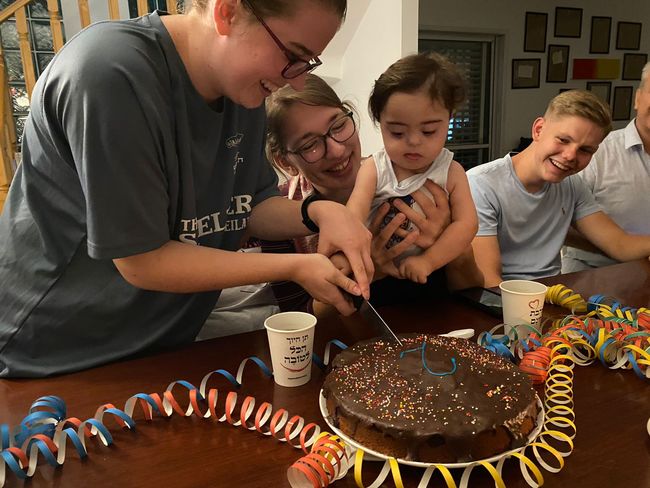 Ahmed was discharged from Sheba last Friday and had an echo with great results on Thursday. He has a small residual VSD and a slightly narrowed pulmonary valve, which is normal for a child with Ahmed's heart defect. He will have another echo in a couple of weeks, and if everything is good, his doctor hopes to discharge him to Kurdistan.
Two-year-old Sohaib also had an echo this week. Considering what a difficult journey Sohaib has had, his cardiologist was pleased with his progress, but wants to take things slowly and carefully. He still needs surgery to repair the holes in his heart, but his doctor thinks it's best for him to go home and wait a year or two in Kurdistan before coming back for this surgery. For now, the pulmonary artery band placed in his second surgery will help protect his lungs from excess blood flow, and his heart function can be supported with medications until he is big enough for surgery.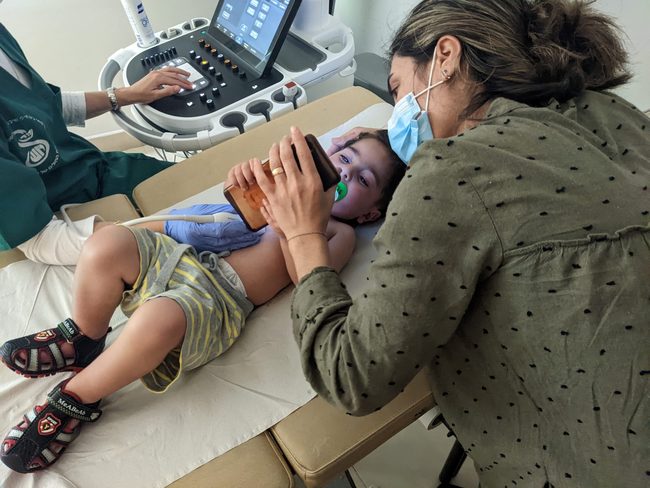 Sohaib's mother was a little disappointed to hear this, as she was hoping he could go home after this stay in Israel with his heart problem completely resolved, but as she tells us frequently, "If Sohaib is good, everything is good." Please continue in prayer for this handsome little guy and his mom.
As Lewan's mother always reminds us, God is great and he is so good to each and every one of these precious little ones. Thank you for coming alongside us in prayer for them now and always.
Bria for Shevet Achim