Friends,
It's been quite a week for tiny Laith from Hebron. After a week and a half on the ECMO machine, his condition had not improved as the doctors had hoped.  So early Monday morning he went into what we expected to be a relatively straightforward operation to dilate his pulmonary artery, allowing more blood flow to his lungs.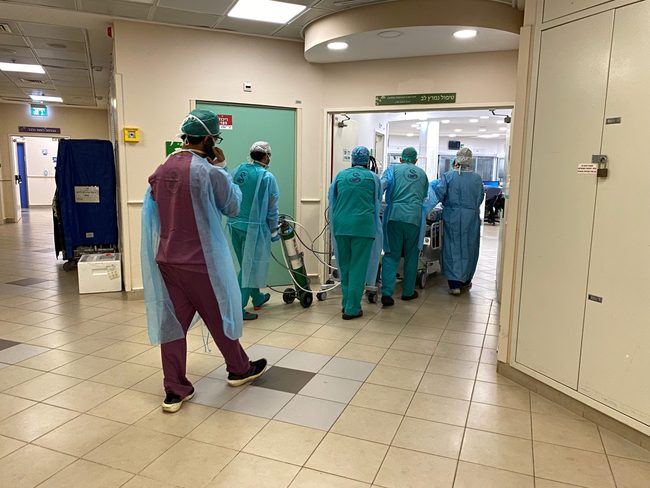 Jakob waited with Laith's father throughout the morning, and after four hours a doctor arrived to say that the surgery was nearly finished. However it was another four hours before Laith was back in the ICU and the surgeon arrived with the whole story. After successfully dilating Laith's pulmonary outflow tract, the doctors took a big step: disconnecting him from the cardiac bypass machine. They were surprised and excited to see that he did very well without it– for the first time in one and a half weeks, Laith's heart was working on its own!
However, when the surgeons closed his chest, Laith's blood pressure crashed and his chest had to be reopened right away. They closed it again with a membrane. During this process they discovered that Laith's central catheter, which is supposed to carry medications straight to his heart, was out of place, so for the last few days he had not been receiving all his meds. The doctors placed a new catheter, but Laith's cardiac function deteriorated rapidly and he had to be resuscitated. The surgeons opened his chest once again and returned him to ECMO support.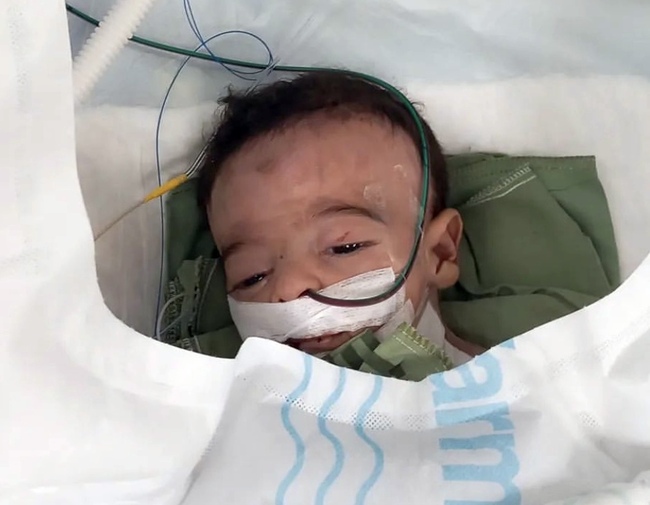 On Monday night, Laith's condition deteriorated once again and he needed emergency intervention to stop some bleeding from his chest. This happened once again the next morning, and when we asked the ICU staff what was happening, all they could do was shake their heads and say, "He's not good."
What a surprise then on Wednesday when Laith had stabilized enough to go back into the operating room, this time to come off the ECMO machine. A day later, though he is still in critical condition, he is still stable!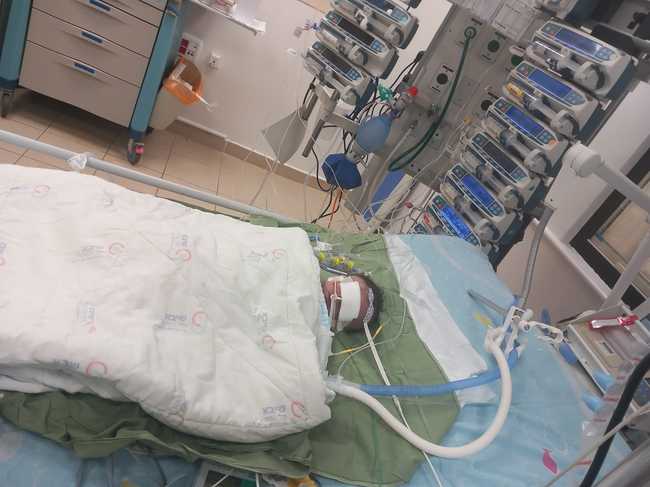 Every step in this process is a huge thing for Laith, as it is no small thing to come on and off ECMO support. Please continue in prayer for this precious baby boy and his dad: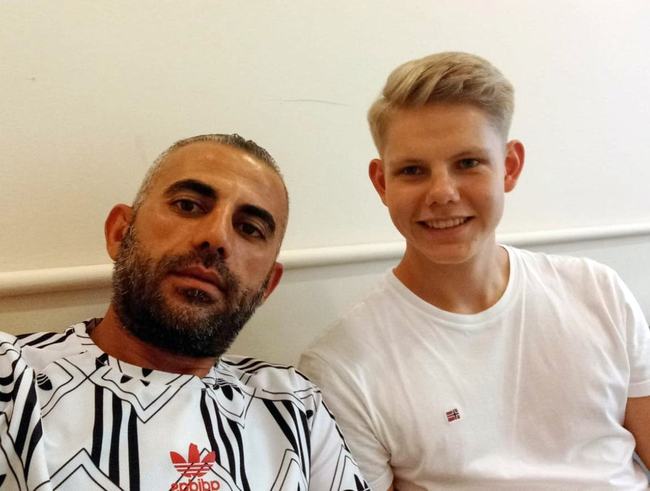 Two-year-old
Sanad
 from Hebron spent most of today in the operating room, as he finally had his long-awaited Glenn surgery. The goal of the operation was to reroute blood from the upper part of Sanad's body straight to his lungs, the second of the three-stage surgical solution for his complex single-ventricle heart. Thank God, after many hours in surgery Sanad emerged stable: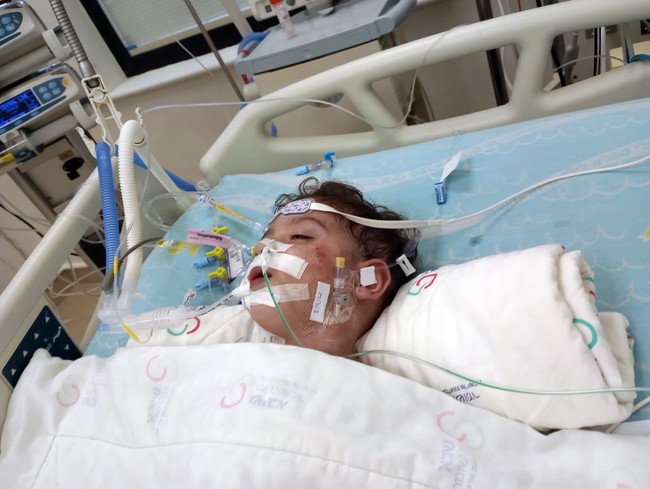 In addition to the Glenn procedure, the doctors placed a pacemaker to regulate his heartbeat. Sanad's surgery today was a major one and he will need quite a bit of time to recovery, but we are grateful for a good outcome.
We welcomed two new urgent arrivals to Sheba hospital this week. Two and a half weeks after birth, Mohammed was admitted to a hospital in the West Bank with trouble breathing, and the doctors there discovered several heart defects. He was transferred to Israel in an ICU ambulance on Sunday and is now awaiting surgery at Sheba: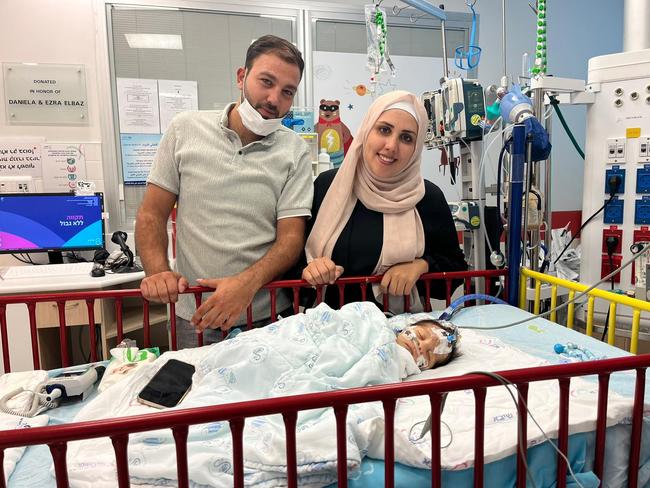 As each of us meet Mohammed and his mom for the first time, everyone says the same thing: "He's so cute, and his mom is the sweetest lady." And just yesterday, Mohammed's dad was able to join his wife and son in the ICU. Please pray for this sweet family in the coming days.
And just today little Ayub from Gaza arrived after an eventful ambulance trip from the border. Halfway to Sheba, the pump delivering a special lifesaving medication to Ayub through an IV stopped working. The ambulance diverted to Assuta hospital just across the street from our home in Ashdod, where doctors and paramedics worked to get him connected to a new IV drip. Ayub is now safely in the pediatric ICU at Sheba, where he is stable and awaiting surgery to switch his great arteries: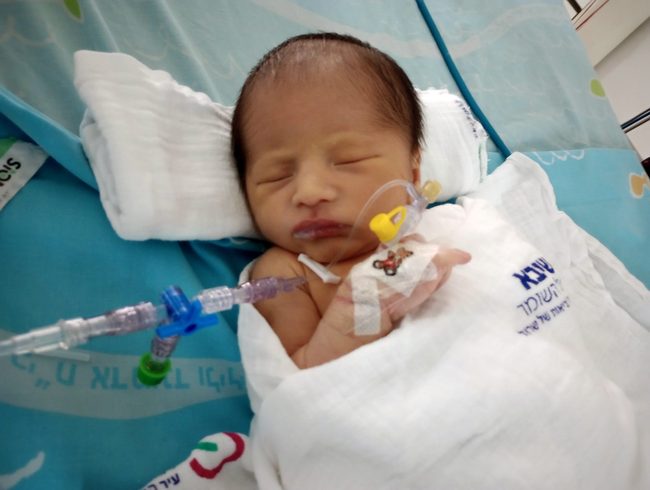 Seven-month-old
Mohammed K
 from Gaza underwent surgery on Sunday morning. The doctors were able to fully repair his combination of heart defects in just over five hours, and they do not expect him to need further surgeries in the future: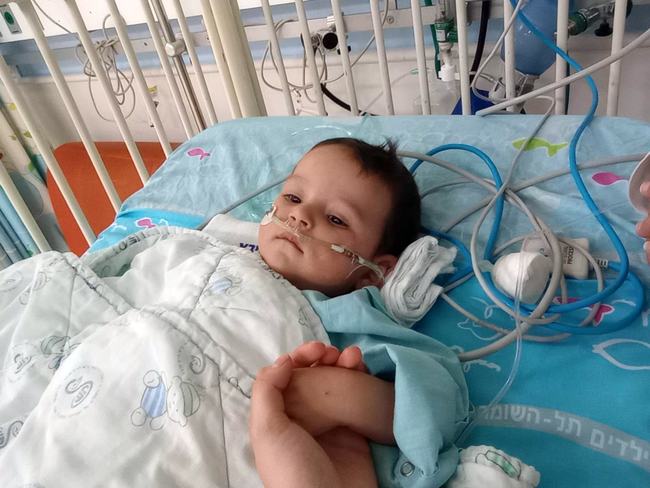 Mohammed is already moved to the intermediate ICU, where he is making a good recovery in the care of his mother.
Beautiful 11-year-old Lewan from Kurdistan is finally extubated and awake following her major heart surgery last week! After several days of bleeding from her throat, she had a small surgical procedure on Sunday to cauterize the injury to her tonsils. The next day, Elise and I found her awake and sweet as ever. "I love you," she whispered as she held our hands.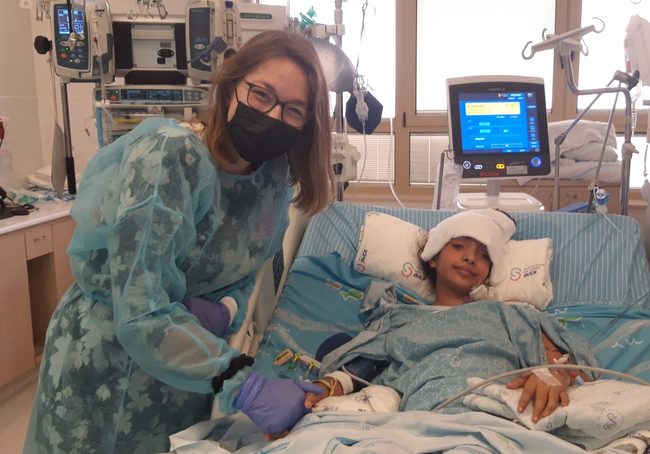 As of today she's finally feeling well enough to eat again. Her only request—watermelon. "Now that I have a watermelon, I'm good," she told Doro in Kurdish. "We can go back to Ashdod now!"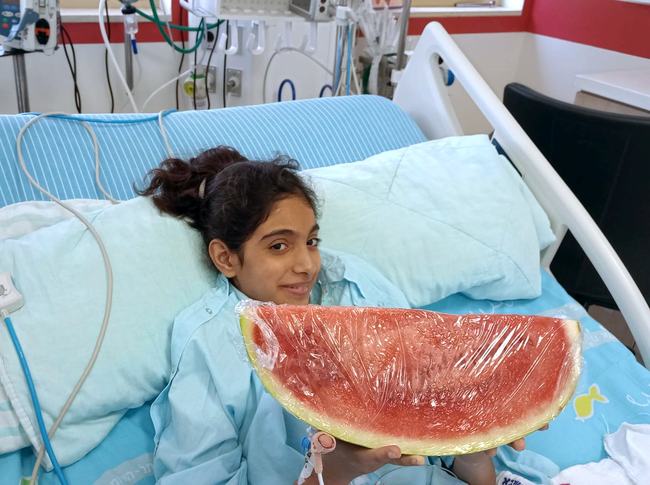 We're grateful to see our sweet girl's recovery and we can't wait to have her back in the house.
Tiny seven-month-old Maryam from Gaza is at last back in the intermediate ICU and breathing all on her own! We are especially glad to hear today that she is finally eating and slowly beginning to gain weight, which has been a huge struggle for her since her arrival here in July.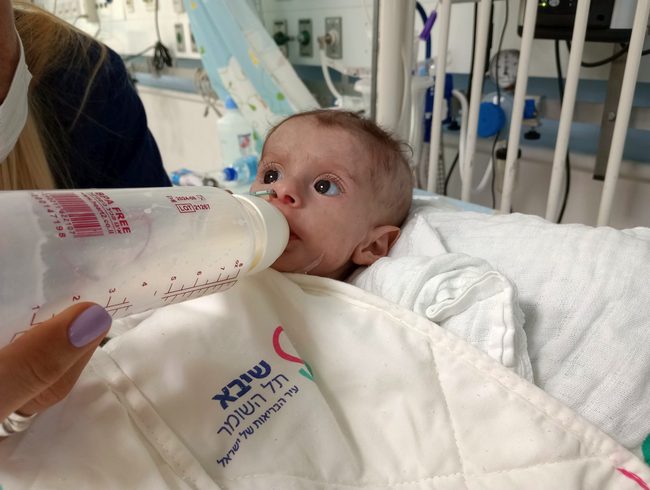 We're seeing her beautiful brown eyes open more and more often lately, and her grandmother is always excited to usher us into Maryam's room to show off her progress.
Sweet baby Malak from Gaza is also back in the intermediate ICU after her catheterization last week. She still needs some oxygen support through her nose at times, but earlier this week Petra found her out and about in the hallways, nestled snugly in her mother's arms.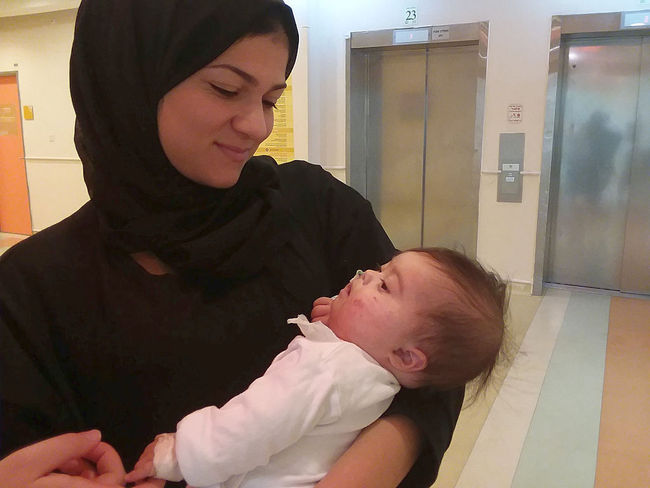 After such a long stay in the hospital, it is increasingly difficult for Malak's mom to be away from her son back home, but she's dedicated to staying with her baby girl as long as necessary. We pray for continued growth and recovery for Malak.
Please pray also for little Somaia from Gaza, who has been on a ventilator in the pediatric ICU at Sheba for five months. She is still not making much progress, but the doctors have been able to reduce her sedatives a bit.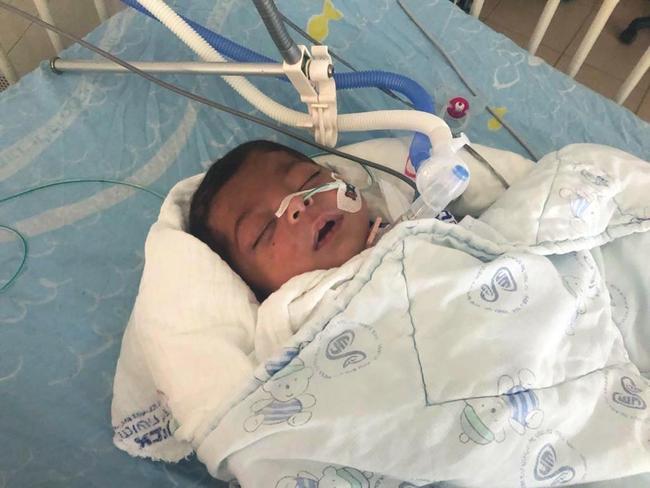 We had hoped she would be accepted at a rehabilitation hospital in Jerusalem, but we learned yesterday she is not a suitable candidate for weaning from the ventilator. We are still searching and praying for a good solution for Somaia and her family.
After being admitted to Sheba with a fever just a few hours after being discharged on Friday, five-year-old Fatoum from Gaza spend a few days in the hospital for treatment and observation. She was discharged again on Tuesday, and had a CT scan on Wednesday morning before returning home to Gaza. Due to her fever, her surgery has been delayed by two or three weeks. Pray that she will stay healthy at home so she can return when needed for her operation: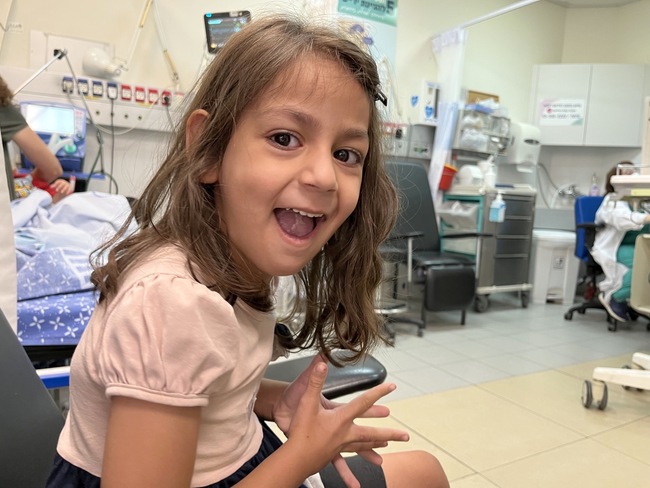 Six-year-old
Hamza
 from Gaza is also waiting for surgery after an echo at Sheba on Tuesday. He has a complete heart block and needs a pacemaker as soon as possible; an older brother died suddenly from the same problem.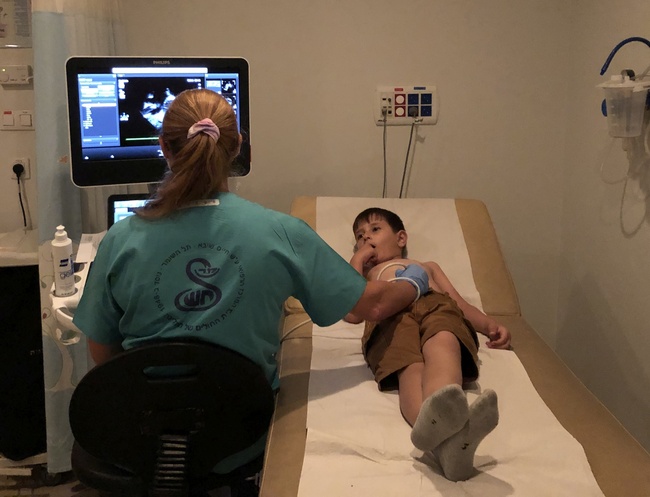 Hamza's surgery is scheduled for Monday morning, and in the meantime he and his grandmother are spending the weekend with us in Ashdod. Hamza is a sweet boy with a lot of energy and he's already a good friend to our Kurdish kids in the house.
Lalo, Ahmed, and Sohaib are all waiting for their next follow-up echoes, and making good use of the waiting time. On Wednesday, they enjoyed a trip to the shuk (open-air market) and the beach with Tatiana and Jan. Sohaib and Lalo loved the beach, and Ahmed looks pretty handsome in a kippah: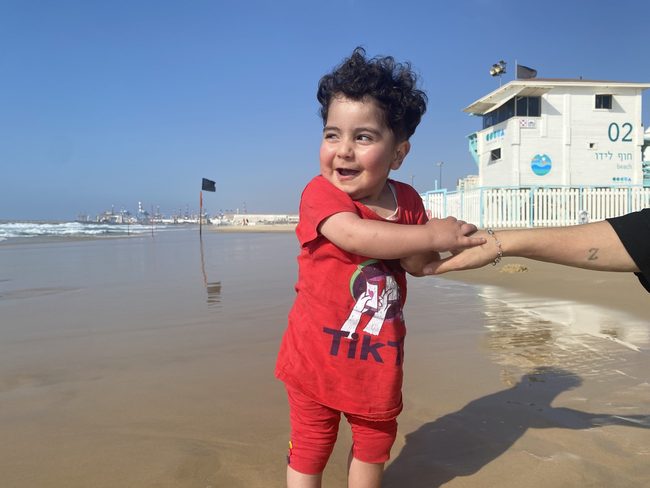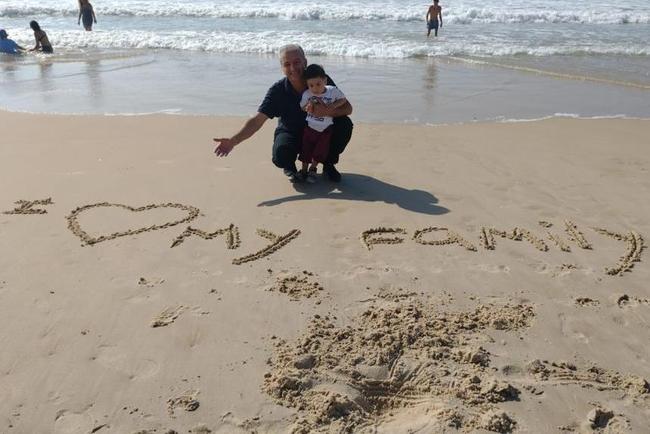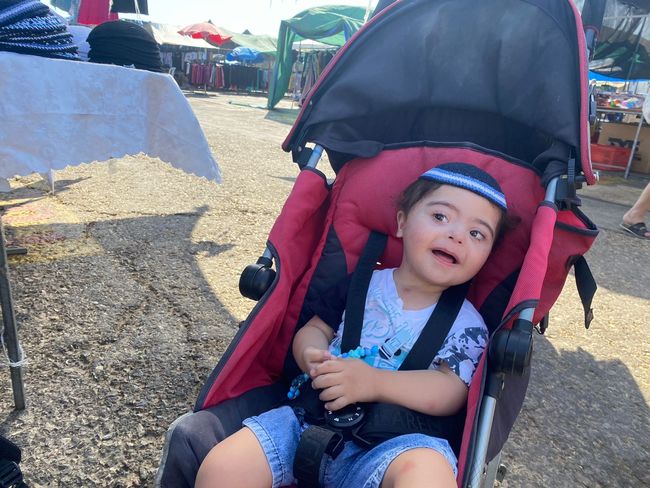 We welcomed four new volunteers to our home in Ashdod this week—Jan and Tineke from the Netherlands, and Jonas and Lisa from Sweden: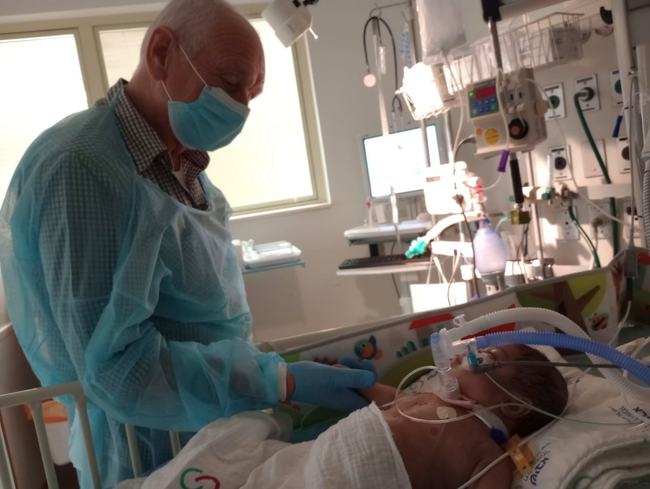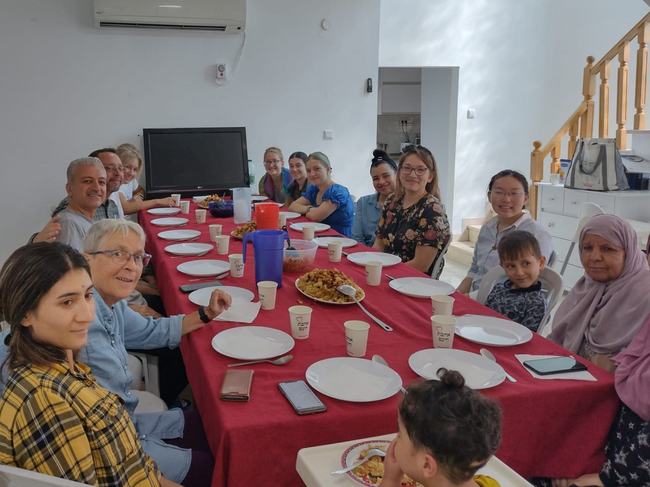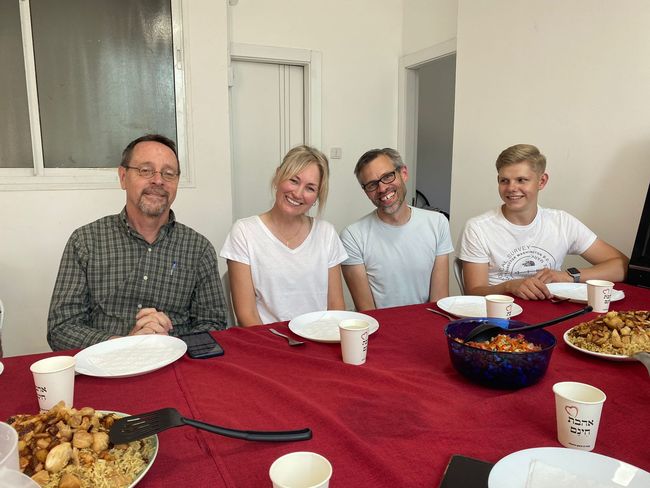 It's always a blessing to be joined by friends from all over the world who are seeking to serve the Lord through serving these children and their families, and we are excited to see God's work in their lives during their time here.
And last but definitely not least, today is a special day in our community as we are celebrating Jonathan's birthday. We started the day with brunch in our morning meeting, and our Kurdish and Arab families in our guesthouse were excited to cook up the special birthday lunch pictured above.
Over the meal one of the volunteers said jokingly, "I feel very underqualified to be here."
"The only qualification is a caring heart," came Jonathan's response. True enough, life and service at Shevet isn't dependent on medical experience or speaking many languages or any number of special qualifications. What God asks of us is the willingness to come, to bring our gifts and abilities such as they are and humbly offer them unto his service. This is the example Jonathan has set for all of us, and we are blessed by his leadership and heart for the Lord.
In fact, this is the note we ended the week on in our morning meeting today: God doesn't ask us to be the strongest, or the smartest, or the most talented. He doesn't ask us to fight our way to the top and be the object of the world's praise. Instead, he calls us to humble, faithful service—to one right action after another, one step at a time closer to becoming like our Messiah.
George MacDonald says it better than I ever could: "I would rather be what God chose to make me than the most glorious creature that I could think of; for to have been thought about, born in God's thought, and then made by God, is the dearest, grandest, and most precious thing in all thinking."
May this be the spirit and attitude we walk in, as we seek to become more of who we were made to be.
Thank you for joining us in prayer,
Bria for Shevet Achim