Friends,
Thank you for praying for tiny Laith from Hebron these past three and a half weeks. Since his arrival at Sheba hospital the cardiac ICU staff has fought hard for this precious boy's life. Through an intense series of ups and downs they, along with Laith's father, refused to give up hope.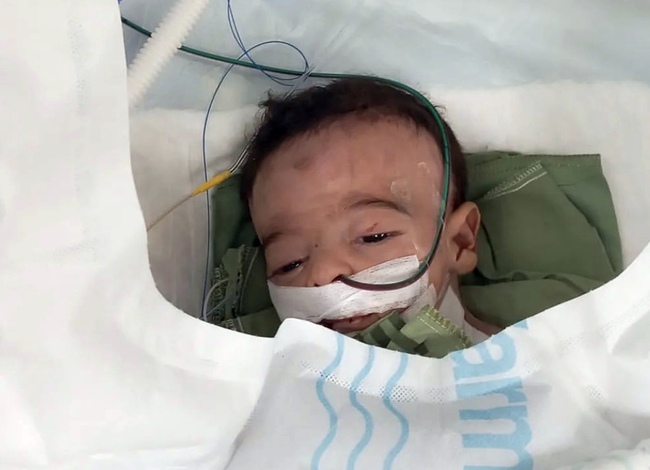 Early this week Lena found Laith still in critical condition in the ICU, with failing kidneys and tiny hands turning black from lack of oxygen. Instead of shying away, as is easy to do, she stood by his bedside and talked to him, reminding him how important and how very loved he is. A nurse in the ICU noticed and thanked her: "It's a little thing, but it matters."
On Wednesday, after a long and well-fought battle, the doctors in the ICU delivered hard news. Despite all their best efforts, Laith was not responding to treatment anymore and was in multiple organ failure.
Coworker Jakob, who has been a good and faithful friend to Laith's dad throughout his hospital stay, waited and prayed with him all day. Even as he prepared to say goodbye to his own precious son, Laith's father turned his attention to others, spending much of the day encouraging other parents and children in the hospital. Finally in the late evening Jakob called us: "Laith's pain is over now."
Laith's journey has been difficult from the very beginning and there is comfort in knowing that he is safe with the Father and no longer in pain. What's more, there is comfort in the knowledge that his life was worth fighting for. I'm struck by the beautiful work of the doctors and nurses at Sheba, who spared no effort in caring for this tiny boy.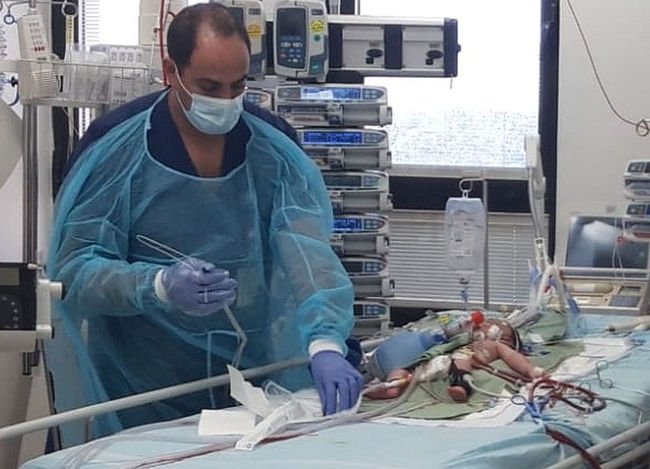 And I'm incredibly proud of our young coworkers from Germany, who have stepped in during these last weeks to stand by the side of Laith and his father and remind them that they are precious and loved. You can read Jakob's farewell blog for Laith
here
.
As Jakob waited and prayed with Laith's father in the ICU, coworker Yukako was just outside in the waiting room with the grandmother of two-week-old Jwan from Gaza. Jwan arrived at Sheba late Sunday night by ambulance, and went into surgery to repair her malformed aortic arch first thing Wednesday morning.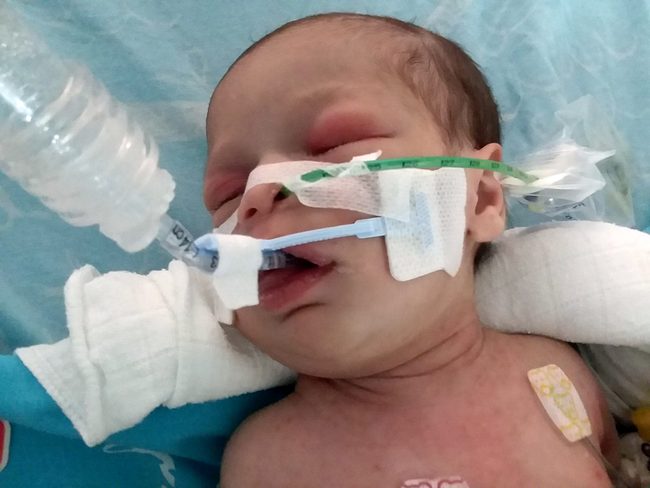 During the hours of waiting during the operation, Jwan's grandmother was well cared for not only by Yukako, but all the other parents from Gaza. They sat with her, brought her food and drinks, and fetched a phone charger for her—small acts of great kindness. Thank God, Jwan's surgery was successful. She had some complications in the hours after surgery and is now receiving medication to treat a possible pulmonary hypertensive crisis, but is stable and recovering: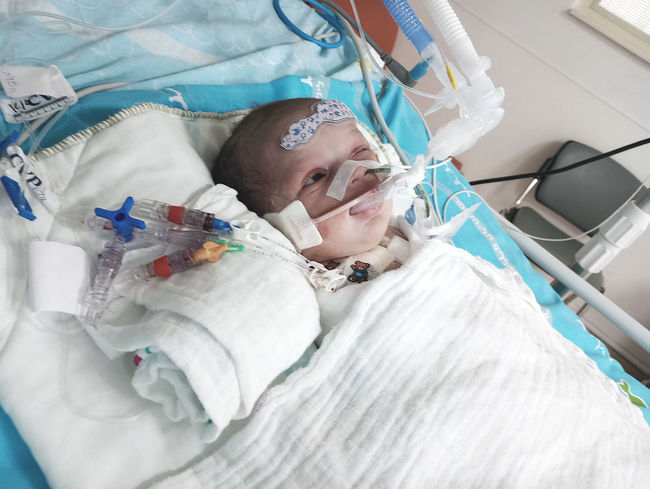 Two-week-old Ayub from Gaza arrived via ambulance last week and had surgery on Sunday to
switch his transposed great arteries
. The very next day Petra found him with open eyes and breathing on his own.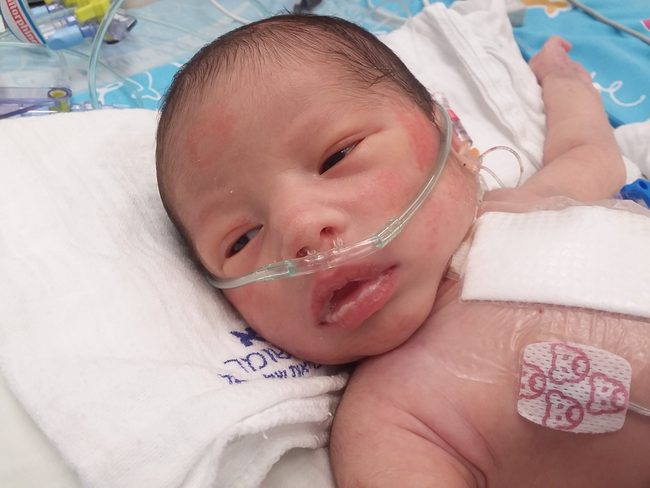 Ayub is already moved to the intermediate ICU and the doctors expect that he can go home to Gaza soon. Our new Swedish coworker Jonas was eagerly welcomed by Ayub's mother for a visit: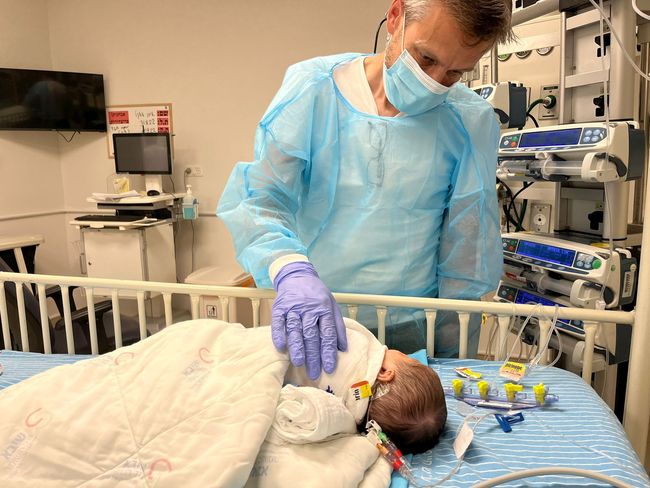 "You can tell that these daily visits from people who care about their wellbeing and their children means a lot to them," Jonas wrote.
Just yesterday another newborn from Gaza reached Sheba hospital for lifesaving surgery. Like Ayub, Jamal's great arteries are switched, and a surgery early in life will give him the chance to grow up and live a normal life: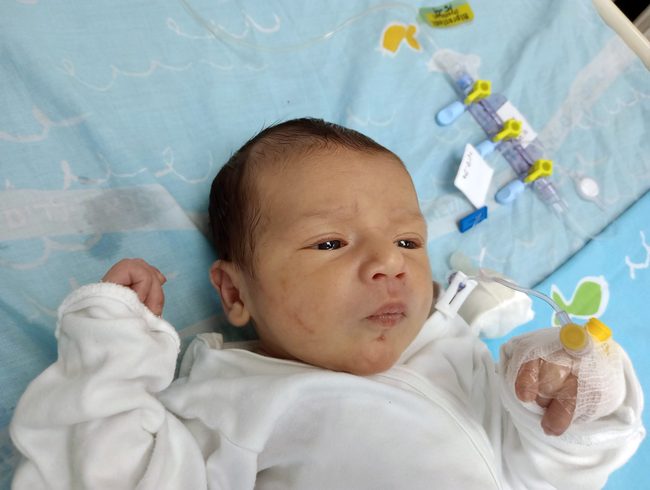 Please pray for him and his family as he begins his evaluations and treatment in the ICU at Sheba.
Tiny one-month-old Mohammed A.S. from the West Bank had a diagnostic catheterization on Tuesday in preparation for his surgery, which is scheduled for next week: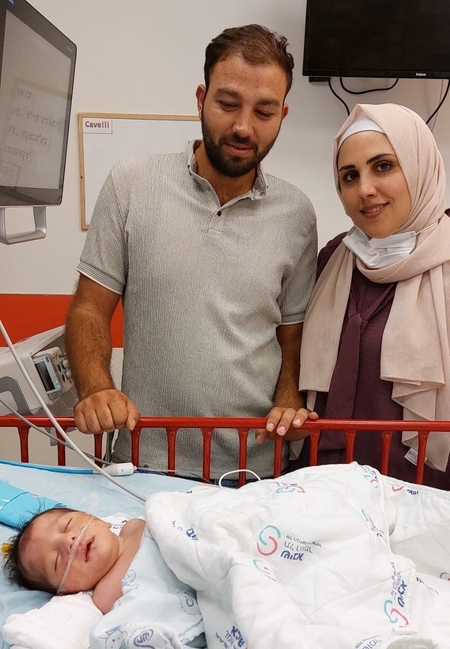 His parents were joined for the duration of the procedure by coworker Claudia (Amelie's mother) visiting from Germany. When I found Claudia with Mohammed's mother after the cath, I never would have guessed that they'd met for the first time just a few hours before. "Thank you for being with me," Mohammed's mother said in Arabic as she hugged Claudia.
"I'm praying so much for you and your baby," Claudia replied in English. With or without a shared language, these two were determined to show their love for one another.
Six-year-old Hamza from Gaza had surgery on Tuesday to place a pacemaker. He is recovering well and his heart rate has regulated with the help of his new device.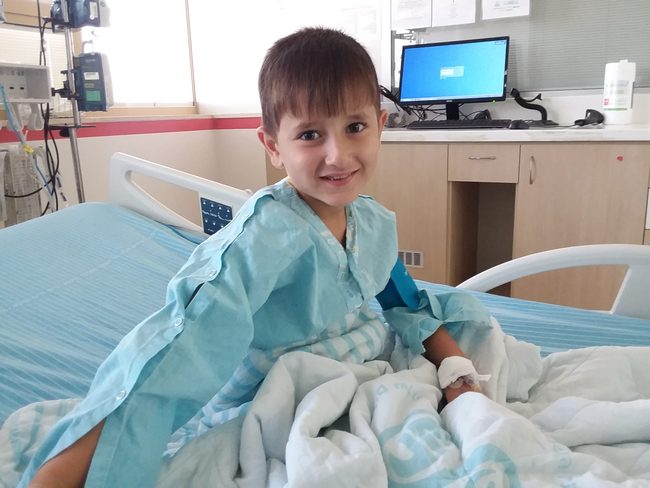 Hamza is a sweet boy with a big personality. We're excited to send him home today to his eagerly awaiting parents in Gaza.
Seven-month-old Maryam from Gaza is slowly growing stronger. She is gaining a little weight eating on her own, but the doctors have decided to place a PEG stomach tube next week to help her get the nutrients she needs. Additionally some tests show that her hearing is impaired and she may need cochlear implants in the future.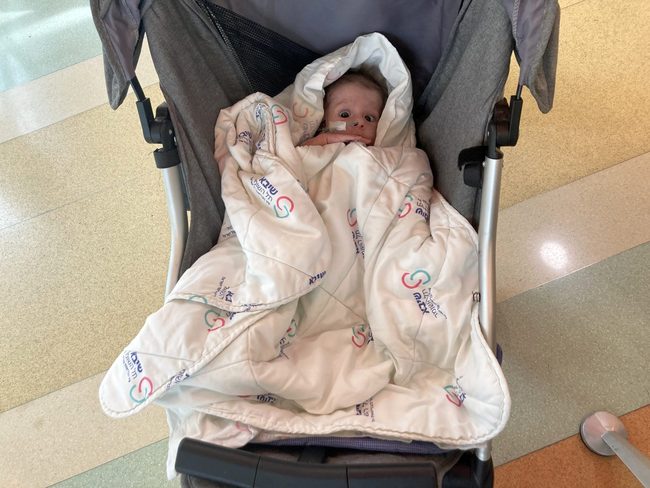 For now Maryam can often be found exploring the halls of Sheba hospital in her stroller with her grandmother. Please pray for her upcoming gastro surgery on Tuesday.
Our sweet Malak from Gaza was finally moved out of the ICU into the regular pediatric ward yesterday!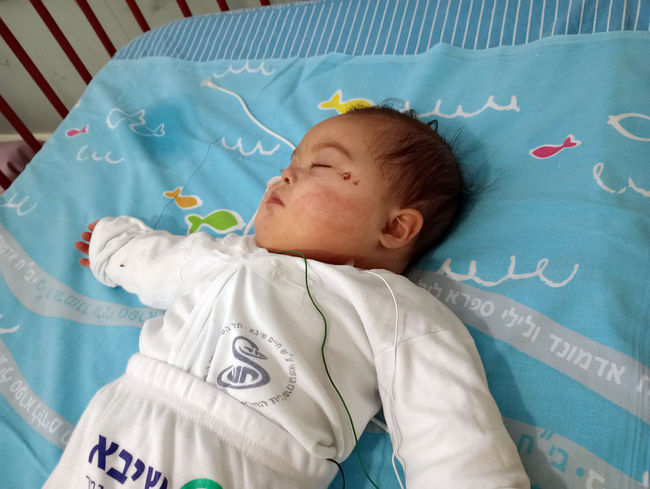 It's been five and a half weeks since Malak was weaned from ECMO heart-lung support, and while she has a long road ahead of her, we are grateful for slow and steady progress. Malak's grandmother arrived this week so her mother could return to Gaza for some much-needed rest at home. Thank you for your continued prayers for Malak and her family.
Please continue in prayer for little Somaia from Gaza. We are still searching and praying for a good place to continue to care for her on a ventilator. The hospital in Gaza has said that they cannot take her as her condition is too complicated.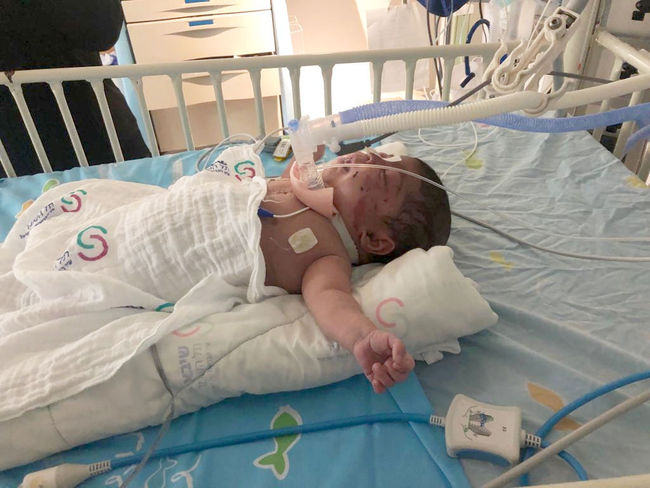 For now she is still receiving the best care in the ICU at Sheba. Pray for a good opportunity to become available for this precious baby girl.
Almost-two-year-old Lalo from Kurdistan had a follow-up echo at Sheba hospital on Monday. The report wasn't quite what his dad was hoping for.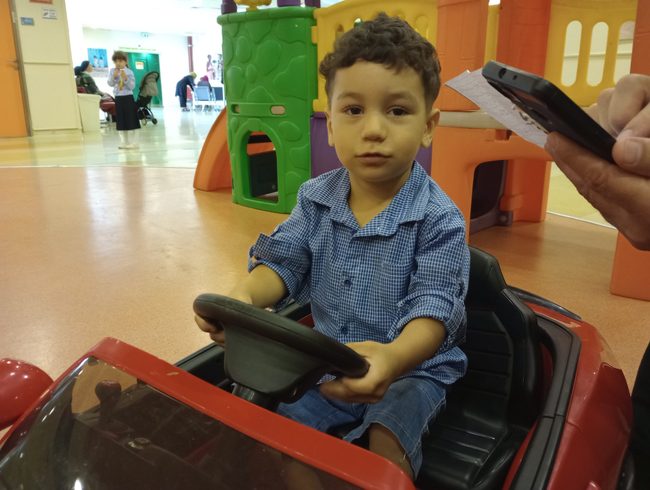 One branch of Lalo's pulmonary artery is still narrow, which is causing high blood pressure in his right ventricle. While this is not causing any immediate risk, Lalo's cardiologist does not want to send him home to Kurdistan just yet because she does not know how the situation will develop. She will see Lalo again on Sunday, at which point she will decide if he needs another catheterization. Pray for good results from Lalo's next echo and for patience and strength for his parents.
For two-year-old Ahmed and his mom, this week brought exciting and highly anticipated news. Ahmed's mom had been eagerly looking forward to his echo on Tuesday for two weeks, and she was more than a little nervous by the time we arrived at the clinic: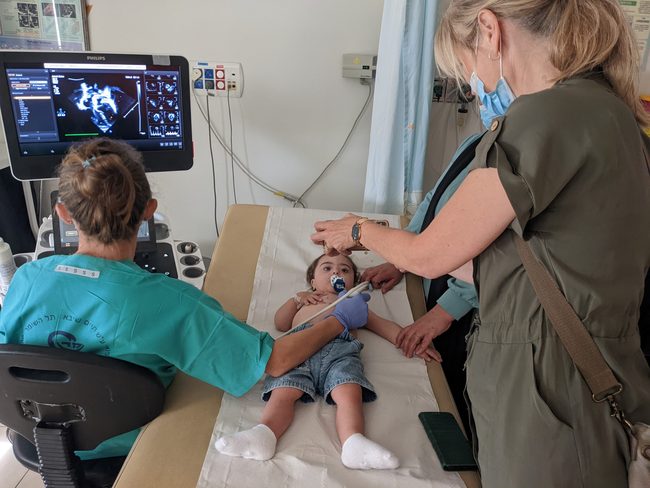 However the doctor's report after the echo was brief but exactly what she was hoping and praying to hear: "He's good, he can go home!"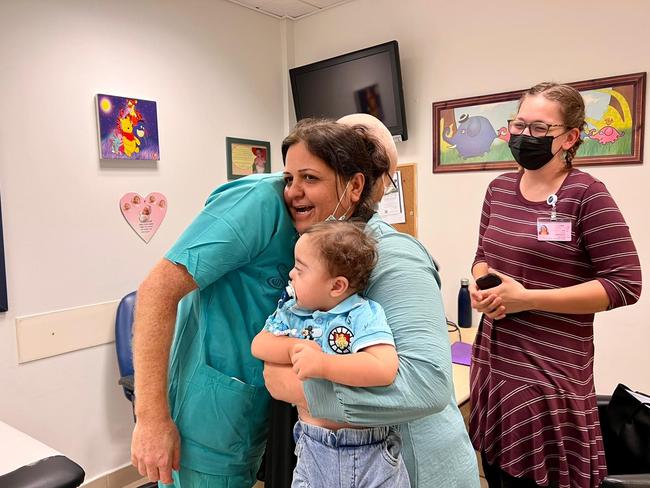 At this Ahmed's mom burst into tears of joy. "Thank you, doctor, and thanks to God," she said in Kurdish again and again.
Hoping to travel home with Ahmed are two-year-old Sohaib and his mother, who have been in Israel for over three months now. Sohaib will have another echo on Monday, at which point his cardiologist hopes to send him home to Kurdistan: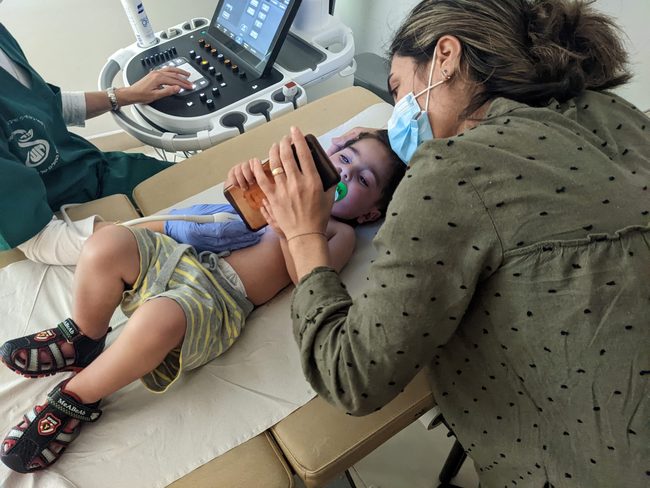 In the meantime, we are enjoying our time with him and his sweet mother, who takes every opportunity to show love to the other families and to all of us volunteers. Earlier this week, when she noticed a community member having a difficult day, she got right to work and cooked up a whole tray of french fries and salad to cheer her up.
It's remarkable what a difference such a small gesture can make. Sometimes it is the little things—gentle words in an ICU room, a visit and a hug, a plate heaped with food—that convey deep and tender love for one another. These deeds, though seemingly small, are not wasted; each one is an expression of love and kindness that brings honor and glory to our Father.
As I think about little Laith, who was nearly forgotten in a hospital in Hebron but who died only after every effort was made to save him, and as I look at the ever growing list of children like Jwan and Jamal arriving from Gaza for a chance to live, I am reminded of a beautiful song by The Porter's Gate that I'd like to share with you: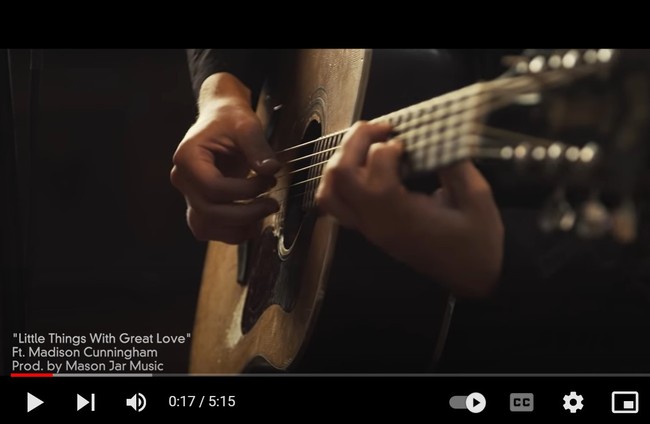 Oh, the deeds forgotten; oh, the works unseen,
Every drink of water flowing graciously,
Every tender mercy, You're making glorious.
This you have asked us: do little things with great love.
At that table of our Savior, no mouth will go unfed;
His children in the shadows stream in and raise their heads.
Oh give us ears to hear them and give us eyes that see—
For there is One who loves them; I am His hands and feet.
Thank you for joining us in prayer,
Bria for Shevet Achim