Friends,
Tuesday evening we had a big and long-awaited celebration in our house in Ashdod:


After three and a half difficult months in Israel, two-year-old Sohaib was finally cleared to return home to Kurdistan. Joining him were 11-year-old Lewan, who was discharged to Kurdistan just three weeks after her valve repair surgery, and two-year-old Ahmed, who was discharged last week.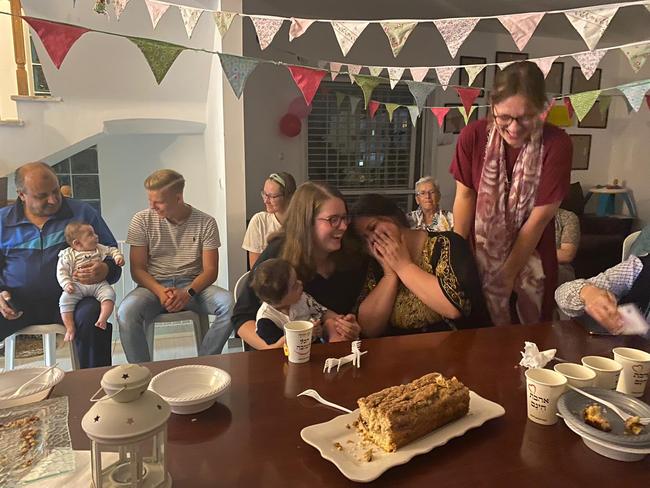 It was quite a celebration, with the main room of our family house crowded with volunteers and families and filled with an atmosphere of joy and thanksgiving. "You all have been my family here," Sohaib's Yazidi mother told us in the Arabic she's learned and practiced during her months here!
It's been a long and difficult journey for Sohaib, and we don't take for granted the gift of sending him home happy and healthy.
The next day we drove off to the airport with a car full of three families, two volunteers, and plenty of suitcases:
The same spirit of joy and excitement from the party continued the whole drive to the airport. "Are all the families going back to Kurdistan so excited?" Ahmed's mom asked me and Doro, half-shouting over upbeat Kurdish dance music.
"No," we admitted, "they're always happy but you all are really happy."
"I knew it!" she exclaimed, and turned the music up.
At the airport we said goodbye to these children and mothers who have become so dear to us, wishing them all the best and promising to stay in touch.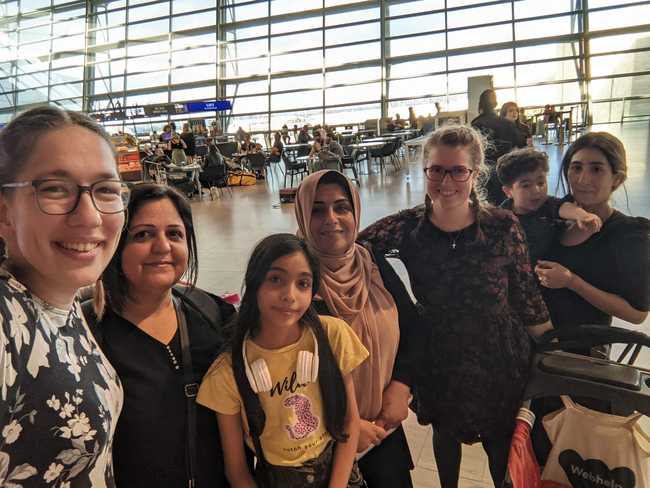 We then made our way to the arrivals gate, where we welcomed two new arrivals from Kurdistan: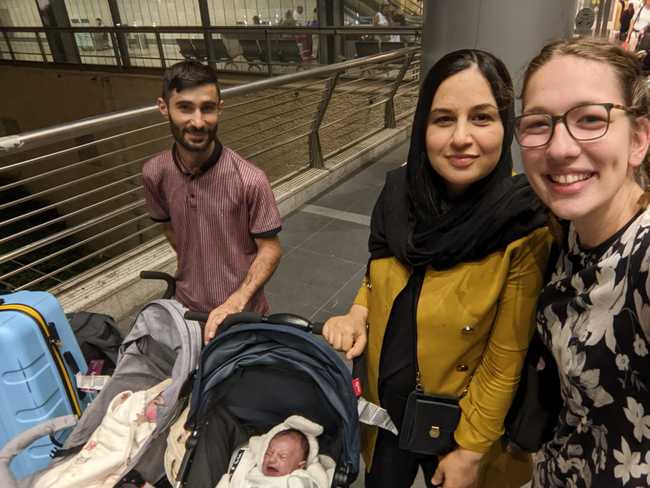 Hazhin
 and 
Lawik
 both have transposition of the great arteries, and need surgery urgently in order to live a normal life. They will have their first appointments at Sheba hospital after the Rosh Hashanah holiday ends Tuesday night. For now they are enjoying some rest and getting settled in to our house in Ashdod. Please pray for these two tiny, beautiful babies as they begin their treatment in Israel.
Newborn Kamel clung to life for several days in Gaza this week with help of a special medication to keep his oxygen levels up, until space finally opened in Sheba's ICU Wednesday. We rushed him to Israel in an ICU ambulance, where he was put immediately on a ventilator.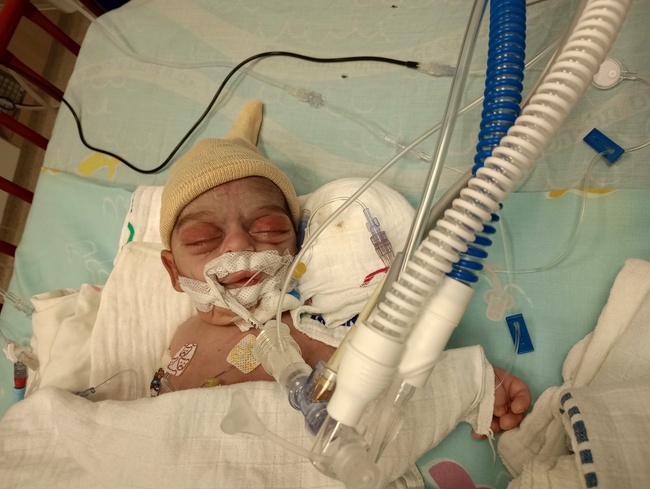 Just before the start of the five-day holiday weekend, he had a balloon dilation of his pulmonary valve yesterday to allow oxygen to reach his body. He is now stable in the ICU and doctors are watching him closely. They expect him to do well.
Tiny Mohammed A.S. from the West Bank had surgery on Sunday morning to treat his complex heart. The doctors initially thought that half his heart was beyond repair and instead they would need to proceed with the difficult three-stage process to reroute blood from Mohammed's body straight to the lungs. However doctors at Sheba were able to close the holes in his heart and repair a malformed valve in the left side of his heart: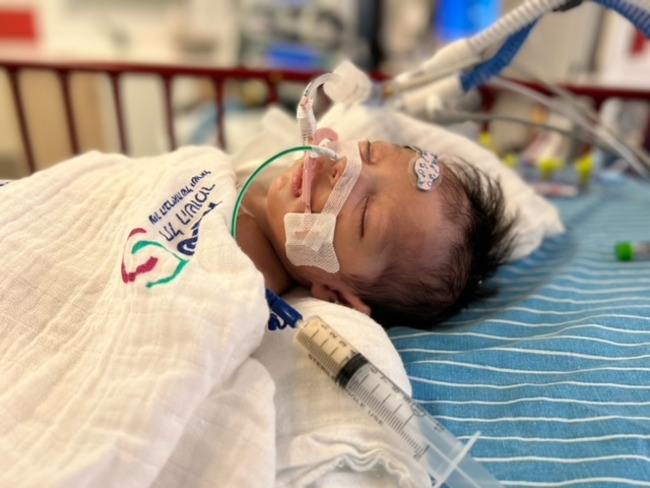 They hope that now his heart will be able to function normally. Mohammed is now breathing on his own and making a good recovery. He is in the care of both of his parents at Sheba, and our coworker Jasmine found his mother full of gratitude yesterday: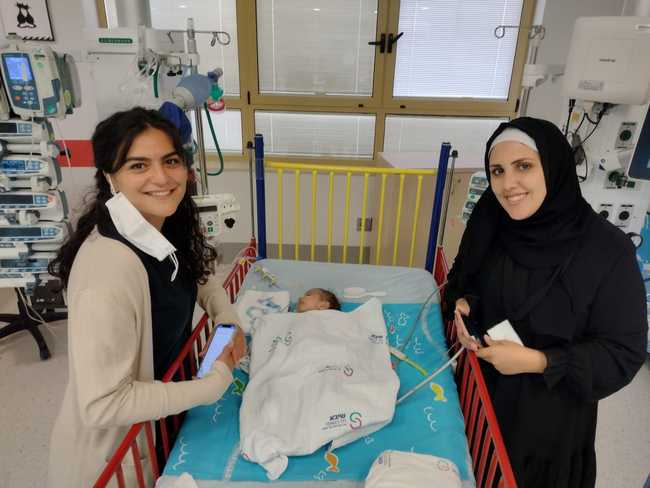 Please continue in prayer for this sweet little guy and his family.
Our good friend Lalo from Kurdistan had another interventional catheterization this week. The doctors dilated the stent in the right branch of his pulmonary artery and placed a new stent in the left branch. They were pleased to see Lalo's blood pressure improve immediately after the procedure, and he was discharged to Ashdod the next day: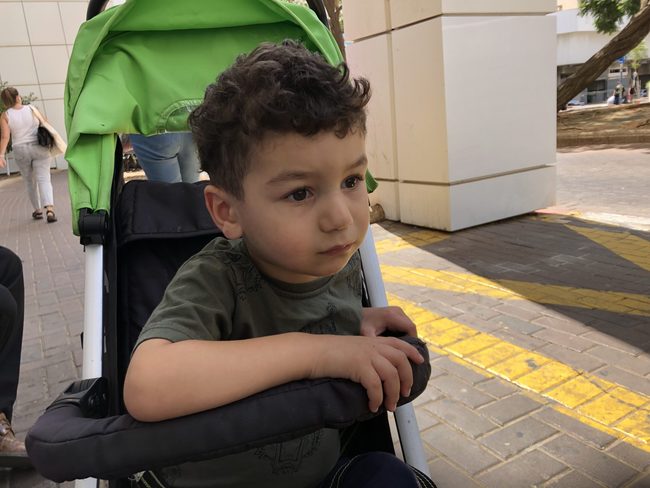 He will see his cardiologist again in another couple of weeks after his heart has had some time to adjust. Lalo's dad is hoping that after the next echo, they can go home to their family in Kurdistan; please pray for good results from the next check-up.
Tiny frail Maryam from Gaza had surgery on Tuesday to place a PEG tube. This will allow her to receive nutrients directly to her stomach, and the doctors hope this will help her to gain weight and grow stronger.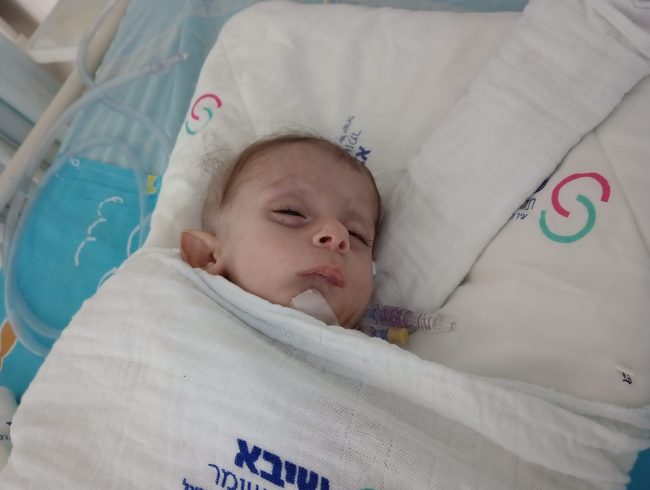 Yukako waited with her grandmother during the operation and shared a beautiful report:
When coworker Gustav and I visited her room after the surgery, she was already awake, moving her tiny hands and legs, and staring at us with her big eyes as usual. "Maryam is strong," whispered her grandma by the bedside to us in English, and indeed God has given Maryam strength to go through a series of surgeries.
After struggling with pulmonary hypertension after surgery, three-week-old Jwan from Gaza is breathing on her own and on her way to recovery. She has been moved into the intermediate ICU and is slowly starting to eat on her own as well.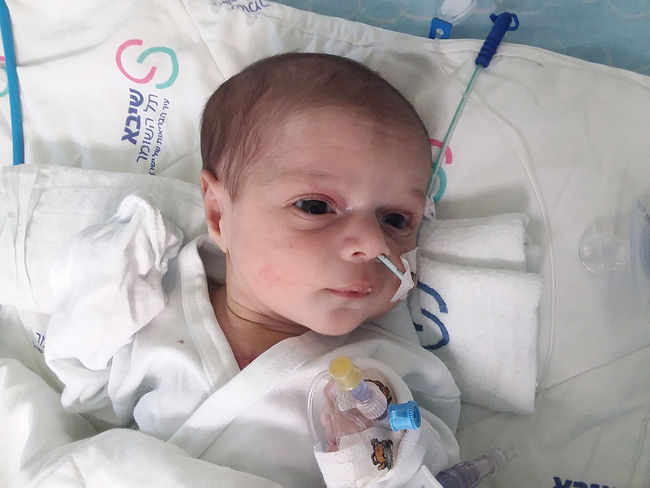 "I got to hold her little hand for a few minutes—her fingers are so, so tiny!" Petra wrote. "It is amazing to see God's perfect handiwork, his image reflected in each tiny feature. This baby girl is precious in His eyes, and He has done a great work of healing in her."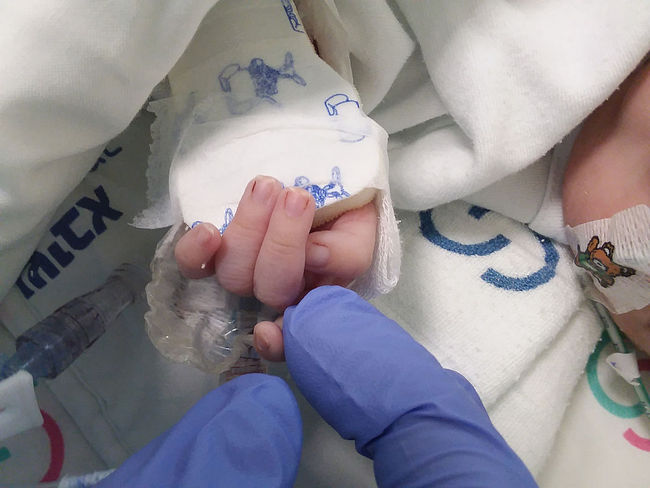 Likewise, what a great work of healing God has done for tiny
Ayub
, who was cleared to return home to Gaza on Monday. This came just eight days after the big surgery to switch his transposed great arteries: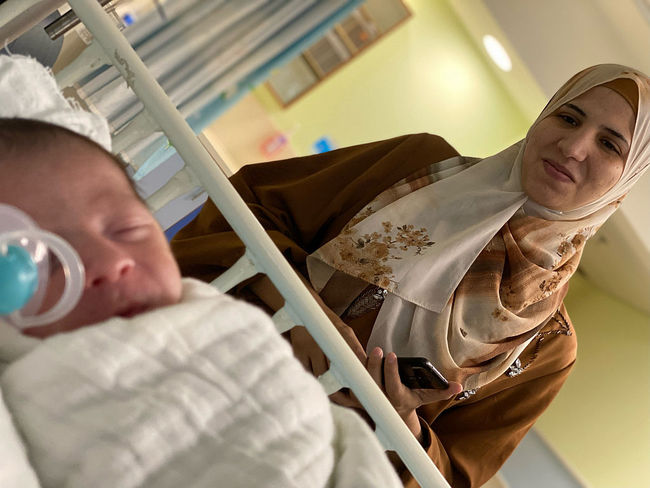 We'll see Ayub again in a month when he comes back for his first follow-up appointment. In the meantime, pray for growth and continued recovery for him back home in Gaza.
Sweet Malak from Gaza is still having some trouble feeding by mouth. On Tuesday, she had a videofluoroscopy—a video x-ray of her mouth and throat while she eats—to help the doctors understand why she is struggling.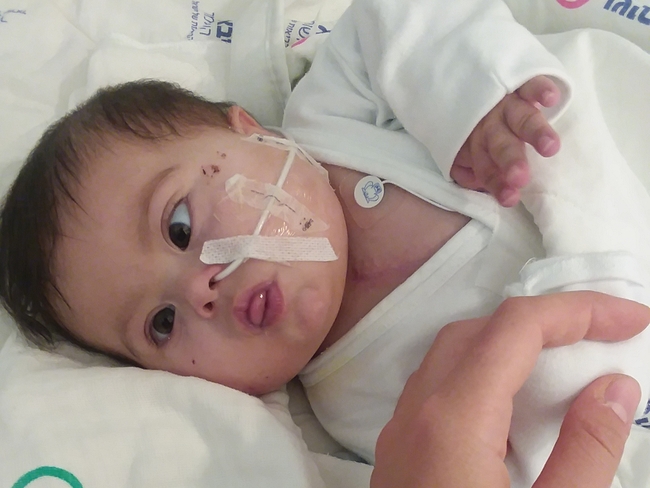 Her doctors will review the video in the coming days and make a plan of treatment. It is possible that Malak will need a PEG tube to ensure that she gets enough nutrients, but the doctors hope she can learn to eat on her own so this will not be necessary. Please pray for progress for Malak.
Pray also for little Somaia, who seems to be facing some neurological challenges. Lately she has not even been trying to breathe on her own, and had to be resuscitated a few days ago. The doctors suspected she was having seizures that stopped her from breathing. An EEG showed that she is not having seizures, but that her brain function isn't normal. They need to do a few more tests to determine the cause of the problem. Somaia's road has been a long and difficult one and she still has a long way to go. Please pray for her, her doctors and nurses, and her cheerful aunt Fatima who is by her side: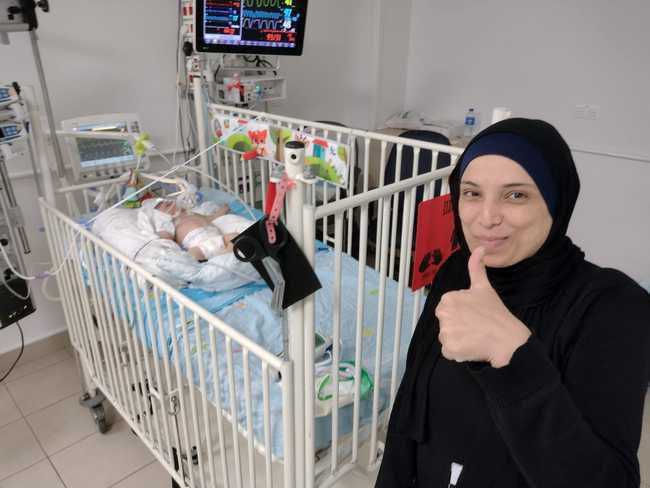 Newborn
Jamal
 from Gaza is still awaiting surgery at Sheba hospital to switch his great arteries. His operation was scheduled for this week, but was postponed at the last second due to an emergency surgery for another child. For now he is stable, but his grandmother is getting a little anxious.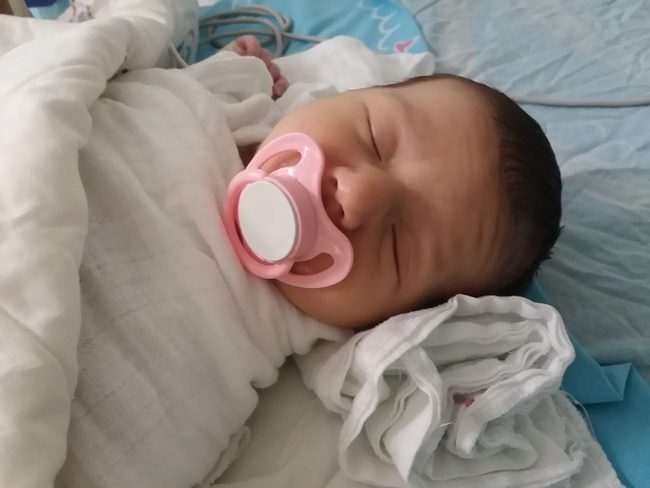 Jamal's surgery is now scheduled for Wednesday after the holiday. Pray that Jamal will remain stable over the weekend and holiday and for a good surgery next week.
Last but not least, we had another special celebration this week. Handsome little Kenan, who doctors in Gaza expected to live only five days, had his first birthday on Wednesday. He's staying with us in Ashdod while he waits for surgery, and his sweet mother was so excited to celebrate his birthday with us: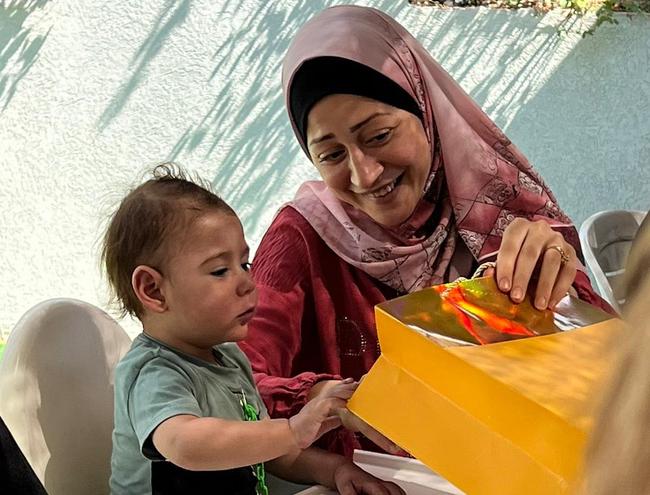 Since he first arrived at Sheba in February, Kenan has made quite a few trips here for appointments, scans, and procedures, which has given us lots of time to get to know him and his mother. They are both dearly loved friends of our community and we're so glad to celebrate such a big day with them.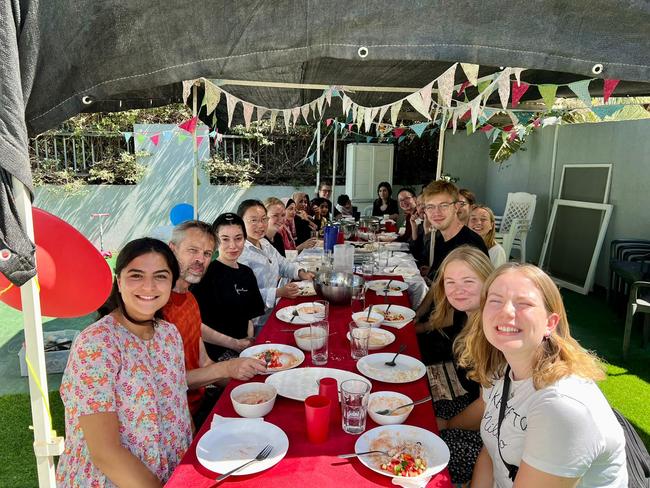 We've had a very full house this week, as we had six young Danes with us who are exploring the different ways that believers serve God and neighbor in Israel. Their enthusiasm, testimonies, and hearts for the Lord have been a huge blessing to us. An extra special gift was worship led by them, complete with a song in Danish.
Lead me, Savior, by your grace, even when I would rather go my own way
Place me where I can be a help and let me never forget
That I'm here to serve you.
What a perfect song to end a busy week at Shevet. And what a beautiful reminder for each of us, no matter where we are, that we are servants of our heavenly king and all we do is by his grace alone.
Thank you for joining us in prayer,
Bria for Shevet Achim