Dear coworkers,
You may be shocked to see Shevet Sunday arriving 6-8 hours ahead of schedule this week. The first of the high holy days–the Feast of Trumpets/Shofars–begins here at sunset, a day of Shabbat rest about which the Torah says to the Jewish people (and to the strangers living in their midst): "You must not do any ordinary work."
We've had rich discussion in our community the last few days on the significance of these feasts–and of the Torah itself–for Gentile believers, in the light of key passages such as Acts 15. These issues which seem so esoteric on the pages of our bibles find new relevance when one lives and works among the Jewish people. We're grateful to be here.
And so grateful to have 48 hours of obligatory rest coming up! The last week was so full and so challenging. I won't even try to describe it, but highly recommend that you see Bria's Shevet Prayer letter which is packed with videos, pictures and info that brings it all to life. There's an option there to subscribe if you're not already receiving the prayer letter by email.
I'll just share one personal highlight of the past week. 24 years ago my young family and I were living in a refugee camp in the southern Gaza Strip. We went to be a presence for Messiah there, and in turn we learned so much from our caring and generous neighbors.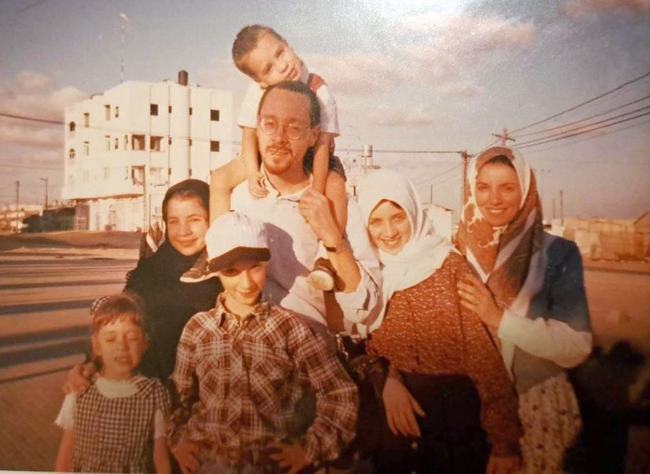 One of those families had a newborn baby girl named Sawsan with a heart defect. Thank God he already in those years was joining us in partnership with the people of Israel to bless their neighbors. Baby Sawsan's life was saved by surgery in Israel, and this week she came out again for examinations, in preparation for the birth of her own first baby next month:
Jerusalem's on high alert today as the holidays start, and thousands of Jews will be ascending the Temple Mount, more than at any time since Herod's temple was destroyed in the first century. Two of our visiting Muslim families also went up to see the Dome of the Rock this week before returning to Kurdistan. At their farewell party I mentioned two things that have power to bring us together. One is saving a child's life; everyone seems to agree that this is good and necessary, and is willing to put aside the things that normally divide us and work together.
Another great uniter is that rock on the Temple Mount. One of the two great Muslim holidays (Eid Al Adha) commemorates the ram that was given on that rock so that Abraham's son could live.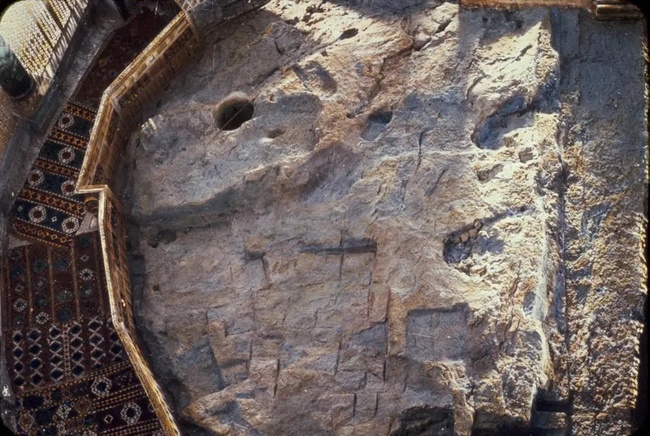 The same rock was by some accounts situated within the Holy of Holies, into which the high priest would enter once a year on Yom Kippur, the upcoming Day of Atonement. And Messiah came to that same mount, on which Abraham said "the LORD will provide," and offered up himself as atonement for our sin. If there's one thing all flesh has in common, it is our need for atonement. We cannot make things right by ourselves!
A similar longing for redemption and unity is expressed in an essay this week by a Jewish tour guide, after taking his community bar/bat mitzvah class to "The holy mountain" :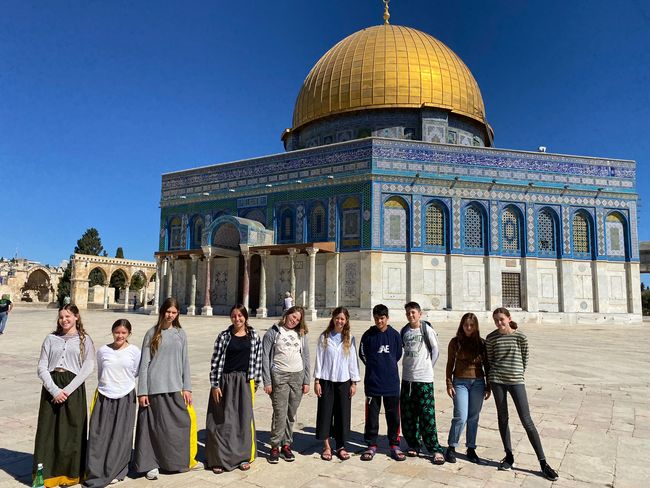 The kids loved it. They dressed modestly, were quiet, scrupulously polite, and cautiously fascinated, snapping pictures, listening to explanations, and taking in the sanctity of the place in a way that only a first-time visitor can. One feels very small in a place like this. These stones have borne witness to so much history, so many prayers, so many tears, and unfortunately, so many battles. I know that there are Muslims who believe that I have no business visiting here, and there are Jews who believe the same of them. I do not want to engage in a game of historical whack-a-mole about such a sacred spot. I want to feel at one with the Creator and with my fellow human being and dream that what has been broken can be repaired.
Perhaps the physical Temple need not be rebuilt, but if this mountain can become a place of universal pilgrimage, of shared narratives among different peoples, of looking beyond our tribe to the miracle of our life in this world, it will be an act of rebuilding even greater than Herod's.
In stark contrast to this uniting vision, Jordan's King Abdullah II told the UN this week that "Christianity in the Holy City is under fire," and "the rights of churches in Jerusalem are threatened."
Author Joel Rosenberg has had numerous meetings with the king, whom he considers a friend. You won't want to miss his response to the king's claim:
With respect, the king is mistaken.
To be sure, some priests of historic Christian denominations have issued statements saying they are under frequent and sustained attack by radical and fringe Jewish groups.
But such "warnings" are so overblown that it's hard not to think they are issued in a spirit of political attack against Israel, aimed to harm Israel's reputation in the international community, particularly among Christians around the world.
Have there been occasional attacks on churches and Christians in Jerusalem and elsewhere in Israel?
Yes.
Must Israeli authorities always be vigilant and remain pro-active in protecting its Christian minorities?
Absolutely.
But to declare that "Christianity in the Holy City is under attack" or that the rights of Christians anywhere in the Holy Land are "threatened" is simply not accurate.
I can personally testify as an Israeli Evangelical who lives in Jerusalem that religious freedom and safety here is second to none in the whole of the Middle East.
Yesterday Michelle and I were privileged to witness a large gathering of Ethiopian Christians at their Church of the Virgin Mary in Jerusalem, and we had exactly the same thought.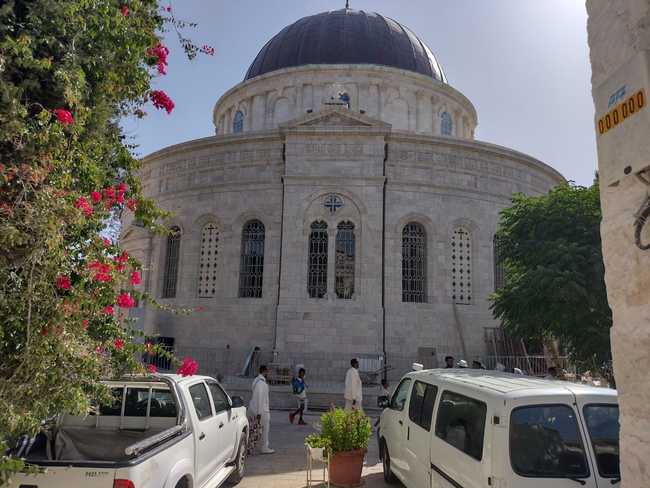 In a compound right in the middle of the ultra-orthodox Meah Shearim neighborhood, hundreds of Ethiopians in their beautiful white robes felt right at home to worship with peace and joy.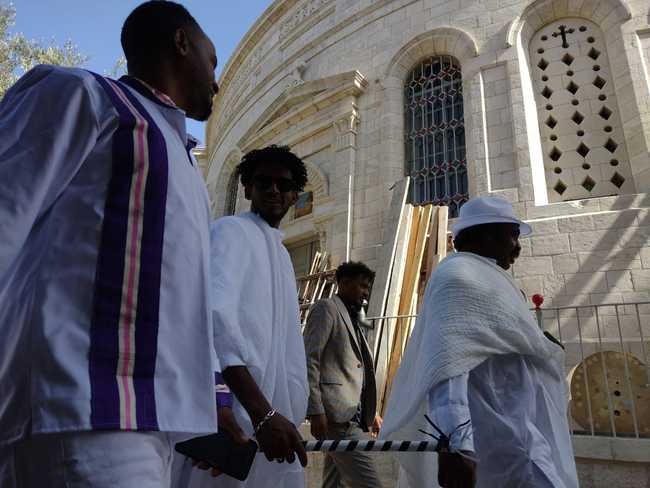 We even asked "Don't your neighbors ever bother you?"
Our Ethiopian friend seemed puzzled by the question. "No."
In New York, street harassment, minor assaults, and even full-on beatings of visible Jews are almost a banality now, too frequent over too long of a period to be considered an active crisis, even in the communities most affected. The city reported a 76% year-over-year rise in hate crimes during the first three months of 2022—attacks on Jews more than tripled, accounting for much of the spike…
Even the Jews who do report what are obviously identity-motivated crimes against them can be treated with a revealing indifference. In June, 26-year-old Yizchak Goldstein was sucker-punched on East 33rd Street near Park Avenue at around 1 p.m. Goldstein, who was visiting from Miami, was wearing a kippah, unlike his nearby cousin. The attacker didn't run off. "He squared off to fight," Goldstein said. "He wasn't afraid of the cops—he literally joked to me, call 911 … he was so confident." When Goldstein did call the police, he discovered that the assailant, who had disappeared down the crowded street at a walking pace, was right not to be worried. The officers told Goldstein that they could not treat the assault as a hate crime because the attacker didn't say anything antisemitic to him.
What are the real roots of the shocking increase in anti-semitism in American life? A clue this week in the comments of congresswoman Rashida Tlaib:
Tlaib recently said, "I want you all to know that among progressives, it has become clear that you cannot claim to hold progressive values, yet back Israel's apartheid government."
This is quite bad enough, but Tlaib has often made it plain that she considers not just the Israeli government but the existence of a Jewish state itself as a form of apartheid. Her meaning is clear: If you support Israel's existence as a Jewish state, you're out of the club. Pro-exile Jews like the members of Jewish Voice for Peace are permitted entry. But when it comes to others, Tlaib decides whether they are Jews.
Even more ominously, Tlaib pledged to conduct a purge of any Zionist members of the progressive movement, saying, "We will continue to push back and not accept this idea that you are progressive, except for 'Philistine,' any longer."
American Jewish progressives should take this threat extremely seriously. Left-wing movements are very, very good at purges, and have ruthlessly conducted them since the left's birth in the French Revolution. Moreover, Tlaib is hardly alone. She is a member of The Squad—a group of congresspeople considered rock stars among progressives—and has strong allies throughout the movement. The purge will definitely be attempted.
Let's keep in mind Niemoller's axiom:
Then they came for the Jews
And I did not speak out
Because I was not a Jew
Then they came for me
And there was no one left
To speak out for me
And for a shocking demonstration that state power can and will be directed against humble believing Christians, look no further than Friday's news: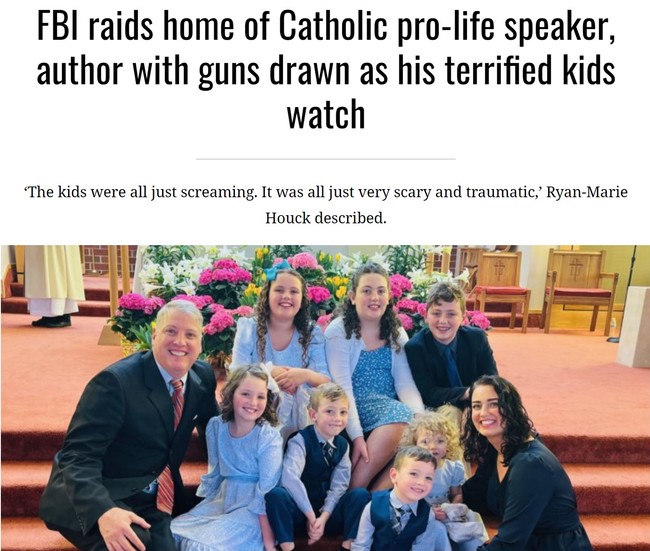 America has been such an ahistorical oasis of religious freedom that most of its Jews could hardly imagine being forced to leave. Another stronghold of diaspora Jews who have held out against the prophesied regathering to Israel has long been found in Russia and Ukraine. With recent intensification of the fighting there, this week's introduction of mandatory mobilization in Russia, and more open threats of the use of nuclear weapons, Israel is preparing for a massive wave of immigration:
Government officials held an emergency meeting Thursday to gear up for a possible spike in immigration to Israel from Russia, after President Vladimir Putin decided to mobilize another 300,000 troops in a move that sparked protests across the country.
Immigration and Absorption Minister Pnina Tamano-Shata cited an increase in requests to immigrate from Russia and said she was keeping tabs on the Jewish community there.
"We are doing everything in our power to help them reach us here in Israel safely, despite all the challenges that stand in their way at this time," she told the Ynet news site.
"My ministry is preparing for a massive absorption" of immigrants, she added.
Friends, it all makes me glad about where we've been called to serve. For years I've told Middle Easterners who'd like to relocate to the US that the future is more certain here in Israel!
Have you also felt called to help prepare the way in our generation? Our friends at the newly-established Jerusalem Seminary are accepting students over the next two weeks for a new round of online courses. You can learn with Petra Heldt about "Biblical and Messianic Feasts in Early Christian Traditions," or a "Theology of Israel" with Gerald McDermott (one of the few widely-respected theologians to affirm that the ongoing ingathering of Israel is in fact the fulfillment of biblical prophecy). And if you've wanted to get started on Hebrew an excellent start is "Biblical Hebrew as a Living Language."
Finally, we said goodbye this week to our coworker Yukako from Japan, who took a break from her own Middle Eastern and Hebrew studies to work with us this summer in Ashdod: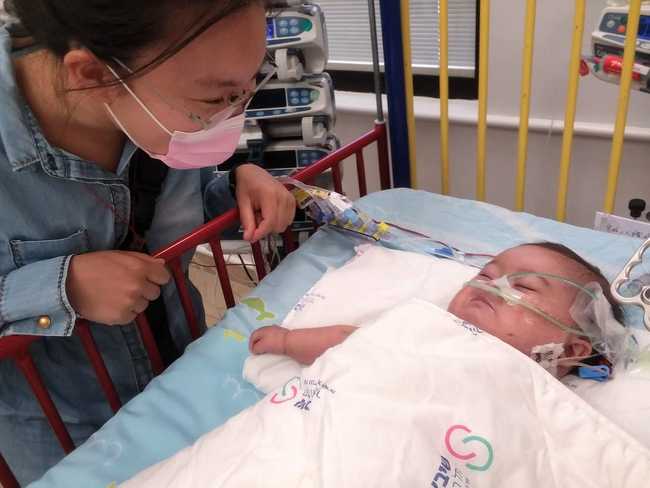 She served with dedication, respect and gentleness, and is much-loved both by our community and by the families we serve.
Truly our Father is making one family out of all the tribes of the earth.
Jonathan for Shevet Achim
"Behold how good and how pleasant it is for brothers to dwell together in unity" (Psalm 133).