Friends,
It was the middle of a quiet holiday evening Monday when one-year-old Kenan's mother knocked on the staff house door with her little boy in her arms. He has for some time now been having brief episodes of oxygen denaturation, but this time she knew something was wrong. Kenan's heart rate was far higher than usual and he was struggling to breathe.
Thanks to Rosh Hashanah there was almost no traffic on the highway to Tel Aviv, so it didn't take long to get Kenan to the emergency room at Sheba.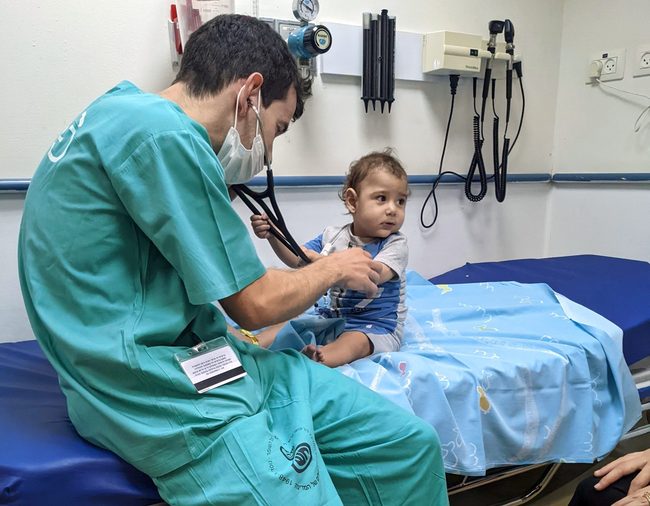 There the doctor decided almost immediately to admit him for observation so his cardiologist could investigate the cause of his difficulties. Kenan had by this time completely recovered from his episode and was having the time of his life exploring the emergency room.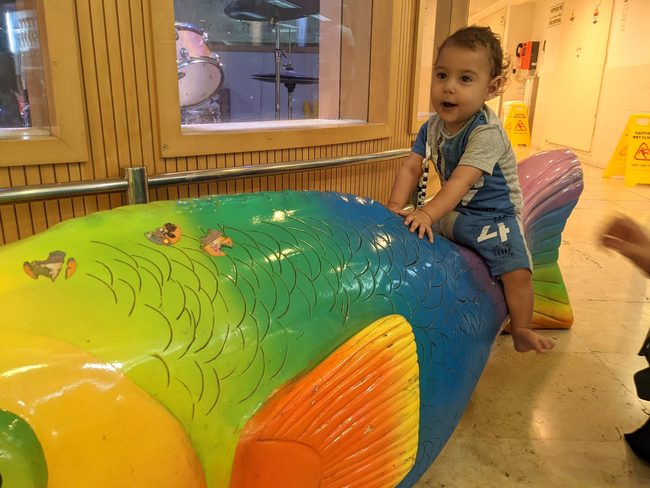 Kenan was admitted to the pediatric ward and this afternoon went into his second surgery needed to repair his complex heart. He was in the operating room all afternoon and into the evening, while Doro and Petra waited and prayed with his mother outside the ICU.
Nearly eight hours after kissing him goodbye outside the OR, Kenan's mother could finally go into his ICU room to see her little boy.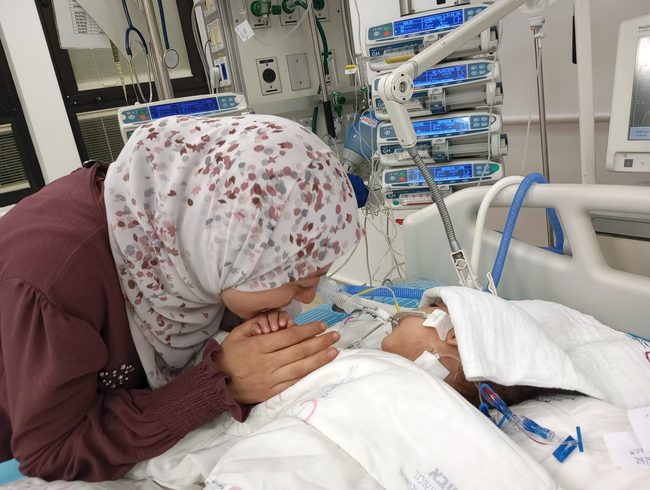 Thank God, his surgery was successful and he is stable. Please join us in prayer for this sweet little guy and his mom as he recovers.
Newborn Jamal from Gaza finally had his surgery on Wednesday to switch his transposed great arteries: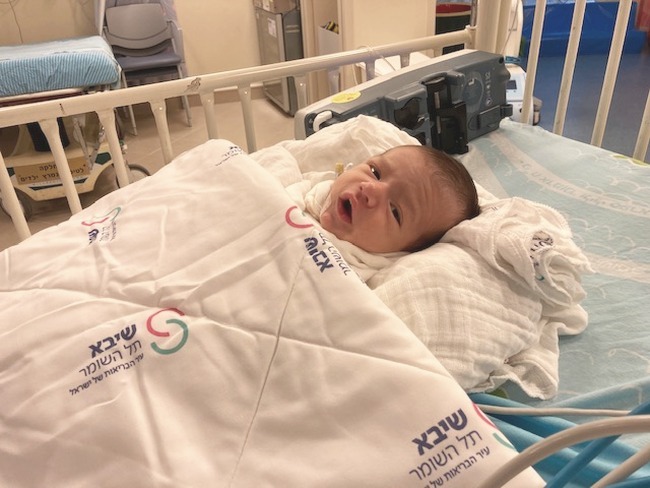 The operation took five and a half hours and he came out of the operating room with his chest still open, but he is stable, thank God.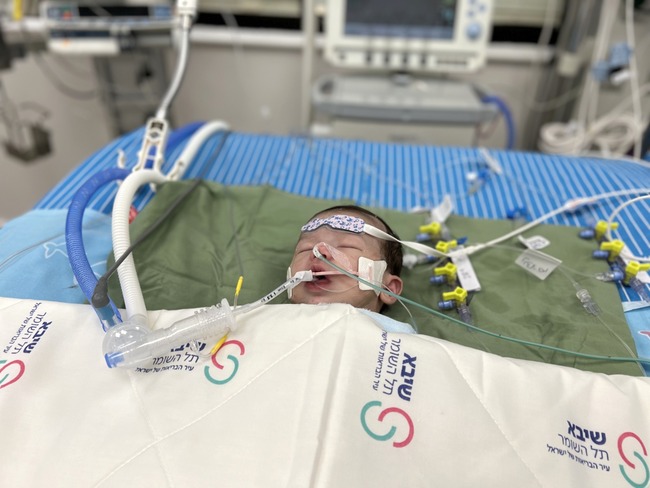 The doctors plan to close his chest in the next few days and are hoping to wean him from adrenaline and hemodynamic support soon, but he's not quite ready yet. Please pray for continued recovery for Jamal.
Tiny Kamel from Gaza and his grandmother received a mix of news this week. Kamel developed an infection over the weekend, which has now developed into sepsis. Additionally he was briefly extubated today, but went back on the ventilator a few hours later after he stopped breathing: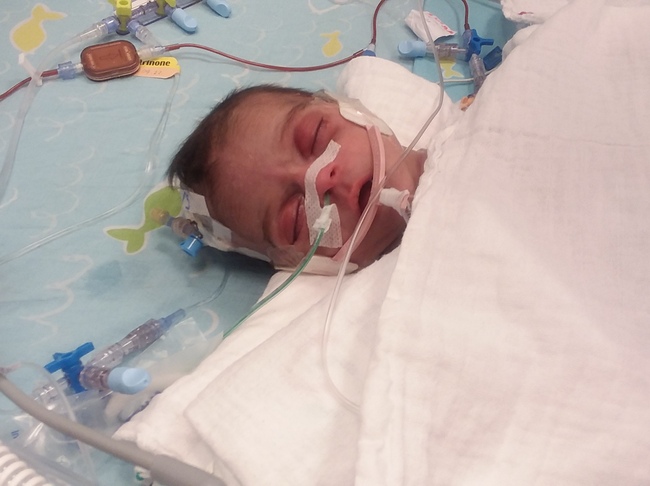 He needs a little more time before he's strong enough to breathe on his own, and to fight off this infection. However, the doctors are pleased with the condition of Kamel's heart, and discovered that his catheterization last week was sufficient to treat his pulmonary atresia—meaning he won't need surgery after all! This is exciting news for him and his family. Pray for a full recovery.
Mohammed A.S. from the West Bank is making good progress in his recovery from emergency heart surgery. He was moved into the intermediate ICU this week, and the doctors are waiting for him to gain some weight before he is ready to go home. Mohammed's mother is excited to finally be able to hold her sweet boy and feed him herself: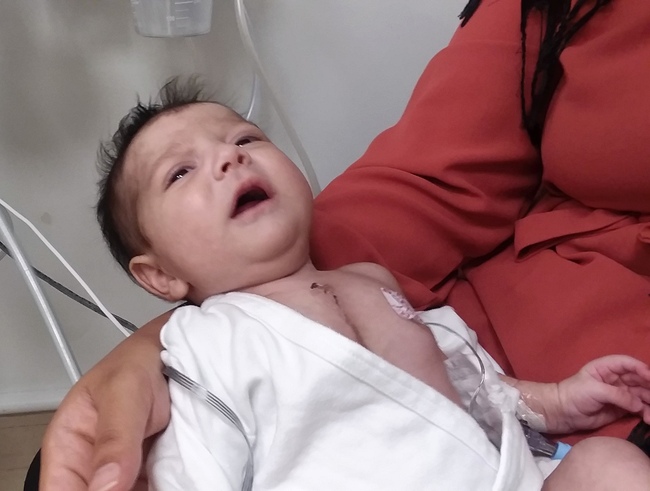 Maryam
 from Gaza is at last out of the ICU and in the pediatric ward! Her grandmother is always happy to welcome visitors, and is getting to know each of us as the weeks go by: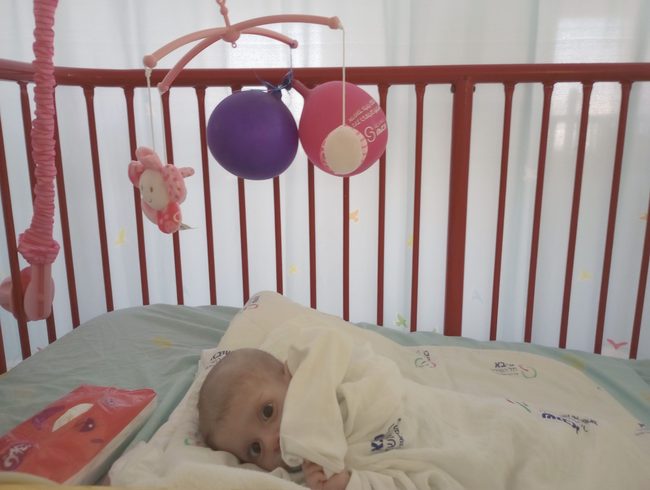 Maryam is adjusting to her new feeding tube, though not gaining as much weight as the doctors hoped. The doctors want to monitor her progress for another week or so and possibly make arrangements for a feeding pump for her before releasing her to Gaza.
Baby Malak's nasogastric feeding tube is the only thing standing between her and the journey home. The results of her videofluoroscopy last week have come back and the doctors see that she can eat soft foods like yogurt, but they may want to repeat the test once more before giving her milk by mouth.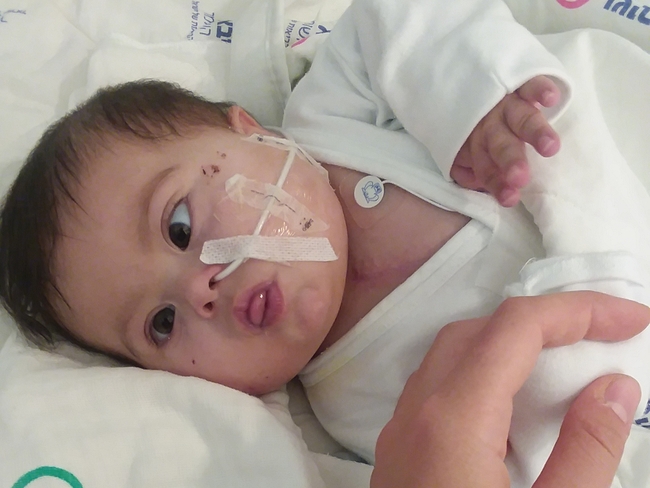 Malak's mother returned to Sheba this week to take her mother-in-law's place caring for Malak. A specialist will examine the results of the videofluoroscopy on Sunday, after which Malak's mother is hoping they can return home to Gaza.
Little Somaia from Gaza began to have trouble breathing again on Sunday and received increased support from an enhanced rapid ventilator for three days before returning to the regular ventilator. She was sedated for those three days but is now waking up slowly: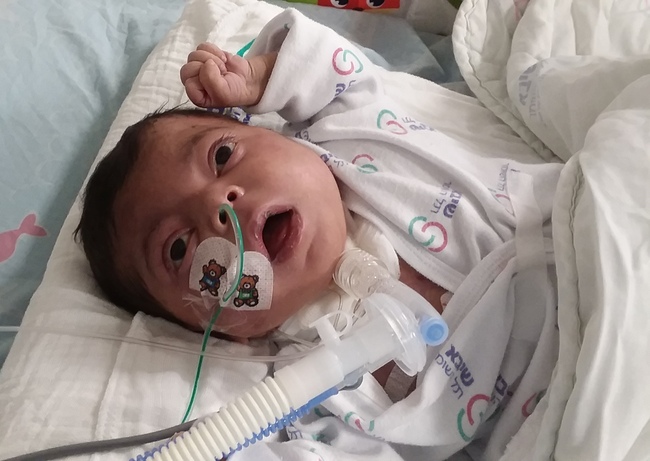 Doctors are concerned that she is not waking up fully and responding normally. Somaia's aunt is feeling a bit discouraged and anxious; please continue in prayer for her as well as Somaia.
Our good friend two-year-old Sanad from Hebron was rushed back to Sheba hospital from a hospital in the West Bank on the eve of Rosh Hashana Sunday night, just over a week after being discharged from Sheba. After leaving Sheba Sanad had developed pericardial effusion (fluid buildup in his chest) and was hospitalized in the ICU near his home: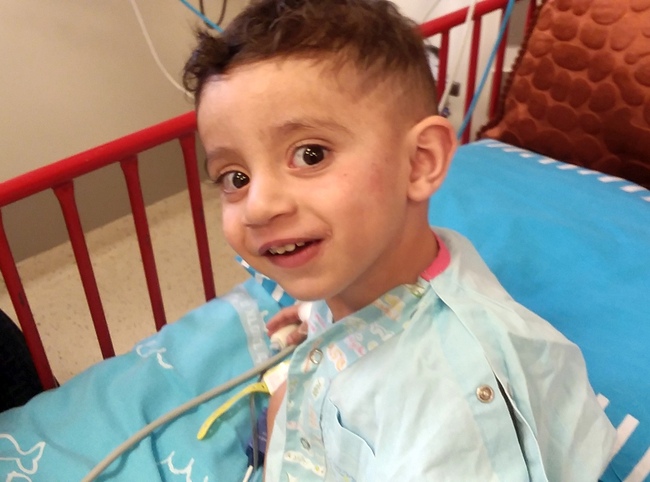 This morning he had a catheterization to dilate his pulmonary arteries. The doctor was pleased to announce that the procedure went perfectly, and Sanad is now awake and recovering in the intermediate ICU.
Meanwhile little Jwan from Gaza was discharged from Sheba hospital yesterday, two weeks after her big surgery: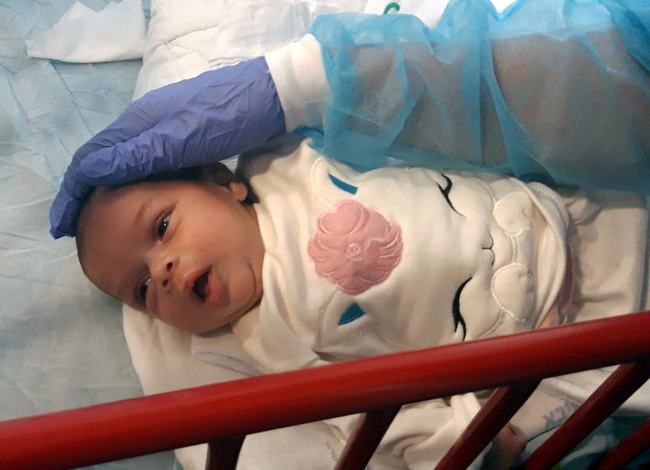 Petra wrote in Jwan's discharge blog, "Her surgery to repair the coarctation of her aorta and patch a hole in her heart was successful, and even though she had a bit of trouble afterwards, God brought her safely through it all." We are grateful for God's work in Jwan's life, and we pray for safety and continued growth for her back home in Gaza.
Our sweet new arrivals from Kurdistan, Hazhin and Lawik, had their first evaluations at Sheba on Wednesday. It was a long day for both of them, as they had not only echoes, but ECGs, blood tests, and x-rays. But Hazhin's dad and Lawik's mom took good care of them throughout the day and we enjoyed the day together.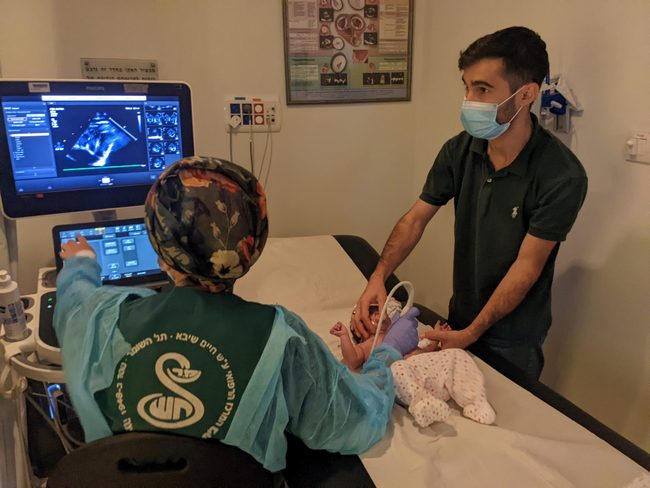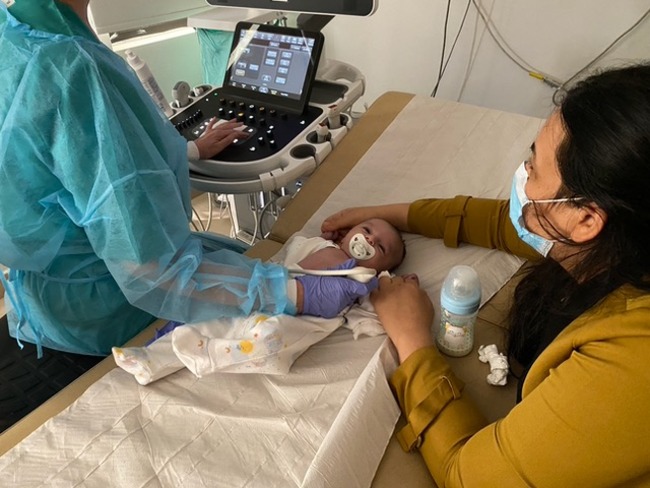 Because Hazhin and Lawik are both nearing two months of age, their cardiologists are considering a two-stage surgical repair for their transposed great arteries, as opposed to one big operation to switch the arteries. The doctors will discuss their cases at the beginning of next week and develop a plan of surgery for both babies.
Finally please pray for four newborns in Gaza, with difficult diagnoses who are all awaiting transfer to a hospital in Israel for urgent heart surgeries. After a lengthy delay while we searched for a place, Hadassah hospital has accepted little Joud, who has multiple heart defects and will be transported to Hadassah tomorrow God willing: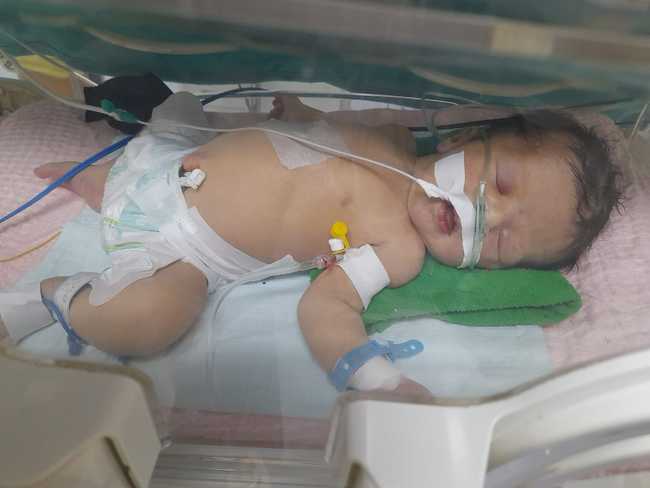 We hope the other children will also be accepted soon. Please pray for the shepherd's staff of protection over all these precious babies and their families.
"The good shepherd lays down his life for the sheep," Messiah said. "No one will snatch them out of my hand."
Thank you for joining us in prayer,
Bria for Shevet Achim