Friends,
Tuesday evening marked the beginning of Yom Kippur, the Day of Atonement, the most solemn of all the holy days laid out in the Torah. It's a time of fasting and confession, a day set aside to seek cleansing and forgiveness from sins against God and man. Across Israel work and normal life come to a halt and the whole country is at a standstill for 25 hours.
It's one of five Torah holidays this month, so many Israelis–including one of our chief partner surgeons at Sheba hospital–take time away from work. And as the holidays started we had four emergency babies in Gaza who needed life-saving heart surgeries.
Hadassah hospital in Jerusalem is graciously stepping in to help, and newborn Hamza was invited to come last night by ICU ambulance after waiting ten days in Gaza for space to open up. Hamza's condition deteriorated suddenly at the border, and when he had to be resuscitated the paramedics determined that he was too unstable to transport. He returned to the ICU in Gaza and stabilized somewhat. This morning we made another effort to give him another chance; at the crossing point his oxygen levels were at 30%, but with manual ventilation from a determined ambulance crew he finally reached Hadassah early this afternoon:
Doctors are concerned that he so far is not waking up even though he is receiving no anesthesia. Hamza's situation is difficult and overwhelming, but we know his Maker still has the power to heal him. Please be in prayer for this precious baby boy and his family.
Hadassah earlier also accepted tiny Jude from Gaza and he had his first surgery yesterday. Upon beginning the operation, the surgeons discovered that they were able to do a simpler surgery than expected, and they are very pleased with the result. Jude has several defects in his heart, and the doctors decided to proceed with the difficult series of surgeries needed to reroute blood to the lungs to accommodate a single-ventricle heart rather than attempt reconstruction with two functional ventricles. For now, Jude is on his way to recovery in the ICU at Hadassah with his grandfather by his side:
As you see in the video above, when Jonathan and I visited last night Jude was already moving his little arms and opening his eyes. Pray for a full recovery for this little guy, who still has quite a long road ahead of him.
And on the eve of Yom Kippur, as the highways emptied and we along with our neighbors finished our preparations for the holiday, Kurdish baby Lawik's oxygen saturation began to drop at our home in Ashdod. Last week his cardiologist gave strict instructions that if saturation dropped below 72% Lawik should come straight to the hospital. It was now hovering right around 73%, where it stayed for most of the holiday while his mother grew increasingly anxious. At the end of the holiday on Wednesday evening, we checked again to find that his levels were now in the 60s. Doro and Luisa drove him and his mom to the emergency room at Sheba, where the doctors decided right away to admit him to the ICU: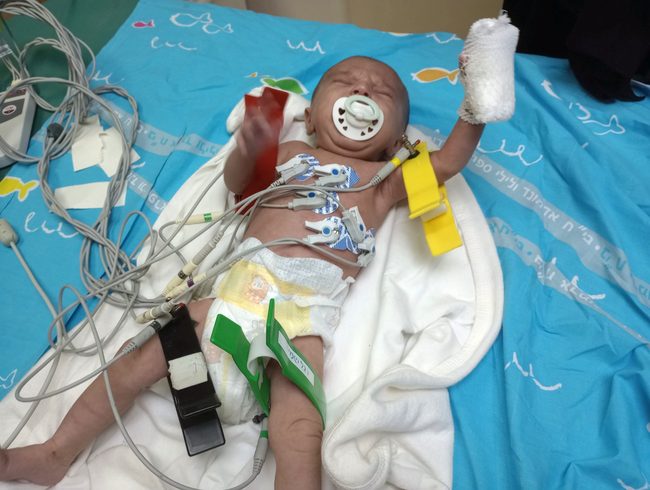 Lawik stabilized in the pediatric ICU at Sheba, and surprised us when he was discharged back to Ashdod this afternoon. Please pray with us that he remains stable until his surgery, which is scheduled for Wednesday after the start of the Feast of Tabernacles. Doctors have decided that both Lawik and his traveling companion, two-month-old Hazhin, need a two-stage surgical repair for their transposed great arteries.
Hazhin had ultrasounds for her head and kidneys yesterday, the last stage of preparation before surgery. She is now officially cleared for the operation. Both she and Lawik are scheduled for the first surgery to place a band around the pulmonary artery on Wednesday. Please pray for these sweet babies and their parents as they prepare for surgery: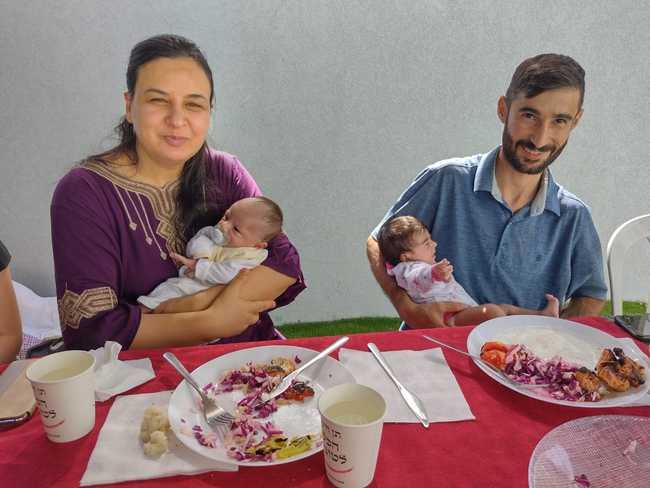 Little
Mohammed A.S.
 from the West Bank was making quite good progress when I wrote you last week. However when Luisa and Elise arrived at Sheba on Sunday morning, they found him back in intensive care on oxygen support. Mohammed developed an infection over the weekend and went into heart failure: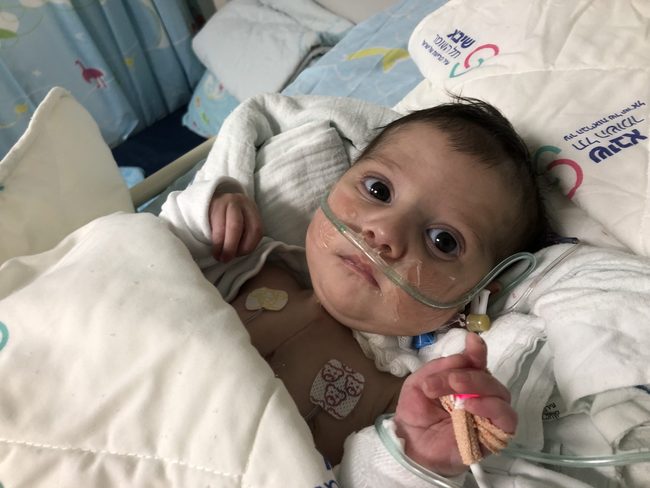 Thank God, he has stabilized and is now back in the intermediate ICU, where the doctors even expect to discharge him soon.
Wednesday night was challenging for little Jamal from Gaza, who had some difficulty with his breathing and oxygen levels. Jamal had surgery to close his chest on Sunday and has for the most part been stable since then: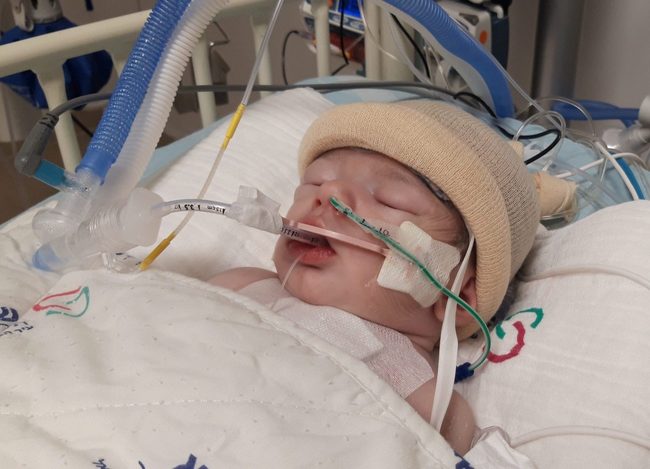 We were glad to hear yesterday he has stabilized again. His grandmother is a bit anxious, but is well cared for by the aunt of baby Somaia who is also in the Sheba ICU.
Somaia is still waiting without much progress for a place to become available for her in another hospital. The ICU at her hospital in Gaza cannot accept her due to her fragile condition. The same is true for an ICU in Hebron. Somaia's family is now hoping that another hospital in the West Bank can accept her: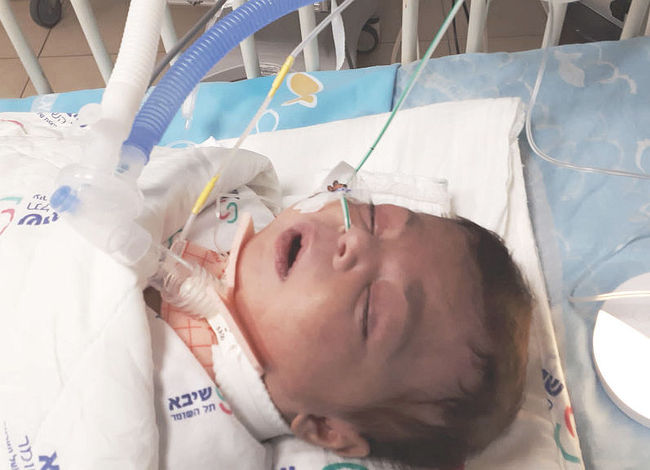 This week our coworker Tineke wrote: "I have never seen her so awake before. She follows with her eyes and reacts to sounds. It was very special to see this together with her aunt." Please pray for Somaia to continue to receive the care she needs.
Tiny Kamel from Gaza is finally breathing on his own after being extubated for the third time. After failing the first two attempts to come off the ventilator, we are happy to see that he is doing well enough now to be moved to the intermediate ICU: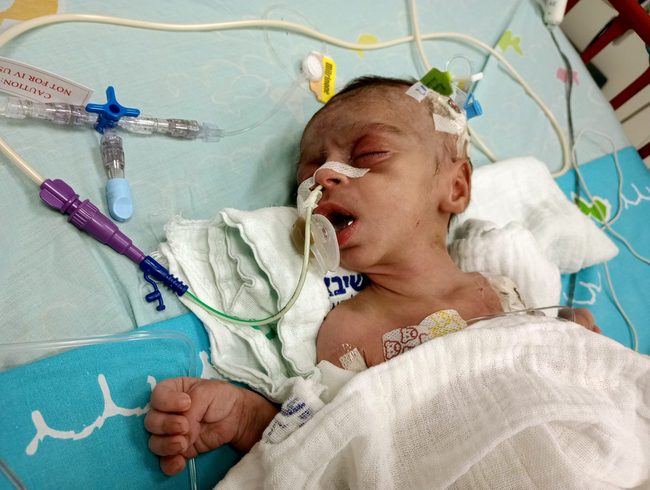 He's even off of oxygen support now, which is a big step for him. After his interventional catheterization last month, Kamel doesn't need surgery, so the doctors are just waiting for him to make a full recovery from the cath before they send him home to his parents in Gaza.
Our good friend Kenan from Gaza is doing well after his big surgery last week. Jan and Tineke found him today relaxing in his stroller and rocking a new look with the help of some face paint: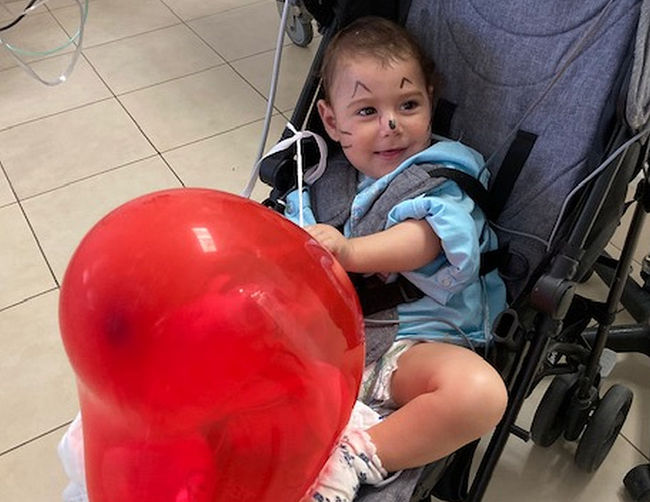 Since his surgery, Kenan's heart rate has not returned to normal, so he is receiving support from a temporary external pacemaker. The doctors are considering whether to place a permanent pacemaker to regulate his heartbeat, and they need another week or so to monitor his condition before they make the decision. In the meantime Kenan is his normal happy self, brightening everyone's day with his handsome smile.
Sweet Malak from Gaza was looking extra beautiful in a new outfit when Petra stopped by for a visit on Tuesday. She is still receiving milk through a nasogastric tube, and likely will be for the near future: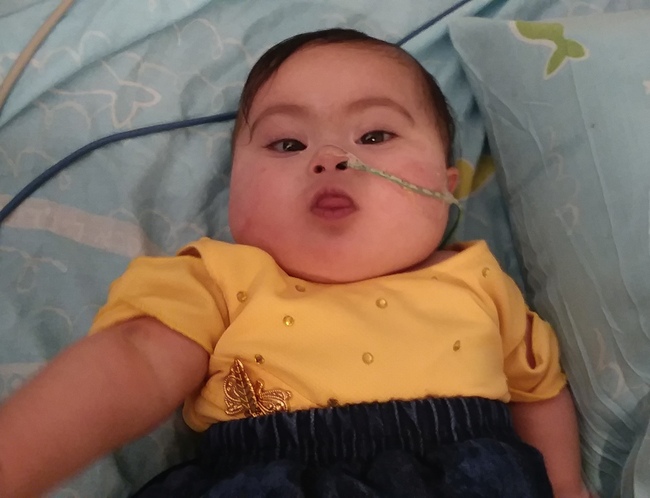 The doctors discovered that one of Malak's vocal cords is paralyzed, which explains the difficulty she has had in relearning to eat after surgery. While it's a relief to finally have an explanation, this was hard news for her mother, because it means that Malak may never be able to talk. For now her doctors want to keep monitoring her growth and weight gain, and if her eating struggles continue, Malak may need a PEG tube to receive milk straight to her stomach. Please continue in prayer for Malak and her sweet mother.
We were glad to have 19-year-old Wasim from Gaza with us for the week in Ashdod. After some adjustments to his pacemaker last week, his doctor wanted to see him again this week to ensure that the device was working well with the changes. Yesterday's report was a good one—the changes that were made to Wasim's pacemaker are working beautifully and he is cleared to return home: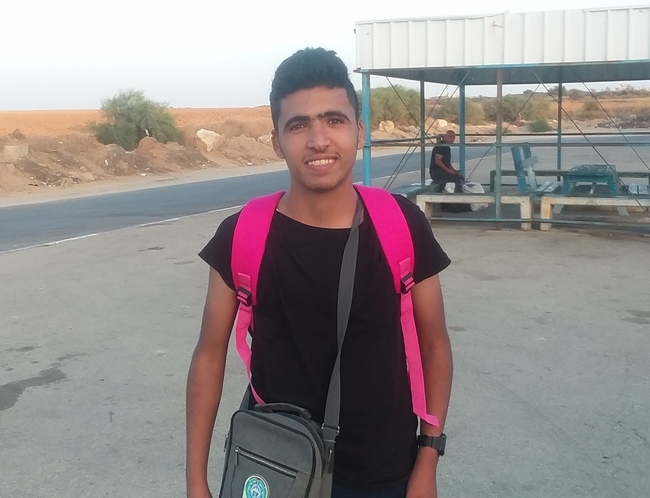 During the week in Ashdod, Wasim became good friends with several volunteers, especially Jakob and Craig. He was especially excited for the chance to visit Jerusalem with Jakob over the holiday.
Joining Wasim and Jakob for the trip to Jerusalem were our friend Lalo from Kurdistan and his dad, who have a lot to celebrate this week. On Sunday, Lalo turned two years old and we celebrated with a birthday party for him: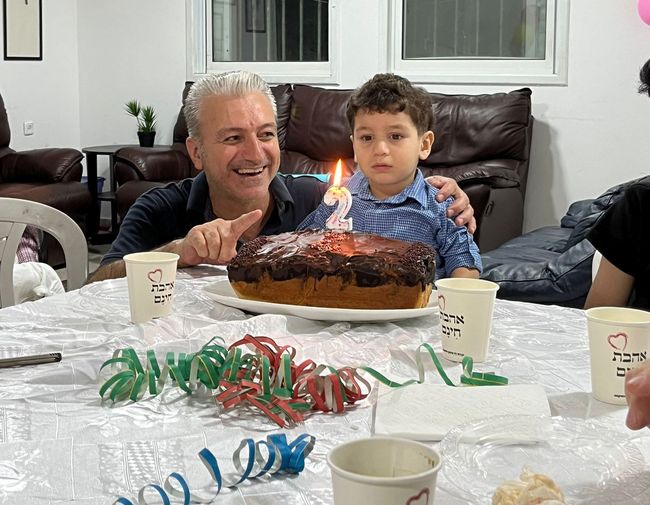 We were joined via video call by Lalo's mom and siblings, who were having their own party for him back home. In perfect English, his mom expressed deep gratitude and joy for such an important day for her beautiful son, whom she misses very much. And as it turns out, it won't be so long until Lalo's family is back together again. After two catheterizations and over two months in Israel, Lalo has been cleared to return home to Kurdistan!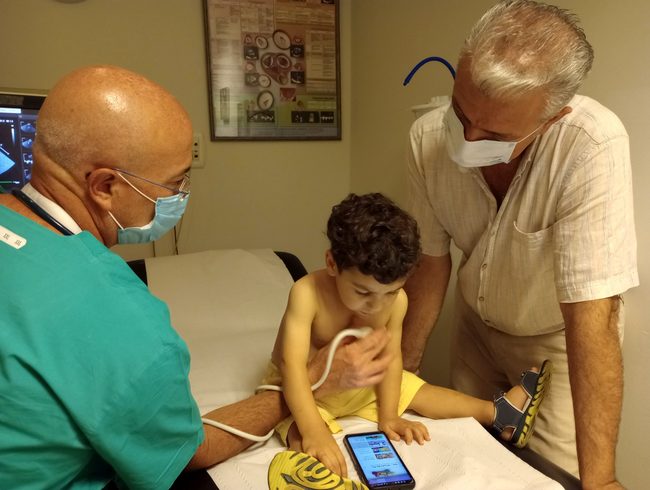 His dad was absolutely overjoyed at this news, and has been grinning from ear to ear ever since the appointment at the hospital. We're looking forward to sending Lalo and his dad off with a farewell party next week!
It was a beautiful week for our community as we spent some extra time in prayer and reflection over Yom Kippur. When we regathered the morning after and shared our experiences, it seems that we all spent the holiday a little differently—some in Jerusalem at a messianic synagogue, some in quiet solitude at home, some enjoying restful time together—but we all came away feeling refreshed and renewed.
Renewal, I believe, is what Yom Kippur is all about. At the heart of the fasts, the self-denial and sacrifice, is a deep desire to be made new again, to be washed clean of sin and given another chance to be right with God. A few of us ended the holiday with a walk/bicycle ride together through silent streets, where we watched the sun set over Ashdod.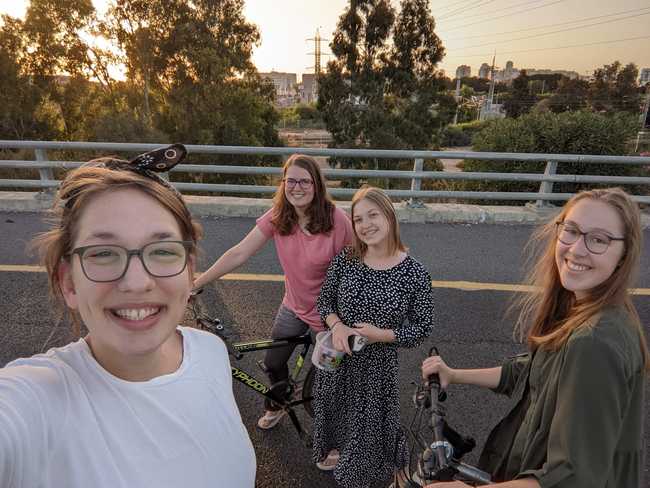 As we turned our faces to the golden light on the horizon—a  beautiful end to a solemn day of repentance—it struck me that this is just how such a day should draw to a close. We face our guilt, we bow our heads in humble repentance and ask for forgiveness that we could never deserve. But in the end, we lift our faces to the light and thank our Lord for the immeasurable grace he has poured out on us—the precious blood of a sinless Messiah, which brings us freedom from sin and the hope of a new life.
But now that you have been set free from sin and have become slaves of God,
the fruit you get leads to sanctification and its end, eternal life.
For the wages of sin is death, but the free gift of God is eternal life in Messiah Jesus our Lord.
Romans 6:22-23
God bless and keep you,
Bria for Shevet Achim