Friends,
On Wednesday morning, three weeks after two-month-old Lawik arrived in Israel from Kurdistan, Doro and his mother kissed his hands and prayed for him and the doctors wheeled him into the operating room for the first stage of surgical repair for his transposed great arteries. The planned procedure was relatively straightforward—place a band around Lawik's pulmonary artery to prepare his left ventricular muscle for the arterial switch next week—and the doctors expected it to last two or three hours.
However, after five hours in the OR with no news, Lawik's patiently waiting mother began to grow anxious. Doro texted our community thread asking us to pray, and a moment later, we received word from the surgeon that Lawik was not very stable. At that moment, the words of Psalm 46 became a great comfort:
God is our refuge and strength,
an ever-present help in trouble.
Therefore, we will not fear, though the earth give way
and the mountains fall into the heart of the sea,
though the waters roar and foam and the mountains quake with their surging.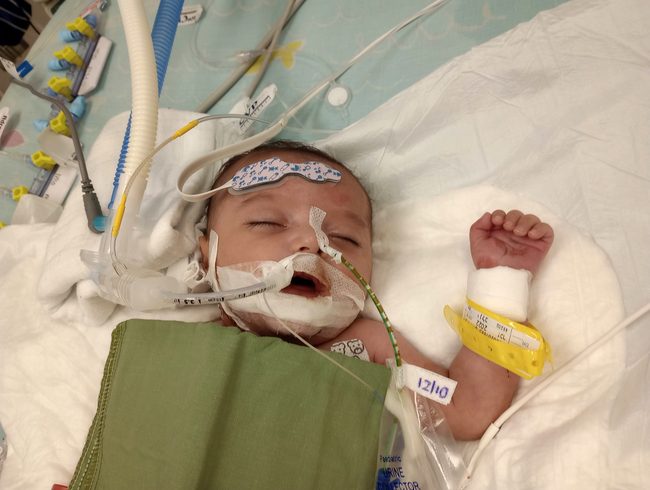 After six and a half hours in the OR, Lawik was brought back to the ICU, where the surgeon gave the report to his mother. In addition to the pulmonary artery band, the doctors decided to place a shunt between his pulmonary artery and aorta, another step in preparing Lawik's heart for the arterial switch operation. This change in circulation proved quite difficult for Lawik's little heart to handle, and the surgery was difficult. Lawik is stable for now, and his chest is still open in case urgent surgical intervention is needed in the coming days. Please pray for Lawik to recover and grow strong enough for the arterial switch surgery in a week or two, and for his tired and anxious mother.
Our sweet Hazhin from Kurdistan was scheduled to go in for the same surgery right after Lawik, but her operation was postponed after Lawik's took so long. She was discharged to our house in Ashdod until she can have her surgery next week.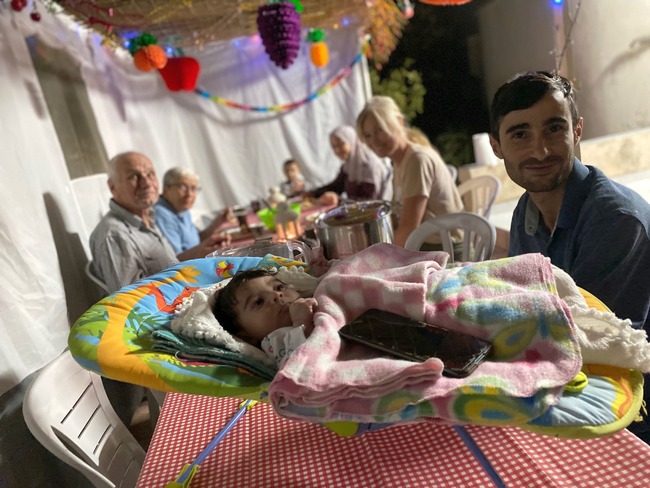 Hazhin is now well past the two-month mark by which a baby with transposition of the great arteries should have surgery, and the risks of surgery grow greater as each day goes by. Please pray that the surgery will go smoothly and without complications next week.
Newborn Hamza from Gaza also had surgery this week, days after his difficult journey via ambulance to Hadassah hospital in Jerusalem. Like Lawik, Hamza is stable but still has his chest open: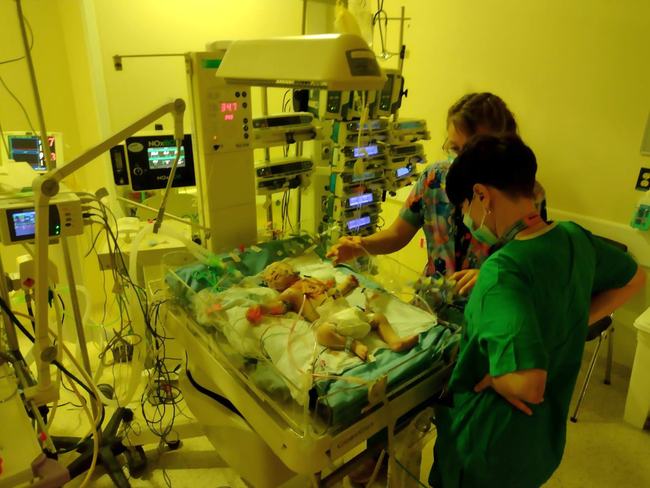 Hamza has hypoplastic left heart syndrome; the left side of his heart did not form properly, leaving the right side of the heart to pump blood both to the lungs and the rest of his body. This is the most difficult to manage of all congenital heart defects, and the surgery this week was just the first step on the long road ahead of him. But if, as the psalmists say, the Lord has power even over the wind and the waves, surely he also has power over Hamza's little heart. Please pray for his healing for this precious baby boy.
Also in the ICU at Hadassah is little Jude, who is making a slow but steady recovery after his surgery last week. On Wednesday, Craig found him stable but struggling a bit with shallow, rapid breathing.
As Craig wrote in Jude's blog:
Please pray for this beautiful little man, that our Father would watch over him as he recovers and help stabilize his breathing so he can safely move to the next stage on his road to wellness and growth. Father, we thank you for your hand on this little precious life.
In the midst of difficult surgeries and delays, we are glad to share lots of good reports for many of our babies in the ICU at Sheba. Kamel from Gaza is making good progress fighting off his sepsis infection with the help of some antibiotics. He had a holter test (24-hour ECG) this week to monitor electrical signals in his heart and his doctors are deciding on the next steps for him. Kamel is becoming more alert and opening his eyes to look at his sweet grandmother, who is taking good care of him: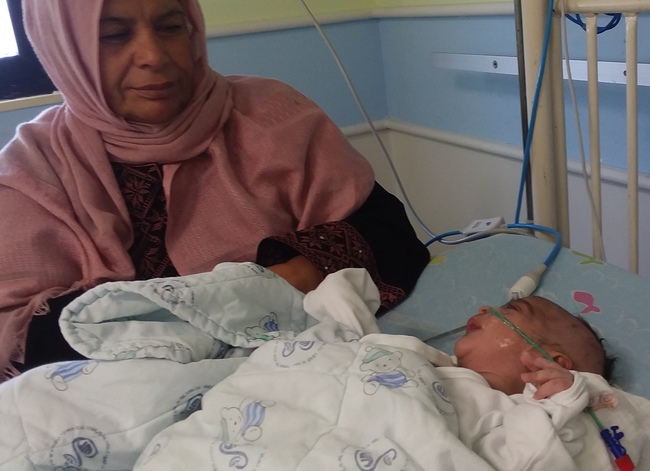 Jamal from Gaza is off the ventilator and growing stronger as each day passes! He's undergoing some neurological evaluation after having a seizure earlier this week. The doctors are awaiting the results of his EEG and brain MRI. In the meantime, Jamal is awake and looking much stronger than a week ago: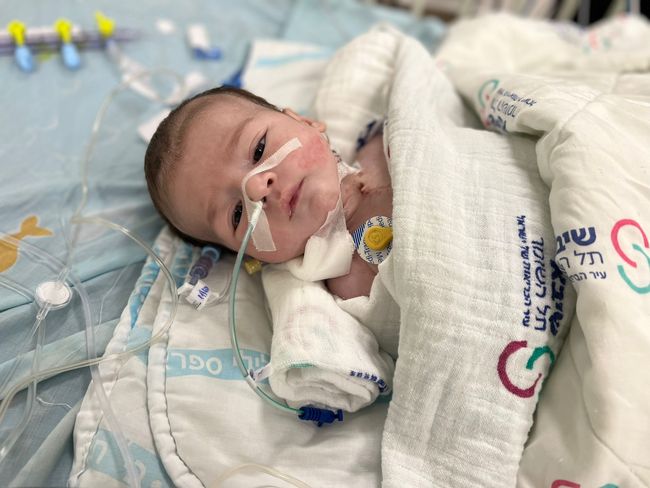 We are so glad to report that after a couple of difficult weeks, our precious
Somaia
 is showing some signs of improvement. The doctors have started reducing her pain medications and sedatives. This is a slow process so as to avoid withdrawal effects, but so far Somaia is doing well: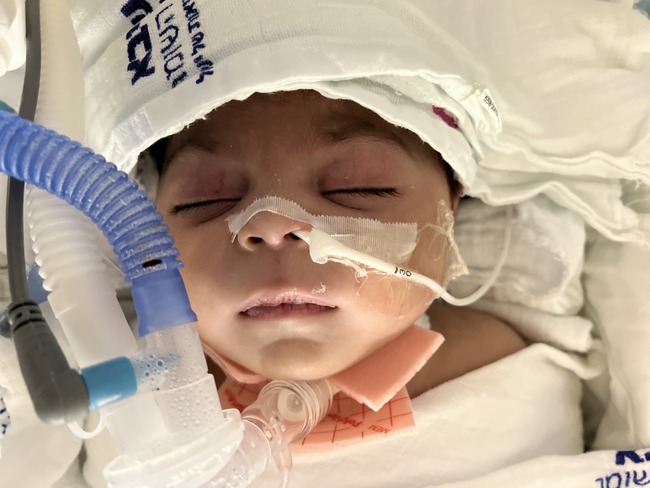 Additionally, her feeding through her nasogastric tube has been changed from a continuous state to doses, which is another step toward normality. Each little step is huge for Somaia, and we're grateful to see her moving in the right direction.
Handsome little Mohammed A.S. from the West Bank is breathing on his own with no oxygen support and learning to drink milk again. He's even sitting up with the help of his mom and dad. Mohammed just needs a few more tests before he's cleared to go home, and his parents are getting very excited to take him home to his siblings: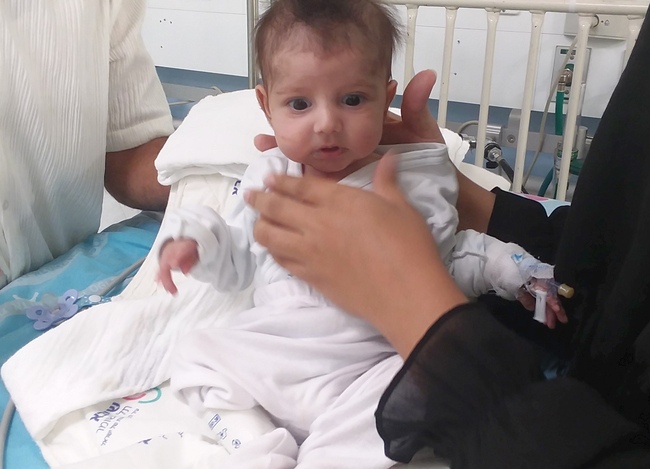 Eight-month-old
Maryam
 from Gaza is just a step away from going home. Her family now has all the equipment they need to feed her through her PEG tube, and her grandmother is learning to work the feeding pump so she can teach Maryam's mother at home: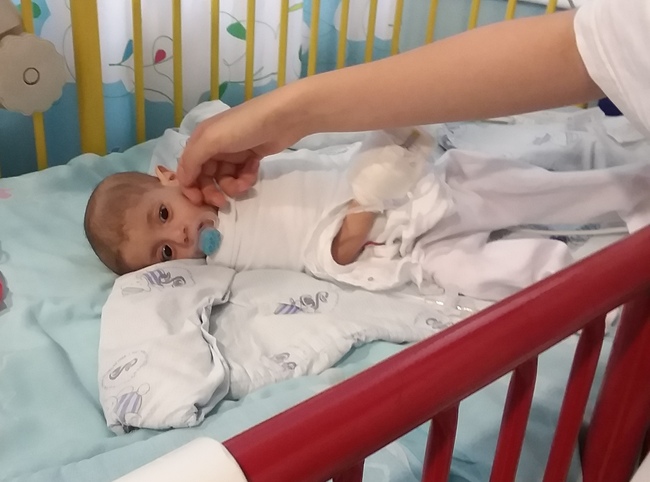 However Maryam is not so pleased with the current situation, and keeps pulling out the PEG tube. The doctors are waiting to be absolutely sure Maryam is safe to go home, so she will wait a few more days in the hospital. She developed a fever toward the end of the week and is now receiving antibiotics; please pray that this will resolve quickly.
Our good friend Kenan from Gaza is back in Ashdod for a week, after a holter test to monitor his abnormal heart rate. He'll have a check-up next week, at which point the doctors will decide if he needs a pacemaker. Kenan is looking and feeling much better since his surgery: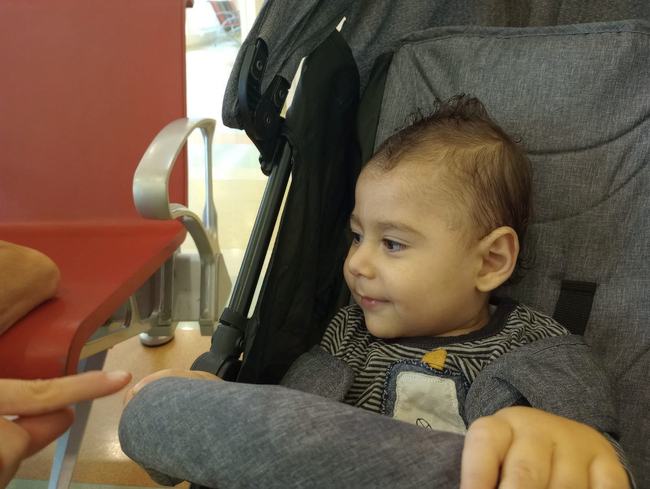 "He's not blue anymore!" I exclaimed to his mother when they arrived in Ashdod.
"I know! His oxygen is ninety-seven now," she said excitedly in Arabic. "Ninety-seven!"
She told us that Kenan knows our house now and is happy to be back. He's eager to make friends with our dog, Shevie, and she is patiently accepting his gestures of friendship: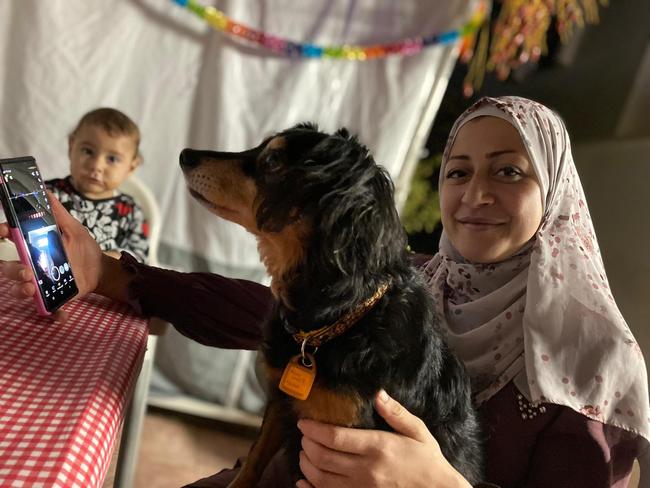 Pray for good echo results for Kenan next week and lots of rest for him and his mom in the meantime.
Last but not least, we said goodbye this week to Lalo and his father, who flew home to Kurdistan on Wednesday: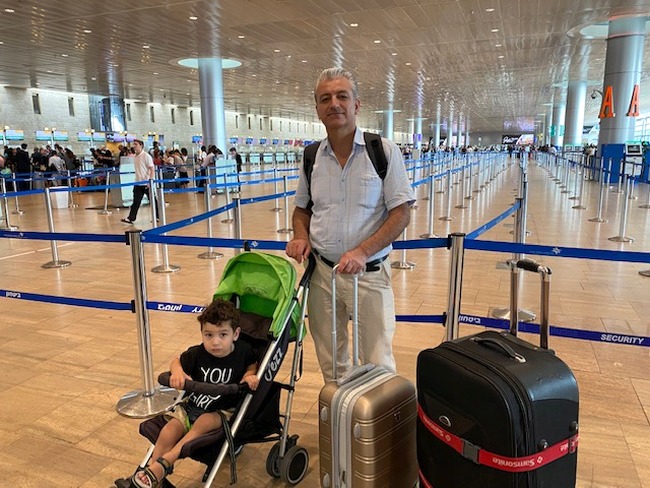 We had a farewell party in our sukkah (the temporary outdoor shelters of the Feast of Tabernacles) to thank God for his faithfulness to Lalo and his family. It hasn't been an easy journey for them, but Lalo's dad shared beautiful and tearful words of gratitude for God's grace.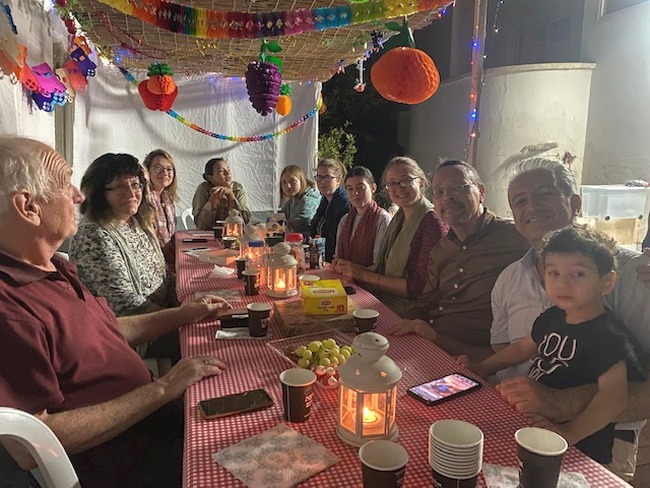 We're also deeply grateful for Lalo's father and the role he has played in our community over the last two months, always eager to help out with everything from translation to home repairs to caring for the other families in the house. God has blessed this family greatly and in turn made them into a blessing for others.
This is a week for celebrating the blessings God has poured out on us. We're in the middle of the Sukkot celebration of the fall harvest and God's provision for the Israelites during their forty years of wandering in the desert. Everywhere you go in Israel the spirit of rejoicing is evident; in Tel Aviv, our Jewish neighbors are dancing in the halls of the hospital, and in Jerusalem, the streets are full of music and thousands of people who have traveled from the corners of the earth to share in this festival.
As a community we're spending the holiday together in Jerusalem and the surrounding areas. Last night we attended an evening of worship in English and Hebrew, where followers of the Messiah from all over the world came together to praise God and pray for the salvation of his people Israel: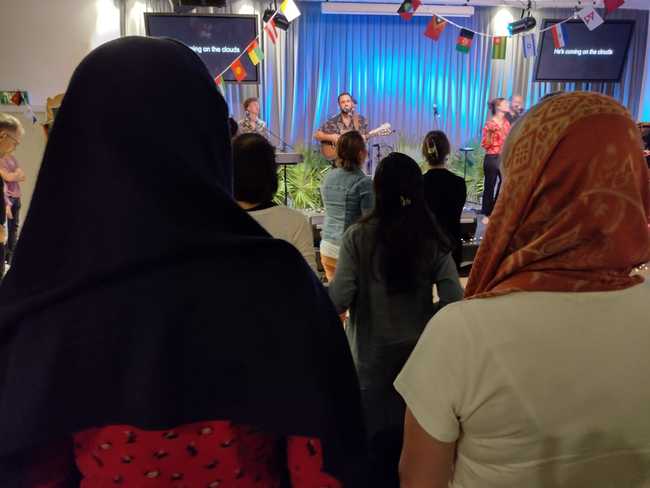 "Sukkot is for all the nations," the worship leader said to a room crowded full of joyful celebrants, "a time for all of us, Jews and Gentiles, to come together and praise our God."This is what the Sons of Korah anticipated in Psalm 46:
Be still, and know that I am God;
I will be exalted among the nations,
I will be exalted in the earth.
What a beautiful thing it is to be a part of this gathering of the nations to exalt our Lord. And how beautiful to say with the psalmists, "The LORD Almighty is with us; the God of Jacob is our fortress."
The LORD bless and keep you,
Bria for Shevet Achim