Friends,
We had an unusually quiet house in Ashdod this week. Following the end of the high holidays, our family house emptied out as one by one the kids were admitted to the hospital or went home to Gaza.
So it's a welcome change today to find the house full of the sounds of laughter and playing once again. Thursday morning San, Arya and Miran arrived together from Kurdistan along with their mothers, and the boys have settled right in: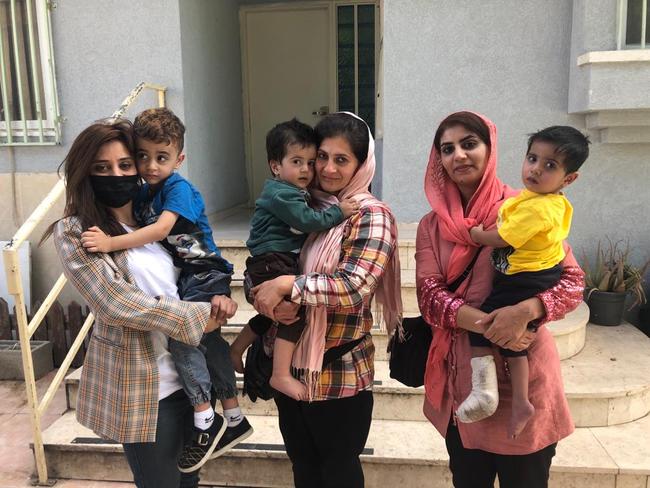 Three-year-old
San
 and two-year-old 
Arya
 both have functionally single ventricle hearts, and one-year-old 
Miran
 has a large ASD, a hole between the upper chambers of the heart. All three boys need surgery as soon as possible. They will have their first evaluations at Sheba hospital early next week. Please pray for these sweet little guys and their mothers as they begin their treatments.
Our precious tiny Hazhin spent the long weekend in Ashdod before going back to Sheba for her first surgery Wednesday morning:
The goal of the operation was to place a band around her pulmonary artery and a shunt between the pulmonary artery and the aorta, both intended to help prepare her heart for the major changes in circulation that will come after her upcoming arterial switch surgery. Jakob waited with Hazhin's father all morning until the surgeon arrived with a great report: the surgery went exactly according to plan with no complications, and Hazhin is stable and doing well.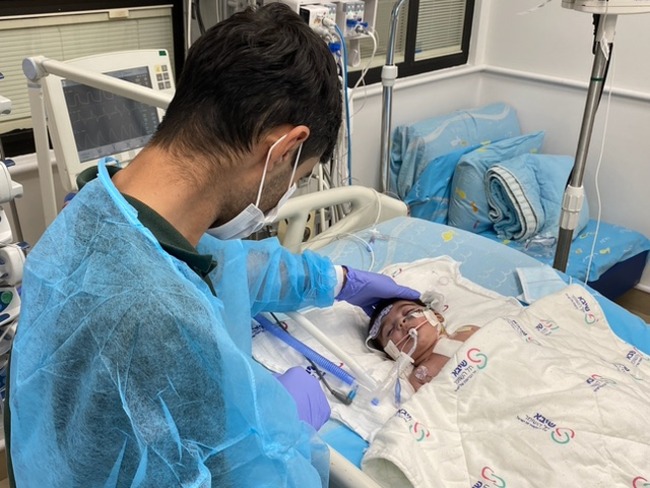 The date of her second surgery is not yet scheduled, as the doctors will wait and see how she recovers from the first.
Just next door in the ICU is Hazhin's traveling companion, two-month-old Lawik, who is slowly improving after his difficult surgery last week. His mother kept us updated over the weekend about his condition, and he's been making slow but sure progress each day. The doctors have kept his chest open as he still has quite a bit of fluid buildup, and at this point they plan to keep it open until his arterial switch operation planned for Sunday or Monday.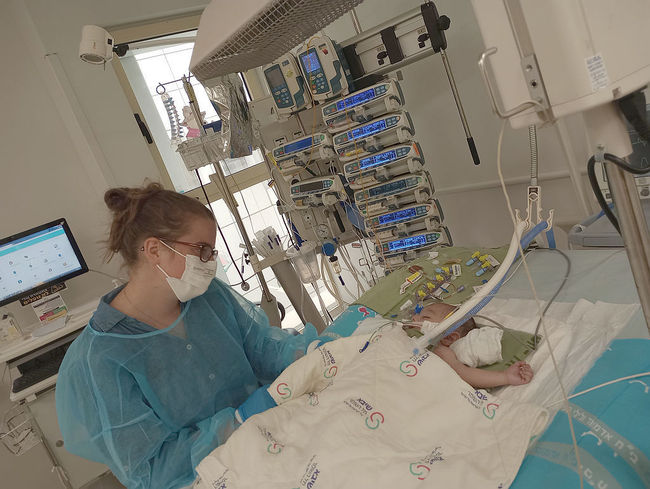 "Even though we in the Shevet community somehow get used to seeing babies in ICUs," Doro wrote this week, "It sometimes still breaks my heart. This little boy that I would love to take back into my arms, is lying there with an open chest and a lot of cables on him." Please be in prayer for little Lawik and his mom as they prepare for his big surgery.
Pray also for six-month-old Malak and her mother, who have been at Sheba hospital for nearly three months since Malak's difficult surgery in July: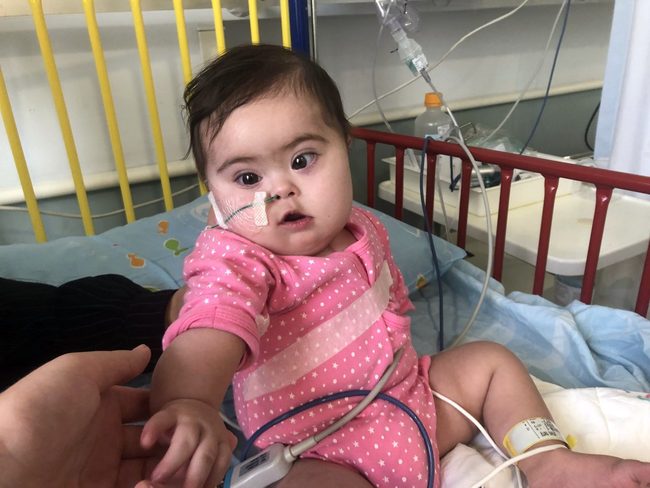 From a cardiac standpoint, Malak is very well. This is no small thing given her complicated surgeries and time on the ECMO machine. However, after a series of evaluations, the doctors have determined that Malak is unable to swallow liquids from a bottle, and she is not yet big enough to get enough fluids from more solid foods alone. They are considering giving her a PEG stomach tube, but knowing that this is a big commitment with long-term consequences, her mother wants to wait and give her a chance to feed through an NG tube for another few weeks. Doctors are considering the best options for Malak, including possibly sending her to a hospital in Gaza for two weeks so she can be close to home while she continues to receive milk through her NG tube.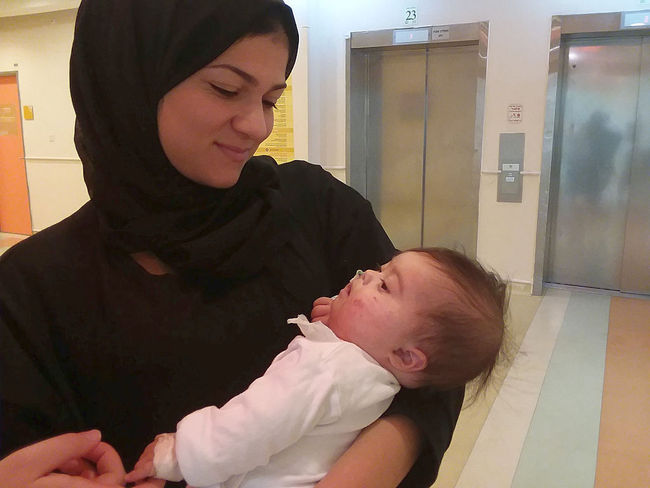 "Malak's young mother is such a thankful woman and the trust she has in the Lord is amazing," Elise wrote after visiting this week.
When I left, her the last thing she said was, "I will pray to the Lord for Malak."
Please join our prayers for Malak, that she will learn to swallow more and more, for her mother, to stay patient and keep her trust in the Lord and for the doctors, that they will consider the right things and choose the best treatment plan for Malak! 
Nine-month-old 
Maryam
 from Gaza is also still struggling with feeding: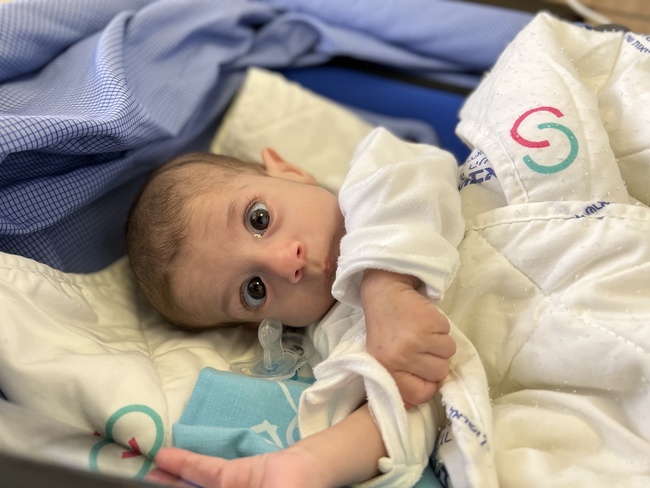 She is still not gaining quite as much weight as her doctors would like, and they are considering transferring her to a hospital in Gaza, where she can grow a little more before going home. Maryam's grandmother is taking care of her in the hospital, and her parents are eagerly looking forward to seeing their baby girl again soon.
Little Mohammed A.S. from the West Bank is home with his family for a few days after six weeks at Sheba. He is still struggling a little with fluid accumulation and some respiratory troubles, so he needs a catheterization next week: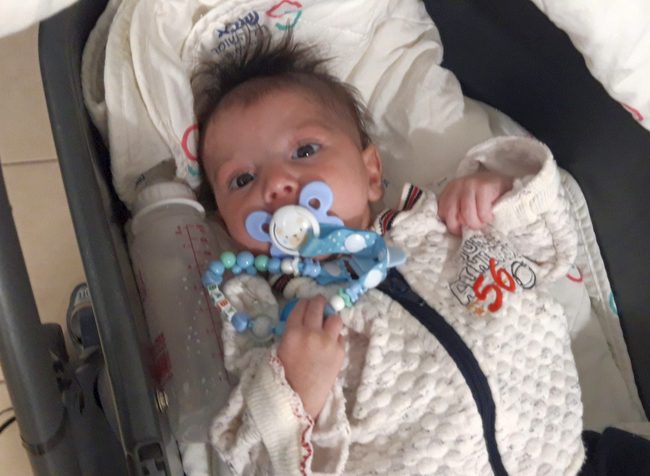 For now, though, he's enjoying some rest at home with his parents and older siblings, and we're looking forward to seeing him again next week.
Also safely at home is one-year-old Kenan from Gaza, who spent a week in Ashdod while his cardiologist reviewed the results of his holter test. He had an echo at Sheba on Tuesday, and his doctor has decided he doesn't need a pacemaker after all and he is cleared to go home to Gaza. Because of Kenan's long hospital stay a few months ago and the many follow-up appointments he has needed in various clinics since then, we've had plenty of time to get to know him and his sweet mother, and they are dearly loved friends to all of us.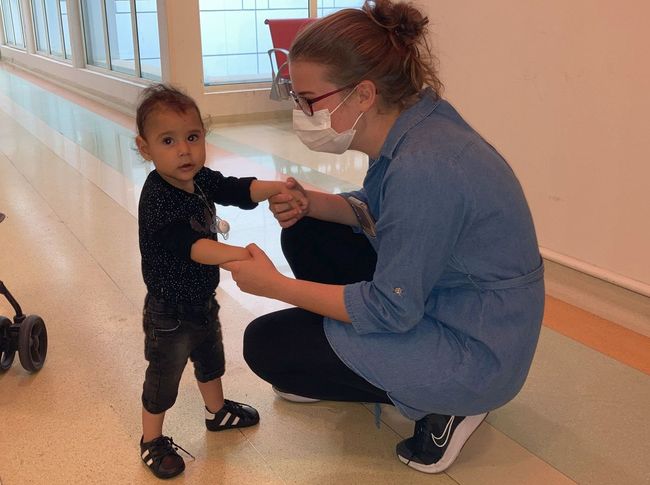 It's a joy to watch him grow and celebrate milestones alongside his mother—most recently, he's learning to walk! We're excited to see him again next month when he comes for another echo.
Meanwhile, in Jerusalem, newborn Tala from Gaza arrived at Hadassah hospital by ambulance last week and had surgery on Tuesday morning. Tala was born with coarctation of the aorta, as well as Down Syndrome.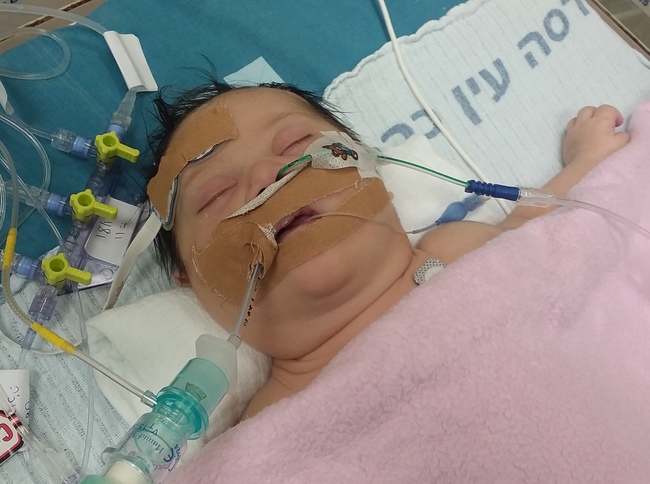 She is stable after surgery, but losing some weight and running a fever. For now, she is still on a ventilator, but the doctors hope to extubate her soon. We are grateful for the tender love and care the ICU team at Hadassah is giving this beautiful girl: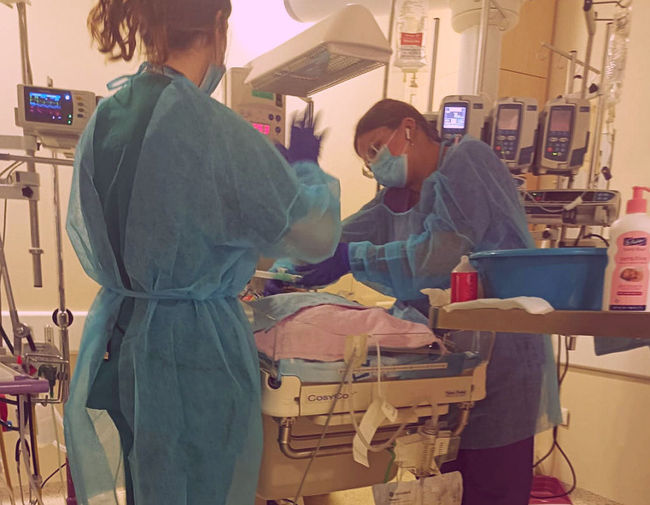 Coworker Berith wrote: "The nurses treated the baby as gently as if she was royalty, and I couldn't leave the room without honoring them for the loving care and the excellent work they are doing in this hospital."
Also receiving lots of love in the ICU at Hadassah is little Jude from Gaza, who is making a good recovery after his surgery a couple of weeks ago.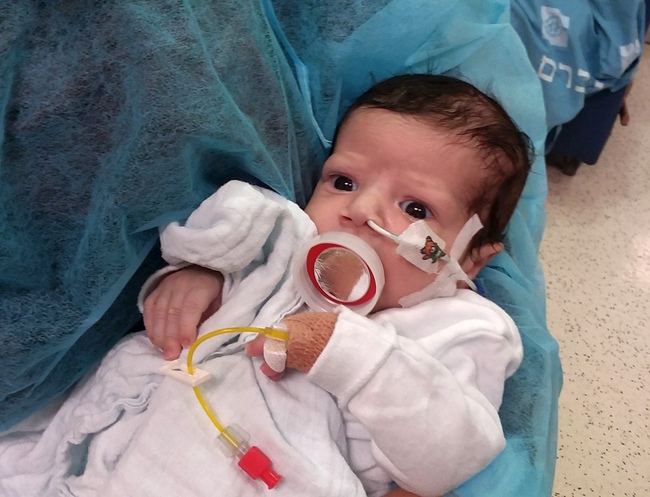 Petra found him snuggled in his mother's arms and practicing how to drink from a bottle. He's had a bit of trouble learning to drink, and needed a special bottle to help him.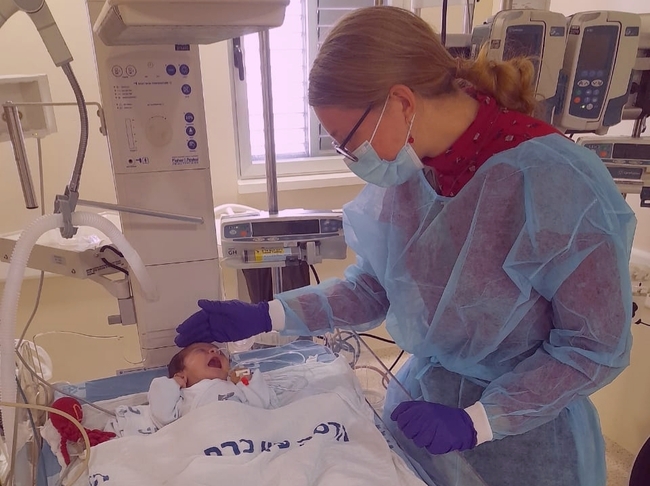 Petra wrote:
The doctor gave me a handwritten note with the specific details written down, along with a bit of money to pay for it. I told her that Shevet could pay for it, but she shook her head and said, "No, no, I want to help!"

What beautiful love and generosity! We're so grateful for the way the medical staff at both our partner hospitals care for these precious little ones.
Finally, we said goodbye this week to coworkers Jonas and Lisa from Sweden, who have been with our community for six weeks. During this time, they shared their gifts in worship and their skills and knowledge as a Bible translator and a nurse, and poured out lots of love on our families: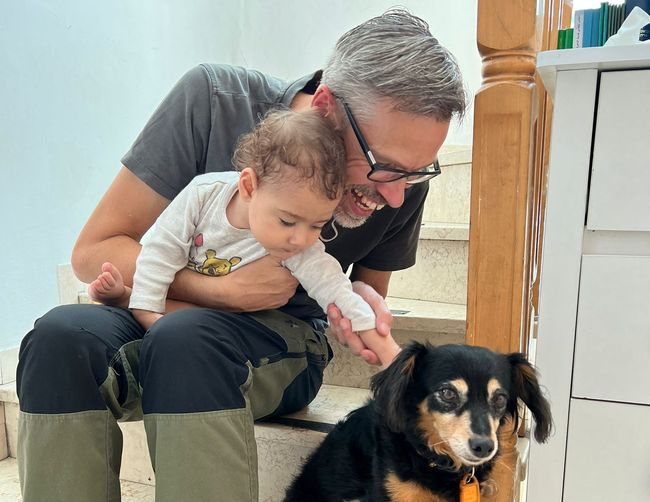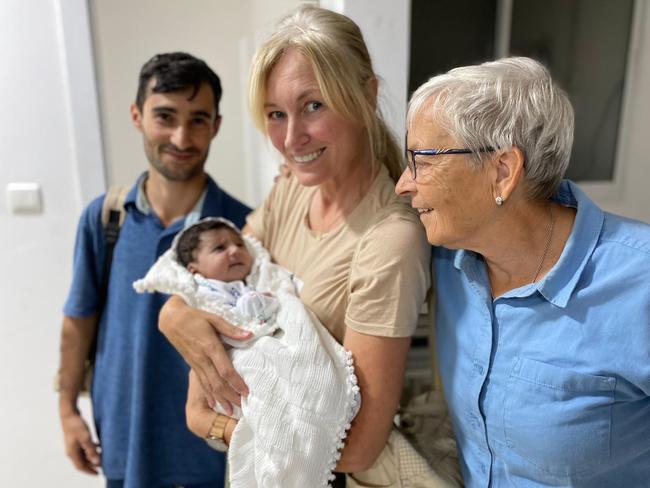 We're grateful for the time they have shared with us and we pray for safe travels and blessings for them as they return home.
Thank you for joining us in prayer,
Bria for Shevet Achim