Friends,
On Monday morning, little Lawik from Kurdistan was wheeled into the operating room for his second surgery, the big operation to switch his transposed great arteries. His heart function was still weak and his blood pressure not quite as stable as the doctors would have liked, but it was becoming dangerous to delay the surgery any longer. After seven hours in the OR, Lawik was brought back to the ICU on the ECMO heart-lung support machine: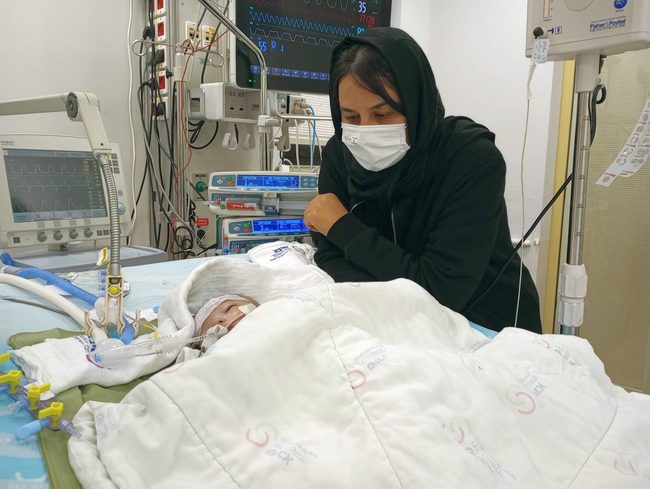 The next evening, we got a phone call from Lawik's mom. "My baby isn't good," she said. "He's going to surgery again." In a cardiac CT a couple hours before, doctors could not see Lawik's left coronary artery. Suspecting blockage, they decided to rush him into emergency surgery. Doro and I hurried to Sheba, where we waited several hours with Lawik's mom. Despite the tense situation, she remained relaxed and in good spirits, teasing us as she always does and introducing us to her daughter back home via video call.
After a couple of hours waiting, Lawik's mom went into the ICU to ask a doctor how things were going in the OR. She returned a minute later with a big smile. "Hey, my baby is okay!"
The surgeons found a large blood clot in Lawik's pulmonary artery, and after removing it, already saw some slight improvement in his heart function. His mother was overjoyed and thanked each and every doctor and nurse in sight. "You're working so hard for my baby!"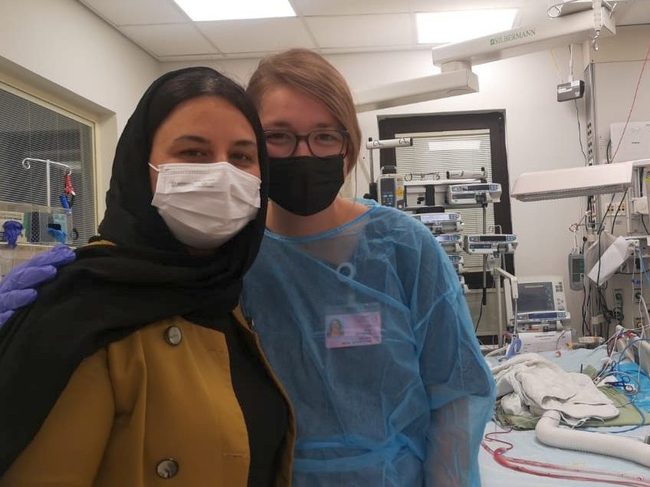 Lawik is now stable in the ICU, but not making as much progress as the doctors would like. He still has a long way to go, particularly to come off the ECMO machine soon, but he has come a long way already and we are so grateful. Please be in prayer for Lawik and his mother in the coming days.
Sweet Hazhin from Kurdistan had a difficult weekend after her banding surgery. Her blood pressure was unstable for a couple of days and when her kidneys stopped functioning normally, the doctors started her on peritoneal dialysis. She is now improving a little at a time and her doctors are monitoring her heart function carefully to decide when to do her arterial switch surgery: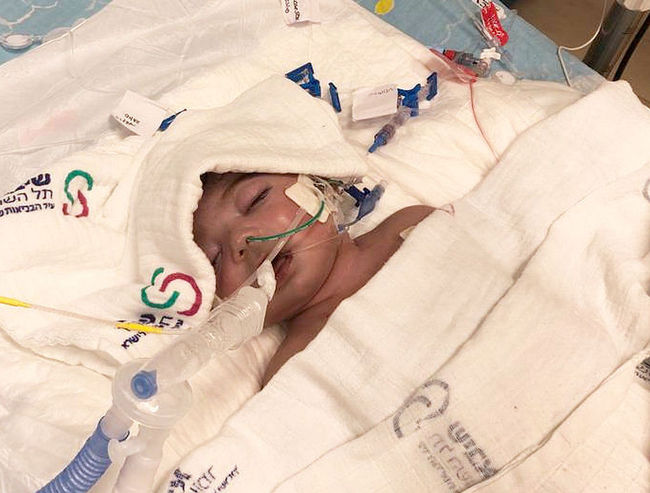 Her heart is still too weak now, but they hope to do the operation sometime next week. Due to the language barrier, Hazhin's father is having a hard time communicating with the doctors and is feeling a bit discouraged; please pray for him as well as Hazhin as they prepare for her next surgery.
This week brought a long-awaited day for our beautiful Malak from Gaza and her mother. After three months in the hospital and multiple surgeries and catheterizations, Malak left Sheba hospital for Gaza on Tuesday afternoon: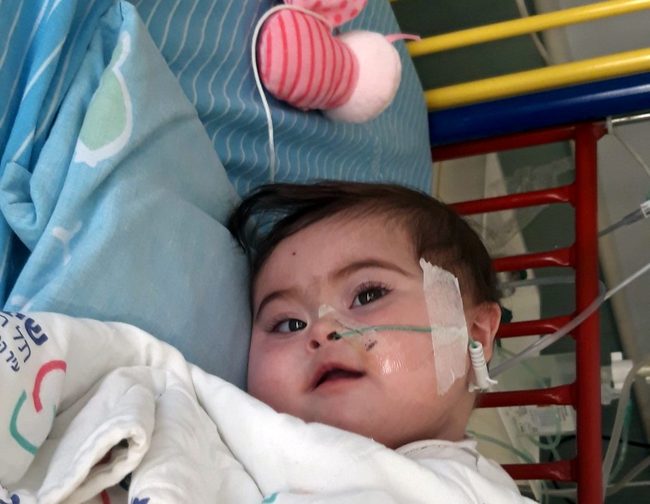 She and her mother were both all smiles for the big day, and Malak was all dressed up in a new outfit for the occasion. For now, she is at a hospital in Gaza, where she will continue feeding through her nasal tube while being close to her family. She will return to Sheba next month for another cardiac catheterization and possibly a stomach tube placement. Pray for continued growth for our sweet Malak and a restful time with family for her mother.
Nine-month-old Maryam also made the journey back to Gaza last night. She had a video fluoroscopy on Tuesday morning, a video x-ray to examine her ability to swallow. For now, she will continue feeding through her PEG tube with the help of a feeding pump.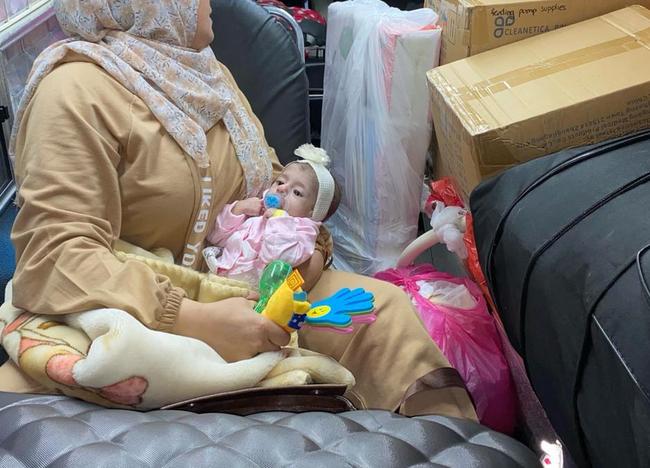 This afternoon, an ambulance brought her from Sheba to a hospital in Gaza, where she will stay for a day or two so her doctors there can get to know her situation and her parents can learn to use her feeding pump. Pray for continued strengthening and protection for this tiny girl.
On Monday morning, our three little guys who arrived from Kurdistan last week had their first echoes at Sheba hospital. Three-year-old San seemed to enjoy the entire process and made friends with everyone he met. San has a VSD, a hole between the lower chambers of his heart, and his cardiologist is not yet sure whether he will need surgery or just an interventional catheterization: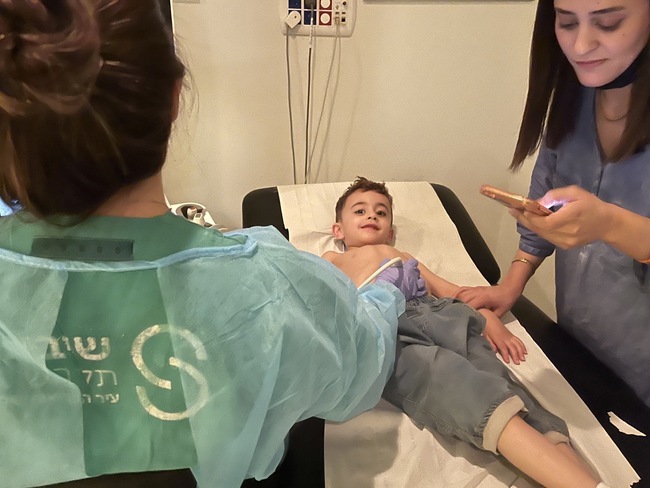 Two-year-old
Miran
 has an ASD, a hole between the upper chambers of his heart, and a narrowed pulmonary valve. He had a catheterization in Kurdistan, but it was unsuccessful in dilating the stenotic valve. He now needs surgery and possibly a catheterization first. The doctors are discussing his case and will determine a plan of treatment soon: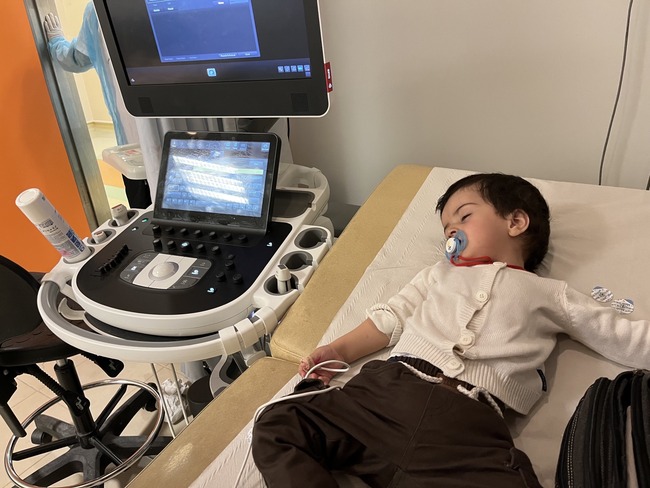 One-year-old
Arya
's heart is very complex and the treatment will be complex as well. He has multiple holes in his heart, as well as a seriously narrowed pulmonary valve and a very small right ventricle. His heart only has one functioning ventricle, which means that instead of repairing the multiple defects doctors will reroute the blood from his body straight to the lungs rather than first to the right ventricle: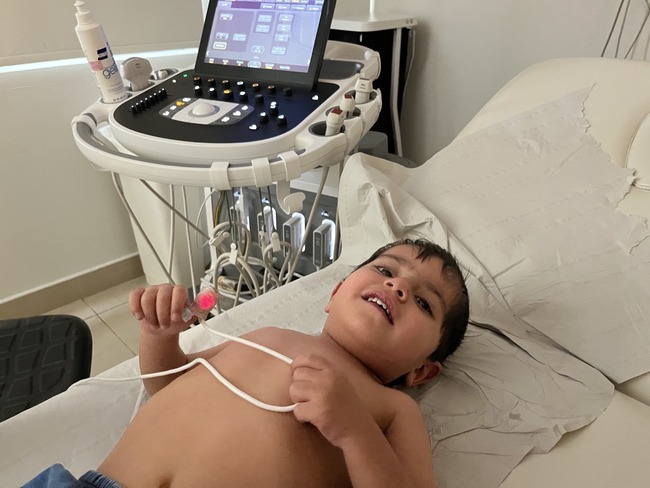 Arya needs the first stage surgery now and will need to return in a few years for the second surgery. Before the operation now, he needs a CT scan and probably a diagnostic catheterization as well.
We welcomed another new arrival from Kurdistan this week, four-year-old Lya. She was born with a developmental disorder that often causes heart defects and hearing impairment. Her pulmonary valve is severely narrowed, but her cardiologist expects that this can be treated with an interventional cath and that surgery will not be needed: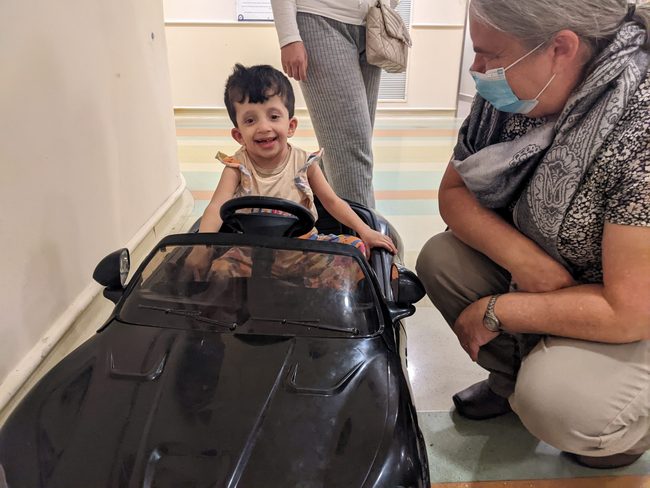 While she waits for her cath date, Lya is happily making herself at home in Ashdod. She's excited when any of the volunteers come over to see her, even just to check her oxygen, and is eager to make friends with everyone she meets.
Our handsome Ahmad from Gaza returned to Sheba this week for a catheterization. Ahmad is a cheerful little guy, and enjoyed his time getting to know coworker Craig: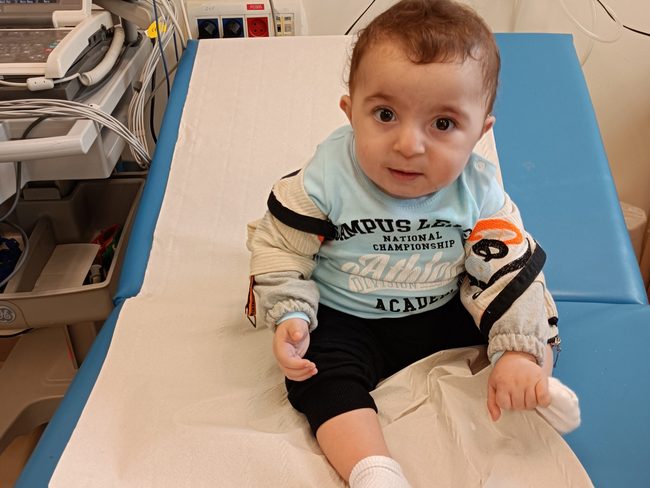 "I wish all my rainy days could be filled with such beautiful rays of sunshine," Craig wrote. Ahmad had his cath first thing Thursday morning, and the doctors were able to dilate a blood vessel without complications.
Next in line for a cath was little Mohammed A.S., who was admitted to Sheba on Monday after a weekend at home in the West Bank. He's been having some trouble breathing, and his mom was relieved to bring him back to the hospital: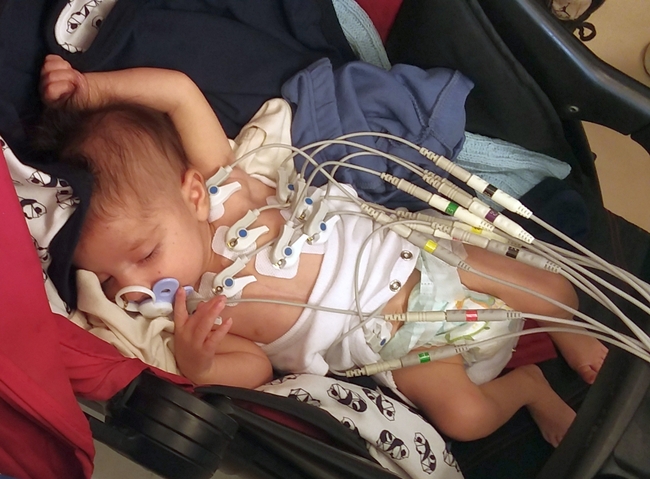 His cath also went well and the doctors reopened a closed valve in his heart. We pray this will help resolve the problems he's been having.
Jamal from Gaza is getting close to going home. He has been moved to the pediatric ward as his heart function is good. He started a new medication this week to regulate the neurological challenges he's had since surgery and the doctors are monitoring his progress. They hope to discharge him to Gaza as soon as next week: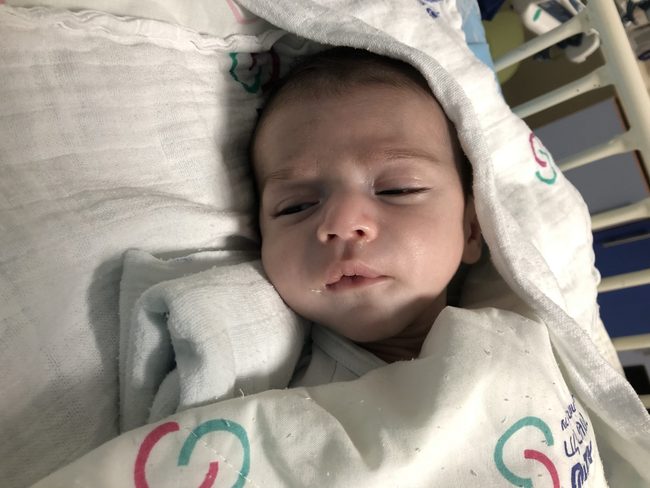 One-month-old
Kamel
 from Gaza has also been moved to the pediatric ward. He's making good progress, but his recent blood tests show low glucose and potassium, so he can't go home to Gaza just yet: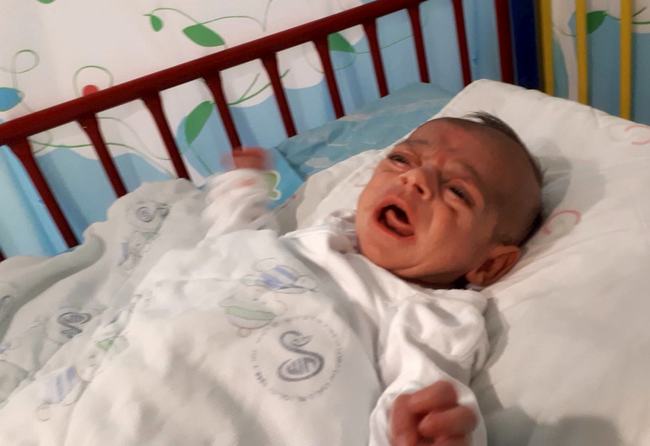 His grandmother is a bit disappointed, as she's hoping to bring him home soon. Please pray for patience and encouragement for her and for Kamel's blood chemistry tests to improve.
Meanwhile at Hadassah Hospital in Jerusalem newborn Tala from Gaza has come a long way since last week, and returned home to Gaza at the end of the week. She's been breathing on her own for a few days now: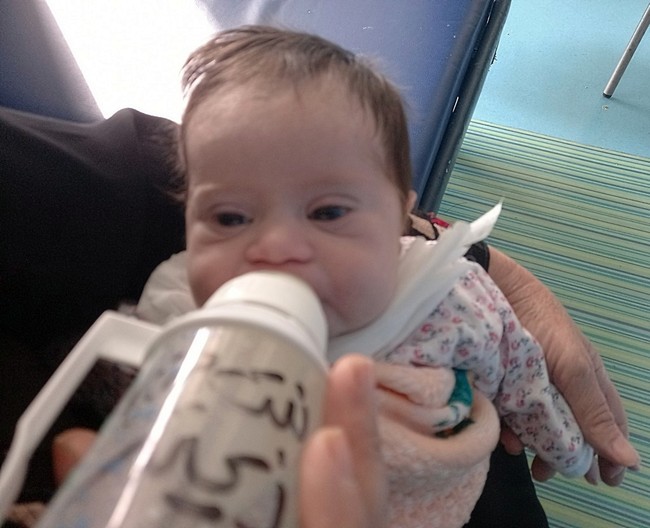 Her grandmother discovered that Tala likes listening to music, so she's been playing music while she keeps busy with arts and crafts. Tala will come back next month for a follow-up appointment.
It's been quite a busy week around here, and while we're all looking forward to what looks like a quieter week coming up, we're grateful for the opportunity to be a part of each of these children's journeys.
As a community this morning, we reflected on the ways in which we, as bearers of the image of God, can mirror his sacrificial love for us. Every act of selflessness, every choice to act in love for another person with no expectation of reward or acknowledgment is a tiny, imperfect reflection of the abundant unconditional love of the Messiah. What a beautiful gift it is to be allowed in even the smallest ways to imitate the character and love of our Savior!
No one has ever seen God; but if we love one another,
God lives in us and his love is made complete in us…
We love because he first loved us.
1 John 4
May we fulfill this calling with all our hearts.
Thank you for joining us in prayer,
Bria for Shevet Achim