Friends,
On Monday afternoon, just a day after 13-year-old Mohammed M.A. from Kurdistan came out of his difficult and high-risk surgery at Hadassah hospital, Tatiana found him awake and breathing on his own.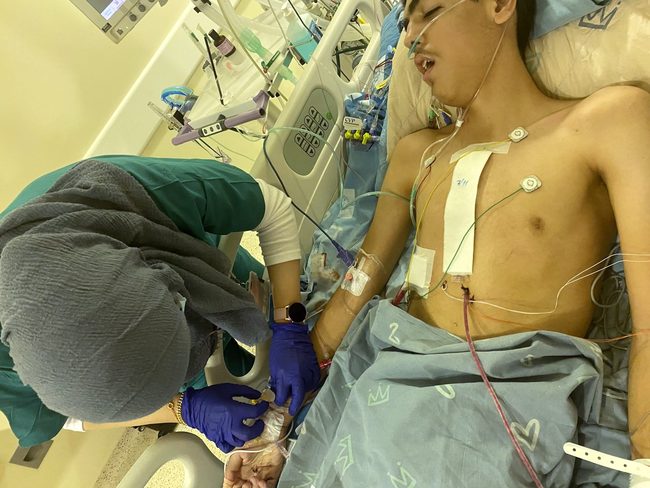 His mother was eager to tell us about his progress—"He's awake and he's hungry!"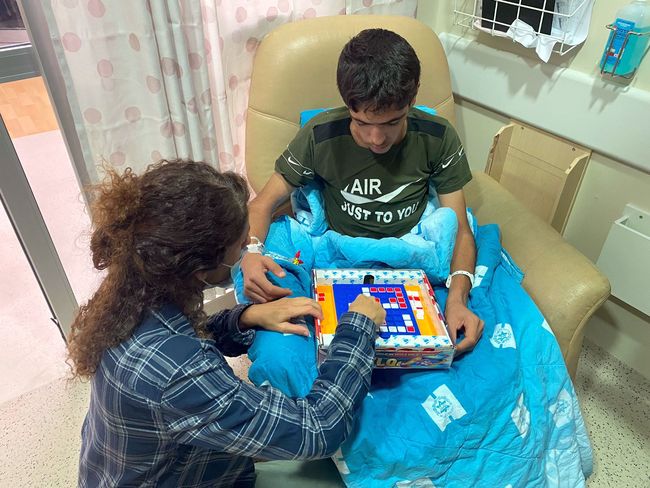 By this afternoon, Mohammed is out of bed and playing games with visitors. His chest drains have been removed and he's starting some physical therapy to help strengthen his lungs. The doctors at Hadassah have stressed the importance of taking things very slowly after such a big surgery, and we are grateful for every one of these small steps.
Hadassah hospital is opening their doors to more and more children from Gaza and Kurdistan. Monday evening, two-week-old Iman (Arabic for "faith") arrived via ambulance and went into surgery the very next day. Iman was born with coarctation (severe narrowing) of the aorta, and the surgeons were able to correct it in a relatively small surgical procedure without opening her chest. Iman is already awake and off the ventilator, and Petra found her today with her eyes open and waving her little arms:
On Tuesday morning, just a few hours after their arrival in Israel, our two new arrivals Shan and Sineor from Kurdistan had their first appointments at Hadassah. Five-month-old Shan has transposition of the great arteries, a condition in which the aorta and pulmonary artery are switched from their normal positions. Shan was hospitalized right away when the doctors saw her low oxygen saturations and she's now in the pediatric ward at Hadassah patiently awaiting surgery: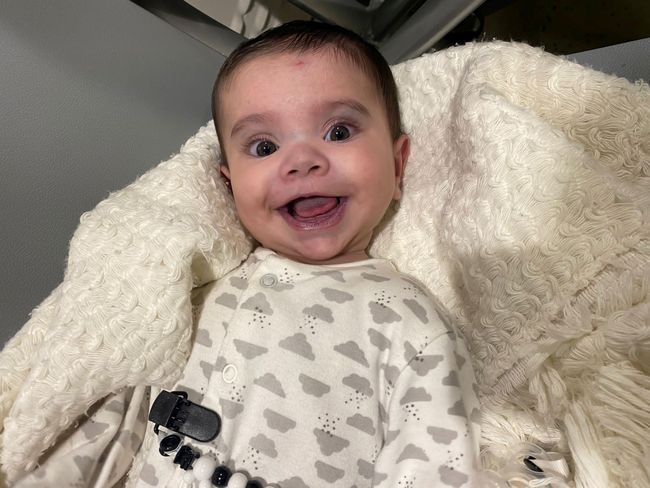 One-year-old
Sineor
 also has transposition of the great arteries, along with other defects that amount to quite a complex heart. Sineor's doctors need to discuss his case before they make any decisions about surgery, so for now he and his mother are spending some time at our guesthouse in Jerusalem: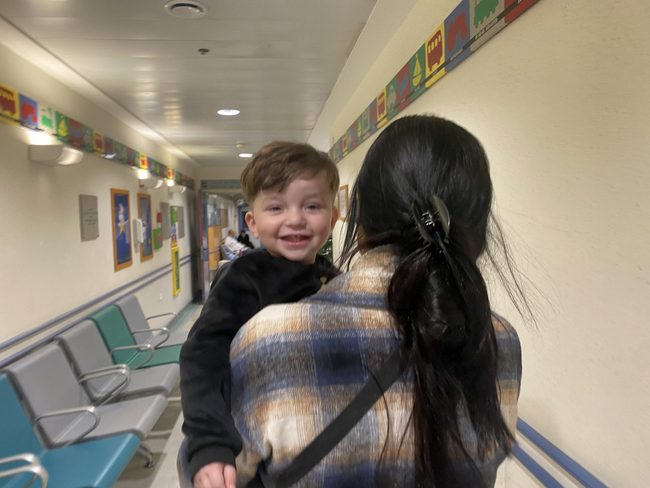 Little
Jude
 from Gaza is also at our Jerusalem guesthouse after being discharged from Hadassah on Sunday. After his surgery last week to treat a wound in his shoulder, the plastic surgeon wants to see him again in a few days to make sure the surgical site is healing well. Pray for rest and recovery for Jude in the coming days: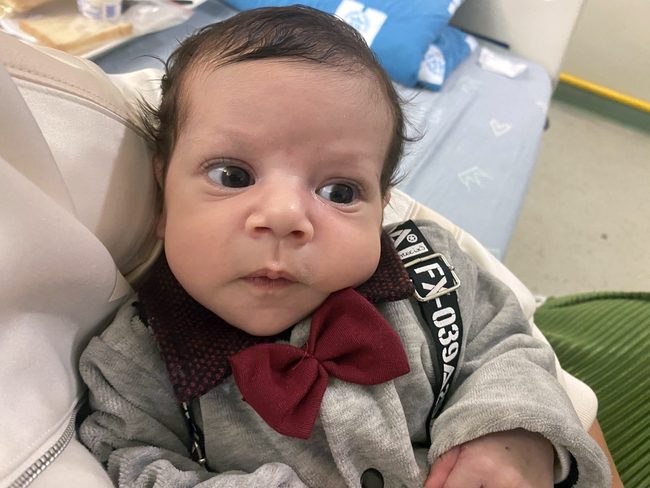 Meanwhile, at Sheba Medical Center beautiful five-year-old
Fatoum
 from Gaza had a successful Fontan surgery today. It was a big operation, the third stage of surgical treatment for her single-ventricle heart, and her mother was relieved to hear that it went well without complications: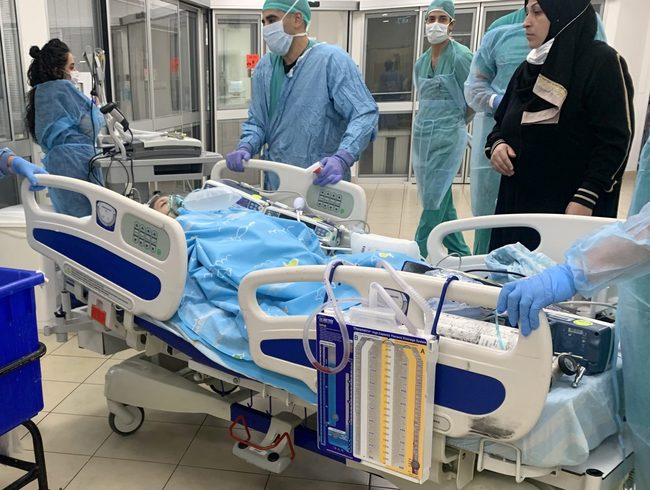 The 24 hours after surgery are always critical; please pray for a smooth and full recovery for Fatoum.
Newborn Amir from Gaza, who arrived via ambulance at Sheba last week, had surgery on Sunday to repair his narrowed aorta: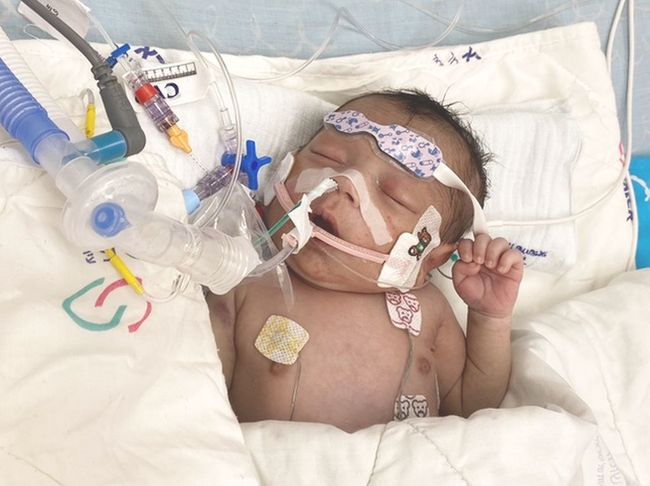 Today he's already extubated and breathing on his own with just a little oxygen support through the nose. It's amazing what a difference just a few days can make; just last week, Amir was in desperate need of life-saving treatment, and now he's on his way to recovery and a normal life. Pray for continued healing and strengthening for his little heart.
Beautiful Hazhin from Kurdistan turned three months old this week, much to the joy of her father: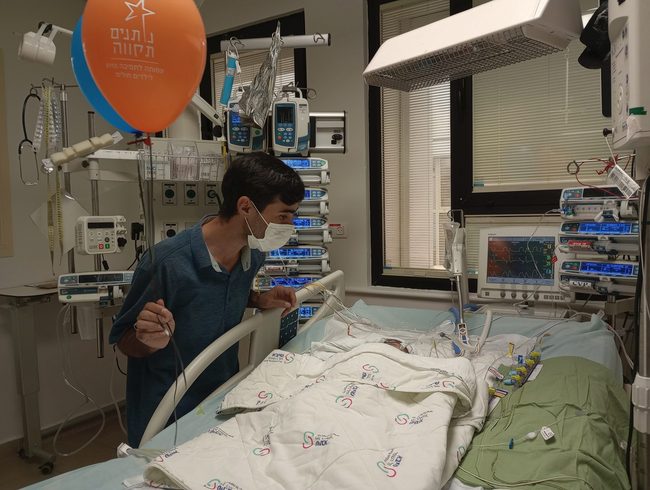 Her doctors had hoped to perform her arterial switch operation this week, but Hazhin developed sepsis and needs to recovery fully from it before she's ready for the big surgery. Thank God she's already showing signs of improvement after her surgery last week and is off dialysis. Please continue in prayer for our sweet girl and her dad:
Our good friend San from Kurdistan had a diagnostic catheterization at Sheba on Wednesday afternoon and was already awake and happy just a couple of hours later:
He's already back in Ashdod this afternoon, where he and his mother will enjoy some rest. We pray that the cath results show he can still be operated on despite his late arrival in Israel.
Two-month-old Kamel from Gaza had another catheterization this afternoon to widen his stenotic pulmonary valve. He's still fighting a bacterial infection and not gaining as much weight as he needs: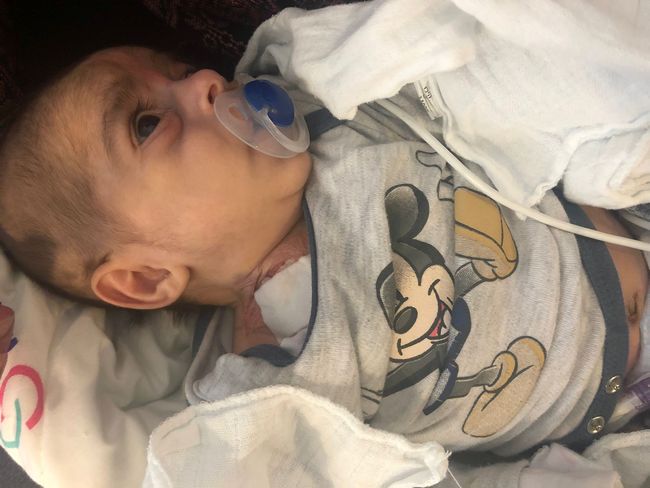 The doctors have found that the narrowing in Kamel's pulmonary valve is severe enough that he will need multiple caths in the future to keep it open. Please pray for this little guy as he's not feeling very well this week.
Our sweet twelve-year-old Sundis returned from Gaza this week for a gastroscopy procedure. The procedure was to check the upper part of her digestive tract, and she's feeling well afterwards. She needs to spend another day or two at Sheba before she's ready to go home, so she's enjoying some rest in the pediatric ward: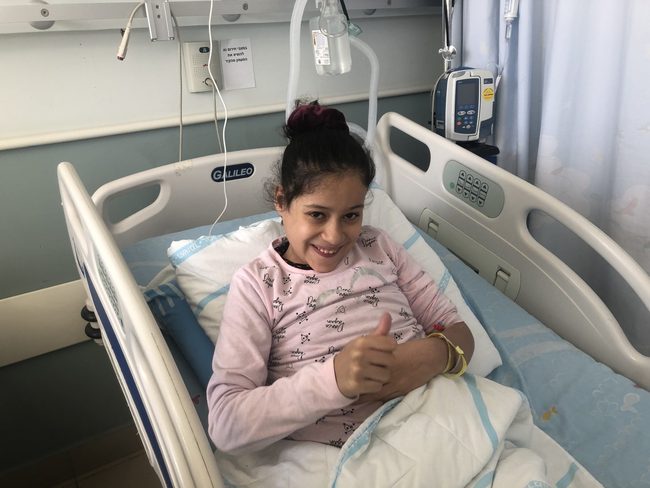 Meanwhile in Ashdod, Arya, Miran, and Lya are all patiently awaiting their upcoming catheterizations. They're keeping busy this week with arts and crafts and a much-anticipated train trip to Jerusalem: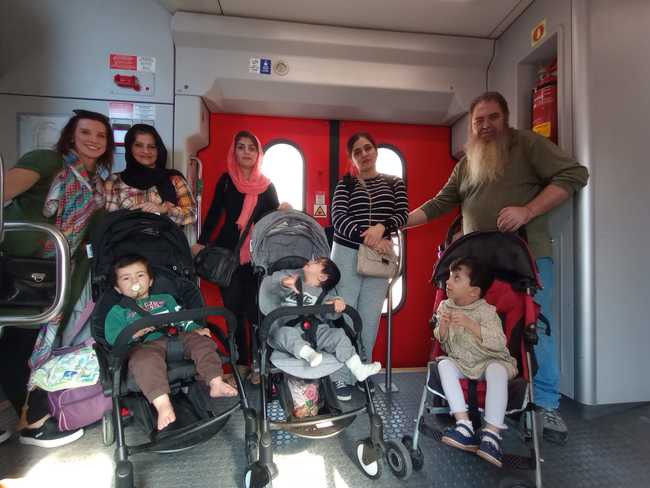 Arya
 and 
Miran
 are becoming good friends and coming more and more out of their shells: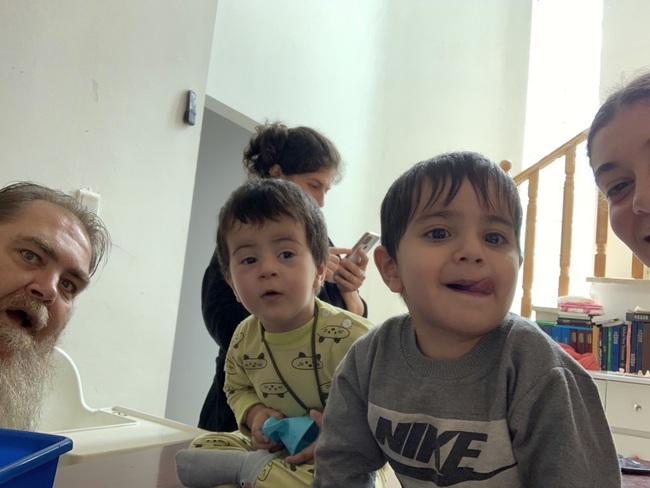 They are scheduled to be admitted together to Sheba on Monday for caths on Tuesday. Sweet
Lya
 is scheduled for a cath the following week. In the meantime, she's boldly exploring her surroundings and befriending everyone she meets—even a stray cat in Jerusalem: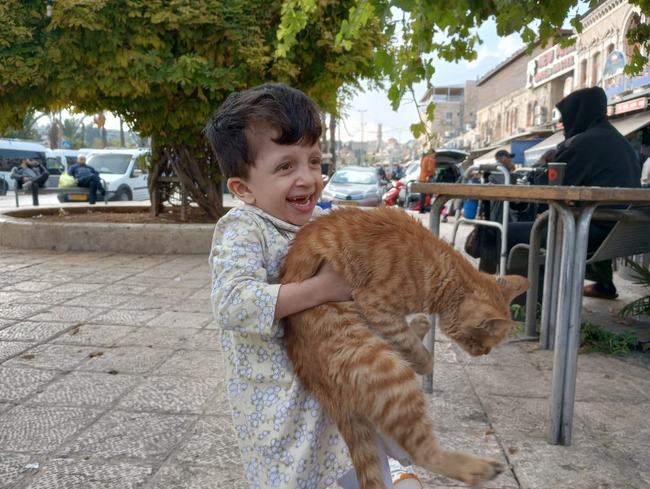 Please pray for all three of these precious kids and their mothers as they prepare for treatment.
As the weeks grow busier with steadily increasing numbers of children arriving, we are grateful to see how our Father is providing for our every need. As the calendar fills up and we are working not only in Ashdod and Tel Aviv but Jerusalem as well, I'll admit I often find myself wondering, "How are we going to make this week work? We're just not enough people!"
Well, as always, God makes a way. He answered the admittedly anxious prayers this week by sending people—not just one or two, but six!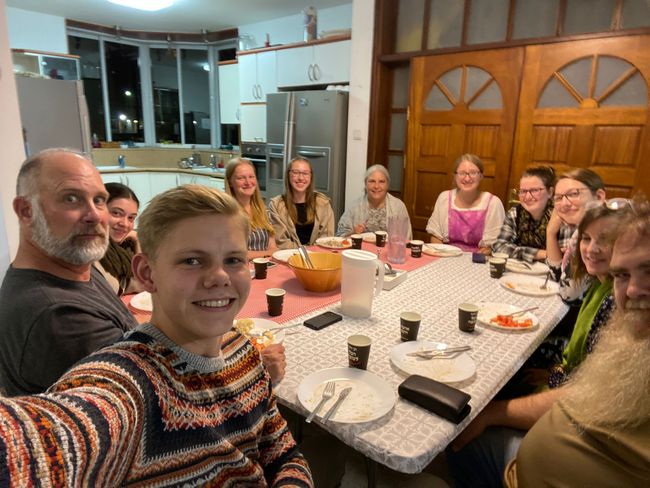 As we said goodbye to our beloved Grant and Kathy on Sunday evening, we welcomed Kristie from Virginia, followed on Monday by Mark and Aishah and their two sweet little girls from the Netherlands. Last but not least, we are excited to welcome back our coworker Joanne, who is back with us after a few months at home in the Netherlands: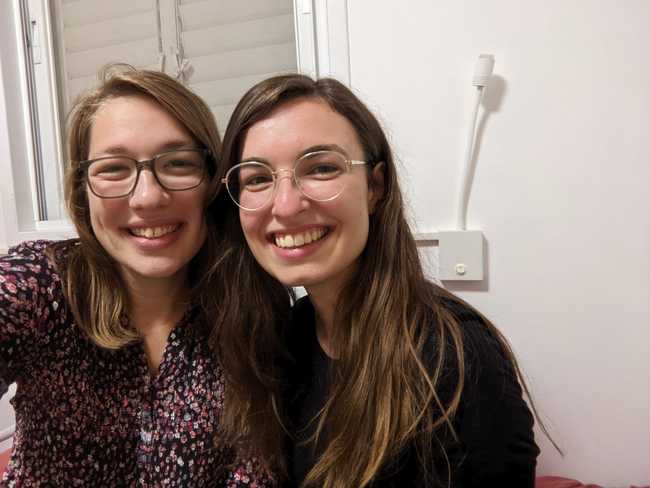 All we have needed—whether staff or funds or healing for our kids or strength for another day—God's hand has provided. May we never forget his goodness to us.
Thank you for joining us in prayer,
Bria for Shevet Achim