Friends,
It's been a difficult few weeks for sweet baby Hazhin from Kurdistan. We're now one month past her first heart surgery, and every week doctors hope that by the next week she will be ready for the arterial switch operation.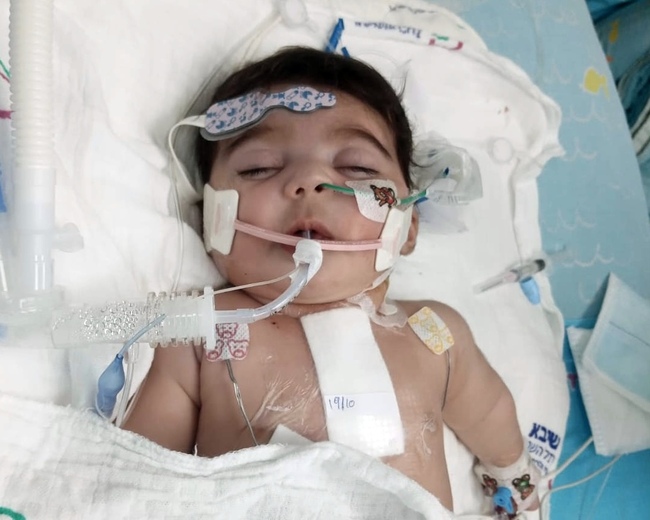 But one obstacle after another arises. In a CT scan on Tuesday, Hazhin's doctors discovered an abnormality in her brain. Unsure exactly what was causing it, they stopped giving medications to sedate her. Without sedation Hazhin is moving a bit but not waking up as they had hoped.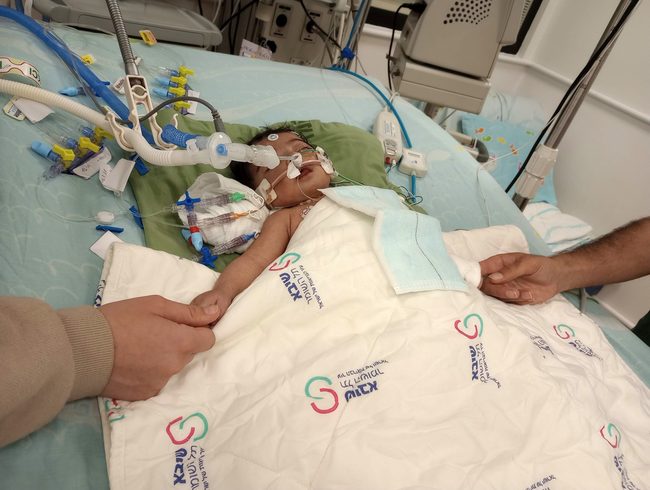 This morning we got a phone call from a doctor in the ICU. In addition to the neurological findings yesterday, they discovered a possible obstruction in Hazhin's intestines likely causing the swelling in her stomach. The surgery to clear the obstruction, while not especially complicated, would be dangerous due to her critical condition. The doctor explained the risks gently, but honestly: "Her father needs to understand that it's a very high-risk operation. She could have severe bleeding, or she could die in surgery."
We translated this to Hazhin's father. "I understand," he said quietly, and signed the consent form, entrusting his little girl to the surgeons and to God.
While Joanne and Simona waited with Hazhin's father at the hospital, the rest of us returned to our community morning meeting in Ashdod. The next song we sang was beautifully fitting:
God, You are my God
And I will trust in You and not be shaken
Lord of peace, renew
A steadfast spirit within me
To rest in You alone.
After a long day of waiting and praying, we received this text from Joanne: "Praise the Lord, Hazhin made it through surgery." For now, she is stable and recovering in the ICU: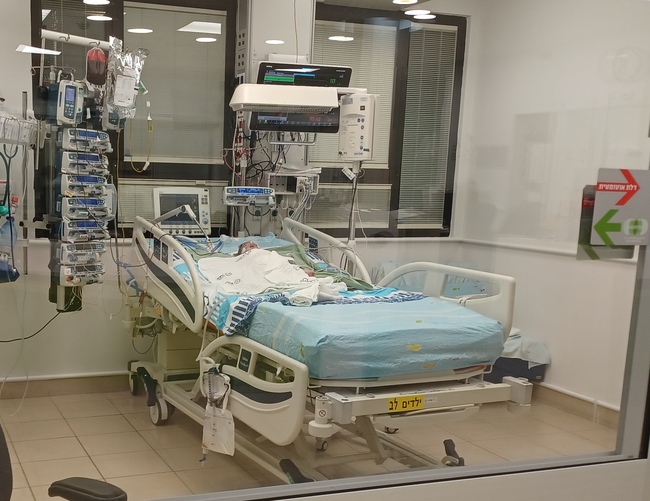 Hazhin still has a long road ahead of her but we along with her father are trusting her to her Creator's loving hand. Please continue in prayer for Hazhin and her dad.
Beautiful five-month-old Shan from Kurdistan had her big arterial switch operation on Tuesday morning at Hadassah hospital. It's unusual to have this surgery so late, as it is usually done within the first two months of life, but this turned out to be no problem for Shan. After just five and a half hours in the operating room, the surgeon delivered a good report: "All went smooth with the patient." Just one day later, Shan is extubated and awake, and for the first time in her life, her lips, hands, and feet are all a beautiful pink!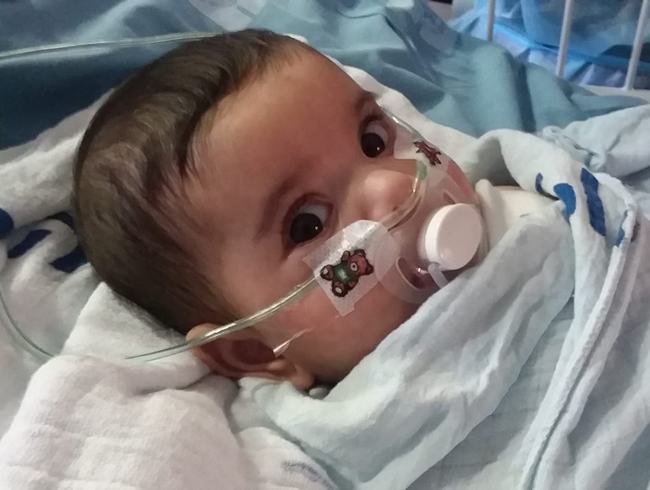 "I've never seen a baby look so good right after surgery!" Petra wrote. Praise God for Shan's recovery!
13-year-old Mohammed was discharged this week from Hadassah hospital only nine days after his major open heart surgery! It was a joyful moment when he and his mother got the news that they'd be leaving the hospital, Tatiana wrote: "Suddenly he was laughing with his mom and at one point, Mohammed's mom was crying and laughing at the same time. It was a beautiful picture."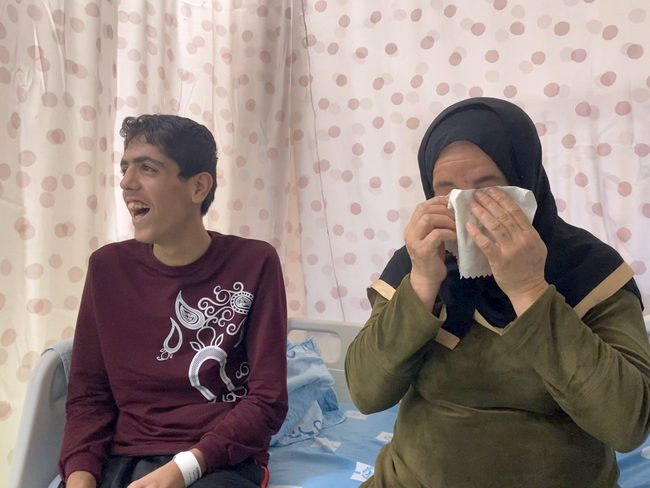 Mohammed's recovery is an incredible gift and one that we do not take for granted. This evening he wasn't feeling well and Tatiana has taken him back to the ER for evaluation. Pray for continued strengthening and healing for him in the days to come.
Our guesthouse in Jerusalem is filling up quickly, as we welcomed another arrival from Kurdistan this week: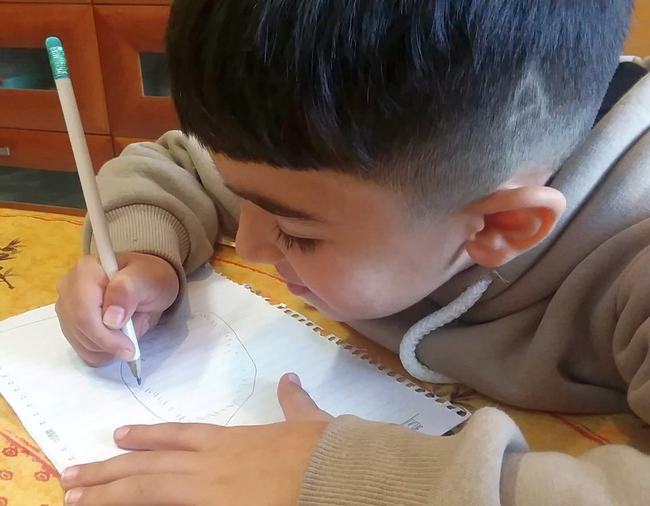 Six-year-old
Azhan
 and his mother arrived late Monday night and are enjoying some rest in the guesthouse before Azhan's first evaluation at Hadassah hospital on Sunday morning. Azhan is a handsome little guy with the sweetest personality and when he's not busy drawing pictures, he's making friends with his housemates, especially Mohammed's mom: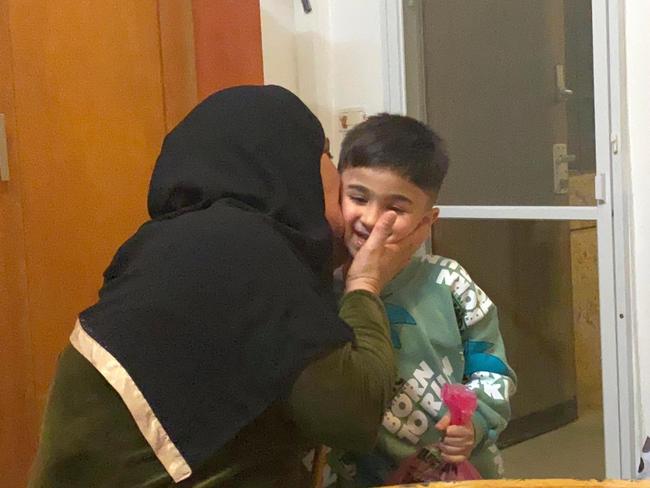 Meanwhile at Sheba, our dynamic duo,
Arya
 and 
Miran
, both had catheterizations on Tuesday. Arya's diagnostic cath helped the doctors collect information in preparation for his upcoming Glenn operation. Though he seemed content to stay at the hospital where he could drive the cars in the clinic waiting room to his heart's content, Arya was discharged the day after his cath and is now in Ashdod waiting for surgery: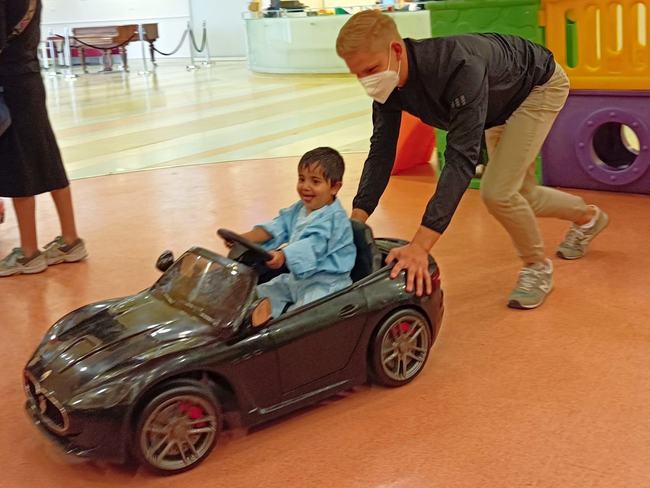 One-year-old Miran's cath was an interventional procedure to dilate his narrowed pulmonary valve. This will allow better blood flow to the lungs, which in turn should raise Miran's low oxygen saturations. He was discharged to Ashdod this afternoon and will return for a follow-up echo at Sheba next week: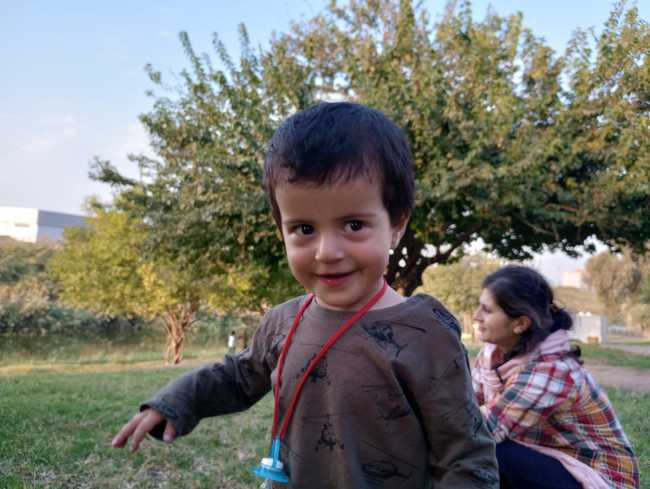 Three-year-old
San
 is also back in Ashdod this afternoon after a couple of days in the pediatric ward at Sheba. He wasn't eating or drinking well since his catheterization, and by Monday was voitming and dehydrated. After two days of fluids, medications, and observation, San is feeling much better now: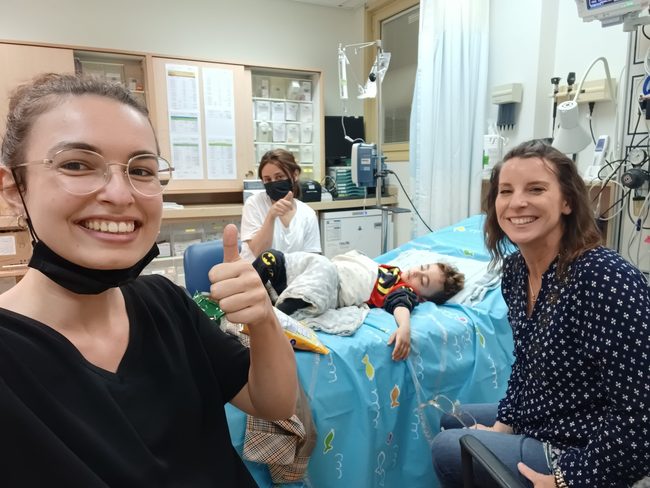 He needs a 3D echo to help the doctors decide on the next steps for his treatment, and it's scheduled for next week. San's heart defect isn't especially complex, but his situation is complicated because of how long he has gone without intervention. Please pray that the doctors will find a good path of treatment for him.
It was a week for unexpected hospitalizations; in addition to San, three more little guys were admitted by surprise this week. First was little Ayub, who arrived from Gaza on Sunday morning for his first follow-up echo since surgery. We're glad to hear that Ayub's heart is in very good condition after surgery in September. However, he was unable to keep milk down for a few days, so his doctor decided it was better to admit him for observation just in case he had contracted a virus. After a couple of days and some changes in his milk, Ayub is feeling much better and was discharged home to Gaza on Tuesday: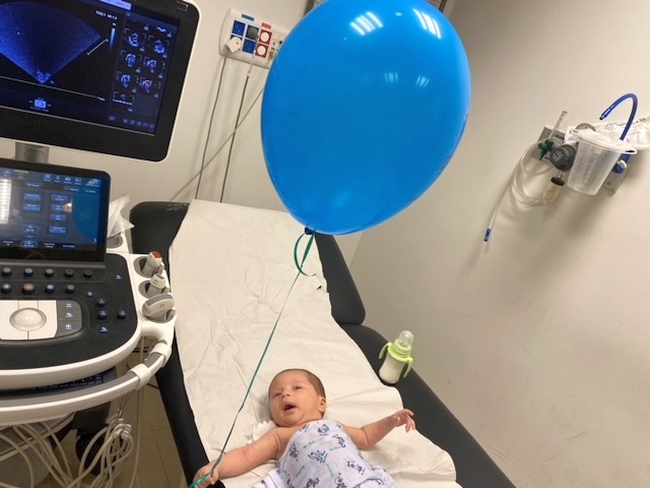 First thing Monday morning, little
Mohammed A.S.
 from the West Bank arrived at Sheba with both of his parents, who were concerned about their little boy after he developed a fever and a bad cough back home. Mohammed underwent a full evaluation in the ER at Sheba, where he was diagnosed with bronchitis. While this wouldn't be a big problem for a healthy child, because of Mohammed's heart condition, he needs some extra care. He's now recovering in the pediatric ICU at Sheba with his parents looking after him: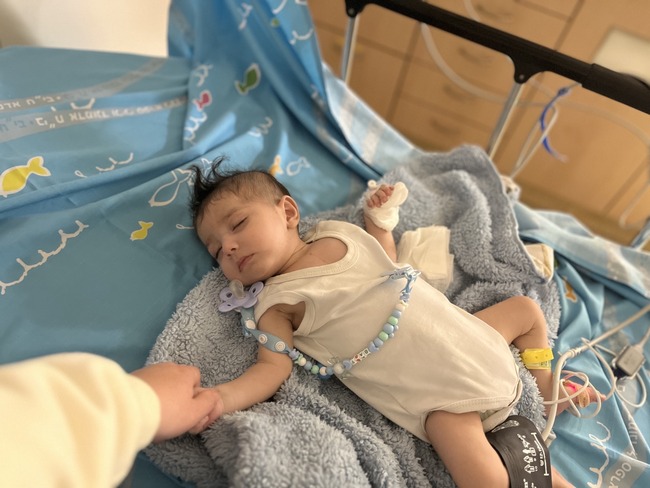 And handsome little
Kenan
 from Gaza returned to Sheba on Sunday morning. He underwent several procedures there last year, and it's been nearly a year since his last visit for an interventional catheterization. We're grateful for the timing of his return, as his cardiologist discovered a thrombus, or blood clot, in his echo. Kenan was immediately admitted to the pediatric ICU, where he is receiving medication to treat the blood clot before he is cleared to return home: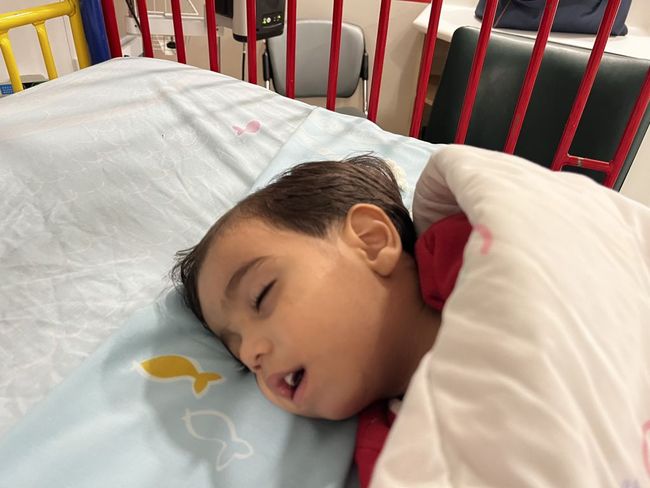 Kenan has the most beautiful smile, which he's happy to show off once he determines that his visitors are not doctors. Pray that his medications will be sufficient to treat the blood clot so he can go home to his family soon.
Our beautiful Fatoum from Gaza is making a good recovery after her Fontan operation last week. It's a big surgery with a difficult recovery, and Fatoum's mom told us that she didn't feel well for the first few days. But by now, Fatoum is sitting up and smiling again and even starting to walk and play again. Her post-surgical exams look good and she's starting treatment with blood thinning medication in preparation to go home: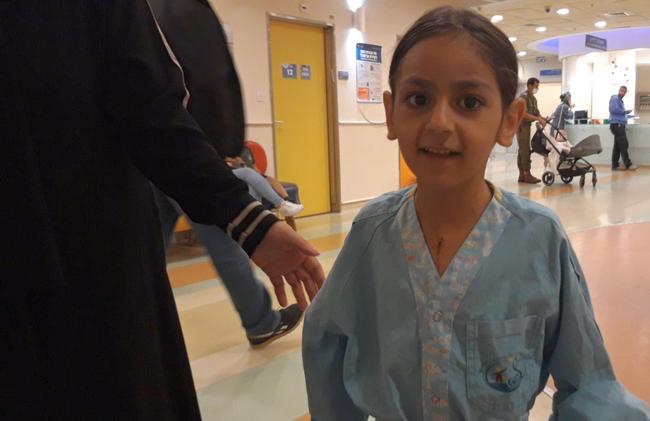 Eight-month-old
Anas
 from Gaza returned to Sheba hospital this week for a diagnostic catheterization. A few of us were here at Shevet back in March when Anas first arrived as a newborn in an emergency transfer. When we saw him this week, all bundled up in a cozy jumpsuit and with a big smile on his face, we couldn't believe how big he's gotten!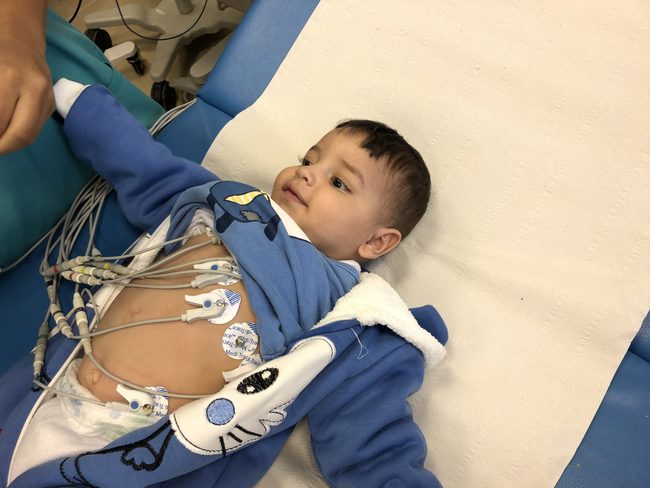 Anas has hypoplastic left heart syndrome, the most difficult to treat congenital heart defect, and we're amazed by how healthy he is. His cath this morning was to help the doctors prepare for his upcoming Glenn operation, the second of three surgeries needed to treat his heart. Please pray for Anas and his doctors as they get ready for this surgery in the coming weeks.
Lastly, we ask for prayer this week for our coworker Tatiana, who has served faithfully as our community coordinator for the last few months: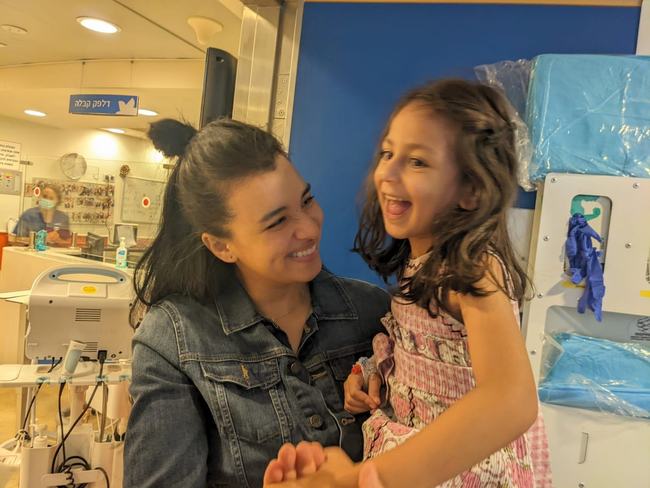 The interior ministry has asked her to leave the country, possibly for six months, before they will agree to extend her visa. Please pray for peace for her as she discerns her next steps.
In times of uncertainty—whether praying for healing, waiting for surgery for a dearly loved child, or navigating unexpected and challenging circumstances—there is no greater comfort than knowing that we have a sure anchor and a steadfast hope in the love of our Father. To return to our song from this morning:
Still, my soul, be still
And do not fear
Though winds of change may rage tomorrow
God is at your side
No longer dread
The fires of unexpected sorrow

God, You are my God
And I will trust in You and not be shaken
Lord of peace renew
A steadfast spirit within me
To rest in You alone
Thank you for joining us in prayer,
Bria for Shevet Achim