Dear coworkers,
Now that our community has celebrated American Thanksgiving (see Friday's prayer letter) we may be permitted to turn our thoughts toward Christmas.
On Thanksgiving Day in northern Iraq we screened new children in cooperation with a local MBB church, and in came a very blue three-year-old girl named Helan from a Syrian refugee family. Watch her face as the pastor gave her an Operation Christmas Child shoebox filled with gifts:
Now that she's won your heart, we need to pray for Helan. She can't grow and survive without healing from God, most likely through the hands of a heart surgeon. But as refugees she and her family have no passports, and her surgery is not available in Iraq. We need a miraculous intervention to get her permission to travel.
It's been seven months since I was last in the Kurdish region of northern Iraq, and this past week has reminded me of all the reasons we need to be here. One is finding children like Helan, or newborn Rezhwan from last week's letter.
Another reason is following up on children who have already been with us for heart surgery in Israel. We want to be faithful and committed just as our father in heaven. You may remember 
Asmeen
, who was in the ICU in Israel for seven months until we were finally able to send her home, still on a portable ventilator. This week we found her not only breathing on her own but showing off her gymnastics:
Now Asmeen needs a small surgery to remove her tracheostomy, and another surgery to relieve a kidney obstruction. We hope to find favor with immigration authorities to bring her back to Israel shortly (along with beloved Mariya, whose return for a kidney surgery has been persistently advocated by our Israeli volunteer Moshe).
And then there's just the encouragement that a trip to Iraq brings as we see the fruit of the Lord's work over the years through our community. Here's a sweet reunion between Lano and Hezhan, who both had surgery with us in 2009: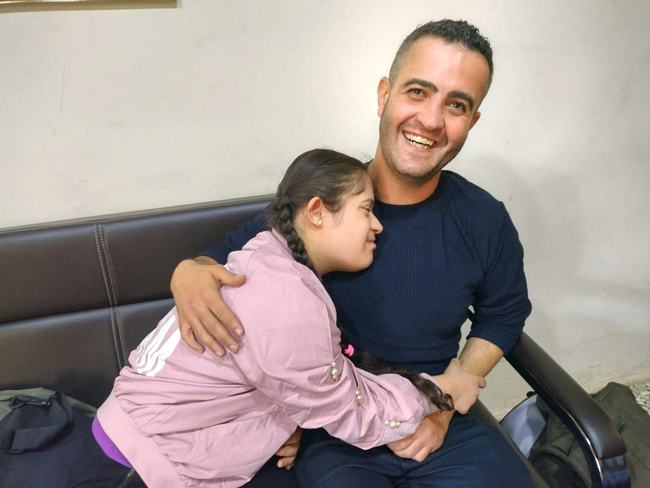 And a meeting with the lovely Yazidi family of teenaged
Dleza
 in their refugee camp; they say that after surgery she can now walk "from here to Duhok" without tiring: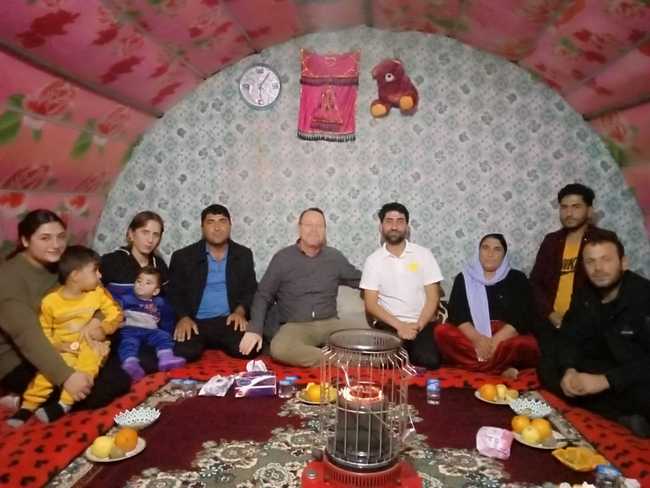 And then this grandmother who told us with tears of the death of her husband from cancer, and then the death of her only son in a car crash. What a consolation that the grandson
Ayan
, born after his father's death, has been restored to the family after surgery in Israel: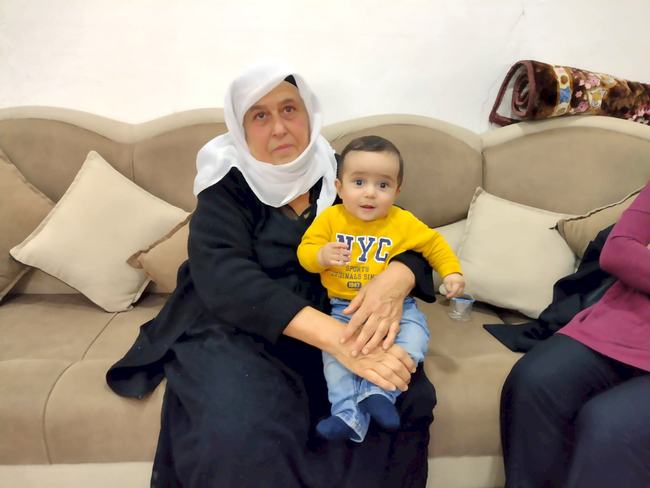 How can we not thank God for allowing us to be part of his amazing works of mercy?
Tomorrow night God willing I'll fly back to Israel with two-year-old Sarjon and his mother, who are from the ancient Assyrian Christian community: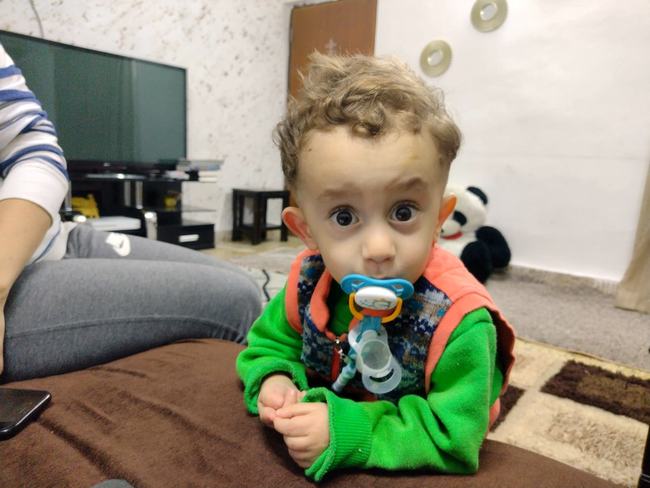 Sarjon is named for the Semitic ruler of history's
first recorded empire
 here in Mesopotamia some 4300 years ago, at least 400 years before the time of Abraham.
I've told friends here we'll try to be back within 1-2 months. After many years I believe there are small but unmistakeable signs of hearts opening to the word of God as given through the people of Israel. As Messiah's brother Yakov (James) instructed us:
See how the farmer waits for the precious fruit of the earth, being patient about it, until it receives the early and the late rains. You also be patient.
But to make these trips possible we will need to grow our staff in Israel. We are still stretched too thin. Please pray with us for laborers, and consider whether you are one of those called to come. And soon.
And let's pray this week for two nations. With virtually no outside support the brave people of Iran are in the streets facing down gunfire, prison and execution. With growing boldness they are making it clear that it is the theocracy itself they reject. Even Khamenei's niece is openly calling for the overthrow of the Islamic Republic: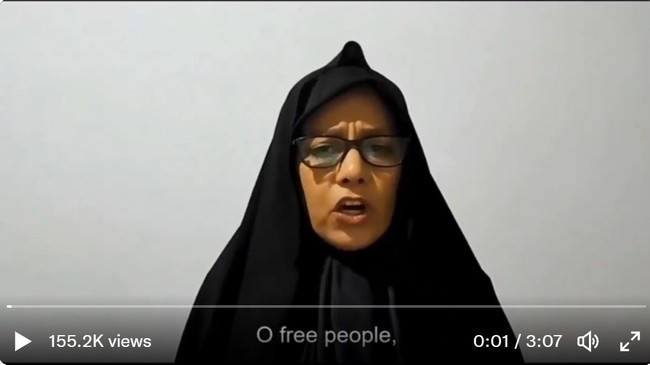 And Israel's attempt to form a new government continues this week. There are 
grave concerns
 about some of the leading members of the emerging government, and ominous echos of the kind of division which doomed the first two periods of Jewish sovereignty. Israel's former prime minister Naftali Bennett 
published a hopeful plea
 today which can inform our prayer: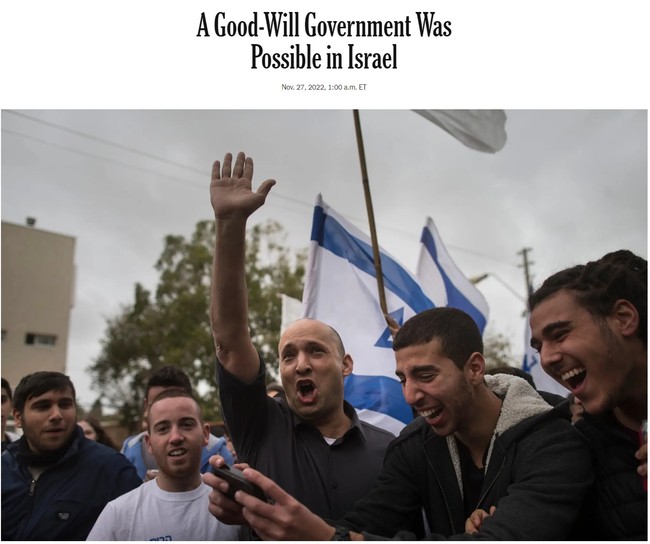 A year and a half ago, I made a difficult decision: to break from my political base and form a government with people I couldn't have imagined working with in my wildest dreams.
Israel was at one of its lowest moments, polarized and paralyzed: four rounds of elections in two years, massive riots in Arab and mixed towns, and killings of Israeli Jews and Israeli Arabs, plus hundreds injured. The Palestinian terrorist organization Hamas had just shot rockets into Jerusalem after the annual Flag Parade in the Old City.
We had near-record unemployment and an unprecedented deficit. We hadn't passed a budget for three years. Benjamin Netanyahu had failed to form a government, and we were just days away from another round of elections and full-blown chaos.
I vividly recall the moment, a Sabbath morning, when I made the decision. I asked my four children to join my wife, Gilat, and me in the kitchen. I told my family, "Your abba is about to attempt something, and I don't even know if I'll succeed. A lot of people — including friends — will say a lot of bad stuff about your abba. So I want you to know that I'm doing it for Israel's sake."
An unrelenting propaganda campaign run by the opposition over social and traditional media tried to break me and my party, Yamina. The pressure worked. Just days before the critical vote, a member of my party bolted. As a result, we were down to the bare minimum necessary to form a new government.
On June 13, 2021, the Knesset voted to establish the new government with a majority of 60 votes, with 59 opposing votes and one abstention. At that moment, I became the prime minister of the most diverse government in Israel's history. Right and left, religious and secular, Jews and Arabs, all working together…
How did we do it?
I established the 70/70 rule.
About 70 percent of Israelis agree on 70 percent of the issues. We all agree that we need better trains and roads, better education, more security and a lower cost of living. However, we disagree on the Israeli-Palestinian conflict, religion and state and the desired nature of our legal system.
So my government focused on getting the 70 percent done, as opposed to endlessly wrangling over the issues we didn't agree on. We all agreed that this government will neither insist on Israeli sovereignty for territories nor hand them over to Palestinians. Similarly, we decided we would not legislate on any disputed religious or legal matters.
When you neutralize the most politically sensitive issues, ministers from left and right saw each other as decent people working for the good of Israel and not as the demons we had been calling each other.
We called ourselves a good-will government. We proved to ourselves and to those outside our coalition that people with radically different political opinions can work incredibly well together. The world is more polarized than ever. The model we presented was one of cooperation and unity. Of transcending your tribe for the good of your nation.
Take Mansour Abbas, the leader of the Arab Raam party. The first time I met him was during the weeks before we formed the government.
Mr. Netanyahu had been secretly meeting Mr. Abbas in his attempts to form a coalition. Before I met Mr. Abbas, I had a negative opinion of him. I thought he supported terrorism. I heard from many that this wasn't true. They told me he was genuinely trying to create a pragmatic model for Israeli Arabs.
I called him and invited him to a meeting.
"Which secret apartment should we meet at?" Mr. Abbas asked me. He was used to huddling with people in secret, as they didn't want their discussions to be discovered.
"We're going to meet openly at my Knesset office," I replied. "You are not second-class. I am not ashamed to meet you."
I discovered a brave leader just about my age who turned out to be something of a mensch. We are both men of faith and quickly agreed that whatever theological disagreements may exist between Judaism and Islam, we will let God handle those. We will work together here and now to provide better education, better jobs and safer streets for Israelis and Arabs…
A new government is now being formed in Israel, and I hope its leaders understand that the single biggest challenge for Israel is keeping all parts of Israeli society together.
The State of Israel is the third instance of a Jewish political entity in the Holy Land. During the time of the First and Second Temples, we managed to keep our nation together for only about 80 years, after which internal divisions tore us apart and we ultimately lost our independence. Israel is now in its 75th year. This is our third chance, and we're determined that this time, we succeed.
May these words inform our own quests for unity in each of our own spheres, most critically that we attain that love between each other by which all will know that we are Messiah's disciples.
Jonathan for Shevet Achim
"Behold how good and how pleasant it is for brothers to dwell together in unity" (Psalm 133).