Friends,
Six weeks have passed by since our little girl Hazhin from Kurdistan had her first of two planned surgeries. Six weeks full of suffering, hope, doubts, and the never-ending love of her father.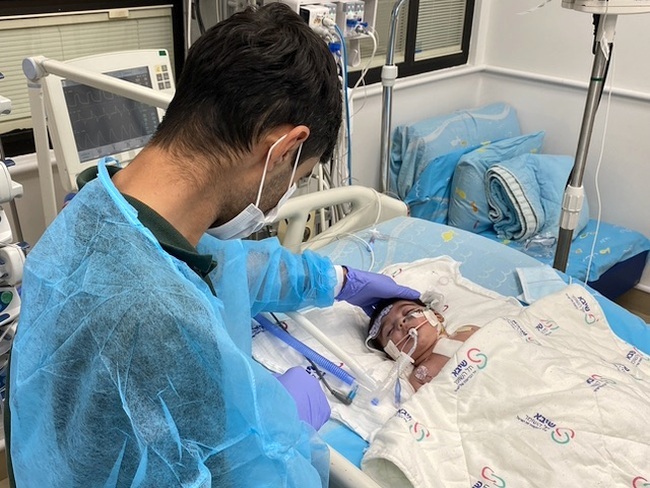 After doctors started dialysis at the end of last week, she lost more than one kilogram of fluids which was a good and hopeful step, but at the same time her other organs started to fail. Her loving dad reached the end of his strength this week, so he came for a little break from the hospital on Tuesday evening in our house in Ashdod to get some rest. The next morning he sat with us during our morning meeting. We started that morning with
a song from Hannah Kerr
:
Be still and know
You don't have to worry
Be still and know
He'll find you where you are
He is good
His love will never let you go
Trust him
Be still and know
We translated those words for him into Kurdish, hoping that he will be encouraged by the knowledge that God is here with us and in control. Only this can give us true peace in every situation. Thursday morning we took him to Jerusalem, where he hoped to spend the day praying, when we suddenly got a phone call from the ICU at Sheba: Hazhin is deteriorating, and doctors expect her to leave this world in the next hours. Jonathan drove straight with her dad to the hospital where he and Jakob spent the next hours praying alongside Hazhin's father.
But Hazhin kept fighting and hanging on to life and so last evening her father came back with us to Ashdod to rest. The next call came at 4:15 this morning and a few minutes later Jakob, Hazhin's dad and Doro were in the car to the hospital again. The following hours we spent in her room watching the numbers of her heart rate going up and down until shortly after eight the numbers dropped further and further and Hazhin went – her earthly father holding her tiny hand – home to her heavenly father. Her suffering has come to an end and while we are grieving here on earth with her family we want to trust that God never lets us go and he didn't let Hazhin go- he just brought her home into his loving arms.
This afternoon we buried her in Jerusalem along the eastern wall of the Old City, not far from where we buried Lawik a month ago: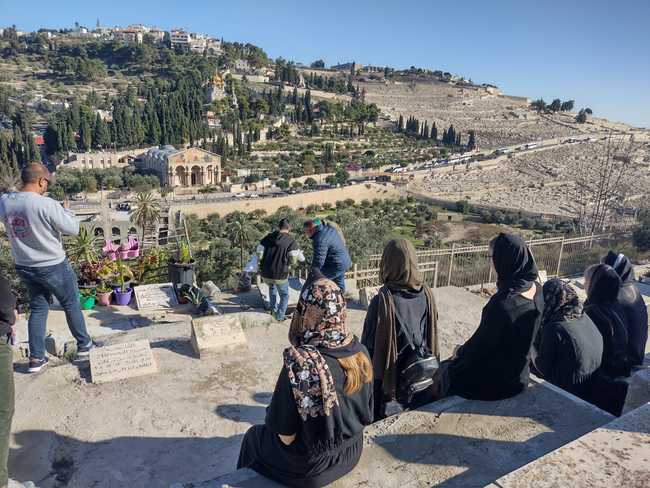 Hazhin and Lawik travelled to Israel together and now they wait for the voice that spoke them into existence to call them back to life. As Jakob posted this morning:
from Him we come and to Him we return
.
We maybe don't understand, but we want to be still and know. And trust that his plans are for the good to all who love him.
We also need to trust him regarding Sineor from Kurdistan. Our adorable one-and-a-half-year-old boy went in for surgery on Tuesday morning: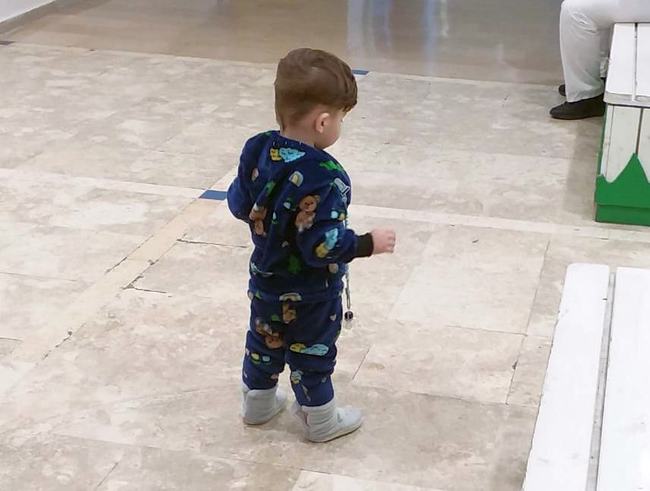 The initial estimate of surgery length was eight hours, so his mother prepared herself for the wait. It was very, very hard for her to see her only son go into surgery, and she cried and showed Petra pictures of him, and prayed throughout the whole wait. It became even harder for her when about nine hours into surgery they told her that it would be longer than expected, and that his heart was very weak. They decided to give him a little time to see if he would improve, but they warned that he may need to go on ECMO heart-lung support after surgery.
After several more hours, the doctors told us that though his heart function had improved, it would likely deteriorate after surgery if they didn't put him on ECMO. It took four more hours to put him on ECMO and stabilize him. Finally, at about 2:00 am, after more than 18 hours, his mother was allowed to go into his room: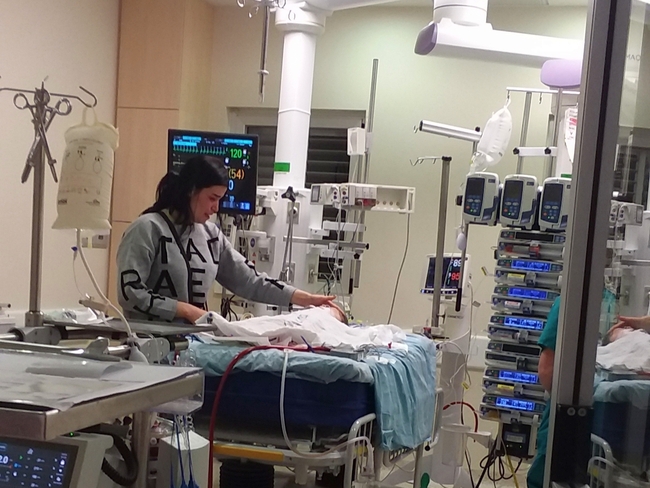 Over the past two days, Sineor has stayed stable on ECMO, but his heart is still too weak for the doctors to think about taking him off of ECMO support yet. This has been extremely difficult for Sineor's mother, and she hasn't been able to sleep or eat very much. Pray that he will grow strong enough to come off the ECMO soon, and that his mother will be still, and know that God is in control.
Little five-month-old Kurdish Shan was discharged from Hadassah hospital to our Jerusalem guesthouse on Tuesday: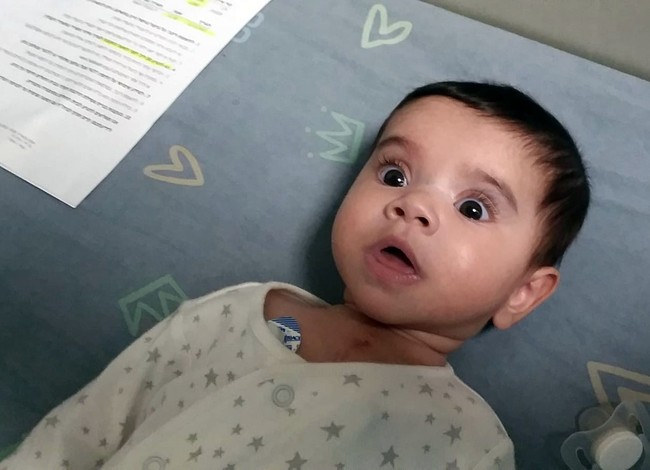 She will have her next echo check-up in a week and a half. She is doing very well – she is a living testament to the work of God. We know that He is the healer, and that all we need to do is to be still and know that He is God. Praise God!
Last week we shared that Mohammed M.A. from Kurdistan went to the Hadassah ER with fever and vomiting. The doctors discovered that he had inflammatory markers in his blood, and inflammation around his heart, which is dangerous since he has just had such a big surgery. They treated him with antibiotics all week, and by Tuesday he was doing well enough to be discharged the next day: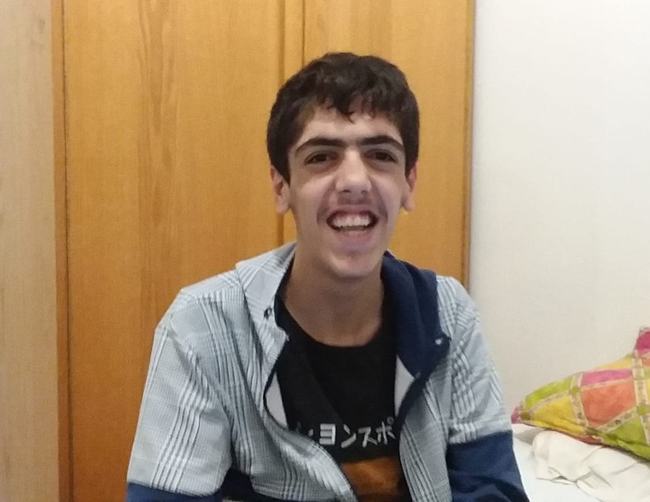 Yet again he and his mother were very happy to be home! Please pray we don't have any more ER visits, and that everything looks good in Mohammed's echo check-up next week.
Azhan, our fourth Kurdish child in Jerusalem, has been waiting patiently for his surgery. We finally got the good news Thursday morning that it will happen one week from that day. Please be praying that everything goes well, and that he has a good recovery: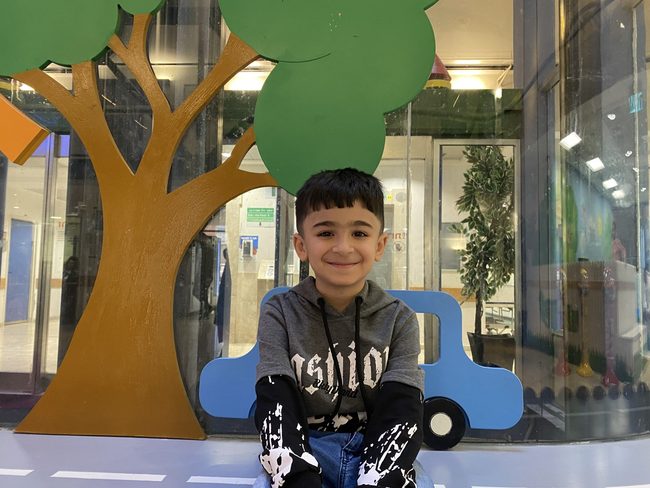 Monday night we welcomed two-year-old
Sarjon
 from the Christian Assyrian community in Iraq. Sarjon met us at the airport with a big smile on his face, pointing at our van and saying, "Car!" Directly on the next morning we brought him to his first echo at Sheba where doctors are making a plan how best to treat his aortic valve stenosis.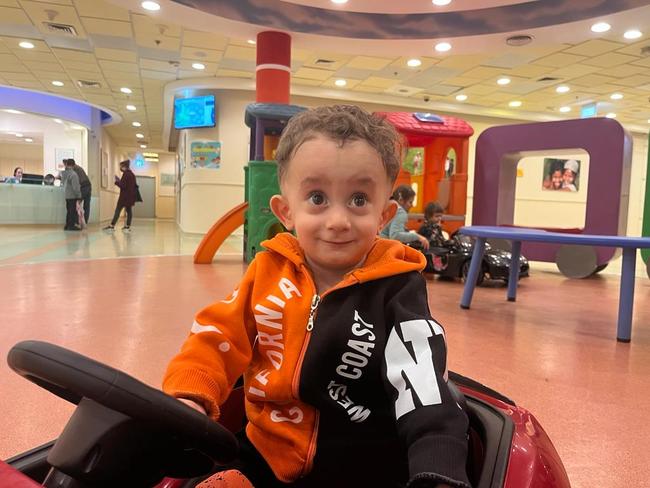 In the last days we had the pleasure to get to know Sarjon's sweet and joyful personality more and more. He likes to try talking to us with his few English words and especially he loves everything that has to do with cars. Please pray for Sarjon and his mom as they settle in here with us and for wisdom for his doctors in their decisions.
Sarjon already made good friends with our Lya, who was running around in the hallways of Sheba just a few hours after her interventional catheterization Tuesday: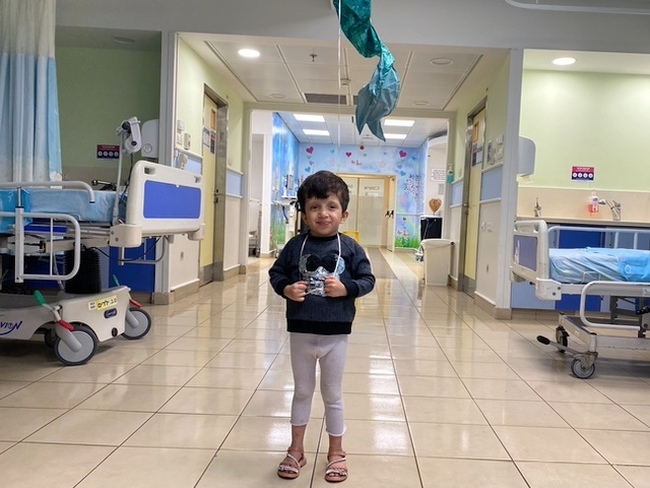 Doctors dilated her pulmonary valve and hope that this was enough to treat her heart problem. She will have another echo in three weeks and her mom hopes to hear that Lya doesn't need surgery but can go home soon.
Here in Ashdod she was happy to see her old friends San, Miran and Arya again. San is still waiting for an appointment for anesthesiology before he can have his dental treatment. Please pray that we can schedule that appointment soon as we are having trouble with it and his mom is getting anxious for San to have his heart surgery: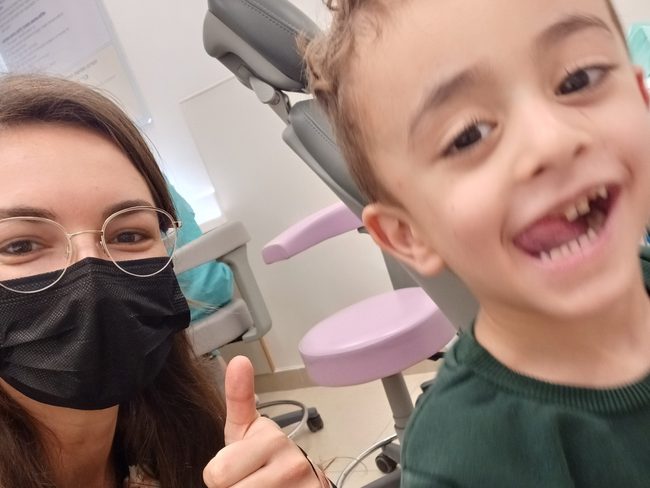 Miran
 had his first follow-up echo after his interventional cath this Monday, and his doctor shared that his heart looks very good. He will have another echo in three weeks and we will hear whether Miran even needs a surgery or if his cath was enough to go home to Kurdistan soon: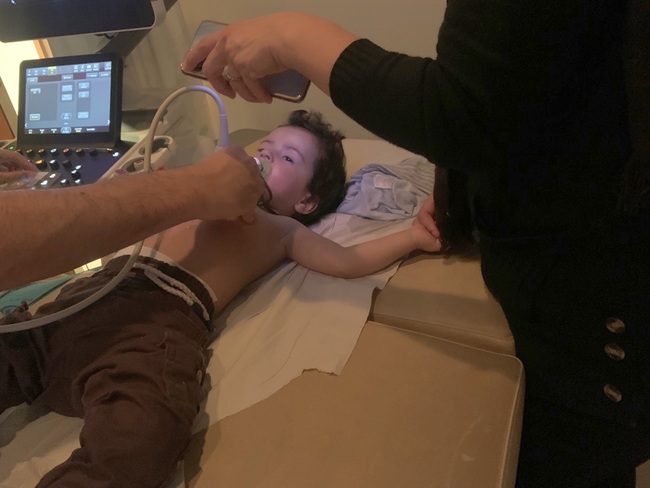 Little rascal
Arya
 finally had the CT scan this week which his doctor requested before he can his surgery, and now we are just waiting together with his mom for his surgery date: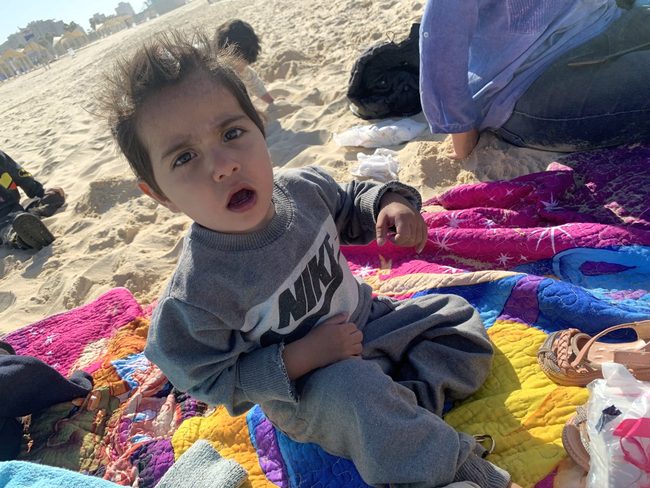 Also waiting for his surgery is
Mohammed R
. from Gaza, a three-month-old baby with Down syndrome who came on a ventilator to Sheba Medical Center this Sunday afternoon with his faithful grandmother by his side. He has a VSD and also pneumonia and so the doctors decided that he first needs to have a treatment against his lung infection before they can do his heart surgery: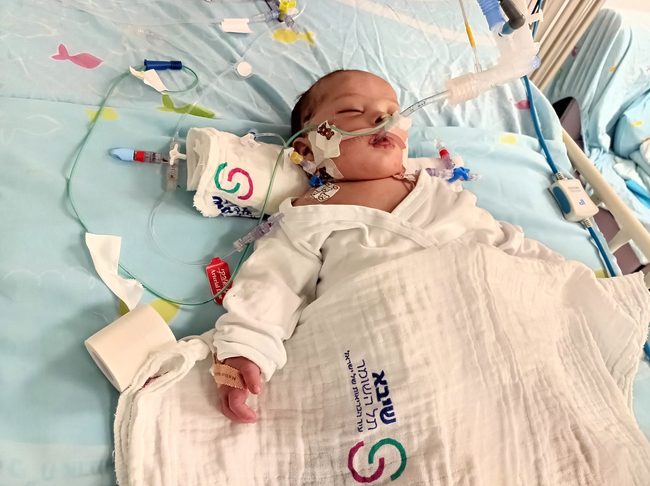 Thursday evening they found out that he also has a coronavirus infection, and so we are praying that he will be strong enough and recover from all his infections soon so that he can have his life-saving surgery. God is good and we want to trust him in all his ways.
Also admitted at Sheba was twelve-year-old Mohammed B., who came from Gaza for what we thought would only be a follow-up echo this Wednesday. His mom told Jakob before the echo that Mohammed sometimes turned blue in his face and also had some tingling in his legs, and indeed in the echo his doctor found out that his heart isn't doing well, and they admitted him straight to the intermediate ICU: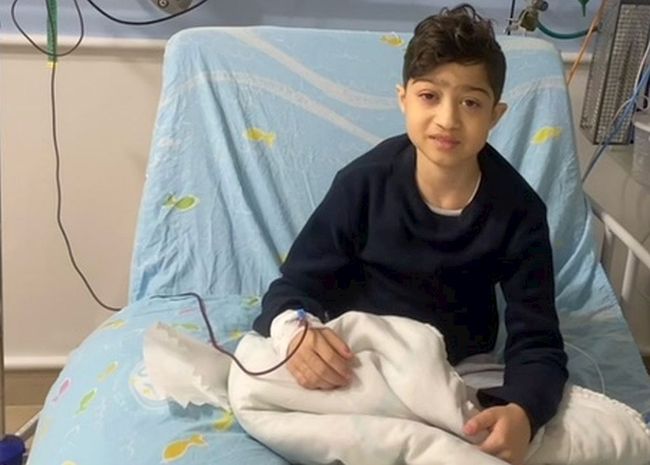 There they will do some more tests in the coming days before they will decide whether he needs an intervention, or they can just treat him with medication. Please pray for wise decisions for his doctors.
Kenan from Gaza was in a very similar situation a few weeks ago. Supposed to just come for an echo, instead he had to stay for two weeks until the doctors finished treating some bacteria and started a new medication for him against blood clots. On Monday morning, we finally got the good news that he is doing well enough to go back home – thank the Lord!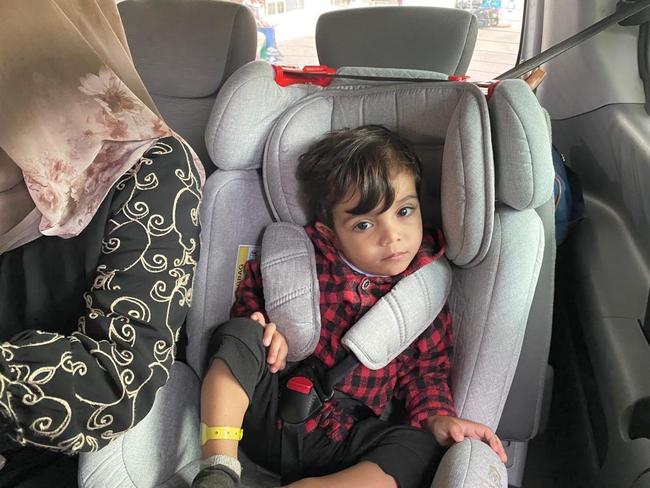 Driving home together with him was sweet
Fatoum
 who surprisingly already got discharged only two and a half weeks after her surgery. We are very thankful that she is doing so well as the Fontan is a big and dangerous surgery with a difficult recovery: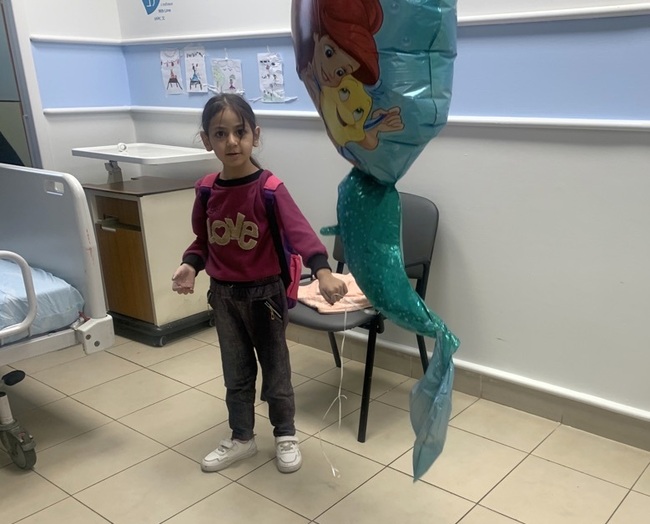 Fatoum fully has her energy back and we had a lot of fun playing with her before her discharge. We pray that she will stay safe back home with her family until she returns in three months for her cardiology follow-up.
While Fatoum and Kenan could return home our little Somaia is still at Sheba – completing her eighth month there this week. She is growing a lot and every time I visit her, I'm again surprised how big she is – in my head is still the picture of newborn Somaia when she arrived in March of this year. She also surprised me this Sunday in her crib smiling at us and whenever her aunt started counting in Arabic holding up three of her fingers.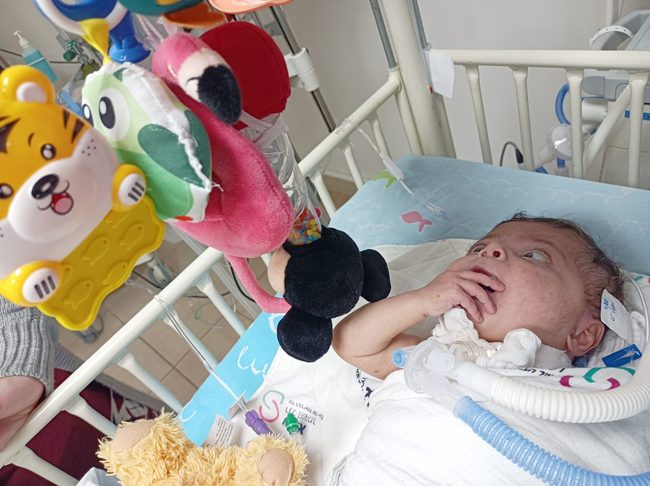 On Tuesday morning she got a little surgery to place a PEG stomach tube as she is not gaining enough weight with feeding only through her nasal tube. The procedure went all well and Thursday evening Jakob found Somaia coming back from a trip to the fresh air outside of the hospital. Please continue praying for our little girl and that some way will open up for her to continue her care. We have been looking for a good place for her rehabilitation so long already, but regardless we want to be still and see what the Lord will do.
Last but not least we had to say goodbye or better "see you soon" to our beloved friend Bria, who is flying back to her family for a month. Bria set a perfect example for all of us what it means to give up ourselves for Messiah and our neighbors. She was working harder than all of us, doing four jobs at once for some time and still cheering us all up with her joyful personality.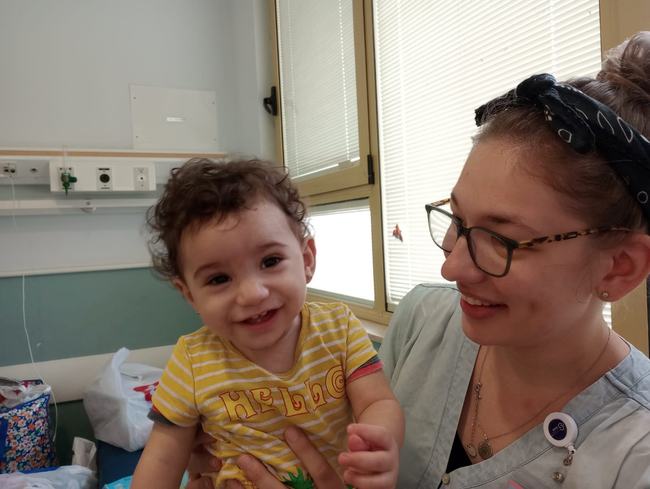 And while we miss her here – still figuring out how to do all the things she used to do – we share her excitement of getting the well-deserved rest after serving here at Shevet for 15 months without a break.
This week was marked by a lot of kids coming and going, by good news and challenging news, by healed hearts, by hearts that are fighting and a heart that is beating in eternity now. Be still and know that I am God! We want to remember this command from Psalm 46 when it is so easy for questions and worries to arise.
His plan is for the good of all who love him
His word is a promise you can hold
So cry out to the lord
He is strong when you are weak
Find rest and be restored
He is all you need 
With those words the song from Hannah Kerr ends and this is what we want to believe. For Hazhin's family a long period of grief and pain has begun now. We don't know why God decided to heal Hazhin in eternity instead of here. But we know that he is here with us, will restore us and is all we need. And in this trust we will rest and be still.
Thank you for joining us in prayer,
Petra and Doro for Shevet Achim