Friends,
When bad things happen, we want answers from God. Sometimes we don't even wait for answers, but instead become angry at Him for allowing such things to happen.
King David had a lot of experience with suffering. His prophetic Psalm 22 begins: "My God, my God, why have you forsaken me? Why are you so far from saving me, from the words of my groaning?"
When children die here at Shevet, it's always very hard. Sometimes it's easier to see a small part of why God allowed it to happen – perhaps the child was delivered from great pain, or the family is drawn nearer to the Lord through their loss.
But sometimes there seems to be absolutely no reason, no possible way that this could ever be made right. And it's not right. Death is evil. We cry out against death, and in confusion against an all-powerful God who would allow it in His world. As Martha cries in John 11: "Lord, if you had been here, [he] would not have died!"
The same question rings out in every hard situation on earth – Lord, where are you?
On Sunday, after being stable on ECMO heart-lung support for five days, the Yazidi refugee child Sineor went again into surgery. Doctors discovered that he also needed a pacemaker to stabilize his heartbeat, and that one of his valves was too small. In a five-hour surgery, they were able to open the valve, place a pacemaker, and take him off of the ECMO. Right after surgery, Sineor was doing well, and the doctors were hopeful.
The next day Jonathan received a call from the ICU saying that Sineor was struggling. Here in our Jerusalem base, coworker Luisa and I immediately started off for the hospital, and arrived about an hour later. We found that Sineor was in an even worse situation than we had feared. His heart was beating very weakly, and his blood pressure was extremely low. The doctors were giving him every medicine they could to support his heart function, and were waiting to see if he would respond.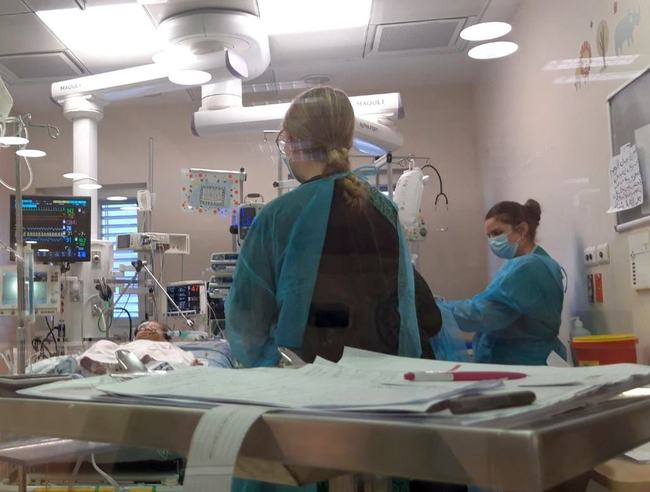 However, about an hour after we arrived, the doctors delivered the difficult news that Sineor was not responding to even maximum support, and that it would be a matter of hours till his heart could no longer beat. His mother, who had not been eating or drinking or sleeping much in the hospital, was devastated. She tried to stay with him in his room a few times, but she was so weak and broken that she couldn't stay there for very long without collapsing.
Jonathan and coworker Doro came to support her, as did coworker Elise and the mother of Shan. We all gathered around her, along with the hospital staff, and some other mothers in the ICU, and waited.
Finally, the doctors told us that it would be less than an hour till he died. Doro, Shan's mother, and I went into the room with Sineor's mother, and we waited. Jonathan placed his hands on Sineor's body, and prayed that God would heal him. We waited. His heart rate became slower and slower, and his blood pressure dropped lower and lower, and finally stopped. Our little boy went home.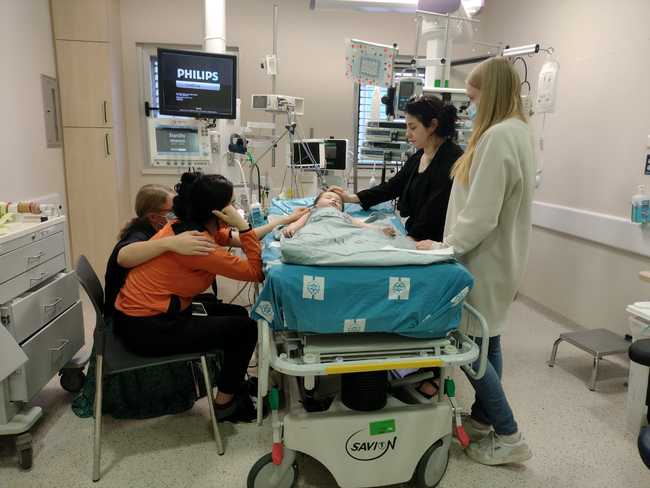 Why didn't God do a miracle? I still remember Sineor's mother's words before his surgery: "Pray for Sineor. I have heard that the prayers of Christians are answered."
Are they answered, Lord? This wasn't the answer I was looking for.
We can look to Messiah's answer back in John 11: "I am the resurrection and the life. Whoever believes in me, though he die, yet shall he live."
The only answer God gives is Himself. Jesus our Messiah, the resurrection and the life, died. He took on himself the shame of our sins. And Jesus rose again, conquering death. He is the resurrection and the life. Our only hope, in life and in death, is Jesus our Lord.
Sineor's mother went home to her family in Kurdistan on Wednesday. We are still working on returning Sineor's body for burial, and ask for your prayers with this difficult process.
Traveling along with Sineor's mother was the father of Hazhin, still grieving the death of his beautiful daughter last Friday.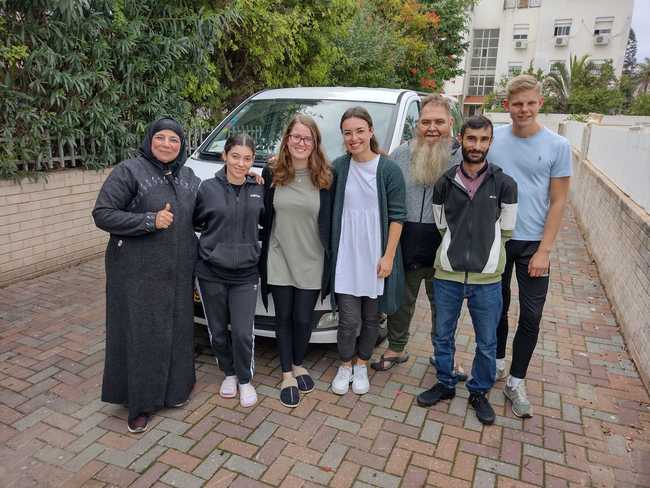 Before we brought him to the airport, we were able to have a beautiful farewell lunch with him here in Ashdod. We shared with him words how grateful we are for getting to know him, for all the love he showed to us, and what a wonderful father he is. He nearly spent a week in our house and we were blessed by his humble and kind personality. He served us by cooking and baking for us, by helping us with whatever needed to be done and by taking care of our community dog Shevie. We made little trips with him, he always shared dinner with us, joining us frequently in our morning meetings and so it felt that he was completely a part of our community. It was a goodbye to a beloved brother, another loss after the loss of Hazhin.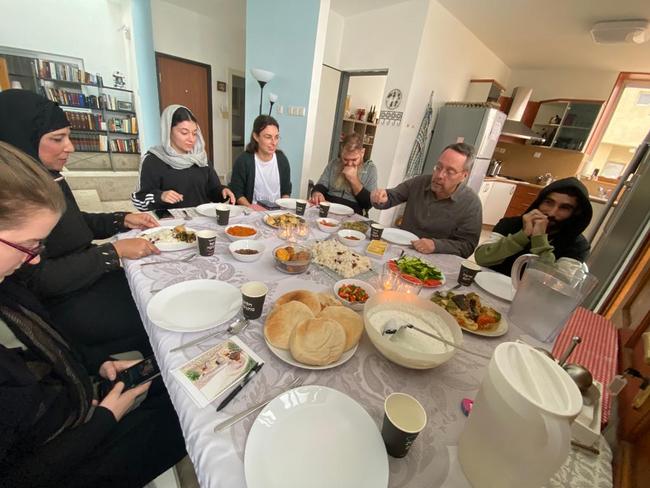 We were already fighting back tears when Hazhin's father asked if he can also share a few words. He had written down his story for us and through our tears we realized what it had taken for him to have this sweet and kind personality:
I have not tasted the true taste of happiness in my whole life, because when I was born, I knew the loss of asylum, slavery and poverty, war was raging and injustice was dominating our life. My childhood passed like this.

My dreams and goals in life were to have a peaceful and free life, but all my dreams and goals were destroyed, like water in a glass that falls on the ground and breaks and the water sinks into the ground…

I thought that God, if life is like this, death is better than this injustice and inequality…Life gave me another burden and I, being the father of two daughters, did not want my daughters [to suffer] too.  I [don't] want their lives to be ruined and their childhood dreams to be destroyed. I was trying my best to give them a peaceful and happy life by working for low wages, I wanted to fulfill all their needs and desires.

Until our little angel Hazhin entered our life. She was a divine blessing that made our life more beautiful. Unfortunately, in the first days after her birth, we found out that she has a heart disease and needs to be treated. I was in a bad economic situation, so I knocked on every door from friends and acquaintances.  I asked for help from my family far and near, I reached out to help me to undergo surgery, but no one helped me and I was hopeless and I was afraid of losing my angel, but God placed you in our hearts to help me and my family.  I thank you for the kindness you did to me and my family and I will always be grateful to you.
It was heartbreaking for us to hear what pain this man had already been through before he buried his little angel last week. And at the same time we are so thankful. Thankful that we could at least show him how much we love him and his daughter. That Hazhin was given a chance and everything on this earth possible was done to save her.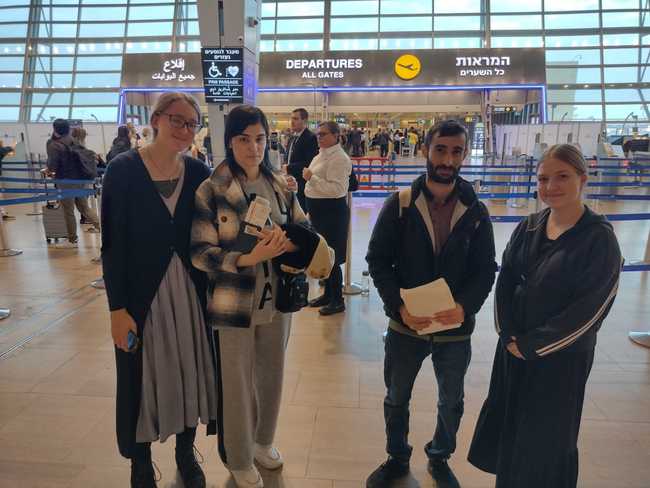 We pray that this will give some peace to Hazhin's family, and that God would work through what her father has seen here for the best. Please join us in prayer for Hazhin's family to know the hope of resurrection, that they can see their little angel again after all this hardship here on earth.
Always at Shevet there is the stark contrast and strange mixture of the tragic and the beautiful, the easy and the impossible, of life and of death. As we continue to mourn the deaths of Sineor and Hazhin, we also celebrate God's healing in other children.
Little Mohammed R. with Down syndrome from Gaza is still fighting several viral infections, though at least now he has recovered from his coronavirus infection: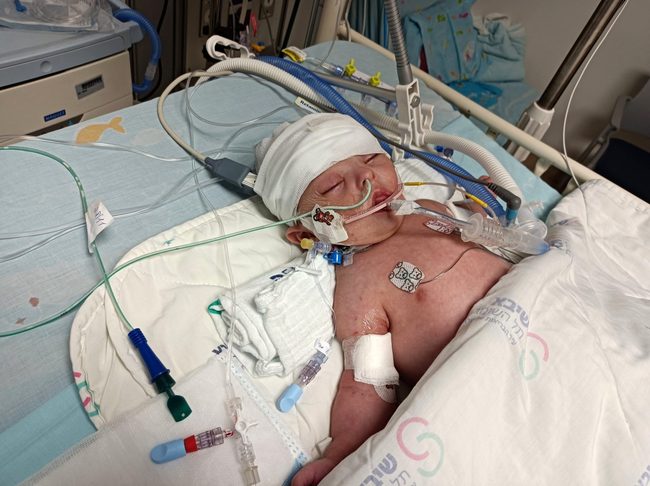 The doctors still aren't ready to extubate him, and he has to recover from his infections before they can even begin to make surgery plans for him. Please pray for him and his kind grandmother as they wait.
Mohammed B, our thirteen-year-old surprise admission from Gaza, is not enjoying his time in hospital. The doctors have started a couple of new medicines for him, and are hoping to implant a special mechanical valve which will help him. In the meantime, Mohammed is missing his mother and home. Coworker Jakob brought him pizza yesterday to cheer him up: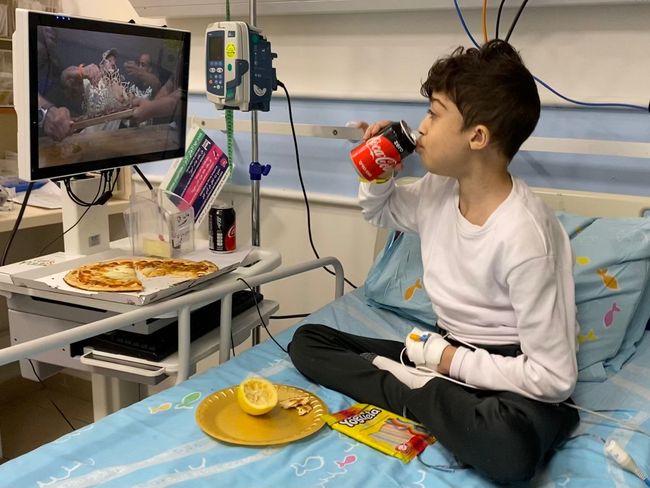 We are trying to bring his mother to the hospital to be with him, but it's difficult for her to get permission to come. Please pray that the doctors find the right treatment for Mohammed, and that his mother can soon come to be with him.
This Tuesday was an exciting day for sweet Somaia – her mother came back to the hospital! Somaia's faithful and loving aunt said her goodbyes and returned to Gaza. We've all missed "Um Somaia" and her energetic determination to be a good mother not only to Somaia but also to everyone else who crosses her path, including nurses, doctors, and Shevet volunteers. Praise God that Somaia can have her mother with her again! Please pray that this will be good for both Somaia and her mom: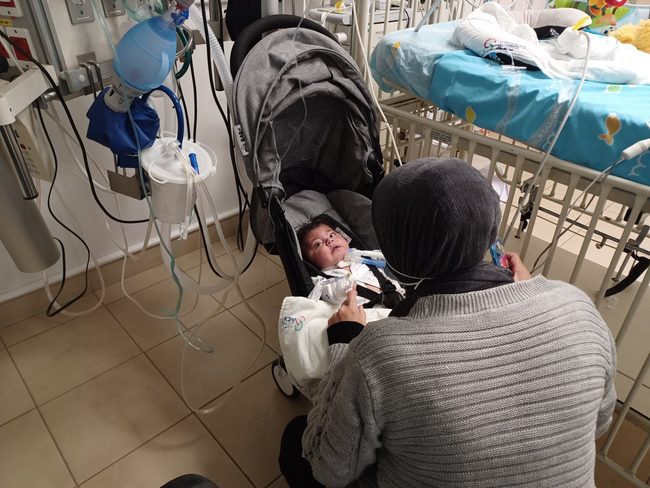 On Thursday, little
Kenan B
. from Gaza came for a dietary check-up. His mother told us that he'd been in the hospital in Gaza, suffering from convulsions and tachycardia. We took him up to the cardiology unit after good results from his dietary appointment, and the doctors immediately realized the seriousness of his mother's report.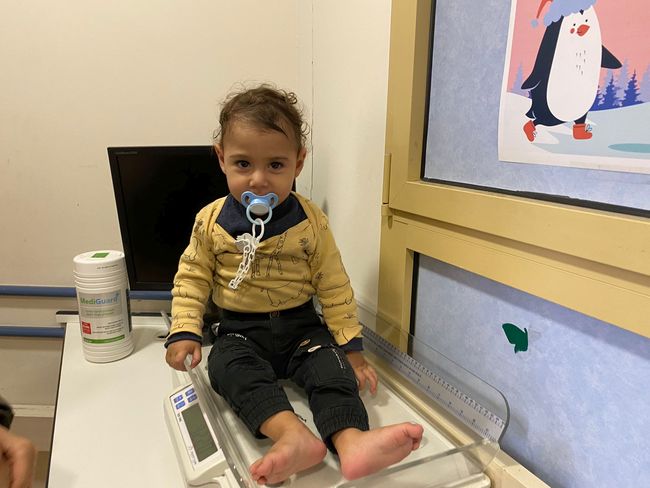 They want to do some more tests for him, so he will be staying in our Ashdod base until he is admitted on Saturday evening. Please pray he remains stable until his admission, and that the doctors will be able to find the right treatment for our sweet and clever little boy.
We had been having some difficulties scheduling a pre-dental-surgery anesthesiology appointment for three-year-old San. However, earlier this week, when another child had an anesthesiology appointment, coworker Doro asked if the doctor would also be able to see San. Thank God, he was, and San is now cleared to go into dental surgery next Sunday! Please pray that all goes well, and the San will be cleared for heart surgery after this procedure: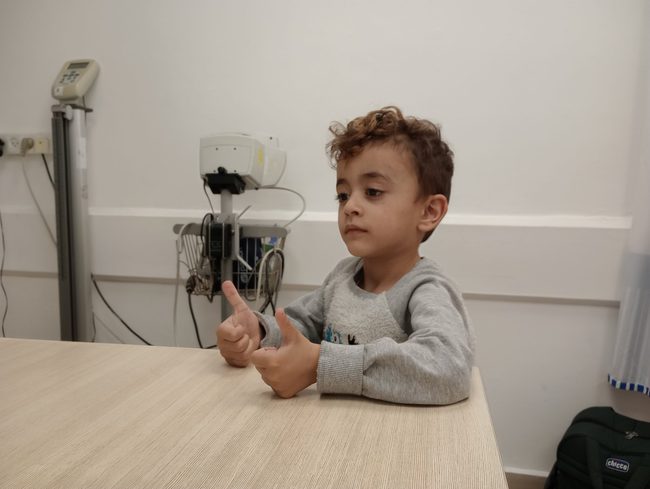 Lya
's interventional cath went very well, and she was discharged only one day afterwards. She is now awaiting a check-up echo in two weeks, and several appointments in other departments, such as genetics, endocrinology, and neurology. Please pray that these will have good results for our cute little girl: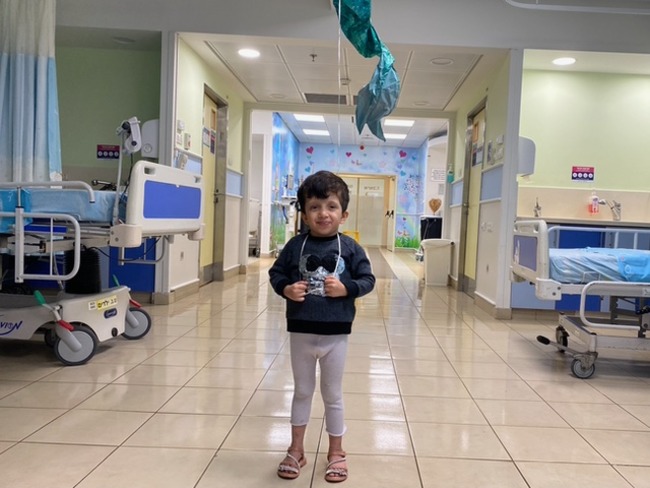 Six-year-old
Azhan
 had his surgery in Hadassah hospital on Thursday. It went very fast, and he came out of the operating room after less than two-and-a-half hours: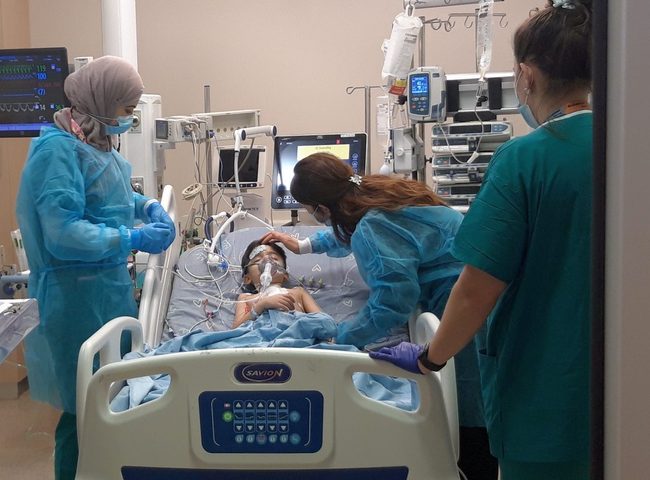 His mother was very worried about him, since little Sineor had died in hospital just two days before Azhan was admitted. But, thank God, all went well, and Azhan is already extubated right after his surgery. Praise God! Please pray he'll continue to recover well, and won't need other surgeries in the future.
Fourteen-year-old Mohammed M.A. had yet another trip to the Hadassah emergency room on Saturday evening. He was having fever and vomiting yet again, and was admitted for observation. On Tuesday, he was ready to go home, this time with some stomach medication, and instructions to only come back if his fever was lasting longer than a day or so, or if he had heart pain or irregularities.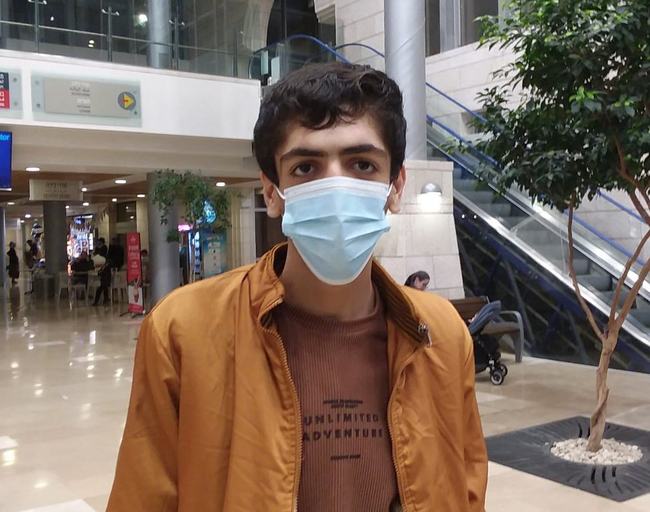 He and his mother are yet again very thankful to be out of the hospital. Please pray that this third E.R. trip was the last one for Mohammed.
Sweet six-month-old Shan continues to do well in our Jerusalem house. She is the happiest, most content baby I have ever known!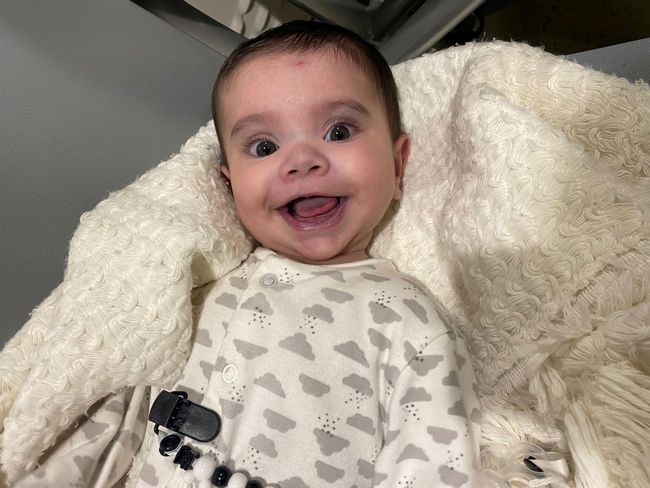 She smiles all the time, and giggles adorably whenever her mom talks to her. She will have a check-up echo this Monday, and may even be cleared to go home to Kurdistan! Please pray she'll have good results.
Whether we are rejoicing with those who rejoice, or weeping with those who weep, or a little bit of both, our hope is stayed in who God is. He is the resurrection and the life. Even when we don't have answers, He knows all things, and He is good.
Thank you for joining us in prayer,
Doro and Petra for Shevet Achim