Friends,
As I started to make my notes for this prayer letter, and my list of kids got longer and longer, I counted in the end. 24 children were with us this week – and only two of them have not stayed in the hospital or in one of our houses for at least one night. This explains why we were sometimes overwhelmed by what was happening. But this number also filled me with thankfulness – 24 children that got the chance of healing and the chance to live.
Sometimes I ask myself who are we, who am I, that God entrusts us with all those kids. We come here with nothing to offer except for a willing heart to serve him, and he is the one giving us what we need and doing the work through us. He is the one giving healing to those kids and surprising us all over again.
But by the grace of God I am what I am, and his grace to me was not without effect. No, I worked harder than all of them—yet not I, but the grace of God that was with me. 1 Corinthians 15:10
Our biggest surprise and miracle this week was three-year-old San from Kurdistan. After finishing his dental work last week he was finally able to undergo his heart surgery Sunday. When Joanne and I arrived at the hospital at 7 am to wait with his mom, San was already awake and greeted us with a big smile.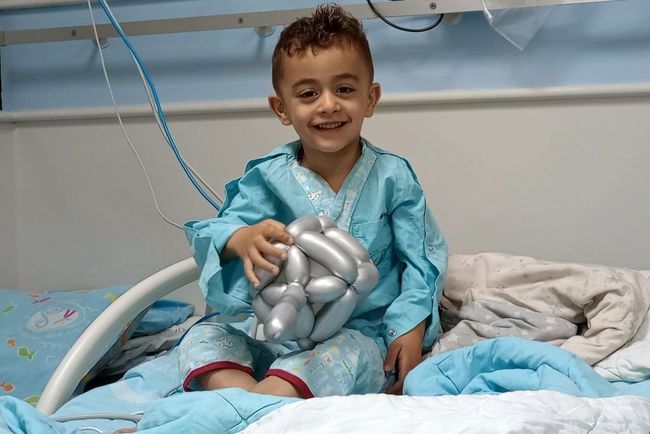 He didn't know what was lying in wait for him and so he was happily playing with us. Maybe he realized a little bit that things were not normal when his mom started crying with him on her lap–not knowing if and when she would have her only son back again.
But then we got the great news in the early afternoon: San's surgery went without any complications, and he was already back in his room after less than four hours.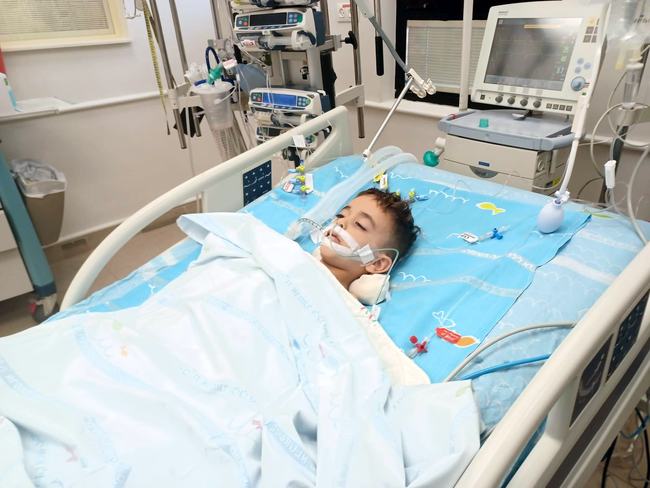 San continued surprising us every day: the next day we met him breathing on his own and greeting us with a weak hand gesture.
And only three days after his open-heart surgery he was again running through the hallways of Sheba. Today we welcomed him back in our house in Ashdod, where he is waiting with his mom for his echo in ten days, after which he might be even cleared to go back to Kurdistan if everything looks good. The doctors are very optimistic and seemed also a bit surprised by San's fast recovery.
Another great recovery this week was little Hamed, who arrived at Sheba from Gaza a week ago and directly went into an emergency surgery. Doctors placed a BT shunt that is now allowing blood flow to his lungs and helps him to stabilize and grow before he will have further surgeries to correct his heart defect.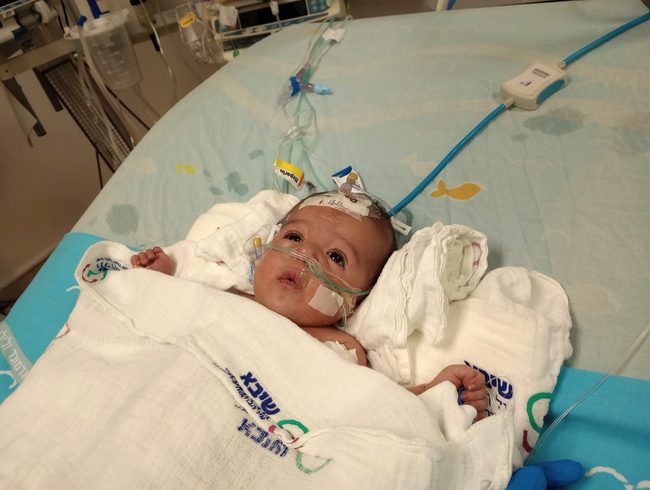 We found him already off the ventilator on Sunday, and now at the end of the week he has already moved to the intermediate ICU, doesn't need oxygen support anymore and looks great. Doctors are now starting to do some genetic tests and they suspect that Hamed might be blind. For now we are very thankful to see Hamed and San doing so great after their surgeries. Praise God for giving them healing!
We also need trust in his healing for our newest and smallest child–Mohammed A.D. who just arrived at Sheba this afternoon from Gaza and directly had to be resuscitated. All the medical staff was fighting and fighting for him until they finally stabilized him this evening. Mohammed is still in a very critical condition and therefore surgery is not yet a possibility for him.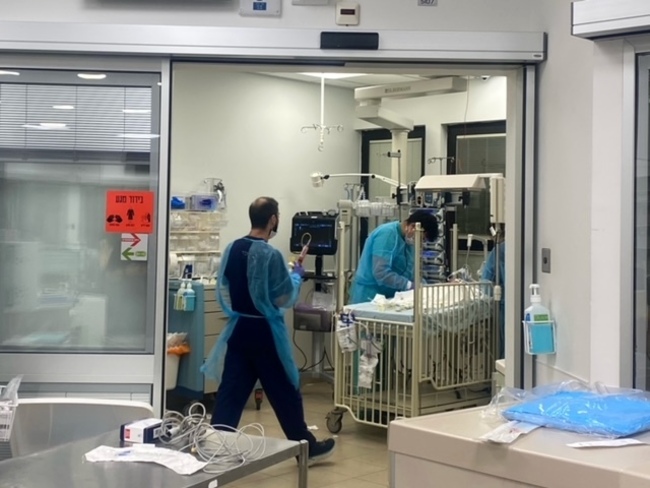 Mohammed is only a couple of days old and diagnosed with hypoplastic left heart – the hardest heart defect to treat. Ahead of him lies a long, difficult and dangerous path of at least three surgeries to reroute the blood through his body —  if the Lord does not choose to redeem him from his sufferings earlier. Mohammed is here together with his mother, who is of course very worried about her son, but got great support from the other mothers and grandmas as Jakob reported this evening. Please fight together with all the doctors alongside of our little boy!
Thank God, little Hala from last week's letter finally made it safely to Hadassah hospital in Jerusalem on Tuesday, after a failed attempt to transfer her on the day before. The first time she crashed in the ambulance and had to be rushed back to the hospital in Gaza to stabilize before they could try a second time the next day. Hala has a heart defect called TAPVR where all the oxygenated blood coming from the lungs goes to the right atrium instead of to the left, where it mixes with oxygen-poor blood instead of going to the body.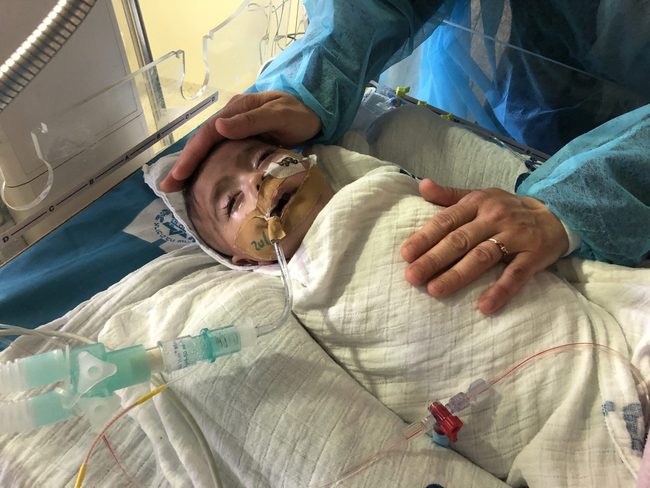 Today was already the big surgery day for little Hala and the surgeons were able to completely repair her heart. When Hala came out of surgery, Luisa noticed tears in the eyes of our little girl–not an easy sight for her already worried grandmother. Let's pray that cute Hala doesn't have to suffer and that she will recover soon: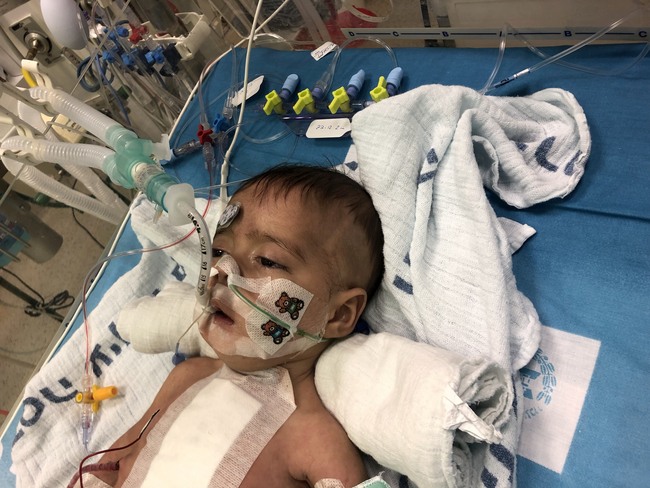 Also at Hadassah doctors were able to close the chest of baby
Habeeb
 today, following his surgery on Tuesday. Doctors left his chest open so that they could react faster in case his condition deteriorated, but Habeeb stayed stable in the most critical 48 hours after surgery.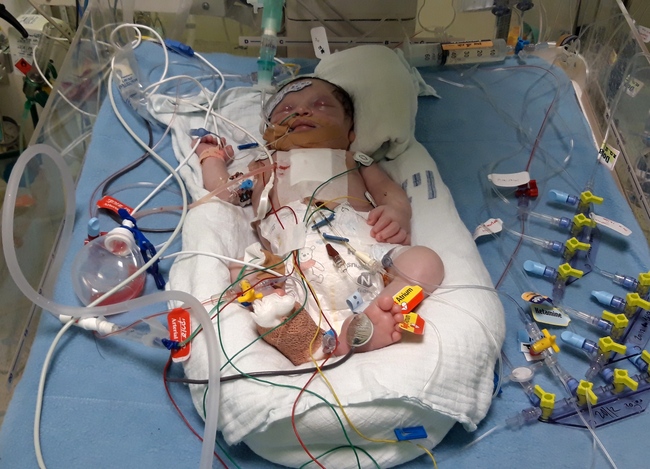 His grandmother was very worried and fasting during today's procedure. and we're thankful for Luisa and Elise who spent time with her and comforted her in these difficult hours. Habeeb still has a lot of fluid in his body that the doctors are treating, but we are thankful for everything God is doing in his life and that we can be part of his good work.
And the last of five emergency babies that arrived from Gaza in the last two weeks is little Ahmed J. in Sheba. He is still recovering in the Sheba ICU from his arterial switch operation a week ago and has some trouble breathing.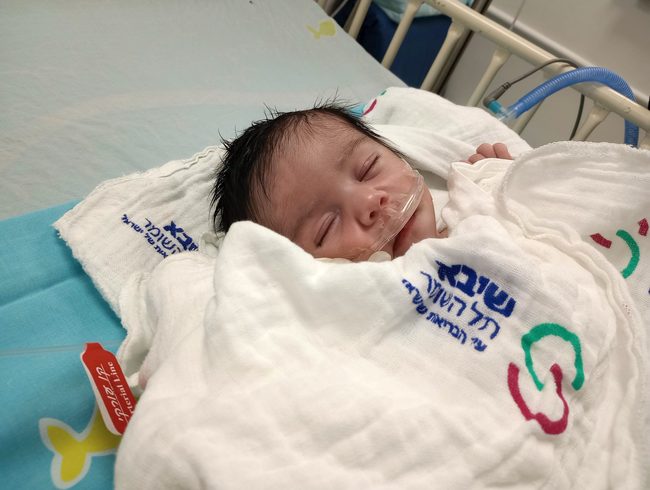 He came off the ventilator, but after doctors removed his oxygen support this Tuesday his left lung collapsed due to a paralyzed diaphragm, and they had to put him back on oxygen support. Since then he is stable again and we pray that it will stay that way.
Also back in Sheba is our Kurdish girl Lya since Saturday. After she developed a very high fever and tachycardia during the Shabbat we decided to rush her to the ER, and she was admitted to the hospital after Lena and Simona waited many hours with her and her mother. Lya has a dental abscess that probably caused her infection, and she needs urgent dental surgery under anesthesia; we are attempting to get a spot in Sheba's schedule but it is full for the next several months.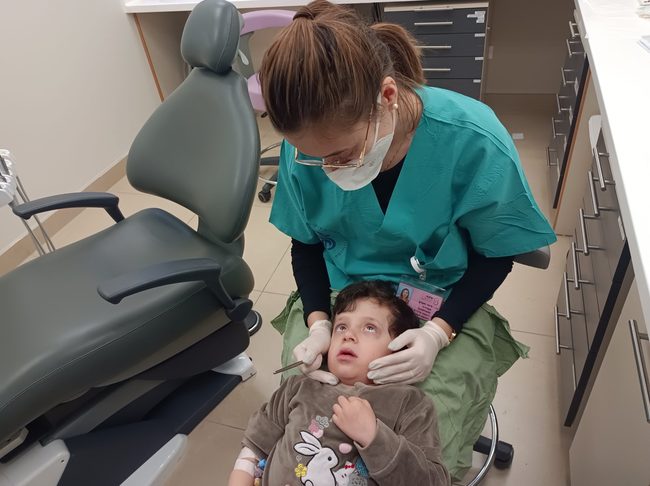 We are also still trying to find out if she could be a candidate for a cochlear implant to help with her hearing loss, and for this she will have a hearing test under anesthesia on Monday. As Lya also has another virus right now the doctors decided that it is safer if they keep Lya over the weekend in the hospital until she recovers. Please pray that Lya can have her dental treatment soon and that it will also be possible to help her with her deafness. Imagine how great the joy for this girl if she could really hear for the first time what is happening around her.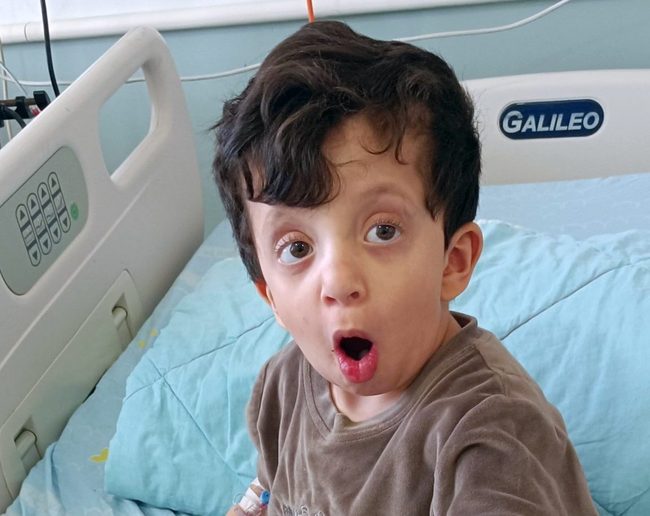 Missing their big sister Lya here in Ashdod are the three little boys Sarjon, Miran and Arya.
Sarjon
 had his second echo this Tuesday, and his doctors were really surprised by what they found: Sarjon has an AP window- a whole between his aorta and pulmonary artery. As this condition is very rare (only 0.1% of all kids with congenital heart defects) his doctors in Kurdistan didn't discover it.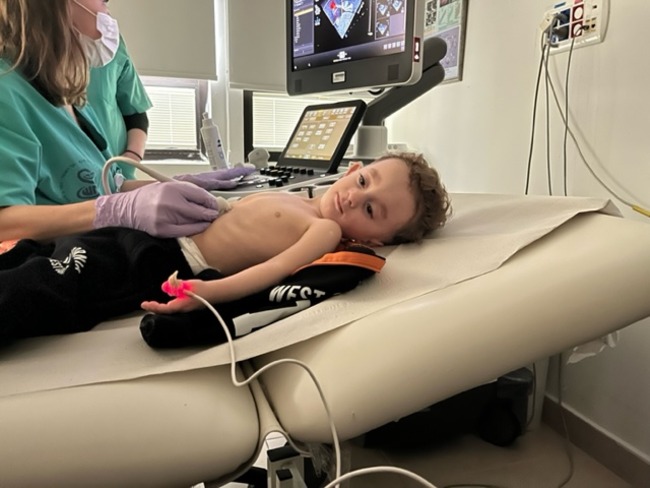 Sarjon is already past the normal age of treatment, so doctors are not sure if they even can do surgery for him. He will get a CT and maybe a diagnostic cath soon before the doctors can decide how or if they can help him. Let us pray for wisdom for all the doctors in those decisions.
Miran also had an echo this week which didn't bring good news for his mother, who hoped to go home to Kurdistan soon. Miran still has pulmonary stenosis, so doctors increased the dose of his medication and want to see him again for an echo in two weeks.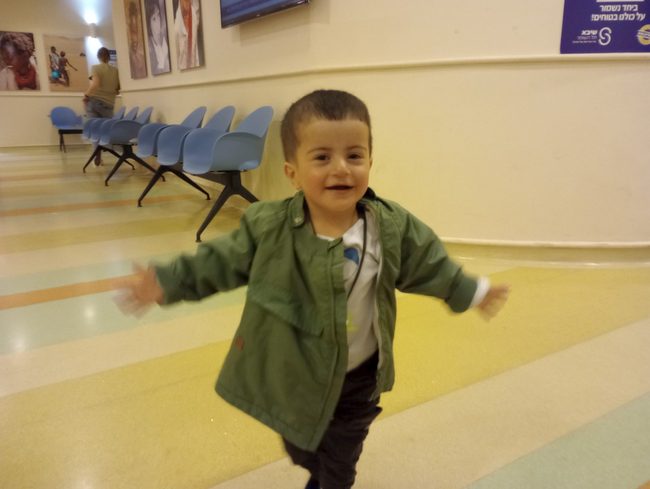 If he has not noticeably improved
by
 then doctors will discuss whether he needs another cath or maybe even surgery. It's in God's hands.
Still just waiting and waiting is our handsome Arya. His MRI appointment is scheduled for the middle of January and the only way that it can be moved earlier is if someone else cancels their appointment. Please pray that God will open up a way as he and his mother have already been waiting here two months: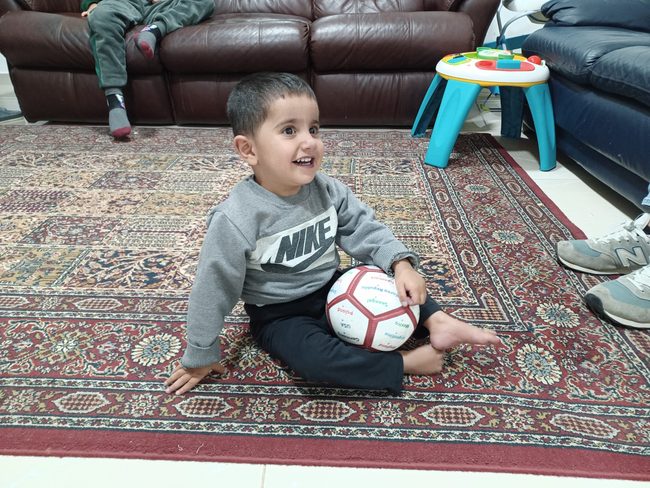 Our last two Kurdish kids – big
Mohammed M.A
. and little 
Azhan
 – are waiting together for their next post-surgical echos in our guesthouse in Jerusalem. Azhan has his next and God willing last echo on Monday.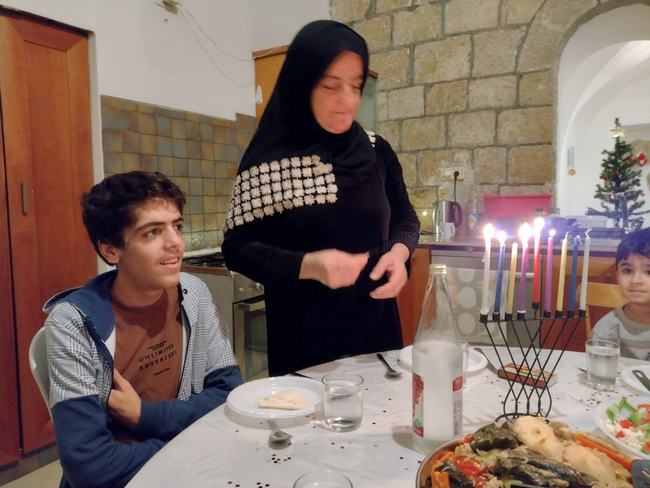 Mohammed's is scheduled for the end of January, but we are still trying to move that earlier. They both enjoy their waiting time during Hanukkah in Jerusalem but also miss the rest of their families, so we pray that they will stay stable and can go home soon.
Also in Jerusalem for two days were Hassan and Zaed, who both had a diagnostic cath on Monday in preparation for their next surgeries. Both boys are nearly in the same age, and both need a Fontan surgery sooner or later – the last surgery performed for kids with a single ventricle defect. As they have spent so much time together and shared a room in the hospital, they became good friends in their time here and walked out of the hospital hand in hand on Tuesday. They spent some time with Jakob and Craig in the Old City before they then returned to Gaza together where they are waiting for their next steps: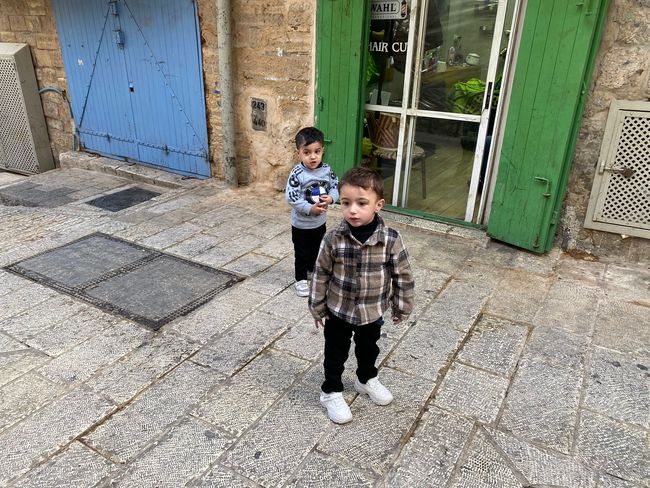 Liya and rascally Naim from Gaza both stayed with us in Ashdod this week in advance of cardiac catheterizations. It was a blessing to have them and their mothers here for those days.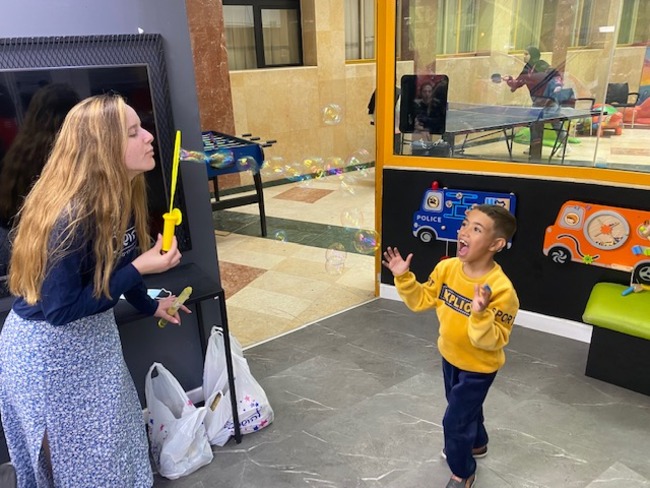 Both caths were canceled at the last minute, and they had to return to Gaza to await a new appointment. Naim's mother took it very calmly and told us that maybe God protects the kids from a bad outcome of the procedure. To cheer the moms a little bit up before going home Jakob and I stopped at a supermarket on the way to the border crossing and the moms had fun shopping for a few things while Jakob and I took turns in carrying our little baby Liya around.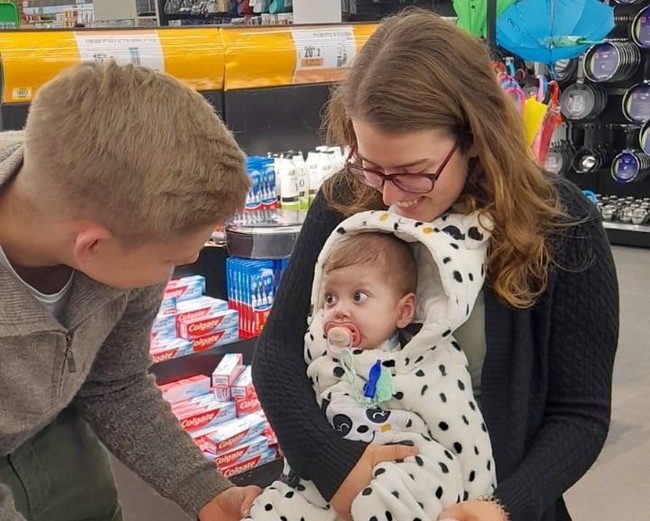 Please pray that Liya and Naim will soon get new appointments for their caths and that there won't be problems with their travel permissions next time.
Maryam W. came from Gaza for an echo yesterday but like a couple of other kids lately she was admitted to Sheba. Maryam is severely underweight, nearly one year old but only weighing slightly more than when she was born. Doctors discovered that her PEG feeding tube was in the wrong place and kept slipping. They fixed that problem today and hope that she will gain weight now.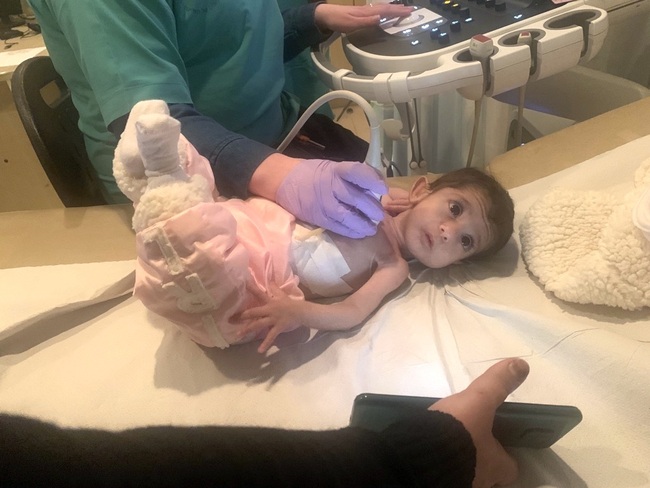 During her stay in the hospital over the next week they will also try to treat her hearing problems cause so that she can learn how to talk. Please pray with us for this beautiful girl that acts and looks right now more like a two-month old than eleven months old.
Mohammed R. from Gaza is still in the ICU recovering from viruses and not yet well enough to have surgery . We always love spending time with his grandmother, as she has a very cheerful personality. But we also know that it is hard for her to see her beloved grandchild like this. Let's pray that Mohammed will get better and will gain the strength he needs to finally get his heart surgery: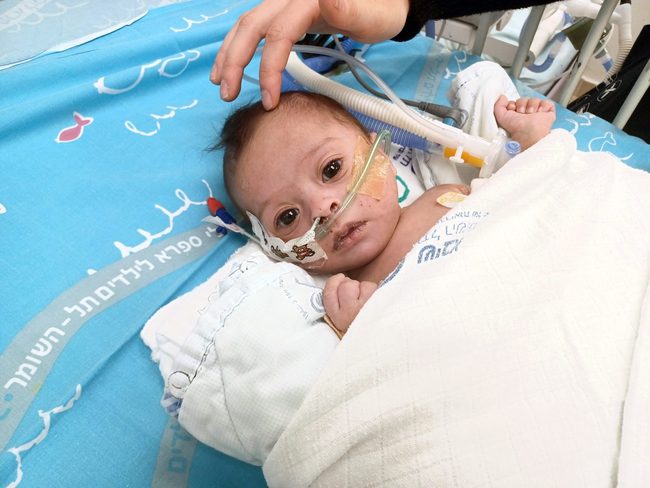 And finally, our old friend
Saif
 from Gaza will be discharged to our house in Ashdod tomorrow, after staying in the hospital for a week and finishing antibiotics to treat his pneumonia. He will then have a bronchoscopy Wednesday, and doctors will finally decide if they can remove his tracheostomy after two years.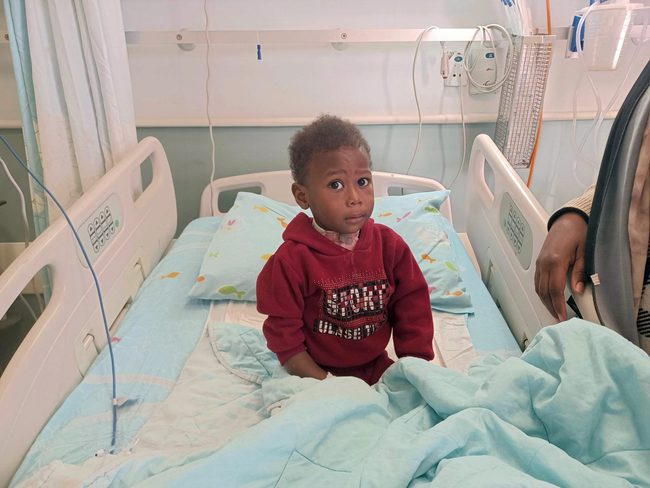 This would be a good and hopeful step for him, but also challenging as he has to learn to breath through his nose and mouth and then can learn how to talk. We pray that God will bless him whatever comes next.
As this week ends we are also looking forward to God willing a couple of quieter days over Christmas so we can have some time as community together. As I finished writing this letter last week, a good friend sent me a song called "O come, all you unfaithful," with a note that she really loves the lyrics. As I was thinking today about what to write this song kept coming to my mind, and so I listened to it again and realized how beautiful those words are: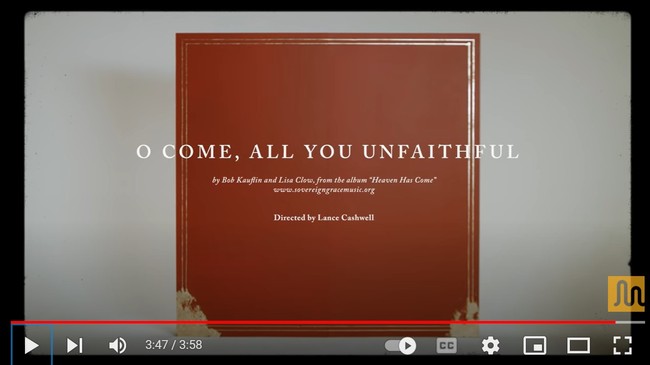 O come, all you unfaithful
Come, weak and unstable
Come, know you are not alone
O come, barren and waiting ones
Weary of praying, come
See what your God has done
Christ is born for you
God did not come to this world to save the faithful–he came to save us, the unfaithful and weak ones. He chose us and called us though we have nothing. And in the end we are not the ones doing the work here, but the ones who can watch and share what our God has done.
Thank you for praying with us,
Doro for Shevet Achim