Friends,
I was in the train back home from my day off when I got a call from Daveen's mother: Daveen is coughing a lot and has trouble breathing.
She already had a little cough the days before, so I first thought it's probably no big thing, but I called Joanne to go check on her. And indeed, Daveen wasn't only having trouble breathing but also her oxygen saturation was lower than normal. Joanne left the pulse oximeter a while on her and soon the numbers dropped further. Once they reached the 70s Joanne and Dr. Hison decided it best to call an ambulance, and Daveen was soon receiving oxygen and on the way to Sheba Medical Center with Joanne and her mother in the ambulance.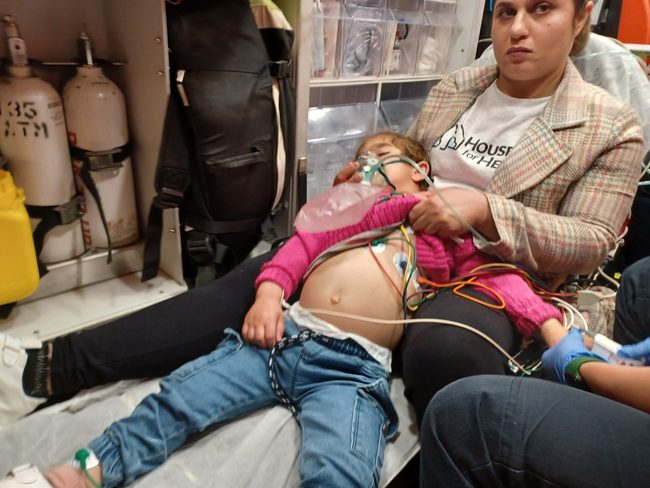 During the drive Daveen started to develop a high fever, and so we were glad that she had medical professionals to care for her. At the Sheba ER things went pretty fast for her and an x-ray showed that Daveen had pneumonia. Doctors started directly to treat her with antibiotics, and a few hours later she was admitted to the ICU for observation.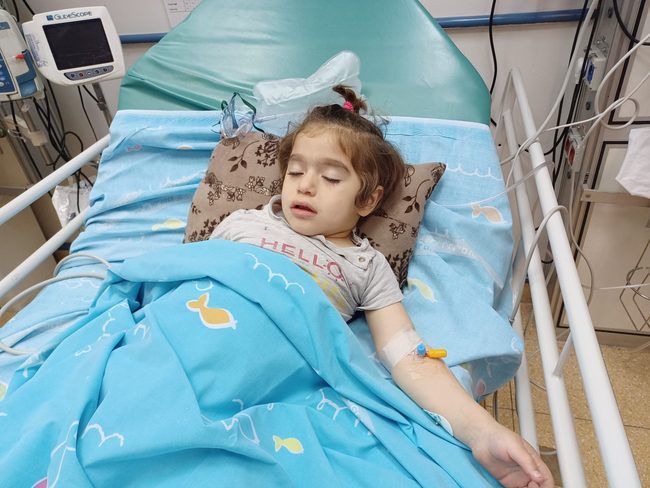 That's where I found her the next morning – already doing much better and soon moved to the pediatric ward, where she is getting better every day since. They nearly discharged her today, but decided to keep her a little longer to receive fluids and medication through her IV. Praise God she is doing so well and her problem was not bigger. Please keep praying for her and especially for her mother – who is having a hard time in the hospital without understanding anyone.
Thank God, a few hours before Daveen was rushed to the ER her fellow Kurdish patient Nozhdar was admitted for his heart surgery the next morning. Their moms are already good friends and could support each other in this difficult time. Nozhdar's mother was allowed to carry her boy to the OR yesterday morning and wait with him until he fell asleep, and then came outside, directly hugged me and started crying. Her little boy was just at the beginning of his open-heart surgery and she was worried. What if he will not do well or will never come out again?
But after only three hours the surgeon came out to say the surgery is finished and everything went well! Spas bo xwa! – thank God! – was all the mom said to me and hugged me again when I translated the surgeon's report. "Thank you" she said to the surgeon in English and I realized once again how much all the medical stuff is doing for our kids. Without them we wouldn't be able to help a single one.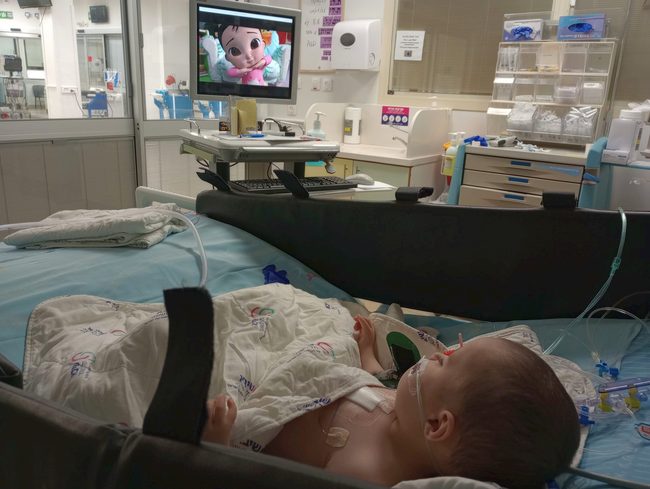 After another hour Nozhdar was back in his room, a little bit later they extubated him, slowly removed his oxygen support and soon he was sitting up in his bed and enjoying his milk and toys. Today he is standing up in his bed. What a miracle!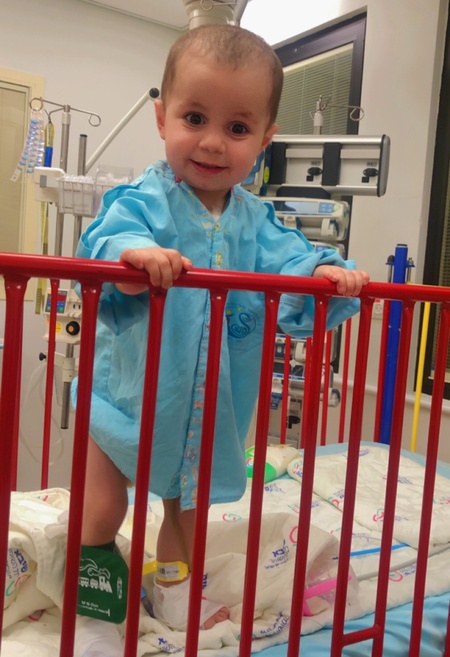 Another surprise on Wednesday was little
Mohammed R
 from Gaza, who is breathing on his own again! We didn't expect that after hearing last week that his heart is not working well and he probably needs another surgery: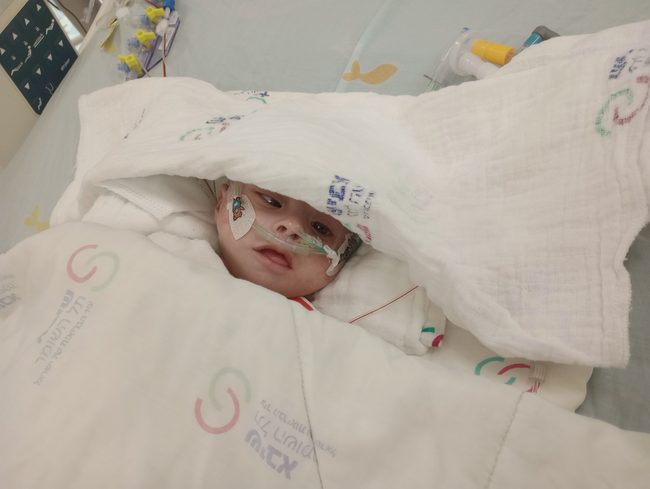 For now the doctors want to see how he does breathing on his own. If he stays stable and improves they might delay his second surgery until he is older. Please pray for strength for this weak little one!
Thank God for a successful catheterization today for seven-year-old Naim from Gaza, in preparation for his third cardiac surgery. First doctors will also perform a procedure to return his abdominal organs inside his belly, as he was born with them in an external sac: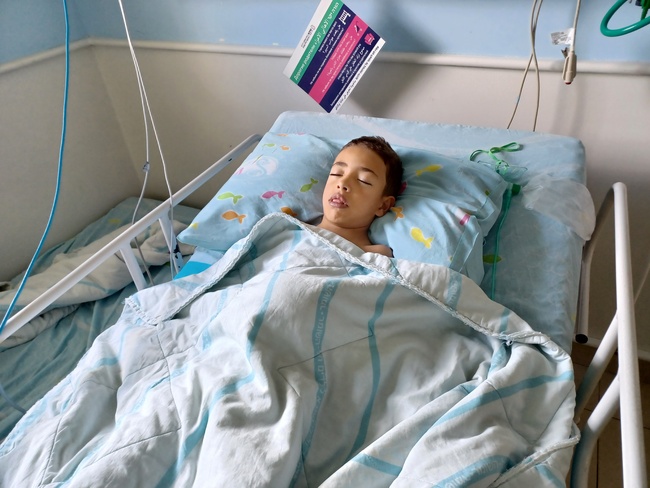 Our littlest one at Sheba right now is
Hamed
 from Gaza, who after some ups and downs in the ICU last weekend is again making progress. On Wednesday – the day filled with a lot of good news – I helped his grandmother move with him to the normal pediatric ward again: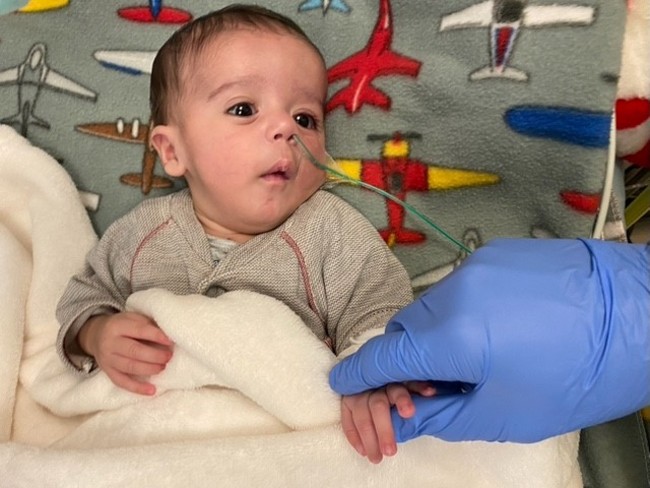 There he now needs to gain more weight and learn eating again before he can go home to his family. As his grandmother is getting very exhausted we are trying to get permission for a new escort to come – please pray that his grandmother can soon get her well-deserved rest.
In Jerusalem our little Hala is waiting a little longer before going home to Gaza. She is slowly gaining weight now and eating little by little on her own – the doctors want to give her lungs a little bit more time to recover from her pneumonia – but they think they can send her home Sunday to her young waiting mother: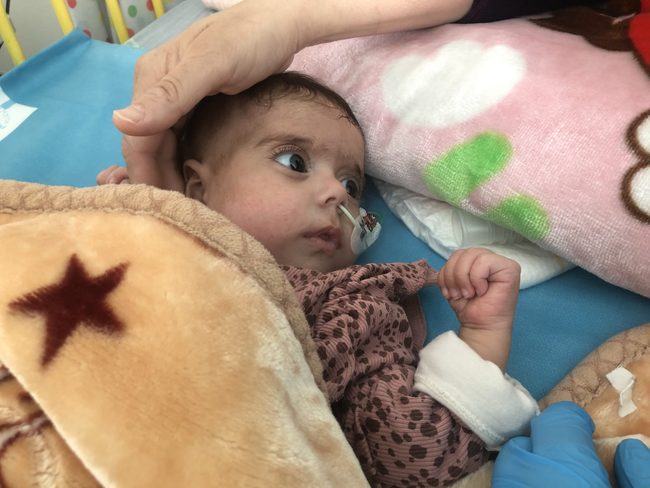 Stirring up mischief together in Jerusalem are San and Dahen from Kurdistan: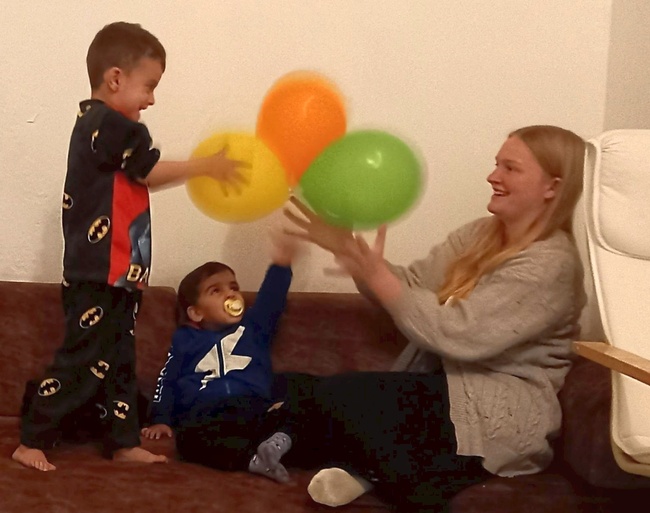 Dahen
 had his first echo Monday, and God willing goes into his surgery next week. Doctors expect his surgery to be straightforward and see a 97% chance for a successful outcome. And 
San
 moved with his mother from Ashdod to Jerusalem this week as he waits three more weeks until his next post-surgical echo. Please pray that they will have a blessed time there together!
Here in Ashdod we enjoy the time with our families. Today at lunchtime when we started praying little Kurdish Lya also wanted to cover her head like we big girls do, so she shared a scarf with two other mothers: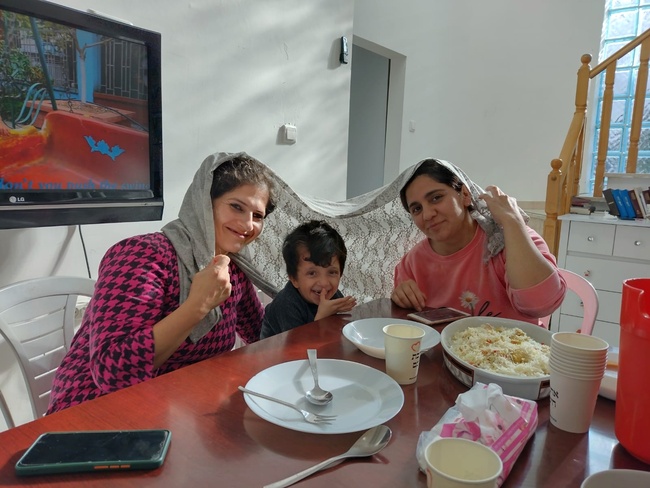 Next Sunday Lya will finally have her dental treatment, and a couple of weeks later God willing her last echo before she can go home. Please pray that her dental treatment will go well and that she doesn't need further interventions for her heart.
This was also the hope for one-year-old Miran when he went for an echo this week. But his doctor found that increasing his medicine hadn't helped enough, and Miran will need a second cath or maybe even surgery. We hope to hear soon about their decision.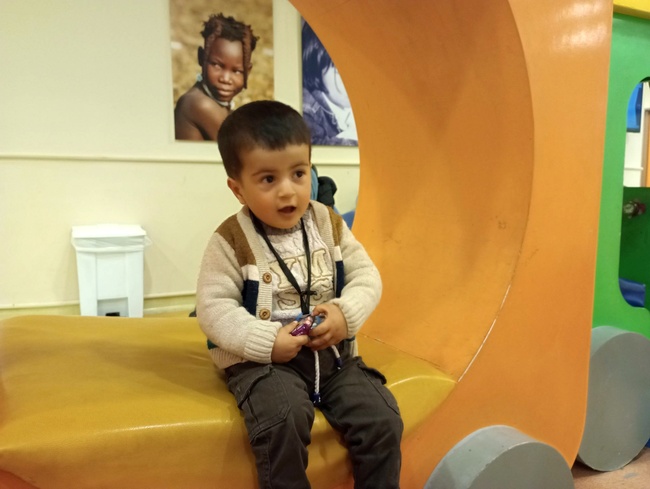 Even though his mother really wants to go home she took the news very well and told her family on the phone that it is no problem – whatever is best for Miran.
On Wednesday our Assyrian boy Sarjon had his CT scan and neurology check to clear him for heart surgery, which is now scheduled for Monday. His mom is getting nervous but is also happy the surgery will be soon.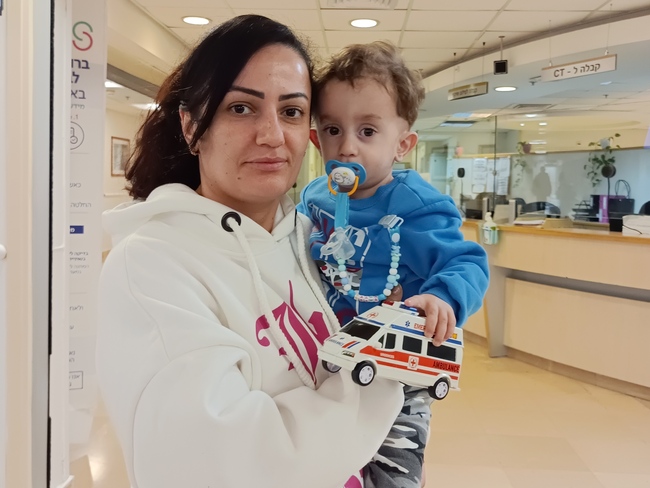 We have all started to love our little calm child, who likes to surprise us with his cute English words, and sometimes just comes running to us to cuddle a bit. Let us pray that his surgery will go well as it is an especially critical and difficult one.
Now-ten-year-old Shahad returned from Gaza this week, after we haven't seen her for more than three years. She has extreme arythmia and was directly admitted to the ICU for tests: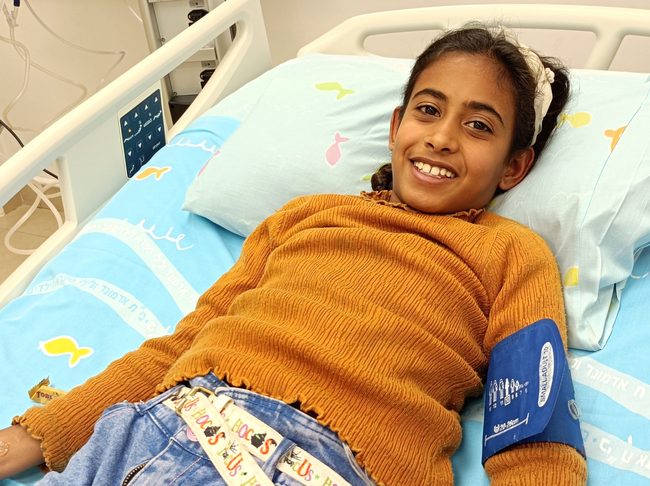 A holter test showed that while on average her heart rate is normal, it's actually fluctuating between extremely high and low. Her cardiologist started now two new medications for her, and depending on how she reacts to those they will decide if another treatment by catheterization is necessary.
Our good friend Liya from Gaza was admitted for a cath this Wednesday, but because she was sick and has low oxygen saturations her doctors decided to better wait until next week to do her diagnostic cath. Please pray for her and her mother as this is already the second time her cath was postponed: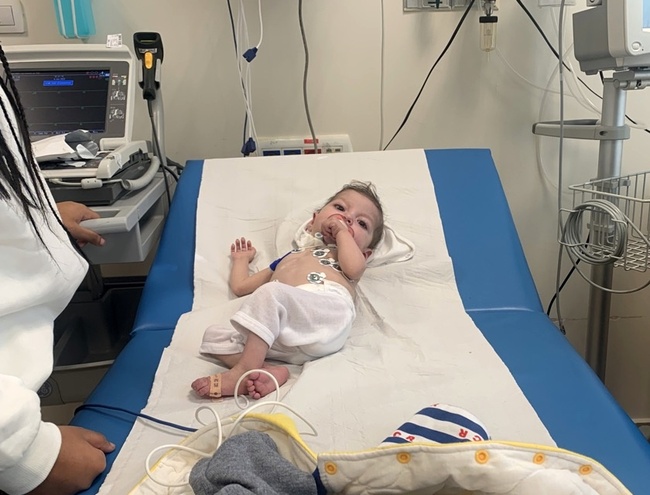 Saif's mother also had to face another discouraging delay in Sheba hospital this week, although
Saif
 managed to stay happy:
After trying twice by bronchoscopy last week, doctors did a CT scan for him yesterday and then took him into surgery today to remove his tracheostomy. But he came out a bit later and Lena reported that the tissue in his throat is too hard to repair. Instead they want to do a bigger surgery in half a year. For now Saif is fine, praise the Lord, but there is still a long and challenging way ahead of him.
And thank God for the three kids who went home to Gaza since last week's prayer letter: Ahmed J and Ahmad N went home together last Friday and are doing great after their procedures: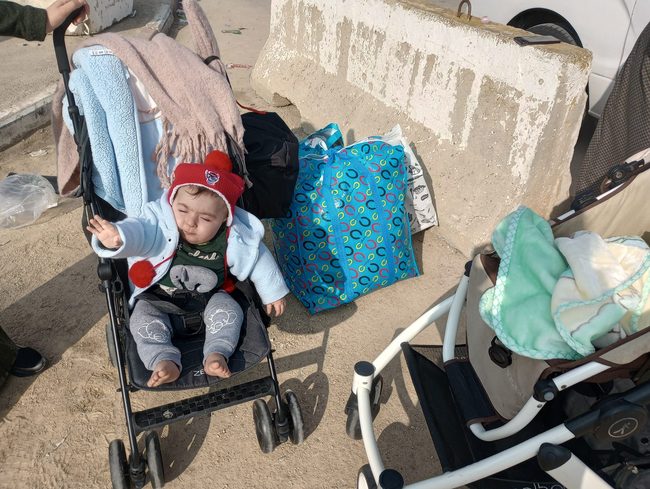 On the way home Ahmed's grandmother called his mother, and she was overjoyed to finally get back her little boy that she had to give away so shortly after giving birth.
The third Gaza child, Mohammed B, was discharged on Monday only five days after his valve replacement. He still was pretty weak and couldn't walk very far, and when we brought him to the Erez crossing we were again surprised how many people are supporting our work and helping us. First an Arab man who we meet frequently at Erez convinced the security guard to allow us to drive with our van inside the gate directly in front of the building. Then we asked the people working in the security check if they could organize a wheel chair for Mohammed, and soon they brought one and we said goodbye to him and his mother knowing they were in good hands there: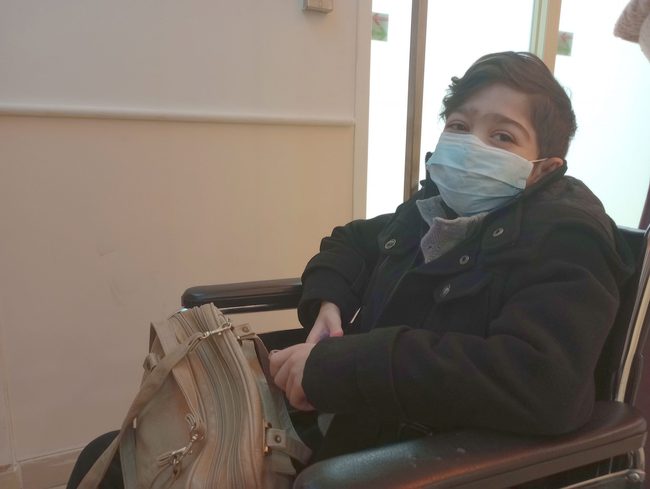 Finally, new support arrived this week after a couple of crazy weeks, and we hope things will be less challenging now. First we welcomed our good friend and coworker Lena back last Friday from a home visit with her family for a week over Christmas. We are thankful that she had such a good time with them and came back here joyful – and even brought her dad with her for a week to help with transportation:
And on Wednesday morning Joanne picked up beloved Bria at the airport, who also came back from vacation with her family.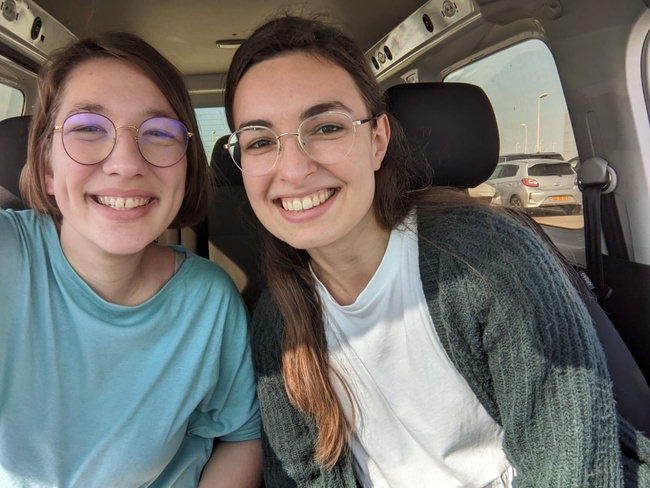 She is well rested and again full of energy and we are so glad to have her back. This morning she shared with us about her time back home, and how surprised and thankful she was to meet people in her church that are praying so much for our kids and us volunteers here. And at this point I realized again how much bigger our community is than we often have in mind. We sit in our morning meetings often just with a handful of people but there are people all around the world praying for us and a part of us. Far away and still connected as brothers and sisters in Messiah. I'm stunned how much support we get from everywhere.
Those doctors and nurses who care so wonderful for our kids and surprised me more than once this week with their kindness – the surgeons that stand hours and hours in the OR to repair complicated hearts – people at Erez who help our kids coming home safely – brothers and sisters everywhere who pray for us and donate for our little ones – and so many more people that we don't even recognize.
As we are finishing our study of Proverbs we read as a community chapter 30 verse 5 this morning: Every word of God is flawless; he is a shield to those who take refuge in him.
Behind us are a couple of challenging weeks, and probably there are still a couple of challenging weeks ahead of us – but in all this we need to remember that he and his word are our shield, if we just run to him. We saw that this week in all those people supporting us, and we trust that he will also provide financially because he has promised it: And my God will meet all your needs according to the riches of his glory in Messiah Jesus (Philippians 4:19).
And with this knowledge we want to thank you for fighting with us in the new year for all the little ones!
Doro for Shevet Achim