Friends,
If you've followed the stories of the children here for even a few months, you probably know Fayez, a two-year-old from the Gaza Strip with chubby cheeks and a big grin.
Perhaps you've followed his story as his little heart began to fail in the past several months, and his doctors here and in Gaza worked tirelessly to save him.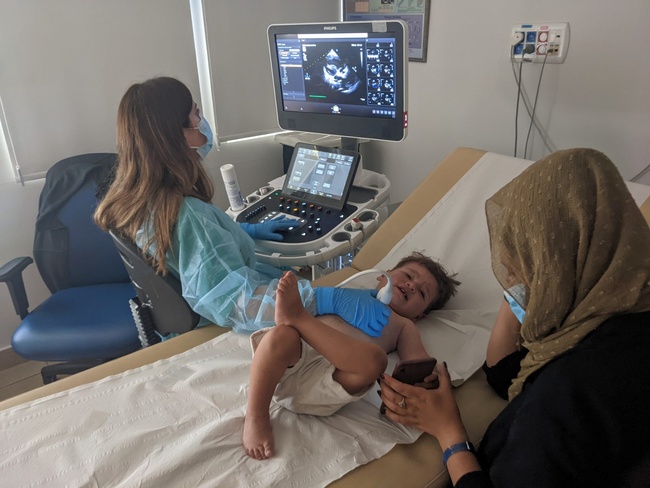 Just before returning from a trip home to the U.S. last month, I shared with my home church about Fayez and asked them to pray for him and his mother. "We don't know what will happen in the future for Fayez," I said, doing my best not to cry. "But our job is to make sure that no matter how this ends, that his mother knows that she and her son are deeply loved and cared for."
It was exactly one week later that Koren and I stood with Fayez's grandmother in the hallway of the Sheba emergency room, listening as the doctors explained through tears what happened minutes before. Fayez had gone into cardiac arrest and could not be resuscitated.
Did we do our job? I found myself wondering. We tried our best for him, but was it enough?
In the days following Fayez's death, the response from around the world has been overwhelming. Fayez's doctors in Gaza and Israel, past Shevet volunteers, other families from Gaza, even people on the other side of the globe who never even met him have sent beautiful messages of support and compassion. I can see that he was loved, I thought, but does his mother know?
The morning after Fayez died, just as we were arriving with his grandmother at the border, his mother called me. "What about Amelie?" she said in Arabic, asking after a former Shevet volunteer. "Does she know? She loved Fayez so much."
Indeed, Amelie is one of many here who have gone the extra mile to love and care for Fayez. I'm glad to know that even now their love is a blessing to Fayez's family.
Friends, it's incredible to see how this little boy, this two-year-old from a humble family in the Gaza Strip, was so loved by so many. It wasn't enough to save his life, but it didn't have to be. That power was in the hands of the One who is holding Fayez safe in his arms even now. Our calling was so much smaller, and we pray that however imperfectly we may have fulfilled it, that the Father will bring something beautiful from it.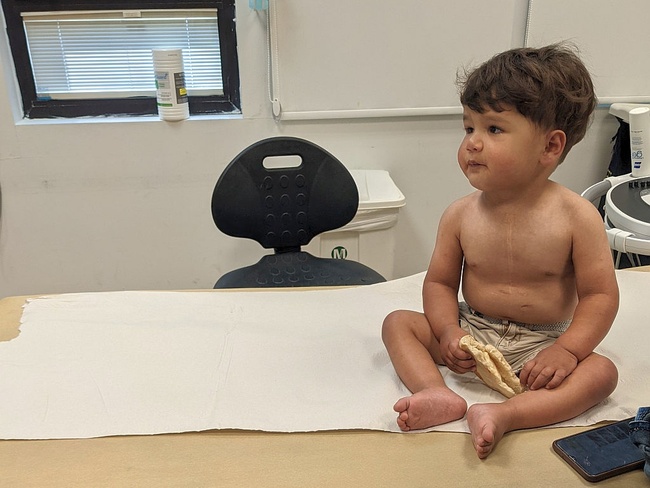 After such a difficult start to the week, you can imagine the feeling of anxiety just a few days later when two of our dearly loved little Iraqi boys both went into big surgeries on the same day. Two-year-old Assyrian
Sarjon
 was taken into the operating room at Sheba first thing Thursday morning to repair his AP window, the extremely rare defect that wasn't even diagnosed properly until he arrived in Israel: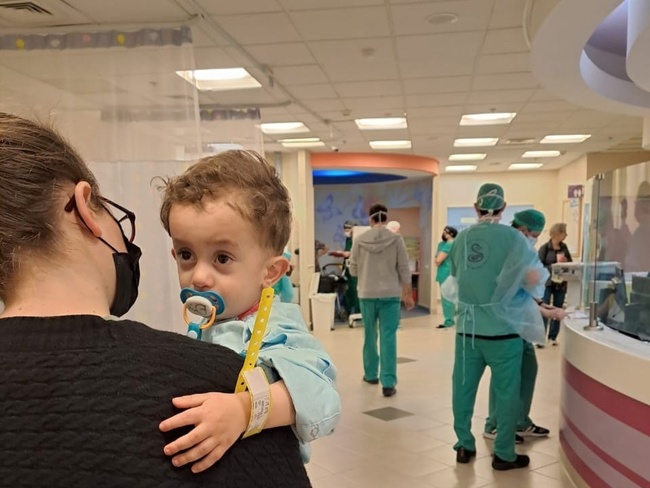 At the same time, two-year-old Kurdish
Dahen
 went into surgery at Hadassah hospital to repair his functionally single-ventricle heart: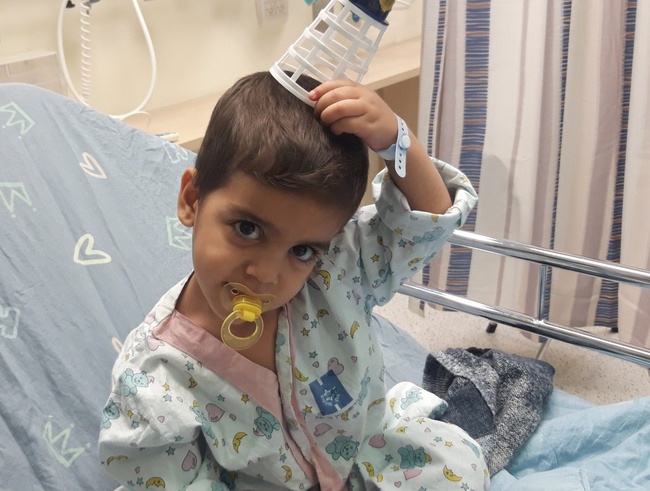 Having only just returned to Israel some days ago, I've only briefly met little Sarjon and his mother. But it didn't take long to see that he's a special member of our community. It's amazing to witness the sweet relationship between him and our coworkers here, especially our young coworkers from Germany who have given beautifully of their time and love for him.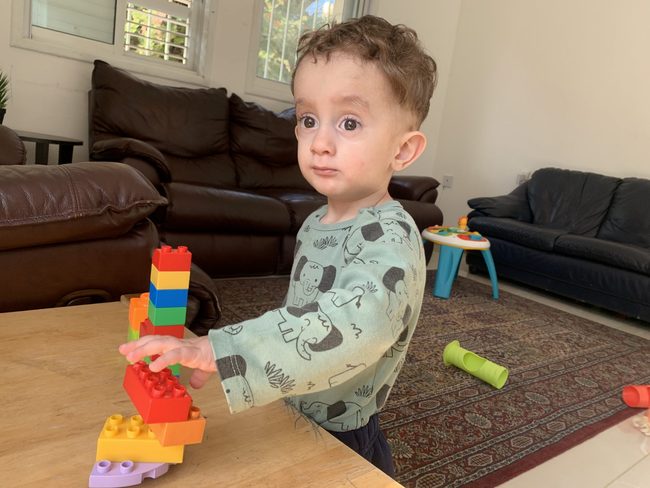 So even as we prayed in faith that God would heal Sarjon, you could sense the air of apprehension in our house in Ashdod all morning. While Doro and Elise waited with the mothers at the hospitals, we waited and prayed for good news. Finally, Doro texted our community thread:
Sarjon's surgery went well and they are closing his chest now.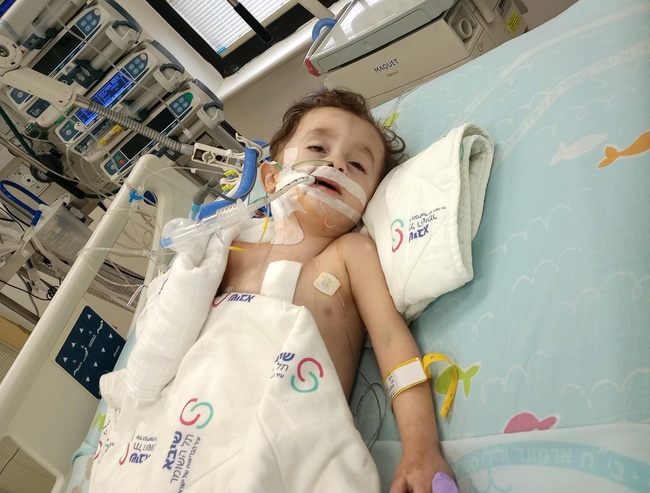 An audible collective sigh of relief passed through our house, as those who have come to love Sarjon so well thanked God for the good news. Soon after, Elise also shared the good report that Dahen's surgery was completely successful and he's doing well: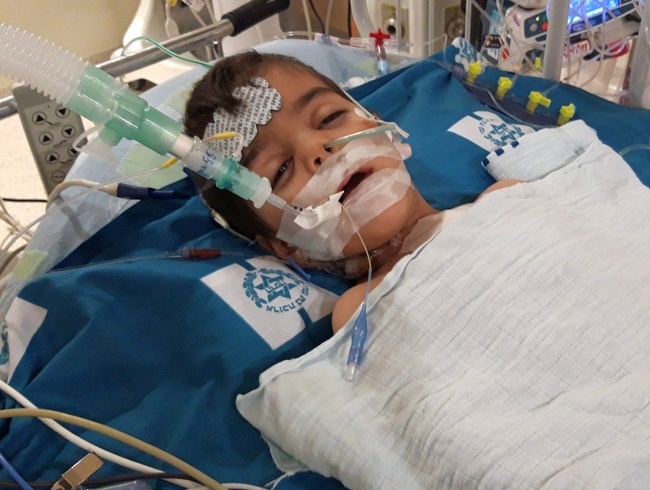 Praise God for his care and healing for these two sweet boys!
In the wake of such good news, we were all feeling a bit more relaxed. But not for long–only an hour or two later, Lena found our new Yazidi arrival from Iraq, two-year-old Maryana, extremely blue and with oxygen saturation at 17% of normal. We called an ambulance immediately and watched the number on the oximeter drop lower and lower even as we made the phone call. The paramedics arrived just as Maryana's saturation plummeted to the single digits, and they rushed her to Assuta hospital across the street in Ashdod: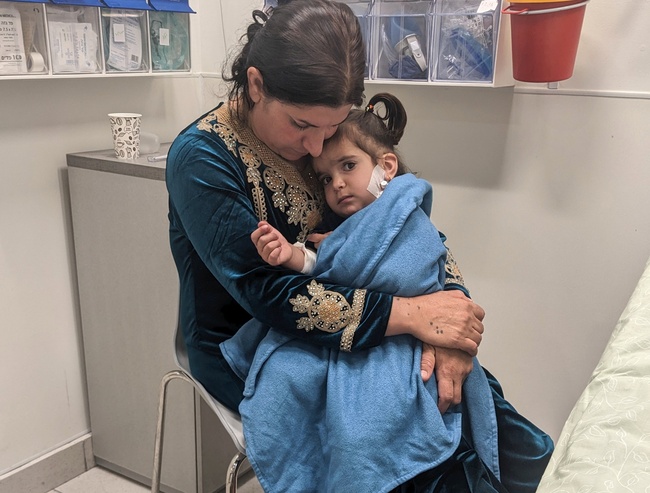 There doctors were able to stabilize her with oxygen and medication before transferring her to Sheba hospital late in the evening. Her cardiologist was waiting for her and stayed for a few more hours to examine her. (He'd been working all day since early morning—we are really, truly blessed to have such a dedicated group of doctors caring for our kids!)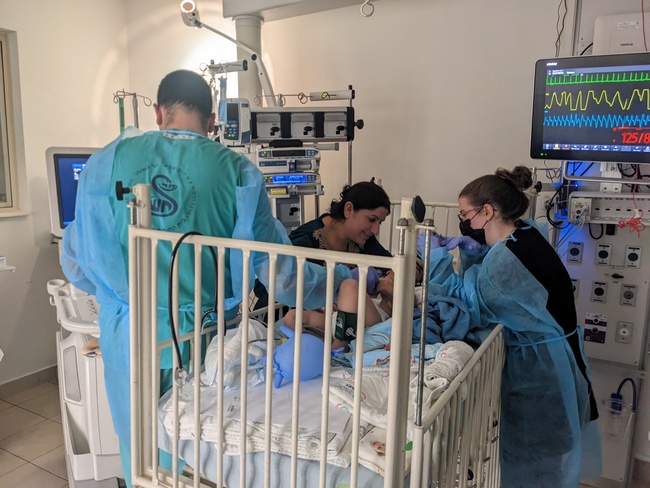 Maryana has Tetralogy of Fallot, a combination of heart defects that often causes episodes of cyanosis (blueness) and oxygen desaturation. Since her attacks are so severe, doctors decided to keep her in the hospital for monitoring and support with oxygen and medications while they make plans for surgery. Maryana and her mother are now settling in to life in the pediatric ICU at Sheba. Please pray for both of them as they await news from the doctors.
This week brought big steps for our beloved Somaia from Gaza. Her mother was excited to tell us on Tuesday that Somaia had been off the ventilator since first thing that morning:

For three days, she continued like this, breathing on her own. Finally on Thursday afternoon, after nine months in the pediatric ICU, Somaia was moved to the intermediate ICU! Her mother is absolutely overjoyed and growing increasingly exuberant as the doctors are even beginning to prepare for Somaia's discharge to Gaza. Somaia has come a long way in the last nine months and to see her now, you'd hardly believe it's the same tiny, fragile newborn struggling to breathe last March. We're grateful to the Father for bringing her so far and invite you to continue with us in prayer as she prepares for the next steps.
Little Liya from Gaza is making good progress after recovering from a virus. She's on and off oxygen support as the doctors investigate why her oxygen levels are sometimes low.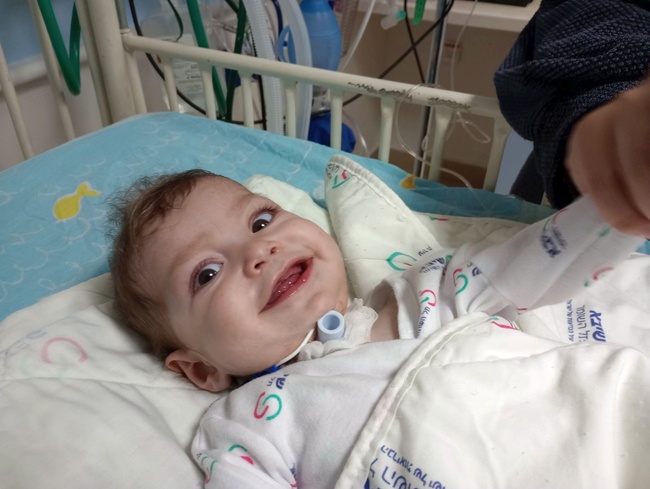 Like Somaia, Liya has come a long way in the last year; she's grown so much that I almost didn't recognize her when we met her and her mother in the hallway! She's scheduled for a catheterization next week; please pray that she remains stable enough to have the procedure as planned.
Four-month-old Hamed from Gaza is facing some unexpected challenges, as he had seizures early this week. His doctors began treating him with medication right away and are conducting tests to determine the cause.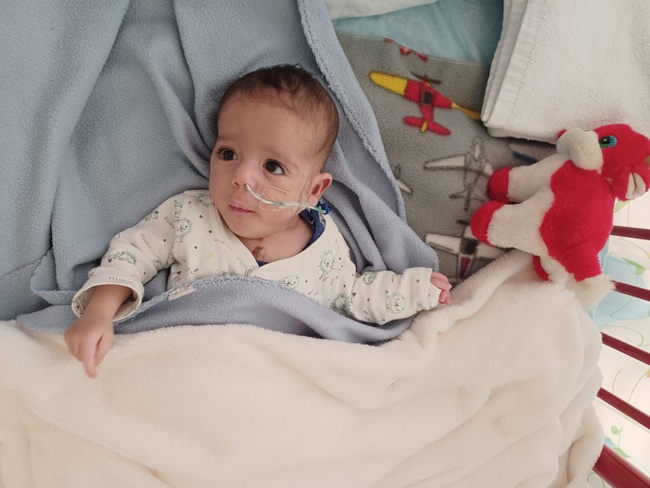 In the meantime, Hamed's grandmother went home for some well-deserved rest this week and another relative came to take her place. Please be in prayer for Hamed as the doctors search for answers.
Our good friend Lya from Kurdistan had her dental repair under anesthesia on Sunday morning. The procedure was quite extensive, as all of Lya's teeth had to be either repaired or removed. She's feeling much better now and is back to her usual business of brightening everyone's day at our house in Ashdod: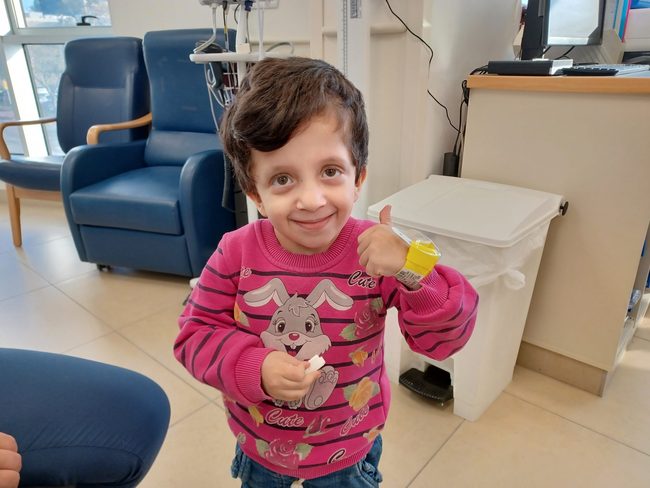 We're praying now for a way to help her with her profound hearing loss, probably stemming from the same syndrome which caused her heart defect.
Two more sweet Kurdish children are back in Ashdod as well after being discharged from Sheba early in the week. Nozhdar is feeling great after his surgery and will have an echo next Wednesday to check how his heart is recovering: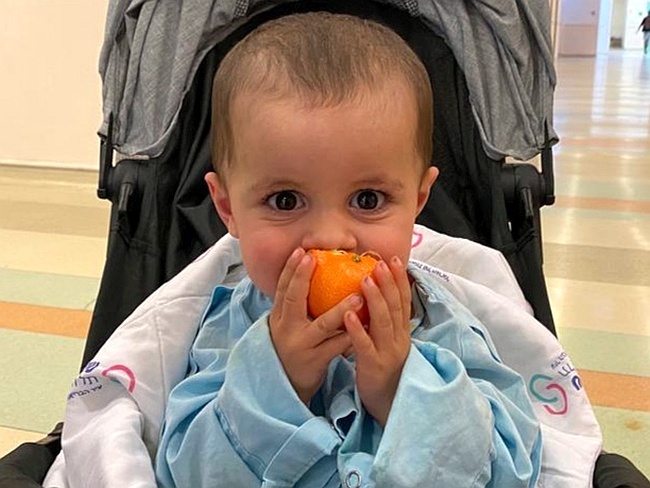 And lovely
Daveen
 was released after her emergency hospitalization last week, and is waiting now for a CT so that doctors can make a plan for her heart surgery: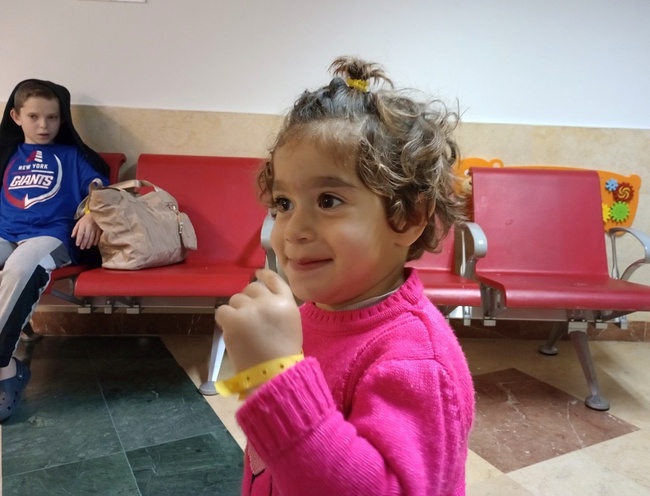 Lastly, handsome little
Miran
 from Kurdistan is also back in our house in Ashdod after an interventional catheterization yesterday. The doctors were able to widen his pulmonary artery as planned but weren't entirely satisfied with the result. After his heart struggled for two years against the narrow passageway, it's difficult to repair and it seems that he may need surgery.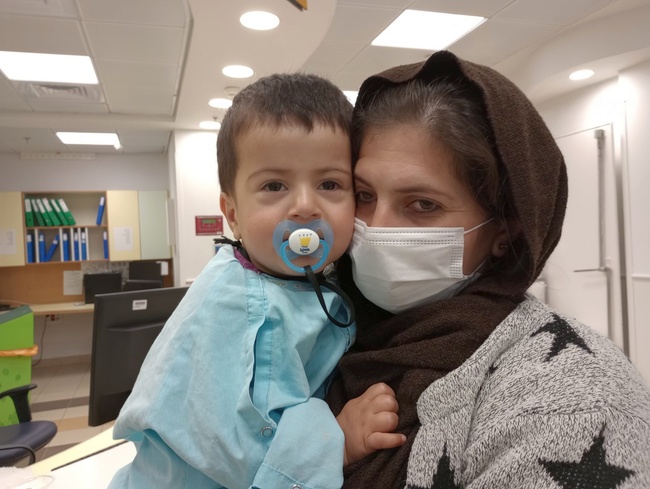 Miran will have an echo early next week so the doctors can decide on the next steps for him. His sweet mother is the image of patient, tender love as she cares for him through unexpected challenges and delays, setting aside everything else to give her little boy just what he needs.
This is the tireless love that we see time and time again with these families and doctors, a love that can stand in the face of dire circumstances and defiantly proclaim hope. To see Fayez's doctors with little way forward, but still refusing to give up hope, is a great thing. And to stand in the place of his mother, giving up every moment of every day, every ounce of energy, her entire heart, for weeks, months, and years in devotion and care to one little child, is an even greater one.
Greater love, we are told, has no man than this, that he lay down his life for his friends. I'd be foolish to claim to understand the complete depth of that proclamation from Messiah as he was on the brink of his ultimate sacrifice. But what I do know, what I understand perhaps a little better after witnessing it here, is that to love is to give freely of what we have to offer—our time, our energy, our hearts, ourselves—for the good of another. All he asks of us is that we do the small things set before us, to love deeply no matter the cost, and leave the rest in his hands.
Thank you for joining us in prayer,
Bria for Shevet Achim