Friends,
Sunday was a long-awaited day for little Arya from Kurdistan and his mother. After over a month of nothing but waiting, it was finally time for his brain and spinal MRI, the last of a series of tests needed before his big surgery.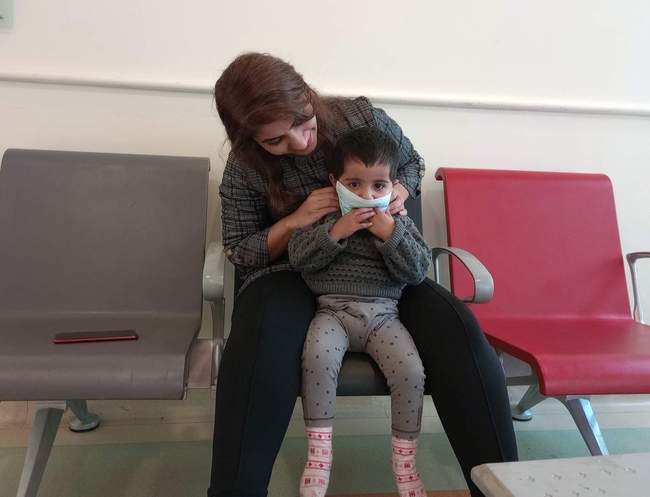 First thing Sunday morning, we got an exciting message from the hospital—
Bring Arya to the cardiac clinic after his MRI, we want to hospitalize him for surgery.
Arya went into surgery early Monday morning. As usual, he was in the best of spirits right up until he fell asleep from the anesthesia.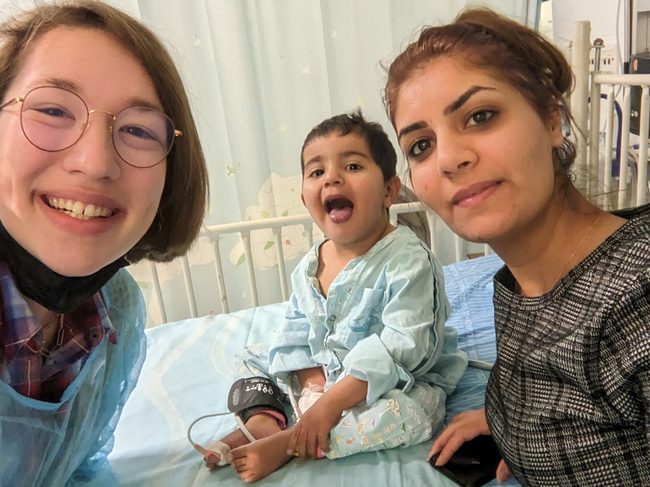 It was a big surgery, and not free of risk, especially as most children with a single-ventricle heart like Arya's undergo early intervention as babies. So we were overjoyed five hours later, when the surgeon emerged with a brief but positive report: "It's done and everything went well."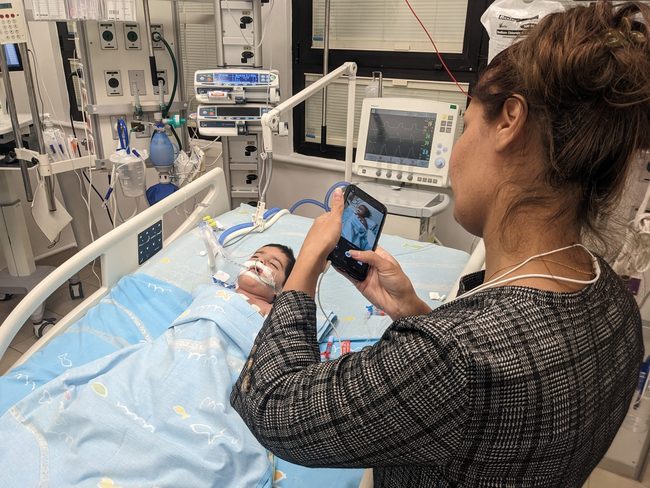 Arya was already awake, extubated, and eating a snack by the middle of Monday night, just twelve hours after coming out of surgery!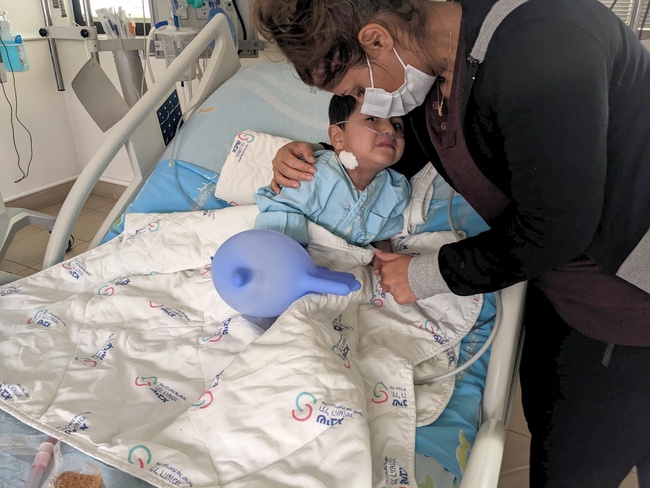 Also in the ICU at Sheba is the Assyrian two-year-old
Sarjon
, who is making progress day by day after his surgery last week. He's not feeling very well yet, but he is without oxygen support and taking all his medications by mouth instead of by IV, which is a good step.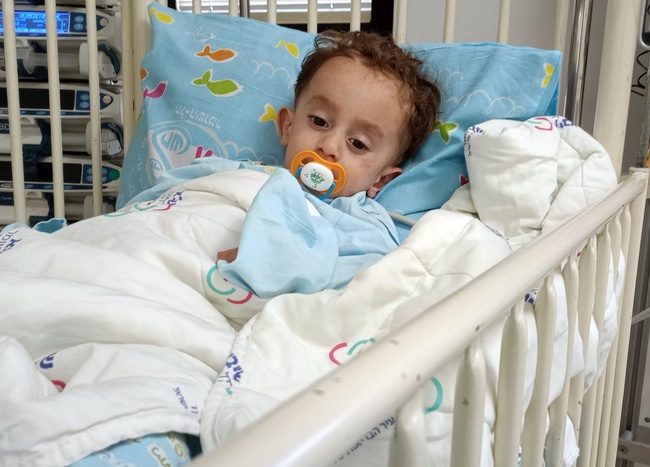 Sarjon is definitely an introvert and appreciates his space and privacy, so the ICU is not his favorite place with all the nurses and doctors coming and going. Please pray for a full recovery so he and his mom can get some well-deserved rest.
Our beautiful Yazidi girl Maryana was moved to the intermediate ICU just a day after surgery. She's feeling great and is happy for visitors, once she's confident that we're not nurses coming for more blood tests. She's a funny little girl and especially enjoys selfies and playing with glasses.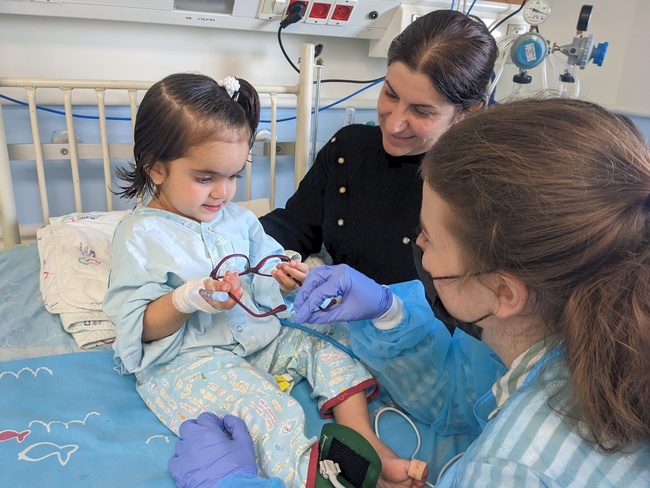 We're looking forward to spending time with her and her sweet mother in Ashdod as soon as she's discharged, which is planned for tomorrow morning.
Eight-month-old Liya from Gaza at last had her diagnostic catheterization this week. Her doctor discovered some problems with her pulmonary arteries and one of her lungs, possibly caused by the virus she had recently. In light of this, Liya's surgery has been postponed until she's a little stronger.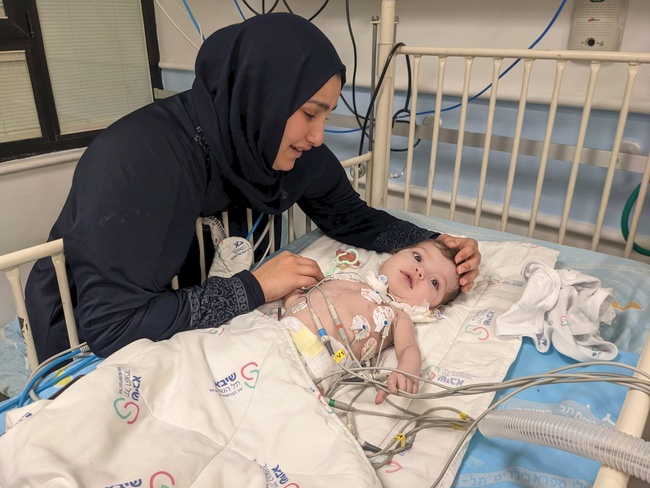 Her mother took the news well and cheerfully agreed that if it's going to be dangerous for Liya to have the operation now, it's definitely better to wait. Please pray that Liya's arteries and lungs will recover fully from the virus and that she will grow strong enough for surgery soon.
Our good friend Mohaned was admitted to the pediatric ward at Sheba on Monday afternoon. He had a dietary appointment on Monday morning, the last of several appointments in the past few days, and was ready to return home to Gaza when he developed a fever and respiratory distress. The doctor in the emergency room found that Mohaned's sodium levels were dangerously low and decided it was best for him to stay for observation and treatment.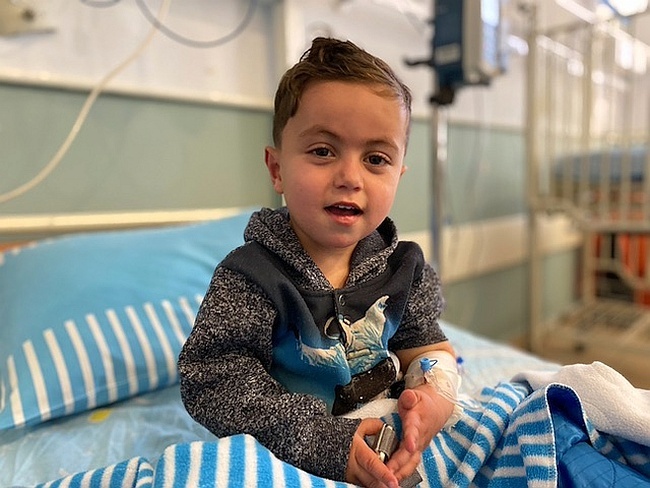 Mohaned is still running a fever and not feeling well, and his doctors now think he has a virus as well. When we asked Mohaned's mother how she is doing, she laughed and shrugged. "I thought we'd be here just for two or three days for his appointments and then go home," she told us in Arabic, "but I guess Mohaned likes the hospital." Please pray for both her and Mohaned as they wait for him to recover.
Our sweet Somaia continues to amaze us all as she's now off the ventilator for more than a week. She's only a tiny step away from returning to Gaza, and we're just finishing up preparing all the equipment and supplies she needs.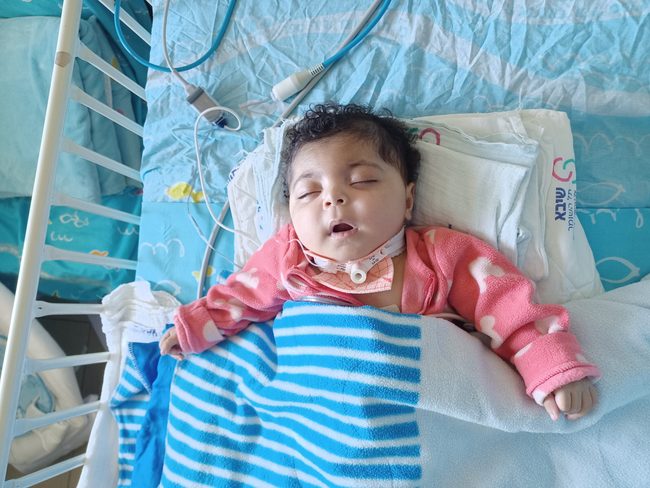 Her mother is overjoyed at the prospect of taking her baby girl home after nearly ten months at Sheba. Please continue in prayer for Somaia as she prepares to go home.
Little Hamed is also getting close to returning to Gaza. He still is not gaining weight like the doctors had hoped, so they are considering the possibility of placing a PEG tube in the future.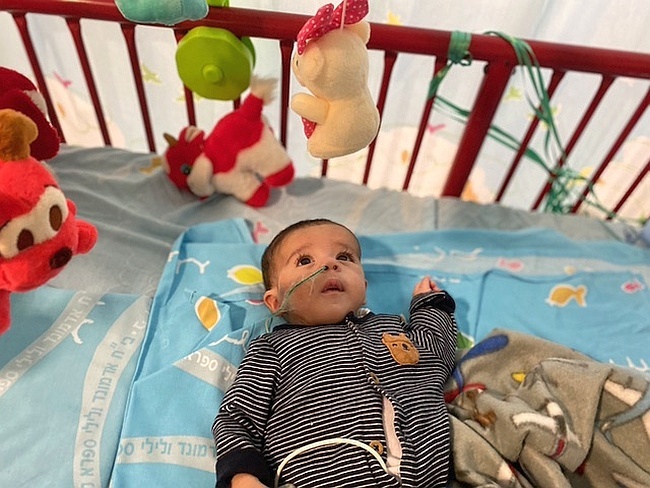 Hamed has a brain MRI early next week to investigate the seizures he had last week, and the doctors do not have plans to discharge him yet as he still needs to gain more weight.
Beautiful ten-year-old Shahad from Gaza and her father are spending the next week with us in Ashdod after she was discharged from Sheba this afternoon, a week and a half after a catheterization attempt to stop electrical disturbances in her heart.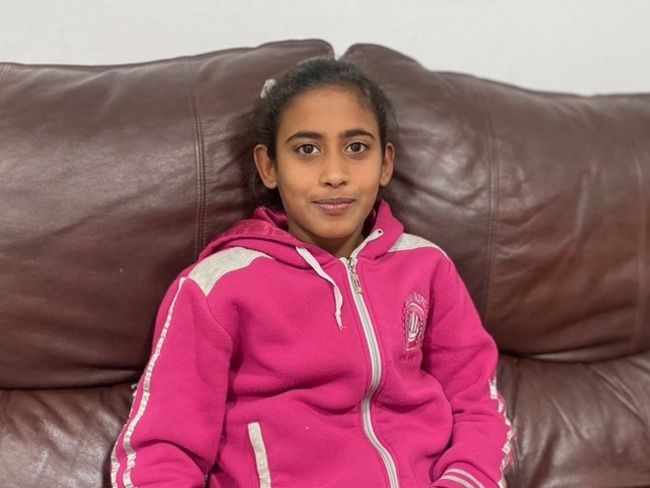 She started a new medication today and will have a check-up in one week to see how it is helping her heart function. In the meantime, she's full of energy and settling right into our house and garden in Ashdod.
Little Miran from Kurdistan came home from the hospital on Friday just in time to celebrate his second birthday with a little party. He then had an echo on Monday morning and his cardiologist found that his catheterization last week was not enough to resolve his pulmonary stenosis. He may need surgery to correct the problem before he can go home to Kurdistan.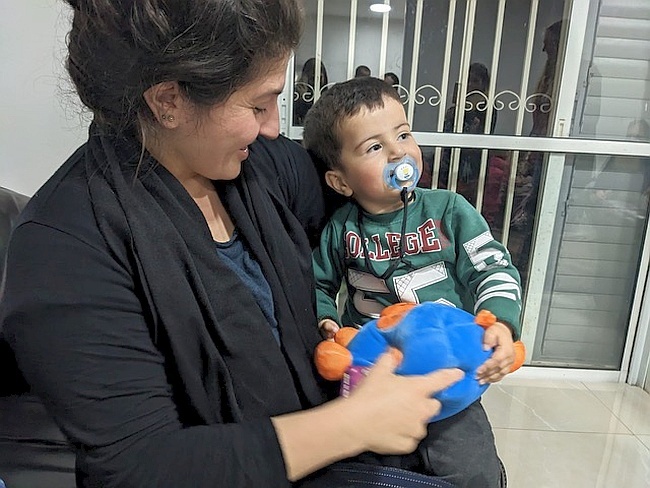 Miran's mother is, as always, taking every piece of news with calm and grace, and is patiently awaiting news. For now, Miran's cardiologist wants to see him again in a couple of weeks for another check-up.
Also in Ashdod three more Kurdish children are all waiting patiently for their next steps. Sweet Nozhdar had his first surgical follow-up echo this week, and while he's feeling great, his echo showed that he has quite a bit of fluid around his heart. He's starting a new medication over the weekend to help resolve this and his cardiologist will see him at the beginning of next week: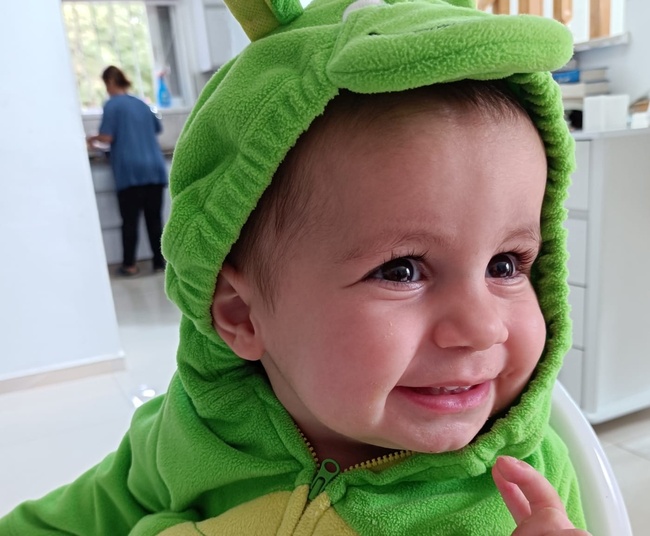 After multiple tests last week,
Daveen
's CT scan is planned for next week, the last step before she can go in for her heart surgery: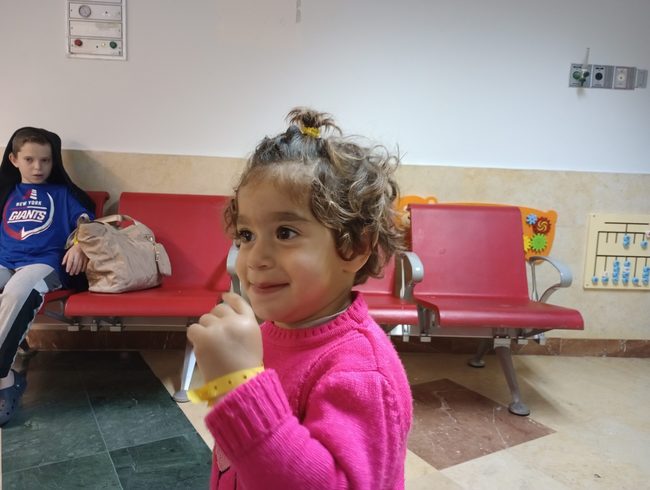 And
Lya
 has her next echo on Monday, after which we hope she will be discharged to Kurdistan from a cardiac viewpoint. We are still seeking answers about the best way to help with her hearing loss: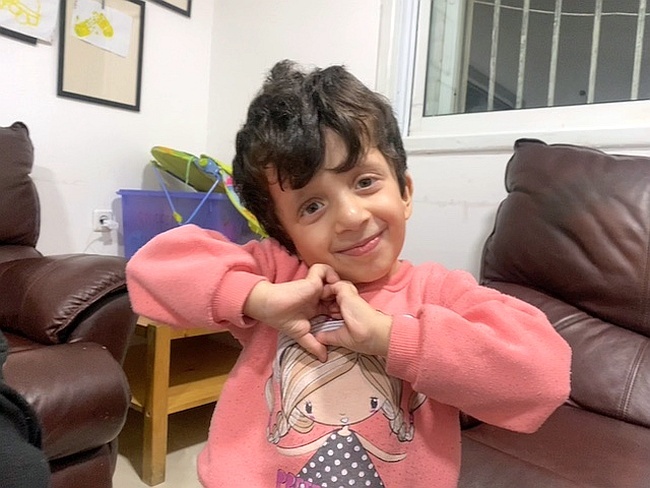 The house is never a dull place with this crew; when we walk through the door, we're almost always met with Kurdish music and a couple of kids running for hugs and high-fives.
Meanwhile in Jerusalem, Hadassah hospital yesterday accepted tiny newborn Masah from Gaza for emergency surgery to switch her great arteries, which is now planned for Sunday morning: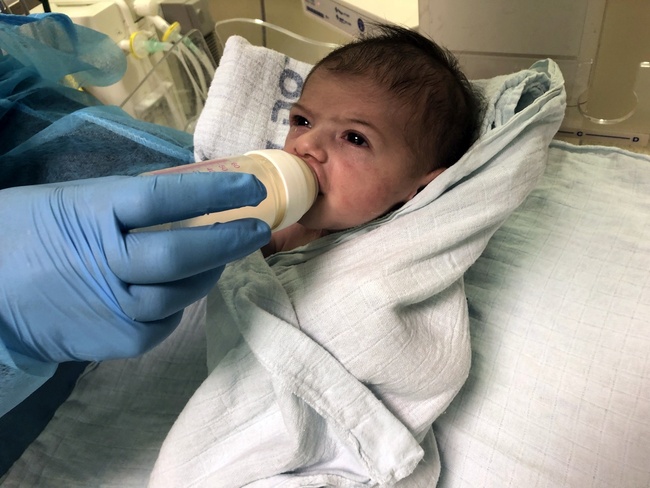 And two-year-old Kurdish
Dahen
 and his mother were discharged from Hadassah just a few days after his heart surgery. His recovery has been remarkably rapid and he had a great time coming home from the hospital on a Jerusalem bus!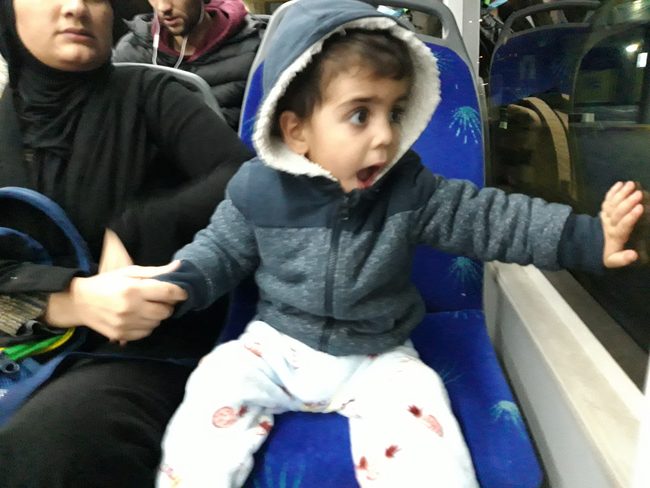 The Jerusalem team is having a busy week, as they're in the middle of moving from our little guesthouse near the Old City to our new house only a few minutes from Hadassah hospital.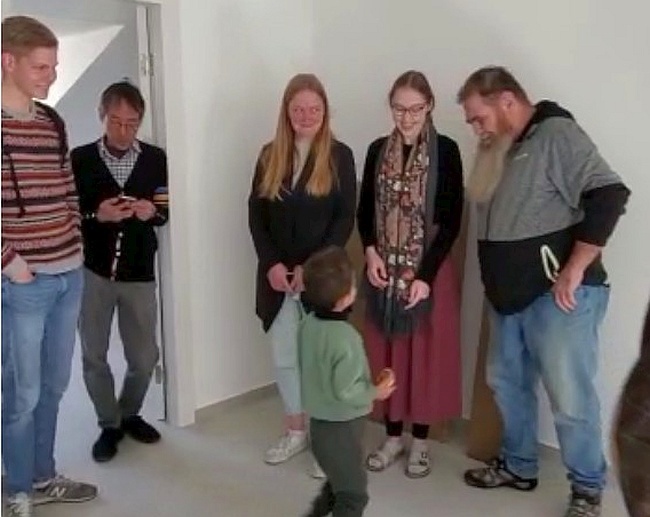 This is proving to be quite an undertaking, but we're excited to see how God will work in our community in this new base. Please join us in prayer for our community as we undergo these big changes.
The Lord bless and keep you,
Bria for Shevet Achim