Dear coworkers,
Thursday dawned ominously. We were scheduled to move our staff and families across Jerusalem to our new four-story home. 20+ visitors were expected for the house dedication at 11 am. And almost all the preparations were unfinished. People on all sides seemed unusually stressed and divided.
But we did one thing right. We gathered in the midst of the half-full packing boxes in the old guesthouse to open the scriptures. And he sent his word and he healed them.
It was that simple verse from Isaiah 26 which we've heard so many times in English: You will keep him in perfect peace whose mind is stayed on you, because he trusts in you.
Somehow it really popped in Hebrew. It starts with the word yetzer, as in the good inclination and the bad inclination which Jewish tradition teaches are at war in each man. You will create a solid, supported, anointed inclination–shalom shalom–because in you he is trusting.
In that continuous present tense of "trusting" we could see this is the unshakeable way he is calling us to live our lives, no matter what is happening around us.
So we decided to just show up at the new house and see what God would do. No frantic effort to run around and fix things at the last minute. And it turned out to be one of the most joyful days we've had in a long time. Here's our community's old friend Joe Shulam, founder of the Netivyah bible instruction ministry, starting his blessing with a riff on the eshet hayil  (Proverbs 31 woman of valor):
The new house is strategically situated just a ten-minute bus ride from Hadassah (also via the new light rail line going in this year). So this morning our new coworker Kati from the high country of Colorado was there bright and early for the lifesaving heart surgery for newborn Masah from the Gaza Strip: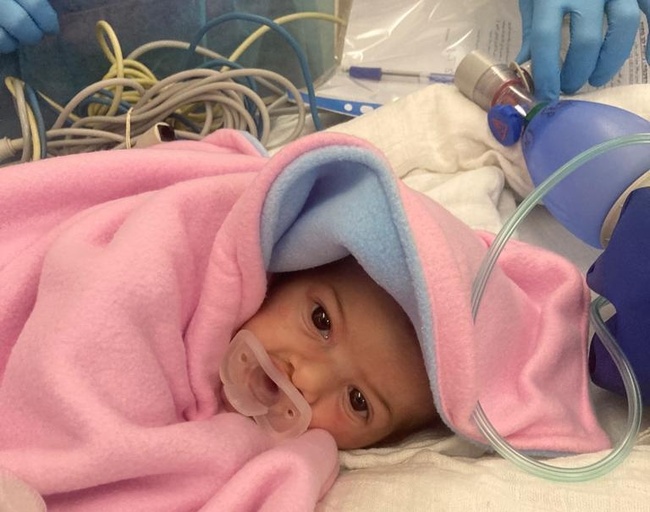 On Friday, I met two-week old Masah and her mother. Masah was sleeping peacefully as her mother prepared a bottle to care for her beautiful daughter. I returned to the hospital today to sit with Masah's mother as doctors took her daughter into surgery. She was very emotional as they wheeled her Masah away…
It took just under three hours for the doctors to put a shunt in which allows more oxygen to reach her lungs. The doctor said she was stable and would be in the hospital approximately seven days before returning to Gaza.
Masah was still very beautiful, even with all the tubes! I asked her mother if she was able to sleep at night and her reply was no, she was fighting for her daughter!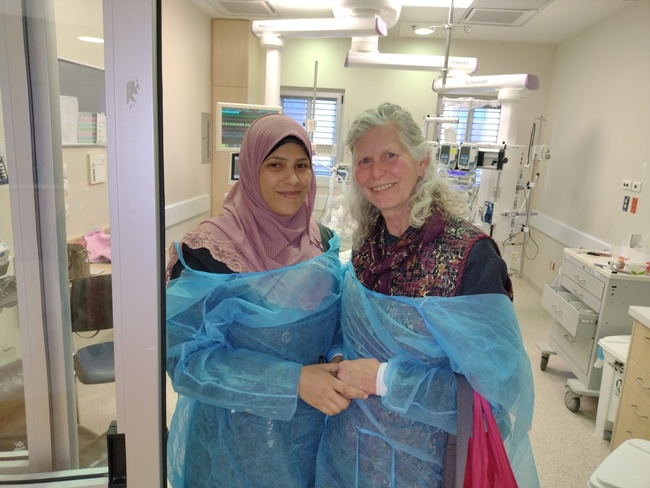 God has blessed Masah with a wonderful, devoted mother and family. Please pray that our Great Physician will continue to heal this baby and also that the family will feel God's presence in amazing ways!
If God wills there is potential to do many more surgeries at this large and storied hospital this year. Tomorrow there's a meeting with the financial people, and it's essential that we get on the same page. As I looked through some questionable billings today in preparation, I felt the shalom shalom dissipating and anxiety coming in. Can we pray together that the meeting will not be combative, but a demonstration of continuous trusting in God?
At this time our online donation page shows we are still awaiting $557,000 to meet all our 2021-2022 commitments to Hadassah and to Sheba Medical Center near Tel Aviv.
So much good work continues to be done at Sheba, by a very caring community of doctors. Friday as the Shabbat was starting they rushed newborn Sila from Gaza into emergency surgery when they could no longer detect a pulse in her feet, due to the narrowing of her aorta. Joanne was there alongside Sila's mother: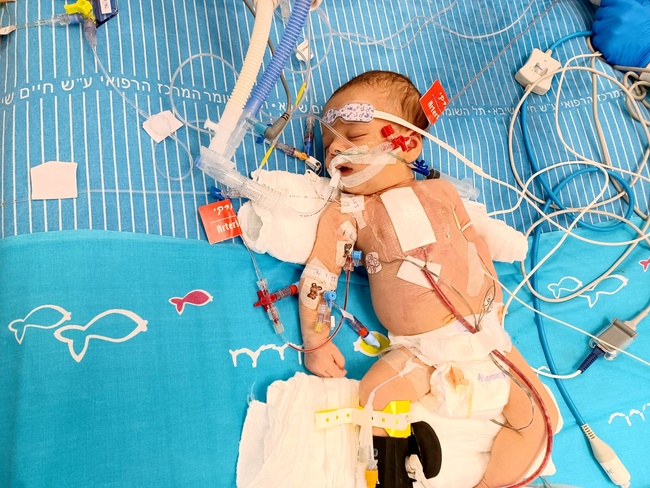 After three hours, the surgeon came out to say that everything went well…Sila's mother praised the Lord a hundred times. She gave me a huge hug and thanked me and the Shevet team for being there for her. This mother is lovely and very positive and we had a good time together during the surgery, God bless her.  Please pray for little Sila's recovery.
But to really understand the sweetness of the atmosphere at Sheba, you need to read Jakob's blog this week "Kurdish generosity even after surgery":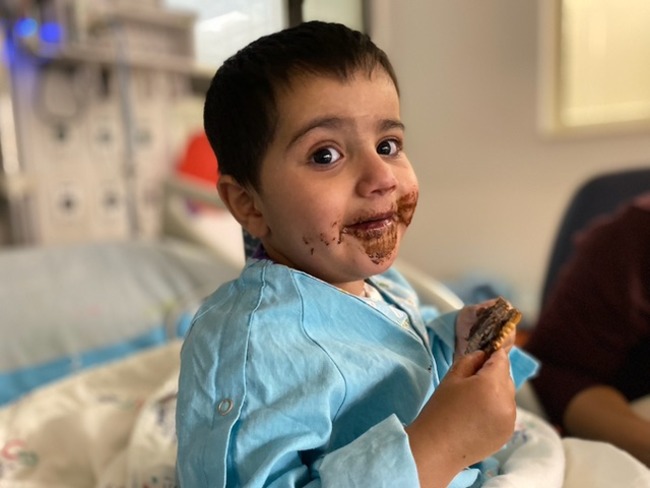 That made me really happy! When I walked into the ICU at Sheba Medical Center today, I could already see Arya smiling through the window. Having had his surgery a few days ago he is in great condition, no longer requiring oxygen support and can probably be transferred to the secondary ICU tomorrow. Praise God for healing Arya so well. Before his surgery, our team were concerned as Arya had a complicated heart condition. How fortunate that God pushes through his plan in spite of every doubt!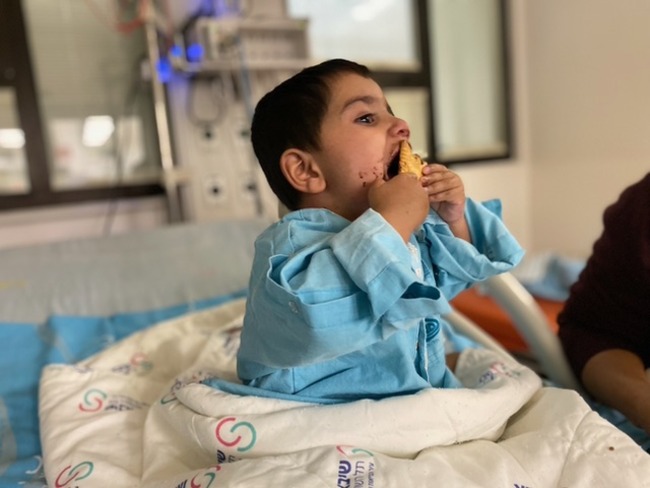 When I finally entered Arya's room, he generously offered me a cookie. I declined with thanks because I didn't want to disregard the strict hygiene standards in the ICU. However, Arya kept going, as it is common in Kurdish culture.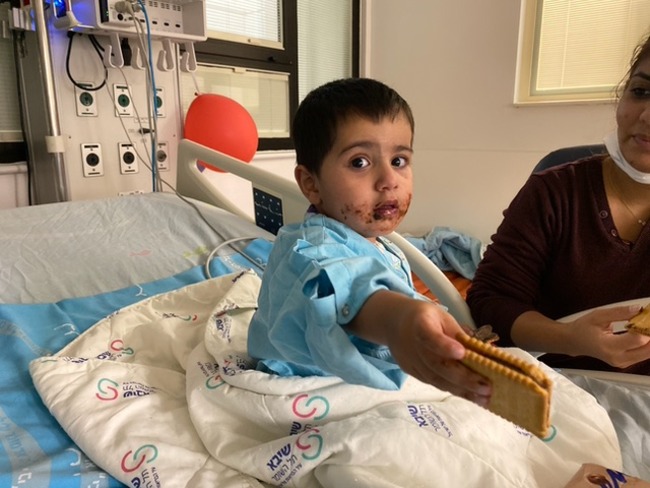 Finally, I capitulated and quickly slipped the cookie under my facemask. Thank you, Arya, for the delicious cookie!
There's so much that is lovely about the culture of our neighbors in the Middle East. We have learned so much from them. But we also see on a daily basis there is much that is sick about their culture, just as there is about our own. Sin is the universal human condition.
Particularly corruption and dishonesty is endemic. Here's an excerpt from an essay published this week chock-full of anecdotes:
Corruption is tearing apart many countries in the Middle East. This issue urgently needs to be confronted. The conundrum is that it almost impossible to tackle, because it is almost unjust to prosecute or punish someone for corruption when everyone else is doing it too. A solution will require a fundamental shift in thinking, an entire overhaul of societal norms.
I was recently in Baghdad riding in a taxi as students poured out of a local university. The driver, who was waxing nostalgic about the good old days under Saddam Hussein (a widely shared sentiment, perhaps nowhere more than among the taxi drivers of Erbil and Baghdad), started pointing at students, saying each one was just learning to be another Ali Baba (a thief). "She's an Ali Baba, he's an Ali Baba," he went on. He wasn't blaming the government or a few bad apples; he was blaming society as a whole.
Of course Israel is not exempt; the man leading the two ministries which most oversee our work, interior and health, was removed from office today due to his multiple corruption convictions. He expects he'll be back.
And what should be our response? The Oxford groups famously challenged a secular pre-war generation in the 1930s by fearlessly applying 
to themselves
 the 
four standards
 of absolute honesty, purity, unselfishness and love, and by their willingness to give an account and make things right when they fell short. "When Christians confess," they said, "pagans believe."
Friends, if we wish to share new life in Messiah in the Middle East, here is a good place to start. There is no righteousness like that which he gives. Shall we walk in it together?
Jonathan for Shevet Achim
"Behold how good and how pleasant it is when brothers dwell together in unity" (Psalm 133).