Friends,
Tuesday evening my German coworkers and I came back from a short seminar, and the first thing we did was walk into our family house to say hello to our kids and moms. Not many were in the house when we left on Friday, but now we were greeted by a lot of noise before we even entered the house. Over those few days our house had filled up with more children, and Tuesday evening we hosted 10 children from Kurdistan and Gaza with their relatives. In my entire time here, I don't remember a day where we had so many families here at once. The house was filled with laughter, joy, running and playing kids and all the moms seemed busy keeping an overview over the situation.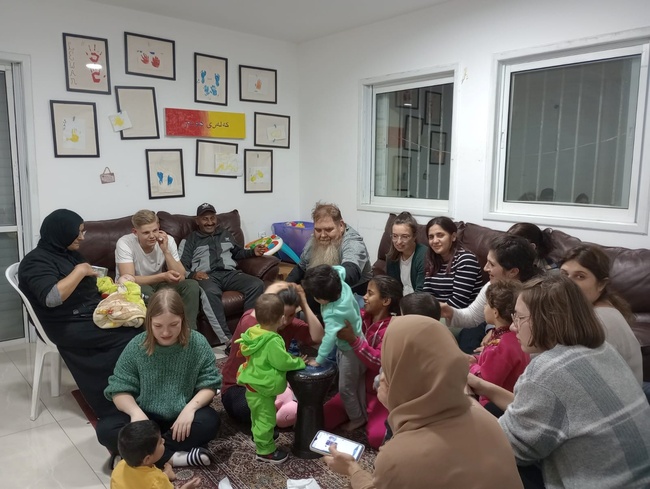 But there was also a specific reason for the joy on that evening: it was the farewell party of our beloved girl Lya! After three months in Israel she was finally discharged back to Kurdistan, and we wouldn't let her go without a party that acknowledges her time here.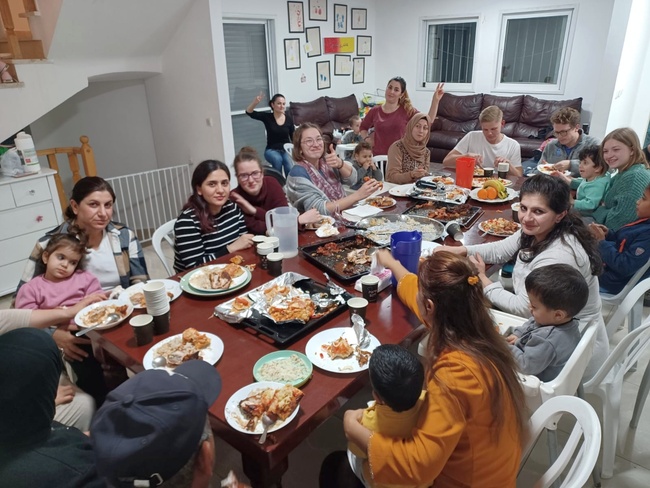 Lya was one of the most joyful and sensitive kids we ever had–perhaps because of her profound hearing loss. She recognized always when someone wasn't doing well, and came to hug us and to cheer us up. And we could see how she learned all of this from her wonderful mom who took great care of us volunteers, cooked for us, helped to take care of the house and other families, helped us translating and was always so thankful for what we do for her. It was hard for us and for her to keep back tears during the farewell, as we will miss each other and our time together so much.
That night Joanne and Jakob brought them to the airport, where early Wednesday morning they also met San, his mother and our coworker Elise coming from Jerusalem, and finally had to say goodbye: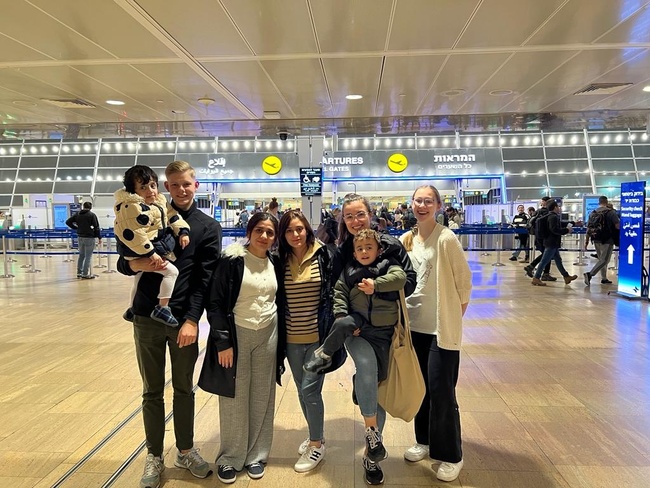 The little rascal San spent the last weeks with our community in Jerusalem as he waited for his last echo, so they also had a farewell party there on Tuesday evening.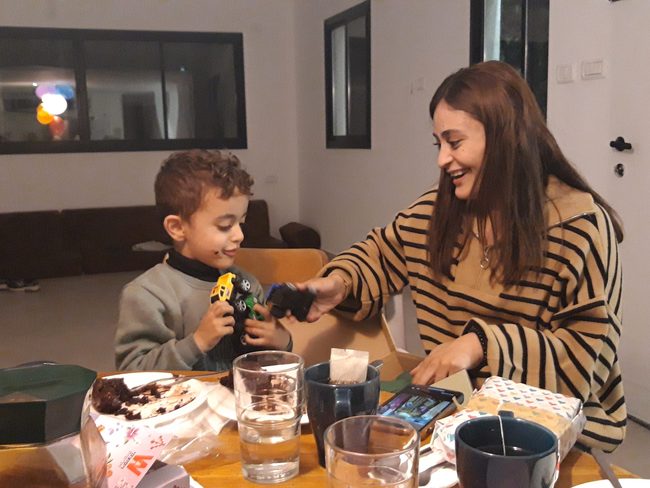 Elise reported in her
beautiful farewell blog
 how dearly they will also miss San and his mom, after going through so many ups and downs with her in the waiting time. San had a big personality for his young age and loved playing, laughing and talking to everyone no matter if they understood him or not.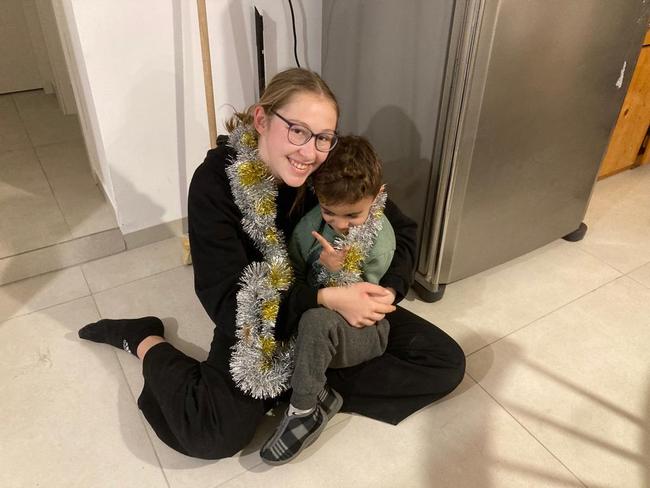 At the airport he was happy to see Lya again and that they could stir up mischief together again as they always did while he was still in Ashdod: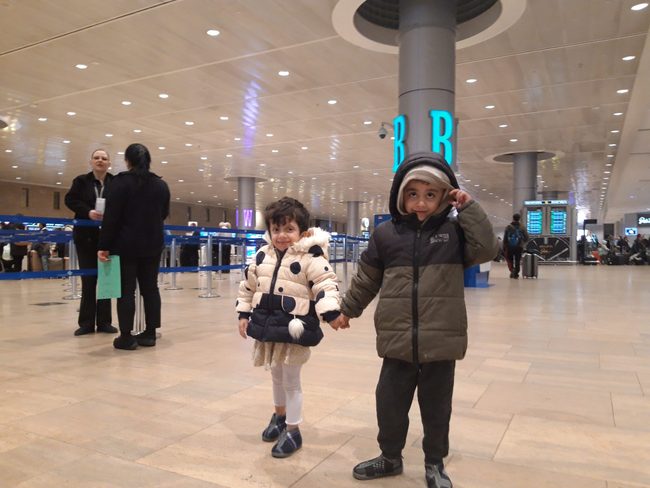 I was impressed by how dearly San loved all our other kids. So often he asked his mother how all our Kurdish kids in Ashdod are doing, and wanted to see their blogs because he missed his friends. We will miss his sweet personality but are also glad for him and his mom that they can finally leave. On Thursday morning we got messages from both families that they arrived safely back home and we pray that they will have a good time with their family in Kurdistan.
Probably the biggest event this week though was the discharge of another child: our dear Somaia who entered Israel 300 days ago. While her grandmother, mother and aunt took turns taking care of her, Somaia stayed in the ICU on a ventilator for all those months. There were so many moments where it was hard to not lose hope for her. She was so weak and deteriorated a few times, but every time she fought her way back to life and got better again. And then in the last months we could see her getting better every week.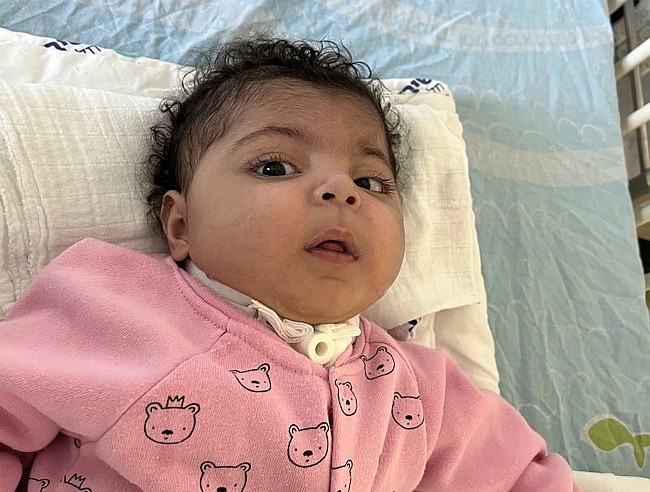 She was finally waking up and recognizing her environment. She started smiling and reacting to us and especially to her mother, and breathing long enough on her own to go for little walks through the ICU or even out in the freshs air. And then finally the doctor surprised me on the 12th of January with news that Somaia didn't need the ventilator at all for three days now!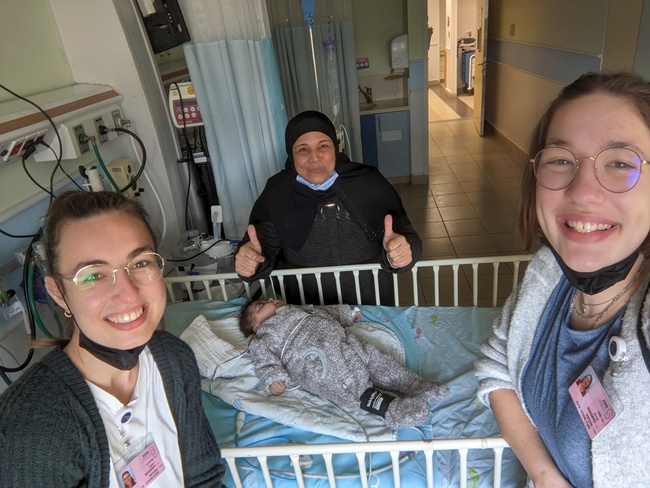 And only two weeks later our miracle is finally heading home again. On Tuesday an ambulance brought her and her mother to a hospital in Gaza. There was
big applause from all the staff
 in the ICU as they said goodbye to the beloved child they cared for so wonderfully for 10 months!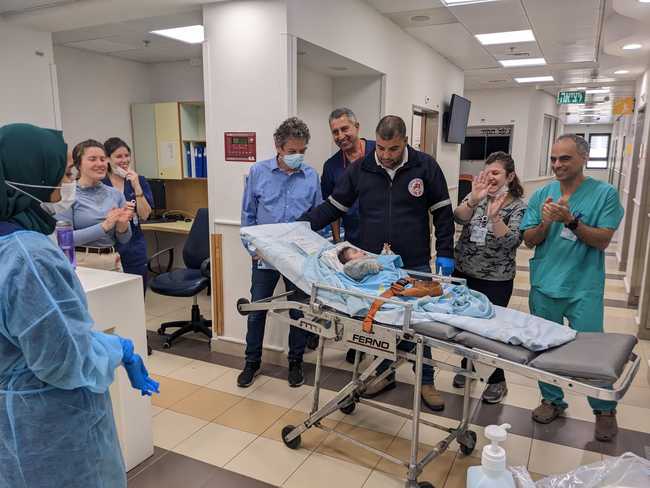 Somaia was here for longer than most of our volunteers have been, and we miss her and her sweet mom as they were such a constant part of our lives in the hospital . Please keep praying for "Sumsum" while she is back in Gaza, that she will keep improving and stays healthy!
Three Iraqi children Maryana (below), Sarjon and Arya all were discharged from Sheba Medical Center back to our Ashdod house after their surgeries, and we enjoy their company here a lot.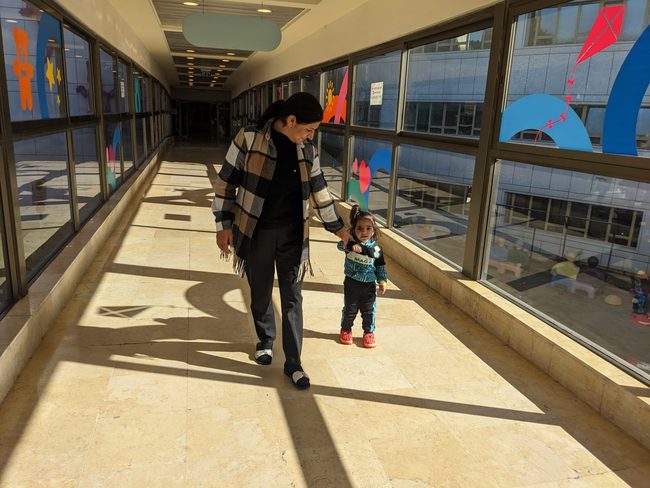 All are pretty close in age but are such different personalities and cheer us up in a different way. They are all waiting for their next echos in the coming week, and while Maryana and Sarjon are enjoying their rest, Arya has kept us busy with another ear infection, and went
back to the hospital
 twice this week.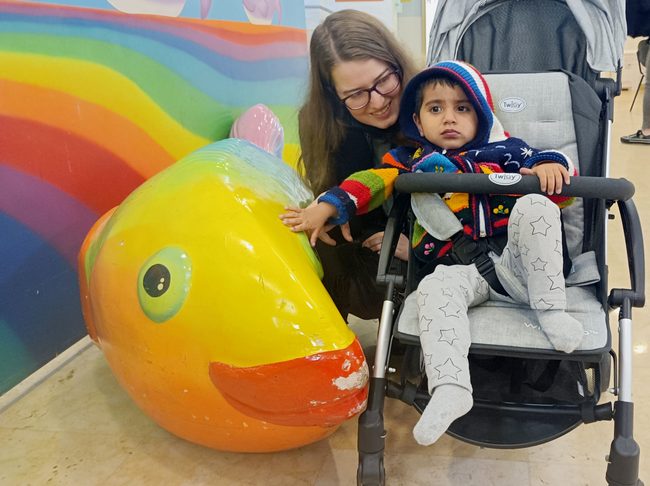 Please pray that his infection will soon clear up and that the three of them will continue to recover well from their surgeries!
And three of our Gaza boys were also allowed to go back home. One by one Mohaned, Mohammed R. and Hamed (below)were discharged from Sheba this week.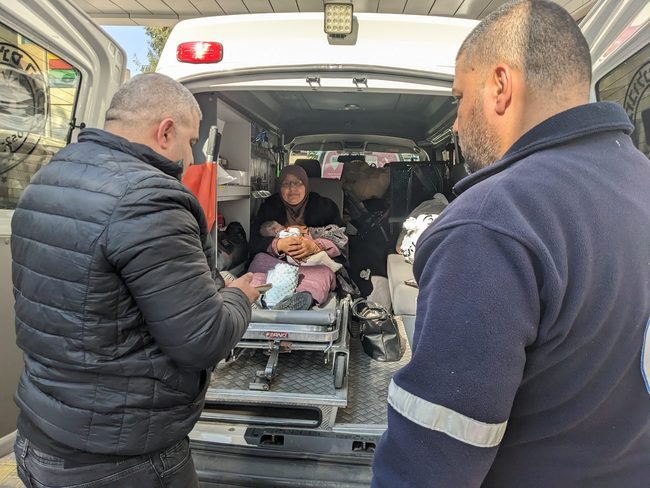 Hamed will stay for a while in the hospital in Gaza to learn to eat again with the help of his mom; Mohammed R. and Mohaned are reunited with their families at home. We are glad that all of them are doing so well and we are so thankful for all the miracles that God has done in their lives, as they have all complicated hearts. Please pray for them as they will all need another surgery sooner or later in their life!
Four precious girls are still hospitalized at Sheba. Newborn Sila just arrived from Gaza a week ago and directly underwent an emergency surgery as she had lost all the blood pressure in her legs. Doctors were able to fix her coarctation of the aorta and by now our cute little girl is already extubated, breathing room air and has saturations of 100%.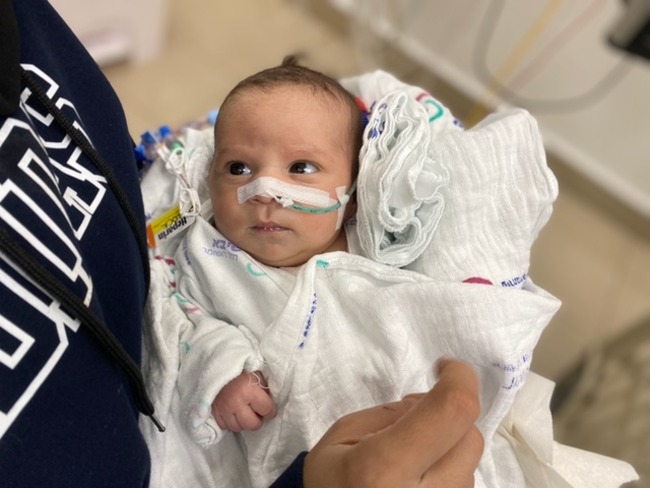 Sila still has some trouble eating. Her mother is a physiotherapist in Gaza and uses the long hours she has with her daughter in the hospital for exercises to hasten her recovery.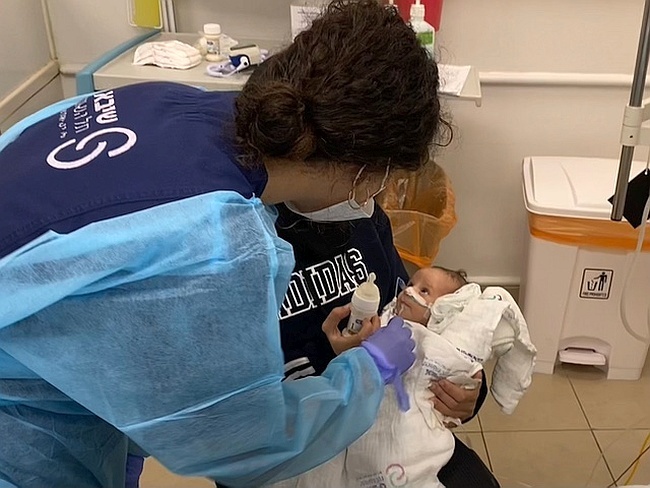 The mother also speaks perfect English and we enjoy spending time with her and getting to know her beautiful personality. Praise God for healing this precious girl!
Maryam celebrated her first birthday on Tuesday! It's a miracle that this tiny girl who looks like a three-month-old has come so far.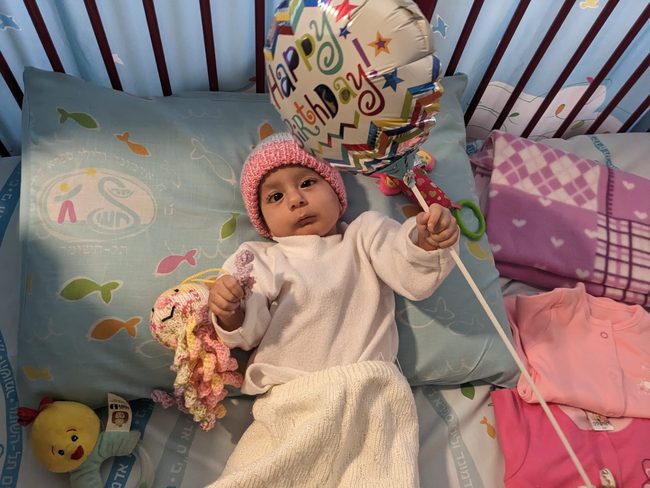 This week we purchased a device that should help with her sleep apnea, and with that we hope that she may be able to go home to Gaza at the beginning of next week. Please keep praying for Maryam as she is slowly making steps in the right direction.
A few rooms down is still our lovely Liya (although often we don't find her in the room but instead walking around the hospital with her mother). Liya looks so much better this week and is smiling nearly always when I meet her.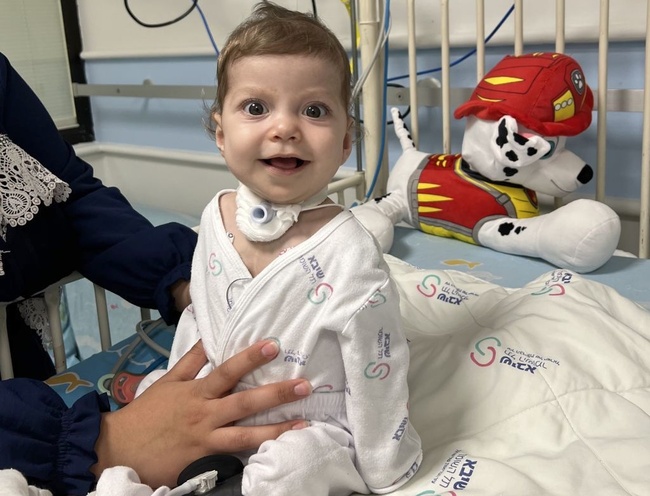 She and her mother are cheering up so many people in the hospital and it's a blessing to have them there, even though her mother really misses home. Doctors decided that Liya will need another cath next week, and so they probably still need to stay in the hospital for quite some time. Please pray for Liya and especially her mother.
Our last girl in the hospital is beautiful Daveen from Kurdistan. On Thursday morning Jakob and I just drove into the Sheba campus when I got a call from her mother: "Daveen is going into surgery now, where are you?"
I promised her I'd be there in two minutes, and after running upstairs I met her on the way to the surgery preparation room with a nurse. She was fighting against tears and noticeably relieved once she saw me.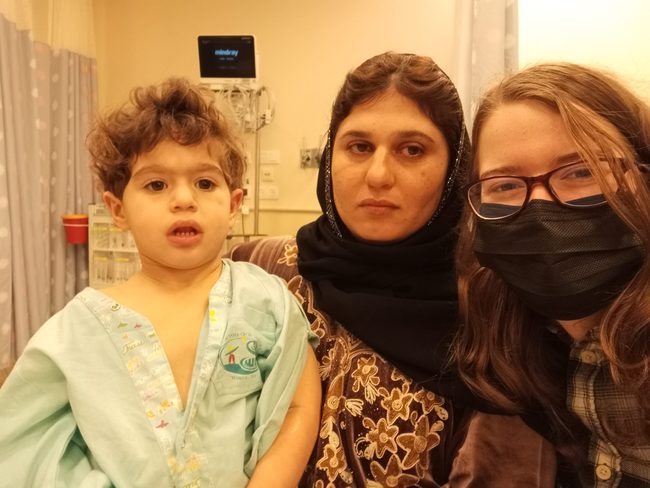 After they asked the some more questions in the preparation room and had the mother sign one last consent form, Daveen received anesthesia and fell asleep in the arms of her mother. So many people tried to encourage Daveen's mother in the waiting as she was so worried – some Jewish parents who waited for the cath of their son, other Gaza mothers, and passing doctors. "Tell her that we pray for her daughter," and "God is great" I heard so often and translated into Kurdish for the mom.
When after five hours the surgeon finally came out to tell us that the surgery went well and Daveen would be back in her room in twenty minutes, her mom broke into tears one more time – this time of relief!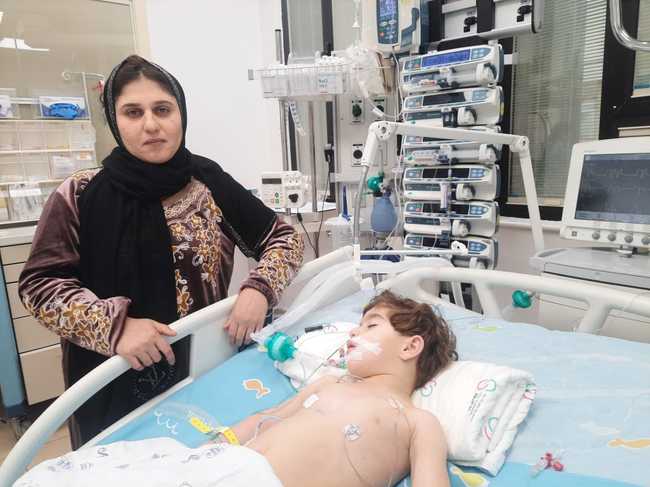 Doctors were able to fix Daveen's hole in the heart via a small cut at the right side of her chest, which will leave her only with a small scar later in life. When I left Daveen was stable and doing well, her mother told me for the first time of the day that she is doing well. "I'm very good! Look at Daveen, she is good, so I am good, thank God!"
And yes, I can only agree with her: Thank God for all our kids that are all doing so well right now. This is the first prayer letter I write without at least one child that died or isn't doing well. It was a very busy week, and while I and my German coworkers had a little break this week to relax and reflect on the first half of our time in Israel, the remaining community members had to work so much harder and had so many long and busy hospital days that they are now at the end of their strength. We are so thankful for all they did to give us this little break and we pray that they will get the rest they need on this weekend.
One song that we liked to sing as a community in the last time is "Gratitude" by Brandon Lake: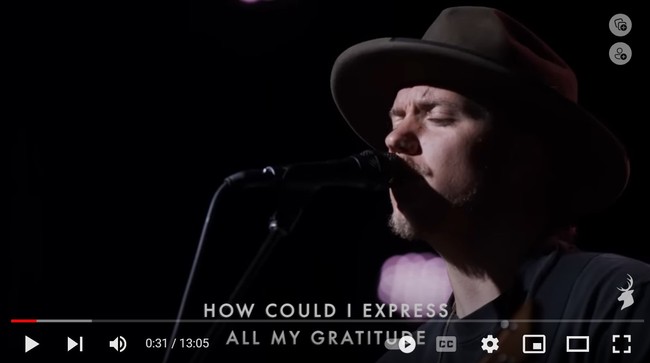 All my words fall short
I got nothing new
How could I express
All my gratitude?
I could sing these songs
As I often do
But every song must end
And You never do
So I throw up my hands
And praise You again and again
'Cause all that I have is a hallelujah
Hallelujah
And I know it's not much
But I've nothing else fit for a King
Except for a heart singing hallelujah
We are coming out of two months that were emotionally challenging and after his week there is not much left we can say but hallelujah! Praise the Lord for all he has done! He has brought so much healing for all of our kids, and we want to trust him that he will also give us as a community what we need.
Thank you for sharing this gratitude with us.
Doro for Shevet Achim