Dear coworkers,
As our Ashdod community worked verse-by-verse through Philippians 2 this morning, I could see our Gaza coordinator Bria was depending heavily on God's spirit for self-control, patience, long-suffering, and charity.
In the coordinators meeting that followed I learned the reason why: three Gaza families may have been waiting during our study to be picked up at the crossing point. "We show so much honor and respect to Kurdish families, and never leave them waiting at the airport," Bria said. "Why aren't we doing the same for Gaza families? I keep thinking about my sister and her new baby–what if they had to come through that crossing and were left waiting?"
"I see we have the right person in the role of Gaza coordinator," I replied.
Indeed our Gaza neighbors are dying to be seen and understood and respected. A few minutes ago I picked up the phone to call a young father in the same refugee camp where my family and I lived 25 years ago. I could almost hear his thoughts as I told him we'd be working to get his newborn daughter to Hadassah Hospital tomorrow: What? Really? Someone in Jerusalem knows and cares that my baby is between life and death on a ventilator in the ICU in Gaza?
It was life-changing for me and my coworkers to go into the homes in Gaza years ago, and sit on a mat on the floor as the beautiful people there poured out their hospitality and their hearts. It's hard to get into Gaza these days, but a remarkable new series of short video clips is giving Gazans an opportunity to speak to the world. If you want to pray effectively for the people of Gaza, you'll do well to listen to several of these (they'll automatically play one after the other):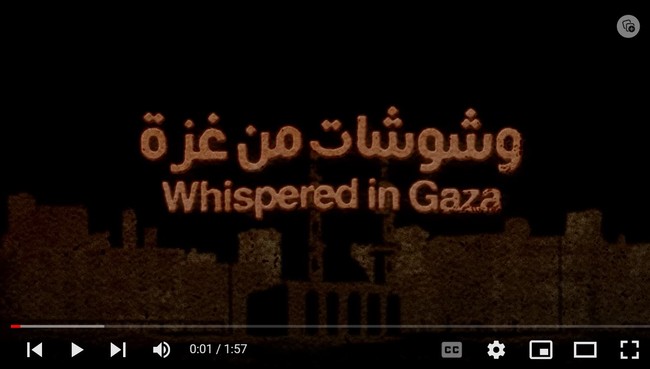 It is the Lord's work friends, to be there at this time for the people of Gaza. Contrast the despair you've just heard above, with these blogs about Gaza children posted after today's hospital visits by our coworkers Jakob, Lena, and Kati (and including the three families Bria was worried about):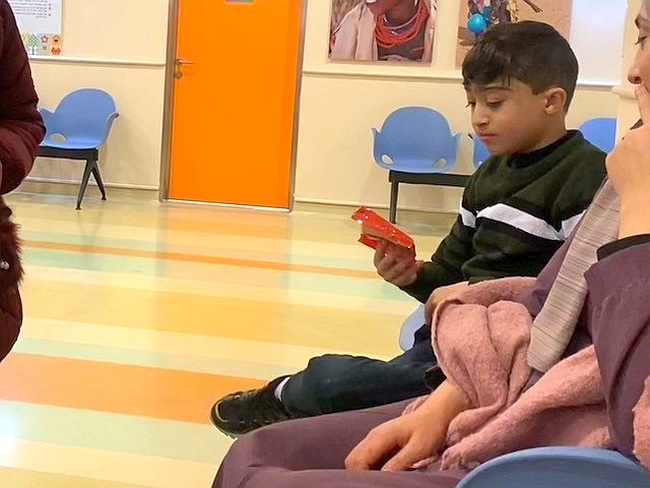 How nice to see Mohammed again! A few weeks ago, he was discharged from the hospital after a successful catheterization. Today the doctors wanted to get an idea of how he has been doing since then. It was nice to have met him in a good mood today. Before that, he had struggled with depression. In the waiting area at Sheba Medical Center, he generously shared his snacks with another Gaza child who was having a follow-up today.
——————–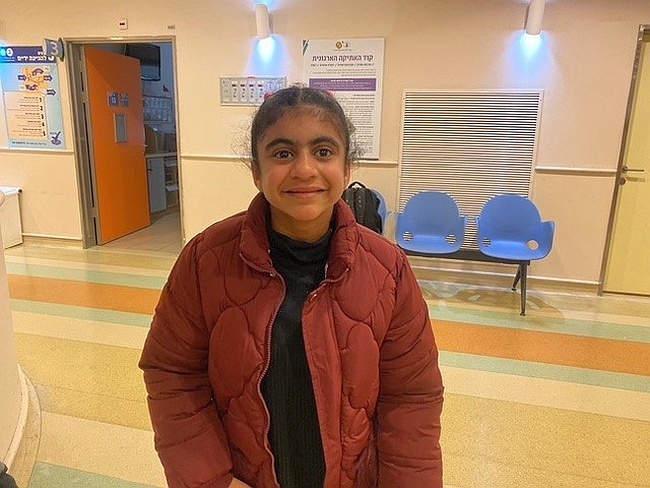 Today I and the other coworkers welcomed Marah to Israel. It was even more gratifying to hear about the good results of the examinations. Her doctor was very satisfied and Marah does not have to accept any restrictions. In a year she will return to Israel to ensure her good condition continues. Praise be to God for His good work in Marah's life. Such an openminded and positive young girl! May He also protect her in the coming year and not leave her side.
——————–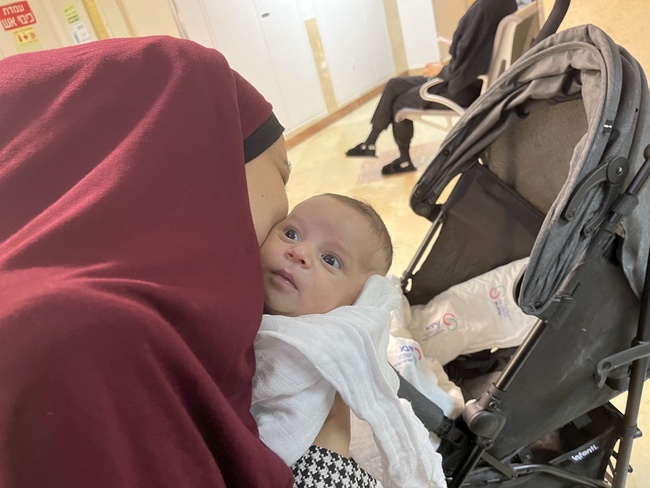 It was a big surprise when I heard today that Sila will be discharged [after her emergency life-saving surgery]! At first I thought the doctors were talking about a discharge in a few days but her overjoyed mother told me she can go home today. It was such a pleasant surprise to see her mother so happy and seeing that Sila is doing so good. Throughout the day I witnessed the joy of a whole family that their youngest member is healthy now and that they can be reunited.
——————–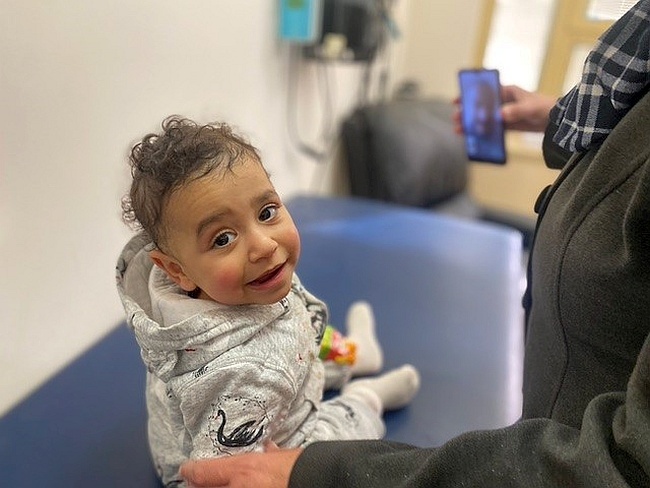 It was a long and challenging day for Rifan, during which she cried again and again. The best medicine was a call to her "Baba" and having good food. Those two things calmed her down a bit. May God bless Rifan until we welcome her back to Israel in a month.
——————–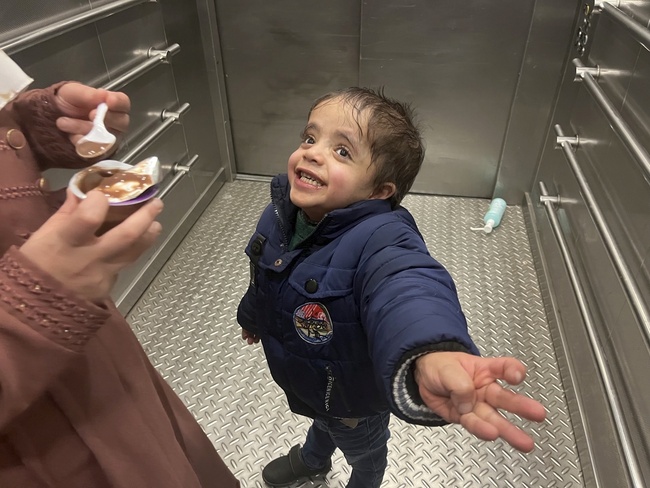 Hassan was eager to discover every angle of the gastro clinic. It seemed like it was a game for him to test out what he could do before anyone would notice, so he went around the rooms and turned off lights or moved chairs. His playfulness made his mother and me smile a lot through the waiting.
——————–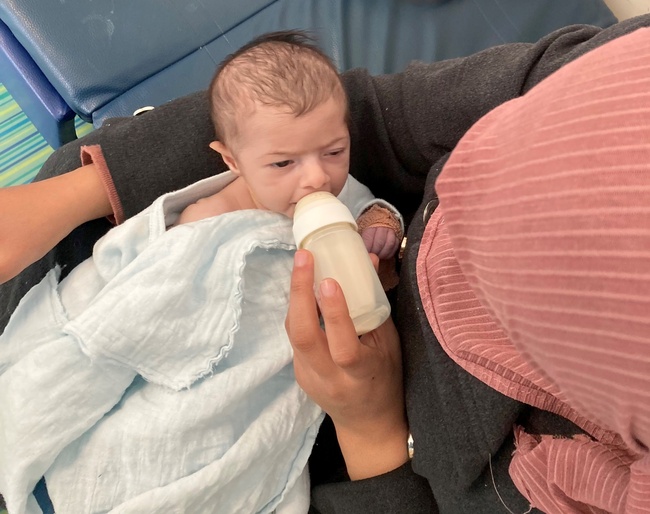 Masah has been moved out of the ICU and now has a room in the Mother and Child unit at Hadassah Ein Kerem…It is beautiful to see how Masah responds to her mother's love and care. Please continue to pray for wisdom for the doctors.  Also pray for encouragement for Masah's mother as she waits to bring Masah home to her family in Gaza. 
It's getting hard to even keep track of how much the Father is doing each day through Israeli hospitals to bless the children of Gaza! But if you'll pray and you'd like to receive brief updates throughout the day, you may reply to this email with your WhatsApp number and we'll add you to our daily Shevet Updates thread.
Our role in all this, in addition to getting the children to the hospitals and praying, is to trust God for the finances to keep the doors open. I've checked the numbers tonight, and found that during January we received another $125,000 toward our 2021-2022 commitments. To keep moving forward in a good spirit of cooperation in 2023 with our partner hospitals, we still need another $250,000 in the next few weeks.
And if you've followed the news this weekend, you know that all the grace-filled stories above come right on the heels of a terror attack that killed seven Israelis in Jerusalem on the Shabbat. It's little short of miraculous how Jewish doctors lovingly care for their Arab neighbors throughout such times. It fulfills Messiah's command to love our enemies.
And Israelis took notice as well that the first Magen David paramedic on the scene was–like the terrorist–an Arab from East Jerusalem: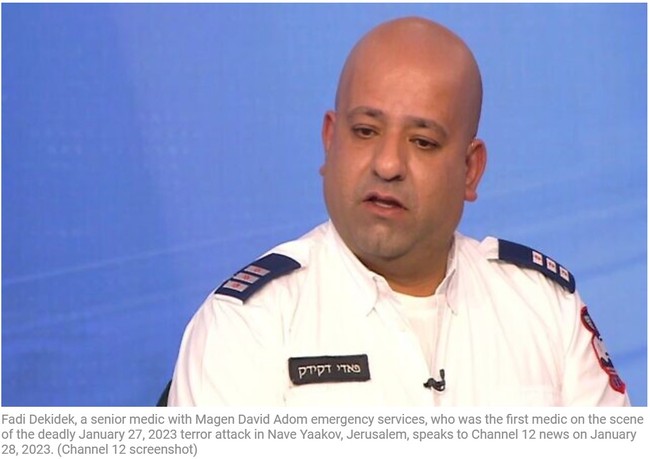 As the senior medic at the scene, "I had to check all the people, to my sorrow including all the fatalities, and to oversee the scene… and to enter the [Ateret Avraham] synagogue, in order to check that there was nobody inside. We had received a [first, inaccurate] report that the incident took place in the synagogue, but fortunately, there was nobody injured inside."
Ben Caspit, the Channel 12 host, says to him: "Fadi, you realize that you are a man who encapsulates our whole story here. One amazing man. An Arab from East Jerusalem. Someone from your people carried out [this terror attack]. You save the Jews. You treat them. That's the whole crazy paradox we live in — you encompass it."
Dekidek responds: "I'm sure you and the public all know that Magen David Adom is a state all of its own for co-existence. Jews save Arabs. Arabs save Jews. I think it's an example for the whole world."
"Behold how good and how pleasant it is for brothers to dwell together in unity" (Psalm 133).
Jonathan for Shevet Achim