Friends,
The second heart surgery of our beloved Liya from Gaza was abruptly abandoned at the Sheba Medical Center today, when doctors discovered that a hole in one of her arteries had allowed air bubbles to enter her circulatory system and travel to her brain. To prevent brain damage or death she was rushed to another hospital for emergency hyperbaric oxygen therapy. At this hour she's still in the oxygen chamber, with her mother and Elise waiting outside: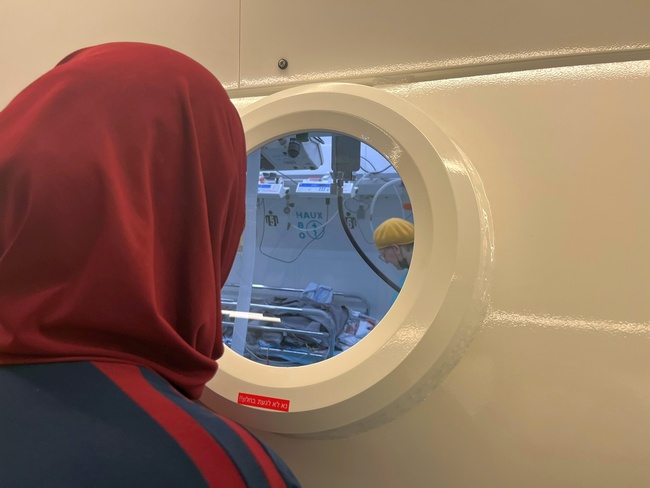 Please pray for successful elimination of the bubbles as well as comfort for her very worried mother.
Pray also for one-year-old Ayham from Gaza, who had a difficult adjustment after banding surgery this morning at Hadassah Medical Center in Jerusalem. Doctors are attempting to retrain his left ventricle in preparation for a late arterial switch surgery.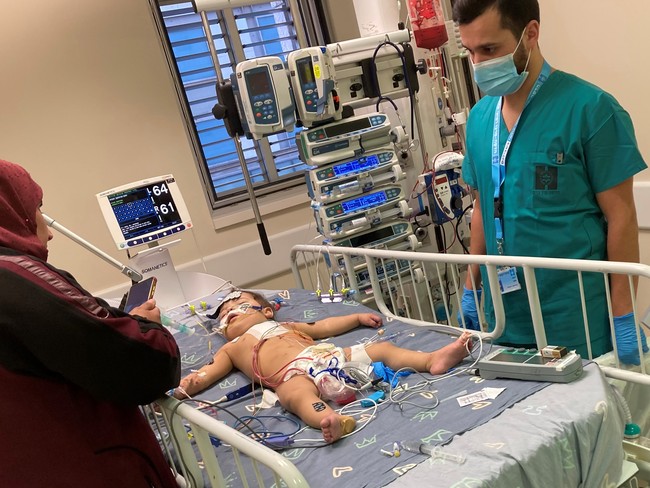 It took doctors hours to stabilize him after surgery, with the help of blood pressure medications and a temporary pacemaker. The surgeon hopes Ayham can adapt to the change in his circulation and have his full repair in 8-10 days.
Monday evening as we brought a couple of Gaza children back to the border crossing, we found an ambulance waiting outside. Knowing that Jonathan had spent the day coordinating transport to Sheba Medical Center for a newborn with transposition of the great arteries, we stopped to speak with the mother waiting inside. Sure enough, the ambulance was waiting to bring tiny Masa to Sheba, but was delayed at the border and still not allowed to leave.
Masa arrived at Sheba later that evening, just barely in time. The medical team in the ICU found that her body temperature was only 32°C/89.6°F. Within a few hours her heart function had deteriorated so severely that the doctors had to put her on ECMO heart/lung support: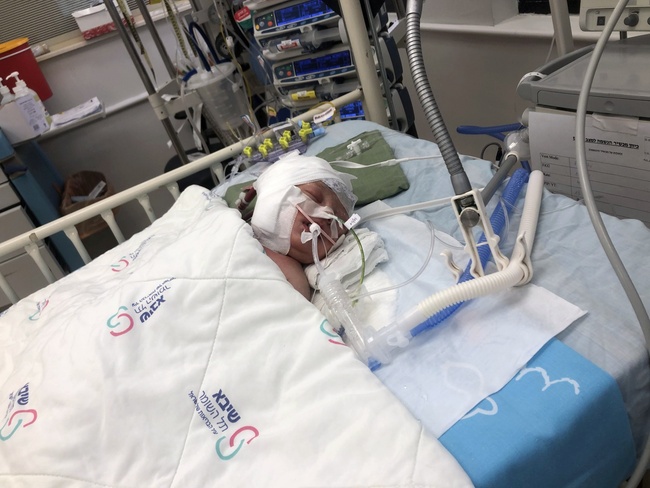 Early Wednesday morning Masa was wheeled into the operating room. While her mom and Lena waited and prayed outside, the surgeons worked hard to place a shunt and take Masa off the ECMO machine. Six hours after kissing her youngest daughter goodbye outside the operating room, Masa's mom was finally able to see her baby girl again in her ICU room, stable and off ECMO support: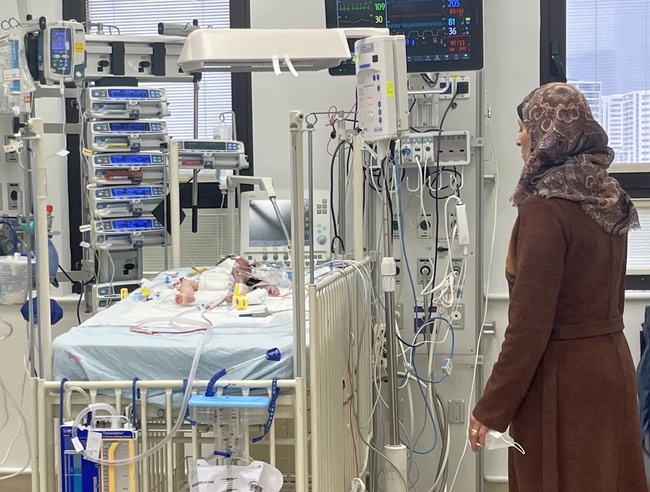 A day later, Masa is slowly improving and her mom is delighted to see her hands moving from time to time. Masa's surgery this week is a step on the way to the big surgery she will need to switch her transposed great arteries in the future. Please pray for a full recovery for her.
Monday was also an exciting day for two-year-old Dahen from Kurdistan, who had his final echo at Hadassah first thing in the morning: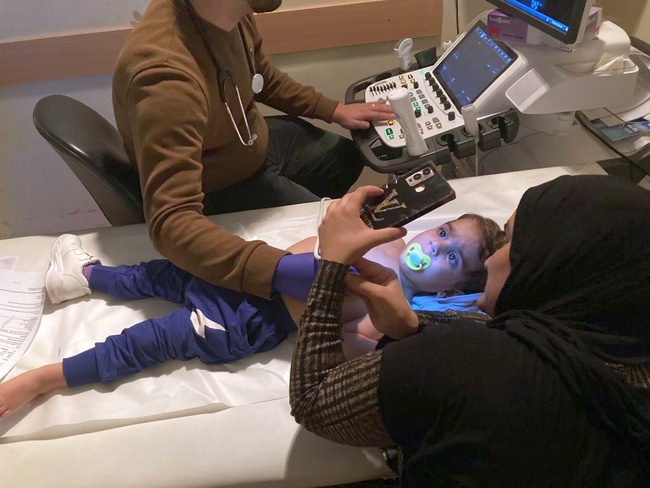 After a thorough examination of his heart, his cardiologist announced that Dahen is doing very well and can go home to Kurdistan to grow up and life a completely normal life. Just a few hours later, Dahen and his mom were already boarding a flight home: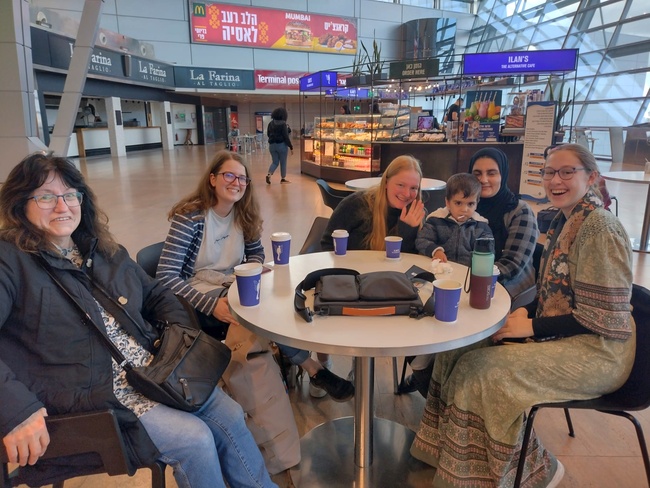 It was quite a busy day for our Jerusalem team, but Berith wrote:
It was amazing to see God's faithfulness manifest over and over again, and even though every movement we made from the start to the end seemed impossible to make it through, God helped us in every step of the way.
We're grateful for God's faithfulness and goodness to our good Assyrian friend Sarjon from Iraq, who is also cleared to return home after just one post-surgical check-up!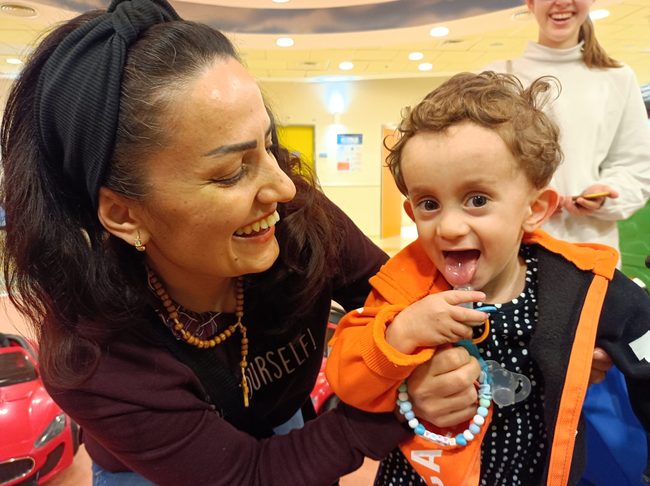 This was surprising news for all of us on Wednesday, and while we're sad to see Sarjon and his sweet mother go, we're so thankful for his incredible healing. Sarjon and his mom will spend the weekend with us in Ashdod before flying home early next week.
Hoping to join them for the flight home are two-year-old Nozhdar and his mom. Following his surgery last month, Nozhdar struggled with significant fluid buildup around his heart, but this has cleared up completely after a couple weeks of medication and his last echos showed that he's doing great!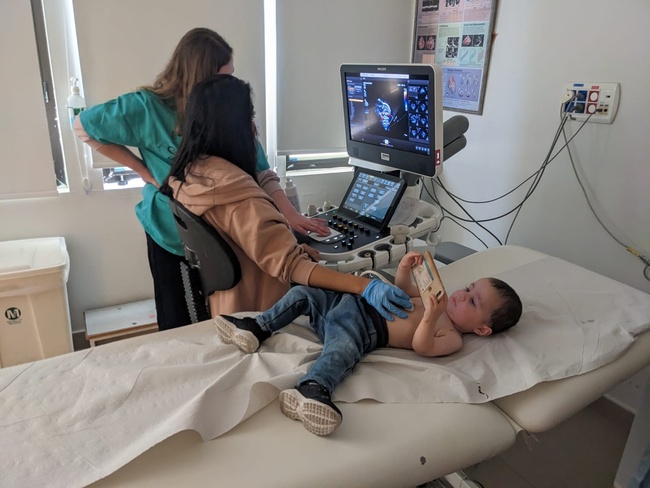 He'll have another check-up on Sunday morning and his mom is hoping he'll be cleared to go home. Please pray for good echo results for Nozhdar and patience for his mom in the meantime.
After over three months in Israel, our handsome little friend Arya is finally getting close to going home. His first surgical follow up echo looks great and his cardiologist doesn't see any cause for concern. He wants to see Arya again in a few weeks to make sure everything is good before sending him home.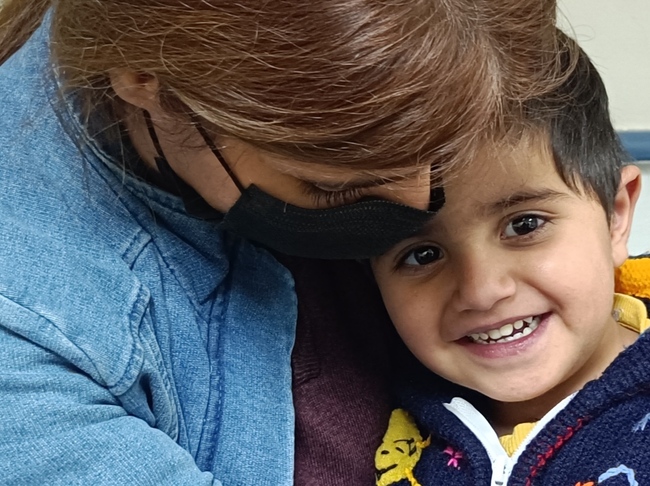 In the meantime, Arya had a hearing test this week to see if his recurring ear infections have caused lasting damage. Thank God, there seemed to be minimal impact, and the ENT doctor thinks a quick procedure to place ear canal tubes will resolve the recurring infections.
Sweet baby Sila from Gaza was discharged from Sheba hospital on Sunday, just nine days after the emergency surgery to repair her severely narrowed aorta. Her mom, a physiotherapist, is taking such good care of her and helping her learn how to drink milk with massages and exercises.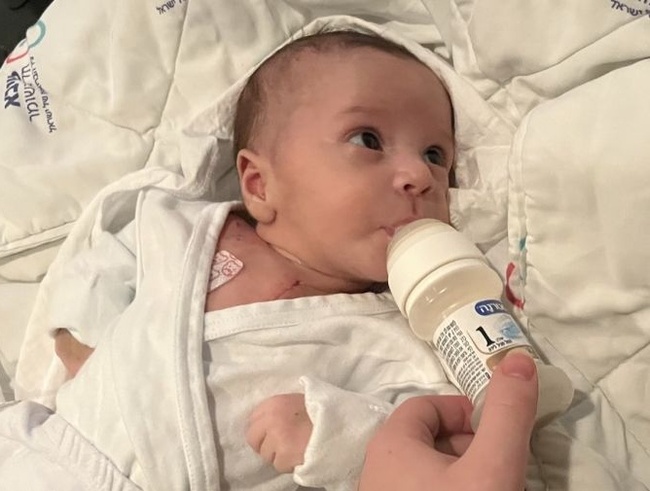 Sila's mom became good friends with our coworker Lena over the past week, so it was a bittersweet goodbye for them at the border on Sunday evening.
Thank God for what he did the last few days in Sila's life, and that he blessed her with so much strength and healing,
 Lena wrote. 
Pray for her family and the time that is coming, that they will have the endurance to care for her and that she will grow into a wonderful little girl.
Last but not least, beautiful Maryam from Gaza was pretty in pink for her long-awaited journey home on Monday evening: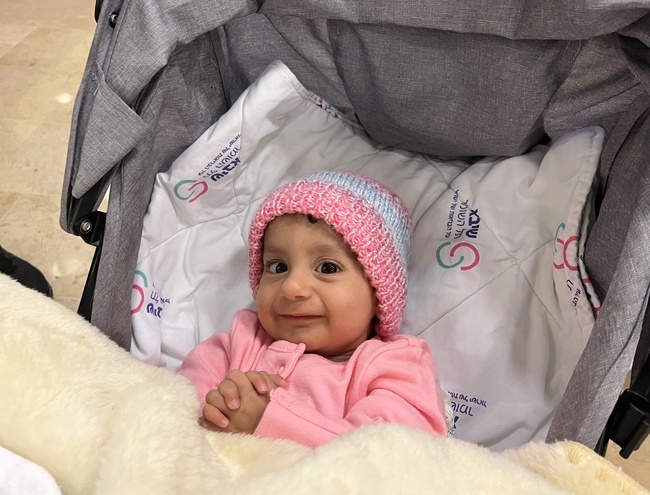 She has finally started gaining weight again and has a new device to help treat her sleep apnea. Her grandmother is so proud of how far Maryam has come and was happy to take her home to her eagerly-awaiting parents.
I'd like to leave you with these words of Paul from Philippians 4, which we read as a community this morning. In a week of such ups and downs, they resonated deeply with us and I hope they will for you as well:
Rejoice in the Lord always. I will say it again: Rejoice! Let your gentleness be evident to all. The Lord is near. Do not be anxious about anything, but in everything, by prayer and petition, with thanksgiving, present your requests to God. And the peace of God, which transcends all understanding, will guard your hearts and your minds in Messiah Jesus.
The grace of the Lord Jesus Messiah be with your spirit. Amen.
Bria for Shevet Achim