Friends,
During what's been a relatively quiet week here at Shevet, I spent quite a bit of time sorting through records of children from Gaza and the West Bank—countless medical records, surgical reports, and blog posts, each telling the story of a precious child who has passed through our doors over the years. As I opened folder after folder of records, I just kept thinking, "There are just so many." How is this even possible, that hundreds of children who could easily have been left to die have instead been snatched from the fire and given a second chance?
One such child is two-week-old Jud, the first child of her overjoyed parents, who was diagnosed with severe narrowing of her aorta and multiple holes in her heart. After delays in her transfer from Gaza, she arrived by ambulance at Sheba hospital on Tuesday. And not a moment too soon; the cardiologist who performed her first examination said if her arrival had been delayed even by another two or three days, it would have been too late to save her.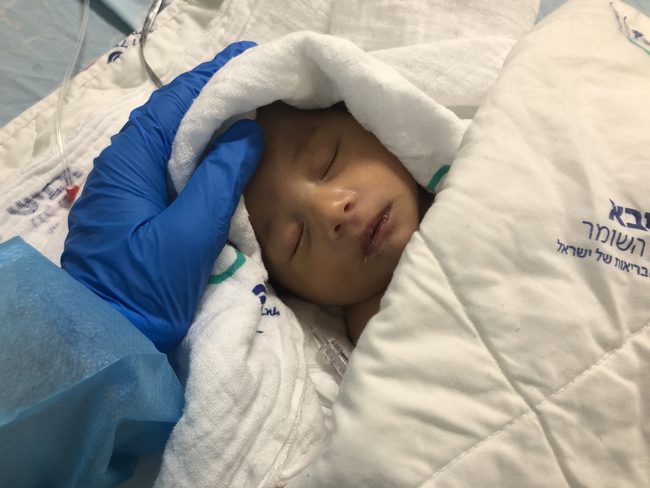 Jud went into surgery first thing this morning. While the surgeons worked hard to repair her heart, her mother and Lena got to know each other over coffee and pastries in the waiting room. It was such a good morning with her mom and although she was very worried we had such a good time and lots of laughter, Lena wrote. After just three hours, the head surgeon arrived with the good news that they were successful in repairing Jud's aorta and placing a band around her pulmonary artery.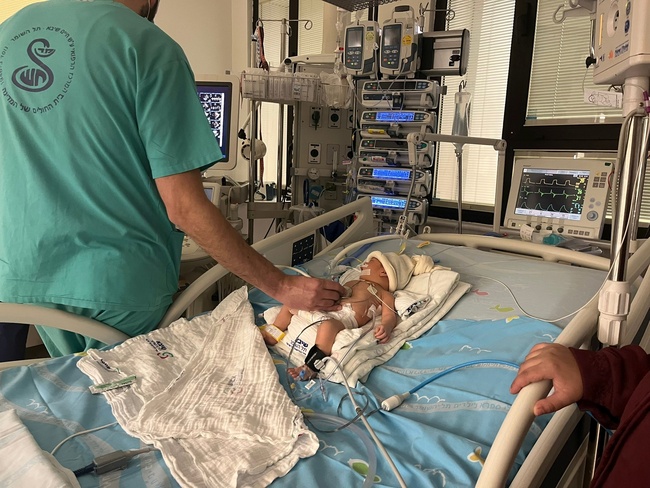 As soon as one of the other mothers in the ICU texted Jud's mother that Jud is back in her room, she literally ran into the ICU overjoyed to see her daughter. We spent some time with her after she got settled into her room and it was just so good to see her mother so relieved. Jud will have to recover in the next days from this big surgery but she seems stable and fine now.
Just next door in the ICU is our beloved Liya from Gaza, whose difficult journey has taken some more unexpected turns this week. She showed notable signs of improvement over the weekend after hyperbaric oxygen therapy to remove air bubbles from her brain, and was taken for a brain MRI on Sunday morning: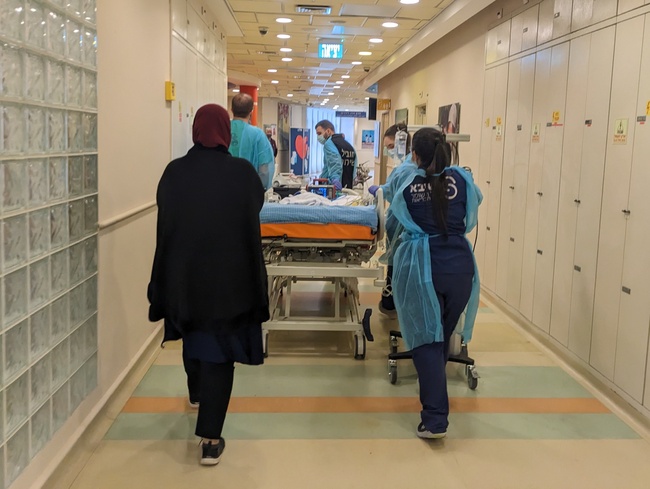 Her mother texted me soon after: After five minutes, I saw the nurses and doctors from the cardiology department running to the MRI room… Liya's heart stopped for two minutes and they began to resuscitate her.
Liya returned immediately to the ICU, where she was stabilized and sedated once more. A CT scan later in the week showed that she has blood around her brain and needs surgery to treat it as soon as possible.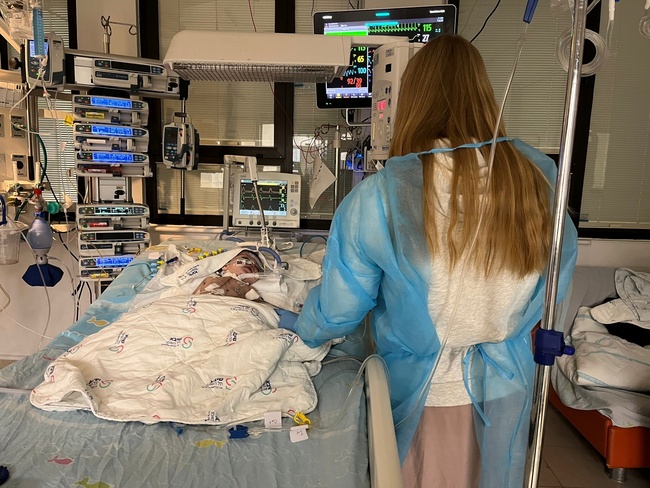 Friends, would you join us in prayer for sweet Liya and her mother? They have grown so dear to us over the last year and our relationship with them is truly a gift from God. It's difficult to see them faced with so many challenges now, but we know that God has power even over this situation and we ask for his healing and blessing for Liya and her family.
Another good friend of ours from Gaza, three-year-old Ahmed, returned to Sheba hospital today. Perhaps you remember Ahmed's challenging ordeal a year ago, when he suffered severe complications after major heart surgery and spent several weeks in pediatric rehabilitation at Sheba relearning to walk and eat. Ahmed has missed his last two follow-up appointments, and he arrived this morning tired and struggling to breathe. His cardiologist took one look at him and directed him to the pediatric ER, where the doctors conducted a series of tests before admitting him to the cardiac ICU.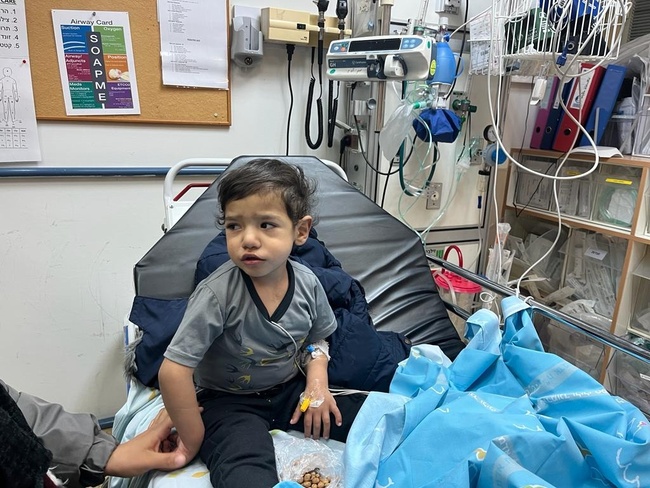 Ahmed's heart seems to be functioning well, but the doctors want to investigate and treat his respiratory distress before he returns to Gaza. We've already seen God bring Ahmed through incredibly difficult circumstances last year and we're confident that he will continue his good work in Ahmed's life.
Meanwhile at Hadassah hospital in Jerusalem, one-year-old Ayham from Gaza continues to slowly recover. After his surgery last Thursday, his doctors hoped to perform the big arterial switch operation within ten days. But since his heart was so weak before last week's surgery, it seems that he will need a little extra time before the next one, probably a few weeks rather than a few days. Nonetheless Ayham is making unmistakable progress. Kati found him today in the regular ward watching over his mother while she slept!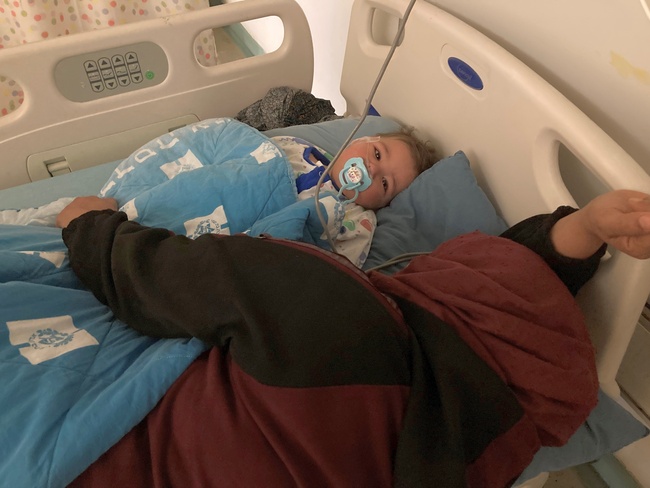 Like Liya's, Ayham's journey has been a long and difficult one. Please pray for continued recovery and healing for him.
Newborn Halah from Gaza is also making a good recovery at Hadassah after surgery to repair her malformed aorta on Sunday afternoon. She's off the ventilator and breathing well on her own with a little oxygen support through her nose. Kati reports that Halah is becoming more alert, responding to her mother's voice and touch: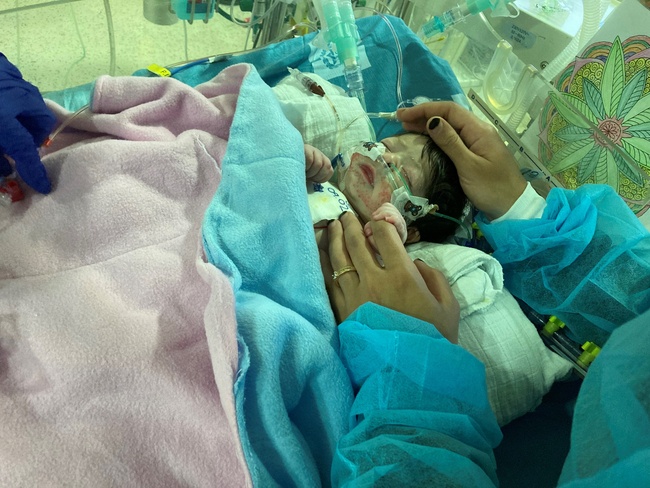 In addition to prayers for her continued healing, Kati writes, I am praying Halah will be filled with the joy of the Lord and that she will spread that joy to her family and community.
After some trouble coming off the ventilator earlier this week at Sheba Medical Center, tiny Masa from Gaza is breathing on her own! Lena found her today sleeping peacefully in the ICU with some supplemental oxygen. Her doctor is very pleased with her heart function after surgery and says her lungs just need a little extra time to recover after her difficult ordeal last week.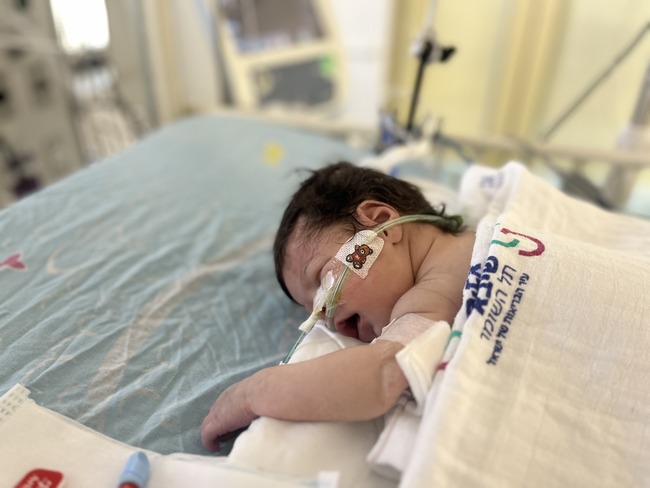 Masa has come a long way in just a few days—it was only a week ago that she came out of surgery and off the ECMO machine—and we are grateful for God's healing work for her.
We were happy to welcome back to Sheba handsome baby Ahmed J from Gaza yesterday, for his first follow-up echo after his big arterial switch surgery in December. To see this sweet little guy, bundled up in a bear suit and happily cooing to his aunt, it was hard to believe that just two months ago his life hung in the balance.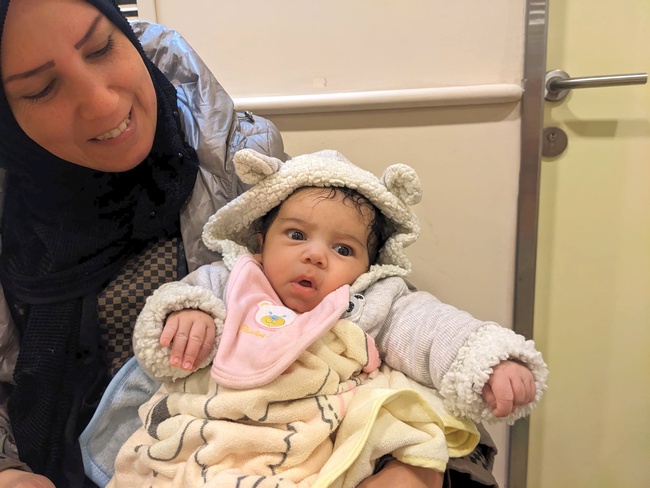 Born on the other side of a border just a few miles from lifesaving treatment, Ahmed could easily have been forgotten there. But the love of his Maker is greater than borders and walls, and Ahmed was not abandoned.
Finally, there was a bittersweet note to our week as we said goodbye to our beloved coworker Jakob from Germany, who has served with us for six months. Jakob's energy, enthusiasm, and heart for others have been a great gift to our community and the families we work with. Every task he's done here, from laundry to long days driving to and from the hospital to supporting a father through the loss of a child, he has done with his whole heart.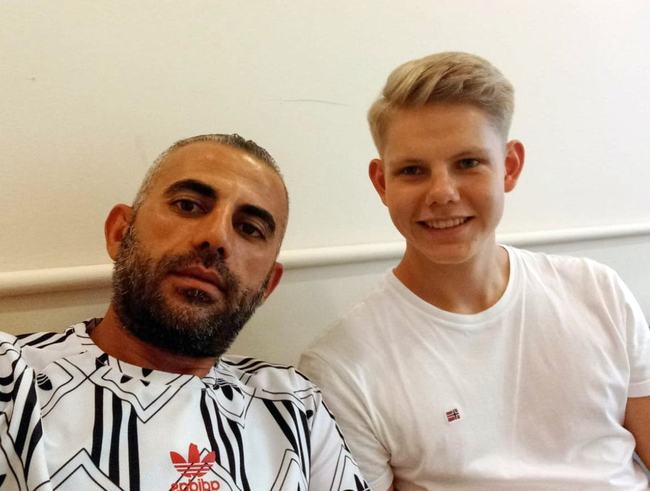 I'll always remember in particular the love he showed to the father of little Laith from Hebron. He waited with him through multiple surgeries, stayed by his side as Laith took his final breaths, and visited his family in the West Bank in the following days. This is characteristic of the way Jakob has lived and served here, always going the extra mile to let someone know they are remembered and deeply loved.
Any good we do here, any small act of love, is but a small reflection of the infinite and incomprehensible love of the Father. His love for each of these children, forgotten and overlooked by the world, is far greater than anything we could ever express in word or action. Our purpose is in whatever imperfect, limited way we can, to render that love and care to these children and their families—to let them know that they are seen, loved, and worthy of every effort.
And oh, how imperfectly we do it. Just this week we learned of two beautiful baby girls, Sally and Mariam, who have died in the last year without returning for follow-up care at the hospitals here. Father, forgive our oversights and bring comfort to these families.
Friends, we're becoming aware of more and more children who have slipped our notice after returning home to Gaza and the West Bank. Many, thank God, seem to be doing well at home. But there are many more we still have yet to reach. Even as we rest in the confidence that they are known and loved by God, we ask for his help and guidance in loving and caring for them here on earth.
The song "Little Things With Great Love" by the Porter's Gate beautifully expresses what I believe to be our calling here: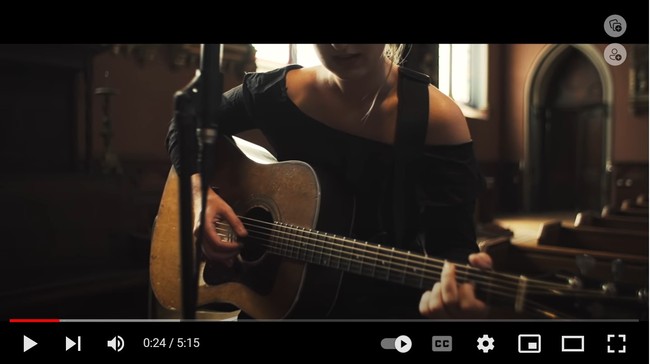 At the table of our Savior, no mouth will go unfed;
His children in the shadows stream in and raise their heads.
Oh give us ears to hear them and give us eyes that see —
for there is One who loves them: I am His hands and feet.
May God guide us as we strive to show these beloved children of his that they are not forgotten, here or in eternity.
Thank you for joining us in prayer,
Bria for Shevet Achim