Dear coworkers,
I was driving down the coastal highway from Haifa on Purim 29 years ago when the first confused reports started coming over the radio. A doctor in Hebron named Baruch Goldstein chose this day–when Jews celebrate preemptively wiping out their deadly enemies as told in the book of Esther–to open fire on 800 Muslims in prayer at the Tomb of the Patriarchs. 29 were killed and 125 injured.
I remember the shock and horror of the Jewish nation, and their zeal to proclaim This is not who we are.
Purim begins again tomorrow night, and it feels like the story is repeating itself. A longtime admirer of Goldstein has inexplicably become the Minister of Public Security in Israel. And when two Israeli brothers were murdered in a terror attack last Sunday while driving through the Arab town of Huwara, a mob of settlers moved in to indiscriminately attack and burn everything in sight, and the minister's political allies called to "wipe out" the town of 7000 Palestinians.
Now context is everything in understanding Israel's conflicts. It's too easy to take one incident out of context in order to demonize one side or the other. So let's start with a poignant follow-up story from our friend Lazar Berman about another Jewish young man murdered in the West Bank the day after the Huwara attacks:
Maayan Rockland was preparing for laughter and dancing on Monday evening. The Jerusalem resident, who had grown up in West Hartford, Connecticut, was a few short minutes away from marrying her fiancé, Ariel Lewis.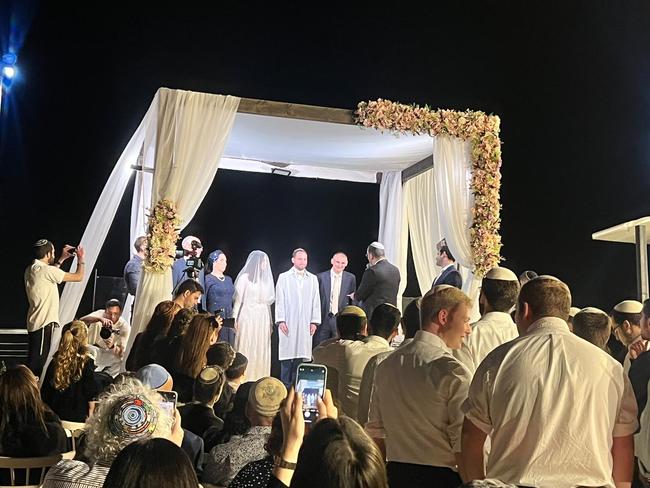 But before heading to the huppah, Rockland, an IDF combat veteran who doesn't hide her for Israel, took a moment to pray.
"I prayed that everybody who was coming would arrive safely and get back home safely," she told The Times of Israel on Wednesday. "And my prayer under the huppah was that there would be no more bereaved families in Am Yisrael," the people of Israel.
Joy and sorrow exist simultaneously in Judaism — the Book of Ecclesiastes speaks of "a time to mourn, and a time to dance" — and in the land of Israel. Even the site of Rockland's wedding venue, Kibbutz Ma'ale HaHamisha, just west of Jerusalem, is named for five workers murdered by Arab gunmen in 1937 as they went about paving a road.

The night before the wedding, Hallel and Yagel Yaniv, two brothers from the settlement of Har Bracha, were shot dead in their car by a Palestinian gunman as they sat in traffic in the town of Huwara.
The recent attack — and the tragedies of Jewish history — permeated the ceremony, even as friends and family sang and danced. Rabbi Doron Perez asked the crowd to remember the brothers before reciting the blessings under the huppah.
As he emceed the ceremony, the bride's younger brother Akiva searched the crowd for his best friend, who had flown in from the US to be at the wedding. He assumed that Elan Ganeles, who had grown up with the Rocklands in West Hartford, was dealing with a flat tire or some other inconvenience.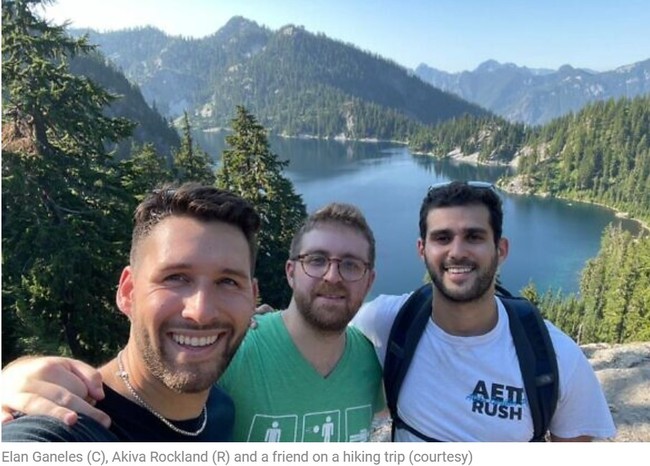 "If something mattered, he would be the first one there," Akiva said. "So when I did not see him present during the huppah, I got a little concerned."
The exuberant ceremony continued, but, in the tradition of Jewish weddings, it hit another solemn note as it reached its conclusion. Perez placed ashes on the groom's forehead, symbolizing the destroyed Temples in Jerusalem. The glass Lewis smashed with his foot, before the crowd surged to congratulate the newlyweds, served the same purpose.
As the wedding moved on to the raucous feast, and guests prepared to welcome the new couple on the dance floor, tragic news reached the hall: Ganeles, 26, had been shot dead by Palestinian gunmen while driving to Maayan's wedding through the Jordan Valley.
Word of the attack reached Maayan's uncle while the bride and groom were outside taking pictures. He gathered the family and told them that they had to let her fully enjoy the next few hours.
"You have to put on a face that everything is okay," he told them. "You cannot let Maayan know that this happened. She will find out after. Do not let her know at any cost…"
The bride's family encouraged her to avoid her phone until the following morning, urging her to be in the moment and answer the hundreds of congratulatory messages later.
But Rockland wanted to confirm the family's plans for the following day. When she turned on her phone, she saw a message about the tragedy in a WhatsApp group from back home.
"I just feel shattered and broken," she said. "Elan was like a brother to me, and it's incomprehensible, literally unbelievable. My brain cannot comprehend that he was on his way to bring joy to me and my family, my wedding, and he didn't make it there…"
"We are commanded to remember, and we will remember Elan," she said. "We're never going to forget him, and we're never going to forget the people who did this to him either."
So Israelis across the board felt the pain this week of their people dying in a ceaseless stream of terror attacks for simply being Jewish. But at the same time many felt terrible grief and revulsion over the revenge attack on the Arab residents of Huwara. The president of Israel reiterated the sentiment of 29 years ago:
In the statement, Herzog said Israel "is a country of laws and we are proud of that. Our principles and our foundations as a nation and a country are totally opposed to any attack against innocents."
"I strongly condemn the cruel and violent rampage against the residents of Huwara yesterday. This is not our way. It is criminal violence against innocents," he said. "It harms the State of Israel, it harms us, it harms settlers. It harms security forces who are busy searching for those responsible for the terror attack, and, most of all, it harms us as a moral society and a lawful country."
The head of the army in the West Bank, and others, even used the word "pogrom" to liken it to the mob attacks on helpless Jews through the centuries. And in another moving article an orthodox author compared it to the death of Judaism itself:
Nighttime in Huwara, a small Palestinian town in the West Bank. Jews in large skullcaps and sidelocks, prayer fringes dangling from their waists, responding loudly to the cantor: "Yehei shmei raba mevurach leolam u'leolmei olmaya" ("May His great name be blessed, forever and ever") — the words of kaddish, a regular daily prayer that can also be said to mourn the dead.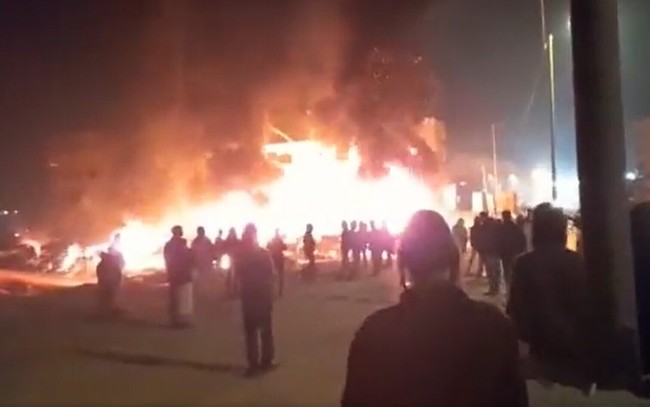 The gloom outside is illuminated by an enormous bonfire of cars, shops, and homes belonging to the Palestinian residents of the village, which the kaddish-reciters have set on fire, in revenge for the horrific and heartrending murders, hours before the pogrom, of brothers Hillel and Yagel Yaniv (may their memory be a blessing) and for other recent terror attacks in the area.
One Palestinian was killed during the rioting by these Jewish settlers. Dozens of wounded Palestinians were evacuated to hospitals, some from smoke inhalation, others from beatings and stabbings. A family was evacuated by IDF troops, moments before they might have perished in the flames that took their home.
This wasn't just any kaddish, yet another one of those said and repeated by any observant Jew multiple times a day, sometimes in mumbling fashion. This time it was a kaddish for Judaism itself.
I grew up in a small town in central Israel, in a classic "dati leumi" or national religious community whose ideology combines Zionism and Orthodox Judaism. I studied in typical religious institutions: a school in the state-religious education stream, a high school yeshiva and a "hesder yeshiva," which combines advanced religious studies with military service. I was also very active in the religious Zionist Bnei Akiva youth movement, as an educator and leader.
Even today, I live in a religious community in Jerusalem, and my young children study in schools that belong to the state-religious education stream.
The Judaism that I know and by which I try to live is a Judaism that operates according to the commandment "walk in His ways" (Deuteronomy 11:22) and the Talmud: "As He is gracious you should also be gracious, as He is compassionate you should also be compassionate" (Shabbat 133b:4-6). This Judaism operates according to the verse from Leviticus, "The land shall not be sold permanently, for the land belongs to Me, for you are strangers and [temporary] residents with Me."
By contrast, the Judaism that the militant settlers imbibed — or distorted — led one of the pogromchiks, he too in skullcap and sidelocks, to speak in Hebrew words I understood but whose language I could not comprehend. "There is something very moving here," he told a reporter. "Jews won't be silent. What the army can't do, what the police will never do, simple Jews come and carry out a simple act of vengeance, setting fire to anything they can."
The same Judaism led Davidi Ben Zion, deputy head of the Samaria Regional Council, also an observant Jew, to say blithely, shortly before the pogrom, that "Huwara should be wiped off the earth — no room for mercy," and "the [Jewish] guys in Huwara right now are behaving precisely like guys whose brothers were massacred in cold blood at point-blank. The idea that a Jew in Samaria is a diasporic Jew who will be stabbed in the heart and politely say thank you, is childish naivete."
That same Judaism led Israel's finance minister, Betzalel Smotrich, the de facto governor of the West Bank, to publicly support a tweet by another coalition member calling to "wipe out" the village…
An entire generation of Jews has been raised on this Judaism of hate, contemptuous of anyone who is not Jewish, of any display of weakness, of compassion. To whom Judaism is not the keeping and continuation of our tradition, observing commandments or studying Torah, but worship of "Jewish might" ("Otzma Yehudit," the name of a far-right political party) and limitless greed. In this Judaism, traditional values like modesty, compassion and charity are signs of weakness, or remnants of a pathetic and feeble Christian morality that under no circumstances are to be shown to a stranger, the other, those who are not like us.
Friends, I quote these articles at length to help us see what a critical juncture things are at in Israel. There's a struggle underway for the heart and soul of the Jewish state. Does their ancient Torah faith instruct them to see their neighbors as a threat to be struck down, or a stranger to be cherished? Or at least to have the grace and wisdom to discern between the two and not stereotype a whole population?
How we all need the light of Messiah in order to interpret the Torah properly. And friends, let's hope that our Father's work through our community is actually making a difference to this end. Here's how Joe Shulam, the founder of the Netivyah bible instruction ministry, described it in his Torah commentary this week:
…let us, the Jews and the Christians, learn from Torah portion of Exodus 27:20 – 30:10 and from our Rabbi and Savior Yeshua the Messiah, that lighting the light of God's love and hope and faith is much more effective, against the hate that comes from Satan, than any military tool and weapon. The big and major question that we all have is simply how to show love to people who don't understand love and that are, at the same, time hungry for love; but their leaders lead them to hate and racism…
How to inspire life to people who celebrate death, is a hard question to answer. Those who have that love in their hearts, must obey the commandments of our Lord Yeshua. Pray for our enemies, bless those who curse us, be a shining light for those who live and love the darkness.
There are members in our congregation and now Netivyah has partnered with these members of our congregation, that have saved the lives of hundreds of Arab babies from Gaza, Jordan, Palestinians, Iraqi, Kurds, even Syrians, by providing them Israeli medical facilities and surgeries for the little babies who suffer from heart problems and who would die before they can walk or go to kindergarten.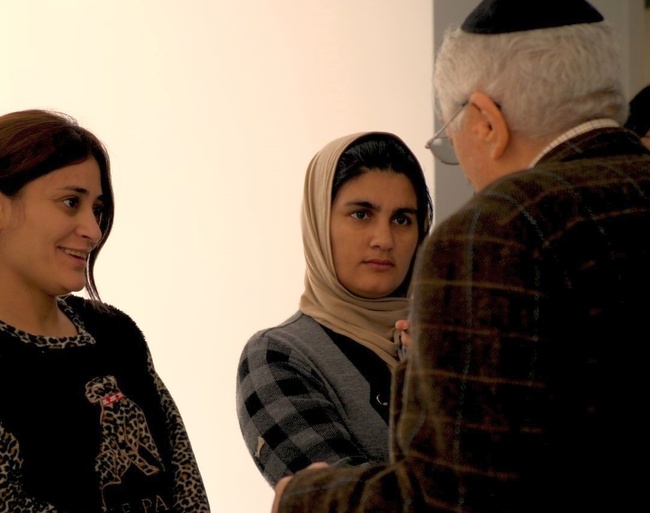 We have partnered with our members who have this ministry of saving Arab babies, and we have joined them and Houses of Healing from Abilene, Texas, in renting a four apartment building not far from the biggest hospital in Jerusalem, to house the families of these children that are brought to Israel to have Jewish and Arab doctors perform these very complicated surgeries on these babies…
We hope that our enemies, the Amalek of today will see the light and understand that if they make peace with Israel, the Middle East will be the most prosperous and the most desirable and the most blessed region of the whole world.
Ten-year-old Roshna from northern Iraq took a bus from that new Jerusalem home early this morning and bravely went in for her open-heart surgery at Hadassah Medical Center: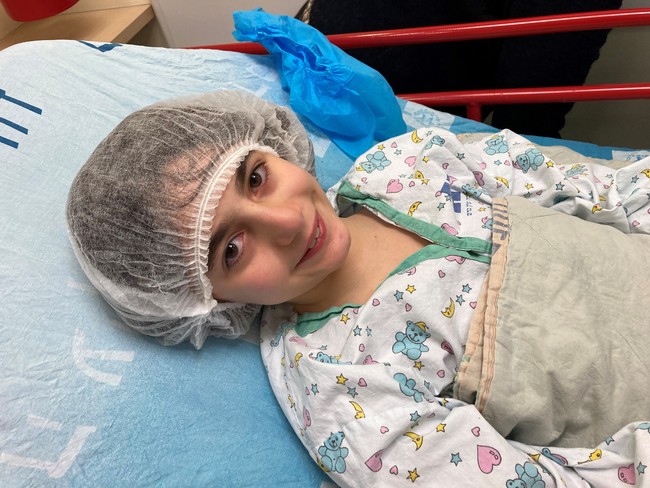 And tonight Kati shares video showing that Roshna is already breathing on her own and starting to wake up, thank God!
And tomorrow two more Iraqi children will arrive in Israel, God willing. One of them is eight-year-old Niyan, who is traveling through Jordan where tonight she found herself the honored guest of new Christian friends: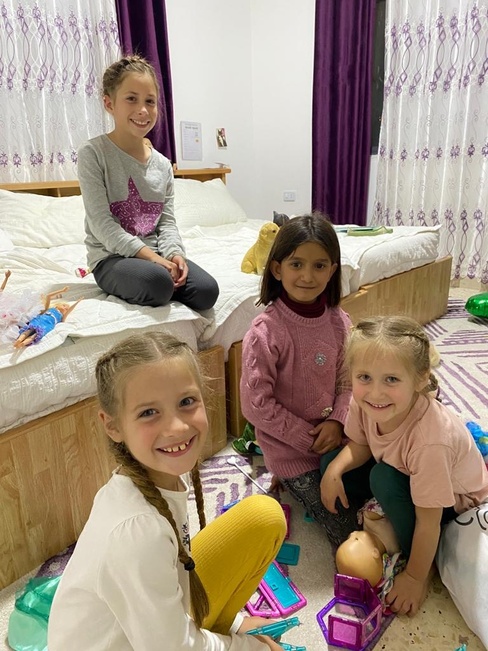 Look at that smile friends. I'll leave you with a passage from Zack's excellent prayer letter this week:
Honor is an idea that the West does not interact with as much anymore, so much so that it seems difficult even to define. But I am reminded of our Arab brothers, who are, for the most part, still deeply immersed in an honor-based culture. When the Arab honors, he does it by bringing you into his home; showing you his children; sharing his food and drink with you; giving you what gifts he can. And he asks you to honor him in return by accepting these things.
Hospitality and honor are deeply tied together, and although they can be separated from each other, it seems that each becomes weaker when you do. Both hospitality and honor, then, are a sort of space-sharing; a saying "here, come into my place, and let me give what I have to you, because I love you." And what a beautiful thing when brothers and sisters honor and love one another!
Jonathan for Shevet Achim
"Behold how good and how pleasant it is for brothers to dwell together in unity" (Psalm 133).