Friends,
This morning I received a discouraged text from seven-week-old Jud's mother: Look at my daughter. Is there any solution for her? Tell me if there is a chance.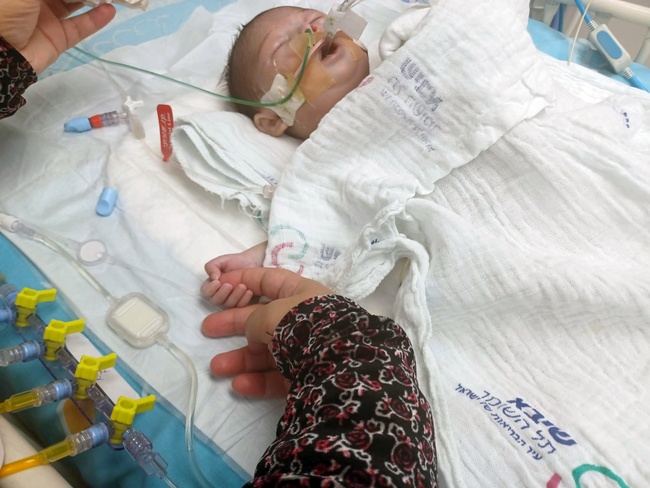 It's true that over the last few weeks we haven't seen the improvement we hoped for in Jud's condition. It's been a month since the surgery to repair her aorta and place a band on her pulmonary artery, and she hasn't yet been able to come off the ventilator. She has a large amount of fluid accumulated in her chest, and though the doctors considered taking her into a second surgery, the surgeon decided it's too dangerous to even try.
On Monday Jud went into a catheterization intended to dilate some arteries with a balloon, in the hopes that this could strengthen her heart function and decrease the fluid buildup. Now two days after the procedure the fluid has yet to decrease and Jud needs even more support from the ventilator. Today her doctor confirmed the mother's fears: "She's between life and death."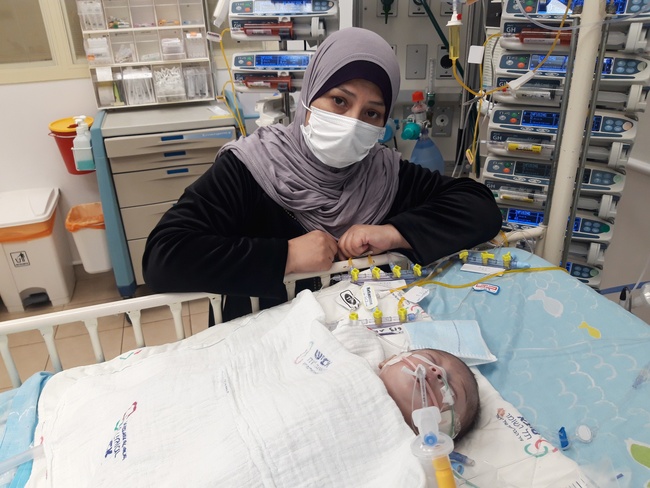 There's a saying often offered as support in times like this:
Where there's life, there's hope.
 But as I looked at the photo above from Elise's blog—Jud's sweet 40+ year old mother, standing at the bedside of her long-awaited firstborn daughter, her beautiful gift from God—something more came to mind. Our God, who created Jud in his perfect will, is present in life, in death, in every circumstance. Where he is, there is hope.
I responded to Jud's mother as well as I could in my broken Arabic: My sister, we're praying for your daughter. There is still hope for her because God loves her so much. Friends, please join us in prayer for little Jud and her mother.
We're praying in hope also for little Saan, who arrived from Kurdistan late Monday night. Saan has transposition of the great arteries, and an interventional catheterization in Kurdistan when he was 11 days old gave him enough time to get to Israel for an arterial switch operation at Hadassah hospital.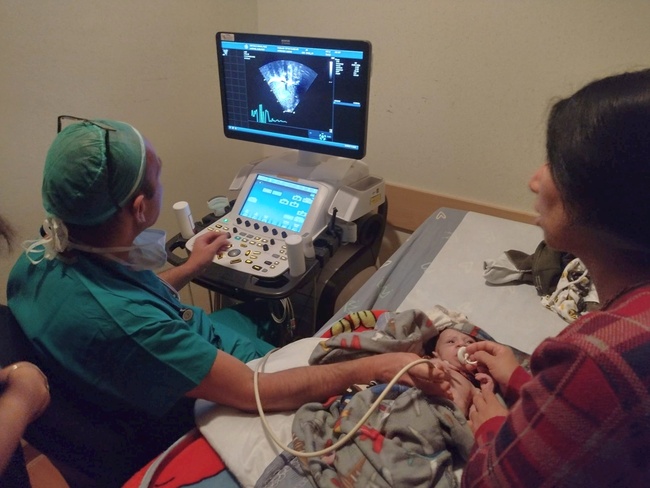 But at seven and a half weeks old, Saan weighs just three kilos—much too small for the arterial switch surgery. He needs to gain weight, and quickly, as the best window for the surgery is within two months after birth.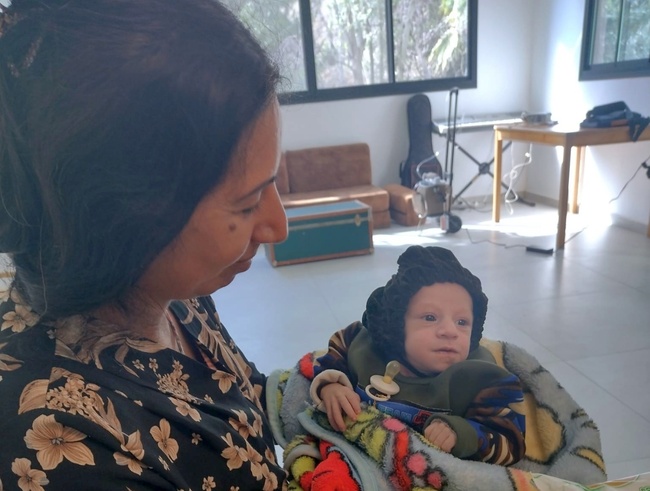 Please pray for Saan, that he will grow in the coming days, and for strength and peace for his anxious mother.
We have a second new arrival from Kurdistan as well, eight-year-old Niyan, who arrived with her father on Monday. Niyan is no stranger to hospitals; when I met her and her father this morning to fill out some medical history forms, she presented me with a thick stack of reports. "From my surgery in India," she said in Kurdish, holding up one folder and then a second, "and from my echos in Kurdistan."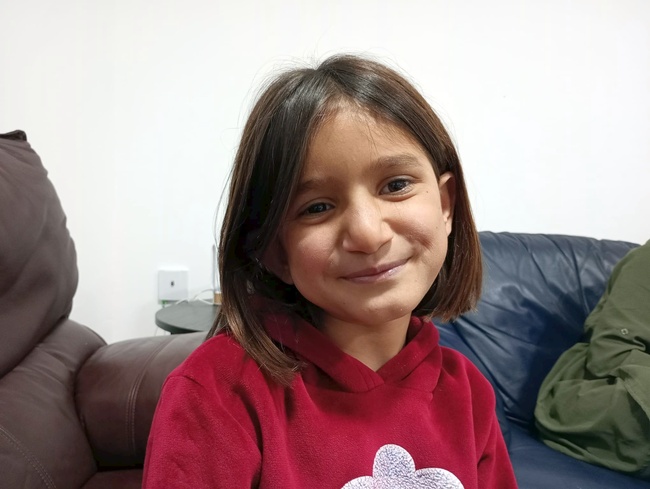 At the age of four she had surgery to place a shunt, but it seems that now she may need a new shunt, as well as a procedure to close off collateral arteries that have developed as a result of her complex heart condition. Niyan will have her first evaluation at Sheba hospital tomorrow morning. Please pray for her, as well as her father and doctors, as she begins treatment in Israel.
Meanwhile, in Jerusalem beautiful ten-year-old Roshna from Kurdistan had surgery on Sunday morning to redirect her right pulmonary veins from the right atrium to the left. Just 24 hours after surgery, she was already moved out of the pediatric ICU and doing well.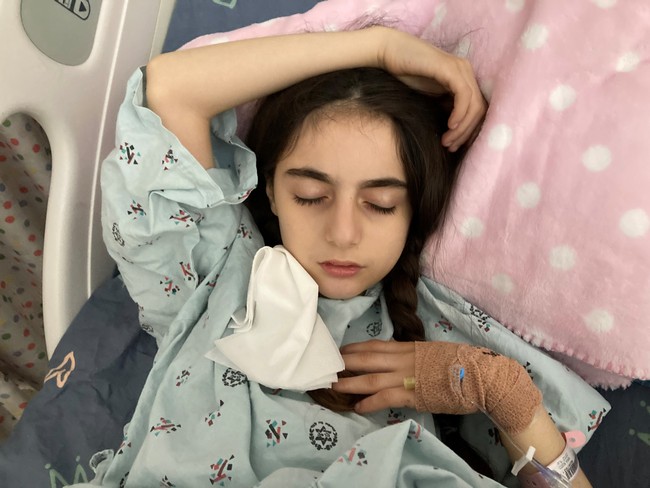 Hadassah hospital has been buzzing with Purim celebrations all week, and Roshna has collected quite an assortment of gifts and treats to enjoy once she's feeling a little better: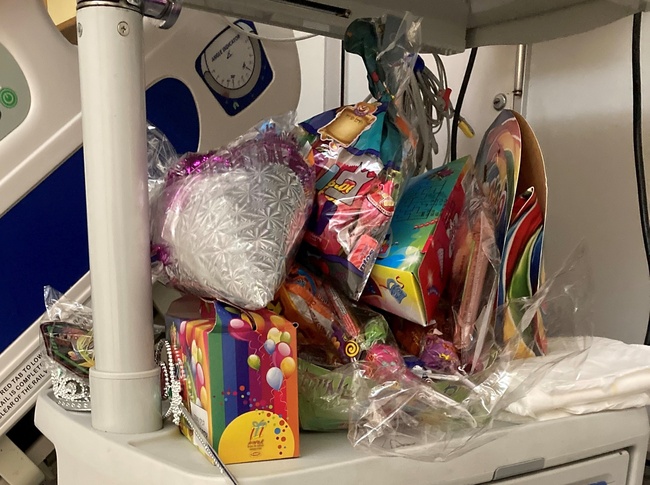 Sweet wide-eyed Halah from Gaza is almost ready to go home from Hadassah. Her heart function is great a month after surgery, and the only thing keeping her in the hospital is that she still is not drinking milk from a bottle.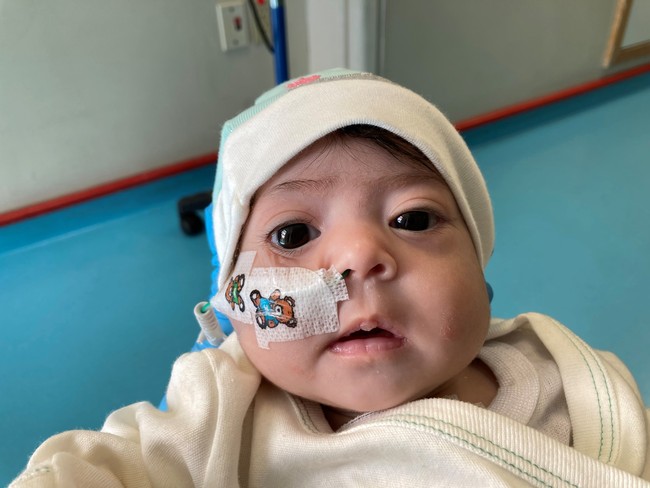 After several evaluations, the doctors have decided that it's best to place a feeding tube directly to her stomach to ensure that she gets enough food. The PEG procedure is scheduled for tomorrow, and after she has a little time to recover from the surgery, Halah will be ready to go home. Pray for a successful procedure and a smooth recovery.
The mother of our beloved Rifan texted recently that Rifan has been sick in Gaza with a bad cough, and sure enough, when she arrived on Sunday morning for an echo she was coughing badly and struggling to breathe. Her cardiologist decided immediately to hospitalize her for a bronchoscopy, which was performed on yesterday. Rifan's left bronchus is severely narrowed and she may need a stent to widen it. For now she's resting comfortably in the intermediate ICU and keeping busy with Purim noisemakers and glove balloons: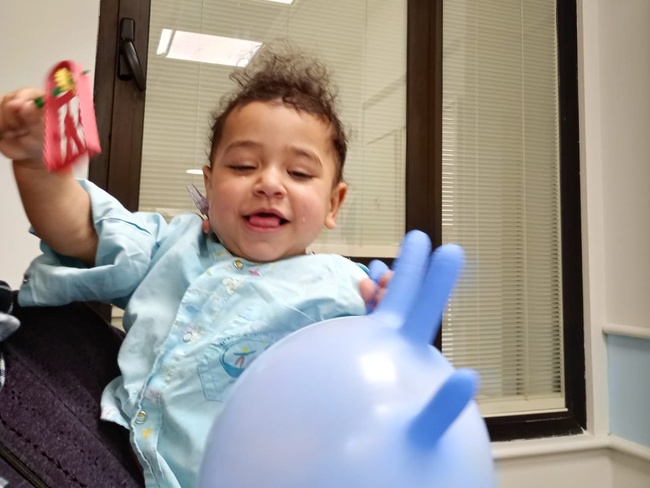 I first met Rifan
in December 2021
, when she was a tiny newborn having just arrived from Gaza by ambulance. She underwent three heart surgeries in one week and for a time seemed to be teetering between life and death. I remember that week vividly, especially watching Rifan's mother faithfully cling to hope even as her precious girl's life hung in the balance.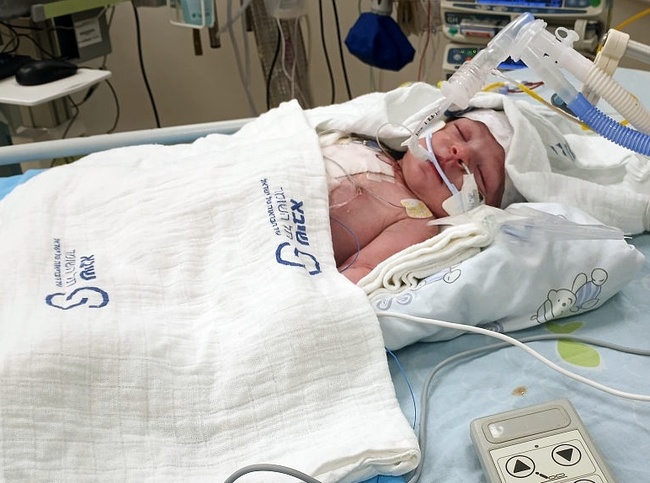 And I'll never forget the astonishment and joy when her mother met me in the hallway at Sheba just three weeks later with a big grin and the news that Rifan was ready to go home: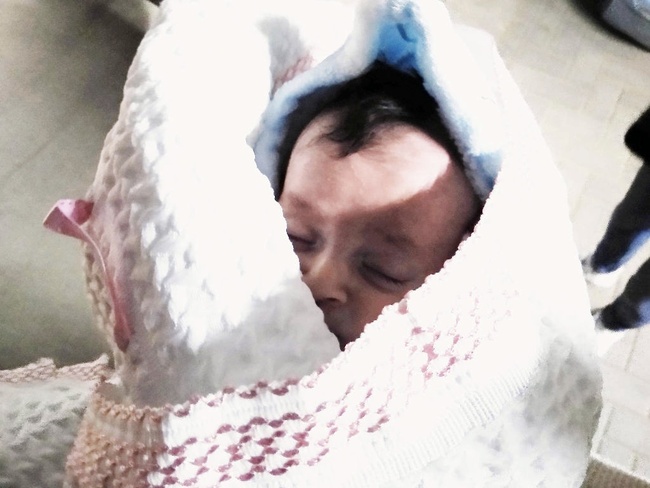 Rifan's life is a beautiful, visible reminder of the hope we have in our God. There is no circumstance too difficult for him, no medical crisis too dire. As long as his love remains, there is hope, and his love never fails. This is the hope and confidence we cling to for Jud, for Saan, for each and every one of these precious children. Please join us as we trust these children to the Father and pray in hope for their healing.
The Lord bless and keep you,
Bria for Shevet Achim