Dear coworkers,
When I wrote you last week from Iraq, we were hours away from sending two children to Israel through uncertain and potentially calamitous routes. After pacing and pondering, considering all the options, in the end all we could do was trust God and go forward.
We were transiting ten-year-old Niyan through Jordan, and she and her father would attempt the Jordan River crossing into Israel with no prior permission from the Jordanian authorities. We've never tried this before, so we warned the American family escorting them to expect to be told they could not cross. It was just our step of faith that God through Messiah is in the business of breaking down barriers.
And indeed they were told, more than once, that Iraqis could not cross the border into Israel. But the escorts wouldn't turn back, and wouldn't leave Niyan and her father behind. In the end their faith prevailed, and a new highway to Israel was opened. Niyan was warmly welcomed once on the Israeli side, and this week had her first evaluation in the Sheba Medical Center: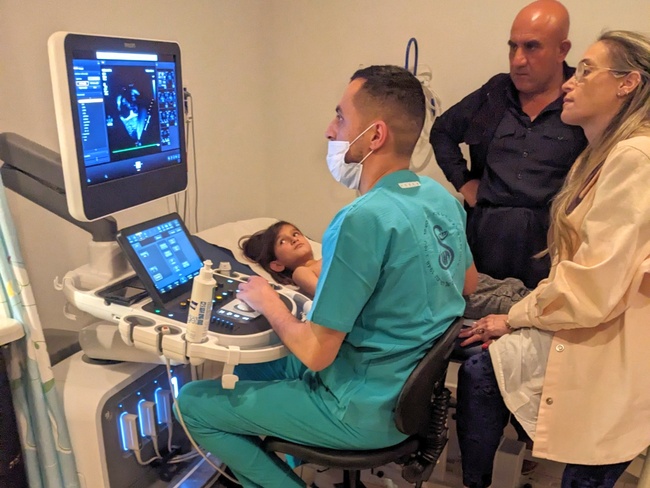 The other child was month-old Yazidi refugee child Saan, born with transposition of the great arteries. His family was regularly giving him oxygen at home, and the cardiologist in Iraq wrote that oxygen would also be required during his flights. We decided to fly him straight through to Tel Aviv urgently, with only me (God help us) as his medical escort.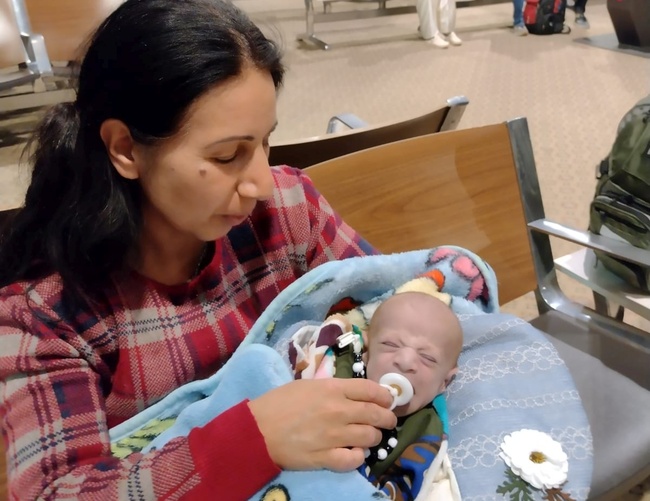 Saan began crying uncontrollably on the first flight, and worried passengers and flight attendants gathered around to offer advice. Thank God he soon calmed down, and the head of the flight crew came over to talk to me. He was a bald and distinguished-looking Bedouin Arab named Diaa from the Jordanian desert, who spoke impeccable English.
"I just want you to know how much respect I have for what you're doing," he said. "I see all the children flying through. There's no one else in the Middle East doing this. Everything is about money."
He asked if I was Jewish, and I said no, but we are doing this because of our faith in Messiah. Afterward I felt much encouraged to know that thoughtful, caring people in the region see the way God's love is reaching across religious boundaries and are affected by it.
Here's the way a longtime community friend, the author Lois Tverberg, put it in a note this week:
…it was only very recently that my friend K.B. (who lived in Israel for 5 years) pointed out an essential detail of what your ministry is about. You have Jewish doctors willing to save the lives of children from nations hostile to Israel, and the only way they can meet is if Christians (or at least foreign Gentiles) go to places which are hostile to Jews and get them. I never really thought about the fact that Jews from Israel cannot go to some lands and that Christians had to be the intermediary. I know there are at least 14 countries that refuse entry to all passports from Israel, and four more that won't allow entry to passports that even have been stamped in Israel. Most of the children you treat come from just these places!

…this is really great, and it really made your name Shevet Achim more poignant. 

I think you might want to spell this out more obviously to your readers. I was chatting with other longtime fans of Shevet today and pointed this out and they were just as surprised and blessed as I was! 
Last week I shared though how this relationship between the people of Israel and their neighbors is threatened by the actions of the new government, specifically the call of the finance minister Bezalel Smotrich to "wipe out" the Arab village of Huwara after a terror attack there killed two Jewish brothers. The minister landed in Washington today amid 
calls from progressive Jewish groups
 to boycott him and his allies "who are corrupting Judaism to turn Israel into a fascist theocracy."
(Click here for a more balanced perspective from a longtime Messianic leader).
But Smotrich himself did some soul-searching this week, thank God, and issued an impressive plea to his people from which we all could learn: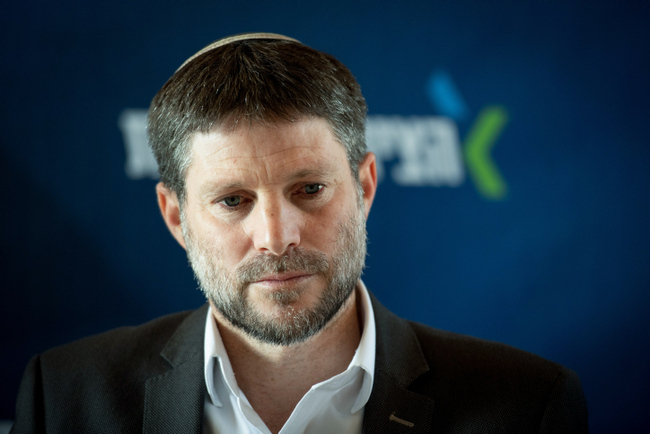 "I know myself, the house I grew up in, the values I bring with me from that home, from that environment I grew up in, from the Torah I studied. I know how much light and goodness and justice and morality and love of man and people there is from all of this, and I don't recognize the benighted figure that often stares back at me in the media mirror. I can blame it on the media until tomorrow, but it doesn't change the result," he said, suggesting that he also had a responsibility to better explain his background and what he stands for.
"And if there is a huge gap between who I am and how I am perceived 'on the other side,' which led to me being accused of calling for the murder of women and children, who knows what gap there is between how I often perceive other people or the statements of parties on the other side and who and what they really are?! Could it be that I've made the same mistake?" Smotrich wrote.
"We don't talk enough, we don't listen enough, and we don't learn enough from each other," he said, arguing that this has best been demonstrated in the debate over the government's effort to radically overhaul the judiciary…
"So after I failed in this responsibility — and believe me, I am still shaken by the thought that this is how I could have been understood — it is important for me to first apologize to the IDF and its commanders, particularly to those in the Air Force, if I played a role in the breakdown of trust that is so important between the IDF, as the people's army, and the elected political echelon," Smotrich continued.
"An obviously illegal order for indiscriminate killing will never happen! Under no circumstances! These are the values we all share," he said, recommitting himself to the IDF's moral framework. "These are the necessary values for maintaining the fundamental contract between the state and those who are willing to give their lives for it and use the most lethal weapons to protect it.
"I have stood, and with G-d's help I will continue to stand, for my side of the social contract!" Smotrich wrote.
Proponents of these reforms hope to bring the judiciary system more in line with their values and their culture. Believing that the judicial system in the past discriminated against religious, national and conservative values, they see these reforms as reversing that trend and restoring judicial balance. 
These reforms, though, are being adopted unilaterally, without broad public approval. Perhaps these policies reflect the interests of the majority of the electorate, but even then, only by a slim margin. Unilateral imposition of unpopular policies can backfire in the long run. For policies to endure, they must be viewed as a national consensus rather than coerced legislation. 
Additionally, one-sided legislation can fray our national unity. Fortunately, Israeli society still enjoys a unifying narrative that unites most of its citizens, regardless of religious, ethnic and socio-demographic background. Most Israelis believe they are living a shared story: We have returned after 2,000 years of wandering to resettle our ancient homeland. We face broad and hostile opposition but share a common belief in our rights to our homeland and to our peoplehood. 
As our politics become more fractious, this narrative is in danger of unraveling. Many Western countries have suffered rapid cultural and social decline precisely because they have lost a common narrative. The great 20th-century battles against nazism and communism provided a common narrative for the West; but once these threats were neutralized, Western civilization lost its narrative and is still struggling to regain it. 
To make matters worse, multiculturalism has scrubbed cultural, racial and religious identities, and without these rallying points, humanity feels lost. Without a unifying narrative, we suffer a crisis of identity. We live alone and don't belong to any larger community. We live in the loneliness of "unbelonging."
Radical politics polarizes society, imperiling this national narrative. Sadly, many Israelis are becoming disenfranchised with our shared historical project. In the long run, national unity is our greatest military, social and economic asset. There are many purely political reasons to question the wisdom of this political blitzkrieg. 
FOR RELIGIOUS Jews, however, aside from purely political considerations, there is an additional factor to consider when launching one-sided reforms. Unilaterally imposed legislation is politics without compassion. Too much passion and not enough compassion is unhealthy even in the political arena.
We haven't returned to Israel to construct a pure democracy but to rebuild our people and restructure ourselves as a large family of Jews. Families are built upon compassion for every member and not just for those who agree with the views of the head of the household. It is unfortunate and ironic that religious Jews are quickly losing sight of this sense of family and aren't conducting the politics of compassion. 
In our modern family-state called Israel, compassion for all members of the family must be evaluated alongside our passion for a state infused with religious values. Passion and compassion must walk hand in hand in the modern State of Israel.
The compassion and passion cited by the rabbi are most commonly referred to in the Hebrew bible as 
hesed
 and 
emet–
loving kindness and truth, so often linked as in 
Psalm 85
: 
Loving kindness and truth have joined together; righteousness and peace have kissed.
Friends, as we pray for Israel and his neighbors this week, let's remember that love without truth, and truth without love, are both very destructive forces. But when they join together it is the power of God.
Jonathan for Shevet Achim
"Behold how good and how pleasant it is for brothers to dwell together in unity" (Psalm 133).