Friends, brothers, and sisters,
We at Shevet live in a believing community—that is to say, we try and make a space around us where God is worshiped, the Messiah is followed, and our neighbors are loved. I say "try" for two reasons: first, because we do these things intentionally and with effort to grow, and second, because we often fail. We are not free from the frequent foibles of the followers of Messiah just because we are in the Holy Land, engaged in active work. We are often lukewarm in our worship; legalistic in our obedience; obligatory in our love. And I most of all.
As my father told me many times (perhaps in warning) before I returned to the Middle East, community (especially constant community) makes it very hard to hide our ugly sides. When you maintain a comfortable distance from the people around you—even an internal distance, if not an external one—then it is easy to only show our self-perceived good qualities to other people. It is easy to present ourselves as being better and stronger than we are. But that presentation only works from a few very specific angles, and it doesn't work apart from them. When we live with people and spend our time with them, they necessarily, inevitably, see us as we are, both good and bad.
Deciding to live fully with others is thus a terribly vulnerable action. We present ourselves to our brothers and sisters and say, "Here I am, here with you." And in that presentation, we offer ourselves up for judgment in our ugliness and our beauty. How painful it is, then, when we are rejected as we are; and how wonderful it is when we are accepted as we are, when those who we dwell with say as the Messiah said, "Neither do I condemn you; go, and from now on sin no more."
And when we speak those words back to them in turn, then we see a glimpse of the fullness of the church and the fullness of the kingdom of heaven.
How do we say such things? How do we accept each other without condemnation in the truth of our hearts? I have searched, and the only answer I have found is by the power of the Holy Spirit. And that is even more true when we consider that the decision to say "Neither do I condemn you; go, and from now on sin no more" is a decision we make every single day, every time we interact with brokenness or struggle or resentment or disagreement or any of the other myriad sources of contention in a community. Human strength might accomplish such a decision once or twice—but over a lifetime! Only the Spirit of God can empower us in such a way. Jesus laid the foundation for his bride through his life and teaching, but she did not begin building her edifice until Pentecost. And when she is strong, how beautiful she is!
I believe that when Messiah's bride is strong, she pours into the world around her—an overflow of abundant life. She serves as an embassy of heaven, a light to the nations. And in this way, the believers among the nations, grafted onto the blessed tree of Abraham, participate in the work of Abraham's children. At Shevet we in our own way try and do just that. Even as we haltingly grow in our love for one another, even as we imperfectly strive after perfection, even as we sometimes flow and sometimes wrestle with the Holy Spirit, we grow also in our love of those whom God has entrusted to us for a season. Sometimes that love is more of a sputter than an overflow, but it is love all the same.
And we praise God for a week predominantly marked by healing and successful surgeries for the children in our care. Precious Ayham from Gaza had his big surgery at the Hadassah Medical Center in Jerusalem, and so far all has gone well.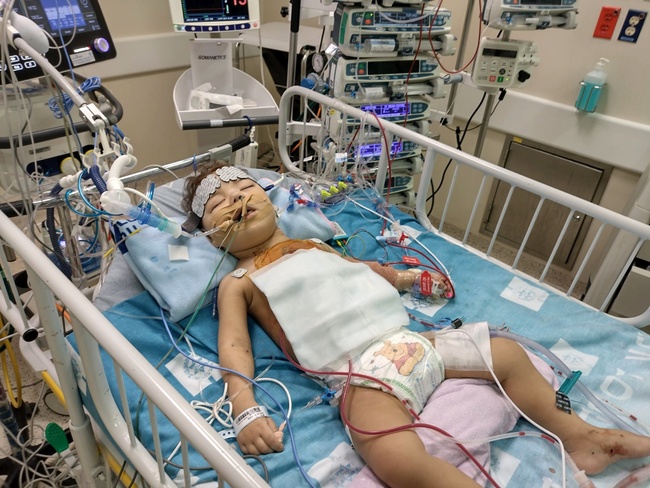 Our sister Doro recounted sitting with his mother, learning about her other children while they waited with him in the ICU. Then a Jewish woman entered the room with a portable electric piano and began to play for them and the resting Ayham: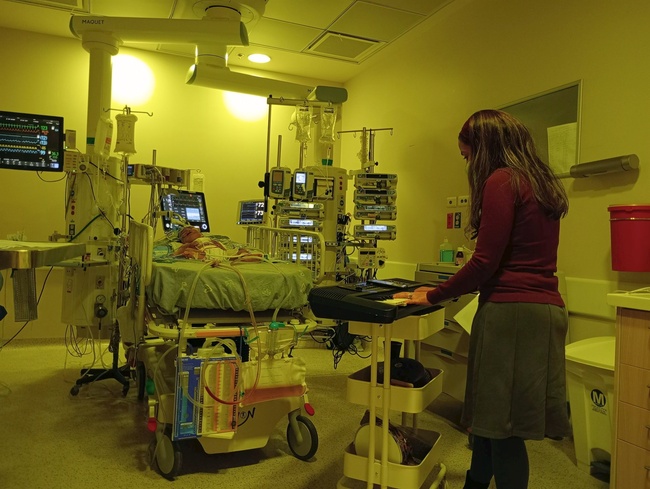 His mother smiled at the action of kindness. Pray for Ayham's recovery!
Anas from Gaza had his large Glenn surgery this week, and already he has recovered and become strong. He played with our sister Lena in the hospital and he laughed. He is a beautiful boy.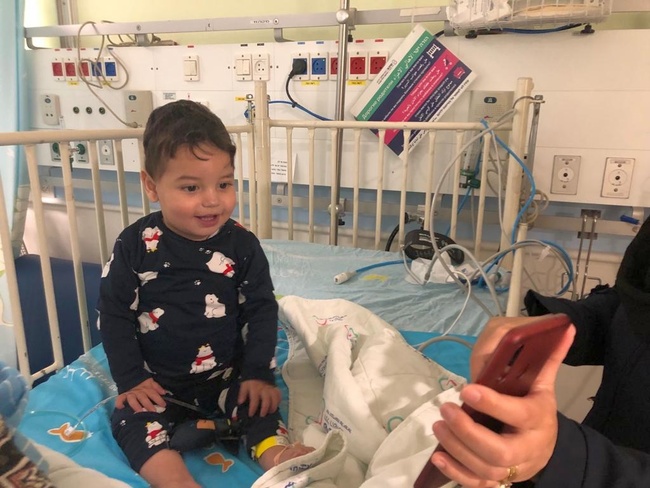 He was in the hospital for nine days, all of which overlapped with our other Anas, a much smaller baby who has been in the ICU for a month and has finally recovered. Our sister Elise
shared the joy she felt
, getting to hold him in her arms after so long seeing him hooked up to wires and tubes—what a gift!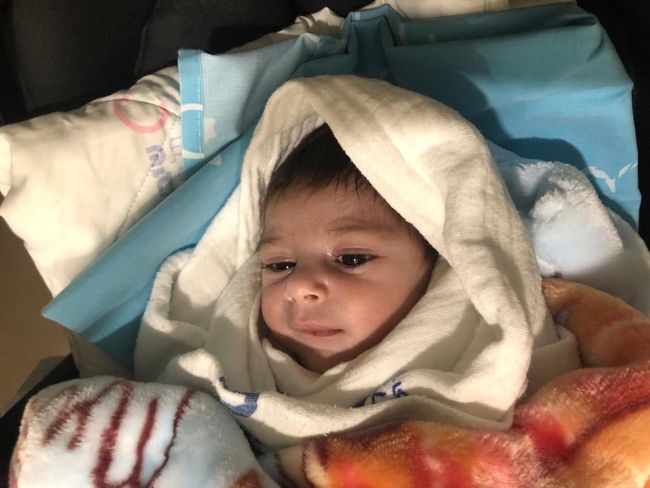 And now both of our boys named Anas have been sent safely home to Gaza for the time being. Thank you Father!
Many of the children with us successfully reached good next stages this week in their healing. Beautiful Maryana, who laughed even while waiting in the hospital, had a successful interventional catheterization and is now back in our Ashdod base, awaiting the OK to go home: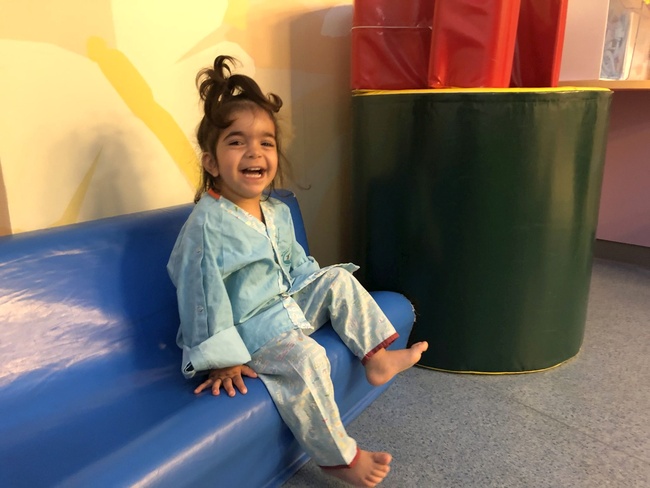 Ahmed G also had a Glenn surgery this week, and he too
responded beautifully
 to the procedure and to the skilled hands of the doctors: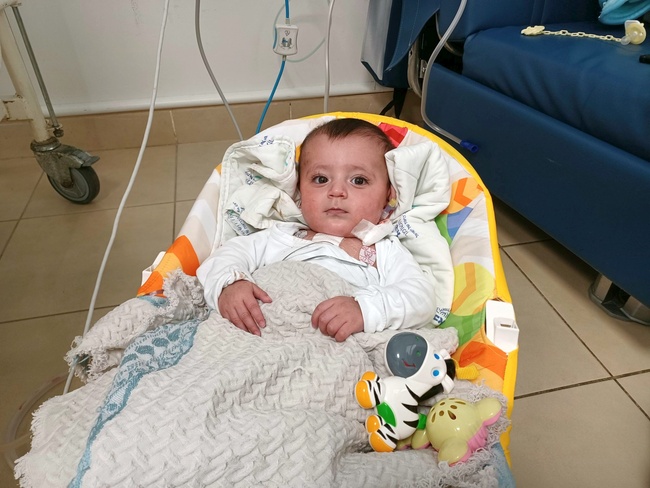 Only a couple days after his surgery, he was already moved to the intermediate ICU, where he is now working on draining out excess fluids. Pray for his complete recovery!
Rahaf had surgery to fix her coarctation of the aorta, so quickly that we were surprised by it, and she has been healing excellently. She's already breathing on her own!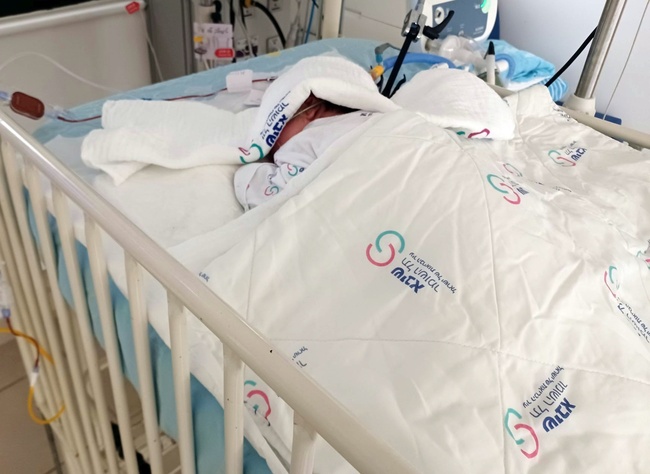 Rahaf's grandmother waits with her as she continues to heal. Pray for her continued recovery. Pray also for her family—the mother of the grandmother died this week, and the grandmother is unable to leave the hospital to share in the mourning with her family.
Tiny Yazidi Saan from Kurdistan also had an amazingly swift surgery and recovery this week. His arterial switch surgery went well, he was extubated the next day, and four days later he has already returned to our home in Jerusalem as he grows explosively: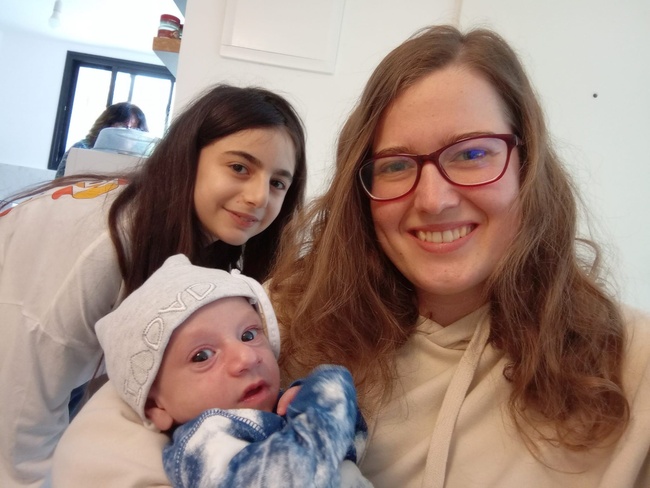 Thank you, Father!
Newborn Majed from Gaza had an interventional catheterization this week as well on Monday. His recovery has been slower, and he's been off and back on mechanical ventilation. Pray for his continued recovery: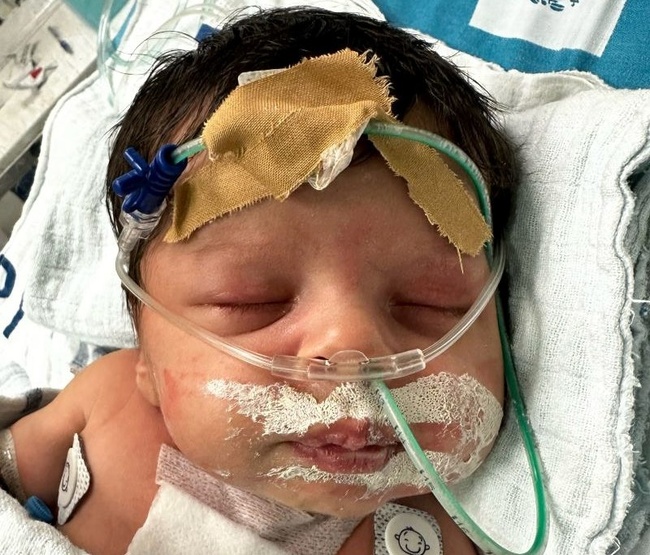 Said, an older thirteen-year-old from Gaza, had a complicated time this week. He first had a diagnostic catheterization which he found difficult, and then visited the dentist, where he had a big cavity treated. He has two more smaller cavities to be treated before he returns for
surgery next week
: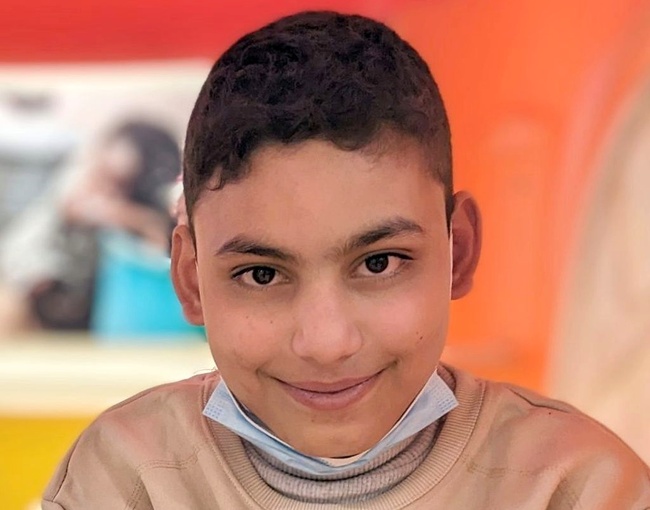 Pray for him! He is strong and he tries to be brave.
And speaking of teeth problems, Niyan from Kurdistan has many of them, as we learned at her dental examination! They'll need to be treated, hopefully within a month, before she can go on to the next step of her surgery. After the examination we went and ate ice cream, which was perhaps not the wisest of moves, but which she enjoyed immensely.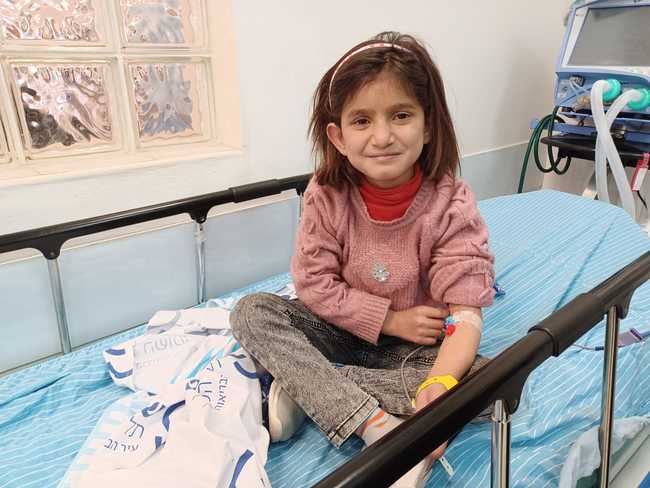 Pray for her and for her father, who misses his homeland, that they will be able to move forward quickly.
Halah from Gaza has so far been unable to gain enough weight on her own, and so a PEG tube was placed yesterday at Hadassah. It will pump nutrition directly into her stomach, helping her to grow stronger: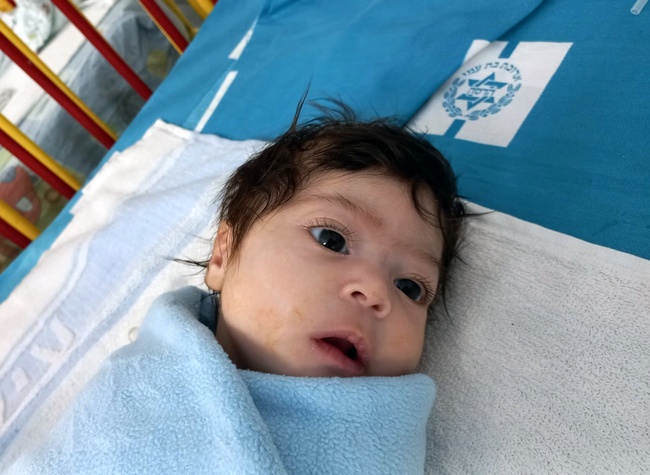 Pray that it will work well and that she will gain the strength she so much needs!
As always, we ask you to pray for Liya, who continues her long and painful path to healing. The next step is to have a PEG placed, but her mother fears this will cause infection when Liya returns to Gaza.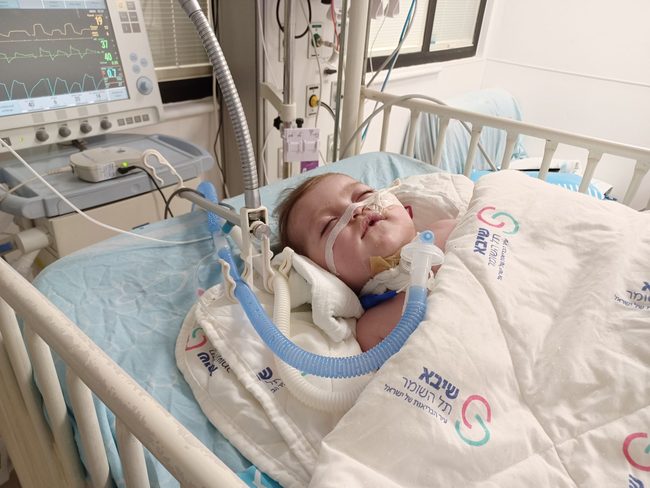 Her mother has endured a great deal even as she has been a strength and comfort to the families around her, and
she is getting tired
. Pray for encouragement for her and for healing for Liya.
And pray also for Ahmed J, who returned from Gaza to Sheba after a month away, once again painfully ill and yellowed. Although the doctors are uncertain, they fear his condition is symptomatic of dangerous complications, and so they once again hospitalized him for examination.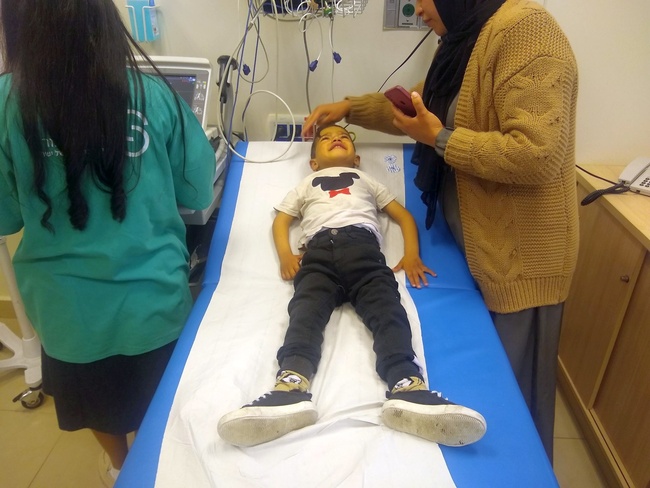 Both he and his mother are frightened—pray for them, and pray for his healing.
While writing this letter, I've reflected on the third chapter of James. He calls the tongue a fire, which can set whole forests ablaze: With it we bless our Lord and Father, and with it we curse people who are made in the likeness of God. From the same mouth come blessing and cursing. My brothers, these things ought not to be so.
I have been reflecting particularly on our ability in community to bless and to curse, to build up and to tear down, with our words to one another. With our speech to one another, we can both pass and refrain from judgment (and, lest I be reductive, we can do the same thing with our silences). We often rightly recognize a need to hold our tongue, to keep back from speaking thoughtless poisons into the hearts and minds of those around us. But let us also have a desire to free our tongue and to speak blessing and life. Let us not only keep back from speaking evil, but also seek ways to speak good. Let us speak out of love rather than obligation. Let our tongues of fire not be as worlds of unrighteousness, but rather lamps on stands.
We who spend time at Shevet learn through necessity how to show love without words, although for some of us it is easier than others (for me, it is much harder!). Most of us have a tiny range of Arabic and Kurdish—but how quickly we learn how precious those few words are, and how much can be said through so little! But that's a topic for another day.
For now, we work to build one another up with what we have. Pray for the children and families in our care; pray for our community, as we learn day by day to love one another and to speak life and truth to one another and to live with one another in fellowship as the Messiah taught us. Pray for the bride of Messiah, that wherever she is being instantiated, she might be beautiful and strong, pouring the overflowing love she receives from the Father into the world around her.
May the God of peace and love be with you all.
Zechariah for Shevet Achim