Friends,
When we looked at the calendar at the beginning of this week we were a little shocked – 30 appointments for Gaza kids in only one week. This is more children in a week than we ever had in my entire time here – possibly the most Gaza kids in a week in Shevet history.
We were doubting how all of those kids would fit in our vans, and then on the first day of the week Senior, our oldest van, started smoking and had to go back to the garage where it already spent so much time in the last months. We didn't know how it will all work out but God provided. Some of the kids didn't get permission to come, the others we could bring at different times and on Wednesday we got Senior back.
One evening I was driving back from the crossing to Gaza with Joanne and she suggested that I play the song "One day at a Time" written by Marijohn Wilkin and Kris Kristofferson:
One day at a time sweet Jesus
That's all I'm asking of You
Just give me the strength
To do every day what I have to do
Yesterday's gone sweet Jesus
And tomorrow may never be mine
Lord, help me today, show me the way
One day at a time
I'm a person who very easily gets worried about things in the future and wants to have it all figured out, so this week was a good lesson to learn. We couldn't plan all the details, and had to trust God to make it work, and he is always trustworthy.
Every time a Gaza child returns for an echo and I have time, I like to read through their old blogs, each time a different story of healing and God's work in their life. Each story would be totally worth writing about in this letter but after a week with so many little ones returning it would be too long. I will tell you the stories of two of those precious ones who only came for follow-up this week (but I want to encourage you to read all the stories from the other kids in the blogs on our website).
Somaia is not only well-known in the entire pediatric ICU at Sheba but also grew very close to our hearts in the ten months she spent in the hospital. Yesterday was her first follow-up echo after her discharge two months ago, and the first thing I did was to bring her and her sweet mother to the ICU where all the staff was so excited to see her.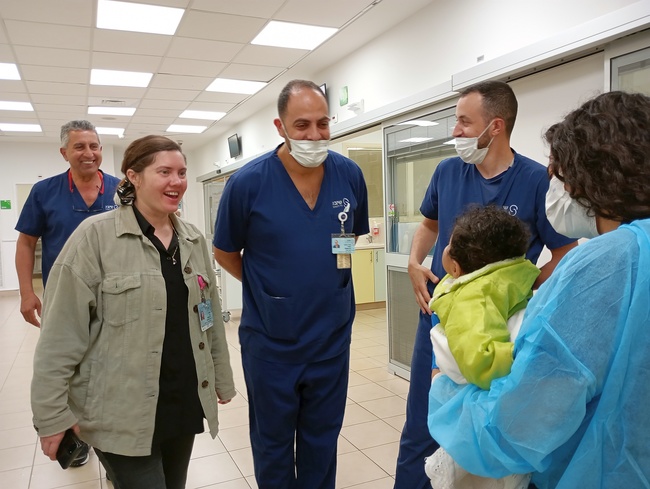 Within a few seconds everyone left what they were doing and came to see this beautiful girl and talk to her mother. They had missed Somaia just as we did and only a moment later she was not in my arms anymore.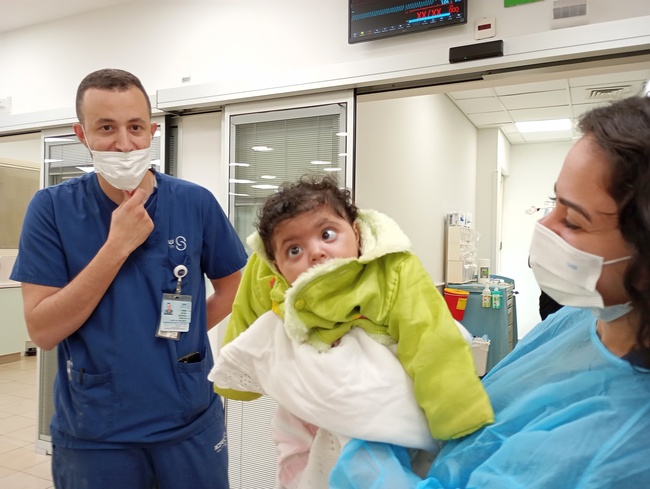 It was amazing to hear from her cardiologist after her echo that Somaia's heart is very well: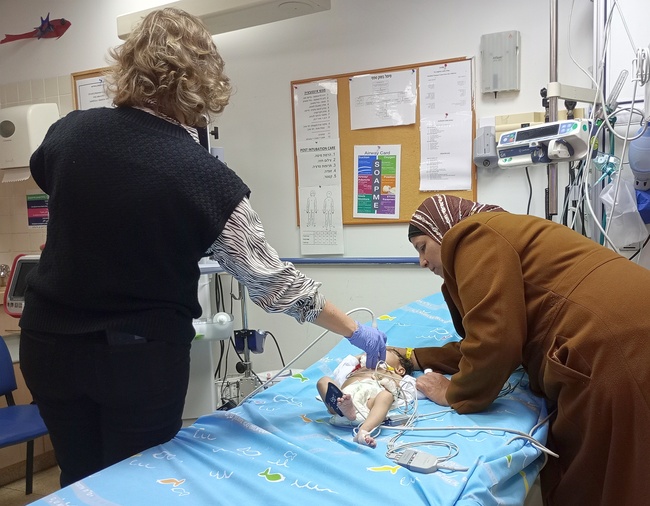 But doctors also found that Somaia has been losing weight since she was last here, and was vomiting along with diarrhea and fever the last few days. She was sent to the ER immediately where they did some blood tests and monitored her for a while, until we decided with her cardiologist that it's best for Somaia to go back to Gaza and be admitted in the hospital there.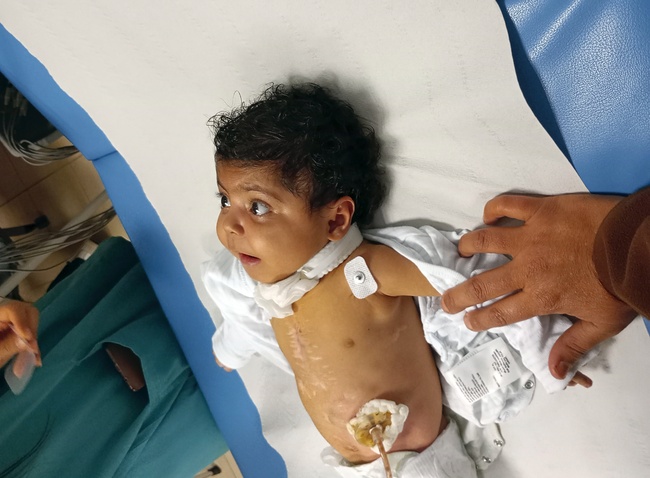 Please pray for her and all her doctors there that they can figure out the problem and help Somaia. She just turned one year old a few days ago and it was so encouraging to see her doing okay. Yes, she still has a long way ahead of her but she is alive, awake, able to breath on her own and developing – more than we dared to hope over the last year.
The second child who also only came for one day but encouraged me a lot was three-and-a-half-year-old Sohaib. He came to Sheba through Shevet as a newborn baby diagnosed with transposition of the great arteries: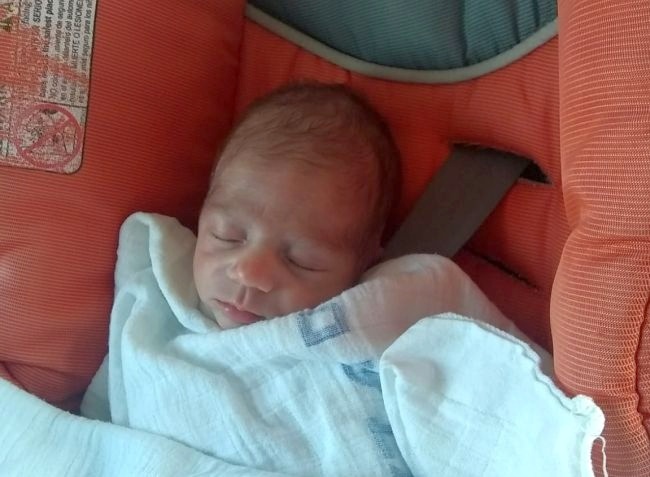 We see a lot of those kids doing really well after their switch surgery, but one might remember Hazhin and Lawik, two little Kurdish babies who came here last fall, both with TGA, and both did not make it. Just this week I texted both of their families to ask them what they want to have written on the gravestones of their beloved kids. I could feel even over the distance the grief they still have and at the same time the thankfulness for the chance to come here. Those babies and their families grew very close to our hearts and it was hard to let them go.
So it was all the more encouraging this week to see Sohaib doing so well. He hadn't been back for three and a half years, so in the last pictures of his old blog he was a newborn baby and now we could witness him walking around, talking and playing like a normal child.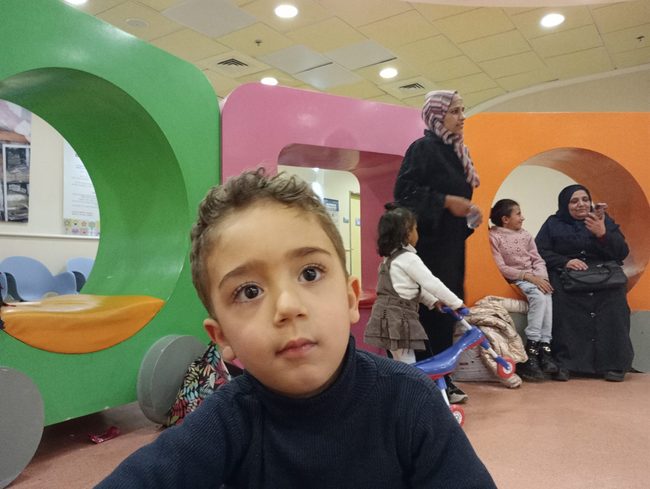 His cardiologist was very happy with him and confirmed that his heart is very well. Let's thank the Lord for all he did in the life of this boy!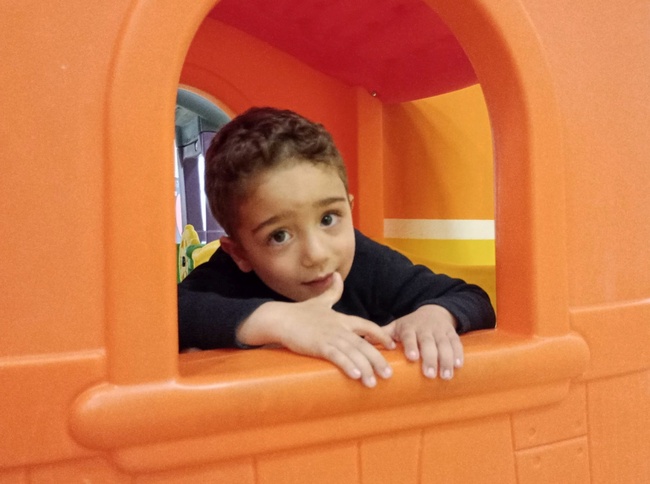 At the end of this week we want to ask you especially for prayer for two of our youngest ones right now: Majed had his cath to open up his pulmonary artery one and a half weeks ago and has been struggling in the ICU since then.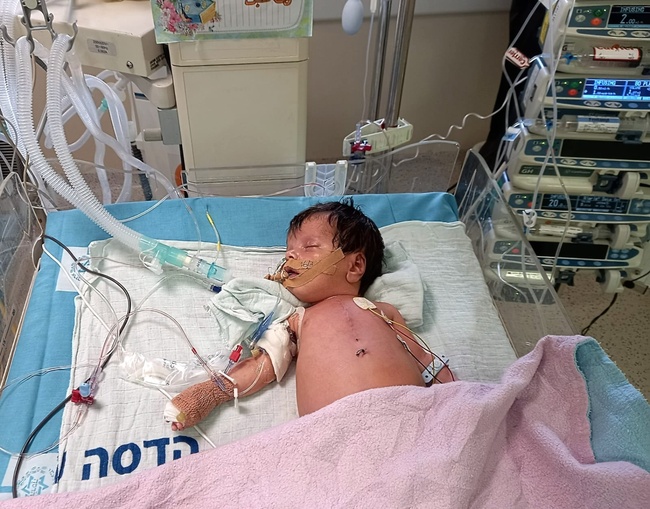 He has twice been returned to the ventilator and right now he is still far away from breathing on his own. He has a serious infection with MRSA and is dealing with sepsis. Please pray for strength for his body to deal with this infection and get better again!
And little Eslam from Gaza has several complicated heart defects, and had his first surgery Wednesday to place a shunt to allow more blood flow to his lungs. His doctor told me afterwards that the surgery was really dangerous and they feared he might not survive it, or come out on ECMO heart-lung support, but thank God it went better than they dared to hope: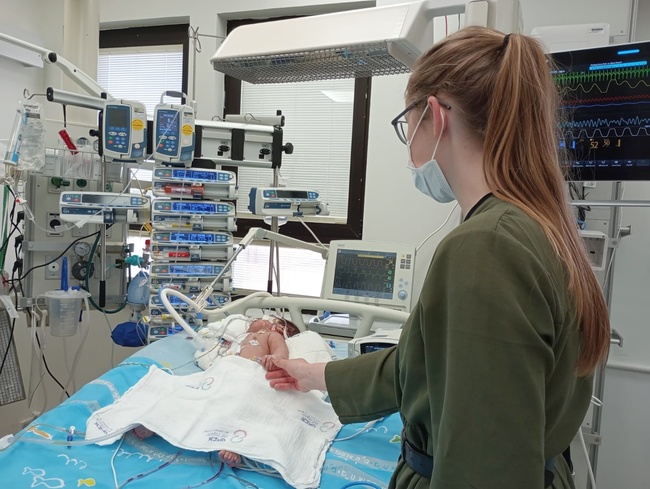 Eslam was stable after the surgery but when Luisa visited him yesterday she found doctors had to resuscitate him once. The shunt placed yesterday was blocked and they had to open his chest again to remove the blockage. Thank God Eslam is stable again but his situation is still critical and very scary for his mother.
Another surgery that went very well even though it was a high-risk surgery was Said's Fontan surgery on Sunday. Said is already 13 and it is a surgery that is usually done at the age of around five. Even at this age it's a dangerous surgery with a difficult recovery and therefore it was even more concerning to see a teenager go in for the Fontan: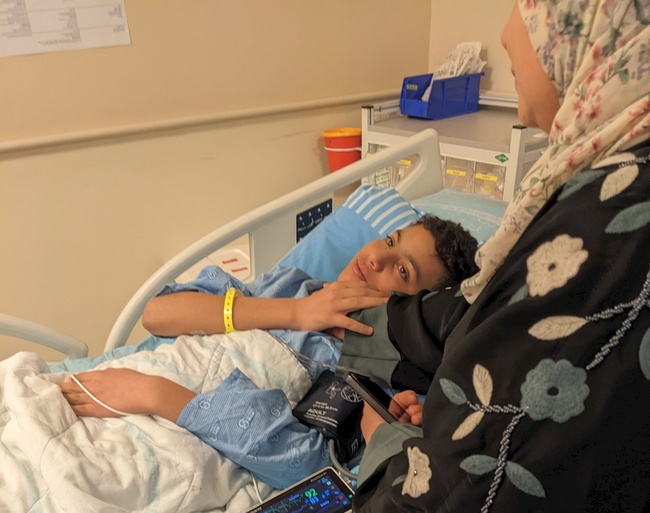 The surgery went very well but after he came out of the OR his condition didn't stabilize for the whole evening. We prayed a lot for him and his mother, and God answered our prayers: the next day we found Said extubated and awake, demanding water from his mother and nurses. And at the end of this week Said is already sitting in a chair next to his bed and slowly starting to eat again: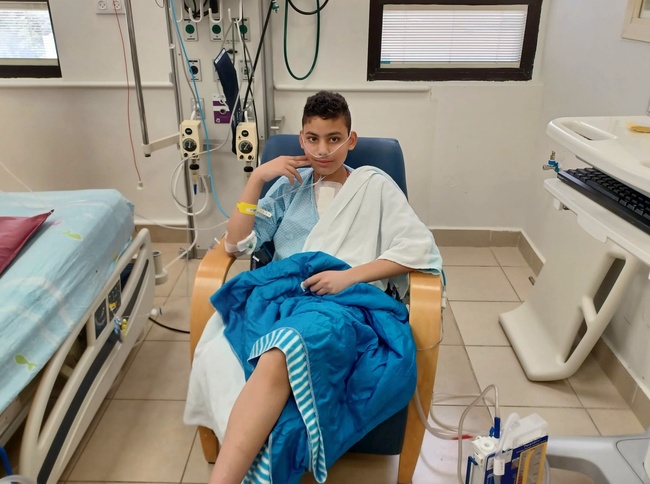 In Jerusalem we welcomed newborn Eleen from Gaza to Hadassah hospital Monday night, and she was rushed into emergency surgery Tuesday morning to repair her aorta. Eleen is now breathing on her own and stable, we thank God for the successful repair surgery!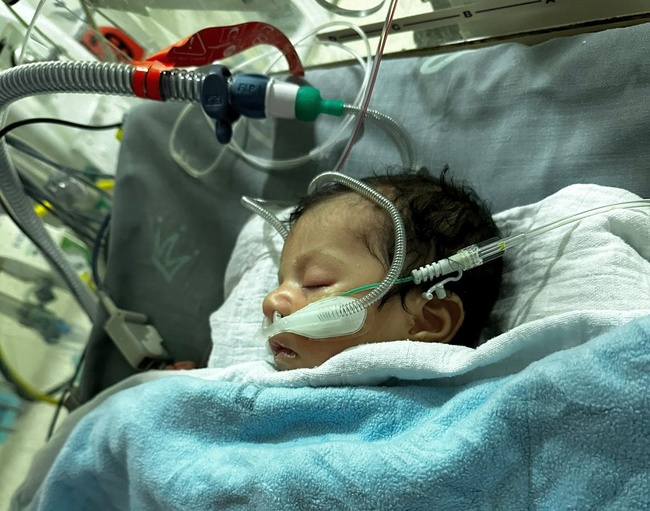 Our Gaza friend Jude had his diagnostic catheterization this Monday, after waiting for a week in our Jerusalem house and making friends with tiny Saan: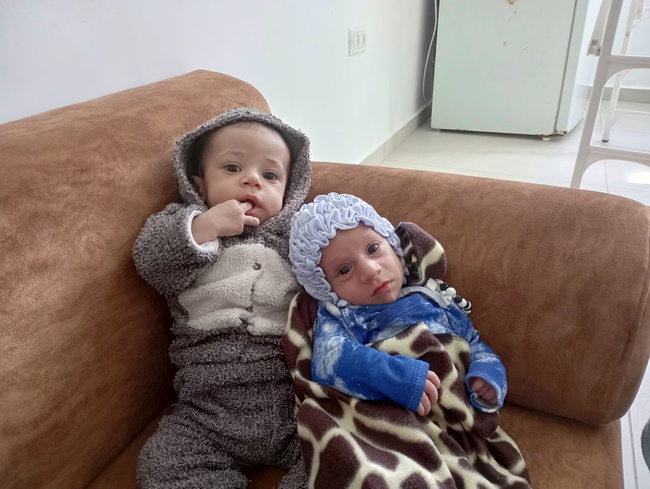 The cath went all well but afterwards Jude (above left) developed some fever and had blood in his stool. His doctors found out now that he has a serious infection of his colon and so he will probably still need to stay in the hospital for a while till he recovers from that. Please pray for him and his worried mother who thought she was coming only for an echo to Israel.
Ayham in Hadassah is making good steps after his difficult switch surgery last week. He first came off the ventilator and later was moved to the pediatric ward out of the ICU. He still has a cough because he has some air around his lungs and therefore gets an oxygen therapy, but his doctors are optimistic that he could get discharged from the hospital next week: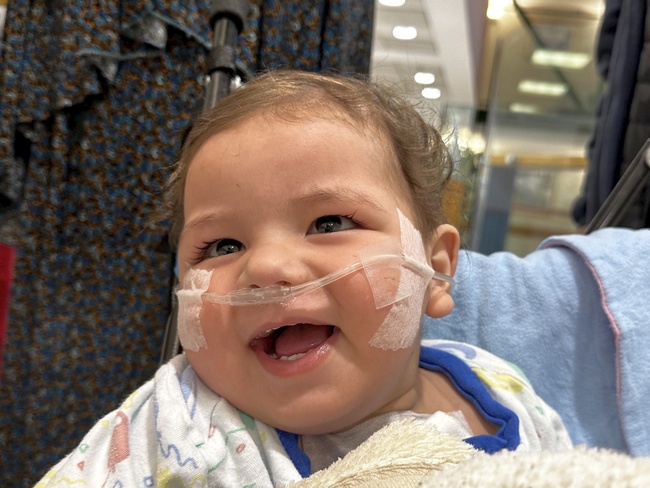 Ayham waited one and a half years until he finally could get his switch surgery and now it is all behind him and he is doing well – praise God!
Another big step for Halah this week as she was finally discharged from the hospital after spending the first two months of her life there. After doctors place a stomach feeding tube at the end of last week she finally gained weight, and once her mother learned how to take good care of her daughter and use the feeding pump there was nothing standing in between her and her home in Gaza anymore: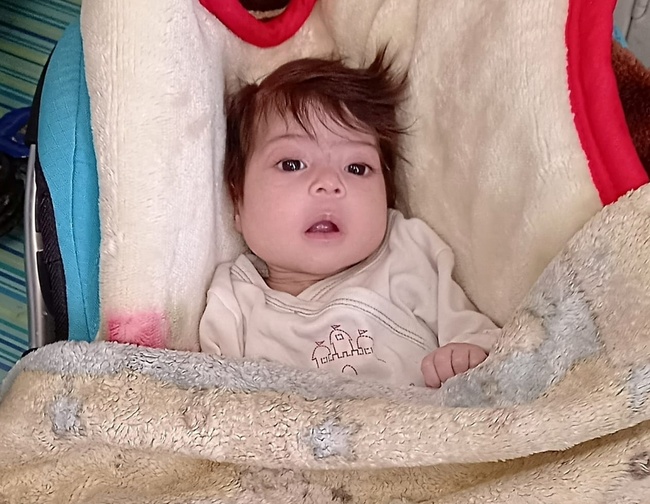 Please pray with us that Halah will stay safe with her family in Gaza and will continue to grow and do well!
Also going home this week were Ahmed G,  Mohammed SB and Rahaf from Sheba on Sunday and Monday. All three of them recovered perfectly from their surgeries and we are so glad to send them back home: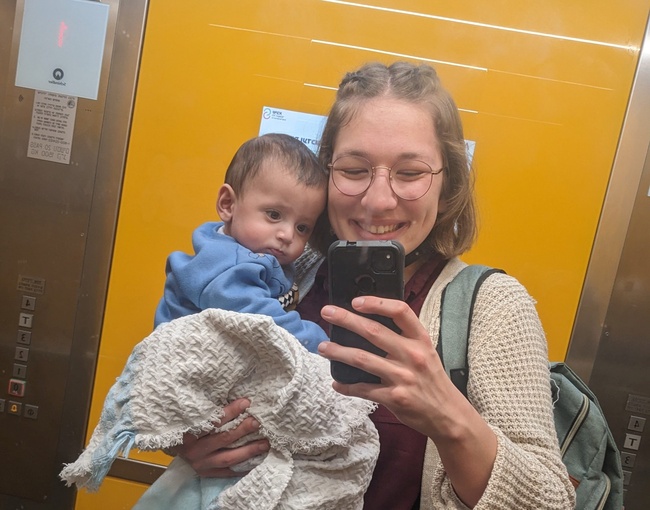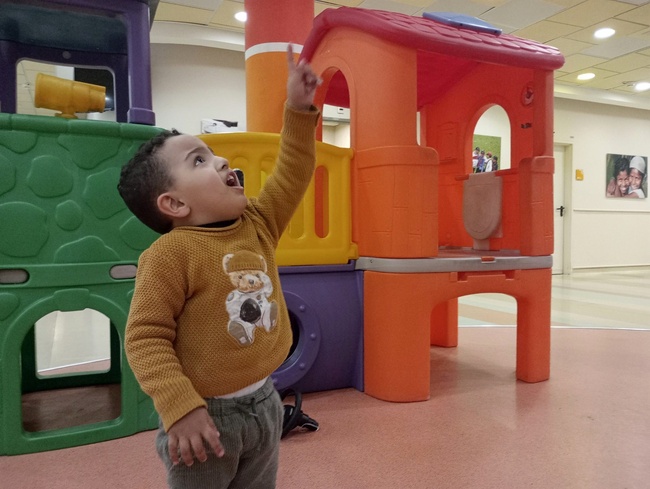 On the day Rahaf was discharged her grandmother was busy doing a lot of things and so gave the cute little baby just into our arms. It is such a special moment to get to hold one of those little ones from Gaza.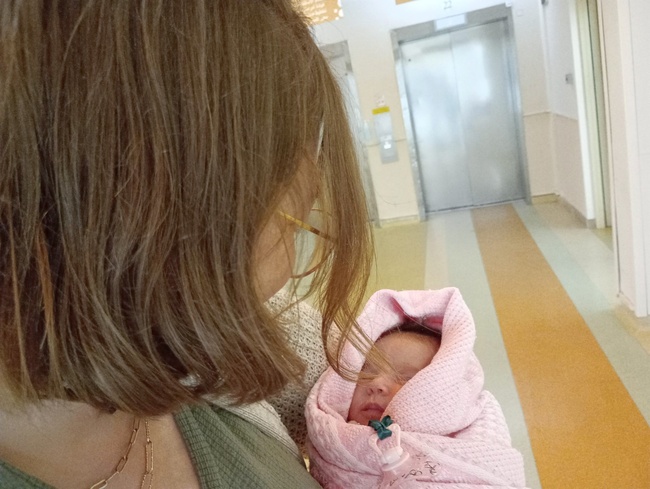 They arrive by ambulance in such a bad condition and are in the ICU all the time and then all of a sudden they are out of their bed, looking healthy and just beautiful as every other baby.
This Sunday our good old friend Kenan B. came back for a brain MRI to find the cause of his seizures. He stayed in our house and developed a fever on his first night here; Luisa and Elise drove with him and his mother to the ER, where he was admitted and doctors began multiple tests to find out the reason for his problems. Kenan also lost weight in recent days and doctors place a nasal feeding tube, which he didn't appreciate very much. After he pulled out the feeding tube four times our poor boy was fitted with socks and tape on his hands now: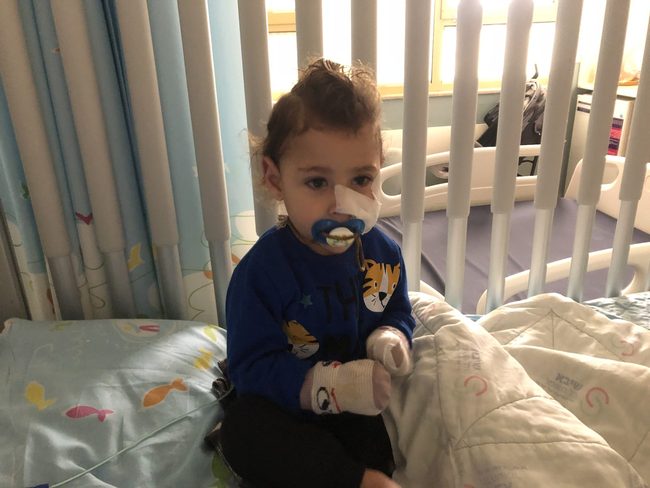 During an echo his cardiologist also found out that some of his arteries are narrowed and so Kenan will probably get a cath to widen them soon. Please pray for him and his lovely mother who is very kind to us all the time and very thankful for all we do for her.
Ahmed J from Gaza  is also still in the ICU waiting for his next surgery. After his doctors did a lot of tests to find out what causes his bad condition the only thing they could say for sure is that it's not caused by a virus.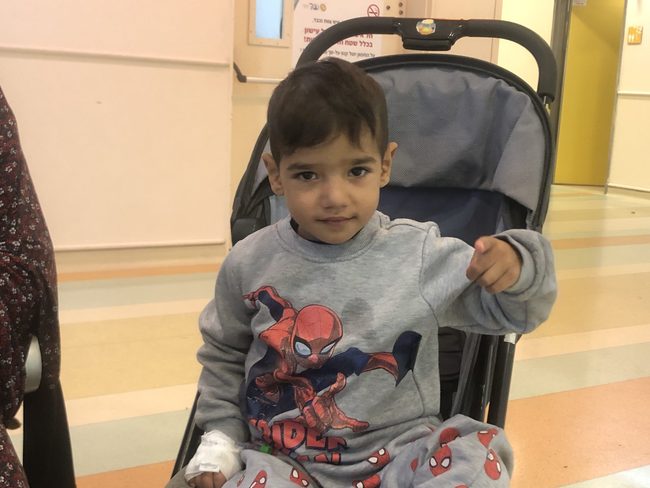 By week's end he is doing better and the doctors are thinking about giving him the next surgery he needs, a repair of his mitral valve, next week. Please pray for wisdom for them to make the right decision and pray for this surgery whenever it will happen.This week it felt like most of our attention was on all of our Gaza children coming in and out, but we also got very joyful news for two of our girls who got the "go" from their cardiologists to fly home to Kurdistan. Both of their hearts are perfectly healed and we could send them home with thanksgiving.


Roshna (in the video above) loved making friends and spending time with all of us volunteers, practicing her English skills, drawing, or playing, but the thing she absolutely loved the most was singing worship songs with us. She memorized so many songs and it was the highlight of her day when after dinner we would do some worship together in the Jerusalem community. She listened to the songs on her phone during the day and wrote the lyrics in her notebook. I never met a Kurdish girl singing to God so cheerfully! Also her mother was a big blessing to the community, taking such good care of the house and cooking amazing food for us!
Maryana was our energetic girl left from our little toddler gang we had here in Ashdod a couple of weeks ago. One by one every one of her little friends left, so Maryana spent more and more time with us the last weeks. She came over to our side to visit Shevie, to just hang out with us or draw a picture while I was doing some office work. Her mother was one of the calmest and relaxed mothers we ever had, bringing so much peace everywhere she and never complaining about any waiting time. We miss the smiles of Maryana and her running towards us a lot and at the same time we rejoice with her family to be reunited again. On Tuesday evening we had beautiful farewell parties for our kids, one here in Ashdod for Maryana and one in Jerusalem where we could share our thankfulness and say goodbye to two kids and mothers we learned to love so much!
As we now have finally come to the end of a very busy week we were just sitting at dinner together here in Ashdod and sharing about the best parts of the week. Most of us were struggling to find one best moment cause there was just so much good happening this week. God really surprised us with this week that we expected to be so stressful.
In our morning meetings here we reached Romans 8 this week: We know that God makes all things work together for the good of those who love Him and are chosen to be a part of His plan.
That is what we saw this week. It was a long week with not so much rest, but God gave us the strength we needed for every single day. We could experience his goodness one day at a time. And so I want to close this letter with the words of one song that Roshna wanted to sing over and over again last week:
I love You, Lord
For Your mercy never fails me
All my days, I've been held in Your hands
From the moment that I wake up
Until I lay my head
I will sing of the goodness of God
And all my life You have been faithful
And all my life You have been so, so good
With every breath that I am able
I will sing of the goodness of God
Thank you for praising God for his goodness this week together with us!
Doro for Shevet Achim